Wk.44- Petra 19
It's Petra, for the nineteenth time...
?? Number 19 and a perfect end to the WTA season! Next stop @FedCup final ?????? pic.twitter.com/fE72AaEnPC

— Petra Kvitova (@Petra_Kvitova) November 6, 2016
(
I guess we're going to agree to look past the fact that the trophy looks like it's made of scrunched up aluminum foil, right? Okay, just checking.
)


Or, as far as the WTA is concerned... for the sixty-first time in 2016, it's Petra.


The 2016 @WTA Winners Wall is complete!

Here are the 61 winners of the year! #WTA

(Full HD picture: https://t.co/IPNN3ZJh74) pic.twitter.com/3LFw2bmaFO

— Quentin ? (@AceForJulia) November 6, 2016

*WEEK 44 CHAMPIONS*
ELITE TROPHY; ZHUHAI, CHINA (Hard/Indoor)
S:

Petra Kvitova/CZE def. Elina Svitolina/UKR 6-4/6-2


D:

Ipek Soylu/Xu Yifan (TUR/CHN) d. Yang Zhaoxuan/You Xiaodi (CHN/CHN) 6-4/3-6 [10-7]
WHEELCHAIR DOUBLES MASTERS (Mission Viejo, California)
Diede de Groot/Lucy Shuker (NED/GBR) d. Louise Hunt/Dana Mathewson (GBR/USA) 6-3/4-6/6-4




PLAYER OF THE WEEK:

Petra Kvitova, CZE


...the (Second Half) Player of the Year? Well, quite possibly Kvitova. The Czech was in Good Petra form all week long at the Elite Trophy tournament in Zhuhai, ending her WTA season with a spotless, 4-0 with no sets lost record that produced career title #19 and extended her streak to six straight seasons with multiple singles titles. Kvitova went 2-0 vs. Roberta Vinci and Barbora Strycova in round robin play, then took Zhang Shuai in the semis before her 4 & 2 win over Elina Svitolina in the final. She'll finish the season at #11, her lowest standing since 2010, but far better a position than she was in at mid-season. If she's able to post two wins next week in France in the Fed Cup final, she'll have doubled her January-to-Wimbledon win total (16-15 overall) from SW19 until the end of the season. She's gone 30-7 since Wimbledon, picking up both of her 2016 singles titles on the tour's in China (w/ Wuhan). After her latest winning moment, Kvitova let it be known that she's not yet through with tennis, as she still has mountains (well, at least one) to climb.


"...The No.1 spot is something missing in my career... I think without that goal I probably don't play tennis any more." @Petra_Kvitova pic.twitter.com/RPffjOE8RA

— Katie Spellman (@Spellman_Katie) November 6, 2016


Although, as with nearly all things Petra, I suppose one could read between the lines of that statement and see BOTH good and bad in the notion and mindset. But now isn't the time for questioning... not when Petra's chin is up as high as it's been in quite a while.


Fed Cup nominations. Funny how that Czech team feels far more intimidating than it did, say, 3 months ago. pic.twitter.com/MS3G4iaFM9

— Courtney Nguyen (@FortyDeuceTwits) November 2, 2016


Hmmm... pity the poor Pastries next weekend?


===============================================



.@ElinaSvitolina advances to @WTAEliteTrophy Final!

Biggest Final of 22 year old's career--> https://t.co/Mti25HHiVT pic.twitter.com/AGmw7Zq9nA

— WTA (@WTA) November 5, 2016




RISERS:

Elina Svitolina/UKR and Johanna Konta/GBR


...2016 was filled with big steps for Svitolina, and quite possibly could be a season which foreshadows even bigger accomplishments in the coming year. The 22-year old Ukrainian not only picked up the eyes, ears and experience of Hall of Famer Justine Henin as a member of her coaching team over the past season, but she also posted wins over TWO DIFFERENT #1-ranked players, reached three finals, including the two biggest of her career (in New Haven and this week at the Elite Trophy event), picked up career title #4 (in Kuala Lumpur), posted five Top 10 wins (four of them over this season's three slam champions), reached the Olympic QF, and will enjoy her best season-ending ranking of #14, matching her career-high. She's now improved her season-ending ranking for six straight seasons, including bumps of eleven and ten spots, respectively, the last two years before her more modest (but just as complicated) jump of five since the close of the '15 season.


Your 2016 #WTAEliteTrophy Finalist ??@ElinaSvitolina Shine In Zhuhai????????? pic.twitter.com/nBZKnhtJ4J

— WTA Elite Trophy (@WTAEliteTrophy) November 6, 2016


In her four matches in Zhuhai, where she reached the semis a year ago, Svitolina played a pair of three setters (vs. Kiki Bertens in RR play, and Konta in the SF), which were the only singles contests to go the distance in the event's fifteen total matches. And additional win over Elena Vesnina came in RR play, while she fell in the final vs. Petra Kvitova. Next up for Svitolina: a run at her first Top 10 ranking, which would make her the first woman representing Ukraine to accomplish the feat, a win in one of those bigger event finals that she reached (but went 0-2 in) this year, and a true slam breakout performance to rival or better her one career major QF result, at Roland Garros in 2015. Of some note, Karolina Pliskova found herself in a somewhat similar position to Svitolina's at the close of last season, when she also finished her WTA schedule on a (semi-)high by reaching the Elite Trophy final (losing to Venus Williams). The Czech had a great Fed Cup weekend to send her into a '16 season that saw her climb into the Top 10, claim her first high-level Premier event and reach her maiden slam final. Svitolina won't be playing any FC matches next weekend, but the rest could very well be on her agenda in '17 if her progress continues.

Konta won her group in Elite Trophy competition with straight sets wins over Sam Stosur and Caroline Garcia, assuring her place as the first Brit to finish a WTA season in the singles Top 10 since Jo Durie in 1983. In the semis, she pushed Svitolina to three sets before finally seeing the best season of her career come to an end, with her ranking having risen 140 spots since the end of the 2014 season and, even more impressively, thirty-seven since the start of this sesaon. Konta was recently given the "Most Improved Player" honor by the WTA tour.


In her final press conference of 2016, @JoKonta91 gives a big wave to the room and shouts, "See you next year!" @WTAEliteTrophy

— WTA Insider (@WTA_insider) November 5, 2016
November 7, 2016



===============================================




SURPRISE:

Ayla Aksu/TUR


...yet another Turk making good on the tennis circuit (though she did briefly play under the U.S. flag in 2013), Aksu claimed her fourth straight ITF challenger singles title in the $10K Antalya event this weekend. The 20-year defeated German tennis twin Tayisiya Morderger 7-5/6-1 in the final to run her current win streak to fifteen matches, winning her ninth career singles crown and running her 2016 record in finals to 6-0. Aksu also won the doubles with countrywoman Melis Sezer, picking her career title #10. To date, all ten of Aksu's pro singles final appearances, as well as fifteen of her sixteen doubles finals, have come in challengers played within Turkey's borders.


Another ??!????6???? Huge thanks to @KozaWOS, @garanti_koza, @EnkaSpor, @LifeFitnessTR, my coaches, friends & family for their nonstop support?? pic.twitter.com/rzZqI7ZjPA

— Ayla Aksu (@AylaAksu6) November 6, 2016
===============================================
.@zhangshuai121 knocks out Babos 7-6(2), 6-4!

Goes 2-0 in @WTAEliteTrophy Camellia group! pic.twitter.com/MGE4n5zidj

— WTA (@WTA) November 3, 2016




VETERAN:

Zhang Shuai/CHN


...Zhang's fairytale season deserved a fairytale ending. It might have included a run to the title in Zhuhai as a wild card participant in the round robin event. As it turned out, she "only" went 2-0 in RR play (def. the Timeas, Bacsinszky and Babos, the latter an alternate replacing the injured CSN) to win her group without dropping a set to reach the semifinals. She lost in straight sets to eventual champ Petra Kvitova, but her week will lift her to yet another career-high ranking (#24) a mere eleven months after she'd arrived Down Under (w/ her parents in tow), believing that she might be ready to call it a career just a few months after finishing her 2015 campaign at #186 after having been a Top 100 player in 2013-14 and winning a tour singles title. A surprise and affirming QF run at the Australian Open followed, and the rest, as they say, is history.


.@ZhangShuai121 is living the dream! ? #WTAEliteTrophy pic.twitter.com/fBuZEoYCk4

— WTA (@WTA) November 3, 2016


"Now I believe I can do anything," said the re-invigorated 27-year old. And, really, could the WTA tour (in a perfect world order) ask for a better motto than THAT heading in the future?


===============================================




COMEBACKS:

Chanel Simmonds/RSA and Melanie Oudin/USA


...naturally, in the same week in which I listed Simmonds as the "Down" honoree for her world region in the Regional Honors, the South African had by far the best week of her 2016 season in the $10K challenger in Stellenbosch, RSA. The 24-year old, who entered the week barely holding onto a Top 400 ranking -- continuing a trend that saw her standing fall into the #300's the last two seasons, after Top 200 campaigns from 2012-13 -- swept BOTH the singles and doubles titles at the event. Simmonds' first singles crown in nineteen months (the sixteenth of her career) came with a straight sets win in the final over Bannerette Kaitlyn Christian, the same player with whom she picked up her eighteenth career ITF doubles crown on the weekend.

In Scottsdale, Arizona, Oudin's long-awaited slow-motion comeback from various health issues continued in the $50K challenger held there. The now 25-year old who broke onto the WTA scene with back-to-back slam breakout performances -- a Wimbledon Round of 16 and U.S. Open QF -- in 2009, then climbed as high as #31 in 2010, has been putting up some quite good results since the summer. She won a $50K WD title in June and reached a $50K singles final in September, with a pair of $50K singles semifinals thrown into the mix during the stretch, as well. This weekend, she reached another $50K WD final with Samantha Crawford by her side, dropping the match vs. Ingrid Neel & Taylor Townsend. Still, she's close to nudging back into the singles Top 250 and doubles Top 300.


===============================================




FRESH FACES:

Beatriz Haddad Maia/BRA and Dalma Galfi/HUN


...Teliana Pereira may have already reached the peak of her career (her two-title season of '15), but her 20-year old Brazilian countrywoman would seem to have the best days of her career still ahead. In Scottsdale, Arizona, Haddad Maia picked up the biggest win of her career -- and her first ITF singles title since 2013, having gone 0-5 in finals since -- with a 7-6(4)/7-6(2) win in the final over former Stanford star Kristie Ahn on Sunday. After finishing up with her first Top 200 season in 2015, the Sao Paulo native had slipped down to #271 heading into this past week, but will now at the very least put herself in contention for a return to the Top 200 soon, either in the closing weeks of '16 or in the early stages of '17.


MAIOR TÍTULO DA CARREIRA!

Beatriz Haddad Maia vence a final do ITF $50K Scottsdale e aparecerá perto da 210ª posição no ranking. CAMPEÃ! pic.twitter.com/PgbvwlQpKK

— BreakPointBR (@BreakPointBR) November 6, 2016


In Chenzhou, China, 18-year old Hungarian Galfi, the '15 U.S. Open girls champ and last year's #1-ranked junior, picked up her seventh career ITF singles title (she's 7-0 in pro finals) at a $25K challenger with a run that saw her post wins over the #1 (Zhu Lin), #3 (Veronika Kudermetova), #4 (Riko Sawayanagi, in the 6-0/6-4 final) and #7 (Akiko Omae) seeds en route to the title. She'll now jump to a new career high inside the Top 250.


Dalma and her ?? ??
??https://t.co/SQF2V8rbwQ pic.twitter.com/9GiNYWDd2X

— Team Dalma Galfi (@TeamGalfi) November 5, 2016



===============================================




DOWN:

Samantha Stosur/AUS


...the 32-year old Aussie managed to stop her season-ending ranking slide in 2016, largely due to her semifinal run at Roland Garros in the spring. After consecutive finishes that saw her ranking fall from #6 in 2011 to #9, #18, #23 and #27, Stosur will improve to #21 in the season-ending rankings, though she slips from #20 a week to just miss out on her sixth Top 20 season. In another season which included a coaching change and lack of any sustained success away from red clay (she went 14-4 on the surface after going 0-2 on it in Australia's Fed Cup loss to the U.S.), she went 0-2 in round robin play in Zhuhai, dropping her final six matches of the season (and eight of her last nine), losing twelve straight sets. Going back to her loss in the Olympics, Stosur lost seventeen of her final nineteen sets in 2016.


#3Novices : Samantha Stosur's season ends with a whimper https://t.co/nwNXLFIKrc Samantha Stosur's season is over after a straight-sets lo…

— 3Novices Australia (@3novicesSydney) November 3, 2016



===============================================




ITF PLAYERS:

CiCi Bellis/USA, Risa Ozaki/JPN and Isabella Shinikova/BUL


...Bellis, 17, notched her second consecutive $50K crown with a title run in Toronto, extending her winning streak to nine matches with victories over Usue Arconda, Katherine Sebov, Tessah Andrianjafitrimo, Raveena Kingsley and Jesika Maleckova in a 6-1/1-6/6-3 final over the 22-year old Czech, who is looking to return to the Top 200 after climbing as high a #191 in June. 6-1 in career pro singles titles, Bellis will move into the Top 100 for the first time at #90, just under the wire for the official season-ending rankings. She's the youngest Top 100 player.


Cool, Calm And Collected: @cicibellis99 en route to claiming her second title in a row since turning pro in Toronto today. ?? pic.twitter.com/fLfK25KVtD

— Max (@MGLovesTennis) November 6, 2016


In Canberra, 22-year old Ozaki grabbed her second $50K win in as many weeks, claiming career title #6 with wins over Olivia Rogowska, Arina Rodionova and Italy's Georgia Brescia in the final. With her winning streak standing at ten straight matches, she'll jump into the Top 100 for the first time.


Congratulations to Risa Ozaki, winner of two titles in two weeks in Australia in Bendigo and Canberra #apisCBRINTL #protour @ITFprocircuit pic.twitter.com/pA5dbJcWT0

— Tennis Results (@oztennisresults) November 6, 2016


Meanwhile, 25-year old Bulgarian Shinikova may be operating on a lower ITF level than her fellow Week 44 honorees, but no player has been more successful on the circuit in 2016 than her. She's been the leading player when it comes to singles titles this season for much of the year, and she added her seventh (first since early July) this weekend in a $10K challenger in Stockholm. Shinikova posted her seventeenth career ITF win by defeating Kristina Schmiedova -- Anna Karolina's little sister -- in a 6-2/6-4 final that improved her record in ITF singles finals to 15-3 over the last two seasons. With over fifty match wins on the season, she'd worked her way up to #137 heading into this past week, up from her previous best-ever season-ending ranking of #330 in 2015.


===============================================




JUNIOR STARS:

Kayla Day/USA and Gabriella Taylor/GBR


...in a week in which juniors -- Bianca Andreescu and Iga Swiatek -- who recently posted their first career pro singles titles returned with QF runs in their most recent events, I'll go with Day and Taylor. Both posted slightly better results than the other two girls, though neither grabbed a title.

Day, this year's U.S. Open girls champ and the winner a week ago of her maiden pro title at a $50K challenger, extended her winning streak to eight matches in another $50K in Scottsdale, Arizona. The 17-year old's wins over Robin Anderson, Melanie Oudin, and Sesil Karatantcheva put her into another semifinal, where she lost to Beatriz Haddad Maia, who'd go to take the title.

In Heraklion, Greece, 18-year old Brit Taylor reached her second $10K singles final in as many weeks (and third of her career). After retiring in the final a week ago, she lost 6-3/2-6/6-2 to Romania's Ioana-Diana Pietroiu this time around. The #2 seed, Taylor, posted wins over the #3 and #5 seeds en route to the final. Pietroiu was the #7 seed.


Wasn't to be in the final today. Tough loss in the third but moving forward and staying positive. It's been a solid 2 weeks for me!?????? pic.twitter.com/eR48bWoZJP

— Gabriella Taylor (@gabitaylorr) November 6, 2016
===============================================
#WTAEliteTrophy çiftler sampiyonuyuz?????? pic.twitter.com/1XwJZGW3zW

— Ipek Soylu (@soyluofficial) November 6, 2016




DOUBLES:

Ipek Soylu/Xu Yifan (TUR/CHN) and Diede de Groot/Lucy Shuker (NED/GBR)


...in Zhuhai, Soylu teamed with Xu to take the doubles title, going 2-0 in round robin play, then taking a 6-4/3-6 [10-7] final over Yang Zhaoxuan & You Xiaodi. The win gives the 28-year Xu her fourth tour-level doubles title, and the biggest ever. She'd previously been 0-2 in 2016 WTA finals. 20-year Soylu, whose accomplishments this season would be far more noteworthy had Cagla Buyukakcay's career year not somewhat drowned them out, claimed her third career tour title (all in '16) in her third WTA final, having previously won smaller events in Istanbul and Tashkent. She also reached a WTA 125 Series WD final this season in Bol, though she failed to win there. Had Yang (21) & You (20) won, with a combined age of 41, they'd have matched the duo of Mestach/Mertens as the youngest tour double champion duo on tour this season.


2016 @UniqloUSA #WheelchairTennis Doubles Masters champions @DiedetheGreat and @lucy_shuker. Great way to end their rookie week as partners pic.twitter.com/dCZ12mhr1y

— Wheelchair Tennis (@ITFWheelchair) November 6, 2016


In Mission Viejo, California, with most of the very top women's wheelchair players sitting out, the Doubles Masters was contested by a series of new names and/or partnerships. In the end, first-time partners de Groot (19 years old) and Shuker (36) took the title, defeating Louise Hunt & Dana Mathewson (GBR/USA) in a three-set final. While world #8 Shuker's career has often played out in the shadows of the other top players in the sport -- she's previously been a four-time slam WD finalist, '12 Paralympics WD Bronze winner and three-time Doubles Masters runner-up -- de Groot appears to be breathing down the necks of the top-ranked women. The teenager, the latest in the long line of Dutch WC champions, has yet to make her grand slam debut, but when she does next year it should be quite interesting.




"Diede the Great" (as her Twitter handle calls her) won WD Silver at this year's Paralympics in Rio, and finished fourth in singles, notching a win over world #5 Jordanne Whiley (a former WS slam champ) in the QF. Since June, de Groot has pulled off wins over #1 Jiske Griffioen ('16 AO, Wimbledon and Paralympic champ), #2 Aniek Van Koot (2-time WS slam champ), #3 Yui Kamiji (3-time WS slam champ), #4 Marjolein Buis ('16 RG champ) and #6 Sabine Ellerbrock (2-time WS slam champ). Currently, de Groot is the #7-ranked WC player in the world. But it's hard to imagine she'll be "trapped" down there for much longer.


===============================================






Italian Break.

Francesca on shoes, and Roberta on the future... and Francesca.



(F) NOTHING IS IMPOSSIBLE! https://t.co/1x8gy8Gjxs via @YouTube

— Francesca Schiavone (@Schiavone_Fra) November 5, 2016
.@roberta_vinci: no decision on 2017, will see if motivation is still there.

On @Schiavone_Fra's web series: "Francesca is Francesca!"

— WTA Insider (@WTA_insider) November 2, 2016


1. Elite Trophy Final - Kvitova d. Svitolina
...6-4/6-2. Petra recovers from a 1-4 start in the 1st set to win the title in straights, tying Manuela Maleeva-Fragniere and Nancy Richey on the all-time WTA title list, and finishing her season at #11.


.@Petra_Kvitova captures the @WTAEliteTrophy title!

Beats Svitolina 6-4, 6-2! #WTAEliteTrophy pic.twitter.com/GkBq3tPtif

— WTA (@WTA) November 6, 2016



===============================================


2. Elite Trophy RR - Kvitova d. Strycova
...6-1/6-4. Kvitova's twentieth straight win over a fellow Czech. Her countrywomen won't have to worry about such things next weekend in Strasbourg.


===============================================



.@ElinaSvitolina blasts an ace to close it out!

Comes back to defeat Bertens 2-6, 6-4, 6-2 at @WTAEliteTrophy! pic.twitter.com/9xnzckZARo

— WTA (@WTA) November 1, 2016


3. Elite Trophy RR - Svitolina d. Bertens 2-6/6-4/6-2
Elite Trophy SF - Svitolina d. Konta 2-6/6-1/6-4
...playing the role of P3tra this week, Svitolina played the only two three-set singles matches in Zhuhai.


.@ElinaSvitolina battles past Konta 2-6, 6-1, 6-4!

Sets @WTAEliteTrophy Final vs @Petra_Kvitova! pic.twitter.com/462ddkeXuO

— WTA (@WTA) November 5, 2016



===============================================


4. Elite Trophy RR - Kvitova d. Vinci
...6-1/6-2. Vinci went 0-2 in Zhuhai, ending her season... and maybe her career. Or not. She'll get back to us later on that.


"If it's yes, then yes. If it's no, then no." ~@roberta_vinci on whether she'll play in 2017.

MORE --> https://t.co/xZHFddc29z pic.twitter.com/jDa4JRApJX

— WTA Insider (@WTA_insider) November 3, 2016



===============================================


5. Elite Trophy RR - Bacsinszky d. Babos
...6-4/6-2. The Swiss wins the Battle of Timea, providing a far nicer ending to her season in '16 than her knee injury did to her 2015 campaign last fall. And she got a great umbrella as a parting gift, and a cool mask, too.


Chinese creativity is FAN-TAS-TIC! but had to leave Zhuhai without it,because honestly I won't ever use it... ???? #TooManyMe #nevericognito pic.twitter.com/1C0F4lfL0i

— Timea Bacsinszky (@TimeaOfficial) November 5, 2016
"The fun answer is that I got inspired by your masks!"@TimeaOfficial told us the REAL story behind her mask --> https://t.co/FqOpKKbhB9 pic.twitter.com/Gj5B9XOham

— WTA (@WTA) November 2, 2016



===============================================


6. $10K Hammamet Final - Jill Teichmann/SUI d. Diana Enache/ROU
...6-4/6-4. Speaking of a Swiss, 19-year old Teichmann claims her fourth career title. She also won the doubles crown, her fifth.


===============================================


7. $50K Scottsdale Final - Ingrid Neel/Taylor Townsend d. Samantha Crawford/Melanie Oudin
...6-4/6-3. Neel, 18, takes home her fifth '16 ITF doubles title (w/ a fifth different partner), while 20-year old Townsend wins her seventh (the first five with Asia Muhammad, and a week ago with Michaella Krajicek).


===============================================


8. Elite Trophy Final - Soylu/Yi.Xu d. Zh.Yang/X.You
...6-4/3-6 [10-7]. Xu Yifan becomes the twentieth different woman this year to claim a tour-level doubles title in her home nation. With Heather Watson's Wimbledon mixed title, it's twenty-one.


===============================================


HM- The Doubles Musical Chairs
...the music stopped for the first time in this offseason, and the two new doubles teams were formed for 2017. Hlavackova/Hradecka (once more) is gone, replaced by Hlavackova/Peng and Hradecka/Siniakova. More to come soon. (And the music begins again...)


===============================================






Extra points for creativity and accuracy...



My Daughter Is Going as @KikiMladenovic for Halloween Tonight https://t.co/pujRJkuzkh pic.twitter.com/27Uza0P2sA

— TennisAtlantic (@TennisAtlantic) October 31, 2016
How cute is that ???? https://t.co/ndSn4kvXyV

— Kristina Mladenovic (@KikiMladenovic) October 31, 2016
La Trufflette finishes the New York City marathon in 5:40:04.
Cette fois ci on y EST !!! #DDay can't go back, let s do this!!!!! ?????? @nycmarathon #tcsnycmarathon @TeamforKids pic.twitter.com/fgG07F1TWt

— Marion bartoli (@bartoli_marion) November 6, 2016
J y suis arrivée!!Grâce à l aide de mon frère qui a couru à mes côtés et le soutien de ma famille ?? @nycmarathon pic.twitter.com/Rarx2AWRcw

— Marion bartoli (@bartoli_marion) November 6, 2016
And, sometimes, Aga just outdoes herself...
Happy Halloween! pic.twitter.com/lLkIk7MuyC

— Aga Radwanska (@ARadwanska) October 31, 2016


1. $50K Toronto Final - Dabrowski/MICHAELLA KRAJICEK d. Weinhold/Whoriskey
...6-4/6-3 Krajicek wins her fourth straight ITF doubles title (two with Maria Sanchez, one with Taylor Townsend), extending her winning streak to ten matches. She's won twenty of her last twenty-one doubles sets.


4 double titles in a row for @MisaKrajicek wow ????????! #16winsandcounting pic.twitter.com/vqqHTamee3

— Dutch tennis (@tennisdutchies) November 5, 2016



===============================================


2. $10K Stockholm Final - Shinikova d. KRISTINA SCHMIEDLOVA
...6-2/6-4 It's been a tough year to be a Schmiedlova. AKS had a hard time winning ANYTHING, while Kristina has gone 0-2 in ITF singles finals and 0-1 in doubles.


===============================================


3. $10K Antalya SF - Aksu/Sezer d. TAYISIYA MORDERGER/YANA MORDERGER 6-2/6-4
$10K Antalya Final - Aksu d. TAYISIYA MORDERGER 7-5/6-1
...a week after winning a $10K title in Antalya with her 19-year old twin sister Yana (and defeating her in singles), Tayisiya sees Aksu get the best of the duo in doubles, then defeat her in the singles final.


===============================================


HM- $10K Cucula Final - Gatica/Macarena Lopez d. MARIA PAULINA PEREZ/PAULA ANDREA PEREZ
...6-4/4-6 [10-4]. The Colombian twins lose their second doubles final in the last two weeks.


===============================================





88% score on my mid term exam in business law I consider as a success ?? will try to get better for the final exam tho ??

— victoria azarenka (@vika7) October 30, 2016


The Adventures of the Dashas, continued...
And beyond...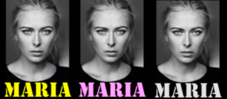 Maria and the art of Halloween...
Oh Pippi, this will be a nice memory! ???????? pic.twitter.com/fJRSdcWyJE

— Maria Sharapova (@MariaSharapova) October 31, 2016
And avoiding an embarrassing offseason injury.




**WTA "SECOND TIER" SEASON-ENDING EVENT CHAMPIONS**




["Tournament of Champions"]


2009 Aravane Rezai, FRA
2010 Ana Ivanovic, SRB
2011 Ana Ivanovic, SRB
2012 Nadia Petrova, RUS
2013 Simona Halep, ROU
2014 Andrea Petkovic, GER


["Elite Trophy"]


2015 Venus Williams, USA
2016 Petra Kvitova, CZE



**2016 WTA HARD COURT TITLES**


3...Victoria Azarenka, BLR
3...Dominika Cibulkova, SVK
3...Aga Radwanska, POL
2...Angelique Kerber, GER
2...Svetlana Kuznetsova, RUS
2...PETRA KVITOVA, CZE
2...Sloane Stephens, USA
2...Caroline Wozniacki, DEN



**2016 WTA FINALS**


8...Angelique Kerber (3-5)
7...Dominika Cibulkova (4-3)
5...Serena Williams (2-3)
4...Karolina Pliskova (2-2)
3...Aga Radwanska (3-0)
3...Simona Halep (3-0)
3...Victoria Azarenka (3-0)
3...Sloane Stephens (3-0)
3...Svetlana Kuznetsova (2-1)
3...PETRA KVITOVA (2-1)
3...ELINA SVITOLINA (1-2)
3...Madison Keys (1-2)
3...Alison Riske (0-3)



**2016 TITLE RUNS W/O DROPPING SET**


Brisbane - Victoria Azarenka
Shenzhen - Aga Radwanska
Auckland - Sloane Stephens
Kaohsiung- Venus Williams
Miami - Victoria Azarenka (2)
Rome - Serena Williams
's-Hertogenbosch - CoCo Vandeweghe
New Haven - Aga Radwanska (2)
Beijing - Aga Radwanska (3)
Linz - Dominika Cibulkova
ELITE TROPHY - PETRA KVITOVA



**WTA SINGLES TITLES - 2014-16**


14 - Serena Williams [7/5/2]
8 - Simona Halep [2/3/3]
8 - PETRA KVITOVA [3/3/2]
7 - Angelique Kerber [0/4/3]
7 - Aga Radwanska [1/3/3]
6 - Maria Sharapova [4/2/0]
5 - Dominika Cibulkova [1/0/4]
5 - Karolina Pliskova [2/1/2]
5 - Venus Williams [1/3/1]



**CAREER WTA SINGLES TITLES - active**


71 - Serena Williams
49 - Venus Williams
35 - Maria Sharapova
25 - Caroline Wozniacki
20 - Victoria Azarenka
20 - Aga Radwanska
19 - PETRA KVITOVA
17 - Svetlana Kuznetsova
--
NOTE: Hingis (43)



**2016 ITF SINGLES TITLES**


7...ISABELLA SHINIKOVA, BUL
6...AYLA AKSU, TUR
5...Jaqueline Adina Cristian, ROU
5...Katharina Hobgarski, GER



**WTA CAREER SEASON-END TOP 10 RANKINGS, 1975-current**


19 - Martina Navratilova
15 - SERENA WILLIAMS*
14 - Chris Evert
13 - Steffi Graf
13 - Monica Seles
13 - Venus Williams*
11 - Arantxa Sanchez Vicario
10 - Lindsay Davenport
10 - Gabriela Sabatini
10 - Maria Sharapova*


[other leading active*]


8...AGA RADWANSKA
6...SVETLANA KUZNETSOVA
6...Caroline Wozniacki
5...Victoria Azarenka
5...Jelena Jankovic
5...ANGELIQUE KERBER
5...Petra Kvitova
--
CAPS-2016 Top 10; * - active



**WHEELCHAIR TENNIS DOUBLES MASTERS CHAMPIONS**


2000 Daniela di Toro/Maaike Smit (AUS/NED)
2001 Maaike Smit/Esther Vergeer (NED/NED)
2002 Maaike Smit/Esther Vergeer (NED/NED)
2003 Maaike Smit/Esther Vergeer (NED/NED)
2004 Jiske Griffioen/Esther Vergeer (NED/NED)
2005 Jiske Griffioen/Esther Vergeer (NED/NED)
2006 Jiske Griffioen/Esther Vergeer (NED/NED)
2007 Jiske Griffioen/Esther Vergeer (NED/NED)
2008 Jiske Griffioen/Esther Vergeer (NED/NED)
2009 Korie Homan/Esther Vergeer (NED/NED)
2010 Aniek van Koot/Sharon Walraven (NED/NED)
2011 Esther Vergeer/Sharon Walraven (NED/NED)
2012 Jiske Griffioen/Aniek van Koot (NED/NED)
2013 Yui Kamiji/Jordanne Whiley (JPN/GBR)
2014 Yui Kamiji/Jordanne Whiley (JPN/GBR)
2015 Jiske Griffioen/Aniek van Koot (NED/NED)
2016 Diede de Groot/Lucy Shuker (NED/GBR)



**RECENT FED CUP FINALS**


2003 France def. United States 4-1
2004 Russia def. France 3-2
2005 Russia def. France 3-2
2006 Italy def. Belgium 3-2
2007 Russia def. Italy 4-0
2008 Russia def. Spain 4-0
2009 Italy def. United States 4-0
2010 Italy def. United States 3-1
2011 Czech Republic def. Russia 3-2
2012 Czech Republic def. Serbia 3-1
2013 Italy def. Russia 4-0
2014 Czech Republic def. Germany 3-1
2015 Czech Republic def. Russia 3-2
2016 CZE vs. FRA


[FC Final - singles clincher victories]


2002 Janette Husarova, SVK
2003 Amelie Mauresmo, FRA
2007 Svetlana Kuznetsova, RUS
2008 Svetlana Kuznetsova, RUS
2009 Flavia Pennetta, ITA
2010 Flavia Pennetta, ITA
2012 Lucie Safarova, CZE
2013 Sara Errani, ITA
2014 Petra Kvitova, CZE




Can Czech Republic make it 3 #FedCup titles in a row? #CzechFedCupTeam pic.twitter.com/4D4RLbGEXi

— Fed Cup (@FedCup) November 2, 2016




FED CUP FINAL; STRASBOURG, FRANCE (Hard Indoor)


15 Final: Czech Republic def. Russia
=============================
Czech Republic d. France 3-1

...with Pliskova coming off showing fighting form in Singapore, and Kvitova winning eight of eight sets in Zhuhai, both in indoor hard court events, the decision for the French Federation to go with an indoor hard court -- rather than clay, which would have likely favored the trio of Garcia, Mladenovic & Cornet -- seems even more questionable than it did weeks ago. It's hard to imagine at least one of the Maidens won't go 2-0 in singles, meaning the other would only need one victory, taking the racket of the hands of Garcia/Mladenovic in what would be a titanic deciding doubles match vs. a number of possible Czech duos.

The French team on French soil, with Captain Mauresmo pulling the strings, isn't something to overlook, of course. But the Czechs in a Fed Cup final might be a force too difficult to overcome. The odds would seem to favor a third straight title, and fifth win in six years. The former feat hasn't been done since Spain from 1993-95, while the extended dominance displayed in the latter hasn't been seen since the likes of the U.S.'s seven straight wins from 1976-82.


Meanwhile, the recap of the 2016 season continues this week with the annual "Rankings Round-Up."

And, finally, Angie...






So, until the U.S. walks up to the Cliffs of Simona and jumps off, or decides to think better of such insanity...


All for now.