Wk.7- The Pliskova Way
Last week, the reigning Queen of Fed Cup decided to double down on success in Doha...
and the result was never in question.


One never knows what to expect from players who find their way back on tour just days after playing in their respective nation's latest Fed Cup outing. Whether it be the elation of a successful weekend, or the letdown after a poor one, it's always a roll of the dice when it comes to what comes next. Most of the time, though, things don't turn out all too well. And since everyone is pretty much anticipating it, no one worries too much when such low expectations are met.

And then there was Pliskova, showing everyone else how it's done.

In Week 7's only tour-level event in Doha, players not bearing the name of a certain Czech twin who were also involved in the various FC scrums that took place in Week 6 went a combined 3-9, with one victory coming when two such players faced off against one another. That match, between Yulia Putintseva and Timea Bacsinzky, ended in a retirement from the Swiss. A round later, it was the Kazakh who retired from her own 2nd Round match. Garbine Muguruza won a 1st Round match, too, but failed to make it past another opponent, and then noted the difficulty of returning to action so soon after the shock-to-the-system emotions of a Fed Cup tie. It's a common conundrum that few manage with aplomb.


Muguruza, who lost in Doha to Zhang today, said this about her Fed Cup experience:

????https://t.co/HgihJ13xIg pic.twitter.com/gjz57G3rYt

— Reem Abulleil (@ReemAbulleil) February 15, 2017


And then there's Pliskova. She was in Doha, too.

Unlike the rest, though, she never lost a match, going 4-0 and winning eight of nine sets en route to lifting her first trophy at the event. It's her eighth overall on tour, with half of them coming since last summer. The world #3 not only found success in Doha after struggling there in the past (2-3 combined from 2014-16), but she notched her first career wins over both Dominika Cibulkova (she was 0-3) and Caroline Wozniacki (0-3), further solidifying her position in the rankings (#3) and proving that her composure and new results-oriented mindset (when quality outweighs quantity) are fully taking hold. Pliskova is the first player to grab a second title in 2017, and her 15-1 mark leads the field, with her only loss coming in Melbourne as the final piece in Mirjana Lucic-Baroni's Cinderella SF run.

Don't look now, but wherever the Czech goes these days, the chances that celebratory fireworks will be set off are quite likely...


Watch out @KaPliskova and @CaroWozniacki ???? #Qatar_Total_Open pic.twitter.com/G4JGsk1WpJ

— WTA (@WTA) February 18, 2017


And, by this point, it's no longer a surprise. It's becoming the Pliskova way.




*WEEK 7 CHAMPIONS*
DOHA, QATAR (Hard/Outdoor)
S:

Karolina Pliskova/CZE def. Caroline Wozniacki/DEN 6-3/6-4


D:

Abigail Spears/Katarina Srebotnik (USA/SLO) d. Olga Savchuk/Yaroslava Shvedova (UKR/KAZ)

PLAYER OF THE WEEK:

Karolina Pliskova/CZE


...even in a "normal" week, let alone after the pressure of once again successfully assuming the lead role carrying the Czechs back to a ninth straight FC semifinal, Pliskova's time in Doha would have been especially impressive. Wins over Caroline Garcia, Zhang Shuai, Dominika Cibulkova and Caroline Wozniacki, after having been 0-4 vs. the latter two opponents, while dropping just one set (vs. Cibulkova) has allowed Pliskova's '16 momentum to carry into the spring of '17, just as her best-ever AO result (QF) maintained the flow of success she established last summer in New York, even if some may have looked upon her Melbourne finish as somewhat disappointing considering she'd been dubbed one of the tournament favorites heading into the event. Just since last June, the Czech has won four titles, reached her first slam final, posted her two best career slam results, piloted yet another FC title run and risen to a career-best #3. With Elina Svitolina still looking to clear a significant hurdle by winning a truly BIG "regular season" title (a Premier 5/Premier Mandatory, which she'll have a go at again this week in Dubai), is there another player other than Pliskova who has progressively climbed the ladder to a point where the leap to "slam champion" status and challenging for the top ranking would seem the natural "next step?" Aside from the flashy ace totals, she's fifth on the tour in singles titles (one away from moving up to a tie for third) over the last three seasons, second in finals, and third in semifinals. After going 4-8 in her first twelve WTA finals from 2013-15, she's gone 4-2 in her last six in 2016-17. The arrival of the elusive "next level" result seems only a matter of time. If not this season, then the next.


Two Months, Two Titles! ????@KaPliskova wins second title of 2017 at @QatarTennis--> https://t.co/rWn8cH9LQ2 pic.twitter.com/IZTNgYPYd9

— WTA (@WTA) February 18, 2017



===============================================




RISERS:

Monica Puig/PUR and Lauren Davis/USA


...for the first time since her Gold medal run in Rio, Puig truly made her presence known. The Puerto Rican had gone just 5-8 (1-4 in '17) since becoming a national hero last summer, never being able to string together three straight wins (she won six in Brazil), and five times going one-and-out in her eight post-Olympics tournaments. In Doha, she opened with a win over Laura Siegemund, outlasted a retiring Yulia Putintseva in the 3rd set, and won another three-set, two-day affair against Daria Kasatkina in the QF, staging a comeback from a break down in the deciding set. Puig lost in straights in the semis to Caroline Wozniacki, but her week of work means she'll jump five spots (to #42) in the rankings on Monday.


First Semifinal of 2017!@MonicaAce93 edges Kasatkina in three sets--> https://t.co/GCIzStSnq4 pic.twitter.com/fxgKieeckY

— WTA (@WTA) February 17, 2017


Already a first-time champ in '17 (Auckland), Davis made her way through Doha qualifying with victories over Julia Boserup, Wang Qiang and Camila Giorgi, then posted a pair of main draw wins over veterans Roberta Vinci and Elena Vesnina. The Bannerette will climb nine spots in the rankings this week to #46, just three off the career-high she set in 2014.


===============================================







SURPRISE:

Olga Savchuk/UKR


...the Ukrainian has been the blossoming doubles star on tour so far this season. Of course, the 29-year old has always been a good doubles player, finishing in the Top 85 all but one season since 2008 (and she was Top 65 in four of those years). But Savchuk, who has ranked as high as #44 in doubles, has never ended a season in the Top 50, and entered last week at #51. She'd won two tour WD titles (in '08 and '14) over the years before the start of '17, appearing in six tour level finals (as well as winning a WTA 125 Series event). But in Doha, teaming with Yaroslava Shvedova for just the third time ever, but for the first time in nearly a decade (they'd gone 1-3 in 2007-08, playing in slam draws in two of their three partnerships), Savchuk -- with wins over the likes of Hlavackova/Peng and YJ.Chan/Hingis, both in 3rd set TB wins -- advanced to her third WD final of '17 alone. Her previous runs came with Raluca Olaru, winning in Hobart after a Week 1 runners-up result in Shenzhen, while this time she and Shvedova lost in straights, as Spears/Srebotnik erased a 5-2 2nd set deficit to avoid sending things to a TB.

Also, with all the rain delays last week in Doha, Savchuk realized that tennis really IS the sport for her. Sad to say, a career in "trick-shot billiards" was just never going to happen.





===============================================




VETERANS:

Dominika Cibulkova/SVK and Zhang Shuai/CHN


...after a slow start to her season, Cibulkova seems to be slowly but surely getting her footing following a remarkable finish to '16 that saw her reach three finals (winning two, including the WTA Finals) in her last four tournaments and climb into the Top 5. After a 4-3 start to the new season, with the Slovak failing to win more than one match in two of her first three events, Cibulkova followed up her Saint Petersburg SF with another semi result last week in Doha. Wins over Anastasia Pavlyuchenkova and Samantha Stosur preceded a loss to eventual champ Karolina Pliskova, where she claimed the only set lost by the Czech all week. It marks the third straight event in which Cibulkova has gone out of events in a three-setter, after having fallen in straights in her first two events of '17.

Meanwhile, Zhang was caught up in the rainy weather in Doha just like all the other players. But the situation allowed her to have one of the best days of her career, as she recorded wins over both Timea Babos and Garbine Muguruza on the same day, the latter giving her a fourth career Top 10 victory, en route to the QF, her best result of 2017. After her surprise QF run in Melbourne a year ago, Zhang had started the season with 2r-1r-2r results in January.


===============================================




COMEBACK:

Caroline Wozniacki/DEN


...on multiple levels, Week 7 marked the return of Wozniacki to the forefront of the tennis news. First, off the court, she appeared in the Sports Illustrated swimsuit issue for a third straight February. After years, largely due to a slip in her results on the court, of the inclusion seeming to be a hint that the Dane was seeking out avenues for her post-tennis career, it all has a much different feel this winter. Coming five months after her return to the U.S. Open semifinals last fall, when she lit the fire for her climb from outside the Top 70 to back into the Top 20, her modeling stint is more easier viewed as a fun sidelight that serves to promote herself and the sport. The switch was even further cemented by her week in Doha, where she reached her 43rd career final (giving her a full decade of consecutive seasons with appearances in finals) on the back of a string of good wins over Kiki Bertens, Aga Radwanska, Lauren Davis and Monica Puig. She'll rise three spots into the Top 15 on Monday, with her eyes on a healthy spring/summer that could see her return to Flushing Meadows in August armed with a new (again) Top 10 ranking that will allow many of the questions from the still-recent past to be noticeably (well, mostly) off the table.


.@CaroWozniacki bests Puig 6-1, 6-2!

Sets @QatarTennis Final vs @KaPliskova! pic.twitter.com/vyJIToTMoV

— WTA (@WTA) February 17, 2017



===============================================




FRESH FACES:

Aryna Sabalenka/BLR, Marie Bouzkova/CZE and Caroline Dolehide/USA


...after playing a key role in the Belarus win over the Dutch in the 1st Round of Fed Cup play, 18-year old Sabalenka had a few days to unwind from all the excitement, and when she returned to the court in Dubai she maintained her high standards. Straight sets wins over Lyudmyla Kichenok and Aleksandriva Naydenova earned her a spot in the main draw, where she'll face Kateryna Bondarenko for the right to play Garbine Muguruza.

In Perth, 18-year old Bouzkova defeated fellow Czech Marketa Vondrousova, 17, in a 1-6/6-3/6-2 final to claim the $25K challenger title. Bouzkova posted previous victories over Barbora Krejcikova and Viktoria Kuzmova, and is now 9-2 in career ITF singles finals.


So happy to win my first tournament of the year in Perth!! It has been an unreal week! Thank you for your support!???????? #25k #TeamMary? pic.twitter.com/HMOLdIfOXC

— Marie Bouzkova (@MarieBouzkova) February 19, 2017


And in Surprise, Arizona, 18-year old Dolehide landed the biggest title of her career in the $25K challenger there, overcoming (in a Week 7 trend) a series of rain delays in the event to defeat both Mariana Duque (SF) and Danielle Lao (F) on Sunday. A college recruit, Dolehide is scheduled to play tennis for UCLA in the fall. Hers previous ITF title was a $10K in Buffalo last year.


===============================================




DOWN:

Angelique Kerber/GER


...Kerber is getting to be too common a presence here. And while she has a chance to reclaim the #1 ranking this coming in Dubai by winning the title on the fast courts in the desert, it should be noted that this might not be the week where she'll rediscover her consistency. She's 1-4 for her career in the event. In Doha, the German suffered another loss in an up-and-down match against Daria Kasatkina in the 2nd Round, falling in three sets after taking the 2nd at love. It's Kerber's second loss to the Russian this year, and she's now 4-4 on the season (3-1 in Melbourne, 1-3 elsewhere). She has a do-able draw in Week 8, with most of biggest-hitting and/or form players in the bottom half of the draw, but how likely is it that this is where "the turn" in her season occurs?


===============================================




ITF PLAYER:

Maria-Teresa Torro-Flor/ESP


...while Pliskova leads the WTA tour with two titles, Torro-Flor's win in the $15K challenger in Manacor, Spain, gives the Spaniard a circuit-leading three wins (in four finals) on the season. The 24-year old swept the singles and doubles (w/ Olga Saez Larra) titles at the event, defeating Ukraine's Anastasia Zarytska 6-4/6-2 in the final to run her career ITF final record to 16-4. She won her sole WTA singles title in Marrakesh in 2014.


.@titatorro obtiene su tercera corona del año en el ITF $15000 de Manacor. ¡Enhorabuena! https://t.co/yBaD9RoBmm pic.twitter.com/PuDfoyBaNf

— TENNISTOPIC (@tennistopic_) February 18, 2017
===============================================
Iga Swiatek was the youngest player to win an ITF title in 2016 (Stockholm in October, just her 2nd Pro event; Bergamo just her 5th event) pic.twitter.com/vXG3dtMnVD

— Coby (@_Coby_) February 17, 2017




JUNIOR STARS:

Iga Swiatek/POL and Amanda Anisimova/USA


...the Polish Tennis Generation That Aga built is starting to poke its collective head out of the shadows. 15-year old Swiatek has already swept the doubles at the Grade 1 Traralgon event in Melbourne this year, as well as claiming the AO junior doubles with Maja Chwalinska (last year, they teamed to win the Junior Fed Cup title for Poland). This weekend, she claimed her second pro singles title at the $15K challenger in Bergamo, Italy, with a 6-4/3-6/6-3 win in the final over Martina di Giuseppi.


Winning the grade A in Brazil was great ?? #ontothenextone pic.twitter.com/qBqhgtc9Kb

— Amanda Anisimova (@AnisimovaAmanda) February 19, 2017


In Brazil, 15-year old Bannerette Anisimova, last year's RG junior runner-up, added the Grade A clay event in Porto Alegre to her increasingly good resume. She won both the Yucatan Cup and Coffee Bowl titles last season, when she also reached the Porto Alegre final (to Usue Arconada). The #6-ranked girl last week, the top-seeded Anisimova lost just seventeen games through five rounds before defeating fellow U.S. teen Sofia Sewing, 17, in a 7-5/6-1 final.

It surely helped improve her overall week. I mean, considering...





===============================================




DOUBLES:

Abigail Spears/Katarina Srebotnik (USA/SLO)


...in a field packed with new and makeshift doubles duos, the 35-year olds took home the title in Dubai in just their second pairing (they reached the Brisbane semis in Week 1). After dueling careers which have seen Spears and Srebotnik, with various partners, face off fifteen times (Srebotnik winning 11 times) in matches as far back as 2002, they've turned out to be quite good together on the same side of the net. Last week alone, they took out the likes of top teams Groenefeld/Peschke (the latter is Srebotnik's most successful former partner, w/ ten titles) and Mirza/Strycova before defeating Savchuk/Shvedova in the final. For Spears, who won her first slam title last month when she picked up the AO mixed doubles crown with Juan Sebastian Cabal, it's her nineteenth career tour WD title (in 28 finals), but her first without Raquel Atawo at her side since 2009. For Srebotnik, title #37 (in her 77th final) is her first since Eastbourne '15, and her second in Doha after reaching the final there five times with three different partners over the last eight years.


Katarina Srebotnik in Abigal Spears veliki zmagovalki dvojic WTA turnirja v Dohi ! https://t.co/0yhxLa2sdM pic.twitter.com/z6ebTiimkH

— Tenisportal.si (@Tenisportal) February 18, 2017
===============================================
Look who's (finally) on the comeback trail...
Former world #15 Aravane Rezaï of France returns to pro-level tennis at ITF 15k Macon next week. https://t.co/PuTBk7VTnI

— Jimmie48 Photography (@JJlovesTennis) February 18, 2017

She's done it again!@DKasatkina defeats Kerber 6-4, 0-6, 6-4! pic.twitter.com/LTAnPNT8yW

— WTA (@WTA) February 16, 2017


1. Doha 2nd Rd. - Daria Kasatkina def. Angelique Kerber
...6-4/0-6/6-4. A round after a sloppy win over Irina-Camelia Begu in the 1st, the Russian gets her second win over Kerber in '17. But the evidence of Kasatkina's "imperfect" week can be seen in her bagel 2nd set here, as well as...


===============================================


2. Doha QF - Monica Puig def. Daria Kasatkina
...4-6/7-5/6-4. In the rain-marred event, the 3rd set was played on Day #2 of this match. Kasatkina was up a break at 3-2, but failed to convert BP in game #8 that would have allowed her to serve for the match. Puig held for 4-4, and didn't lose another game.

Still, Daria's high fives were on point...


Good luck Hi-? for @DKasatkina! #Qatar_Total_Open pic.twitter.com/yvvvj5fZlk

— WTA (@WTA) February 16, 2017


She faces Wozniacki in the 1st Round in Dubai.


===============================================


3. Doha 2nd Rd. - Zhang Shuai def. Garbine Muguruza
...7-6(3)/3-6/7-5. In Zhang's second match of the day, the Chinese vet gets her fourth career Top 10 victory.


Two wins in one day! Even a Top 10 win! ??

All in a day's work for @zhangshuai121! pic.twitter.com/Nfl1DNEFPn

— WTA (@WTA) February 15, 2017



===============================================


4. Doha 1st Rd. - Anastasia Pavlyuchenkova def. Jelena Jankovic 6-1/6-4
Dubai 1st Rd. - Mona Barthel def. Jelena Jankovic 6-1/6-3
...not the results JJ was looking for after making her way through Doha qualifying with wins over Hibino, Ozaki and Pironkova.


===============================================


5. Dubai Q1 - Gabriela Dabrowski def. Nao Nibino
...7-6(6)/4-6/7-6(7). This match began its second day of action seven games into the 3rd set. Hibino ultimately served for the match twice, and held MP in the deciding TB. Finally, on her sixth MP, Dabrowski put away a win in a match in which her opponent won more games (18-16) than she did.


===============================================


6. Dubai Q2 - Ons Jabeur def. Gabriela Dabrowski
...4-6/7-6(5)/6-1. The Tennis Gods giveth, and they also taketh away. Later in the day, Dabrowski lost to Jabeur after holding a set and a break advantage. Jabeur went on to notch a very big MD win over Anastasia Pavlyuchenkova on Sunday.


===============================================


7. Doha 1st Rd. - Elena Vesnina def. Christina McHale
...5-7/6-3/7-6(7). The Russian battled back from 5-3 down in the 3rd to win in 2:54.


===============================================


8. Doha 1st Rd. - Caroline Wozniacki def. Kiki Bertens
...6-2/6-3. Bertens' Fed Cup nightmare from last weekend in Minsk carried over the border into Qatar.


===============================================


9. Budapest Q1 - Tereza Smitkova def. Rebecca Sramkova
...6-2/6-2. Meanwhile, Slovak Fed Cup star Sramkova left her Fed Cup touch back in Italy.


===============================================


10. Dubai 1st Rd. - Laura Siegemund def. Silvia Soler-Espinosa
...6-7(4)/6-4/7-6(3). In 2:57, Siegemund finally gets her first victory of 2017, breaking out of her 0-8 freefall.


===============================================



First pro title!!!! ???????????????????????? pic.twitter.com/1QUvPt8tYJ

— Maiaaaa (@maialumsden) February 18, 2017


11. $15K Wirral Final - Maia Lumsden def. Maja Chwalinska
...6-4/6-1. British teen Lumsden, 19, wins the Maia vs. Maja battle to pick up her first pro singles title. Chwalinska, 15, failed to grab her maiden title on the same weekend in which her Polish junior doubles partner Iga Swiatek (they won the Traralgon GD title and reached the AO GD final in January) won her second. Still, the girl with her very own Radwanskian bag of tricks paired with Miyabi Inoue to win in ITF doubles for the first time in her career.



SWIATEK and CHWALINSKA in Melbourne

===============================================


12. Budapest Q1 - Aliaksandra Sasnovich def. Galina Voskoboeva
...7-6(5)/6-7(4)/6-4. In 3:00, Sasnovich, too, showed that she didn't leave her Fed Cup fight behind in Minsk. Must be a Belarussian thing.


===============================================


HM- Doha 1st Rd. - Samantha Stosur def. Anastasija Sevastova
...7-5/6-4. Things just weren't going Sevastova's way here...


La nonchalance di Anastasija Sevastova... ?????? #tennis #WTA @QatarTennis pic.twitter.com/zhLQaioBcQ

— SuperTennis TV (@SuperTennisTv) February 14, 2017
===============================================
It's that time of the year again...this time in triplicate
Genie Bouchard STUNS in #SISwim 2017! pic.twitter.com/EfL87cJwc4

— SI Swimsuit (@SI_Swimsuit) February 16, 2017

1. Doha Final - KAROLINA PLISKOVA def. Caroline Wozniacki
...6-3/6-4. 5-0 vs. Top 10ers, and 11-0 vs. the Top 50, in 2017; and more titles (4) than any other player on tour since she "unlocked" the classified secrets to success last summer in Nottingham, England.


Your 2017 @QatarTennis champion @KaPliskova and finalist @CaroWozniacki! pic.twitter.com/Rf0OnboBsT

— WTA (@WTA) February 18, 2017
It's like #BlueSteel @KaPliskova title town face ???????? https://t.co/Mn20Kws2fl

— CoCo Vandeweghe (@CoCoVandey) February 18, 2017



===============================================


2. Doha 1st Rd. - CHAN YUNG-JAN/Martina Hingis def. Kiki Bertens/Johanna Larsson
...6-1/6-4. The latest "vacation" in the Chan sisters' partnership -- occurring, incidentally, between events at which they won titles in '16 -- now allow Yung-Jan to team up with Hingis, who finally unshackled herself from the unsuccessful teaming with Vandeweghe. The duo ultimately reached the semis in their debut, falling in a 3rd set TB to Savchuk/Shvedova.


my partner played awesome today! on to the semis! @YungJan_Chan #qatartotalopen pic.twitter.com/qrHSTrfl1E

— Martina Hingis (@mhingis) February 16, 2017



===============================================


3. Doha 2nd Rd. - Caroline Wozniacki def. AGA RADWANSKA
...7-5/6-3. Caro moves to 10-6 in her head-to-head with Radwanska, 5-2 since 2014. And she might have won the unofficial "Shot of the Month (vs. Aga)" award, too.





===============================================


HM- Dubai 1st Rd. - KRISTYNA PLISKOVA def. Roberta Vinci
...3-6/7-5/6-3. A day after Karolina won in Doha, Kristyna survived in Dubai. Vinci led 6-3/5-4, but Pliskova won out in the first meeting between these two since 2008, when Kristyna was just 16.


Kristyna pliskova beats Roberto Vinci 3-6 7-5 6-3 in first round of Dubai duty free #pliskova ( tom dulat ) pic.twitter.com/aYVhXgxI1S

— Phil (@tennis_phil) February 19, 2017
===============================================
Genie had quite the eventful week...
Genie Bouchard goes through with her lost Super Bowl bet, takes Patriots fan out on date https://t.co/guFiBe3FY9 pic.twitter.com/ZjucyENvZu

— SI Tennis (@SI_Tennis) February 16, 2017
Just met my 'Super Bowl Twitter Date' John ?? On our way to the @BrooklynNets game! @punslayintwoods pic.twitter.com/DHRgY46smd

— Genie Bouchard (@geniebouchard) February 16, 2017
Last night... ?? pic.twitter.com/Vu3DYgYSBh

— Genie Bouchard (@geniebouchard) February 16, 2017
Love blossoms with the NBA! Here's the story on when the student & @geniebouchard went on their now world famous date! #NBAAllStar pic.twitter.com/xEYLLKpgiD

— NBA UK (@NBAUK) February 17, 2017
But now...
Back to reality.....lol pic.twitter.com/x5vZmXmuVd

— Genie Bouchard (@geniebouchard) February 19, 2017

Caro and the far less impressive-looking Doha runner-up trophy
Little "cheeky" behind the scenes shot from my @si_swimsuit shoot ?????? #captionthis #lookatthewater pic.twitter.com/1qdF3C8IDW

— Caroline Wozniacki (@CaroWozniacki) February 17, 2017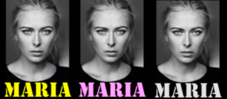 Forget the double! ?? After a 100 tries ???????, single flip challenge accepted @la_pouille @evianwater ?? pic.twitter.com/nxOQmB4aQy

— Maria Sharapova (@MariaSharapova) February 18, 2017




**2015-17 WTA FINALS**


13 - Angelique Kerber (7-6)
12 - KAROLINA PLISKOVA (5-7)
11 - Serena Williams (8-3)
8 - Simona Halep (6-2)
8 - Aga Radwanska (6-2)
7 - Petra Kvitova (5-2)
7 - Dominika Cibulkova (4-3)
6 - Venus Williams (4-2)
6 - CAROLINE WOZNIACKI (3-3)



**2015-17 WTA SEMIFINALS**


19...Angelique Kerber (8/11/0)
18...Aga Radwanska (8/9/1)
16...KAROLINA PLISKOVA (8/6/2)
16...Serena Williams (9/6/1)
15...Elina Svitolina (6/7/2)
15...Simona Halep (9/6/0)
12...DOMINIKA CIBULKOVA (1/9/2)
12...CAROLINA WOZNIACKI (7/4/1)



**2017 OLDEST WTA CHAMPIONS**


35y,49w - KATARINA SREBOTNIK, SLO (DOHA WD)
35y,7m,1w - ABIGAIL SPEARS, USA (DOHA WD)
35y,6m,2w - Abigail Spears, USA (AO MX)
35y,4m - Serena Williams, USA (AO WS)



**2014-17 OLDEST WD CHAMPION DUOS**


71 years - Peshke/Srebotnik (2014 Rome)
70 years - SPEARS/SREBOTNIK (2017 DOHA)
70 years - S.Williams/V.Williams (2016 Wimbledon)
66 years - Kops-Jones/Spears (2015 Linz)



**2017 WTA DOUBLES FINALS**


3 - OLGA SAVCHUK, UKR (1-2)
2+1 - Sania Mirza, IND (1-1,0-1 mx)
2 - Bethanie Mattek-Sands, USA (2-0)
2 - Andrea Hlavackova, CZE (1-1)
2 - Raluca Olaru, ROU (1-1)
2 - Peng Shuai, CHN (1-1)
1+1 - ABIGAIL SPEARS, USA (1-0,1-0 mx)



**CAREER WTA DOUBLES TITLES - active**


55 - Martina Hingis, SUI
53 - Liezel Huber, USA
41 - Sania Mirza, IND
37 - KATARINA SREBOTNIK, SLO
28 - Anabel Medina-Garrigues, ESP
27 - Kveta Peschke, CZE



**SREBOTNIK WTA DOUBLES TITLES - w/ partners**


10 - Kveta Peshke (2010-12,14)
4 - Tina Krizan (1998-01)
4 - Nadia Petrova (2008,13)
4 - Ai Sugiyama (2007-08)
3 - Shinobu Asagoe (2005-06)
3 - Emilie Loit (2005)
2 - Dinara Safina (2006-07)
1 - Caroine Garcia (2015)
1 - Laura Golarsa (1999)
1 - Anna-Lena Groenefeld (2009)
1 - Jelena Jankovic (2013)
1 - Mara Santangelo (2007)
1 - Abigail Spears (2017)
1 - Asa Svensson (2003)


[mixed]


2 - Nenad Zimonjic (2006,10)
1 - Bob Bryan (2003)
1 - Daniel Nestor (2011)
1 - Piet Norval (1999)



**CZECHS - CAREER WTA TITLES**


51 - Martina Navratilova (1974-81)#
27 - Hana Mandlikova (1978-87)
24 - Jana Novotna (1988-99)
19 - Petra Kvitova (2009-16)
10 - Helena Sukova (1982-92)
10 - Regina Mariskova (1976-81)
8 - KAROLINA PLISKOVA (2013-17)
7 - Lucie Safarova (2005-16)
--
# - won 4 (1974-75) TCH pre Sept.'75 defection; 47 (1974-81) "stateless"
# - won 116 (1981-94) USA



**2017 ITF TITLES**


3...MARIA-TERESA TORRO-FLOR, ESP
2...Anhelina Kalinina, UKR
2...Marketa Vondrousova, CZE








DUBAI, UAE (Premier 5/Hard Outdoor)


16 Singles Final: Errani d. Strycova
16 Doubles Final: Chuang/Jurak d. Garcia/Mladenovic
17 Top Seeds: Kerber/Ka.Pliskova
=============================


=SF=


#7 Svitolina d. #8 Vesnina
#2 Ka.Pliskova d. #10 Wozniacki


=FINAL=


#2 Ka.Pliskova d. #7 Svitolina

...can Pliskova keep it up? Is Svitolina ready to win her first BIG title? Will Kerber get her season back on course? There are a lot of stories wandering the desert in Dubai.






BUDAPEST, HUNGARY (Int'l/Hard Outdoor)


16 Singles Final: (2016 $100K: Kostova d. Tomova)
16 Doubles Final: (2016 $100K: Burgic Bucko/Garcia Perez d. Kuncikova/Stuchla)
17 Top Seeds: Babos/Safarova
=============================


=SF=


(Q) Kontaveit d. #1 Babos
#2 Safarova d. #8 Beck


=FINAL=


#2 Safarova d. (Q) Kontaveit

...why not keep the Czech train going without interruption?




All for now.