RG.5- What a Difference a Year Makes
Sometimes you own Justine Henin Day. Sometimes it owns you.
After previously experiencing the latter, Elina Svitolina finally saw how the other half lives *this* June 1st.


After not getting the opportunity to play on the "holy" date two years ago, as the day fell between the Ukrainian's Round of 16 and quarterfinal matches in Paris that spring (both were played on Chatrier court), Svitolina was made to suffer 365 days ago. Back on Chatrier last spring, while seeking to post her second straight Roland Garros QF result, she was crushed by a 6-1/6-1 score by eventual finalist Serena Williams. Even worse, it happened with '16 coach Justine Henin herself watching from the stands. It wasn't exactly the greatest birthday present for the Belgian who would enter the Hall of Fame a few months later, but it *was* yet another step in the evolution of her pupil.

Fastforward to 2017, and Svitolina found herself opening June 1 play on Court 2 against Tsvetana Pironkova, a notorious slam dream-crusher who sometimes plays lights-out tennis on the biggest tennis stages of the world, only to then retreat into the tour's shadows until she decides it's time to shock the world yet again. In 2016, she reached the quarterfinals in Paris, but hasn't done much of note since. She game to Paris without a clay match win in '17, riding a seven-match losing streak, and without a MD win to her name since Week 1. So, naturally, she came out and rocked Prague champion Mona Barthel by a love & four scoreline in the 1st Round.

For a bit, it looked as if Svitolina might the Bulgarian's latest high profile victim. The Ukrainian, now ranked at a career-best #6 after winning her second clay tournament of the spring in Rome, is leading the tour in virtually every stat that matters this season. The highest-ranked player in her nation's history, her four '17 title runs include the two biggest wins of her career. But she arrived in Paris, for the very first time, with some real pressure of expectation on her shoulders. She reached the QF at RG two years ago, but hasn't gone as far in any of her other seventeen slam MD appearances. Still, at 11-2, she was *the* in form clay player (perhaps along with fellow Rome finalist Simona Halep, who was still questionable to play this RG a few days before the start of play) this spring, and even with a possible groin injury carrying over from a few weeks ago she was also one of the "healthier" contenders.

But Pironkova didn't care about that.

She took the 1st set from Svitolina, breaking her to win it 6-3 and opening wide the gaping hole in the universe through which Pironkova slam victims sometimes disappear, victims of her brain-frying game of forehand slices mixed with ultra-flat zingers, drop shots, passing shots and whatever fresh nightmare any sort of rhythm player might stay up all night worrying about.

Svitolina is a good student, though. An admitted problem-solver, the 22-year old former RG girls champ (2010) is the sort of player who likes to talk about figuring out ways to win matches that force her to go away from her original plan until she finds something that gets the job done. Her confidence level, still a lingering issue last year when Henin came aboard for a one-season stint in the official Svitolina inner circle, improved greatly as 2016 went on, and she's utilized it to great effect in 2017. She did it today, too.

Jumping on top of Pironkova in the 2nd set with an early break, she first went about routinely breaking her while she figured out her own service game. The set saw five straight breaks of serve, but Svitolina's final break of Pironkova gave her the set at 6-3. By the time the 3rd set arrived, the Ukrainian's confidence took over. Another early break led to a 3-0 lead. Pironkova broke back in game #5, but Svitolina immediately reclaimed the advantage a game later, then raced to a 40/love lead in her own service game. She held for 5-2, then broke the Bulgarian to win 3-6/6-3/6-2.

Crisis averted, with a steady hand behind the wheel.

Pironkova, with her '16 QF points falling off, will now have to hope her brief Paris run is a sign that better things are ahead once again. She'll fall out of the Top 100 heading into Wimbledon, where the 29-year old reached her only slam semifinal in 2010.

Meanwhile, Svitolina, still traversing her high level personal learning curve, will continue to seek to make this slam the one where she finally becomes the *thing* she's been building toward for several years now.

As she goes along at this event, the pressure will get heavier and heavier on her shoulders. But few players have shown the ability to build up a game as patiently and efficiently as Svitolina has as she's increased her season-ending ranking every single year she's been on tour (2010-17), maintaining her knack for collecting titles (at least one every year since '13) and avoiding major slumps throughout. A Top 5 ranking, yet another higher plain of existence on the WTA tour that Svitolina has her eye on, is the next step in her path, no matter how things ultimately turn out for her by the close of this Roland Garros.

Whether it comes after a few more lessons learned, or precisely when she finally proves that she's ready to be the student at the head of the class, will soon be determined.

What a difference a year makes for Svitolina. But what a difference the next nine *days* could make for the rest of her career.



=DAY 5 NOTES=
...things are beginning to get serious in Paris as the second week is already just around the corner.

Today, things got real for the remaining French women in the draw not nicknamed Kiki. While Pauline Parmentier fell to Carina Witthoeft, two other Pastries joined Mladenovic in the 3rd Round, with Caroline Garcia taking out wild card French woman Chloe Paquet on Court 1 by a 7-5/6-4 score to record her best career result in Paris in seven RG appearances.


Flying into the 3rd round !
Au 3e tour à @rolandgarros !
?????????????????? #RG17 #FlyWithCaro #NikeCourtUnmatched
(??Antoine Couvercelle) pic.twitter.com/tFlvgUf2r7

— Caroline Garcia (@CaroGarcia) June 1, 2017


Meanwhile, on Chatrier, Alize Cornet knocked off Barbora Strycova 6-4/6-1.


"I always play great matches on Philipp-Chatrier so it's magical."@alizecornet closes out her 2R win over Strycova in style. #RG17 pic.twitter.com/Y905jO3wkE

— Roland-Garros (@rolandgarros) June 1, 2017


Cornet will play Aga Radwanska for a chance to play in her second Round of 16 in Paris in three years. Radwanska, finally back from lingering injury issues, struggled early against qualifier Alison Van Uytvanck ('15 RG QF, and coming back her own injury-plagued '16 season) but managed to win after two and a half hours on the court, stringing together back-to-back victories for the first time since January, 6-7(3)/6-2/6-3.

If Cornet wins that match, and Garcia defeats Hsieh Su-Wei, they'll meet in the Round of 16 for a spot in the quarterfinals. This would be news on any level at a slam held in Paris, but it would be even more interesting when you consider that while Cornet spoke today of her love of playing on the big stage of Chatrier, it was only a season or two ago that Garcia openly talked of *not* wanting to play on the tournament's biggest court, saying that doing so puts too much pressure on her shoulders, and in the past has even admitted to having asked the organizers to *not* schedule her there.

One would think that a Garcia/Cornet match for the Final 8 *would* be scheduled there, though. That could be quite intriguing.

...Simona Halep's injured ankle is (still) holding up, though she wasn't in quite the form today she was in the 1st Round. Still, she defeated Tatjana Maria 6-4/6-3. Next up for the Swarmette: the other recent clay court title-winner who came to Paris nursing a bad ankle, Daria Kasatkina.


.@Simona_Halep moves past Maria 6-4, 6-3!

Plays Kasatina next in @RolandGarros Third round! #RG17 pic.twitter.com/xUpYJkFZ1D

— WTA (@WTA) June 1, 2017


The just-turned-20 year old Hordette won the anticipated Court 6 (really, Court 6?) NextGen battle with 17-year old Czech Marketa Vondrousova, who'd laid waste to four straight opponents through the qualifying and 1st Round. Vondrousova looked strong in the opening game, breaking the Russian, but Kasatkina settled her game and was able to push Vondrousva back with her groundstrokes. She got the set to a TB, where she took a 5-0 lead as Vondrousova's errors led to a 7-1 win. Even while taking the TB by such a large margin, Kasatkina still won fewer total points (32-31) in the 1st set than the Czech.


Vondrousova continues to clutch left arm. Looked pretty upset at changeover. pic.twitter.com/IcmCOaa9hg

— The Overrule (@theoverrule) June 1, 2017


Many times, lefty Vondrousva, playing in her tenth match since mid-May (after having won nine straight coming into today) and her 29th (25-4) since the close days of March, grabbed her left arm as the match went on, probably feeling the pain and fatigue of so much recent match play (ah, done in by her own excellence). Kasatkina opened the 2nd set with a break of serve, and held a double-break lead at 4-1. Vondrousova get one of the breaks back, but the Russian served for a straight sets win at 5-4, taking a 40/love lead. She won 7-6(1)/6-4, reaching the 3rd Round of a major for the fifth time in seven career MD appearances.


In the battle of the young guns it's 20yo @DKasatkina who bests 17yo Vondrousova 7-6(1) 6-4 to book spot in 3R for 2nd straight year.#RG17 pic.twitter.com/osr2EvrdmU

— Roland-Garros (@rolandgarros) June 1, 2017


...later in the day, the notion of actually predicting Anastasia Palvyuchenkova to reach a slam semifinal (*Who* did that? Sheesh. Crazy person.) was once again imploded when it was least expected. Playing Veronica Cepede Royg, the Russian held a double-break lead of 4-1 in the 1st, and held five SP, but ended up losing the set to the Paraguayan in a TB. It turned out to be the key to the match. VCR, who nearly blew a 5-0 2nd set lead vs. Lucie Safarova in the 1st Round (she won 6-1/6-4), dropped the 2nd set today, but managed to keep a nose ahead of Pavlyuchenkova in the closing stages of today's 2nd Rounder, ultimately serving out the match for a 7-6(4)/2-6/6-4 victory that makes her the first Paraguayan to reach the 3rd Round of a major since Rossana de los Rios in Paris in 2002.

...meanwhile, Madison Keys has to wish she had access to a time machine.


This is so cute @Madison_Keys ?? #EvianOversize pic.twitter.com/t00DjWfYxQ

— Alyson (@AlysonP7) May 24, 2017


2017 was supposed to be her big year. But offseason wrist surgery is now threatening to make the season something of a wash.

After delaying the start of her season until March, coach Lindsay Davenport said that she likely came back too soon, as her wanting results (4-6 after today) this season had shown before she arrived in Paris. After her 1st Round win, her first of the clay season, Keys said it was the first time she didn't feel pain in her wrist since her return. Well, she felt it again today against qualifier Petra Martic, and was treated for the injury en route to a 7-6(4)/2-6/6-4 loss.


Keys understandably disappointed and frustrated. "Everyone keeps telling me it's structurally fine and it's just going to take some time."

— WTA Insider (@WTA_insider) June 1, 2017


Martic joins Bethanie Mattek-Sands as the only qualifiers still alive in the 3rd Round. The Croat knows injury, as her 1st Round win this week was not only her first at a major since the 2013 Wimbledon, but came in just her fifth tournament back (she's 22-3) since she returned this spring from a nine and a half month injury layoff (back) of her own.


First Top 20 win of 2017!

Petra Martic makes 3-6, 6-3, 6-1 comeback win over Keys in @RolandGarros Second round! #RG17 pic.twitter.com/hcEX3xKCtX

— WTA (@WTA) June 1, 2017


...with the end of the 2nd Round, some of the usual early-round awards for this Roland Garros can now be claimed at the Backspin hospitality desk. Including...



UPSET QUEENS & REVELATION LADIES:

after a flurry of action on Day 5, things got sorted out. While the Pastries were late contenders for both honors, and the Waffles would have won one had Van Uytvanck upset Aga, the awards are handed out to players who aren't even from any single nation.

The "RL" nod goes to, essentially, Muslim women. A presence on tour for quite a while, and often a controversial one back home since Sania Mirza had her breakthrough moment more than a decade ago, Muslim players have made Roland Garros in particular a place where they've been able to find success. A year ago, both Cagla Buyukakcay and Ipek Soylu became the first Turks to reach a slam MD, with Buyukakcay being the first to win a match at a major. This year, Soylu lost in the second round of RG qualifying, as did countrywoman Basak Eraydin in her first-ever slam Q-round appearance, while Buyukakcay notched another 1st Round victory (upsetting Mirjana Lucic-Baroni). She failed to become the first Turk to reach a major 3rd Round, but she now has three career slams match win in the span of a little over a year. Meanwhile, Tunisia's Ons Jabeur fell in the final round of qualifying, but saw her name pulled as the recipient of a lucky loser ticket into the main draw. All the '11 RG girls champ has done is become the first LL to reach the 3rd Round in Paris since 1996 and put up her first career Top 10 win (def. Cibulkova). She's the first Arab woman to reach a slam 3rd Round, and will next face Timea Bacsinszky, who has incidentally practiced in the past with Buyukakcay and spoken very highly of her on a personal level.


"To win in two sets against a Top 10 player gives me great confidence."@Ons_Jabeur? talks about @RolandGarros win and her country #RG17 pic.twitter.com/chUo2fvx95

— WTA (@WTA) June 1, 2017
.@TimeaOfficial on @CaglaBuyukakcay: "She is an adorable human being." Occasionally train together in Biel.

— WTA Insider (@WTA_insider) May 31, 2017


The RG "UQ" award goes to the South Americans for the second straight year. While the improving Beatriz Haddad (BRA) lost in the 1st Round, Colombia's Mariana Duque (def. Begu and Rybarikova) and Paraguay's Veronica Cepede Royg (def. Safarova and Pavlyuchenkova, the latter today in three sets) are both still alive in the draw. In fact, they'll face off in the 3rd Round, with the winner becoming the first South American woman in the RG Round of 16 since Gisela Dulko (ARG) in 2011 (although, of course, Venezuela-born Spaniard Garbine Muguruza is the reigning women's champion).


Cepede- Royg now has 3 Top 40 wins, two of them at #RG17. Safarova and Pavlyuchenkova. pic.twitter.com/2V6tg7k8Zi

— Ilya Ryvlin (@ryvlin) June 1, 2017




TOP EARLY-ROUND PLAYER:

while there are several possibilities here, I'm going with Sam Stosur. Strong on the court (extending her Strasbourg run, she's won fourteen of her last fifteen sets, as the former RG finalist seeks to defend her '16 semifinal result) and off (defending fellow Aussie Casey Dellacqua against Margaret Court's public condemning in a story that continues to grow prickly hair), she's positioned quite nicely for a possible "all-in" quarterfinal against Svetlana Kuznetsova sometime next week. Stosur has been the #1-ranked Aussie woman for more than eight and a half years, and the act of Gavrilova breathing down her neck in the rankings has, whether there's any *real* cause-and-effect or not, kicked her game into another gear.

A combined four matches must be won for the Sam/Sveta to become a reality, with Stosur facing Mattek-Sands, then the winner of Tsurenko/Ostapenko, and Kuznetsova looking at Zhang Shuai, then Wozniacki/Bellis. Whatever happens, this has still been a very encouraging few weeks for the 33-year old after an extremely slow start to her '17 campaign after another coaching switch (this time to Joshua Eagle). Kuznetsova, by the way, leads that head-to-head 5-4, including a 3-0 record on clay.

...in women's doubles action on Day 5, Kasatkina joined the other half of "the Dashas" in the 2nd Round. Teaming with Irina Khromacheva rather than Gavrilova (she and Pavlyuchenkova knocked off Mirza/Shvedova yesterday), probably because of Kasatkina's lack of knowledge about her availability for RG WD due to her injury heading into Paris, the Russians took out #10-seeded Raquel Atawo & Jelena Ostapenko 6-0/3-6/6-4. Atawo/Ostapenko won Stuttgart and reached the Charleston semis this spring.

Big names duo advancing included Mattek-Sands/Safarova, Y.Chan/Hingis, Kuznetsova/Mladnovic, Spears/Srebotnik and (hey, she's still here) Flipkens/Schiavone.

One player who didn't advance in the mixed doubles was CoCo Vandeweghe. She and veteran Max Mirnyi fell to #5-seeded Shvedova/Peya, leaving CoCo a combined 0-3 at this Roland Garros after losing her opening match in all three disciplines. So much for that better-than-expected spring on clay. Ah, but this means she'll get extra practice time on the grass, where she'll be a big threat to win any singles event she plays. Yes, including *that* one.

...and, of course, it *is* Justine Henin Day. And more respect must be paid.


Happy Birthday @Justine_Henin! ?? ?? pic.twitter.com/U7AfZbuX5e

— WTA (@WTA) June 1, 2017
A huge happy birthday to 2004 #AusOpen champion, @Justine_Henin. pic.twitter.com/oiaAZZyxum

— #AusOpen (@AustralianOpen) June 1, 2017
??Happy Birthday to @Justine_Henin! [pics: BTU / 2016 Roland Garros] #WTA #tennis #Henin pic.twitter.com/QQhAfaKngr

— TennisUkraine (@UkrainianTennis) June 1, 2017






...LIKE ON DAY 5:

Don't we all want to be more like Juan Martin when we grow up?


So much more than tennis...#RG17 ?? pic.twitter.com/XQNmP1BvvD

— Roland-Garros (@rolandgarros) June 1, 2017
Huge amount of heart from @DelPotroJuan at @RolandGarros.??
???? Nicolas Almagro (knee) forced to retire v. ???? JM Del Potro.#RolandGarros2017 pic.twitter.com/DvzjYaatft

— Tennis Channel (@TennisChannel) June 1, 2017




...LIKE ON DAY 5:

Rarely has a single photo encapsulated a player's on-court worldview better...


Mood: Strycova. pic.twitter.com/WAQI6yNlXa

— Jimmie48 Photography (@JJlovesTennis) June 1, 2017




...LIKE ON DAY 5:

Vania is out and about (down south...really down south).


Hanging out in the Keys ???? pic.twitter.com/55Y4JwLf8X

— Vania King (@queen_v21) June 1, 2017




...LIKE ON DAY 5:

Elena won AGAIN. Shhhhh. Don't tell anyone.


Vesnina won back-to-back matches for the first time since her Indian Wells title. pic.twitter.com/Q62fzuGIoE

— Ilya Ryvlin (@ryvlin) June 1, 2017
...THE PRESENT-DAY EQUIVALENT OF "NERO FIDDLING WHILE ROME BURNS" ON DAY 5?:
Crooked Hillary Clinton now blames everybody but herself, refuses to say she was a terrible candidate. Hits Facebook & even Dems & DNC.

— Donald J. Trump (@realDonaldTrump) June 1, 2017


You'd think you'd have other things to focu-... oh, nevermind.



...LIKE ON DAY 5:

Unintentionally artistic photography on the RG Twitter feed...


He's from a country that knows a bit about glens. But today, he'll be on Lenglen. Next up, @andy_murray #RG17 pic.twitter.com/pvaPVQd62g

— Roland-Garros (@rolandgarros) June 1, 2017




...WHY WE CAN'T HAVE NICE THINGS ON DAY 5:

Sponsored by Perrier...


Reactions of the kid in the background?? pic.twitter.com/IGYajzYtKf

— moruni (@morunien) June 1, 2017




...BACKSPIN INSINCERITY ON DAY 5:

Oh, poor Genie.


?? Anastasija #Sevastova [17] élimine @geniebouchard
?? 6/3, 6-0
?? 1h00 de jeu
?? 3e tour ?? #RG17 pic.twitter.com/YGLompCMWJ

— Roland-Garros (@rolandgarros) June 1, 2017




...LIKE ON DAY 5:

Meanwhile, somewhere other than Paris...


Best pre-match warm up with @SofiaShapatava ?????? @ITF_Tennis @WTA #livinlavidaloca #rickymartin #dance pic.twitter.com/Ql86YhEfuj

— Jovana Jaksic (@JaksicJovana) June 1, 2017
...AND IT JUST GETS WEIRDER ON DAY 5:
I'm literally face-palming... pic.twitter.com/0VAelJkEFM

— Jimmie48 Photography (@JJlovesTennis) June 1, 2017


Of course...



So...


Exclusive: An open letter from Martina Navratilova to Margaret Court Arena https://t.co/7Ayfev6nz8 | @SMHsport

— smh.com.au (@smh) June 1, 2017
...and, finally, on Henin Day we present the Coupe LA PETIT TAUREAU.



A year ago, the inaugural awarding of the honor went to Yulia Putintseva, a player who posted a win *last* June 1, and one who has admitted to watching Henin videos on YouTube for inspiration. And, of course, she also sports a very Justine-like cap on the court, as well.

This year's honoree, who in 2016 got a much more first-hand dose of inspiration from LPT, had a very different day exactly one year ago. As noted earlier, with Henin watching while undertaking a coaching role for the Ukrainian, Elina Svitolina was throttled by Serena Williams on June 1, losing a Round of 16 match by the score of 6-1/6-1. It was one of the few low points in a season full of progress.

A year later, having seen her confidence grow so much over the course of the past year, not coincidentally beginning its more acute trajectory immediately after Henin's one-year turn as a member of Svitolina's team began (as she does, Elina seems to take what she needs from various coaches, improves herself, then looks for another voice who can fill in the gaps in her knowledge... all without skipping a beat as she has continued her gradual, yearly climb up the WTA ladder of success). Of course, after that loss to Serena in Paris, Svitolina would later go on to defeat Williams at the Rio Olympics for her first career #1 victory. Three more #1 wins have followed since (all over Angelique Kerber), as well as the remaining nine of her fifteen career Top 10 wins. Six have come this season alone. As we stand, Svitolina holds or shares the '17 tour lead in all sorts of "superior" categories such as the Race to Singlepore rankings, titles, finals, semifinals and match wins.

Today, she noted that it was her confidence that got her through against Pironkova.


"I think today was actually my confidence that brought me to win" @ElinaSvitolina overcomes Pironkova in 2R: https://t.co/aQrcJ5OIsQ #RG17 pic.twitter.com/Y3D3uihlbJ

— Roland-Garros (@rolandgarros) June 1, 2017


So, it seems it would be a nice nod in Justine's direction for Svitolina to pick up the second Coupe LPT. Keep it in a safe place, Elina.


Tennis players in ESPN World Fame 100
4 Federer
9 Nadal
12 Djokovic
19 Serena
20 Kei
23 Sharapova
32 Murray
42 Stan
87 Wozniacki
93 Bouchard pic.twitter.com/1QsL8bzuTx

— Ilya Ryvlin (@ryvlin) May 30, 2017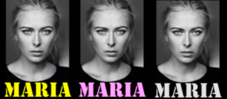 More progress: @MariaSharapova is back to hitting balls, 19 days ahead of her R1 match in Birmingham pic.twitter.com/ISS4MUJZcp

— Jimmie48 Photography (@JJlovesTennis) June 1, 2017


*Coupe LA PETIT TAUREAU WINNERS*
2016 Yulia Putintseva, KAZ
2017 Elina Svitolina, UKR



*RG "UPSET QUEENS" NATION/REGION*


2004 Ukraine
2005 France
2006 United States
2007 Romania
2008 Czech Republic
2009 Kazakhstan (ex-Russians)
2010 Australia
2011 Romania
2012 United States
2013 Slovak Republic
2014 France
2015 Croatia
2016 South America
2017 South America



*RG "REVELATION LADIES" WINNERS' NATION/REGION*


2006 France
2007 Italy
2008 Czech Republic
2009 Australia
2010 Germany
2011 North America
2012 France
2013 North America/Atlantic
2014 Spain
2015 Australia (The New Aussies)
2016 France
2017 Muslim women



**RG "EARLY-ROUND TOP PLAYER" WINNERS**


2002 (Week 1 POW) Serena Williams, USA *
2003 (Week 1 co-POW) Serena Williams, USA & Kim Clijsters, BEL
2004 (Week 1 POW) Amelie Mauresmo, FRA
2005 (Week 1 POW) Kim Clijsters, BEL
2006 Amelie Mauresmo, FRA
2007 Justine Henin, BEL *
2008 Ana Ivanovic, SRB *
2009 Dinara Safina, RUS
2010 Venus Williams, USA
2011 Samantha Stosur, AUS
2012 Maria Sharapova, RUS *
2013 Serena Williams, USA *
2014 Simona Halep, ROU
2015 Angelique Kerber, GER
2016 Lucie Safarova, CZE
2017 Samantha Stosur, AUS
--
* - won title




TOP QUALIFIER:

Marketa Vondrousova/CZE




TOP EARLY-ROUND (1r-2r):

#23 Samantha Stosur/AUS




TOP MIDDLE-ROUND (3r-QF):

xx


TOP LATE-ROUND (SF-F):

xx


TOP QUALIFYING MATCH:

Q3: Quirine Lemoine/NED def. Arantxa Rus/NED 2-6/7-6(3)/6-3 (down 6-2/5-3, saved 2 MP)




TOP EARLY-RD. MATCH (1r-2r):

1st Rd. - #13 Kristina Mladenovic/FRA def. Jennifer Brady/USA 3-6/6-3/9-7 (back injury; down 3-0 in 3rd; on third attempt to serve out match)


TOP MIDDLE-RD. MATCH (3r-QF):

xx


TOP LATE-RD. MATCH (SF-F/Jr.):

xx


=============================




FIRST VICTORY:

#15 Petra Kvitova/CZE (def. Boserup/USA)




FIRST SEED OUT:

#31 Roberta Vinci/ITA (1st Rd.-lost to Puig/PUR)




UPSET QUEENS:

South Americans (Duque Marino/COL & Cepede Royg/PAR)




REVELATION LADIES:

Muslim woman (Jabeur/TUN first Arab in 3rd Rd.; Buyukakcay/TUR 1st Rd. win for second straight year)




NATION OF POOR SOULS:

Germany (2-5 in 1st Round; Kerber first #1 out so early)




LAST QUALIFIER STANDING:

In 3rd Rd.: Martic, Mattek-Sands (LL: Jabeur - in 3rd Rd.)


LAST WILD CARD STANDING:

Chloe Paquet/FRA (2nd Rd.)




LAST PASTRY STANDING:

In 3rd Rd.: Cornet, Garcia, Mladenovic
MADEMOISELLE/MADAM OPPORTUNITY: xx
IT "??": Nominees: Jabeur, Bellis, Mertens, Kasatkina, Ostapenko


COMEBACK PLAYER:

Petra Kvitova/CZE




CRASH & BURN:

#1 Angelique Kerber/GER (first #1-ranked woman to lost RG 1st Rd.; first at any slam since '01)


ZOMBIE QUEEN (TBA at QF): Nominees: Mladenovic (1st Rd.- down 3-0 in 3rd to Brady); Jabeur (lucky loser, in 3rd Rd.; name picked out of hat for MD spot)


DOUBLES STAR:

xx


VETERAN PLAYER (KIMIKO CUP):

Nominees: V.Williams, Mattek-Sands, Hsieh, Kuznetsova, Stosur, Sevastova


JUNIOR BREAKOUT:

xx
Légion de Lenglen HONOREE: Nominee: Garcia, Jabeur, Muguruza, Kuznetsova
LA PETIT TAUREAU TROPHY:

Elina Svitolina/UKR






Artist:
Paul Thurlby
All for Day 5. More tomorrow.