Wk.19- One Day in May
At least for one day in May, the tennis world was Jelena Dokic's oyster.


All right, maybe it wasn't the W-T-A world, but the ITF one instead... and not a $100K, $75K or $50K event, but rather a $25K one. And, who knows, maybe the Yugoslav turned Aussie turned Serb turned Aussie is allergic to seafood, which would give that first sentence an entirely different meaning.

Ahh, such is the tennis career that has turned out to be Dokic's. So, allow me for a moment to go off on something of a Week 19 tangent (sorry, Dinara... you won your first Tier I on the wrong weekend), for in Florence, Italy the walking embodiment of any "Even You Can Screw up Your Career" mantra managed to accomplish something she'd never done before.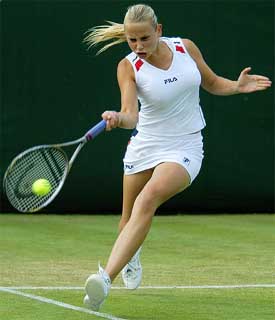 No, she didn't lose to a player ranked #709 in the qualifying rounds of a $25K event. She did that in 2006. And she didn't fall to an unranked no-name in the qualifying of a $10K, either. She did that LAST year... get with the program. Dokic actually WON an ITF event, a little milestone that a young Jelena simply "skipped over" in her previous incarnation. In this case, it took a 6-1/6-3 win in the final over Lucie Hradecka to complete the task.

How is it, you wonder, that a player that had so much early success managed to never win an ITF event? Easy. Dokic was good enough early enough to never give it a second thought.

After playing a few ITF events when she was 15, reaching a final in Saga, Japan (she lost to fellow Aussie Alicia Molik) in 1998, Dokic hit the ground running at the 1999 Wimbledon. As a qualifier, she famously upset world #1 Martina Hingis in the 1st Round and raced to the QF. She only played one other lower circuit event until 2005 (when she finally "stooped" after all else had failed and her career was in literal free fall).

Dokic rode her early career wave to great effect. A year after defeating Hingis, she reached the SF at SW19. By 2002, she'd won five titles, two Tier I's, completed a "surface slam" with championships on all four surfaces, and climbed to #4 in the rankings.

Then the bottom dropped out.

Quicker than you can say "the apple doesn't fall far from the tree," Dokic nearly blew her career to smithereens with a lethal combination of familial discord, injuries and a lack of confidence, a one-dimensional game that her innate stubbornness refused to allow her to correct with sane coaching decisions, the propensity to cut-and-run from tennis camps as well as nations, an almost Jankovician desire to play herself into the ground (sometimes in a panicked reaction to a string of bad results), and a frustrating failure to see that the path back to the main road might mean swallowing a little pride until it was almost too late.

(Whew! Pardon me, my head is spinning.)

Dokic's year-end ranking graph looks like Mount Everest, and she was able to travel from base camp to summit and back down the other side without the aide of a single Sherpa, too. She bottomed out last season, dropping off the WTA rankings computer entirely after playing just two $10K events (she failed to qualify in one, and lost in the 1st Round in the other).

She entered Florence ranked #429, with her last grand slam main draw victory a tennis lifetime ago at the 2003 U.S. Open. So, it'd be easy to dismiss last week, even with her crazy dad in her rear view mirror, as but a blip on the Dokic career radar. But there are few players whose success that Your Friendly Neighborhood Backspinner would welcome with more delight than any cobbled together by the Ex-Debutante, even if it was only on a "lesser" scale. Check that, Justine & Nadia... there is NO player's success that would be more welcome in these parts.

Along the hard road from there to here, maybe Dokic has finally matured. Just a bit? It'd be quite a journey, considering she's been her own worst enemy for most of the past half-decade as her once-promising career careened out of control, sometimes from an embarrassing lack of direction and common sense. She never fell into a Capriati-esque period of delinquency, but that fact only makes her inability to gain any real traction or semblance of stability since 2002-03 all the more vexing.

Once referred to as the Fair One (in the Jelena-Dokic.com "Jelena Corner" years), Dokic was staring down her career's possible last chance before the start of this season. I guess such a back-to-the-wall moment has a way of forcing someone to bite their lip and make the correct decisions. Heading back Down Under was the right move. Not getting depressed and/or panicked when she was injured during her attempt to capture a wild card, then lost in the qualifying rounds of the Australian, was another. Waiting until Fes in Week 18 to return? Another good move.

Fes provided Dokic with the chance to get a win over The Kid, Michelle Larcher de Brito, a player who, if you squint hard enough, might actually call to mind a young 16-year old Aussie slamming winners all over the court and clenching fists against a now-veteran player on the comeback trail. Time plays tricks with the mind, and it's turned the tables on Dokic. But she still has time to win a few important battles.

Florence might stand as an extremely important one. Other than her brief comeback when she won the Australian tennis federation's wild card playoff tournament in 2006, before this weekend Dokic hadn't won ANYTHING since claiming Birmingham in June 2002 in singles (then the Linz doubles later that year). She hadn't played in a final since losing to Justine Henin in Zurich in 2003, or reached a SF on tour since 2004 in Tokyo (she DID reach one in a $10K in '06, though).

So, for at least this brief instant, Backspin HQ is celebrating with Jelena. It wasn't too long ago that even something as "nominal" (at least for a one-time world #4) as a $25K crown seemed to be an "impossible dream" for a player that was THIS CLOSE to becoming an afterthought. That is, except for that ounce of stubbornness that once was a winning trait of a teenager on the rise, and so many years later still caused Dokic watchers to leave a door partly ajar for her to step through one more time... but not really expecting her to come knocking before she packed away her tennis bags for good.

The now 25-year old Dokic's bubble may burst at any moment, but RIGHT NOW Jelena is perched atop it, albeit precariously, and able to consider her next move without wondering if another failure might cause her to considering calling it her last. For the first time in a long while, she has a reason to smile.

Just a little, at least... but isn't that what May is for?



*WEEK 19 CHAMPIONS*




BERLIN, GERMANY (I-Red Clay)
S: Dinara Safina def. Elena Dementieva 3-6/6-2/6-2
D: Black/Huber d. Llagostera-Vives/Martinez Sanchez



PLAYER OF THE WEEK: Dinara Safina, RUS




Michael Kappeler/AFP/GETTY IMAGES


.... as the lucky #13-seed in Berlin, Safina's first career Tier I crown makes one wonder what Maria Kirilenko's Estoril title-winning run has wrought. Following up on Maria Sharapova's first-ever clay title, Kirilenko's awakening seems to have jostled a slew of other young Hordettes to action. Vera Zvonareva won in Prague a week ago, then Safina made it four Russian champs in the last six WTA events. MAYBE Safina's exploits in Germany -- which included impressive wins over both Justine Henin and Serena Williams -- will signal a course change for her career. But, remember, we ARE talking about Marat's sister here. She reached the Top 10 for the first time in 2006, but didn't win a title that season. She claimed just one in 2007 and managed to top out at #9 in the rankings, but had fallen to #17 heading into Berlin. Maybe her recent doubles success has emboldened her game, making her a more take-charge force more willing to put away points on her terms. As usual, we'll have to wait and see.


=============================


RISER: Agnes Szavay, HUN & Alona Bondarenko, UKR
.... one's never known what to expect from either of these two so far this year, but both were in good form in Berlin. Szavay finally seems to have gotten over her early-season stall and is now stringing together the good results she'll need to protect her ranking/seeding heading into the North American HC season at the end of the summer. Last week, she put away Yan Zi and Marion Bartoli before taking the opening set from Ana Ivanovic in the QF, only to see the match suspended mid-way and the Serb charge back to take the deciding 3rd set a day later. Meanwhile, while the Sisters Bondarenko results have dipped of late, Alona herself pulled off wins over Dominika Cibulkova, Anabel Medina-Garrigues and '07 Berlin RU Svetlana Kuznetsova on her way to her own QF result in Germany.


=============================


SURPRISES: Angelika Bachmann, GER & Sofia Arvidsson, SWE


.... 28-year old Bachmann, an Oz qualifier back in January, began Berlin by upsetting Fed Cup star Nuria Llagostera-Vives in qualifying, then notched a main draw win over Ekaterina Dzehalevich. On the ITF circuit, Arvidsson's nice under-the-radar season continued with a $75K title in Zagreb with a win in the final over Severine Bremond.


=============================


VETERANS: Elena Dementieva, RUS & Cara Black/Liezel Huber, ZIM/USA
.... never underestimate Punch-Sober (I didn't last week, since I somehow managed to correctly predict her Berlin RU), even when you think she has to be seeing the latter stages of her career within her peripheral vision. She didn't win another Tier I title last week, but wins over the likes of Kateryna Bondarenko, Vera Dushevina and (most impressively) both Jelena Jankovic and Ana Ivanovic before losing to countrywoman Safina in the final certainly means it won't be a surprise if Dementieva grabs a big one before the year is out. Hmmm, if Henin isn't as big a force in Paris as in the past... well, why jinx anything? Black & Huber DID win in Berlin, claiming the team's second Tier I crown of a season that started slowly but is now beginning to resemble the dominant one of a year ago for the pair.


=============================


FRESH FACES: Victoria Azarenka, BLR & Yanina Wickmayer, BEL


.... Azarenka followed up her Tier IV RU in Prague (and FF award) with a Tier I SF in Berlin (and another FF) after wins over Casey Dellacqua, Anna Chakvetadze, Gisela Dulko and Alona Bondarenko. She reached the doubles SF with Shahar Peer, getting a win over the Bondarenkos, too. 18-year old Waffle Wickmayer finally got her first '08 ITF title in her third final appearance of the season, winning the $50K Indian Harbour Beach event in Florida by taking out Bethanie Mattek (by defeating her on the court, not in a shopping spree at one of those odd places where Bethanie buys her outfits) in the final.


=============================


DOWN: Justine Henin, BEL
.... one Waffle goes up, so one must come down. And with Kim Clijsters on diaper duty, that pretty much only leaves La Petit Taureau since a Flipkens flop wouldn't exactly be earth-shattering. It's not that Justine is having a BAD season (she's won two titles, after all), but it's just that she's not having an HENIN type of season. She 16-4 on the year. Not bad... until you compare it to her 63-4 mark of a season ago. After never losing before the SF in fourteen events a year ago, she's already had four QF-or-earlier losses in '08. Last week, it was in the 3rd Round in Berlin to Safina after seeing her serve let her down once again. Henin's "dirty little secret," which has been a hit-or-miss weapon for her ever since she changed her service motion to protect herself from injury a while back, produced eight DF and had just a 43% 1st Serve percentage against the Russian. With her serve acting up, the pressure mounts on the rest of Henin's game and makes her as vulnerable as a player her size SHOULD be, but rarely has been in recent seasons.. But maybe it's something else? Last week, Henin WAS ruminating on her post-tennis life and her plans to continue to reduce her schedule. Might Henin be losing her focus and, hence, her mental edge over the field? She pulled out of Rome, citing fatigue even though she hasn't exactly been a Jankovician workhorse in 2008. Paris looms, but will Henin's Lenglen Court aura make the flight there with her?


=============================


ITF PLAYER: Jelena Dokic, AUS
.... looking like she MIGHT be ready to lose her "Ex," the Ex-Debutante has gone 10-1 since her return to action over the last two weeks. Counting her "unofficial" action in the pre-season Australian Open Wild Card Playoff tournament, she's managed to win 18 of the 22 matches she's played since her last ditch return Down Under before this season. Perhaps showing a bit of the old verve, she overcame dropping the 1st set of her 1st Round match at love to pack away fourteen of her next fifteen sets in the tournament to claim the crown. Maybe her near-bagel win in qualifying over a Florence -- Haring -- was a sign that the Florence event was her's to win or lose? Winning a $25K is a long way from becoming something other than a life lesson for other young phenoms, but it's been so long since Dokic has had anything to smile about it's difficult NOT to look at what just happened as a potential stepping stone toward recapturing at least a portion of her lost tennis career. Crossing fingers.


=============================






1. Ber 3r- Safina d. Henin
....5-7/6-3/6-1. Is Henin's dominance slipping away, just as this match did on the red clay? She's going to head to Paris looking to four-peat with little-to-no meaningful clay tune-ups. More than in any other year in recent memory, La Petit Taureau's Roland Garros pelt could be there for the taking in two weeks.


=============================


2. Ber QF - Safina d. S.Williams
....2-6/6-1/7-6. Back from a set down against probably two of three best players on the planet? Just like her big brother, sometimes Dinara does things that make you shake your head and wonder why we don't see THIS family member more often.


=============================


3. Ber F - Safina d. Dementieva
....3-6/6-2/6-2 Make it three come-from-behind wins against Top 10 players, though it's hard to avoid looking at this one as something of a "big whoop" after the other two (of course, if Safina had lost the final after such a highlight-filled week...). You know, this is the type of scoreline we used to see from Punch-Sober back in her Punch-Drunk days. Of note, this was the fourteenth all-Hordette final in WTA history, and Dementieva has played in seven of them. And Safina is the sixth different Russian champion through just nineteen weeks in 2008, a season after there were eight different titlists over the course of the entire schedule.


=============================


4. Ber QF - Ivanovic d. Szavay
....3-6/6-4/6-3 With a night to think about the situation she found herself in (the match was suspended after AnaIvo had erased Szavay's lead), the Serb righted the ship.


=============================


5. Florence $25K QF - Dokic d.. Lucic
....3-6/7-5/6-2. Nine years after both were surprise Wimbledon quarterfinalists (and, though most might get the results reversed when thinking back, Lucic reached the SW19 SF), the two troubled stars-on-the -comeback-trail finally met on the court for the first time. It turned out to be a pretty good one, even if it did come a little late in the game.


=============================


6. Fukuoka $50K QF - Nakamura d. Date-Krumm
....6-2/6-2 Given a second chance at the 37-year old, Nakamura didn't make the same mistakes twice. To further show the difference a week makes, Tamarine Tanasugarn wasn't the ultimate winner of the tournament, either. She was RU to Tomoko Yonemura.


=============================


7. Irapuato $25K F - Duque Marino d. Frankova
....6-4/3-6/3-6. A year ago, the young Colombian was a surprise RU in the Roland Garros Girls competition last year. Looking back now, her list of conquered foes is something akin to a junior murderer's row -- Ksenia Pervak (still a Top 15 junior), Klaudia Boczova (who also won an ITF event this weekend), Zhou Yi-Miao (a recent ITF champ), Michelle Larcher de Brito and Anastasia Pavlyuchenkova. She dropped the final to Pastry Alize Cornet in three sets.


=============================


8. Ber Doubles F - Black/Huber d. Llagostera-Vives/Martinez Sanchez
....3-6/6-2/10-2. Hold off, Katarina & Ai. Cara & Liezel don't want to loosen that grip on the #1 ranking, after all.


=============================


9. Ber 1st - Dulko d. Vaidisova
....4-6/6-1/6-2. This is the type of match that one might expect Dulko to lose just days after winning a title. Good for her for avoiding the celebratory letdown. As for Nicole, well... we COULD finally get that first Sharapova-Vaidisova match in the 3rd Round in Rome this week. But what are the odds of THAT happening, and is it even intriguing enough to warrant any excitement at the moment, anyway?


=============================


10. Ber 1st - Dushevina d. Schnyder
....6-2/6-3. Might another Russian Vera be the next late-in-developing Hordette to put together an inspiring run on the clay?


=============================


HM- Rome 1st - Razzano d. Vakulenko
....6-1/6-2. Hey, it's just nice to have Julia back.


=============================


HM- Rome 1st - Stosur d. Krajicek
....6-3/6-2. Ditto for Sammy... and she won, too!.


=============================





*2008 ALL-RUSSIAN FINALS*


Doha - Sharapova def. Zvonareva
Dubai - Dementieva def. Kuznetsova
BERLIN - SAFINA DEF. DEMENTIEVA



*ALL-RUSSIAN WTA FINALS (14) - MOST APPEARANCES*


7...ELENA DEMENTIEVA (2-5)
4...Anastasia Myskina (4-0)
4...Maria Sharapova (3-1)
4...Svetlana Kuznetsova (2-2)
2...Anna Chakvetadze (2-0)
2...Nadia Petrova (0-2)
1...DINARA SAFINA (1-0)
1...Vasilisa Bardina (0-1)
1...Elena Bovina (0-1)
1...Elena Likhovtseva (0-1)
1...Vera Zvonareva (0-1)



*2008 TIER I FINALS*


2...Serena Williams (2-0)
2...Vera Zvonareva (0-2)
1...Ana Ivanovic (1-0)
1...DINARA SAFINA (1-0)
1...Maria Sharapova (1-0)
1...ELENA DEMENTIEVA (0-1)
1...Jelena Jankovic (0-1)
1...Svetlana Kuznetsova (0-1)



*CAREER WTA SINGLES TITLES - RUSSIANS*


19...Maria Sharapova (2003-08)
10...Anastasia Myskina (1999-05)
9...Svetlana Kuznetsova (2002-07)
9...Elena Dementieva (2003-08)
9...Olga Morozova (1969-75)
7...Nadia Petrova (2005-07)
7...Anna Chakvetadze (2006-08)
6...Vera Zvonareva (2003-08)
6...DINARA SAFINA (2002-08)



*LONG 2008 WINNING STREAKS*


18...Maria Sharapova (Jan/Mar) - lost to Kuznetsova
17...SERENA WILLIAMS (MAR-MAY) - lost to Safina



*2008 SINGLES FINALISTS BY NATION*




[titles]


15...RUSSIA [8]
6...United States [5]
3...Italy [2]
3...Serbia [1]
3...Belarus [0]



ROME, ITALY (I-Red Clay)
07 FINAL: Jankovic d. Kuznetsova
08 TOP: Ivanovic/Sharapova
=============================


=QF=


Ivanovic d. A.Radwanska
Kuznetsova d. S.Williams
Zvonareva d. Jankovic
Sharapova d. Schnyder
....yep, I guess I'm taking the Serena-on-clay bait after her loss last week to Safina. I originally picked Sneaky Patty to upset the Supernova, then chickened out.



=SF=


Ivanovic d. Kuznetsova
Zvonareva d. Sharapova
....why not go all out with the Zvonareva thing?



=FINAL=




Ivanovic d. Zvonareva


....well, then again, let's not get carried away.

All for now.