The Decade's Best: Player #5- "Splitting Hairs"
Backspin's "Decade's Best" countdown of the final five of the Top 25 players of the 2000's begins today, with an additional edition arriving every day until the end of this year-long series on Sunday.
Unlike the past five-player portions of this list, all five of the remaining women are still active on the WTA tour, or at least they all WILL be come 2010, when they'll be simultaneously in action for the first season since 2007. Thus, each and every one of these all-time greats (
they've combined for a total of thirty slam singles crowns in their careers, and filled twenty-nine of the forty slam champion slots this decade
) still have intriguing chapters to write in their own personal histories.


In fact, the #5 player of the decade just penned a rather unexpectedly impressive one for herself just a few months ago:



#5 -

Kim Clijsters, BEL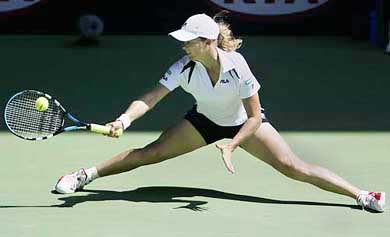 A debate about Kim Clijsters' career could fill a month of Backspins (and probably has, all told, come to think of it), but one thing that has never been in question in this space is the vastness and versatility of the Belgian's talent.

Personally, I've often had a testy opinion of the "trying-too-hard-to-be-liked" side of Clijsters' squeegeeing-courts-one-minute, gifting-bottles-of-champagne-the-next personality, which I've thought far too often took precedence over what should have been her athletic desire, as well as often providing a Teflon-like coating that shielded her from what should have been well-deserved criticism. Unlike when the likes of Mauresmo, Jankovic and Safina did it later, hardly a word in protest was uttered when Kim became the first to rise to the #1 ranking without ever having won a slam. Still, while I felt all that in my Backspinner bones, it was largely based, at least at the beginning, on her underperformance in slams, which I perceived as something of a waste of a huge loads of talent that should have produced far more moments in the spotlight. Her career was being sold short... by Clijsters herself. For the most part, if Justine Henin is acknowledged to have gotten every ounce of accomplishment out of her body, then Clijsters has achieved far less. The fact is, there was a pre-Backspin time when I debated whether or not I would shift my "most favored player" allegience to either Jelena Dokic or Clijsters in the wake of Jana Novotna's retirement a decade ago... needless to say, Dokic won out in the end.

From the start, it was obvious that Clijsters had it all, more than enough than was necessary to compete to become the top player of her generation. Powerful groundstrokes. Tremendous defensive abilities. Preternatural hustle. The latter of which was ultimately symbolized by the familiar image of her doing the splits while stretching to reach a shot that most players would have given up on. Her potential showed itself early, too. She reached the Round of 16 at Wimbledon in her first appearance in a slam main draw in '99. Unfortunately, that "other" side of Clijsters showed up that year, too. At the U.S. Open later that summer, the 16-year old Belgian led a 17-year old Serena Williams 5-3 in the 3rd set of their 3rd Round match. Clijsters lost, while Williams went on to win her first slam crown. The career-long die was pretty much cast for both there.

Even if it took far longer than it should have for Clijsters to finally become a grand slam champion, she was never too far off. No one had more SF-or-better Australian Open results than her four during the 2000's, but she only reached one final and never won the title (Serena, tied with four SF, won four Oz titles)... even as she was adopted as "Aussie Kim" by the Melbourne fans when she was engaged to Lleyton Hewitt. She reached two Roland Garros finals, losing in a classic to Jennifer Capriati in '01, then barely showing up against Justine Henin in the first-ever all-Belgian slam final in '03. At the U.S. Open in that same 2003 season, she was presented with a final opponent in Henin who'd barely advanced past the SF, fighting cramps and exhaustion that kept her up until nearly 3am... but somehow seemed less fresh than her countrywoman in the final the next night, losing 6-0/6-3. In all, she lost her first four slam singles finals from 2001-04.

To me, it all centered around that 2001 RG final against Capriati.

Her defeat at the hands of the American in a 12-10 3rd set served as the unfortunate launching point for the majority of a career whose trajectory was never as high as she should have desired it to be. She could have, and probably should have, won that first slam title in Paris a day after her eighteenth birthday. But when she lost, she realized it wasn't the "end of her world." She still wanted to win a slam, but understood that it didn't define her, and wasn't a be-all-to-end-all in her life. Who knows what might have happened had she won, of course (though I DID try to surmise the course of events in a "What If" special edition). As I've often said, Clijsters would be a great friend with such admirable qualities as those, but for an elite athlete with "all-timer" possibilities it's a wanting profile, and almost a template for a career underachiever in a sport where heart and desire are sometimes as or more important than natural talent (especially in clutch moments in big matches at the biggest tournaments in the world, precisely the places where Clijsters often came up short).

Comparing Clijsters to Henin, Kim usually came up on the wrong end of the equation, as well. Both debuted on the WTA tour at Antwerp in '99, with Clijsters losing in qualifying, then reaching the QF as a lucky loser. Henin won the title. Again, a die was cast. Clijsters, with Henin set to return to the tour in '10, trails her countrywoman 4-7 in head-to-head meetings in finals, is 0-3 in slam finals and 2-5 in slam matchups. In the final years before their twin retirements in the latter half of the decade, Clijsters dropped four of five matches against Henin from 2004-06. And while both were active during the 2000's, Clijsters claimed just a single slam title versus Henin's seven.

While such a rundown of Clijsters' "lack of achievement" is simply a prerequisite for me here, as I feel the FULL truth must be declared about her career, I don't want to denigrate or totally undersell her accomplishments, either. She's ranked in the Top 5 on this "Players of the Decade" list, after all, and it's not without reason.

In the eight seasons during which she had season-ending rankings during the 2000's, Clijsters finished in the Top 10 five times, and in the Top 20 two additional years. She first rose to #1 in August '03, and is one of only five players to simultaneously hold the top spot in both singles and doubles, which she did for three weeks that season. In fact, while she went slam-less in '03, she had a remarkable year. She won 90 singles matches and nine titles (including the defense of her '02 Season-Ending Championships title), and won a pair of slam crowns in Doubles with Ai Sugiyama at Roland Garros and Wimbledon. Thirty-four of her thirty-five career singles titles came during the decade, as did ten of her eleven doubles titles. In 2001, she teamed with Henin to claim Belgium's only Fed Cup championship.

Throughout her career, injuries have been a constant issue for Clijsters. In 2004, wrist surgery took her out for twenty weeks. By March '05, her ranking had dropped to #134. But, as was often the case, her time away allowed her to become healthy of mind and body, and she came back better than she'd left. In fact, it was her extended comeback from her wrist surgery that led into the North American summer that essentially saved her career from being a "whiff" during Clijsters I. For that brief multi-month period, the player many said was "too nice" to be a great champion found her killer instinct. She went on a 23-1 run on the hard courts, winning the U.S. Open Series, and then headed to Flushing Meadows and became the only woman to ever follow it up by winning the U.S. Open, as well. Her $2.2 million prize was record-breaking, but it was her 6-3/6-1 destruction of Mary Pierce in the final that was her most important accomplishment. In one fell swoop, she filled the gaping hole in her resume, backed up her otherwise-Hall of Fame worthy stats and made it impossible to continue to call her the best female player to have never won a grand slam title. By January of '06 she'd reclaimed the #1 ranking (extending her career time in the spot to nineteen weeks), becoming the first player to rise to #1 after being ranked outside the Top 100 twelve months earlier.

At the time, it was thought that this moment in New York would stoke her desire to rack up more of the slam crowns that had previously eluded her. But that isn't what happened. Having finally cleared the grand slam hurdle, she seemed satisfied. She didn't fall off the tennis map, but she didn't appear hungrier after her NYC experience and injuries continued to be an issue, as she didn't advance past the SF at a slam in any of the four events she entered in the sixteen months that followed her Open victory. In 2006, she couldn't attempt to defend her '05 crown after injuring her wrist in Montreal (right before the start of the Open, she'd recklessly -- insanely, really -- played on after injuring herself, only to fall again and hurt herself even worse). In mid-'07, she announced her retirement, walking away from the game at age 23 while ranked #4 (only #3 Steffi Graf had been ranked higher when she ended her career, until #1 Henin made a similar exit one season later).

I never thought she'd be back. I simply didn't think she'd want it enough, nor desire to step back into the day-to-day grind of the tour. In the two years that followed her retirement, the oft-tennis bridesmaid became a real-life bride, then a mother to daughter Jada, before burying her famous soccer-playing father. Then, something surprising happened. While preparing to play in a Wimbledon exhibition in early '09, she found the "bug" to compete once again, and soon made the commitment to return to action during the North American swing that summer.

Her success was swift and stunning.

In her KC II debut in Cincinnati, after two years away from the court, she won twelve of her first fifteen points in her opening match against Marion Bartoli and notched three Top 20 wins en route to the QF. She was just getting started. As a wild card with no official ranking, in just her third tournament back (and her first Open since winning in '05), she survived a few tense moments, defeating both Serena and Venus Williams along the way, and then smoothly worked her way into the final, where she took out Danish teenager Caroline Wozniacki in straight sets to get that long-overdue second slam crown and become the first mother to take a major title since Evonne Goolagong in 1980. After having missed the U.S. Open in '04, '05 and '07-'08 due to injuries and retirement, the 2009 title run ran her consecutive match streak at Flushing Meadows to fourteen, and 20-1 in the last twenty-one. Her last loss there this decade actually came in that '03 final against Henin.




The win pushed her ranking into the Top 20, and she finished the season at #18 despite playing just four tournaments.

Clijsters' U.S. Open win in 2005 certainly turned her previous major letdowns into something akin to semi-footnotes in her career, but it surely didn't erase them. Her '09 comeback victory, even in a tournament without Henin or with Maria Sharapova as a full-fledged force, clears away a little more of the residue from her inglorious past. But it's whatever happens during the remainder of Clijsters II that will still determine how her career as a whole is seen. If, ala Andre Agassi (well, almost, considering recent revelations), she collects at least two more majors during the "extra time" of her tennis lifespan, all the early hiccups will be smoothed out and forgotten by history... and, gulp, even a certain friendly neighborhood Backspinner.

Sure, a large part of me suspects that Clijsters might just be satiated once again, and her comeback has already experienced its zenith. But I guess that's just the Clijsters contrarian in me. In the end, she was one of the very best players of the 2000's, and her end-of-decade reminder of that little fact in New York will forever serve her well, allowing all those rough edges of memory that remain to be gradually softened over time.

Say one thing about her... she has good timing.



*BACKSPIN LINKS OF NOTE*


What If... Kim Clijsters Had Won Roland Garros '01?
The Best of Clijsters (2007)
Time Capsule: U.S. Open '03/'05 (Henin/Clijsters)
Killer Kim, Vol.II (U.S. Open '09)



TOMORROW:

Player #4



1.
2.
3.
4.


5.

Kim Clijsters, BEL


6.

Jennifer Capriati, USA


7.

Lindsay Davenport, USA


8.

Amelie Mauresmo, FRA


9.

Svetlana Kuznetsova, RUS


10.

Cara Black, ZIM


11.

Lisa Raymond, USA


12t.

Virginia Ruano Pascual, ESP


12t.

Paola Suarez, ARG


14.

Rennae Stubbs, AUS


15.

Elena Dementieva, RUS


16.

Martina Hingis, SUI


17.

Liezel Huber, RSA/USA


18.

Mary Pierce, FRA


19.

Dinara Safina, RUS


20.

Daniela Hantuchova, SVK


21.

Ana Ivanovic, SRB


22.

Jelena Jankovic, SRB


23.

Ai Sugiyama, JPN


24.

Anastasia Myskina, RUS


25.

Patty Schnyder, SUI


HONORABLE MENTION-

Martina Navratilova, USA

Here are the remaining 4 players on the countdown list:

Justine Henin
Maria Sharapova
Serena Williams
Venus Williams




...the final three women who met the qualifications for the "Honor Roll" did so by way of their doubles accomplishments. The additions of Hsieh Su-Wei (year-end Top 10), Nuria Llagostera-Vives & Maria Jose Martinez-Sanchez (year-end Top 10 and SEC title) bring the final number of honored women to 116.



*BACKSPIN'S 2000-09 HONOR ROLL, #27-116*


Nicole Arendt
Shinobu Asagoe
Victoria Azarenka
Sybille Bammer
Marion Bartoli
Daja Bedanova
Alona Bondarenko
Kateryna Bondarenko
Kristie Boogert
Elena Bovina
Severine Bremond-Beltrame
Els Callens
Anna Chakvetadze
Chan Yung-Jan
Chuang Chia-Jung
Dominika Cibulkova
Sorana Cirstea
Amanda Coetzer
Eleni Daniilidou
Nathalie Dechy
Casey Dellacqua
Mariaan de Swardt
Jelena Dokic
Silvia Farina Elia
Clarisa Fernandez
Tatiana Golovin
Anna-Lena Groenefeld
Carly Gullickson
Julie Halard-Decugis
Hsieh Su-Wei
Anke Huber
Janette Husarova
Kaia Kanepi
Sesil Karatantcheva
Vania King
Anna Kournikova
Michaella Krajicek
Lina Krasnoroutskaya
Li Na
Li Ting
Elena Likhovtseva
Sabine Lisicki
Nuria Llagostera-Vives
Petra Mandula
Marta Marrero
Conchita Martinez
Maria Jose Martinez-Sanchez
Anabel Medina-Garrigues
Sania Mirza
Alicia Molik
Corina Morariu
Miriam Oremans
Melanie Oudin
Shahar Peer
Flavia Pennetta
Tatiana Perebiynis
Kveta Peschke
Nadia Petrova
Kimberly Po-Messerli
Agnieszka Radwanska
Anastasia Rodionova
Chanda Rubin
Lucie Safarova
Arantxa Sanchez-Vicario
Mara Santangelo
Barbara Schett
Francesca Schiavone
Monica Seles
Magui Serna
Antonella Serra-Zanetti
Meghann Shaughnessy
Anna Smashnova
Karolina Sprem
Katarina Srebnotnik
Samantha Stosur
Carla Suarez-Navarro
Sun Tiantian
Agnes Szavay
Tamarine Tanasugarn
Patricia Tarabini
Nathalie Tauziat
Nicole Vaidisova
Dominique van Roost
Elena Vesnina
Yanina Wickmayer
Caroline Wozniacki
Yan Zi
Zheng Jie
Fabiola Zuluaga
Vera Zvonareva

All for now.






"DECADE'S BEST" SERIES:


...Players of the 2000's: Nomination List, Australian Open 2000-09, Roland Garros 2000-09, Wimbledon 2000-09, U.S. Open 2000-09, Players #21-25, Players #16-20, Players #11-15, Players #6-10