Wk.1- Act 1, Scene 1 (2012)
So, 2012 began just as 2011 ended...
with no one being able to find a way to defeat Petra Kvitova.


Of course, the new season also opened to a repeat of the type of injuries problems that have so often wreaked havoc with what might have been great WTA seasons in recent years. Not one, not two, not three, but four Top 20 players exited Week 1 via an injury-related retirement or walkover (and then the year-end #21 just retired in the 1st Round of play for Week 2, as well).

But, hey, at least we had a #1 vs. #2 match to chew on a bit.

While current world #2 Kvitova didn't exactly tell us anything we didn't already know while helping the Czech Republic win its first Hopman Cup title since 1994, her undefeated performance didn't send up any red flags, either. The only thing that might give one pause might have been her five-game skid in the middle of her three-set win over #1 Caroline Wozniacki, apparently helped along when the Czech experienced some asthma-related difficulty. Additionally, the Dane's usual ability to get balls back and force Kvitova to hit a few additional shots could prove to be an important tactic should they meet on one of those typically hot Australian summer afternoons. Kvitova had some problems with her breathing in the heat of the North American hard court season in '11, and the same could happen in both Sydney and Melbourne.

Hmmm, so does that mean that Wozniacki, with her close loss to the Czech behind her, actually "won" in a sense in Perth? Well, at the very least, she need not fear Kvitova should the challenger for her #1 throne show up on the other side of the net again soon. That doesn't mean she still couldn't get hit off the court (even with her seemingly improved serve), but she's got a gameplan that has a shot to work, and it just might in a classic case of two very different styles rubbing up against one another in a very big match.

And, don't look now, but we could have one of those matches in less than a week's time. Both Wozniacki and Kvitova are in Sydney, and very well might meet in the final. If Kvitova wins the title, she'll swipe the Dane's #1 ranking away before everyone heads off to Melbourne. Wozniacki would remain the #1 AO seed, but would be so in name only. Whether that would help or hinder Caroline in her search for her metaphorical 'roo would surely be the question of the day next Monday.

Of course, fairy tales often have a few "dark shadings" (would losing her #1 ranking count?), and with her close match against Kvitova in her memory bank, as well as the knowledge that the likes of both Clijsters and S.Williams exited tournaments in Week 1 with injuries, Sam Stosur looked very un-U.S. Open champ like and that Li Na, while looking very good so far in '12, will still be Li Na, might Wozniacki have disovered a legitimate path to finding a "happy ending" in Melbourne. Well, she DOES share an Odense, Denmark birthplace with one of the greatest writers of fairy tales, you know.

(Don't think that means I'm predicting anything, though. Well, I mean, other than giving a not-very-clandestine hint about another Dane who'll be my "writing partner" during the upcoming Australian Open, starting with this weekend's tournament preview.)

Stay tuned.



*WEEK 1 CHAMPIONS*
BRISBANE, AUSTRALIA (Premier $655K/HO)


S:

Kaia Kanepi/EST def. Daniela Hantuchova/SVK 6-2/6-1


D:

Llagostera-Vives/Parra-Santonjja (ESP/ESP) d. Kops-Jones/Spears (USA/USA)
AUCKLAND, NEW ZEALAND (Int'l $220K/HO)


S:

Zheng Jie/CHN def. Flavia Pennetta/ITA 2-6/6-3/2-0 ret. (lower back)


D:

Hlavackova/Hradecka (CZE/CZE) d. Goerges/Pennetta (GER/ITA)
HOPMAN CUP; PERTH, AUS (Exhib./HI))
Czech Republic (Kvitova/Berdych) def. France (Bartoli/Gasquet)

PLAYER OF THE WEEK:
Petra Kvitova/CZE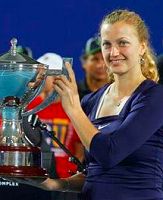 ...even though she only won a team "exhibition" title, for the purposes of continuity (and portioning out Week 1's honors), I'll go with Kvitova as POW over Kanepi. Not that I REALLY feel the need to explain it. Until Kvitova loses a match, the extension of her late '11 run into '12 surely means she's penciled in at the top of the page until further notice. Even though her Hopman Cup numbers don't count toward her season stats, her undefeated run in Perth gives her 16 straight victories (four straight titles, with two of them being team competitions) and extends her indoor winning streak to 25 since the start of last season. QUICK QUIZ!!! Who's the last player to defeat Kvitova under the roof? If you didn't say Sofia Arvidsson (in the $100K Poitiers challenger) in October '10, then you were wrong. Of note, Julia Goerges and Kateryna Bondarenko also defeated Kvitova indoors that same month. As far as Perth goes, though, Kvitova lost just one set, but it came against world #1 Wozniacki (who won five straight games from 3-1 down to claim it), which could give the Dane at least some measure of peace of mind when and if she meets the Czech in hot weather Down Under over the next three weeks (it could happen two times this month).


=============================




RISERS:

Kaia Kanepi/EST & Andrea Hlavackova/Lucie Hradecka (CZE/CZE)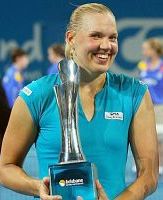 ...a year ago, Kanepi began the season with a forearm injury that hampered her early results. As the season neared it's end, though, the Estonian notched wins over the likes of Caroline Wozniacki, Francesca Schiavone and Flavia Pennetta. After injuring her back in a challenger event in November, there was the fear that 'her 12 might start with injury issues, as well. But with her second career title in Brisbane, her first since Palermo '10, it seems like she may be in the clear. If so, keep an eye on this one. Remember, she was a handful of match points away from climbing over Kvitova to reach the '10 Wimbledon SF. Last week, wins over Anastasia Pavlyuchenkova (love and 3), '11 runner-up Andrea Petkovic, Schiavone and Daniela Hantuchova (2 & 1) were just a taste of what she's capable of. Plus, as Diane noted the other day on Women Who Serve, Kanepi ended last season in the #34 ranking... the exact same spot from which Kvitova began her climb one year ago. Maybe she's onto something? Hmmm, and maybe I was a bit stingy in predicting ONLY a Top 20 jump for Kanepi in '12. Meanwhile, with '12 being an Olympic year, many of the usual doubles teams (such as Dulko/Pennetta) won't be regular partners this season, so the all-Czech team of Hlavackova and Hradecka are one of the fortunate pairs that can stick close and total up points as a duo over the ENTIRE season. In Auckland, the '11 RG champs kicked off what could be their very good year by claiming their sixth overall title as a pair. They defeated Goerges/Pennetta in the final, but their 6-4/6-0 win over the Auckland defending champion team of Peschke/Srebotnik in the SF was maybe even more telling.


=============================




SURPRISE:

Angelique Kerber/GER


...overlooked once more, surprise 2011 U.S. Open semifinalist was again the unexpected Last German Standing last week in Auckland, defeating crowd fave Marina Erakovic, as well her own countrywomen Julia Goerges and top-seeded Sabine Lisicki (who retired). Once again, Kerber reached the semifinals, but this time Flavia Penneta -- the player Kerber beat in the QF in NYC last summer -- finally ended her not-quite-as-"Cinderella"-as-before run. She's also opened up play in Hobart with a win over Elena Vesnina.


=============================




VETERANS:

Li Na/CHN & Flavia Pennetta/ITA


...well, the Wheel of Na got its first spin of the 2012 season last week. Where it stops, nobody knows. But the first few spins were pretty good for the '11 AO finalist/RG champ. In the Hopman Cup, Li joined Kvitova as the only women to go undefeated in singles play. Her 3-0 mark (with only marginal help from her male partner, Team China still went 0-3) included straight sets wins over Marion Bartoli, Anabel Medina-Garrigues and Jarmila Gajdosova. Meanwhile, in Auckland, Pennetta reached both the singles and doubles (w/ Goerges) finals. Sure, she lost both, and had to retire in the final with a lower back injury. But, with her wins over Sorana Cirstea, Elena Baltacha, Elena Vesnina and Angelique Kerber (ah, sweet revenge), she showed that she's not yet ready to go quietly into the sweet night. And, at least for one week, neither was Li.


=============================




COMEBACKS:

Zheng Jie/CHN & Svetlana Kuznetsova/RUS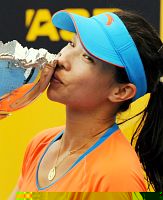 ...hey, didn't you used to be Zheng Jie and Sveta Kuznetsova? They were again in Week 1. Zheng, ultimately, was the more successful vet, going to Auckland and grabbing her first title in more than five and half years after battling through wrist and ankle injuries since she last won in Estoril in '06 (when she defeated Li Na in the final, by the way). In claiming her fourth career title (just one fewer than all-time Chinese leader Li), Zheng got wins last week over Ayumi Morita, Monica Niculescu, Lucie Hradecka, Kuznetsova and Flavia Pennetta in the final. Speaking of Kuznetsova, considering her past, one never knows what to expect on a match-by-match basis. But, last week, she at least showed that she might just be interested again. Her victories over Alison Riske, Christina McHale (did someone say "sweet revenge?") and Sara Errani took her as far as the SF. Today in Sydney, Sveta stepped things up again and knocked off Vera Zvonareva 6-1/6-2, as well.


=============================




FRESH FACE:

Ashleigh Barty/AUS


...the 15-year old has been pretty busy lately. In December, she won Tennis Australia's Wild Card tournament to gain entry into the Australian Open main draw, and just ended 2011 as the #2-ranked junior in the world on the strength of her Wimbledon Girls title. It's the highest season-ending rank for an Aussie girl since Jelena Dokic finished #1 back in 1998. She lost to Vania King in Brisbane qualifying last week, but utilized a wild card into the doubles draw (with Casey Dellacqua) to nearly full measure while reaching her first career tour semifinal.


=============================




DOWN:

Samantha Stosur/AUS, Sabine Lisicki/GER & Kim Clijsters/BEL


...until further notice, Serena "I don't love tennis, but I still can't live without it" Williams isn't on this list. With her history of coming to Melbourne with ailments and/or inactivity working "against" (for?) her and winning the title anyway, I'll set her aside. As for the rest... oh, boy. Clijsters' "hip injury" has now been declared a "muscle spasm" or some such, but just that she's ALREADY a physical question mark isn't a good sign. She was 9-0 against Daniela Hantuchova before she retired against the Slovak in the SF, so KC obviously THOUGHT the injury was more serious than it's been diagnosed. Not a good sign. As for Lisicki... well, what can you really say? She's looking like she might turn out to be one of those great "what if" type of players. Oh, Sabine. Stosur, though, is the player who maybe should be spotlighted here. For a player with a confidence question to begin with, even with a slam title in her bag, losing so early in her first event raises an eyebrow. That she lost to Iveta Benesova, a sometimes-good player who went and lost to Urszula Radwanska in Sydney qualifying immediately after Brisbane, is another thing to make you go "hmmm." But that Stosur has already been ridden out of Sydney herself in the 1st Round by Francesca Schiavone, meaning the Aussie heads to Melbourne with nothing to make her think she'll be able to turn Australia on its head, makes all the buzzers and red lights go off. Danger! Danger! Maybe she can pull out her NYC memories to help her, but I'd say it might be best to get all the emergency vehicles to the tarmac as quickly as possible.


=============================




ITF PLAYER:

Kimiko Date-Krumm/JPN


...KDK just keeps on going. Now 41, she opened '12 with a challenger title in the $50K in Quanzhou, China, getting (is it okay to snicker at the age difference?) wins over the likes of 17-year old Danka Kovinic, 18-year old Caroline Garcia and 18-year Timea Babos in the final. Oh, and she reached the doubles final with Zhang Shuai, too.


=============================




JUNIOR STAR:

Sachia Vickery/USA


...the 16-year old Floridian, a recent Orange Bowl semifinalist, won the G1 Copa Del Cafe in Costa Rica, defeating fellow American Christina Makarova in straight sets in the final.


=============================






1. Bris QF - Schiavone d. Jankovic
...5-7/7-6/6-3. Ah, Francesca is back. And with her comes all the sort of dramatic goings-on that hightlighted this 2:56 session in which the Italian same back to win after saving two match points. Ummm, does she have to EVER retire?


=============================


2. HC rr - Kvitova d. Wozniacki
...7-6/3-6/6-4. You (well, I) asked for a few #1 vs. #2 meetings, and this was the first "unofficial" one of the new season. Hey, if this is what we have to look forward to, then let's go. Less than a week before Kvitova could very well take away Wozniacki's #1 ranking (but not #1 seed in Melbourne, no matter what the rankings will say at this time next week), the two met on essentially "Kvitova's turf." In other words, indoors. Wozniacki showed her ususal defensive skills, and displayed some good serving. But it's hard to tell how to judge the rest. Kvitova led 7-6/3-1, but apparently had some difficulty with her "outdoor asthma" under the roof in Perth, and lost the last five games of the 2nd set, before righting things and taking the 3rd. They could meet again under different circumstances in Sydney... hehe, in the final with the #1 ranking on the line. Are we really going to be treated to THAT match in just Week 2? (Crossing fingers.)


=============================


3. Bris Final - Kanepi d. Hantuchova 6-2/6-1
Auck Final - Zheng d. Pennetta 2-6/6-3/2-0 ret.
...Hantuchova was 3-0 against Kanepi before this loss. It's sort of fitting, though, since she probably didn't "deserve" to be in the final anyway. Meanwhile, Zheng beat out Pennetta to become the season's first "late twentysomething" champion. You KNOW she won't be the last.


=============================


4. Auck QF - Kerber d. Lisicki 6-4/4-3 ret (abdominal muscle)
Bris QF - Hantuchova walkover S.Williams (turned ankle)
Bris SF - Hantuchova d. Cljisters 6-7/3-1 ret. (hip injury)
...sheesh! One week in, and the bodies are already being collected in a pile by the side of the road to Melbourne. Maybe Lisicki should start to think about having the old "Murphy's Law" phrase replaced by "Lisicki's Law" -- if anything might possibly go wrong, it usually will.


=============================


5. Bris 2nd Rd - Benesova d. Stosur 6-4/6-2
Sydney 1st Rd - Schiavone d. Stosur 6-2/6-4
...of Week 1's defeated "big fish," only Stosur didn't go down with a physical issue, but her early Brisbane loss didn't exactly inspire confidence in her chances in Melbourne. Then, she went to Sydney and faced off with her old sparring partner Francesca, and simply flipped the set totals for her second loss of '12. Has the Sammy-believes-she-can-win-the-Australian trial balloon already popped?


=============================


6. HC Final WS - Kvitova d. Bartoli
...7-5/6-1. Bartoli led 5-3 in the 1st, and served at 5-4. Then Kvitova upped her game a single notch and won ten of the final eleven games. Still, it was a good week for Bartoli (especially that double-bagel over Jarmila Gajdosova), who arrives on the '12 scene looking to be in pretty good shape, and with her usual fiery competitiveness and Energizer Bunny motor intact.


=============================


7. Bris 1st Rd - Hantuchova d. Cibulkova
...3-6/6-4/6-3. Although Hantuchova's week can't help but look a little suspect after she reached the final by advancing past both Serena and Clijsters while playing just one and a half sets against the pair (and dropping the only completed set), but she DID open play with a nice win over her countrywoman.


=============================


8. Auck 2nd Rd - Kuznetsova d. McHale 6-1/6-1
Hobart Q2 - Riske d. Falconi 6-0/3-6/7-5
...good examples of how the "year after" doesn't always go according to play. McHale beat Kuznetsova twice in '11, but the pair of "1's" this time consisted of the American's total games won total. Speaking of a Bannerette who starred last summer at Flushing Meadows (and at the Pan-American Games), Falconi opening her '12 season with losses to two fellow Americans -- Jamie Hampton in Auckland qualifying, and Riske this weekend in Hobart.


=============================


9. Bris 1st Rd - Schiavone d. Pervak 4-4 ret. (migraine)
Hobart 1st Rd - Cirstea d. Pervak 6-2/7-6
...Ksenia has had a lot of migraine-inducing decisions to make this offseason (not to mention the accompanying carping from the Russian Fed Cup coach). By the time she got to Hobart, though, she'd gotten over the "shock" of seeing "KAZ" next to her name in the draw. But she still lost.


=============================


10. Auck 1st Rd - Goerges d. Arn
...7-5/3-6/6-4. One year after a 31-year old Greta Arn had her "dream come true" title run in Auckland, the now 32-year old Hungarian didn't have as great a time on her return Kiwi business trip.


=============================


11. Bris 1st Rd - Jovanovski d. Dellacqua
...6-4/6-2. This was Dellacqua's first "official" loss since last year's U.S. Open. Still, she rebounded by reaching the doubles final with Ashleigh Barty, the same 15-year old fellow Aussie who knocked her out of Tennis Australia's AO Wild Card Tournament.


=============================


12. Sydney Q2 - Arvidsson d. Kirilenko 6-3/6-0
Hobart 1st Rd - Chakvetadze d. Niculescu 6-0/6-4
...Russian fortunes are swinging wildly in the opening stages of Week 2. Kirilenko was forced to go through qualifying in Sydney, but didn't make it. While "The Candidate" had a much better time of things a bit farther south in Hobart, getting her first win since missing the back half of the '11 season because of recurring dizziness.


=============================


HM- HC rr - Wozniacki d. Mattek-Sands
...7-6/6-2. Not bad for a player who barely even made it to Perth in time. Wozniacki arrived from Thailand just four hours before her first scheduled match against Mattek-Sands. As it turned out, the organizers decided to switch things up and play the men's singles side of the Denmark/USA tilt first, allowing Caro time to get ready. She still won in straight sets. And, no, your eyes weren't playing tricks on you -- Bethanie did pretty much have blue hair. Really, considering who we're talking about, was it really in doubt? It's more surprising that her hair wasn't red, white AND blue, frankly.


=============================


HMJB (Honorable Mention, "just because")- Sydney 1st Rd - Dokic d. Holland
...6-0/6-0. After losing the the 1st Round in Auckland (vs. Barthel) in her first appearance at the event since '06, JD made young Aussie Isabella pay for it in this "battle" of Sydney wild cards. It's Jelena's first tour-level double-bagel win since 2001 at Roland Garros.


=============================





1. Sydney 1st Rd - A.Radwanska d. U.Radwanska
...6-1/6-1. A-Rad crosses paths with a member of the family and wins. Let's hope U-Rad isn't the last relative to be the "triumphed over" when it comes to the elder Radwanska sister in '12.


=============================


2. Bris 1st Rd - Jans-Ignacik/Jugic-Salkic d. Rodionova/Rodionova
...6-1/6-0. The Aussie-Russian sisters at least avoided opening their '12 season with an unwanted serving of a certain breaded treat, with or without cream cheese.


=============================








**CHINESE - CAREER WTA SINGLES TITLES**


5 - Li Na (2004,08,10-11)
4 - ZHENG JIE (2005-06,12)
1 - Yan Zi (2005)
1 - Sun Tiantian (2006)



**CAREER "DOROTHY TOUR" TITLES - ACTIVE**


5 - Kim Clijsters, BEL
5 - Serena Williams, USA
3 - Eleni Daniilidou, GRE
2 - Petra Kvitova, CZE
2 - Li Na, CHN
2 - Alicia Molik, AUS
2 - ZHENG JIE, CHN



**FOUR CAREER WTA TITLES - ACTIVE**


Gisela Dulko, ARG (last title: 2011)
Daniela Hantuchova, SVK (2011)
Lisa Raymond, USA (2003)
Aravane Rezai, FRA (2010)
Lucie Safarova, CZE (2008)
Francesca Schiavone, ITA (2010)
Katarina Srebotnik, SLO (2005) - retired in singles
Tamarine Tanasugarn, THA (2010)
ZHENG JIE, CHN (2012)



**YEAR-END JUNIOR #'1's - LAST 15 YEARS**


1997 Cara Black, ZIM
1998 Jelena Dokic, AUS
1999 Lina Krasnoroutskaya, RUS
2000 Maria-Emilia Salerni, ARG
2001 Svetlana Kuznetsova, RUS
2002 Barbora Strycova, CZE
2003 Kirsten Flipkens, BEL
2004 Michaella Krajicek, NED
2005 Victoria Azarenka, BLR
2006 Anastasia Pavlyuchenkova, RUS
2007 Urszula Radwanska, POL
2008 Noppawan Lertcheewakarn, THA
2009 Kristina Mladenovic, FRA
2010 Daria Gavrilova, RUS
2011 Irina Khromacheva, RUS







CURRENT STATE:

three of our four Week 1 singles champion picks retired from matches. But Petra came through for me as the Czechs won in Perth, while Carl's pick of Pennetta in Auckland came up just a bit short.




SYDNEY, AUSTRALIA (Premier $637K/hardcourt outdoor)
11 Final: Li d. Clijsters
11 Doubles Champions: Benesova/Zahlavova-Strycova
12 Top Seeds: Wozniacki/Kvitova
=============================


=SF=


#1 Wozniacki d. #3 Azarenka
#2 Kvitova d. #4 Li


=FINAL=


#2 Kvitova d. #1 Wozniacki

...come on, I HAVE to pick it this way, right?



HOBART, AUSTRALIA (Int'l $220K/hardcourt outdoor)
11 Final: Gajdosova d. Mattek-Sands
11 Doubles Champions: Errani/Vinci
12 Top Seeds: Wickmayer/Medina-Garrigues
=============================


=SF=


#8 Begu d. #6 Peer
#5 Gajdosova d. #4 Kerber


=FINAL=


#8 Begu d. #5 Gajdosova

...the Swarmettes are due for a title, right?



ALSO:

AO QUALIFYING






SYDNEY




=SF=


wozniacki d. bartoli
li d. kvitova


=FINAL=


li d. wozniacki



HOBART




=SF=


wickmayer d. peer
gajdosova d. mattek-sands


=FINAL=


gajdosova d. wickmayer


Later this week, Carl returns for "Bare Bones Backspin," and the Australian Open preview arrives before the Daily Backspin for Day 1 next Monday.

All for now.