Wk.19- Ridiculatis Expectatious
Sometimes, Serena Williams makes it TOO easy to fall for the idea that she can do no wrong.


No player has the innate ability to ramp up expectations to a seemingly ridiculous level quite like Williams. None. Zero.

She was at it again breezing to a big title in Madrid last week, just like she was in Charleston last month. And with Roland Garros now just around the corner, then Wimbledon after that, followed by the Olympics and the U.S. Open, it's not a far leap into the wild blue yonder to think that, even in what has been the Year of Vika, we might be on the edge of what could be Serena's next (last? first of many more? one to grow on?) great chapter in a career that has been both more AND less than it could have been because of the various incarnations that we've seen of her on the court over the years.

When you see her like she was in Melbourne back in January, your eyes lead you to believe that she'll never again be what she ONCE was. Then you see her lose to Caroline Wozniacki in Miami, and think, "Yep, time is catching up with her." But then the last six weeks happen and everything changes. Things could change just as violently the other way by this time next week, too.

Such is the Serena Enigma, fated to cause her to be viewed as both the most disappointing AND most awesome tennis player in the world during the run of her career. At 30, she's at the age when tennis players start to show their age. But she's also young enough -- and so much better than everyone else when she's at her very best -- to recapture her former glory, as well. It's been a few years since she won a slam title, and for a while her career seemed to be in jeopardy due to a series of health issues. Then she tore up the North American hard court circuit last summer, sparking new life into the notion of her "awesomeness." But then she imploded in a fit of anger again in the U.S. Open final. Disappointing. Now, we're back to "Mad Serena Beyond Thunderdome" Williams.

Oh, good grief.


"People who never care that they lose have never won so much."

-

Nicole Vaidisova, in 2005


Last week, I came across that great quote while doing my research for the next edition of Backspin Time Capsule (coming this week, by the way). Setting aside that it was made by a player who's become synonymous around these parts as much for giving up and quitting as she once was for finding early success in her tennis career, it's a great quote. And one we're not likely to see echoed by the likes of a certain Dane, either. But it does seem to be the sort of mindset that separates good players from great ones.

And speaking of Wozniacki, it's become quite clear that Serena cared a great deal about her "20%" loss to C-Woz in Miami back in March. She's played in two events and one Fed Cup weekend since her first-ever loss to the former #1 (who's going to have to fight to stay in the Top 10 this summer if she doesn't watch herself) and has yet to lose (on three different colors of clay, none of which is anywhere near her best surface), winning two titles while making the world's other very best players (aside from Petra Kvitova, who can't win enough matches to even get to Serena in the draw) look very ordinary by comparison.

In the Madrid final, Williams had her way with world #1 Victoria Azarenka. The American's "aura" seemed to mess with the Belarusian's head as if she was playing the roll of Agnieszka Radwanska to Serena's dominating Vika (hmmm, I guess maybe the Pole shouldn't have said anything about the noise Vika makes on the court, huh?). Azarenka pressed in the face of the power/aggression potential of Serena, resulting in now-uncharacteristic mistakes. Her poor serving never allowed her into the match, leading to the sort of on-court frustration that we haven't seen much from her in '12. Williams broke Azarenka's serve to start to match, and Vika's double-fault ended the 1st set after just twenty-seven minutes. Soon, she was down 6-1/3-0. And while Serena came back from a 6-4/4-0 deficit against Azarenka in Oz in '10, the tables were not going to be turned this time around. In the end, while Serena totaled up a 26/11 winner-to-error ratio, Azarenka's numbers were 6/19 and her serve percentage was below 50%.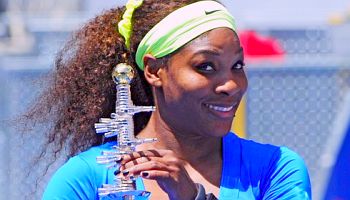 In the final, unfortunately fitting, conclusion to the 6-1/6-3 match, Williams hit a match-closing ace when a bad bounce caused Azarenka to totally whiff on her return attempt. It was sort of an unintentional twisting of the knife into the back of the top-ranked player, as Williams' biggest problems on the day seemed to be the bra strap that broke right before the start of play (unusually chagrined, Serena had to go off court to fix her "wardrobe malfunction") and her inability to remember the name ("Lauren") of a woman in her players box during the post-match ceremony.

Seemingly an Avenger-in-waiting (she was once again wearing her blue, superhero-fitting outfit on the blue clay in Madrid) -- and, seriously, what are Robert Downey Jr. & Co. waiting for? -- Serena even found a way to (mostly) avoid her lingering case of Triskaidekaphobia this weekend. After winning her thirteenth career slam title at Wimbledon in '10, her health began to spin out of control starting with that unfortunate incident in the German restaurant. She ended her run in Madrid with her 13th straight win. Her victory over Azarenka was the thirteenth in her career over a #1-ranked player. She had thirteen aces in the final as she lined up for match point, too. But the bad bound gave her 14 for the day.

Sigh. Even the Tennis Gods couldn't bring Themselves to let Serena suffer the fate of another "13" hanging over her head. And if They're on her side, well, maybe everyone should hold hands, gather into a circle and sing "Kumbaya" for the rest of the women's field for the next few months. By the end of that time, there might be no reason for Serena to fear her then-up to date numbers of consequence... like, say, 14, 15 or even maybe 16.

Oh, there I go again. Sorry about that. The ridiculousness of expectation when it comes to Serena just comes WAY too naturally.



*WEEK 19 CHAMPIONS*
MADRID, SPAIN (Premier $3.77m/BCO)


S:

Serena Williams/USA def. Victoria Azarenka/BLR 6-1/6-3


D:

Errani/Vinci (ITA/ITA) d. Makarova/Vesnina (RUS/RUS)




PLAYER OF THE WEEK:

Serena Williams/USA


...since losing to Wozniacki in Miami, after which she said, in oh-so-very-Serena fashion, that she was only about "20%" of herself, Williams has yet to lose. In those thirteen green, red and blue clay court matches, she's claimed 25 of 26 sets (the only set she lost was, oddly enough, also to Wozniacki in Madrid) and crushed Top 5 players Stosur, Sharapova and Azarenka, the latter two names -- the #2 and #1 players in the world -- coming last week in Madrid's SF and Final. It's the first time since 2010 that a player has defeated both the top two players in the world at an event, but it's the seventh time Serena has done it in her career. No female player has ever accomplished the feat more often. In fact, it's really not even close. Second on this list is Venus with four #1/#2 combos. In Rome, Serena could have yet another shot to double up her lead on that particular all-time list. But just sticking to what her win in Madrid has added to her career resume, it should be noted that this was her 41st career title, tying her with Kim Clijsters for second among active players (Venus has 43). After only having three clay titles in her career before '12, she's now won two this season. The pair of titles gives her six straight seasons with two or more singles crowns, the longest current streak on tour. She's the first-ever BLUE clay court champion, too. And if the likes of Mr. Nadal and Mr. Djokovic (and I use those gentlemanly titles loosely, considering their spoiled brat comments about the Madrid surface last week), there may NEVER be any other than herself and Madrid men's champ Roger Federer. Since she was the winner of the season's only green clay event in Charleston last month, Serena also now has a chance to become the first player to ever win green, blue and red clay events in a single season... with shots at hard and grass court crowns still in her '12 future, too. Suddenly, Williams is at #6 in the rankings and, as long as her health holds, the sky might be the limit over the next few months.


=============================




RISERS:

Sara Errani/Roberta Vinci (ITA/ITA)


...while Errani's personal 16-match clay court winning streak was ended quite rudely (6-0/6-1) by The Radwanska in the 2nd Round (though, technically, her RED-clay string is still alive), the little Italian rebounded quite well in doubles with partner Roberta Vinci. The pair had already won back-to-back events earlier this season, and with their Madrid title coming after their last, equally successful, partnering in Barcelona they've now done it again. It's the duo's ninth overall crown, and fourth this season. Three of the four wins have come on clay courts, while the team Errani and Vinci are now tied with for most season titles -- Huber/Raymond -- have won all four of their crowns on hard courts. The Italians have now reached the final in six of the eight events they've entered in '12, and both (at #8 & #9, respectively) finally climbed into the doubles Top 10 rankings today.


=============================




SURPRISE:

Varvara Lepchenko/USA


...the Uzbeki-born American (she's been a citizen since '07, and lived in the U.S. since '01) continued to experience a '12 surge (Best Win: Goerges in Doha) with a QF result in Madrid. Lepchenko, 25, has yet to reach her first career tour semi, but this was her second quarterfinal result this season. A qualifier, she notched nice main draw wins over Francesca Schiavone, Shahar Peer and Anabel Medina-Garrigues. She's up to a career-best #59 in the latest singles rankings. Over the weekend, she lost in Madrid qualifying to Anna Chakvetadze.


=============================




VETERAN:

Lucie Hradecka/CZE


...the hard-serving 27-year old Czech (19 aces against Stosur in the QF!!) blasted her way into the Madrid semis, not exactly an expected result from the world's #105th-ranked singles player. A qualifier, she got wins over Alla Kudryavtseva, Peng Shuai and Ekaterina Makarova, along with huge upsets of Petra Kvitova and Sam Stosur. Needless to say, it's Hradecka's best big event result, though she's never managed to advance past the 2nd Round at a slam during her career. The points grab had a dramatic impact on her ranking, as she leaped from #105 to #55 in the newest rankings.


=============================




COMEBACK:

Anna Chakvetadze/RUS


...since the Russian Doll was a slam semifinalist and nearly a Top 5 player (climbing as high as #6 in '07), most of the news she's generated has come off the court. From a home invasion incident and run for political office, Chakvetadze has rarely been focused on tennis over the last five years. After opening her '12 season with a QF result in Hobart (she retired with cramps), she's struggled with a back injury, sitting out three months before coming back three tournaments ago. During that time, her ranking slipped outside the Top 400, but her weekend qualifying run in Rome (wins over Lepchenko & Tatishvili) was her third consecutive such successful attempt to get back into the WTA main draws for which she used to automatically qualify. In the most recent rankings, the 25-year old has managed to at least get back to #337.


=============================




FRESH FACE:

Ekaterina Makarova/RUS


...Makarova, as she occasionally does, has made use of her talent in '12. She's posted wins over Kaia Kanepi, Vera Zvonareva and Mona Barthel in '12. Oh, and she upset someone named Serena during her QF run at the Australian Open, too. Her success was mixed last week in Madrid. She knocked off Galina Voskoboeva and Maria Kirilenko before losing in the 3rd Round, but she came back strong in doubles, teaming with Elena Vesnina to reach the doubles final. Today in Rome, she knocked off Schiavone in straight sets.


=============================




DOWN:

Petra Kvitova/CZE


...one year after winning the Madrid title on red clay, Kvitova was sent packing in the 2nd Round by countrywoman Hradecka. Quite the disappointing result for a player who seemed destined to reach #1 few months ago, but now seems something of a longshot to top the rankings at any time during the 2012 season. At least the Czech didn't whine and complain as she went out the door, blaming the blue clay for her results and childishly threatening to never come back unless that nasty clay was chased off to a place where it can't hurt her. Oh, if only any top men's players not named Roger had displayed such class last week. Unfortunately, quite the opposite was the case on that side of the tennis aisle. Either way, Kvitova has to be longing for some grass under her feet. Have no fear, Petra. It's only about a month away.


=============================




ITF PLAYER:

Grace Min/USA


...for the second straight week, Min lifted a challenger singles crown. The 2011 U.S. Open Girls champion's third ITF title of the '12 season came in Raleigh, North Carolina. Currently ranked just outside the Top 200, the just-turned-18 year old American notched victories over Allie Kiick, Olivia Rogowska, Heidi El Tabakh and Tamaryn Hendler in the three-set final.


=============================




JUNIOR STAR:

Yulia Putintseva/RUS



...Hordette Putintseva showed quite a bit of emotional immaturity in losing this year's Australian Open Girls final to Taylor Townsend. Her talent isn't in question, though. The 17-year old won her second (and biggest) challenger event of '12 in the $100K tournament in Cagnes-Sur-Mer, France. After making it through qualifying, she defeated the likes of Kristina Mladenovic, Alexandra Panova, Stephenie Dubois, Caroline Garcia and Patricia Mayr-Achleitner en route to the title.


=============================






1. Madrid Final - S.Williams d. Azarenka
...6-1/6-3. Well, Serena is now officially one week away from the very first -- and maybe last -- green, blue and red clay court three-title winning streak.


=============================


2. Madrid QF - S.Williams d. Sharapova
...6-1/6-3. Remember when Sharapova defeated Serena at both Wimbledon and the WTA Championships in 2004? Well, Serena surely does. Even since, Williams has gone 7-0 against Sharapova, and this match was the fourth time in that seven-match, eight-year streak that she's allowed the Russian four games or less.


=============================


3. Madrid 3rd Rd - S.Williams d. Wozniacki
...1-6/6-3/6-2. After what's happened in the Serena/Sharapova series since '04, what does the future have in store for Wozniacki now that Williams has that (20% of herself) loss to the Dane in Miami planted in her memory bank over the next few seasons? After a poor 1st set, Serena cruised here. The two could meet again in another 3rd Rounder in Rome. Maybe Caroline and Aga will find time in Rome to commiserate on their respective recent (un)luck of the draw?


=============================


4. Madrid 2nd Rd - Hradecka d. Kvitova
...6-4/6-3. Hmmm, did the blue court make Kvitova think she was playing on a hard cout in North America?


=============================


5. Madrid 2nd Rd - Kerber d. V.Williams
...6-4/6-1. Kerber has moved up to #11 in the rankings, and is now officially the top-ranked German woman.


=============================


6. Madrid 2nd Rd - Wozniacki d. Barthel
...6-4/7-6. A nice win for the Dane. But she's fallen to #8 in the latest rankings, just in time to get a far-more-difficult-than-she's-used-to slam draw in Paris.


=============================


7. $50K Fukuoka Final - Casey Dellacqua/AUS d. Monique Adamczak/AUS
...6-4/6-1. The Aussie gets her first challenger crown of '12, after having ended '11 by winning six consecutive ITF titles.


=============================


8. $25K Brasilia Final - Gabriela Paz/VEN d. Andrea Koch-Benvenuto/CHI
...6-3/6-3. The 20-year old Venezuelan wins her second straight ITF title.


=============================


9. Madrid 1st Rd - Suerez-Navarro d. Jankovic
...4-6/7-6/7-4. JJ continues to experience a post-FC hangover. After this loss, she's dropped to #20 in the singles rankings and her tour-best streak of 300 consecutive weeks in the Top 20 is once again in jeopardy.


=============================


10. $100K Cagnes-Sur-Mer 1st Rd - Ayumi Morita/JPN d. (WC) Aravane Rezai/FRA
...6-4/7-5. The Once-Opinionated Pastry is playing way from the spotlight, but still very little has changed.


=============================






1. Madrid SF - Azarenka d. A.Radwanska
...6-4/6-4. STILL worth repeating: A-Rad is 0-6 against Azarenka this season, but 36-0 against the rest of the WTA field. That clean non-Vika slate might be threatened this week, though, as Serena could be looming in the Rome QF.


=============================


2. $25K Raleigh Doubles Final - Panova/U.Radwanska (RUS/POL) d. Marosi/Voracova (HUN/CZE)
...7-5/4-6/10-8. Safely away from Azarenka's sphere of influence, the Radwanska family DID manage to win a title last week.


=============================


3. $100K Cagnes-Sur-Mer Q1: Irena Pavlovic/FRA d. Kristyna Pliskova/CZE 4-6/6-0/6-4
$100K Cagnes Sur-Mer Q3: Yulia Putintseva/RUS d. Karolina Pliskova/CZE 6-3/6-1
...not a good week for the Pliskova sisters.


=============================


HM- $25K Tarakan 2nd Rd - Nudnida Luangnam/THA d. Lu Jia-Xiang/CHN
$25K Tarakan Final - Nudnida Luangnam/THA vs. Lu Jia-Jing/CHN
...for some reason, this Indonesian tournament's final result is seemingly being kept under wraps in order to protect state secrets or something. But I'm going to include this in the Sister Update anyway. Either Luangnam's title run will come after sweeping through BOTH Lu sisters, or Jia-Jing will get revenge for Jia-Xiang's defeat at the hands of the Thai player before things are wrapped up in Tarakan. There, all bases covered.



UPDATE:

Jia-Jing Lu/CHN def. Nudnida Luangnam/THA 6-2 0-6 6-2



=============================








**ALL-TIME WINS OVER #1-RANKED PLAYERS**


18...Martina Navratilova
15...Lindsay Davenport
13...SERENA WILLIAMS
13...Venus Williams


[S.Williams #1 wins by player]


5 - Martina Hingis
2 - Jennifer Capriati
2 - Justine Henin
1 - Victoria Azarenka
1 - Lindsay Davenport
1 - Venus Williams
1 - Caroline Wozniacki



**2012 WTA FINALS**


6...VICTORIA AZARENKA (4-2)
4...Maria Sharapova (1-3)
3...Sara Errani (3-0)
2...Kaia Kanepi (2-0)
2...Angelique Kerber (2-0)
2...Agnieszka Radwanska (2-0)
2...SERENA WILLIAMS (2-0)
2...Daniela Hantuchova (1-1)
2...Flavia Pennetta (0-2)



**2012 CONSECUTIVE TOUR TITLES**




[singles]


4 JAN-MAR - Victoria Azarenka - Sydney/Australian Open/Doha/Indian Wells
2 APR-MAY - Sara Errani - Barcelona/Budapest
2 APR-MAY - SERENA WILLIAMS - Charleston/Madrid (active)


[doubles]


4 FEB-MAR - Huber/Raymond - Paris/Doha/Dubai/Indian Wells
2 FEB-MAR - Errani/Vinci - Monterrey/Acapulco
2 APR-MAY - ERRANI/VINCI - Barcelona/Madrid (active)



**ALL-TIME TIER I/HIGH-LEVEL PREMIER TITLES**


31...Martina Navratilova
30...Steffi Graf
17...Martina Hingis
12...SERENA WILLIAMS



**2012 DOUBLES TITLES - TEAMS**


4 - Liezel Huber/Lisa Raymond, USA/USA
4 - SARA ERRANI/ROBERTA VINCI, ITA/ITA
2 - Andrea Hlavackova/Lucie Hradecka, CZE/CZE



**DEFEATED WORLD #1 & #2 IN SAME EVENT**




[Most Times]


7...SERENA WILLIAMS
4...Venus Williams
3...Tracy Austin
2...Kim Clijsters
2...Steffi Graf
2...Justine Henin
2...Martina Navratilova


[WTA History]


1978 Boston - #5 Evonne Goolagong (2 Navratilova/1 Evert)
1979 US Open - #3 Tracy Austin (2 Navratilova/1 Evert)
1979 Filderstadt - #3 Tracy Austin (2 Evert/1 Navratilova)
1980 Tokyo LC - #3 Martina Navratilova (1 Evert/2 Austin)
1981 Toyota Chsp - #3 Tracy Austin (1 Evert/2 Navratilova)
1981 Tokyo LC - #3 Martina Navratilova (2 Austin/1 Evert)
1985 US Open - #4 Hana Mandlikova (1 Evert/2 Navratilova)
1989 Amelia Island - #3 Gabriela Sabatini (2 Navratilova/1 Graf)
1998 Philadelphia - #17 Steffi Graf (2 Hingis/1 Davenport)
1999 Roland Garros - #6 Steffi Graf (2 Davenport/1 Hingis)
1999 US Open - #6 Serena Williams (2 Davenport/1 Hingis)
2000 Los Angeles - #6 Serena Williams (1 Hingis/2 Davenport)
2000 US Open - #3 Venus Williams (1 Hingis/2 Davenport)
2000 Wimbledon - #5 Venus Williams (1 Hingis/2 Davenport)
2000 Sydney - #9 Amelie Mauresmo (1 Hingis/2 Davenport)
2001 Australian Open - #14 Jennifer Capriati (2 Davenport/1 Hingis)
2001 San Diego - #10 Monica Seles (2 Capriati/1 Hingis) *
2002 Miami - #9 Serena Williams (2 V.Williams/1 Capriati)
2002 Roland Garros - #3 Serena Williams (2 Capriati/1 V.Williams)
2002 WTA Chsp - #6 Kim Clijsters (2 V.Williams/1 S.Williams)
2003 Roland Garros - #4 Justine Henin-Hardenne (1 S.Williams/2 Clijsters)
2003 Leipzig - #10 Anastasia Myskina (1 Clijsters/2 Henin-Hardenne)
2005 Australian Open - #7 Serena Williams (2 Mauresmo/1 Davenport)
2005 Wimbledon - #14 Venus Williams (2 Sharapova/1 Davenport)
2005 WTA Chsp - #5 Mary Pierce (2 Clijsters/1 Davenport) *
2006 US Open - #4 Maria Sharapova (1 Mauresmo/2 Henin-Hardenne)
2006 WTA Chsp - #3 Justine Henin-Hardenne (2 Sharapova/1 Mauresmo)
2007 Miami - #18 Serena Williams (2 Sharapova/1 Henin)
2008 WTA Chsp - #8 Venus Williams (2 Safina/1 Jankovic)
2009 Roland Garros - #7 Svetlana Kuznetsova (2 S.Williams/1 Safina)
2010 Sydney - #5 Elena Dementieva (2 Safina/1 S.Williams)
2010 WTA Chsp - #4 Kim Clijsters (2 Zvonareva/1 Wozniacki)
2012 Madrid - #9 Serena Williams (2 Sharapova/1 Azarenka)
--
* - didn't win event title





ROME, ITALY (Premier $2.168m/red clay outdoor)
11 Final: Sharapova d. Stosur
11 Doubles Champions: Peng/Zheng
12 Top Seeds: Azarenka/Sharapova
=============================


=SF=


#9 S.Williams d. #1 Azarenka
#2 Sharapova d. #4 Kvitova


=FINAL=


#9 S.Williams d. #2 Sharapova

...when Serena is playing the way she is right now, it's best to just go the simplest route and take her to win. She's got a chance to do herself one better in Rome than in Madrid, as the draw gives her a chance to face and defeat the #1, #2 AND #3 (A-Rad) players in the world in one tournament. It's only been done three times in WTA history -- by Steffi, Venus... and, of course, Serena.






Carl getting angrier and angrier about Todd picking first! Todd pick Serena to win last week in Madrid. Carl pick Azarenka. Serena win over Vika. Todd win. Carl no win. Carl angry! Now Carl have to hear all day Sunday from Carla that Carl not as smart as Carl think Carl is. Carl must do better. Or die trying. Or, better yet, make Todd die trying? Hmmm.




ROME




=SF=


(1)Azarenka d. (3)A.Radwanska
(2)Sharapova d. (12)Kerber


=FINAL=


(2)Sharapova d. (1)Azarenka



Carla nagging Carl about getting her own chance this week. Carl say NO. Todd say YES. Typical.








ROME




=SF=


(1)Azarenka d. (9)S.Williams
(5)Stosur d. Goerges


=FINAL=


(1)Azarenka d. (5)Stosur



...poor, Vika. No one ever picks her to win anymore. What more does the woman have to do to accord the proper respect in this segment? Well, don't worry, dahling. Carla will pick you. I'm sure you'll reward me for my loyalty.




All for now.







THIS WEEK:

Backspin Time Capsule... a heady trip back into the "Mind of Myskina"