Wk.25- Bare Bones Backspin: A Modest Proposal

Backspin is bare-boned. And Carl is sad.
Carl sitting here looking a first picture taken of Carl and Carla. Carl miss her. Carla still not contact Carl after propose to marry her. Carla go to visit parents in old country. Carl not sure if good thing. Carl and Carla dad get in fight over bear skin rug last month.


CARL KILL IT, SO CARL GET IT!!!

But Carla make Carl give to Carla dad as birthday present. If Carla say no to Carl, Carl going to go get bear skin rug. Carl never get to feel fur under Carl feet! AND THAT WHOLE POINT.

Anyway, Carl signed up to do Bare Bones Backspin, but no really feel like doing. But Carl a Carl of Carl's word. Will push through.



*WEEK 25 CHAMPIONS*




EASTBOURNE, ENGLAND (Premier $637K/grass)


S:

Tamira Paszek/AUS def. Angelique Kerber/GER 5-7/6-3/7-5


D:

Llagostera-Vives/Martinez-Sanchez (ESP/ESP) d. Huber/Raymond (USA/USA)




's-HERTOGENBOSCH, NETHERLANDS (Int'l $220K/grass)


S:

Nadia Petrova/RUS def. Urszula Radwanska/POL 6-4/6-3


D:

Errani/Vinci (ITA/ITA) d. Kirilenko/Petrova (RUS/RUS)





PLAYERS OF THE WEEK:
Sara Errani & Roberta Vinci (ITA/ITA)
...Todd probably give award to singles champion. More than likely Nadia, Carl figure. But Carl believe in strength of TWO. Even if make Carl miss Carla even more... Carl and Carla combined are STRONGER THAN ANYTHING ON EARTH AND CAN SQUISH WHATEVER GETS IN WAY. Errani and Vinci win in Netherlands for fifth title, and seventh in 2012. Now have 23 straight wins, and all NOT on clay. Sara & Roberta cutting scorched-earth path through Europe like Carl on a Saturday night... before Carl met Carla, at least.


=============================




RISERS:

Tamira Paszek/AUT & Angelique Kerber/GER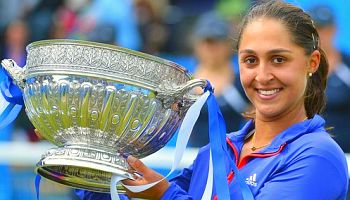 ...Paszek come to Eastbourne with 2-13 record on season. Hmmm, sound like Todd's picks. But she win third career title, and first since 2010. No sound like Todd. She get wins over Hantuchova and Pironkova, then come back from 6-4/4-0 against #9 Bartoli in SF and from 5-3, 40/love hole in 3rd against Kerber in final. Paszek save five match points. Kerber no feel good after match (Carl think Angelique look like want to wring Paszek neck when Tamira congratulated on making final in ceremony), but DID make third final of season (and 7th SF-or-better) and first to get to 40 official wins on tour this year (even if A-Rad did it a while back, but tour no count Fed Cup zone wins from February).


=============================




SURPRISE:

Kirsten Flipkens/BEL


...Flipkens qualify in Netherlands (4th qualifier in WTA SF in last two weeks). Get wins over Sam Stosur and defending champion Roberta Vinci. At #262, Kirsten lowest-ranked semifinalist so far in '12 (beating mark Oudin set last week as #208 in Birmingham).


=============================




VETERANS:

Nadia Petrova/RUS & Francesca Schiavone/ITA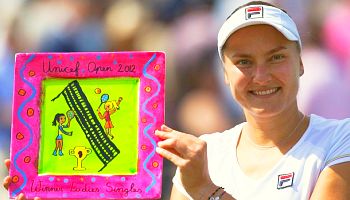 ...oh, Nadia. Even Carl like to say that. Petrova title in Netherlands is first since Washington last year, which was first had won in three years. It career #11, but Nadia fail to add win in doubles final with Kirilenko (in rematch of Roland Garros final vs. Errani/Vinci). With first grass win, Nadia now completed WTA title Career Surface Slam. Schiavone lose in Netherlands QF, but back from MP vs. Kirilenko in 1st Round, and saved seven more MP against Begu in 2nd Round.


=============================




COMEBACKS:

Nuria Llagostera-Vives/Maria Jose Martinez-Sanchez (ESP/ESP) & Kim Clijsters/BEL


...Llagostera-Vives and Martinez-Sanchez back playing together. Listening, Carla? Make beautiful music together again. Carla? Win title in Eastbourne over Huber/Raymond when Huber retire with thigh injury. Tenth title as duo, but first since 2010. In Netherlands, Clijsters back for first time since Miami. Win over Paula Ormaechea (who beat KC in event in '11), K.Bondarenko and Schiavone, but then pull out before SF with U-Rad due to abdominal injury. Say just so can play Wimbledon. Carl think not good news. One bad move from missing Olympics.


=============================




FRESH FACE:

Urszula Radwanska/POL


...U-Rad having better grass court season than A-Rad. Win ITF challenger, then defeat defending champ Lisicki in Birmingham. Last week, qualify in Netherlands, then beat Pervak, Pennetta and Arvidsson. Clijsters injury put in first WTA singles final. Can now outlast sister in London?


=============================




DOWN:

Petra Kvitova/CZE & Caroline Wozniacki/DEN


...Kvitova almost win Eastbourne title last year, but lose in 1st Round to Makarova this time. Wozniacki say can win Wimbledon, then loses first match in Eastbourne to McHale. Maybe Caro should just be quiet and play. Carl might buy Caro's underwear line items for Carla as gift, though... if ever comes back.


=============================




JUNIOR STAR:

Marcela Zacarius/MEX


...Mexican teen win Gerry Weber G2 grass event in Germany. Defeat Daria Salnikova in final.


=============================






1. East Final - Paszek d. Kerber
...5-7/6-3/7-5. Kerber shaky closing out 1st set, but did. Up 5-3, 40/love on Paszek serve in 3rd, then fall apart. Lose next four games with awful service games, and only show life when save 2 MP of Paszek's in final game of match. Paszek wins over world #9 and #8 in Eastbourne... and plays #7 Wozniacki in 1st Round of Wimbledon. Carl sure Todd try to make big deal out of that.


=============================


2. East 1st Rd - Makarova d. Kvitova 7-5/6-4
East 1st Rd - Pironkova d. A.Radwanska 6-2/6-4
East 1st Rd - McHale d. Wozniacki 6-1/6-7/6-4
...Petra, Aga and Caro feel like Carl if Carla say no.


=============================


3. East SF - Paszek d. Bartoli
...4-6/7-5/6-4. Marion up 6-4/4-0 in bad wind. Carl still pick to win Wimbledon, though.


=============================


4. Neth 2nd Rd - Schiavone d. Begu
...6-2/2-6/7-6(8). Francesca down 6-0 in 3rd set tie-break, but save seven MP and eventually win it 10-8.


=============================


5. Neth 1st Rd - Arvidsson d. Jankovic
...6-2/3-6/6-4. Four matches in three days for JJ. Carl not surprised by this.


=============================


HM- Neth QF - Clijsters d. Schiavone
...6-3/7-6. Schiavone 0-12 against Clijsters. Carl know how Francesca feel.


=============================






1. Neth SF - U.Radwanska walkover Clijsters
...maybe Todd onto something about Radwanska thing.


=============================


2. Neth Final - Petrova d. U.Radwanska
...6-4/6-3. Nah. Carl should know better. Todd never right.


=============================


3. East 1st Rd - Pironkova d. A.Radwanska
...6-2/6-4. More proof... so listing TWICE in matches.


=============================








**LONG 2012 WTA+FC WINNING STREAKS**


26...Victoria Azarenka, BLR (January-March)
23...SARA ERRANI & ROBERTA VINCI, ITA/ITA (April-current)
17...Serena Williams, USA (April-May)
16...Liezel Huber & Lisa Raymond, USA/USA (February-March)
12...MARIA SHARAPOVA, RUS (May-current)



**DEFEATED DEFENDING CHAMP, WON TITLE**


Sydney - Victoria Azarenka, BLR (def. Li in Final)
Hobart - Mona Barthel, GER (def. Gajdosova in QF)
Copenhagen - Angelique Kerger, GER (def. Wozniacki in Final)
Eastbourne - TAMIRA PASZEK, AUT (def. Bartoli in SF)



**WTA TITLES - RUSSIANS**


26...Maria Sharapova (2003-12)
16...Elena Dementieva (2003-10)
13...Svetlana Kuznetova (2002-10)
12...Vera Zvonareva (2003-11)
12...Dinara Safina (2002-09)
11...NADIA PETROVA (2005-12)



**OLDEST 2012 CHAMPIONS**


31y,11m,1w - Francesca Schiavone, ITA (Strasbourg)
30y,7m,3w - Serena Williams, USA (Madrid)
30y,6m,2w - Serena Williams, USA (Charleston)
30y,2w - NADIA PETROVA, RUS ('s-Hertogenbosch)



**SINGLES/DOUBLES FINAL IN SAME EVENT**


Auckland - Flavia Pennetta, ITA (L=L)
Bogota - Alexandra Panova, RUS (L=W)
Acapulco - Sara Errani, ITA (W=W)
Charleston - Lucie Safarova, CZE (L=W)
Barcelona - Sara Errani, ITA (W=W)
Roland Garros - Sara Errani, ITA (L=W)
's-Hertogenbosch - NADIA PETROVA, RUS (W=L)



**2012 FIRST-TIME FINALISTS**


Mona Barthel, GER - Hobart (W)
Lara Arruabarrena-Vecino, ESP - Bogota (W)
Alexandra Panova, RUS - Bogota (L)
Timea Babos, HUN - Monterrey (W)
Alexandra Cadantu, ROU - Monterey (L)
Hsieh Su-Wei, TPE - Kuala Lumpur (W)
Petra Martic, CRO - Kuala Lumpur (L)
Kiki Bertens, NED - Fes (W)
Laura Pous-Tio, ESP - Fes (L)
Melanie Oudin, USA - Birmingham (W)
URSZULA RADWANSKA, POL - 's-Hertogenbosch (L)



**2012 WTA FINALS**


6...Victoria Azarenka (4-2)
6...Maria Sharapova (3-3)
4...Sara Errani (3-1)
3...Agnieszka Radwanska (3-0)
3...ANGELIQUE KERBER (2-1)



**2012 LOW-RANKED SEMIFINALISTS**


#262 - KIRSTEN FLIPKENS, BEL ('s-Hertogenbosch - SF)
#208 - Melanie Oudin, USA (Birmingham - W)
#174 - Lara Arruabarrena-Vecino, ESP (Bogota - W)
#159 - Hsieh Su-Wei, TPE (Pattaya - SF)


All for now.