Wk.31- Ruby Tuesday
Hmmm, why can't the WTA ALWAYS be so kind and schedule an "off day" on the Monday after a big event? I know a certain Backspinner rather enjoyed the less-hectic, it-has-to-be-posted-today start to this week.


I mean, sometimes it's nice to not be rushed. Right, Vika?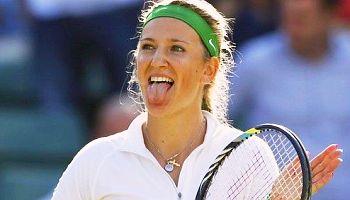 "Aaaaaaaaaah!!!!"

Yeah, what she said. I think it was Belarusian for, "Good luck with that."



*WEEK 31 CHAMPIONS*
LONDON OLYMPICS (Grass)


SG:

Serena Williams/USA def. Maria Sharapova/RUS 6-0/6-1


SB:

Victoria Azarenka/BLR def. Maria Kirilenko/RUS 6-3/6-4


DG:

Williams/Williams (USA) d. Hlavackova/Hradecka (CZE)


DB:

Kirilenko/Petrova (RUS) d. Huber/Raymond (USA)


MG:

Azarenka/Mirnyi (BLR) d. Robson/Murray (GBR)


MB

Raymond/M.Bryan (USA) d. Lisicki/Kas (GER)
WASHINGTON, D.C. (Int'l $220K/HCO)


S:

Magdalena Rybarikova/SVK def. Anastasia Pavlyuchenkova/RUS 6-1/6-1


D:

Aoyama/Chang (JPN/TPE) d. Falconi/Scheepers (USA/RSA)

PLAYER OF THE WEEK:
Serena Williams/USA
..."I've never played better." A month after improving with each succeeding round at Wimbledon and notching wins over three Top 4 players en route to slam title #14, Serena CONTINUED to rise in her return trip to London. In winning her first Olympic singles Gold, Serena completed her "Career Six Pack" of the biggest singles titles in the most dominant way imaginable -- destroying two Top 3 players, including making #1-ranked Azarenka her 14th career top-ranked victim, never dropping a set and being broken just once in six matches. Oh, and she won the doubles, too, meaning she's swept both singles & doubles at SW19 TWICE this summer, and just became the first woman since Venus in '00 to do so at the Olympics. Her next task, though, will be to try to head back to North America and find the U.S. Open redemption that so disastrously eluded her last September.


=============================




RISERS:

Magdalena Rybarikova/SVK & Maria Kirilenko/Nadia Petrova (RUS/RUS)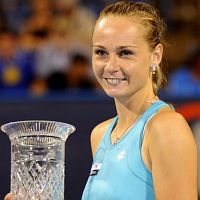 ...Rybarikova has had some occasionally eyebrow-raising results over the past few years. Her title in Washington, D.C. this weekend was the third of her career (all over the past four years), but the former Top 40 player came into last week ranked outside the Top 100. But last week she knocked off all top three seeds -- Anastasia Pavlyuchenkova, Chanelle Scheepers & Sloane Stephens -- to get the first hard court title of her career. The win jumped her all the up to #67. Both Kirilenko and Petrova had great moments in singles last week in London, but ultimately came up short... thanks to Vika. Petrova pushed Azarenka, leading 6-3 in a 1st set tie-break before losing it 8-6, then the 3rd Round match in straights. Kirilenko upset Petra Kvitova, but also lost to Azarenka in the Bronze match. But the two Russians still had another chance at a medal, and they made the most of it, taking Doubles Bronze with a win over Liezel Huber & Lisa Raymond. At the last four Olympics, Russian Revolution-era Hordettes have won five medals in singles, but this is the first medal claimed by a Russian in doubles during that stretch.


=============================




SURPRISES:

Vania King/USA & Chang Kai-Chen/TPE


...after all the talk of Bannerettes "not named Williams" doing things for the first time "since Vania King" in recent weeks, King put her name back into the singles mix with her first semifinal result since Strasbourg in 2010. Her victims? Why, other Americans who've "stolen" the spotlight at various times over the last year -- Irina Falconi and Coco Vandweghe. Also in D.C., Chang reached the singles QF with wins over Iveta Benesova and Johanna Larsson, then claimed her second doubles title of the season with her second partner.


=============================




VETERANS:

Venus Williams/USA & Lisa Raymond/USA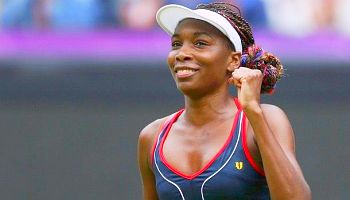 ...this summer at the All-England Club, Venus has gone down the rabbit hole, only to come out on the other side with a Golden glow and a smile on her face. When she went down in flames in the 1st Round at Wimbledon, her long trudge back to the locker room so resembled a sad, "goodbye" moment that it almost hurt to watch it. But she ended up teaming with Serena to take the Wimbledon doubles. Back in London, she looked great through two rounds of Olympic singles, only to lose in two tie-break sets to a Top 10 player (Kerber) who has reached two slam semifinals over the past year. Then, once again, she teamed with Serena to win Doubles Gold, defending their '08 medal and becoming the first players in Olympic tennis history to win four Golds. Between that, her colored braids and pin-collecting hobby, plus her pretty-definitive comments about intending to be around for another go at things in Rio in 2016, the past month has turned out to be one of the best that Venus has seen for a few years. Meanwhile, after failing to secure a medal in doubles with co-#1 ranked partner Liezel Huber, Raymond, a week from turning 39, grabbed her first career Olympic medal when she and Mike Bryan teamed to take Mixed Doubles Bronze.


=============================




COMEBACKS:

Victoria Azarenka/BLR & Sabine Lisicki/GER


...not your "typical" comeback candidates, but they'll do for this week. Azarenka was but one of Serena's hapless victims in the semifinals, but she bounced back with a strong win over Maria Kirilenko in the Bronze Medal match. Then, she bounced back even higher a day later, taking Gold in the Mixed Doubles with Max Mirnyi. Still ranked #1 as she heads back to her favored hard courts, Vika's Olympic crown puts her just two slams -- Wimbledon & Oz -- away from a Career Mixed Slam. Lisicki's '12 season hasn't been as strong as her '11 campaign, but she's continued to battle. She came back from a set down to advance through two rounds at the Olympics, then very nearly got her second win over Sharapova at SW19 this summer in the 3rd Round, taking a tough 1st set in a 10-8 tie-break before losing in three. Then she and Christopher Kas came within an eyelash of taking home a Bronze Medal, losing to Raymond/M.Bryan in yet another 3rd set tie-break (10-4). After flashing her memorable smile quite a few times last week in London, Lisicki left Centre Court with tears in her eyes. But, for the second straight summer, she leaves London with much to feel good about, proving that she will continue to come back... no matter how many times circumstances make another comeback necessary.


=============================




FRESH FACES:

Laura Robson/GBR & Eugenie Bouchard/CAN


...Robson had one of the more surprising weeks of the season in London. She wasn't in the original singles draw, but was added as an alternate after Petra Martic's withdrawal. She ended up getting a big win over Lucie Safarova, then pushed Maria Sharapova to the edge in a 1st set tie-break in the 2nd Round, ulitmately losing 7-6/6-3. Then she jumped onto Andy Murray's magical Olympic coattails and rode them all the way to the Gold Medal Match in Mixed Doubles. The Brits lost in a 10-8 3rd set tie-break, but the 18-year old still walks away as the youngest tennis medalist in London. Back in Washington, D.C., Wimbledon junior champ Bouchard notched wins over Karin Knapp and Olga Govortsova to reach her first career tour QF. She lost in two close sets to Sloane Stephens.


=============================




DOWN:

Liezel Huber/Lisa Raymond (USA/USA) & Petra Kvitova/CZE


...Huber & Raymond are still the #1-ranked players in the world, but after winning four of their first six tournaments of '12, they've now gone ten straight without taking a title. Even as the #1 seeds, and with the only 1st Round bye given any of the competitors in the Olympic tennis draws, they lost in the semis to Hlavackova/Hradecka, then dropped the Bronze match to Kirilenko/Petrova to go home medal-less. And Huber didn't even come close to a medal with Bob Bryan in Mixed, either. Somewhere Elena Vesnina, yet again a victim of Huber (and Raymond) in the doubles in London, smirks and thinks of another acidic Tweet she can aim directly at her favorite fellow player on tour. At least Huber/Raymond were on fire at the start of the season. Kvitova has been battling her own demons all season long, and mostly coming out on the losing side. After reaching the Wimbledon semis, the Olympics seemed to offer her a second chance to give her '12 season a shot in the arm back on the courts that made her a star last summer. Instead, she lost in straight sets in the QF to Kirilenko, never able to scratch the surface of the Russian's service game. As the Czech now heads into what has generally been her worst stretch of the year in recent years -- the North American hardcourt circuit -- she's still seeking her first appearance in a final one season after she was the co-leader on tour with seven titles in '11.


=============================




ITF PLAYER:

Mallory Burdette/USA


...the 21-year old Stanford star has only played four professional events in '12, but that's all it took for her to grab her first career $100K challenger title. In Vancouver, Burdette took out Jessica Pegula 6-3/6-0 in the final.


=============================




JUNIOR STAR:

Francoise Abanda/CAN


...the Canadian teen didn't make it through qualifying in Montreal (losing on Monday to Sesil Karatantcheva), but Abanda did get an impressive 6-4/6-0 win over '11 U.S. Open star Irina Falconi in the second round of qualifying.


=============================






1. Olympics Final - S.Williams d. Sharapova
...6-0/6-1. Really, this one should be put in a time capsule to show future generations just how dominant Serena could be. From the ace on the first point of the match, to the ace on match point, Williams let it be known that there wasn't enough air on Centre Court for BOTH her and Sharapova to breathe comfortably. As a result, she left everyone else breathless, too.


=============================


2. Olympics 3rd Rd - Sharapova d. Lisicki
...6-7(8)/6-4/6-3. Meeting yet again on the grass at the All-England Club, these two played what might have been the best women's match at the Olympics. Surely, at least the 1st set qualifies, as Lisicki saved Sharapova's three set points before finally converting #4 of her own to end an 18-point tie-break.


=============================


3. Olympics 3rd Rd - Kerber d. V.Williams
...7-6(5)/7-6(5). Kerber sometimes wobbles, but the determined German has become a reliable second week presence in big events over the past year. Kerber served at 4-3 and 6-5 in the 1st, only to be broken both times. She had to save two set points, and then fell behind 5-2 in the tie-break, but surged back to win five straight points, then won another tie-break in the 2nd.


=============================


4. Olympics 3rd Rd - S.Williams d. Zvonareva
...6-1/6-0. Zvonareva was one of only two '08 singles medalists (w/ Djokovic) in the draw four years later. After a forgettable year, she had a nice bounce back to even reach the 3rd Round. But, really, with her 27% 1st serve win percentage in the opening set, she must have had deadly visions of the '10 Wimbledon final flashing before her eyes during this one.


=============================


5. WTT - Washington Kastles
...14-0. Yep, the WTT regular season DID take place recently, and the Kastles (part-time summer home of the Williams Sisters), already with two league titles in the last three years and coming off the only undefeated season in WTT history, were at it again. They completed their second straight undefeated regular season, giving the team a record thirty straight wins. With the Olympics postposting the usual postseason weekend, the semis and final will be contested September 14-16 in Charleston, South Carolina.


=============================


6. Olympics QF - Sharapova d. Clijsters
...6-2/7-5. Only one more event and Backspin's "Dear Kim..." letter will be released.


=============================


7. Olympics QF - Kirilenko d. Kvitova
...7-6/6-3. Sure, it was always going to be hard for Kvitova to defeat Kirilenko, considering the Russian committed just one unforced error (to the Czech's 21) in the match. But after having trouble converting big break points all season, Kvitova didn't even HAVE a break point on Kirilenko's serve. Meanwhile, Kirilenko was just 1-for-4 on break points of her own... but that was all that she needed. Oh, Petra.


=============================


8. Wash DC Final - Rybarikova d. Pavlyuchenkova
...6-1/6-1. The Slovak Republic is the first nation this season to produce three different singles champs -- Hantuchova, Cibulkova and now Rybarikova.


=============================


9. Olympics QF - S.Williams d. Wozniacki
...6-0/6-3. Wozniacki went three sets twice, and took out Daniela Hantuchova in straights, to get here. After the beat down she suffered at the hands of Serena -- not that that made Caro unique in London -- one can question whether it was worth it, though.


=============================


10. Wash DC 1st Rd - Pavlyuchenkova d. Jovanovski 6-4/6-3
Montreal Q1: Glatch d. Jovanovski 7-6/4-6/6-4
Montreal Q1: Kinard d. Cohen 7-5/6-3
...the Week 30 finalists from Baku went 0-3 over the past week.


=============================


11. Wash DC QF - Stephens d. Bouchard
...6-4/6-4. I'm not sure if "Future Sloane" was pulling my leg last week or not. 2012 Sloane DID have a pretty good week, reaching her second career semi, but she had to go three up-and-down sets twice to do it. At the very least, I suppose it's progress.


=============================


12. Montreal Q3: Rezai d. Voskoboeva
...6-4/3-6/6-1. STILL not cursed! Sorry, Aravane... but playing a game of chicken with fate is fun. Sometimes.


=============================






1. Olympics 2nd Rd - S.Williams d. U.Radwanska
...6-2/6-3. Naturally, the last two players to break Serena's serve on grass this summer were A-Rad in the Wimbledon final... and U-Rad here.


=============================


2. Olympics Doubles Final - Williams/Williams d. Hlavackova/Hradecka
...6-4/6-4. The Sisters are 15-0 in Olympics doubles, with three Gold Medal winning performances.


=============================


3. $25K Moscow Doubles Final - Ar.Rodionova/Solovieva d. Pashkova/Vasylyeva
...6-3/6-3. The still-a-Hordette Rodionova shares a title with the Pocket Hordette, who followed up her Baku WTA doubles crown with an ITF one back in Mother Russia.


=============================








**2012 WTA TITLES**


5...SERENA WILLIAMS, USA
4...Victoria Azarenka, BLR
4...Sara Errani, ITA
3...Maria Sharapova, RUS
3...Agnieszka Radwanska, POL



**2012 WTA FINALS**


7...MARIA SHARAPOVA (3-4)
6...Victoria Azarenka (4-2)
5...SERENA WILLIAMS (5-0)
5...Sara Errani (4-1)
4...Agnieszka Radwanska (3-1)
3...Angelique Kerber (2-1)



**WORST 2012 SF RECORDS - 2+**


0-4...Petra Kvitova, CZE
0-3...Sorana Cirstea, ROU
0-2...Irina-Camelia Begu, ROU
0-2...SLOANE STEPHENS, USA
0-2...Roberta Vinci, ITA
0-2...Klara Zakopalova, CZE
0-1 (+walkover loss)...Kim Clijsters, BEL
1-3...Jelena Jankovic, SRB



**LONG 2012 WINNING STREAKS**


26...Victoria Azarenka (January-March)
17...SERENA WILLIAMS (June-current)
17...Serena Williams (April-May)
15...Maria Sharapova (May-June)



**2012 DOUBLES TITLES - TEAMS**


7...Sara Errani & Roberta Vinci
4...Liezel Huber & Lisa Raymond
2...Andrea Hlavackova & Lucie Hradecka
2...SERENA WILLIAMS & VENUS WILLIAMS





MONTREAL, QUEBEC CAN (Premier $2.168m/hard outdoor)
11 Final: S.Williams d. Stosur
11 Doubles Champions: Huber/Raymond
12 Top Seeds: Azarenka/A.Radwanska
=============================


=QF=


#1 Azarenka d. #9 Bartoli
#3 Sharapova d. Petrova
#4 Stosur d. #8 Kerber
#14 Pennetta d. #10 Li


=SF=


#1 Azarenka d. #3 Sharapova
#4 Stosur d. #14 Pennetta


=FINAL=


#1 Azarenka d. #4 Stosur

...unless Vika has a London hangover. But I'll go with the thought that her double medal-winning weekend will stoke her confidence for the rest of the summer.


All for now.







COMING SOON:

The MVP List, Pt.4