Wk.15- Viva Vinci!
Let me see... 2013's fifteenth week X one event in Poland + zero Radwanska sisters - a two-stroke penalty for signing an incorrect scorecard = ?


I'll go with this:



**Week 15 By-the-Numbers...**




0...

number of matches won by Kaia Kanepi over the past seven months before last week in Katowice


=============================




3...

combined number of games lost in five of the final six sets played by Roberta Vinci


=============================




5...

singles titles won (at 20 events) by WTA players age 30-or-over in 2013


=============================




6...

consecutive singles finals won by Vinci since she lost in the Barcelona final in April 2010


=============================




13...

consecutive ITF matches won by Mariana Duque-Marino


=============================




2-7...

Laura Robson's record in tour singles matches since her upset of Petra Kvitova at the Australian Open in January. I wonder if Sloane knows?


=============================




5 of 7...

number of Robson's losses that came against players who were ranked below her at the time


=============================




8-1...

Vinci's career record in tour singles finals


=============================




18-4...

combined career record in tour singles finals of Katowice finalists Vinci and Kvitova


=============================




56-6...

Serbia's Jovana Jaksic's record in her last sixty-two matches


=============================



And so it goes...



*WEEK 15 CHAMPIONS*
KATOWICE, POLAND (Int'l $235K/RCI)
S:

Roberta Vinci/ITA def. Petra Kvitova/CZE 7-6(2)/6-1


D:

Arruabarrena-Vecino/Dominguez-Lino (ESP/ESP) d. Olaru/Solovieva (ROU/RUS)

PLAYER OF THE WEEK:
Roberta Vinci/ITA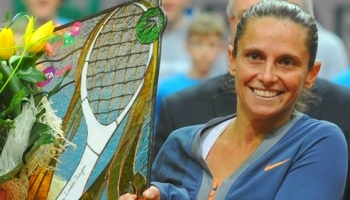 ...while Vinci's rise to the doubles #1 ranking has come with a handful of big titles -- including three slams -- her climb nearly into the singles Top 10 has been strangely absent of such victories since she reached her last final in Dallas just days before the start of the U.S. Open last August. But that changed in Katowice, where the 30-year old vet ran off a string of wins over Andrea Hlavackova, Kiki Bertens, Karolina Pliskova (who won just one game), Annika Beck (ditto!) and top-seeded Petra Kvitova while dropping just a single set (vs. Bertens) en route. Up to a new career-best rank of #12, Vinci now joins doubles partner Sara Errani as a singles champion in 2013, and is carrying forward with some quite remarkable singles numbers in her late-blooming career. The win over Kvitova gives Vinci a career 8-1 mark in tour singles finals, including six straight victories dating back to her win in Luxembourg at the end of the 2010 season.


=============================




RISER:

Alexandra Cadantu/ROU


...another of the Swarmettes who often puts up promising results, yet can never quite get "over the hump," 22-year old Cadantu once more had some nice wins last week in Katowice, but came up short of a truly great result. She upset Sabine Lisicki and countrywoman Irina-Camelia Begu after being forced to make her way through the qualifying rounds while sporting a ranking of #117. After that, she got another win over "lucky loser" Shahar Peer to reach the semis. It's Cadantu's second-best tour result ever, coming in behind only her appearance in the Monterrey final last season.


=============================




SURPRISE:

Ekaterina Bychkova/RUS


...the 27-year old Hordette claimed her first ITF challenger title since 2010 in the $25K event in Edgbaston, England. Bychkova, who ranked as high as #66 back in 2006, claimed her trophy after wins over Tara Moore (winner of three ITF crowns in '13) and fellow finalist Angelica Moratelli.


=============================




VETERANS:

Maria Elena Camerin/ITA & Yvonne Meusburger/AUT


...Camerin, 31, came to Katowice having not reached a WTA quarterfinal since 2010 in Guangzhou. A Top 50 player nearly a decade ago (she topped out at #41 in '04), last week's #174th-ranked singles player in the world made it through qualifying before getting main draw wins over Jana Cepelova and Klara Zakopalova to reach the final eight in last week's only tour event. On the ITF circuit, 29-year old Meusburger claimed the thirteenth challenger crown of her career when she won the $25K event in La Marsa, Tunisia. Meusburger, an "expert" slam qualifier in recent seasons, notched victories over Tunisian Ons Jabeur, as well as Hordettes Yana Buchina and Victoria Kan.


=============================




COMEBACKS:

Shahar Peer/ISR & Petra Martic/CRO


...back in 2011, Peer rose as high as #11 in the rankings and came within a single win of becoming the first Israeli to reach the WTA Top 10. She never got there, then soon fell out of the Top 20 as she was the "First Seed Out" at back-to-back slams in '11. She finished at #74 last season, and a few weeks ago one might have been hard-pressed to answer the question of whether Peer -- though she's still just 25 years old, which almost feels like a typo -- was even still active on tour this season. But that's all changed the last few weeks. She made it through qualifying in Miami and got a main draw win over Marina Erakovic, then very nearly qualified once again in Katowice, losing in the final Q-round. Ah, but Peer got a break and reached the MD as a "lucky loser." She then went on another run, reeling off wins over Tsvetana Pironkova and Jill Craybas to reach her first tour QF since last last summer, and very nearly her first SF since January '12 when she lost a three-setter to Alexandra Cadantu. Also in Katowice, Croatia's Martic managed to get back on her feet after an extended bad stretch. The 22-year old from Split has mostly been a Top 50 player the last two years, and last season reached her first slam Round of 16. But a foot injury took her out of action last summer, and she entered last week with a ranking barely holding onto a Top 100 standing at #91. But wins over Elina Svitolina and Anna Schmiedlova put her into just her second tour QF since last April, where she lost the "Battle of the Petras" to Ms. Kvitova. Yet in the WTA rankings, Martic still saw her ranking fall to #100 for the new week. Oh, (other) Petra.


=============================




FRESH FACES:

Jovana Jaksic/SRB & Annika Beck/GER


...while Jelena Jankovic has put together a rather nice comeback campaign on the WTA tour, another Serbian JJ has become something of a dominant force on the ITF circuit over the last year or so. At a $25K challenger in Poza Rica, Mexico this past week, the 19-year old grabbed her third circuit crown of 2013, and her ninth (more than any other player) over the course of the past two seasons. Jaksic defeated Marcela Zacarius, Stephanie Dubois, Florencia Molinero and Julia Cohen (in the three-set final), running her season mark to 29-4 and her record in her past sixty-two matches (including a qualifying run and 1st Round win in the tour-level Monterrey event in Week 14) to an impressive 62-4. Meanwhile, 19-year old German Beck, the Roland Garros girls champion last season, reached her first career tour semifinal in Katowice with wins over Marta Domachowska, Lourdes Dominguez-Lino and Maria Elena Camerin.


=============================




DOWN:

Laura Robson/GBR


...the Brit has seemingly been around for quite a while, but she's actually still a teenager and hasn't yet been able to attain the sort of consistent results that some of her bigger career moments -- which include wins over players named Clijsters, Li and Kvitova at the last two slams -- would suggest might be possible in the near future. While Sloane Stephens' post-Australian Open results slippage has been quite noticeable, the player whose run the American ended in the 3rd Round in Melbourne has had a bit of a recent slide herself. Ever since Robson's 2nd Round upset of Kvitova Down Under, the 19-year old has gone just 2-7 in tour-level matches. Last week, she dropped her 1st Round match to Lourdes Dominguez-Lino, meaning five of her seven post-Kvitova defeats have come against players ranked below Robson when they met (including two with #100+ ranks).


=============================




ITF PLAYER:

Mariana Duque-Marino/COL


...Colombia's MDM, 23, has now won thirteen straight ITF matches stretched out over back-to-back tournament title runs, including last week's $25K event in Pelham, Alabama. Duque-Marino's fifteenth career circuit crown came after a stretch in which she managed to defeat Patricia Mayr-Achleitner, Chanelle Scheepers, Jessica Pegula and Kurumi Nara in the final, coming back from a set down to win 1-6/6-3/6-4.


=============================




JUNIOR STAR:

Mayo Hibi/JPN


...name sound familiar? It should -- Hibi also won this award a week ago when she claimed the USTA International Spring Championships in Carson, California with a win over Jamie Loeb in the final. Last week, 17-year old Hibi remained in Cali (Rancho Mirage, to be exact) and won the Easter Bowl title as the #13 seed. The Japanese teenager got wins over Brooke Austin (who'd earlier defeated #1-seed Loeb) and Tornado Alicia Black (the American had defeated Louisa Chirico in the semis) in the final. Hibi joined with Austin to reach the doubles semifinals.


=============================






1. Kato Final - Vinci d. Kvitova
...7-6/6-1. Kvitova had a pretty good week going indoors on the red clay until Vinci showed up. The Czech led, on serve, 4-3 and 5-4 in the 1st, and got to within two points of the set at deuce with Vinci serving down 6-5. But she couldn't close things out and a tie-break ensued. Kvitova held serve for 1-0 there and, then, well, it was pretty much over after that. Vinci broke Kvitova's final four serves of the TB, and then took two of her three service games in the 2nd set, as well.


=============================


2. Kato 1st Rd. - Kanepi d. Zaniewski
...6-1/6-1. Ranked as high as #15 last April, the 27-year old Estonian has suffered through a series of injuries -- shoulder, Achilles, etc. -- since her near-semifinal at Wimbledon (Oh, Petra!!) in 2010 that would have severely rewritten the history of everyone's up-and-down Czech Maiden/SW19 champion had Kanepi been able to convert one of five match points in their QF match. Limited to just eleven events in '12, she still managed to win two titles, reach a slam QF and finish with a year-end Top 20 ranking. Kanepi finally returned to action last week in Poland for the first time since September of last year, and her successful "welcome back" match came at the expense of, wouldn't you know it, a Pole. Sorry, Sandra.


=============================


3. Kato 1st Rd. - Craybas d. Goerges
...6-7/6-3/4-1 ret. It's just not an official WTA event unless a German is retiring. Goerges has yet to reach a quarterfinal in 2013.


=============================






1. Kato 2nd Rd. - Ka.Pliskova d. Kanepi
...7-5/6-3. One run ended...


=============================


2. Kato QF - Vinci d. Ka.Pliskova
...6-1/6-0. Deserves another.


=============================








**BEST FINAL WIN PCT (3+) - 2011-13**


1.000 - ROBERTA VINCI, ITA (5-0)
1.000 - Nadia Petrova, RUS (4-0)
0.857 - Serena Williams, USA (12-2)
0.818 - PETRA KVITOVA, CZE (9-2)
0.800 - Agnieszka Radwanska, POL (8-2)



**KVITOVA BY REGION IN 2013**


7-1...Middle East
7-2...Europe
4-2...North America
2-3...Australia
0-0...Asia
0-0...South America



**ACTIVE SEASONS w/ TITLE STREAKS**


11 years - Maria Sharapova, 2003-13
7 years - Serena Williams, 2007-13
5 years - Victoria Azarenka, 2009-13
5 years - ROBERTA VINCI, 2009-13
4 years - Li Na, 2010-13
3 years - Agnieszka Radwanska, 2011-13
3 years - Petra Kvitova, 2011-13
--
STREAK YET TO BE EXTENDED: Wozniacki (5 years - 2008-12)



**2013 DOUBLES TITLES**


3...Sara Errani, ITA
3...Roberta Vinci, ITA
2...LARA ARRUABARRENA-VECINO, ESP
2...Timea Babos, HUN
2...Kimiko Date-Krumm, JPN
2...Bethanie Mattek-Sands, USA
2...Sania Mirza, IND
2...Kristina Mladenovic, FRA
2...Nadia Petrova, RUS
2...Katarina Srebotnik, SLO



**MOST ITF TITLES - 2012-13**


9...JOVANA JAKSIC, SRB (6/3)
7...Basek Eraydin, TUR (7/0)
7...Anna-Lena Friedsam, GER (6/1)
7...Ana Savic, CRO (7/0)
7...Maria-Teresa Torro-Flor, ESP (7/0)
7...Maryna Zanevska, UKR (5/2)
6...Annika Beck, GER (6/0)


I'll be back later in the week with Fed Cup picks. All for now.