US.5 - In the Shadows, and Out of the Shade
Naturally, much of the attention at this U.S. Open has gone to the players on opposite ends of the draw, potential finalists Serena Williams and Victoria Azarenka, the top two ranked players in the world. But there are quite a few possible contenders lurking in the shadows of media coverage in New York, virtually hiding in plain sight.
Many of them were in the (relative) spotlight on Day 5.


Going into today, the top contest appeared to be the rematch of one of last year's Open's biggest moments, when Laura Robson followed up her career-ending defeat of Kim Clijsters with another victory over a former slam winner, Li Na. One year later, the two met in another 3rd Round match-up and, somewhat surprisingly, considering the #5-seeded Chinese vet's relative lack of success in Flushing Meadows, the result turned out to never REALLY be in question.

She's rarely shown it in NYC, but hard court is Li's best surface. Still, she'd won just two matches at her last three Opens before winning two matches earlier this week. So, I guess you CAN "teach an old dog new tricks." Of course, I say that because that's essentially the time-worn phrase that Li jokingly referenced after joining up with longtime Justine Henin mentor Carlos Rodriguez late last season... or at least I HOPE she said it. It sounds like something she'd say, right, and I'm not crazy? Well, Li SHOULD say it if she hasn't already. Either way...

Apparently, one year of consistent working with Rodriguez is now starting to show real progress. Sure, Li opened her season by reaching the Australian Open final, and very nearly got to Vika Azarenka before the Laver Court gremlins started to reach through the court and (literally) trip her up, but the excitement for the remainder of Li's season has mostly been a hit-and-miss affair since then. Work has obviously been done, though, and much of it on Li's fitness and instilling a game strategy to naturally move forward more during her matches. It was a tactic surely in evidence today, as Li converted nine of nine net attempts for winners. She hit eleven aces, too.

Not wanting to get upended by the #30-seeded teenager for a second straight year, Li jumped out to a quick 5-1 lead in the opening match on Ashe on Day 5, taking the 1st set 6-2. In the 2nd, Robson pushed to a 3-0 lead, but Li reeled her back in, knotting things at 4-4, then getting a break to go up 6-5 after Robson had led 30/love in the game. Serving for the match, Li failed to convert her first match point, but hit an ace (on a second serve!) on #2, winning 6-2/7-5, outdistancing Robson 23-7 in winners for the day, while the Brit was dragged down by thirty unforced errors in the match's twenty games.

At the same time as Li/Robson, #3-seed Agnieszka Radwanska, who has yet to reach a U.S. Open quarterfinal in her career, faced off with a dangerous foe in #32 Anastasia Pavlyuchenkova. The Russian was certainly capable of powering the Pole out of this Open, but, well, Pavlyuchenkova always seems to leave something more behind on the court during a defeat. She beat A-Rad 7-6/6-4 in their previous meeting in Indian Wells four years ago, so, naturally, Radwanska -- clever as clever can be -- defeated her 6-4/7-6 today. Much would have to happen for Aga to make a real dent in this slam. But, well, we know what sort of things can happen if she hangs around long enough.

Oh, and she's hangin' right now.

Meanwhile, '08 U.S. Open finalist Jelena Jankovic (#9) still hasn't lost a set, taking out qualifier Kurumi Nara 6-4/7-6 today, while '11 semifinalist Angelique Kerber (#8) took out #25 Kaia Kanepi, also in straights. None of these women will get a fraction of the exposure that the Big 2 will, but at least one of them will likely reach the the semifinals out of their section of the draw.

One person who is most definitely NOT hiding in the shadows is Sloane Stephens. After barely escaping with her head in the 1st Round against Mandy Minella, the Bannerette took Ula Radwanska to the proverbial woodshed the other night to get her first career night session victory on Ashe. Today Current (or would it be Future?) Sloane was back on Ashe during the daytime, as the #15-seeded Stephens faced off with her countrywoman, #23 Jamie Hampton, for the second straight slam. In London, Stephens won their 1st Round match 6-3/6-3. Their 3rd Rounder here wasn't even that close.

Yes, Future Sloane showed up once again.

The match began with three breaks in the first four games, with Stephens getting over on Hampton's serve twice to lead 3-1. Down 15/40, Stephens used a few big serves to get back into game #5, holding for 4-1 and going on to win the set 6-1. In all, Hampton held break points in three of Stephens service games (Sloane saved four BP in the set), but only pulled off that very first break, while she never once held her own serve. In fact, in her three service games, Hampton got to game point just one time. In the 2nd set, Hampton held close for a while, breaking for 3-3, but then saw Stephens break her two remaining serve games to win 6-1/6-3.

Thus sets up (more than likely) the first truly thunderous match-up of this slam, as Stephens could next face off with Serena Williams in the Round of 16, their first meeting since (that day) Future Sloane became the first American woman younger than Serena to ever defeat her, as Stephens reached the semifinals in Melbourne. Of course, there was that interview and all the "UnFriending" and "She's not my idol" stuff in the interim, as well. But I'm sure no one will talk about all that in the lead-up.

Yeah, right.

So, I guess everyone else in the top half of the draw will continue to play in the shadows of this U.S. Open. At least for a few more days. Oh, well. Their time will come. Eventually.



=DAY 5 NOTES=
...in other action during the day session, Ekaterina Makarova defeated Sabine Lisicki to reach her first career U.S. Open Round of 16, "robbing" everyone of being able to think of all sorts of "wonderful" things to say about what otherwise would have been the first meeting between these two since this: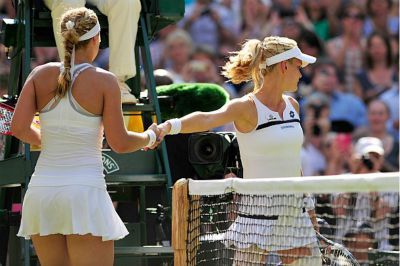 Oh, well. Good things are supposed to come to those who wait, right? As it is, Makarova has never beaten Radwanska during her career. So, has Aga already won the first battle?

...LIKE FROM DAY 5:

-- as always, Bud Collins. On Tennis Channel, Jon Wertheim's segment and interview with Collins, now 84, was great. A pair of peach pants -- probably with actual peaches on them -- for all! Tennis Channel's Signature Series special on Collins airs next Monday.

...DISLIKE FROM DAY 5:

-- Hannah returned.

...LIKE #2 FROM DAY 5:

-- but L.G., didn't. As far as I know. Really, though, how would you know, considering he's never contributed a single solitary thing to ESPN's tennis telecasts. Well, he does have some nice-looking dreads, though.

(singing voice) And that isn't easy.

Hmmm, I"m sure there's an idea for a Progressive Insurance ad with Flo in there somewhere...




Note:

in a recent ad, Flo sings about someone looking "good in corduroy pants... and that isn't easy." So there. But I guess if you have to explain the joke it just isn't much of one, huh?

...in doubles, Sam Stosur got back to her "roots," teaming with Svetlana Kuznetsova in an all-former U.S. Open champions teaming (just like Veus and Serena), defeating Yvonne Meusburger and Paula Ormaechea, 6-3/6-0.

Lisa Raymond's latest doubles partner? Why, Polona Hercog, of course. They beat Petra Martic and Andrea Petkovic today. Later -- in a who-do-we-have-to-pay-to-get-a-better-draw-than-this? match -- top-seeds (and defending champions) Sara Errani and Roberta Vinci took out Daniela Hantuchova and Martina Hingis, just as they a couple of weeks ago in Cincinnati. Hingis, in her return to the Open, double-faulted on the final two points of the match.

...and, finally, Serena takes to the court against Yaroslava Shvedova tonight. As you might remember, the Kazakh put up a fight against Williams in the Round of 16 at last year's Wimbledon, so this COULD be something to keep an eye on. But it's a night session match on Ashe... so probably not.

Thus, in all likelihood, there won't be a late night post this evening.







*WOMEN'S SINGLES ROUND OF 16*


xx vs. #15 Sloane Stephens/USA
xx vs. #8 Angelique Kerber/GER
#3 Agnieszka Radwanska/POL vs. #24 Ekaterina Makarova/RUS
#9 Jelena Jankovic/SRB vs. #5 Li Na/CHN
xx vs. xx
xx vs. xx
xx vs. xx
xx vs. xx



*MEN'S SINGLES ROUND OF 16*


xx vs. xx
xx vs. xx
xx vs. xx
xx vs. xx
xx vs. xx
xx vs. xx
xx vs. xx
xx vs. xx







*BACKSPIN 2013 COMEBACK-OF-THE-MONTH WINNERS*




[Monthly/Quarterly winners]


JAN: Svetlana Kuznetsova, RUS
FEB: Sabine Lisicki, GER
MAR: Jelena Jankovic, SRB
1Q=JELENA JANKOVIC, SRB
APR: Jelena Jankovic, SRB
MAY: Kaia Kanepi, EST
2Q/CC=JELENA JANKOVIC, SRB
JUN: Caroline Wozniacki, DEN
2Q/GC=MARION BARTOLI, FRA
JUL: Andrea Petkovic, GER
AUG: Caroline Wozniacki, DEN


[2013 Weekly Comeback Award Wins]


6...Caroline Wozniacki, DEN
4...Jelena Jankovic, SRB
4...Andrea Petkovic, GER
3...Shahar Peer, ISR
2...Alize Cornet, FRA
2...Ana Ivanovic, SRB
2...Svetlana Kuznetsova, RUS
2...Bethanie Mattek-Sands, USA
2...Flavia Pennetta, ITA
2...Barbora Zahlavova-Strycova, CZE







TOP QUALIFIER:

Michelle Larcher de Brito/POR




Co-TOP EARLY-ROUND (1r-2r):

#1 Serena Williams/USA & #2 Victoria Azarenka/BLR




TOP MIDDLE-ROUND (3r-QF):

xx


TOP LATE-ROUND (SF-F):

xx


TOP QUALIFYING MATCH:

Q3: Chanel Simmonds/RSA d. (WC) Taylor Townsend/USA 2-6/6-2/7-5




TOP EARLY-RD. MATCH (1r-2r):

1st Rd. - (Q) Duval/USA d. #11 Stosur/AUS 5-7/6-4/6-4




TOP MIDDLE-RD. MATCH (3r-QF/Doub.):

xx


TOP LATE-RD. MATCH (SF-F/Jr.):

xx


TOP ASHE NIGHT SESSION MATCH:

xx


=============================




FIRST WINNER:

Carla Suarez-Navarro, ESP (def. Davis/USA)




FIRST SEED OUT:

#29 Magdalena Rybarikova/SVK (lost to LL Mayr-Achleitner/AUT)




UPSET QUEENS:

United States




REVELATION LADIES:

Italy




NATION OF POOR SOULS:

Australia [1-4 overall, Stosur out 1st Rd, Rogowska double-bageled, only WC Barty advanced to 2nd Rd.]




CRASH & BURN:

#11 Sam Stosur/AUS - '11 champ, lost 1st Rd. to Duval/USA, 17-yr. old qualifier in second career slam match, ranked #296




ZOMBIE QUEEN:

Nominee: #15 Stephens/USA def. Minella/LUX in 1st Rd. after being down break at 4-2 in 3rd


AMG SLAM FUTILITY UPDATE:

lost 1st Rd. to Mladenovic/FRA, once again failing to reach a slam QF in her career (so Anna Smashnova still has a buddy)


LAST QUALIFIER STANDING:

In 3rd Rd.: Giorgi/ITA, Glushko/ISR, Nara/JPN (L)


LAST WILD CARD STANDING:

Alison Riske/USA (in 3rd Rd.)




LAST BANNERETTE STANDING:

In 4th Rd.: Stephens (to play: S.Williams, McHale, Riske


IT:

Nominee: V.Duval/USA, Stephens/USA


Ms.OPPORTUNITY:

xx


COMEBACK PLAYER:

Nominees: Kleybanova/RUS - first slam win/appearance since AO '11, prior to Hodgkin's diagnosis; Pennetta/ITA, Jankovic/SRB, McHale/USA


BROADWAY-BOUND:

Nominee: Stephens/USA


LADY OF THE EVENING:

Nominee: Duval/USA, Stephens/USA


DOUBLES STAR

xx


JUNIOR BREAKOUT:

xx





All for now. More soon.