Wk.40- A Month of Sundays... four, to be exact
Has it really already been a month since Serena and Vika faced off on Ashe?


Well, as far as Williams goes... it feels like only yesterday. When it comes to Azarenka... umm, well, not so much.



**PLAYERS OF THE MONTH - WK. 37-40**


1.

Serena Williams, USA


...she's sealed up her third year-end #1 ranking, and her win in Beijing added to her career-best season totals for match wins and singles titles


=============================


2.

Cara Black & Sania Mirza, ZIM/IND


...these two have been playing forever -- what took them so long to find each other? As a "new" duo, they've won titles in Tokyo and Bejing in the past two weeks.


=============================


3.

Petra Kvitova, CZE


...finally showing some life for more than one brilliant set at a time, the Czech strung together eight straight wins while taking Tokyo and reaching the semis in Beijing


=============================


4.

Agnieszka Radwanska, POL


...her win in Korea proved that A-Rad had Seoul... for her first singles crown since Week 2


=============================


5.

Jelena Jankovic, SRB


...back in the Top 10, a Beijing finalist and looking to make her return to the WTA Championships for the first time since 2010


=============================


6.

Bojana Jovanovski, SRB


...one of the "Other Serbs," Wrong Way BoJo proved to be quite right in winning a WTA title in Tashkent and WTA 125 Challenger crown in Ningbo


=============================


7.

Zhang Shuai, CHN


...the fifth Chinese woman to win a tour singles title (Guangzhou), Zhang followed up with a RU result in the WTA Challenger in Ningbo


=============================


8.

Lucie Safarova, CZE


...her win in Quebec City was her first tour crown since 2008


=============================


HM-

Russian Junior Fed Cup Team


...the NextGen Hordettes won a fourth Jr. FC crown for Russia


=============================





RISERS:

Hsieh Su-Wei & Peng Shuai (TPE/CHN) and Angelique Kerber/GER


FRESH FACES:

Eugenie Bouchard/CAN & Anna Schmiedlova/SVK


SURPRISES:

Jang Su Jeong/KOR & Aleksandra Krunic/SRB


VETERANS:

Venus Williams/USA & Yvonne Meusburger/AUT


COMEBACKS:

Vania King/USA & Caroline Wozniacki/DEN


JUNIOR STARS:

Russian Jr. Fed Cup Team & Tornado Alicia Black/USA


ITF PLAYERS:

Teliana Pereira/BRA & Shelby Rogers/USA


DOWN:

Victoria Azarenka/BLR & Sloane Stephens/USA



**TOP PERFORMANCES**




#1 -

Black & Mirza sweep the Tokyo & Beijing doubles


#2 -

Serena wins Beijing -- wait for it -- without dropping a set. "Shocking," I know.


#3 -

Kvitova wins Tokyo -- wait for it -- but not without dropping a set. "Shocking," I know.


#4 -

Jovanovski enters Tashkent late and is forced to qualify. Then, installed as the #1 seed, she wins the title.


#5 -

A-Rad finally cures what ails her with a title in Seoul


HM -

Zhang Shuai wins her first career title in Guangzhou



**By the Numbers...**




0-5...

Lucie Safarova's record in her last five appearances in WTA finals before her win in Quebec City


=============================




1...

total number of Canadian woman who have ever reached the semifinals in Quebec City after Eugenie Bouchard did it in September


=============================




2...

number of WTA events scheduled to take place in Kuala Lumpur in 2014 after it was announced that the event formerly held in Palermo would move to Malaysia next season


=============================




3...

consecutive losses by Victoria Azarenka after her 1st Round exit in Beijing, her longest losing streak since May 2010


=============================




3-2...

final score of playful Beijing exhibition "match" between Li Na and Novak Djokovic



=============================




5...

counting Zhang Shuai in Guangzhou, the total number of Chinese woman who have claimed tour singles crowns. Three of the five won their first WTA titles at the Guangzhou event.


=============================




5...

number of sets, as in "best-of-five," that WTA CEO Stacey Allaster says the women would be willing to play in the slams


=============================




7...

number of years it'd been since a Korean woman reached a tour QF (Cho Yoon Jeong, a finalist at Canberra in 2006) before Jang Su Jeong did it in Seoul


=============================




10...

number of singles titles won by Serena Williams this year, a career best


=============================




73...

number of match wins by Serena Williams this year, a career best


=============================




99...

miles per hour of forehand winner hit by Agnieszka Radwanska in a match vs. Madision Keys in Beijing



=============================




129.9...

miles per hour of serve hit by Venus Williams in the Tokyo QF vs. Eugenie Bouchard. It's the fastest recorded serve in WTA history, but it won't be counted as a record because the technology used to measure the serve wasn't the approved technology necessary for a speed to recognized by the tour as being "official"


=============================




2006...

the last appearance in a WTA singles final (Bangkok -- and she won, too) by Vania King before her September run in Guangzhou


=============================





*MEMORABLE MATCHES*


Tokyo SF - Kvitova d. V.Williams
...3-6/6-3/7-6(2). In one of the cleaner, better-played matches this season, Kvitova and Williams held serve in all but one game in the 2nd and 3rd sets.


=============================


Tokyo Doubles Final - Black/Mirza d. H-C.Chan/Huber
...4-6/6-0/11-0. Considering both their checkered histories with Huber, you have to wonder what was said under the breaths of Black and Mirza both before, during and after this one... especially after Chan/Huber led the deciding tie-break 9-7 and held two match points.


=============================





*COMEBACKS... or chokes?*


Tokyo 2nd Rd. - Bouchard d. Stephens
...5-7/7-6(7)/6-3. As is often the case when Current Sloane appears on lists like this, Stephens led 7-5/5-3. She served for the match at 5-4, and was knotted with Bouchard at 6-6 in the 2nd set tie-break.


=============================


Tokyo 3rd Rd. - V.Williams d. Halep 4-6/7-5/6-3
Beijing 1st Rd. - U.Radwanska d. Halep 7-6(4)/7-6(2)
...the wonderful 2013 campaign of the Romanian is concluding on a bad note. Against Venus, Halep was up a set and a break on three different occasions -- at 1-0, 3-2 and 4-3 -- but lost anyway. Against U-Rad, she led 5-3 in the 1st and held two set points, then had a 5-2 advantage in the 2nd and had a set point there, too, before dropping serve three straight times and losing all three service points in the tie-break.


=============================





*A TITANIC UPSET?*


Seoul 1st Rd. - Jang d. Zakopalova
...6-3/6-1. Well, no, not "titanic." But, still, Jang was a wild card ranked #540, and the fifth-best Korean player on the WTA computer. Meanwhile, Zakopalova was #33 and the second-best Czech behind only Kvitova. Needless to say, this result shouldn't happen.


=============================





=OVER=


Anna Chakvetadze and Jill Craybas retired



=OUT=


Bethanie Mattek-Sands, with a knee injury


=============================


Maria Sharapova, with a shoulder... but she's still holding out hope for an appearance in Istanbul


=============================


Nadia Petrova, still, with a hip injury.

A year ago, the Russian won three titles, finished at #12 and went 39-19. This year, she's won zero titles, is ranked #60 and has gone just 9-13, including 0-4 at the slams. She lost six straight and is without a singles match win since May. Still, she's #3 in doubles, matching her career-best ranking.

Oh, Nadia.


=============================





=AND (Knowing Jack) ABOUT (a Waffle)=


Kim Clijsters gave birth to Jada's new little brother, Jack



=AS WELL AS, UMM... "pulling a twerking Miley, Vika Style?"



Maybe this has something to do with the losing streak?



*WEEK 40 CHAMPIONS*
BEIJING, CHINA (Premier $5.19m/HCO)
S:

Serena Williams/USA def. Jelena Jankovic/SRB 6-2/6-2


D:

Black/Mirza (ZIM/IND) d. Dushevina/Parra-Santonja (RUS/ESP)

PLAYER OF THE WEEK:
Serena Williams/USA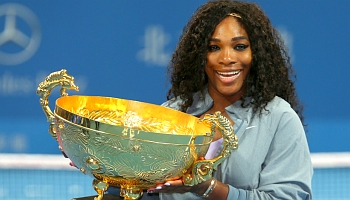 ...Williams didn't complete a "Serena Slam," win a Gold Medal or sweep through every major event in the summer and fall as she has in previous seasons, but 2013 might just be her best season ever -- even though she ONLY won two slams -- considering she's had perhaps her most complete, consistently-dominating and (largely) injury-free season while, now at 32, being the senior competitor in nearly every match she's played. The beat went right on rolling along in Beijing as she grabbed her tenth title of the season, extending her current winning streak to 13 matches (her third 13+ streak this year) en route to adding a second China Open title to her career resume. Williams opened the tournament's run in '04 (when it was a Tier II) with a title, and helped it celebrate its tenth edition with another crown this time around following wins over Elena Vesnina, Francesca Schiavone, Maria Kirilenko, Caroline Wozniacki, Agnieszka Radwanska and Jelena Jankovic without dropping a set. Williams' appearance in the Beijing championship is her fifth straight final, second-best on tour in '13... behind only her own earlier string of six consecutive finals. Like I said, factoring in her Roland Garros title run, this just might be Serena's "signature season." Well, at least until maybe 2014 plays out, I guess.


=============================




RISERS:

Petra Kvitova/CZE & Agnieszka Radwanska/POL


...fresh off her win in Tokyo, Kvitova was weaving her way -- as she often does... if you know what I mean -- through the Beijing draw, as well, with wins over Varvara Lepchenko, Sara Errani and Li Na before surviving a tight 1st set against Jelena Jankovic in the semis. But a lower back injury did her in before her own game's inconsistency could, as she dropped back-to-back 6-1 sets to the Serb and then pulled out of this week's event in Linz (indoors... where the Czech has traditionally been most comfortable). She's in good position for the WTA Championships, and is back up to #7 in the rankings, but now Kvitova has yet another issue to deal with in what little is left of the 2013 season that she's almost managed to salvage -- almost, but not quite -- with a couple of good weeks in Asia. Radwanska didn't get her second 4Q title in Beijing, but she did spin victories over Stefanie Voegele, Madison Keys and Polona Hercog before getting some revenge on Angelique Kerber in the QF after having lost to the German a week earlier in Tokyo. A-Rad faced off with Serena in the semis... but, well, the less said about that the less likely I'll be to rattle the cage of You-Know-What. Needless to say, Aga is now 0-7 in that head-to-head match-up, and she had to eat a Williams shot at the net in this particular meeting, too.


=============================




SURPRISE:

Aleksandra Krunic/SRB



...the Serbian Good Luck Charm does singles, too. Krunic, even before her current youthful age of 20, had been a Fed Cup doubles stalwart for a couple of seasons. In 2013, though, she's made considerable strides in singles, too. She's won a pair of ITF titles, and qualified for and made her grand slam main draw debut at the U.S Open this summer. With two wins in Linz qualifying (as of this post -- she's still got another round to go to qualify for the MD there) this weekend, Krunic has now won ten of her last eleven matches and is 13-2 beginning with her Flushing Meadows Q-run.


=============================




VETERANS:

Jelena Jankovic/SRB & Cara Black/Sania Mirza (ZIM/IND)




...Jankovic's resurgent season picked up still more steam in Beijing as she ran through the likes of Anastasia Pavlyuchenkova, Carla Suarez-Navarro, Lucie Safarova and Petra Kvitova to reach her third final of the season, joining Serena Williams and Simona Halep as the only women to reach championship matches on three different surfaces (red clay, green clay and hard) in 2013. Unfortunately for JJ, while she did get a title in Bogota this year, she faced off with Serena in her other two finals. The result: 0-2. Still, her run has pushed her ranking back up to #8 and put her on the cusp of qualifying for the WTA Championships. Oh, and she even found a moment to insert a tiny little "Queen Chaos Moment" into the final when Williams stopped to bend over in pain (with tears in her eyes and a shaken expression on her face) three games into the 2nd set in a service game in which Jankovic ultimately gained a break. During the changeover following that game a player took a medical time out to her have her back worked on. But, naturally, it was JJ that took the time out, not Serena. (Rolling eyes.) Meanwhile, while Black has had a difficult time finding a regular partner following her nasty break with Liezel Huber, then her own maternity leave, Mirza, though a good fit with a slew of partners, had a pretty good thing going with Bethanie Mattek-Sands earlier this year, as the pair claimed two titles in the season's first two months. But with BMS out with injury, the vets from Zimbabwe and India, respectively, have begun to team up and -- voila! -- it's been a great fit. They won the title in Tokyo last weekend, then teamed again over the past week in Beijing. All they did was take out the intriguing team of Mladenovic/Pennetta early on, then #1-seeded Errani/Vinci in the semis before defeating Dushevina/Parra-Santonja in the final. The title gives Mirza a tour-best five doubles titles this season, and ties her with the aforementioned all-Italian pair on the active list with her nineteenth career WTA title. She's the only player to win multiple titles with multiple partners in '13. Black, with three titles this season, now has 57 career crowns, good for 13th-best all-time, just three behind #12 Rennae Stubbs' total of 60.


=============================




COMEBACKS:

Andrea Petkovic/GER & Arantxa Rus/NED


...the former Top 10 German's comeback continued in Beijing as she put up wins over players who have combined to win four slams, Victoria Azarenka and Svetlana Kuznetsova. She ultimately lost in the 3rd Round to Lucie Safarova, but Petkovic has worked her ranking back into the Top 40 after finishing at #143 following an injury-marred 2012 campaign. Earlier this year, the name of Rus was only being mentioned when she lost. And, unfortunately, that was quite often... as in a tour record number (17) of consecutive WTA main draw matches. After ranking at #61 in August '12, the 22-year old Dutch woman's fall had her at #261 last week even after she'd claimed two recent ITF titles. Well, now let's make it three, as Rus just won another challenger crown in a $25K in Vallduxo, Spain, completing her recent turnaround with an easy win in the final over Alize Lim. This most recent run actually managed to push her '13 season record over .500 to 26-22 in all matches. She's now up to #203, with a return to the Top 200 in sight.


=============================




FRESH FACE:

Victoria Rodriguez/MEX


...under the radar, a small group of Mexican players have seen their fortunes take considerable upturns on the ITF circuit over the last year or so. This weekend in a $15K challenger in Victoria, Mexico, Victoria (no relation) Rodriguez joined the party... err, I mean fiesta, as the 18-year old grabbed her first career pro title with a win in the final over countrywoman Ana Sofia Sanchez, who retired down 4-0 in the 3rd set.


=============================




DOWN:

Victoria Azarenka/BLR & Serena Williams/Venus Williams (USA/USA)


...Vika's 1st Round Beijing loss, a three-set double-fault (15) fest against Andrea Petkovic in a tournament in which the Belarusian was crowned champion a season ago gives her her first three-match losing streak since a clay court swing in Rome, Madrid and Paris in the spring of 2010. Meanwhile, the Williams Sisters, for various reasons, are seemingly (or at least currently) no longer the unbeatable doubles force they used to be. They lost to Chan Hao-Ching & Liezel Huber in the 1st Round in Beijing despite having a set and 4-1 lead. Serena double-faulted on match point. After going 13-1 as a duo a season ago, the Sisters were just 7-4 in '13.


=============================




ITF PLAYER:

Anna Morgina/RUS




...the 22-year old Hordette claimed her fifth challenger title of the season. All of them have come in the many $10K events held in Sharm el-Sheikh, Egypt, with the most recent the result of a three-set win in the final over Turkey's Ipek Soylu. Morgina, one of five women representing Russia who won ITF challengers this weekend, was one of three (Polina Leykina & Julia Samuseva) to go home with a doubles win, as well.


=============================




JUNIOR STARS:

Barbora Krejcikova/CZE & Katerina Siniakova/CZE


...these two Czechs have seen their fortunes be closely related throughout much of this season, so it should come as no surprise that the same could be said this weekend... even while the two were playing in ITF challengers in two different nations. The 17-year olds teamed to win three straight junior doubles slams this year (Krejcikova also reached the girls doubles final in Melbourne), and both are positioned in the current Top 4 in the junior rankings. This weekend, Krejcikova won her second career challenger title (first in '13) in Solin, Croatia, while Siniakova won her third of the season in Budapest, topping things off with a victory in the final over vet Alberta Brianti. The two Czechs performed a choreographed on-court dance after winning in Flushing Meadows... maybe they used Skype to keep up the tradition this time?


=============================






1. Beijing Final - S.Williams d. Jankovic
...6-2/6-2. Thankfully, JJ didn't experience the sort of mental meltdown that she did in the Charleston final against Serena earlier this season, but the Serb is 1-6 in her last seven finals nonetheless.


=============================


2. Beijing 2nd Rd. - Stephens d. Bouchard
...6-1/1-6/6-4. A week after falling in three sets to the Canadian in the Tokyo 2nd Round, Stephens turned the tables on her North American counterpart this time around. Hmmm, how long until these two meet for bigger stakes on a much larger stage... and can that day get here a bit quicker? Aha! Time machine time!!


=============================


3. Beijing QF - Kvitova d. Li
...4-6/6-2/6-2. In a battle to see player would blink and/or surge at precisely the right moment, Li served 15 double faults and was broken seven times as Kvitova notched her tour-best 24th three-set victory of the season. A disappointing end to Li's run in Beijing, which had begun so pleasingly with momentum-gathering wins over Daniela Hantuchova, Bojana Jovanovski (love & 1) and Sabine Lisicki.


=============================


4. Beijing SF - Jankovic d. Kvitova
...6-7(7)/6-1/6-1. Three-set victory #25 wasn't in the cards for the Czech, though, even after she survived JJ serving for the 1st at 5-4 and 6-5 and holding a set point, then the Serb taking a 5-3 in the tie-break.


=============================


5. Beijing Exhibition - Li d. Djokovic


...3-2. Not quite Billie Jean King vs. Bobby Riggs. But, really, did anyone expect it to be?


=============================






1. Beijing SF - S.Williams d. A.Radwanska
...6-2/6-2. Serena doesn't have any Radwanskian-related worries about hitting Aga with a shot at the net because, well, because she's Serena. Enough said.



=============================


2. Beijing 2nd Rd. - Lisicki d. V.Williams
...6-1/6-2. Vika couldn't do it a week earlier in Tokyo, but Lisicki did in Beijing. Namely, she became the fourteenth woman to manage to defeat both Venus and Serena in the same season, extending what has to be considering an incredibly unlikely streak of seventeen straight seasons in which at least one player has been able to pull off the feat. This will apparently be Venus' swan song for '13, as it's been reported that she won't play again until 2014.


=============================


3. Beijing Doubles 1st Rd. - H-C.Chan/Huber d. Williams/Williams
...6-7/6-4/11-9. Pity Serena's poor racket, which had a less-than-noble death after Serena used it to double-fault on match point of a contest in which she and Venus had led 7-6/4-1.



=============================


4. $25K Perth Final - Ar.Rodionova d. Falconi 7-5/6-4
$25K Perth Doubles Final - E.Sema/Y.Sema d. Adamczak/Patterson 7-5/6-1
...Perth was a haven for sisters, as Arina Rodionova won a singles title in her adopted nation (while still, technically, representing Russia), while the Semas took home their sixth ITF doubles crown as a duo, though it's their first since 2010.


=============================


5. Beijing 2nd Rd. - S.Williams d. Schiavone
...6-4/7-5. Schiavone led 5-3 in the 2nd, and served for the set at 5-4. Not bad. Serena even said she was inspired by Francesca, being that she's actually a little bit older than Williams and is still in top shape. As it turned out, Serena ultimately joined Schiavone as the only 32-year old singles champs on tour this season.


=============================








**2013 WTA MATCH WINNING STREAKS**


34...Serena Williams, March-June [ended by Lisicki]
18...Victoria Azarenka, January-May [ended by Makarova]
14...Serena Williams, July-August [ended by Azarenka]
13...SERENA WILLIAMS, August-October *
13...Agnieszka Radwanska, January [ended by Li]
11...Maria Sharapova, March [ended by S.Williams]
11...Simona Halep, June [ended by Li]
10...Victoria Azarenka, July-September [ended by S.Williams]
--
* - active streak



**DEFEATED SERENA & VENUS IN SAME SEASON (WTA events)**


1997 - Lindsay Davenport
1998 - Arantxa Sanchez Vicario (*Sydney-W), Martina Hingis
1999 - Steffi Graf (*Sydney)
2000 - Lindsay Davenport
2001 - Martina Hingis (*Aust.Open)
2002 - Kim Clijsters (*WTA Chsp.-W)
2003 - Amelie Mauresmo
2004 - Lindsay Davenport (*L.A.)
2005 - Silvia Farina Elia
2006 - Jelena Jankovic
2007 - Justin Henin (*U.S. Open-W)
2008 - Jelena Jankovic, Li Na
2009 - Kim Clijsters (*U.S. Open-W), Elena Dementieva
2010 - Jelena Jankovic (*Rome)
2011 - Samantha Stosur
2012 - Angelique Kerber
2013 - Sabine Lisicki
--
(*)-defeated both in same event; (W)-won title



**2013 CONSECUTIVE FINALS REACHED**


6...Serena Williams, February-June (5-1)
5...SERENA WILLIAMS, July-October (4-1)
4...Maria Sharapova, March-May (2-2)
3...Victoria Azarenka, July-September (2-1)



**MOST COMMON WTA FINAL MATCH-UPS - 2012-13**


6...Serena Williams vs. Victoria Azarenka (SW 4-2)
5...Serena Williams vs. Maria Sharapova (SW 5-0)
4...Victoria Azarenka vs. Maria Sharapova (VA 3-1)
2...Maria Sharapova vs. Li Na (MS 2-0)
2...Agnieszka Radwanska vs. Dominika Cibulkova (1-1)
2...Victoria Azarenka vs. Sam Stosur (1-1)
2...SERENA WILLIAMS vs. JELENA JANKOVIC (SW 2-0)



**ALL-TIME TIER I + PREMIER MANDATORY/PREMIER 5 TITLES**


31...Martina Navratilova
30...Steffi Graf
17...Martina Hingis
17...SERENA WILLIAMS (10 Tier I + 7 Premier Mand./5) *
11...Maria Sharapova (6 Tier I + 5 Premier Mand./5) *
11...Lindsay Davenport
11...Chris Evert
11...Gabriela Sabatini
10...Justine Henin
--
* - active



**2013 WTA SF**


12...SERENA WILLIAMS (11-0+W)
9...AGNIESZKA RADWANSKA (4-5)
8...Victoria Azarenka (6-1+L)
7...Maria Sharapova (5-2)
7...Sara Errani (4-3)
7...Li Na (3-4)
6...JELENA JANKOVIC (3-3)



**2013 DOUBLES TITLES**


5...SANIA MIRZA, IND
5...Kristina Mladenovic, FRA (w/ 1 Mixed)
5...Timea Babos, HUN (w/ 1 WTA 125)
4...Hsieh Su-Wei, TPE
4...Peng Shuai, CHN
4...Katerina Srebotnik, SLO



**2013 CONSECUTIVE DOUBLES TITLES**


3...Sara Errani & Roberta Vinci, ITA/ITA (January-February)
2...Timea Babos, HUN (March-April)
2...Kristina Mladenovic, FRA (July)
2...Raquel Kops-Jones & Abigail Spears, USA/USA (July-August)
2...CARA BLACK & SANIA MIRZA, ZIM/IND (September-October)





LINZ, AUSTRIA (Int'l $235K/hard court indoor)
12 Final: Azarenka d. Goerges
12 Doubles Final: Groenefeld/Peschke d. Goerges/Zahlavova-Strycova
13 Top Seeds: Kerber/Stephens
=============================


=SF=


#3 Ivanovic d. #2 Stephens
#1 Kerber d. Goerges


=FINAL=


#1 Kerber d. #3 Ivanovic

...AnaIvo has already won this tournament twice ('08 & '10), and time is running out for her to avoid going back-to-back seasons without a singles title, or even an appearance in a final. Ditto for top-seeded Stephens to finally get the first of either in her career by the end of '13. But I'm going with Kerber, who's in the thick of a long title drought of her own.



OSAKA, JAPAN (Int'l $235K/hard court outdoor)
12 Final: Watson d. Chang
12 Doubles Final: Kops-Jones/Spears d. Date-Krumm/Watson
13 Top Seeds: Jankovic/Lisicki
=============================


=SF=


#1 Jankovic d. #3 Stosur
#5 Bouchard d. #2 Lisicki


=FINAL=


#1 Jankovic d. #5 Bouchard

...JJ's push for Istanbul (maybe) is deemed a success.



NOTE: with Jankovic's late withdrawal, and her officially qualifying for Istanbul, I bumped Bouchard up as my pick here, with former champ Stosur as the RU



And, finally, Li Na. Just because she looks so happy here during the exhibition with Djokovic.




All for now.