2014 Preview: The Blowout
Suddenly, the WTA Top 10 is something of a Rock of Gibraltar.
While 2012 was a season of sea change when it came to the game's ten best players, 2013 was one of stability.
Consider some Top 10 notes, from 2012 to 2013...


The '12 comeback from life-threatening health issues became a life-affirming and age-defying campaign of historical "invincibility" one year later. The first-time slam champion of a year ago became a successful defending Australian Open winner twelve months later. The feisty little Italian who stunned everyone by transforming from a Top 40 player into a Top 10er and slam finalist, while she had less flashy results, maintained her consistency and did what no one really expected -- she remained in the Top 10. The German who'd risen from outside the Top 30 a year ago managed, even while nagging injuries prevented her from displaying her full form until the season's final weeks, to do enough to slip into the Tour Championships and hold onto her high ranking. Even the faltering former #1 who briefly fell out of the Top 10 in '12, only to recapture the #10 spot in the closing stages of the season, stuck like glue to the edges of the sport's upper hierarchy and, sometimes in spite of herself and forces beyond her control, finished at #10 yet again.

In all, just two seasons removed from a mere four women maintaining their positions, nine of the 2012 year-end Top 10 returned there at the conclusion of 2013 -- the first time such a thing has happened since 2002, and only most recently bested in 1992 when all Top 10ers repeated. Naturally, only a certain Chaotic Serb stood out as a "newcomer" in 2013, as the former #1 rose from outside the Top 20 to #8, replacing a slam-winning Aussie who nearly slid out of the Top 20 before a 4th Quarter rebound "saved" her season. The pricey nature of the upper level real estate of the women's game wasn't confined to JUST the Top 10, either, as four of 2012's Top 5 are positioned similarly now, as well.

Will 2014 feature more of the same, with very little turnover at the top? Or are the two young players, one a proven winner and the other shouldered with the dreaded "future star" label, lurking barely outside the Top 10 ready to shake things up a bit? Can another German realize her Wimbledon dream, virtually assuring herself of a Top 10 berth? Will the aforementioned Aussie, armed with a new coach (just like three current Top 10ers), become the sport's latest reclamation project and make another slam run? Or, even more intriguingly, is there another young North American waiting in the wings, ready to make a leaps-and-bounds improvement from just outside the Top 30?

Of course, no matter what happens between #2 and #10, there seems little question about #1. On the heels of a dominant late '12 run, the current and future top-ranked woman in the world put together quite possibly her best season ever in '13. The thing is, though, since she "only" won two slams (and reached no other slam finals) there's STILL room for an even BETTER year from her in 2014.

Gulp.

While she may not play as much, nor consequently lift as many trophies, the player currently in the process of making a "Greatest of All Time" case for history's sake, could very well find herself on the eve of her "masterpiece season."

So, now I guess by this time next year we'll know just how "Kuznetsova Curse-proof" she is, huh? If she can survive the expectations placed upon in this year's Blowout, then The Rad should just lay down its weapons and surrender right now.

Serenativity, indeed. Again.

Anyway, here's an early prediction of eleven potential Top 10-ranked players for 2014 ('13 ranks in parenthesis), with

Top 10 Repeats

&

Top 10 Climbers

highlighted accordingly:



Victoria Azarenka, BLR

(2): so, do Vika backers have reason to worry? After all, while the Belarusian showed great fortitude in defending her Australian Open crown while being made the focus (again) of unneeded controversy Down Under, and twice knocked off Serena Williams in hard court finals, by the end of 2013 she'd been hit by her old injury bug, saw her serve become a constant headache, and seemed more preoccupied with media/fan reaction (hence, her playing through and risking further injury in Istanbul, largely because of wanting to avoid criticism for quitting, and talking of intense mental fatigue) than the funky, shorts-wearing, former #1 player who walked to the beat of her own drummer who rose to #1 a short time ago. The thought here is that the offseason will serve Azarenka well and she'll flash her characteristic fight in attempting to win another AO. But no woman has won a third straight crown in Melbourne since Martina Hingis in '99, and wiggling past the Serena Blockade in the U.S. Open final might be just as hard-pressed to become a reality. Vika might not win slam #3 in 2014, but barring injury she should be running as close to Serena's heels as anyone else on tour.




============================================




Sara Errani, ITA

(7): frankly, a year ago it didn't seem likely that Errani would be able to back up her surprise breakout '12 season with anything close to a similar effort in '13. And, in fact, she didn't have as good a campaign, but her clay court consistency remained and her ranking fell just one spot to #7. After withstanding the acknowledged great pressure of expectation this past season, in which the Italian reached her mental low at the U.S. Open, then ending it with an "heroic" outing in Istanbul and going 2-0 while leading Team Italia to another Fed Cup title, Errani should enter '14 in a far better head place. Her game will still be lacking against the very best (more powerful) players, who will once again control the match action as long as they can keep the ball in the court, but Errani will win many matches on clay, and play far better on hard court than she's ever given credit for, as well. A spot in the back end of the Top 10 is once again well within her grasp.


============================================




Simona Halep, ROU

(11): can a breakthrough season be immediately followed up by another breakthrough season? When it comes to Halep, we might just find out in 2014. The Romanian picked up steam in the spring of last year with a Rome run that took her from qualifier to semifinalist, and by the end of the year she'd won six titles on three different surfaces and nearly climbed into the Top 10 after notching big-but-not-huge wins in New Haven, the Kremlin Cup and Tournament of Champions in Sofia. Halep did manage her best-ever slam result in '13, a Round of 16 at the U.S. Open, but she's still looking for the sort of Stephens-like breakout on the biggest of stages to lend even more legitimacy to the 22-year old's transformation. The last Romanian to debut in the Top 10 was Irina Spirlea in 1997, and Halep's lack of a large points cache to defend through the first half of '14 would seem to nearly assure that she'll at least clear that hurdle. Maintaining that level of play, especially with the consistency of her serve needing to be improved to not only compete but at least semi-regularly defeat the very best players on tour, might be difficult. I'll still go with her to tick up at least one spot and finish in the next year-ending Top 10, though.


============================================




Angelique Kerber, GER

(9): Kerber is often undervalued, but few players work harder during their matches than the determined German. In keeping with her never resting spirit, the German played much of '13 at something less than full operating capacity, and for a player who often uses all three available sets to dispense of an opponent, anything less than full health can adversely impact the consistency of her results. Finally better rested and healed, Kerber used a good 4Q run -- two finals, including a title after her disputed inclusion in the Linz draw -- to end her season on a good note. Always a potential slam lurker (she's reached two SF), the German has the game and tenacity, but sometimes not the temperament, to throw her name into the ring as a contender in the majors. Kerber, armed with a new coach in Benjamin Ebrahimzadeh, can at the very least be counted on for, at least, a slam QF or two in '14, three or four finals and a title or two. That should be enough for a third straight Top 10 season, even if she's never able to rise back into the Top 5.


============================================




Petra Kvitova, CZE

(6): Oh, no... here we go again? After the 2011 season, all things seemed possible for Kvitova. #1. Multiple slam titles. The adoration of legends. Somewhere along the way, though, the Czech has experienced a few pitfalls. The inability to quickly adapt to her new life, poor fitness, health issues (asthma), a slightly nagging coaching question and, most importantly, her own in-and-out game that can go from dominating to cover-your-eyes wild in alternating waves throughout a match have all been blamed for Kvitova's failure to fully launch since winning Wimbledon nearly three years ago. But has a corner been turned, or is it about to be? More comfortable in her own skin, showing a bit more ability to hold her game together as '13 moved along, and with the fitness team of new boyfriend,
Czech vet Radek Stepanek, on her side, Kvitova began to show signs late last season that a change very well could be coming. On the surface, there's really no reason why she can't be in the mix to win every Wimbledon she plays, and her semis in Melbourne and Paris, as well as U.S. Open Series title, more than hint that she can be an all-slam threat over the course of her career. If she's ready to be. It need not happen in 2014, and she doesn't even HAVE to reach for first post-SW19 title slam final, either. But she has to show consistent signs this coming season that she's made some of the big steps necessary to contend in majors again. If she can find a way to thrive again in '14, '15 could be very kind to Petra.


============================================




Li Na, CHN

(3): for all the intriguing possibilities, promise and improvement that have swirled around Li's teaming with coach Carlos Rodriguez, the fact remains that the Chinese vet has won just one small tour singles title since joining forces with the Spaniard at the end of 2012. Still, though, the best seems like it could be still to come. Li began '13 with a title and, if she'd literally been able to keep her feet, might have stolen away with the AO final that ended up in Azarenka's grasp. Her ankle injury and concussion from that final was a setback for Li through the first half of the season, but her mid-year "boot camp" session turned her into the fittest and one of the freshest players on tour in the closing weeks of the season. Oh, Li still has the ability to "go away" in a match or two, but her consistency is loads better now that it has been throughout her career, and Rodriguez's attempts to seamlessly instill more aggression (Serve-and-volley action! Net rushes!) into Li's game have so far been successful. It'd be nice to see her get an unfettered, fully healthy run at a slam this season. It might come right off the bat in Melbourne, where she's already reached two finals. Li finished last season at a career-best #3, but I think she can climb still higher. #1 might be a reach (or maybe an impossible dream with "Serenativity" still being practiced), but #2 is most definitely not.


============================================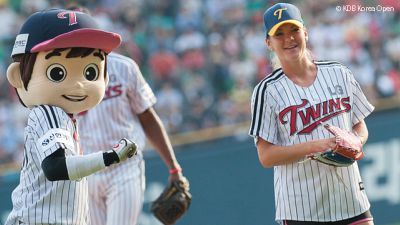 Agnieszka Radwanska, POL

(5): Aga will need a few breaks to win a slam title. She got them in London last summer, but still failed to return to the final. Her failure to do so seemed to infect her entire summer, and it wasn't even her personal low point, as she also lost her grandfather and then was often a shadow of her usually clever and crafty self in her 0-3 cameo in the Tour Championships round robin that helped to drop her down to #5 in the year-end rankings (important at slam time, as it means she can face a Top 4 player in the QF). Still mostly unemotional on court, Radwanska showed a few cracks in her exterior in 2013. Did she miss out on what will be her best-ever chance to win a slam, or will she now do what she did a few seasons ago and add just enough to her game to lift her to where she wants to go? If she's going to find a way past the crowded field of Serena, Vika, Sharapova, Li and even power players like Sabine Lisicki (her conqueror at SW19) and carve out another slam opportunity, A-Rad is going to have to regain her laser-sharp focus, keep her vexing tactics, but also take even more chances with added aggression on her serve and occasional groundstrokes. Adding just a touch of that raised her from a bottom-of-the-Top 10 ranking to the Top 5 the last few seasons. If she chooses to simply maintain rather than improve, Aga might find herself having slipped back into the lower half of the Top 10 by this time next year.


============================================




Maria Sharapova, RUS

(4): fact is, Sharapova didn't finish much in '13. Well, except maybe her coaching relationships. She put an end to two of those, with Thomas Hogstedt and Jimmy Connors, the latter of which lasted just one match. Now, Sven Groeneveld steps in to try to help the Russian pick up the pieces of a season that, in truth, wasn't as disappointing as it feels like it was, but one that surely wasn't the sort of campaign Sharapova was envisioning a year after finally completing a Career Grand Slam with her win at Roland Garros. She reached five finals, winning her first on hard court in two years, but all three of the finals she dropped came against her recent nemeses, Serena (0-2) and Vika (0-1), including in her return to the RG decider vs. Williams. Couple this with her blazing hot start in Melbourne, then semifinal flameout, her injury and upset at Wimbledon and the shoulder bursitis that ended her season prematurely this summer and you get the notion that Sharapova left a lot of uneaten nourishment on her plate in 2013. Oddly enough, through it all and largely because of it all, the Russian seemed more "human" in the spotlight, being "caught" on the streets of Madrid with her new boyfriend (Grigor Dimitrov), publicly sparring with Serena on the issue of their personal lives, and having a story leak that she considered briefly changing her name to "Sugarpova" to promote her gummy candy line before thinking better of it. Then, just this week, Sharapova appeared on Ellen DeGeneres' talk show and made (typically overblown) headlines talking about whether her on-court shrieks actually serve any purpose. While all of this will likely provide Sharapova with a more approachable persona in her post-tennis life, whether it's a good thing while she's still in the game is another issue. It might not mean anything, but the "icy aura" of a true competitor that has served Sharapova well for so long thawed a bit over the past year, and losses like that to the likes of Michelle Larcher de Brito (at SW19) could serve to make her seem less of an opponent to make other players shake in their shoes. Charged with attempting, on a smaller scale, another "comeback" in '14, it seems a sure thing that Sharapova won't be slipping back into the pack. But, maybe for the first time, injury or no injury, her "end game" might just be not as far off as it once appeared to be.



============================================




Samantha Stosur, AUS

(18): For the Aussie, change was good in 2013. Might it be even better for her in 2014? For thirty long weeks last season, Stosur couldn't break into the final four in any tour event. When she finally did in Carlsbad during the summer, she won her first title since claiming the U.S. Open in 2011... then soon after parted ways with coach David Taylor. Working on a temporary basis with Aussie Fed Cup coach Alicia Molik, Stosur was ousted in the 1st Round of the Open, but then put together the best run of results in her career, reaching three straight 4Q finals and winning her second title of the season (a new career high). The run prevented the reinvigorated Stosur from falling from the Top 10 all the way out of the Top 20 in the span of a year. Having hired Miles Maclagan as her new coach, Stosur has the opportunity to slip into into the new season feeling good about her game and chances to recapture at least a little of the magic from (now) three seasons ago.


============================================






Serena Williams, USA

(1): "Say it ain't so." That could be the refrain from the WTA field at some point in 2014 if Serena does indeed follow through with her desire/hope/threat(?) to put together an even "better" year this coming season than she did in 2013. Williams, after playing more often than ever, hit the physical wall at the Tour Championships (not that it prevented her from winning the title in Istanbul, mind you). She's expressed the desire to play a bit less in 2014. That might free up a few titles for every everyone, but it'll also mean she could be even fresher than she normally is when she does hit the court. Uh-oh. In the past, as good as Serena was, there was always the reality that she might drift away from the sport for stretches of time. But the last two seasons have brought a new maturity and stability to her life and tennis, as well as a commitment to getting the most out of her amazing ability with what is left of her career. Barring something unforeseen, the field is going to have to deal with "Serenativity" once again in '14, and you've got to wonder whether they'll have a snowball's chance in The Radwanska's microwave when that battle becomes a reality. With seventeen slams in hand, Serena is bearing down on some very big fish in the WTA's historical pond. A case can be made, even with the heightened competition on tour, that Williams has never been better positioned than she will be this season for ultimate grand slam success. Hmmm, or could it be ultimate Grand Slam success?


============================================




Caroline Wozniacki, DEN

(10): albeit a tad belatedly, the Dane may finally be seeing the light. After losing her #1 ranking, falling out of anything resembling slam contention, briefly slipping out of the Top 10 and then struggling for two full seasons to even win titles on tour (it took until Week 41 last season to get her one and only win), Wozniacki has finally made the sort of coaching change that signals that she's getting serious about attempting to climb back up the ladder. Granted, she's altered her serve in an attempt to improve her game over the the past year, but father Piotr stepping aside and Thomas Hogstedt, cast aside by Sharapova over the summer, stepping in as coach might be looked back on eighteen months from now as the most important move of Wozniacki's career. Still, considering how long it took for her to get to this point, it'd probably be a good thing if the Dane could have some early success in '14 to further cement in her mind that she's going down the correct path. First off, it'd be nice to not have to wait until autumn to lift a singles trophy. While Hogstedt is being realistic in thinking that his new charge shouldn't shoot for anything before '15 when it comes to possibly attaining any slam dreams, that doesn't mean that Wozniacki doesn't need to make strides in the majors in '14. She needs to find a way into at least one QF -- her last came two long seasons ago in Melbourne, right before her #1 ranking went away for good. Once she can do that, the forward momentum can "officially" begin again.


============================================





*ONE MORE TO PONDER QUITE A BIT...*


* -

Sloane Stephens, USA (12):

it could be that Stephens, passed by Halep in the closing moments of '13 for #11 in the year-end rankings, will have a better overall season in 2014 but see her ranking fall. Without a career final to her credit, it wouldn't be difficult for her improve on her "regular tour" results, making her a better player, while also learning (the hard way) that repeating her slam success -- a SF, QF and two Round of 16's -- will likely require a bit more luck and desire than Stephens might currently realize. The latter could be a whole new issue she'll be faced with over the next twelve months. The American will enter the new slam season with the same sort of expectations that weighed her down after her Melbourne success last January (she was 1-10 vs. Top 20 players after upsetting Serena in the AO QF), and how she deals with them will likley shape her entire year. It's a good sign of her intentions that she's -- on a trial basis, at least -- teamed up with coach Paul Annacone this offseason but, in a very unscientific test of that relationship, it should be noted that while the well-regarded coach currently follows Stephens on Twitter, the act has yet to be reciprocated by Current Sloane. And in the world of Stephens, that isn't as unimportant as it may seem.

Of course, that COULD change.

Intriguingly, so could the usually glowing nature of the media coverage of Stephens over the course of the season if she fails to back up the adulation and attention with results on the court. As we know, sports coverage tends to "eats its young," especially if they don't live up to heightened expectations or, as Stephens has shown a troubling propensity to do, often lose in ways that could be dubbed a "choke." It's not a huge leap to think Stephens might be being compared to Anna Kournikova by the end of '14 if things take a certain turn. After all, in the early going, coverage of the marketable Russian WAS largely legitimized by her results as a teenager on the court before injuries limited her progress and her inability to win a tour singles title eventually became an unfairly career-defining punch line.

Granted, Kournikova rose to early prominence in a different era, on a WTA tour in which teens played earlier and more often and their success was far, far more commonplace. But it's still interesting to compare and contrast the results of the Russian with those of the American at the precise moment in their careers at which Stephens now finds herself, following the season in which both players turned 20. As you can see, while some career stats and honors are comparable, in many ways it's Kournikova who had accomplished a (sometimes shockingly) great deal more . It might mean nothing, or it could prove to be something which will forever loom over Stephens career. As Kournikova showed, early success and promise doesn't necessarily mean anything.




As it is, it's simply a snapshot -- or a chart -- of a moment in time:





*

- Kournikova is arguably the most marketed athlete/former athlete -- tennis or otherwise -- ever, while Stephens was the highest-ranked active tennis player on a recent listing of the most marketable athletes in the world



*...AND THREE MORE TO PONDER, AS WELL*


* -

Jelena Jankovic, SRB (8):

JJ made an admirable return to the Top 10 last season, but is there "enough there there" to improve her slam consistency (a QF w/ 1st, 2nd & 3rd Rd. losses in '13) and stay in the thick of things?
* -

Sabine Lisicki, GER (15):

a few titles (her first since 2011), or a "career-maker" at SW19, could push the smiling German into the Top 10 for the first time
* -

Roberta Vinci, ITA (14):

she rose as high as #11 last season, and her proficiency in finals (9-1 career) might make clearing that final hurdle a possibility



*ALSO FOR YOUR CONSIDERATION*


* -

Eugenie Bouchard, CAN (32):

the Canadian's career trajectory seems to be following in Stephens' footsteps, but Bouchard has already proven to be more capable of consistent results on the regular tour. She's a slam breakthrough away from more than challenging her American counterpart for"best young North American," at least until Madison Keys gets things fully up and running.
* -

Maria Kirilenko, RUS (19):

the soon-to-be-newlywed briefly reached the Top 10 in '13 before sinking like a U.S. Presidential approval rating from that point onward
* -

Flavia Pennetta, ITA (31):

was her U.S. Open semifinal run a preview of what the finally-healthy-again thirtysomething still has left to give, or a final reminder of what the oft-underrated Italian was capable of?



*DOUBLES TOP 10+1*


['13 ranks in parenthesis]
Ashleigh Barty, AUS (12)
Casey Dellacqua, AUS (10)
Sara Errani, ITA (1)
Lucie Hradecka, CZE (14)
Hsieh Su-Wei, TPE (3)
Ekaterina Makarova, RUS (7)
Sania Mirza, IND (9)
Kristina Mladenovic, FRA (19)
Peng Shuai, CHN (4)
Elena Vesnina, RUS (5)
Roberta Vinci, ITA (1)







2014 NEWCOMERS OF THE YEAR:

Madison Keys/USA & Annika Beck/GER




2014 MOST IMPROVED PLAYERS:

Garbine Muguruza/ESP & Karin Knapp/ITA




2014 SURPRISE PLAYERS:

Paula Ormaechea/ARG & Mandy Minella/LUX




2014 COMEBACK PLAYERS:

Alisa Kleybanova/RUS & Vera Zvonareva/RUS




FIRST-TIME CHAMPIONS:

Annika Beck/GER, Eugenie Bouchard/CAN, Camila Giorgi/ITA, Madison Keys/USA, Karin Knapp/ITA, Garbine Muguruza/ESP, Carla Suarez-Navarro/ESP, Donna Vekic/CRO




FIRST-TIME FINALISTS:

Camila Giorgi/ITA, Madison Keys/USA, Garbine Muguruza/ESP, Kristyna Pliskova/CZE, Sloane Stephens/USA, Stefanie Voegele/SUI




NCAA CHAMPION:

Jamie Loeb, North Carolina; Stanford (team)




NAMES TO WATCH IN THE JUNIOR SLAMS:

Varvara Flink/RUS, Anhelina Kalinina/UKR, Antonia Lottner/GER, Jelena Ostapenko/LAT





*RANKINGS*




#1-RANKED SINGLES PLAYER DURING SEASON:

Serena Williams (full season)




#1 RANKED DOUBLES PLAYERS DURING SEASON:

Sara Errani & Roberta Vinci, Hsieh Su-Wei & Peng Shuai




RUSSIANS IN YEAR-ENDING TOP 20:

Maria Sharapova, Elena Vesnina, Ekaterina Makarova




NORTH AMERICANS IN YEAR-ENDING TOP 20:

Serena Williams, Sloane Stephens, Eugenie Bouchard, Madison Keys




YOUNGEST IN TOP 20:

Eugenie Bouchard/CAN




YOUNGEST IN TOP 50:

Donna Vekic/CRO




YOUNGEST IN TOP 100:

Donna Vekic/CRO




OLDEST IN TOP 100:

Venus Williams/USA




FIRST-TIME TOP 10 JUMPS:

Simona Halep/ROU, Sloane Stephens/USA




FIRST-TIME TOP 20 JUMPS:

Eugenie Bouchard/CAN, Elena Vesnina/RUS & Madison Keys/USA




FIRST-TIME TOP 50 JUMPS:

Lauren Davis/USA, Camila Giorgi/ITA, Garbine Muguruza/ESP, Kurumi Nara/JPN, Ajla Tomljanovic/CRO, Donna Vekic/CRO




FIRST-TIME TOP 100 JUMPS:

Ashleigh Barty/AUS, Nicole Gibbs/USA, Aleksandra Krunic/SRB, Katarzyna Piter/POL, Aliaksandra Sasnovich/BLR, Zheng Saisai/CHN




HIGHEST-RANKED WITHOUT A TOUR SINGLES TITLE IN CAREER:

Sloane Stephens/USA & Stefanie Voegele/SUI





*MISCELLANEOUS TOP 10*


Serena Williams leads tour in titles for third consecutive year


=============================


Li Na wins at least three titles, a new career high


=============================


Again, Azarenka defeats Serena in a hard court final


=============================


Sloane Stephens does not get career win #2 over Serena Williams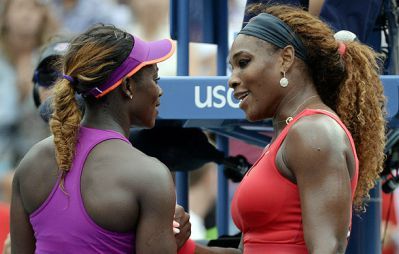 =============================


Again, Serena Williams goes undefeated on clay


=============================


Caroline Wozniacki notches three Top 5 wins


=============================


Andrea Hlavackova becomes the second-highest ranked Czech in singles


=============================


Marion Bartoli stays retired


=============================


Sloane Stephens and Genie Bouchard meet in a grand slam for the first time


=============================


Kristina Mladenovic leads the tour in overall -- doubles + mixed -- doubles titles


=============================








=EARLY OUTLOOKS=


[singles]


AO:

S.Williams d. Li (SF: Azarenka/Sharapova)


RG:

S.Williams d. Sharapova (SF: Errani/Halep)


WI:

S.Williams d. Lisicki (SF: Azarenka/A.Radwanska)


US:

S.Williams d. Azarenka (SF: Stosur/Li)


WTA:

S.Williams d. Kvitova (SF: Li/Sharapova)


TOC:

Bouchard d. Stephens

[doubles]


AO:

Hsieh/Peng d. Barty/Dellacqua (SF: Krajicek/Hradecka, Makarova/Vesnina)


RG:

Errani/Vinci d. Hsieh/Peng (SF: Makarova/Vesnina, Petrova/Srebotnik)


WI:

Williams/Williams d. Krajicek/Hradecka (SF: Barty/Dellacqua, Hsieh/Peng)


US:

Barty/Dellacqua d. Hlavackova/Safarova (SF: Makarova/Vesnina, Williams/Williams)


WTA:

Barty/Dellacqua d. Hsieh/Peng (SF: Makarova/Vesnina, Errani/Vinci)

[mixed doubles]
Kristina Mladenovic (2)
Andrea Hlavackova
Katarina Srebotnik

[teams]


HC:

Czech Republic (Kvitova/Stepanek) d. Poland (A.Radwanska/Janowicz)


FC:

Czech Republic def. Italy

Of course, I could be waaaaaay off.

All for now.