Wk.8- Unexpected on the Eights
Week 8 played host to a cornucopia of the unexpected.


Consider these unexpected happenings...



1.

That a third first-time finalist reached a tour singles championship this week, and managed to run the newbies record to 3-0 through the first eight weeks of the new season. First-timers won just four finals (in eleven tries) in the entire 2013 campaign.


=============================




2.

That Serena's broken racket eventually led to a match win on that day, but not ultimately to a singles title



=============================




3.

That a Williams DID reach her second final of the season, and wrapped up a title run without dropping a set


=============================




4.

That Aleksandra Krunic lost an important doubles match


=============================




5.

That an Italian reached a tour-level singles semifinal. But it wasn't the Italian you're thinking of. Or the other one. Or the other one. Or even the other one. And, no, it wasn't that one, either.


=============================




6.

That a player said something that made fans in Dubai boo, but it was really unnecessary, as nothing was meant by her words... but that "offending" player wasn't Vika Azarenka. And, really, she was just saying the truth (you mean Serena's NOT the top Williams?), in a second language... though she made a nice immediate "save" in the end.



=============================




7.

That there's really nothing bad to say about Caro this week. Right? Let me think... nope, I've got nothing.


=============================




8.

That Petra Kvitova went out early. Umm... that Sloane Stephens went out early. Hmmm... that Aga Radwanska went out early? Okay, I guess that works.


=============================



Of course, none of that even borders on the fringe of what happened to Tamira Paszek this weekend in -- naturally -- Surprise, Arizona. See below.



*WEEK 8 CHAMPIONS*
DUBAI, UAE (Premier $2.0m/HCO)
S:

Venus Williams/USA def. Alize Cornet/FRA 6-3/6-0


D:

Kudryavtseva/An.Rodionova (RUS/AUS) d. Kops-Jones/Spears (USA/USA)
RIO, BRAZIL (Int'l $250K/RCO)
S:

Kurumi/Nara/JPN def. Klara Zakopalova/CZE 6-1/4-6/6-1


D:

Begu/Irigoyen (ROU/ARG) d. Larsson/Scheepers (SWE/RSA)

PLAYER OF THE WEEK:
Venus Williams/USA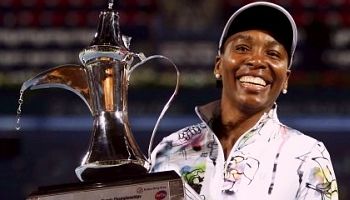 ...as Venus said, "Everything is falling together pretty much." As Williams has slowly been forced to learn to deal with the unpredictability of her Sjogren's Syndrome, the perception of her as a legit threat to physically be able to hold up long enough to win titles has changed. Going into Week 8, she wasn't really considered a strong threat. Did all that change again in Dubai, or was it only an isolated case of Venus not having to play any super-long, early-round matches and being fresh enough late in the week to grab another title? Only time will tell, but whatever the truth turns out to be, it was a nice little moment that reminded us that at one point Venus WAS the "best" Williams. With an eye-opening string of vanquished opponents that included Elena Vesnina, Ana Ivanovic (who defeated Venus in the Auckland final in Week 1), Flavia Pennetta, Caroline Wozniacki and Alize Cornet -- all of them ranked in the Top 35 -- Williams notched career title #45, her first since 2012, and her biggest since she won Dubai in 2010, prior to her diagnosis. Venus arrived in Dubai ranked #44, but leaves as #29.


=============================




RISER:

Alize Cornet/FRA


...for a bit in Dubai, Cornet pretty much outdid herself. She was lucky (Halep retired in their 1st Round match), good (def. Flipkens and Suarez-Navarro) and mentally/emotionally in control (defeating no less than Serena in straight sets in the semis by keeping her shots deep and staying focused on playing her own game). She was tres magnifique, reaching her first tour final since winning in Strasbourg last spring, and the first hard court singles final of her career. Yet all that wasn't enough for her to maintain a level of belief that she could join a very star-studded list of players who'd defeated both Williams Sisters in the same event when she faced off with Venus in the final. Still, as Cornet has put herself into contention for both "Most Improved" and "Comeback Player" of the year through the first eight weeks of 2014, one hopes she can find a way to not wind herself into such a fragile emotional ball that a 5-2 1st set deficit in a final vs. Venus doesn't automatically mean her day is over. As it was, after her coach tried to settle her down at that point in the match on Saturday, Cornet went out and lost seven of the next eight games. Come on, Alize... if you can gain confidence after going 1-3 in singles but still winning the Hopman Cup in Week 1, you can surely not give up on yourself so easily just one day after beating Serena-freakin'-Williams, right?



=============================




SURPRISES:

Nastassja Burnett/ITA & Alla Kudryavtseva/Anastasia Rodionova (RUS/AUS)


...22-year old Burnett, who came in ranked #160, has obviously learned well from her Italian countrywomen. Last week she qualified in Rio and advanced to her first career tour semifinal, putting up victories over Maria Teresa Torro-Flor, Alison Van Uytvanck and Paula Ormaechea (from an early break down in the 3rd). She's at a new career-high of #122 in the latest singles rankings. Meanwhile, Kudryavtseva & Rodionova ended their 2013 seasons by reaching the Kremlin Cup final in Moscow, then started '14 with a title run in Brisbane in Week 1. They were at it again in Dubai, upsetting the upsetters -- Makarova/Vesnina, who'd defeated Williams/Williams, and Kops-Jones/Spears, who'd knocked off Errani/Vinci -- to claim their fourth tour title as a duo.


=============================




VETERANS:

Klara Zakopalova/CZE & Flavia Pennetta/ITA


...Zakopalova turns 32 today, but she doesn't get to celebrate with her first tour singles title in nine years. She did reach the final of the inaugural Rio event, though, after getting wins over Mariana Duque-Marino, Silvia Soler-Espinosa, Katarzyna Piter and Brazil's own Teliana Pereira. Her loss to Kurumi Nara drops the Czech to 0-2 in '14 finals (both losses have come vs. first-time finalists, following a loss to Garbine Muguruza in Hobart), 2-12 in career tour singles finals, and extends her losing run to 0-6 in them since winning her last title in 2005. Pennetta's run in Dubai ultimately ended with a QF loss to the even more veteran Venus, but that was only after a qualifying run and impressive main draw wins over Kaia Kanepi and Aga Radwanska. Teaming with Sam Stosur in doubles, she also was involved in a win over Doha runners-up Peschke/Srebotnik and reached the semifinals.


=============================




COMEBACKS:

Caroline Wozniacki/DEN & Michaella Krajicek/NED


...well, well. Maybe Caro isn't to be counted out just yet, after all. Needing a good week... like, desperately... that was just what the Dane got in Dubai. After opening her week by coming back from a set down to defeat Sabine Lisicki, she put together straight sets wins over Annika Beck and Sorana Cirstea to reach the semifinals. She couldn't get past Venus there, but, really, even former #1's need to learn to walk before they can run the second time around. Krajicek, still only 25 though she seems to have first broken through forever ago (she was Top 30 in 2008, and won three tour singles titles in 2005-06), grabbed a title in the $25K in Kreuzlingen, Switzerland for her eighth career ITF crown, defeating Timea Bacsinszky 6-4/7-6 in the final, and also teaming with Eva Birnerova to defeat Aleksandra Krunic & Amra Sadikovic in a 10-6 match tie-break to win the doubles.


=============================




FRESH FACES:

Kurumi Nara/JPN & Annika Beck/GER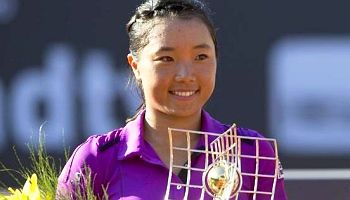 ...Nara, 22, put up wins over Hsieh Su-Wei, Anna-Lena Friedsam, Lourdes Dominguez-Lino and Klara Zakopalova in the final to become the first clay court champion of 2014, earning her first career WTA title in her first appearance in a final. Nara, who lost a 3:39 Fed Cup match to Maria Irigoyen (who notched her first career tour doubles title this week in Rio) on clay a few weeks ago, becomes the first Japanese woman to win a tour level clay court title since 2007. Beck is a repeat winner here, having also garnered this award for Week 7. But she's worthy of going back-to-back after finishing off her Dubai qualifying run last week with wins over Karin Knapp and Eugenie Bouchard, then upsetting Sam Stosur in the 1st Round of the main draw.


=============================




DOWN:

Petra Kvitova/CZE & Sara Errani/Roberta Vinci (ITA/ITA)


...not that it needed the push, but Kvitova's 2014 season is already writing a whole new chapter to the Stepanek Curse. The Czech is now 4-4 in tour matches this year, her latest being a three-set defeat at the hands of Carla Suarez-Navarro in Dubai, a match which she -- stop me if you've heard this before -- seemed on the verge of winning on multiple occasions. After starting the season off at #6, Kvitova is now down to #9 in the new rankings. Meanwhile, former #1 doubles stars Errani & Vinci continued to slip, losing the Dubai QF to Raquel Kops-Jones & Abigail Spears. Meanwhile, Vinci dropped her sixth straight match this season with her 1st Round loss to Sorana Cirstea, the same Swarmette who also took down Errani one round later.


=============================




ITF PLAYERS:

Aliaksandra Sasnovich/BLR & Jovana Jaksic/SRB


...19-year old Belarusian won the $25K challenger in Moscow, taking out Anett Kontaveit 6-3/6-2 in the final. Since winning her first pro title in 2011, Sasnovich has compiled a spotless 10-0 in singles finals. Meanwhile, in the $25K in Surprise, Arizona, Jaksic was the last woman standing at the end of what will likely go down as one of the best unseen matches of the year... or at least the craziest. After notching wins over Asia Muhammad, Mayo Hibi and Sofia Arvidsson to reach the final, the Serb faced off with Tamira Paszek, the Austrian who was riding a nine-match winning streak after putting up a comeback-building title run a week ago at a challenger in California. In Sunday's match, Paszek twice served for the match, only to see Jaksic save fourteen -- yes, twelve! -- match points in the 2nd set, six in the set-ending, twenty-eight point tie-break alone. Jaksic won the match 4-6/7-6(13)/7-5, winning her fourteenth challenger crown in nineteen final appearances since 2011. She's gone 13-2 in her last fifteen.


=============================




JUNIOR STARS:

Iryna Shymanovich/BLR & Sandra Samir/EGY


...the group of teen Belarusians coming up behind Azarenka continues to grow, as 16-year old Shymanovich grabbed her second career ITF title with a win in the $15K challenger in Altenkirchen, Germany. She defeated Reka-Luca Jani in the final. Reka-Luca... ahh, no, I only do that when she wins. In the Grade B2 African Closed Championships in Casablanca, Egypt's Sandra Samir, 16, claimed the title as the #1 seed, defeating fellow Egyptian Mayir Sherif in the final. The two teamed up to take the doubles title.


=============================






1. Dubai 2nd Rd. - Suarez-Navarro d. Kvitova
...1-6/6-4/7-6(4). In the Fed Cup match that didn't happen earlier this month, Kvitova struggled to put away CSN in the 1st, taking nine set points to win 6-1, then took a 4-2 advantage in the 2nd. In the 3rd, she served at 5-4, and led 4-2 in the deciding tie-break, only to drop the last five points to the Spaniard in the sort of match that we've sadly come to expect from the Czech. Of course, last week I compared Petra's current potential-drama-is-likely-but-titles-probably-aren't to that of Venus, and we saw how that changed on Williams' end. So maybe it will for Kvitova, too?


=============================


2. Dubai SF - Cornet d. S.Williams
...6-4/6-4. After Week 1 had us narrowly miss seeing both Williams Sisters win titles on the same weekend for the first time since 1999, this one prevented the first all-Sisters final since 2009. Considering Serena's spotty play last week she probably shouldn't have used "practice boredom" as a reason to get a wild card into the Dubai draw, but take nothing away from Cornet, who at least temporarily put away her over-thinking and overly-emotional brain and, in her words, played like "a big girl" and beat the "best Williams" despite having opened the door for a Serena comeback when she was broken while serving at 6-4/2-1, then failed to convert four match points at 5-3. Williams' errors in the final game ultimately set up the Pastry's win, but Cornet has most definitely climbed back into the WTA conversation in 2014. She should stay there, too, as long as doesn't let the slightest bit of adversity (like being down 5-2 in the 1st set in the final vs. Venus) seem in her mind to be an impossible obstacle to overcome.


=============================


3. Dubai 1st Rd. - Ivanovic d. Kerber
...3-6/6-3/7-6. Kerber held a match point in the tie-break after she'd saved three held by AnaIvo at 6-5. The Serb won on #4, though. Venus beat her in straight sets.


=============================


4. Dubai QF - S.Williams d. Jankovic
...6-2/6-2. After Serena's cough slightly held up JJ on serve, that bit of "straw" broke the Serbian camel's back and she sounded off yet again against Williams, as she did previously in Rome (2010) and Charleston (2013)... neither with any particular success. As Serena asked her, "Do you really want to do this again, Jelena?" Thankfully, the match was over just a few moments later.



=============================


5. Rio Final - Nara d. Zakopalova
...6-1/4-6/6-1. The last first-time tour singles champion from Japan was Akiko Morigami, who won on the clay in Prague in 2007.


=============================


6. Dubai 1st Rd. - Safarova d. Stephens
...6-3/7-5. Stephens served at 5-4 in the 2nd, but dropped the next three games. Speaking of Sloane, a Tennis Channel news brief last week noted that she hasn't granted any one-on-one interviews with any media member since that ESPN Magazine piece blew up in her face last year, mentioning that the American is now wary of the media, etc. Yeah, that'd be a nice story, if that whole thing hadn't been her own fault, not that of the media, as if anyone other than Stephens herself had given birth to the whole Serena-is-my-idol/friend/mentor storyline to begin with. Also, it'd be of interest if Stephens had thrived away from the media spotlight. Problem is, she hasn't. Maybe she needs the media attention more than the media needs to give it to her?


=============================


7. Dubai 1st Rd. - Cornet d. Halep
...6-1/1-1 ret. General fatigue and a nagging double Achilles injury finally does what few have been able to do lately -- take Simona out. Nevertheless, her ranking rose to #7, matching Irina Spirlea for the highest ever placing by a Romanian. Yep, the Pride of Romania is still a bit charmed.


=============================


8. Rio 1st Rd. - Dominguez-Lino d. Schiavone
...6-4/6-4. Francesca is 0-6 this season, and has lost eight straight. She's 2-11 going back to September. This isn't looking good.


=============================


9. Dubai Q3 - Beck d. Bouchard
...6-1/6-4. Dare I say it, but Genie's '14 numbers have a certain "Sloan-iness" feel: a slam semifinal, but two 1st Round and one qualifying exit in regular tour events. (Slaps hand.) Stop that! Bad Backspinner!


=============================


10. Acapulco Q1 - Bencic d. Rogowska
...3-6/7-6(7)/6-3. Here she goes again. Bencic erased Rogowska's 6-3/4-1 advantage, saving a match point in the 2nd set TB before coming back to win the 2:25 match. In the second q-round, she came back from a set down to defeat Johanna Konta in 2:10. She still has to defeat Vicky Duval to reach the main draw, though.


=============================


HM- $10K Macon FRA Final - Eva Wacanno/NED d. Harmony Tan/FRA
...6-1/7-6. Not much here... it's just that the Pasty has such a great name.


=============================






1. Dubai Final - V.Williams d. Cornet
...6-3/6-0. So, Cornet somehow failed to join the list of players who've beaten both Serena and Venus in the same event. The others? Players named Arantxa, Steffi, Martina, Kim, Lindsay, Justine and JJ... all of whom reached #1 in the rankings. In other words, Alize adding her name to the list would have REALLY been unexpected.


=============================


2. Dubai 1st Rd. - V.Williams d. Vesnina 6-3/6-2
Dubai 2nd Rd. - S.Williams d. Makarova 7-6(8)/6-0
Dubai Doubles 1st Rd. - Makarova/Vesnina d. Williams/Williams 6-4/4-6/10-4
...after Serena came back to erase Makarova's 3-1 and serving at 5-4 leads in the 1st, saving two set points in the tie-break and then finishing the Hordette off at love in the 2nd in her first match since the Australian Open, the Russians got some quick revenge.


=============================


3. Rio Doubles 1st Rd. - Zahlavova-Strycova/Zakopalova d. Hsieh/Hsieh 6-0/6-2
Rio Doubles 2nd Rd. - Zahlavova-Strycova/Zakopalova d. Kichenok/Kichenok 6-3/6-2
$25K New Delhi Doubles Final - Lertpitaksinchai/Plipuech d. Sema/Sema 7-6/6-3
...knocking off all-sisters doubles teams was quite in fashion in Week 8.


=============================





...Vika on the Nike campus... with a larger-than-life version of herself.







**CAREER WTA TITLES - ACTIVE**


58...Serena Williams, USA
45...VENUS WILLIAMS, USA
29...Maria Sharapova, RUS
21...Caroline Wozniacki, DEN
17...Victoria Azarenka, BLR
13...Jelena Jankovic, SRB
13...Svetlana Kuznetsova, RUS
13...Nadia Petrova, RUS
13...Agnieszka Radwanska, POL



**OLDEST WTA SINGLES CHAMPIONS**


39 - Billie Jean King (Birmingham '83)
38 - Kimiko Date-Krumm (Seoul '09)
37 - Martina Navratilova ('94 Paris)
34 - Margaret Court ('76 Melbourne)


[titles at age 33]


1975 Nancy Richey
1978 Virginia Wade
1988 Chris Evert
2001 Nathalie Tauziat
2005 Amy Frazier
2010 Tamarine Tanasugarn
2014 Venus Williams



**2014 WTA FINALS**


2...Li Na, CHN (2-0)
2...Angelique Kerber, GER (1-1)
2...VENUS WILLIAMS, USA (1-1)
2...KLARA ZAKOPALOVA, CZE (0-2)



**2014 WTA SEMIFINALISTS BY NATION**


7 - United States
5 - Czech Republic
4 - Germany, Russia
3 - China, Serbia
==
2014: 20 nations (through 11 events)
2013: 31 nations
2012: 33 nations
2011: 31 nations
2010: 32 nations



**2014 LOW-RANKED SEMIFINALISTS**


#160 NASSTASJA BURNETT, ITA - Rio (SF)
#126 Andrea Hlavackova, CZE - Pattaya (SF)
#114 Estrella Cabeza-Candela, ESP - Hobart (SF)
#107 Tsvetana Pironkova, BUL - Sydney (W)
#102 Julia Goerges, GER - Pattaya (SF)



**2014 WTA DOUBLES CHAMPIONS**




[most career titles as duo]


17 - Errani/Vinci (1 title in' 14)
10 - Hsieh/Peng (1)
4 - KUDRYAVTSEVA/AN.RODIONOVA (2)
3 - Peschke/Groenefeld (1)







ACAPULCO, MEXICO (Int'l $250K/hard outdoor)


13 Final: Errani d. Suarez-Navarro
13 Doubles Final: Dominguez-Lino/Parra-Santonja d. Castano Duque-Marino
14 Top Seeds: Cibulkova/Bouchard
=============================


=SF=


#1 Cibulkova d. Tomljanovic
#2 Bouchard d. #7 Voegele


=FINAL=


#1 Cibulkova d. #2 Bouchard

...I'm reserving the right to insert Bencic into this prediction if...

1) she qualifies on Monday
2) she gets placed into the Tomljanovic section of the draw (or any section, for that matter)

By the way, while it doesn't look like Vaidisova is currently on the comeback trail, Iveta Benesova (now Melzer) is back in the Acapulco draw, against a qualifier in the 1st Round. Also returning: Ula, against Cibulkova in the opening round.





FLORIANOPOLIS, BRAZIL (Int'l $250K/hard outdoor)


13 Final: Niculescu d. Puchkova
13 Doubles Final: Medina-Garrigues/Shvedova d. Keothavong/Savinykh
14 Top Seeds: Suarez-Navarro/Muguruza
=============================


=SF=


#1 Suarez-Navarro d. Pereira
#2 Muguruza d. Shvedova


=FINAL=


#2 Muguruza d. #1 Suarez-Navarro

...ah, Garbi. Remember her? She's back, and looking to pick up where she left off before Aga stole her mojo in Melbourne.


All for now.