2014 Backspin MVP List: Past, Current & Future Tense
The 2014 season is nearly over. So, it's time to define what "most valuable" means around here.
Yes, the moment has arrived when I piece together this space's third annual listing of the people, personalities, anniversaries, historical occurrences and Good Luck Charms --
as well as certain "Face of Backspin," though she made more appearances around these parts than she did on the court this season
-- that provided me with a "helping hand" in shaping this past season of Backspin shenanigans.

HM-

The Kuznetsova Curse


...you just can't keep a good curse down (even if I AM holding it back just a bit by "only" listing this one as an "honorable mention"). Since 2005, The Kuznetsova Curse has been working its voodoo magic all over the WTA tour. At the start of '14, I decided to test to see if it has any "juice" left, as I predicted a Grand Slam season for Serena Williams. Well, we know how THAT turned out, don't we? Yeah, she prevented a '14 major shutout with a win in Flushing Meadows, but that just proved that Williams is still Serena. The rest of her season proved how human she is... and how lethal The Curse can still be when it's poked with a sharp Backspinner stick.


=============================




35.

Jana Fett


...hopefully, the Croat will use her command of the Force only for good.




=============================




34.

Nicole Vaidisova's long-predicted comeback


...ha! It just goes to show you, if I predict the same thing for four straight seasons, it WILL eventually come true. So, what should I focus on willing into reality next?


=============================




33.

Jelena Ostapenko


...the Latvian was my "go to" for 2014 grand slam junior champion predictions. Hey, at least I got her title run correct ONCE in four tries!




=============================




32.

BrengleFly


...Madison Brengle's decade-lost quest for a grand slam match win finally ended in Flushing Meadows this summer. That's not why she's here, though. Well, not entirely. Mostly she's listed because her NYC result allowed me to resurrect one of Backspin's oldest -- birthed back in 2007 -- and one of this Backspinner's favorite nicknames, which feels even more dated now than it did when it was first coined. It was a take-off of "Brundlefly" from the Jeff Goldblum movie "The Fly," a personal favorite of mind. Plus, I just like saying "BrengleFly."




=============================




31.

Laura Robson's wrist brace


...I hear it's now demanding 10% of Laura's earnings in 2015.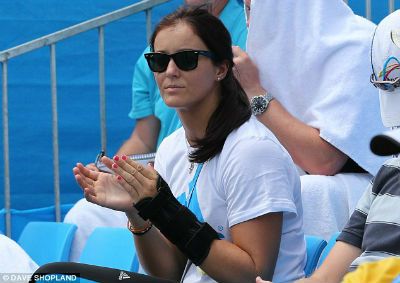 =============================




30.

Citizen Anna


...she shall return. I guarantee it. (Carl, Carla and the kids, too.)


=============================




29.

The AMG Grand Slam Futility Update


...unless she has a '15 change of heart, the four times a year Anabel Medina-Garrigues slam watch ended this season when the Spanish vet retired from tour level singles. May it rest in peace... or until it's revived and re-named when another player threatens to encroach on the ground only previously walked by AMG and Anna Smashnova as ten-time tour singles champs without a slam QF on their career resumes. It could be a while, though, as the "closest contender" would seem to be Alize Cornet, but she's still six titles away from reaching double digits.


=============================




28.

THE Comeback?


...Jennifer Capriati's mugshot-to-slam-champ comeback seemed impossible to top... then Mirjana Lucic-Baroni came along and obliterated it in 2014, winning her first title since she was 16 years old, literally half a lifetime (and a whole lot more, in the MLB's case) ago for her.


=============================




27.

The Original Swiss Miss & the New Swiss Miss


...how fitting that just as a New Swiss Miss (U.S. Open quarterfinalist Belinda Bencic) arrived on the scene, the Original version (Martina Hingis) put down some serious veteran resurgence roots at age 34 as a true WTT MVP champion, soon-to-be Top 10 doubles force, U.S. Open doubles finalist and high-level Premier event multiple title winner. Both having been coached by Hingis' mother, Melanie Molitor, they toyed with the whole story still more by playing doubles together in Tokyo.




=============================




26.

Hannah Storm & LZ Granderson


...when you see them BOTH on the ESPN set at the same time, you know the apocalypse can't be too far behind. Maybe when it happened at the U.S. Open it was the first hint about the Ebola mess that was to come a month later?




=============================




25.

The Italians... or at least Flavia


...the Italians weren't quite as news-producing as in past seasons. But Sara Errani & Roberta Vinci completed a Career Doubles Slam, and Flavia Pennetta won Indian Wells. Really, no matter what happened with anyone else, that latter accomplishment was more than enough Italian success to cause a sensory overload. Still looking for more, though, Flavia teamed up with Martina Hingis in doubles during the summer and fall, reaching the U.S. Open final and putting on a late-year run to reach the WTA Finals in Singapore.


=============================






24.

The Original "It Girl"


...it's been nearly a decade since Sania Mirza, Backspin's original "It Girl" back at the U.S. Open in '05, made her presence felt, but her new veteran status has only made this space pay even more attention as the long-ago-dubbed Indian Princess put up new career marks in '14, including a third Mixed Slam title, more Asian Games Gold and a new career-high (#5 this summer) in doubles.


=============================






23.

The Pironkova/The Weeping Angel


...Tsvetana Pironkova, the author of so many brilliant slam upsets but very little of anything good on the regular tour, finally had her non-slam moment in the WTA sun Down Under in Sydney. The Bulgarian won eight matches in eight days, emerging from qualifying to break an 0-7 run in WTA semifinals while notching three Top 10 wins to grab her first career title. Then, as everyone was finally looking, just like the Weeping Angels of "Doctor Who" lore, she turned back into an elusive, unmoving force. And that she'll likely stay... until the next time we aren't looking, I suppose.


=============================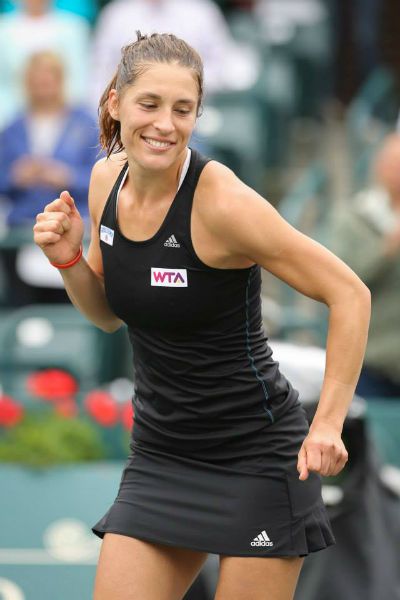 22.

Petko


...be very quiet. Andrea Petkovic has put together quite a nice comeback season, winning in Charleston and Bad Gastein (where she won her maiden title five years earlier), climbing back into the Top 20 and becoming a key component of Team Germany's run to a first Fed Cup final since 1992. And she might even just be healthy enough to follow things up with who-knows-what in 2015. Like I said, be very quiet, and cross your fingers for a few more weeks. After all, things are always better when Petko is around.


=============================







21.

Alize Cornet & Caroline Garcia


...even without Marion Bartoli, the Pastries produced a lot of good drama this season. Most of it came from Alize Cornet and Caroline Garcia. They both played Fed Cup. They both won singles titles on the same weekend. Heck, they even both notched wins over a Williams.


=============================




20.

The Serbs


...Serbs were crawling all over Backspin's front page in 2014. AnaIvo finally righted herself, even if that great, deep slam run remains out there to be recaptured. Things began to look up for JJ, too, though her results have sort of fizzled out down the stretch (hmmm, maybe she's just worried about the safety of ol' QC, last seen plotting against The Rad, and dangling off a flying sleigh). Aleksandra Krunic became a New York City star. Even Jovana Jaksic reached a tour final, becoming the unexpected "JJ" half (as in, not "Jelena") of the first-ever all-Serb singles final against Ivanovic. But none of that success translated to the Serbian Fed Cup team, which lost a fifth straight tie since advancing to the '12 FC final. Of course, my reasoning for this slide is entirely karmic, as Serbian Good Luck Charm Krunic wasn't included in the '14 Serbian FC mix. How do you spell "Serbian Bad Luck Charm?" Oh, you know -- D-O-L-O-N-C.


=============================




19.

Venus


...she's not done, yet. Whew! Plus, she did this:




=============================




18.

The Romanian Fed Cup Team


...I've been touting the coming surge of the Swarmettes as far back as 2008. Finally, Simona Halep has led the charge, and in '14 took command of the deep-and-dedicated Romanian FC squad that finally rose out of zone play into the 2015 World Group II action. By the end of next year, the Swarmettes could be in the World Group, making a Fed Cup final/title run in 2016 (or maybe '17, if you want to be conservative) a legitimate possibility. Oh, I knew them when...


=============================




17.

Wozniacki 2.0, on and off court


...years. That's how long it took. Fretting. Complaining. Wozniology-101 lectures. You know the drill. Finally, in 2014, after sorting through a series of short-term coaches, a slip down the rankings, "irrelevancy" when it came to slam contention and a general feeling that Caroline Wozniacki's time to grab the WTA brass ring has passed her by a few seasons ago, the former #1 finally decided to add some aggression to her game, and committed to the notion of employing it on game day. The result: a climb back up the rankings, a second slam final five years after the first and, at long last, new hope. All it took, apparently, was for the last rites of "Wozziroy" to be delivered. In the end, at least for now, Wozniacki has emerged from the ruins a new and better woman, and the sort of tennis player who might just prove that she was right all along about "having time" to get things right. Hmmm, if the Dane were to breakthrough with a slam win in 2015, I might have to "go all Windows" on her and skip versions 3.0 through 9.0 and dub her new operating system "Caro 10." Hanging out with a certain someone doesn't hurt when it comes positive coverage, either, by the way.




=============================




16.

The Search for "Ms.Backspin" '14


...with four different slam champions, eight different slam finalists, a retiring reigning slam champ (for the second straight year), a "lost year" for Vika, etc. it's been hard to get a true bead on who should be tapped as Backspin's Player of the Year. Naturally, it looks as if it'll come down to the last match of the year... when Germany and the Czech Republic have decided the Fed Cup championship, and gather in a victory circle that will be for one additional honor. (Hint, hint.)


=============================




15.

Petra.




...while Kvitova DID emphatically put that period after her name to earn "Ms.B" honors three years ago, she's both erased, re-applied and erased it numerous times ever since. 2014 has been no exception. Frustrating inconsistency was balanced out by another Wimbledon title run. On the flip side, a good run that gave her a shot at a Wuhan/Beijing sweep and a real chance at the #1 ranking was countered by -- once again -- failing to put away important break point chances against Sharapova in an important match. In 2011, the Czech put together a Wimbledon-WTA Championships-Fed Cup title stretch that secured her first "Ms.Backspin" crown. A matching three-title run this season won't get her another, though. Well, at least not without her having to share it, as she could become a two-time "Ms.Backspin" winner via the "Fed Cup Backdoor Exception/Last Resort Rule."


=============================






14.

Aga


...everyone's favorite Pole had highs (Team Aga Fed Cup appearances, Montreal, that AO destruction of Vika) and lows (take your failed-to-finish-something-off pick) in 2014, but on the whole her season has left something to be desired, as her slipping out of the Top 5 in the season's closing weeks attests. The answer: more cheesecake... and an improved second serve for '15?


=============================




13.

The Radwanskian Massacre first anniversary


...June 26, 2013. A day that continues -- and will continue -- to live in infamy.




=============================




12.

Mladenovic Magic


...in can happen in singles (Mladenovic d. Li at Roland Garros), doubles ( including seven finals with three different partners, including a RU at Wimbledon) or mixed (a win in Melbourne, putting the Pastry half-way to a Career Mixed Slam at age 20, now 21), with virtually partner by her side. Kristina -- or should I say Kiki? -- is someone everyone wants on their side.

=============================
11.
Serena & Maria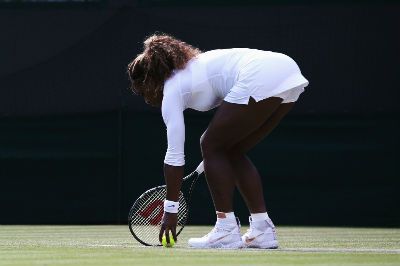 ...they could finish the year #1 and #2 -- in whatever order -- and won half the grand slam singles titles in 2014, both pulling off successful defenses of 2013 crowns, and are the two biggest "stars" on tour. Just for that, as well as Sharapova's clay court dominance and Serena's Most Outstanding Player "regular season" WTA honors, they were front of mind all season in this space. Somehow, though, especially in the case of Williams, it was mostly a case of wishing for "more" rather than marveling at what we got. As a result, even in what would be a "career year" for most players, Serena's '14 campaign has been lacking by her standards, and she's not even legitimately in the "Ms.Backspin" discussion in the season's final weeks. Sharapova, though, with her Beijing crown, rise to #2 and chance to close out the year as the season-ending #1 for the first time (and become the first Hordette to do it), has at least opened the door a tiny crack to being considered. At least for a strong #2 finish.

=============================
10.
"Captain" Mary Joe Fernandez

...you say the U.S. team's got a problem? Yeah, she won't solve it. More than likely she'll just make a decision that'll make your head revolve it. (See what MJF has made me do -- a take off on "Ice Ice Baby" lyrics. Oh, the shame.) Maybe there was a madness -- somewhere, deep within the recesses of MJF's critical thinking mind -- that explains some of the decisions she's made regarding rosters (you know, like not including an experienced doubles player on the team because, come on, ties NEVER come down to the fifth match or anything) and/or playing order (why NOT place undue pressure, in a winnable tie, on a player making her FC debut?) that go beyond, when there's a Williams to turn to, something along the lines of, "Serena (or Venus), you're up next." But, if so, they've remained mostly a mystery known only to Mary Joe and her pillow. Since it IS the political season in the U.S., might a pitch be made for MJF's eventual replacement? Considering the depth of young American players coming through the pipeline at the moment, maybe Kathy Rinaldi, in USTA Player Development since '08 and a coach with the Junior Fed Cup squad that this past weekend won a second title in three years, might want to have HER hat thrown into Captain's ring.


=============================




9.

The Serbian Good Luck Charm (aka "The Bracelet")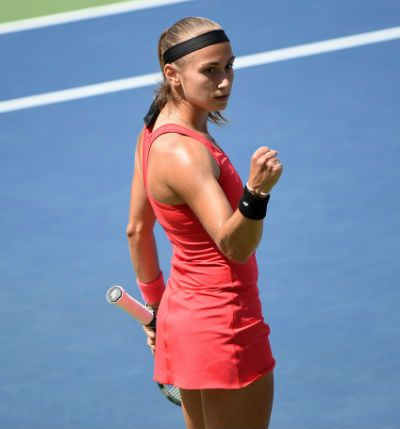 ...only the slams can create singular stars that will forever be remembered for what they did during a period of less than a week. And, boy, did Aleksandra Krunic create one extended "moment" for herself during her fist-pumping, running-down-every-ball, making-anything-seem-possible Round of 16 run in New York. Of course, what made it all the more exciting was that Backspin had already been in the diminutive Serb's cheering section for years, via her successful Fed Cup history... and all the bad luck the Serbian team has encountered since the wrong-headed decision to regularly leave her off the competing roster since the nation's run to the 2012 final. Turns out, all that talk was just a prelude to this year's Open. Thanks, Tennis Gods. (There will be a little something extra in your pockets on payday.) Who knows, maybe all this will lead Serbia to welcome Krunic back into the FC fold and that spiraling-out-of-control bad karma since the 2012 final will begin to turn around in '15.


=============================




8.

The Learning Curve of Madison (and the rest of the Bannerettes)
...here they come. Maybe? Could be. Hopefully? well, I guess we'll see. Either way, four U.S. woman were first-time tour finalists this season, while two won their maiden titles. The Williams Era of American tennis won't last forever, and for the first time in more than a tennis generation there are multiple options for possible soon-to-be Top 20, Top 10 or, in the case of the learning-the-ropes Madison Keys (currently the highest-ranked young Bannerette not named Sloane) -- that Fed Cup match vs. Cornet will always be a potential turning point moment -- maybe even more at some point down the line.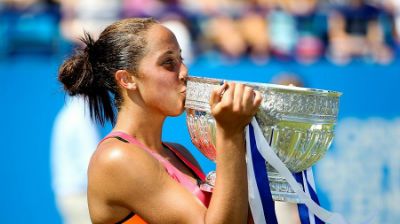 =============================
7.
Li Na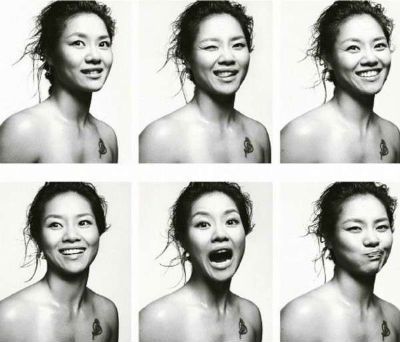 ...it'd been nice if Li's great moment in Melbourne hadn't essentially been both her grandest moment on the WTA stage, both during and after the match, as well as her last great one. But her legacy is secure in retirement, while tennis -- and all of us -- are better for having witnessed her career and, really "experienced" her and what her existence will bring the sport in the future. What Li called "the crazy women's tennis tour" will never quite be the same without her, but it will be changed forever because of her.


=============================




6.

Yui Kamiji




...is Kamiji the heir to the epic Vergeerean throne of dominance? Well, the 20-year old Japanese wheelchair star certainly gave a good impression of just that, at least on the grand slam level of competition. Rising to WC #1 in 2014, she completed a Doubles Slam while partnering Brit Jordanne Whiley and won two of 2014's three slam singles crowns, too, taking titles in Paris and New York after having reached the final in Melbourne in January. Oh, well... I guess that just leaves a target for her to shoot for in 2015. If Kamiji hits it, who knows, I might put her right in the middle of "Ms. Backspin" contention next season.


=============================




5.

Vika




...oh, it wasn't a memorable year for Miss Azarenka. At least not in any good ways on the tennis court. But Backspin was still able to chronicle it with the "Vika Pic-o-the Week" and reminders of how Azarenka was generally viewed to be Serena Williams' only "true" competition a year ago at this time. If nothing else, while her injury absences have caused Vika to appreciate her tennis career and success even more, it may also cause many others to appreciate HER a bit more than in the past, too. Hey, this year it was The Shorts that came back... in 2015 it'll be Azarenka!


=============================




4.

The Pride of Romania




...Simona Halep brought all sorts of cool things to the table in 2014. From leading the Swarmettes into the headlines and -- in Fed Cup -- officially beginning the climb for the possible FC final run in the near future, to becoming the first Romanian to reach a slam singles final in thirty-four years, Halep proved her remarkable climb up the WTA rankings in '13 was no fluke. Calm, cool and with a multi-faceted style that has led people to compare various parts of her game to that of Mauresmo, Clijsters AND Henin, Halep is the sort of player who makes a tennis fan remember why they became a fan of the sport in the first place. Now if she can just get her body parts to cooperate we won't have to worry about whether or not Halep is going to cause more fretful shakes of the head than victory-drenched clenched fists over the long haul.


=============================






3.

Captain/Coach Amelie Mauresmo


...maybe that the retired Pastry ranks so high on this list says something about the lack of a truly consistent storyline to this WTA season. Or maybe it speaks to the consistent lack of respect afforded female tennis coaches -- and not just by ATP players/coaches and/or the media at large, either. Of course, it also could just be my little way to get one final shot in at Mary Joe Fernandez six months after her last questionable decision as the U.S. Fed Cup coach, and still four months away from what will surely be her next (well, unless Serena & Venus decide to play, that is). Thing is, while it took Mauresmo a while to corral her own psyche as an active player before she finally won her first (overdue) grand slam title (at the Australian Open in 2006, nine years ago -- yikes! -- next January), she's been spot-on when it comes to knowing just what her French FC team members are prepared for, and what they are not. Since her spectacular effort in the FC arena this season, she's moved on to coach Andy Murray, as well. After initial blowback from the usual suspects and sources about the notion of a female coaching an ATP star, under Mauresmo's watchful eye, the Scot has recaptured some post-back surgery form and put up a good U.S. Open result, won his first ATP title in fifteen months and reached a Masters level semifinal in Beijing this past weekend. Amelie knows her stuff. Hmmmm, has anyone ever coached a nation's Fed Cup AND Davis Cup teams in a single year?


=============================






2.

2004 Revisited


...ten years ago, the Hordettes took the WTA by storm, winning three slams, the WTA Championships and the Fed Cup. A decade later, and (so far) three 2014 Backspin Time Capsules, and the lingering impact continues to be felt. In fact, there might still be another chapter written this year, as a Russian woman has never finished as the year-end singles #1. It could still happen in 2014, though.


=============================




1.

Team Genie and/vs. Team Sloane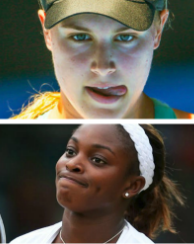 ...what appeared to be a stout, Team Sloane vs. Team Genie season-long battle back in January quickly devolved into nothing of the kind. Eugenie Bouchard and Sloane Stephens ultimately represented the yin and yang of early slam success over the course of 2014. Since the start of the season, Bouchard has won a singles title and reached two more finals, as well as a pair of slam semis and a runner-up result at Wimbledon. Her ranking has climbed from #32 to #6 and she'll be in Singapore for her first WTA Finals appearance. Meanwhile, Stephens topped out at #12 early on before slipping outside the Top 20, has never played in a WTA final and hasn't even reached even a tour semi since her 2013 Australian Open run. Oh, and she's (last I checked... but what time is it?) working on her third coach in less than a year (not an AnaIvo type number, but it's getting there). Bouchard has experienced a few growing pains, as well, this season, but she's still been a far better mental and emotional fit on the big WTA stage than her fellow North American. As a result, in 2015 the Canadian will have "expectations" -- personal and otherwise) -- to win a slam, while her American counterpart will be trying to escape the rising quicksand of a career that has been one big pain in the potential since everybody finally began to recognize her on sight. When Chris Evert is openly saying that she can't can't help but see that "the hunger's not there," and says, "(Sloane's) afraid to commit to the game... emotionally. I just think she doesn't want to feel hurt by it if she loses," as she did during the U.S. Open, the pressure to succeed can only get even more stifling. As '14 has rolled along, even a 1st Round win hasn't been a given for Stephens. But, nonetheless, the long wait for the possible Future Sloane to finally BE now continues... maybe for all eternity. As for Bouchard, she's seen the future and now it's about finding a way to be successfully sized up by the Future's Co-op Board and be invited to stay. Both plotlines seem to be of the long-term variety... and that's good news for this space, as well as the WTA.


=============================





**PAST "MVP" WINNERS**


[2012]
1st - The Radwanska
2nd - Victoria Azarenka
3rd - Carl & Carla
[All-Time Backspin List]
1st - Kim Clijsters
2nd - Justine Henin
3rd - Jelena Jankovic
[2013]
1st - Serena Williams & Vika Azarenka
2nd - The Radwanska
3rd - Citizen Anna


All for now.