2015 Pre-Game Post: Ready, Set... Play
Shhhh... the 2015 season has apparently slipped in through the back door when nobody was looking. Hopefully, no innocents were hurt in the oh-so-cold process.


Oh, Vika. I said, "innocents." But that's okay... you always get a pass around these parts.

Well, the season's first results have already been posted in the qualifying rounds in Auckland, Brisbane and Shenzhen. The likes of a certain Serbian Good Luck Charm has tasted victory, while a Japanese fortysomething has already tasted both victory AND defeat in this young campaign. Meanwhile, before their first scheduled matches, top seeds in Shenzhen are sampling the local culture...




...and the Brisbane #1 has already dispensed with January niceties and is focused on the reality of the upcoming twelve months.


Dear New Years Resolution, Well it was fun while it lasted. Sincerely, January 2nd

— Maria Sharapova (@MariaSharapova) January 1, 2015


Meanwhile, with a little time before the REAL battles officially begin, a few pre-game points...






Love/Love...

first, a look back at the annual pre-season packing-of-the-bags. A WTA tradition for all.




As for the Rads, it was all about a sixth year of the Noble Box Project shopping spree: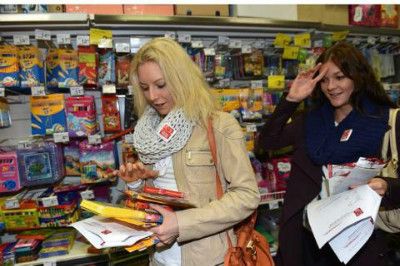 =============================




Love/15...

as is also always common at this time of year, a look back at the preceding twelve months is instructive, and sometimes surprising.






=============================




15/15...

hmmm, not exactly sure what Laura and Sloane were doing, though. Or exactly what the Brit was wearing when they did it.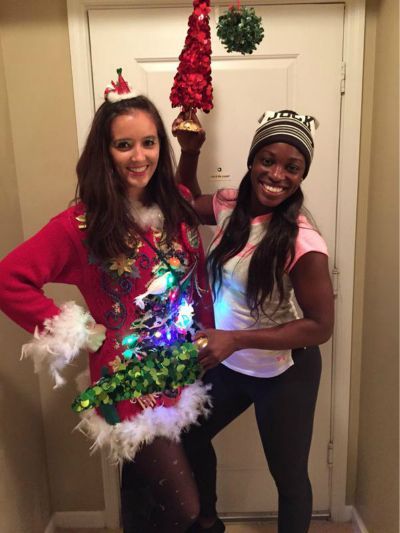 I do know that Robson's '15 will officially get off to a good or bad start depending on how the Carolina Panthers do in the NFL playoffs today.


Game ready. So fired up #AZvsCAR #PantherNation pic.twitter.com/7fslHzTh5L

— Laura Robson (@laurarobson5) January 3, 2015


Meanwhile, well, I have no words.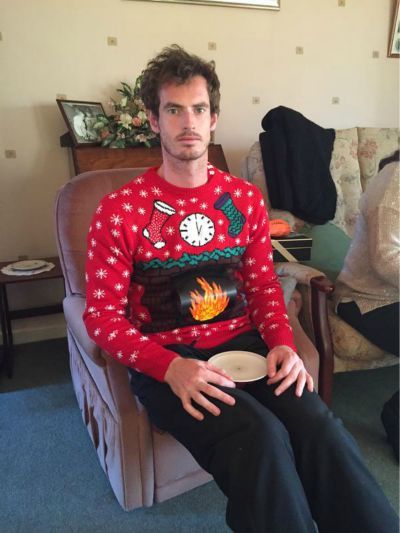 But tennis star holiday photos don't get much better than Andy Murray's.


=============================




30/15...

Down Under, in the span of about two decades, Samantha Jane Stosur has gone from this...




To this, as the Aussie officially joined the social media world this past week:




Welcome.


=============================




30/30...








**HOPMAN CUP CHAMPIONS - since 1999**


1999 Australia (Dokic/Philippoussis)
2000 South Africa (Coetzer/W.Ferreira)
2001 Switzerland (Hingis/Federer)
2002 Spain (Sanchez-Vicario/Robredo)
2003 United States (S.Williams/Blake)
2004 United States (Davenport/Blake)
2005 Slovak Republic (Hantuchova/Hrbaty)
2006 United States (Raymond/Dent)
2007 Russia (Petrova/Tursunov)
2008 United States (S.Williams-Shaughnessy/Fish)
2009 Slovak Republic (Cibulkova/Hrbaty)
2010 Spain (Martinez-Sanchez/Robredo)
2011 United States (Mattek-Sands/Isner)
2012 Czech Republic (Kvitova/Berdych)
2013 Spain (Medina-Garrigues/Verdasco)
2014 France (Cornet/Tsonga)



**BACKSPIN WEEK 1 PLAYERS-OF-THE-WEEK**


2002 Venus Williams, USA
2003 Serena Williams, USA
2004 Lindsay Davenport/USA, Eleni Daniilidou/GRE (co-PoW)
2005 Elena Dementieva, RUS
2006 Lucie Safarova, CZE
2007 Dinara Safina, RUS
2008 Li Na, CHN
2009 Victoria Azarenka, BLR
2010 Kim Clijsters, BEL
2011 Vera Zvonareva, RUS
2012 Petra Kvitova, CZE
2013 Serena Williams, USA
2014 Serena Williams, USA



**FINAL 2014 JUNIOR TOP 10's**




=GIRLS=


1.CiCi Bellis, USA
2.Xu Shilin, CHN
3.Iryna Shymanovich, BLR
4.Jil Teichmann, SUI
5.Darya Kasatkina, RUS
6.Kristina Schmiedlova, SVK
7.Marie Bouzkova, CZE
8.Jelena Ostapenko, LAT
9.Paula Badosa Gibert, ESP
10.Aliona Bolsova Zadoinov, ESP


=BOYS=


1.Andrey Rublev, RUS
2.Orlando Luz, BRA
3.Stefan Kozlov, USA
4.Quentin Halys, FRA
5.Jaume Munar, ESP
6.Taylor Fritz, USA
7.Omar Jasika, AUS 8.Yunseong Chung, KOR
9.Michael Mmoh, USA
10.Johan Sebastien Tatlot, FRA



=============================




30/40...

hmmm, does anyone else think that Sania Mirza has maybe recently been elevated to "most favored partner" status in the tennis world?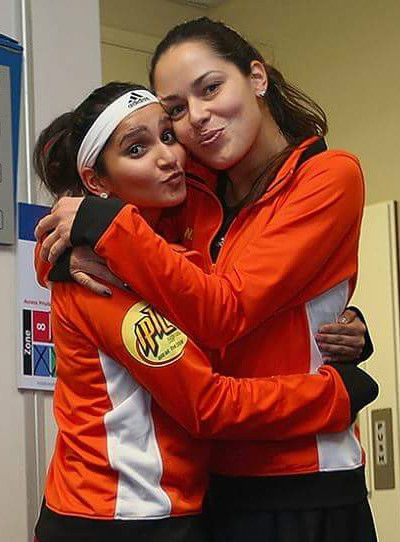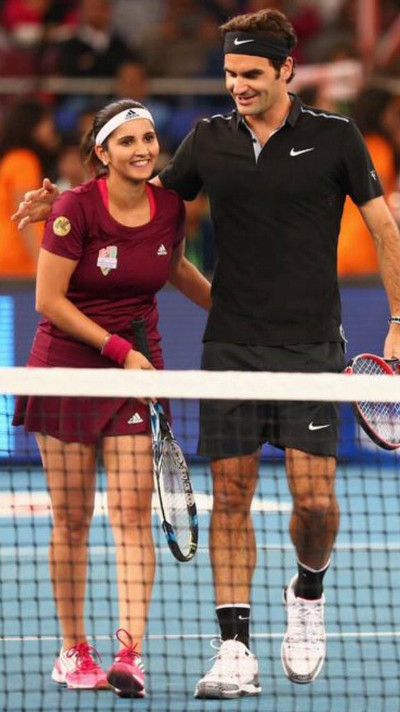 The evidence says, "Maybe, yeah."


=============================




Deuce...

who is that masked man?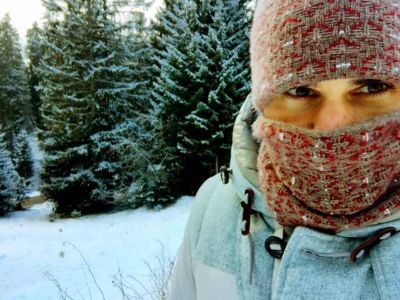 =============================
Advantage, "well, here we go with another year of weekly picks" (crossing fingers)...


BRISBANE, AUSTRALIA (Premier $881K/hard outdoor)
14 Singles Final: S.Williams d. Azarenka
14 Doubles Final: Kudryavtseva/An.Rodionova d. Mladenovic/Voskoboeva
15 Top Seeds: Sharapova/Ivanovic
=============================


=SF=


#1 Sharapova d. #3 Kerber
#8 Muguruza d. #2 Ivanovic


=FINAL=


#8 Muguruza d. #1 Sharapova

...well, I might as well start off with an eyebrow-raiser, with the Spaniard who began '14 by winning her first career title in Hobart pulling off a string of huge wins -- possibly over the likes of Azarenka, AnaIvo and Sharapova, with maybe even an additional fourth previous slam winner in Stosur if the Aussie can get past the combo of Lepchenko and the Cibulkova/Keys winner -- to start '15. So, I guess I should go ahead an issue my apology to Garbi right now, just to get it over with.

Of course, not that I'd be teary-eyed if a certain Belarusian proves she's ready to reassert herself in an event in which she finished #2 to Serena last year.




In doubles, the top-seeded duo is the new team of Hsieh Su-Wei & Sania Mirza, as the Taiwanese vet gets in on the I-want-to-play-with-Sania/NO-I-want-to-play-with-Sania! action. Also in the draw: the Rodionovas, AnaIvo/Kerber, Chan Hao-Ching/Peschke, Garcia/Srebotnik and Hingis/Lisicki (as Pennetta is in Perth with signifigant other Fognini).



SHENZHEN, CHINA (Int'l $500K/hard outdoor)
14 Singles Final: Li d. Peng
14 Doubles Final: Niculescu/Koukalova d. Kichenok/Kichenok
15 Top Seeds: Halep/Kvitova
=============================


=SF=


#1 Halep d. #4 Diyas
#2 Kvitova d. Zvonareva


=FINAL=


#2 Kvitova d. #1 Halep

...Vera starts things off on a good foot, but Petra wins one for Na, and then finally gets an answer to the offseason question, "Is ALL of that smell you?"




By the way, I'm not sure if it answers any questions about her plans for the full season, but with her partnership with Hsieh over, Peng Shuai's first partner of '15 is countrywoman Xu Yifan. Also in the doubles draw, Miss Krunic and her Maiden Tashkent co-champion, Katerina Siniakova.



AUCKLAND, NEW ZEALAND (Int'l $250K/hard outdoor)
14 Singles Final: Ivanovic d. V.Williams
14 Doubles Final: Fichman/M.Sanchez d. Hradecka/Krajicek
15 Top Seeds: Wozniacki/Errani
=============================


=SF=


#1 Wozniacki d. #7 Vandeweghe
#3 V.Williams d. #2 Errani


=FINAL=


#1 Wozniacki d. #3 V.Williams

...not sure if the Dane would take down a healthy and in-form Venus if Williams reaches the Auckland decider for a second straight January, but, well, I HAVE to pick a #1 seed to win in Week 1, don't I? I'm a bit intrigued by Ana Konjuh here, who opens vs. #8 Barthel, and could face Venus in the QF. The Croat made her WTA debut in this event a year ago and upset #1-seeded Roberta Vinci in the 1st Round. Meanwhile, there's an opening for a certain Current player to slip through the bottom section of the draw and reach her first tour semifinal in nearly two years... but what are the chances of that happening?



HOPMAN CUP; PERTH, AUS (team exhibition/indoor)
14 Final: France (Cornet/Tsonga) def. Poland (A.Radwanska/Panfil)
=GROUP A=
CAN (Bouchard/Pospisil)
CZE (Safarova/Pavlasek)
ITA (Pennetta/Fognini)
USA (S.Williams/Isner)
=GROUP B=
AUS (Dellacqua/Krygrios)
FRA (Cornet/Paire)
GBR (Watson/Murray)
POL (A.Radwanska/Janowicz)
=============================


=FINAL=


USA d. POL

...so, Aga gets an early chance to be a finisher after having such a hard time accomplishing similar missions over the past eighteen months, including in last year's Hopman final. With Jerzy Janowicz at her side after he missed this event a year ago with an injury (Grzegorz Panfil, we hardly knew ye), Aga... this time loses to the which-serve-do-YOU-want-to-face? duo of Serena and Isner.

Sure, it would mean little regarding her season, but it would officially kick off what will surely -- it it lasts, that is -- be one of the enduring intriguing questions of 2015: Is "Agalova" a sign of great things to come, or just a cruel joke?


Day one with Aga- what fun!!! @ARadwanska pic.twitter.com/ncHfG9ssQT

— Martina Navratilova (@Martina) December 27, 2014



=============================




Match...

and, finally, ahhh, I see now...


?????? pic.twitter.com/R7ZhULlBjR

— Roger Federer (@rogerfederer) December 26, 2014



=============================




Well, that's it. Buckle in, it's all about to start all over again.

All for now.