Wk.5- Amelie, You Magnificent Pastry
It was a mixture of the expected and the unexpected in the first Fed Cup week of 2015.
As far as Amelie Mauresmo and the Pastries were concerned, it was a little --
and a lot
-- of both.


A quick rundown of some stand-outs from 2015's first week of Fed Cup action:



*EIGHT THINGS THAT WERE GOOD*




1.

Aleksandra Krunic, living up to her Serbian Good Luck Charm nickname, and then some.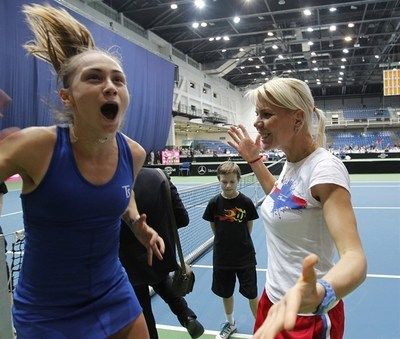 =============================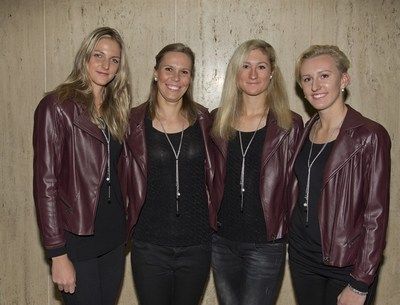 2.

The "B"-Team (or is it "C+"-Team?) Czechs. No Kvitova? No Safarova, BZS, Koukalova or Hlavackova (the "B+"-squad that won last year's dramatic 1st Round tie against Spain), either? Hey, no problem. The Maidens have replaced the Hordettes as the deepest Fed Cup team around, and their sweep of the Bouchard-less Canadians only added another chapter to their growing legacy. Their chances for a fourth FC title in five years look good as they head into a seventh consecutive semifinal. Well, unless Captain Mauresmo has something to say about it. And she likely will.


=============================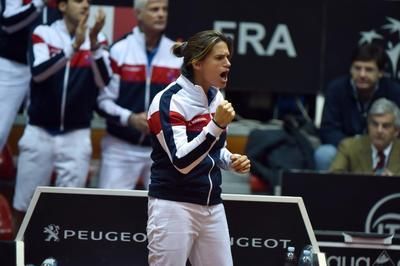 3.

Amelie Mauresmo and the Pastries. It seemed a tough ask to begin with to take down a mostly-veteran Italian team on red clay in Italy, but to have to wrestle that bear AFTER falling behind 2-0 on Saturday? That seemed like an impossible task for even someone as tactically and psychologically masterful as the French Fed Cup Captain. Boy, was that a wrong assumption. After inserting a player with zero FC singles victories into the mix on Sunday, the tide was immediately turned as the French team wrote a little Fed Cup history by pulling off the seventh comeback ever from 0-2 down, but the first pulled off in Group I on the road. I'd say that it'll be even tougher for Mauresmo to devise a gameplan to take down a likely fully-loaded Czech team this spring in the semifinals. But, you know, that'd be a pretty stupid thing to say after what we've seen Mauresmo pull off in her short time as FC Captain. And to think it all started with Mauresmo coaxing La Trufflette into the Fed Cup fold a few years ago. That seemed like a major accomplishment at the time... but we had no idea what she was REALLY capable of. Maybe we still don't.


=============================




4.

Petko! Petko! Petko!




=============================




5.

The Russian Revolution Reunion. All together for the first time since they claimed three grand slams in 2004, Russian FC Captain Anastasia Myskina, Maria Sharapova and Svetlana Kuznetsova showed that the old Russian magic isn't yet a thing of the past. Just ask Aga.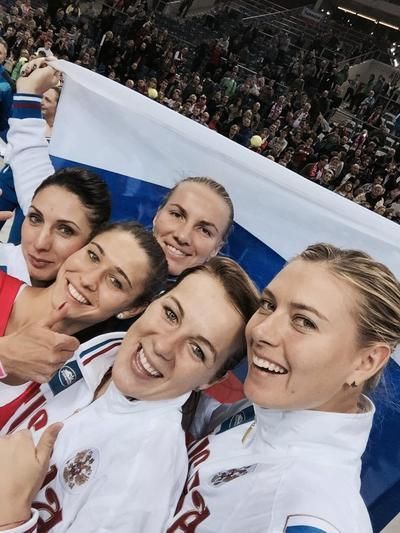 =============================




6.

The Romanians keeping alive their hopes for a run at the Fed Cup final (or more) in 2016 or '17. Although it looked pretty shaky there for a bit as Garbine Muguruza showed why she may just be the next monster force to contend with on tour.


=============================




7.

Vika. She lost her luggage at the start of the week, then her coach by the end of it. But when she was finally able to slip into her Belarusian gear for the first time in a few years, it was like she'd been around all along.




=============================




8.

The Williams Sisters, saving Mary Joe Fernandez's Fed Cup Captaincy butt one more time. Although, I guess a great case can be made that that's not exactly a GOOD thing for the U.S. squad in the long run.


=============================





*FOUR THINGS THAT WEREN'T*




1.

The Italians, crumbling on a shoddy court against an inspired French team... and maybe ending an era of Fed Cup dominance?


=============================




2.

Simona Halep. After succumbing to the pressure in the WTA Finals championship match against Serena Williams to end 2014, then beating a path to the exit door in the Australian Open quarterfinals when she had no answers against Ekaterina Makarova, the Romanian was drummed off the court by Garbine Muguruza in an important FC match on home soil this weekend. Afterward, she said, "I felt the expectation that everyone was waiting for me to win. I didn't play my best, but she was very good. She has a beautiful future." So, again, the notion of pressure and expectation seemed to get the best of the previously level-headed Swarmette. This can't possibly be a good sign, but hopefully her recognition of the situation will prevent it from becoming the precursor to her falling back down the rankings as quickly as she climbed up them.


=============================




3.

China. You can bring a horse to water, but you just can't make it drink.


=============================




4.

Mary Joe Fernandez. I didn't think she'd find a way onto this list YET AGAIN this week. But here she is. More -- where else? -- in the "DOWN" section.


=============================





*ONE THAT'S A LITTLE BIT OF BOTH*


Sure, Genie Bouchard decided against joining her Canadian teammates as they hosted the reigning champion Czechs in Quebec City, essentially dooming their chances at victory, but she used her time away rather well, picking up Sam Sumyk as her new coach. Sumyk led Victoria Azarenka to #1 in the world, helping her to calm the emotions that were at one time her own worst enemy on the court, and was working with her seemingly without issue at the Australian Open. Of course, that Sumyk's wife is also Vika's agent sort of makes one wonder how this change all came about, and whether more are still to come. As for Bouchard and Sumyk, their first event together is this week in Antwerp, where the Canadian is the #1 seed. Game on.



*ONE THAT PROVES ANDY MURRAY IS ALWAYS WATCHING*



Settle down @AmeMauresmo that's @annekeothavong brother your talking to! pic.twitter.com/MyLf8YCSxM

— Andy Murray (@andy_murray) February 8, 2015




*AND ANOTHER THAT I'LL CONTINUE TO BRING UP AT THIS TIME EACH YEAR*


The past few seasons in this space, I've used the occasion of the first FC weekend of the year to comment on how great it would be if the Fed Cup adopted the same rule that Davis Cup uses regarding doubles matches. Namely, that each tie's doubles match be moved from the #5 to #3 position, making it a viable match in EVERY tie, not to mention allowing all team members to contribute in a "live" rubber and bringing about some interesting coaching decisions, since top singles players would be potentially-necessary doubles team choices while still possibly having to play an additional singles match later (and, with best-of-three matches in play, the ties wouldn't have to be stretched from two to three days, unlike with DC). I've always longed for the sort of dramatic winner-take-all singles matches that would occur if the FC adopted the DC format. Two years ago, the decision to move the doubles match up from #5 to the #4 dead rubber position if the first three singles matches are won by the same nation, throwing at least a small bone to the doubles participants rather than have them be easier to ignore.

Often, with some top players arriving injured (or healthy and simply begging off by choice) and confining themselves to doubles, moving the usual #5 match to #3 would have mean that those players would have been assured of taking part in a "live" match. Who knows, such a thing might even lure a few bigger names to the table on the first FC weekend -- in, you know, a non-year-before-the-Olympics season -- if they knew they could still be a meaningful part of the tie and not be pressured into tiring themselves out by also playing singles right after the Australia/Asia swing, and immediately before tour events in Antwerp and the Middle East.

Hey, a Backspinner can (continue to) dream, right?



*WEEK 5*



=1st Round=


Czech Republic def. Canada (H) 4-0
France def. Italy (H) 3-2
Russia def. Poland (H) 4-0
Germany (H) def. Australia 4-1


=World Group II=


Netherlands (H) def. Slovak Republic 4-1
Romania (H) def. Spain 3-2
Switzerland def. Sweden (H) 3-1
United States def. Argentina (H) 4-1


=Zone I Promotion Finals=


[Europe/Africa]: Belarus def. Great Britain 2-0
[Europe/Africa]: Serbia def. Croatia 2-0
[Americas]: Paraguay def. Brazil 2-1
[Asia/Oceania]: Japan def. Kazakhstan 2-0


=Zone II Promotion Finals=


[Asia/Oceania]: South Africa def. Finland 2-0
[Asia/Oceania]: Estonia def. Slovenia 2-0

[1st Rd. MVPs]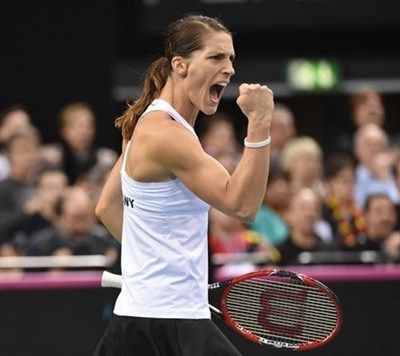 Andrea Petkovic, GER

(overall P.O.W.)
...Petko is, quite simply, a Fed Cup beast. She played the tone-setting key role in Germany's run to the final in 2014, and after having an awful opening month to her '15 season she only added to her growing FC resume this weekend in Stuttgart. After Angelique Kerber, the fiery closer during last year's run of success, dropped the opening match of the tie vs. Australia to Jarmila Gajdosova, it was Petkovic who was called upon to keep the Germans from slipping into a 2-0 hole. Sure, the sometimes-shaky Aussie squad might not have been able to hold that lead, but no one wanted to take THAT chance. In an instant classic, Petkovic downed Samantha Stosur 6-4/2-6/12-10 in 3:16, saving a match point and winning in a contest in which she was out-aced (14-5), out-winnered (61-56) and had more unforced errors (43-35) than her opponent, yet still out-pointed the Aussie 147-137 by holding a +23 advantage in the forced error category. After playing just one match per tie in '14, Petko was given the clincher role on Sunday, as well. After Kerber downed a tired Stosur in straights, Petko AGAIN was forced into extra time in a 6-3/3-6/8-6 victory over Gajdosova, coming back from a break down in the 3rd set to send Germany to a second consecutive FC semifinal, this time against Russia. Now, hopefully this weekend will send Petkovic in the right direction for the rest of her season. After all, she didn't get to dance the Charleston on court when she won in Charleston last spring. She needs to rectify that oversight.


=============================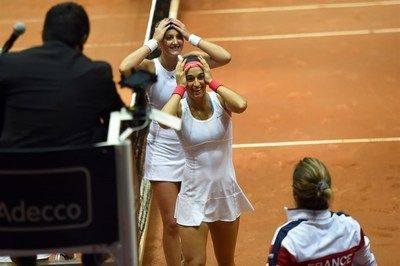 Carolina Garcia, FRA & Kristina Mladenovic, FRA


...yeah, Amelie Mauresmo should (yet again) probably get great consideration for MVP honors here. But, you know, the players have to get SOME credit, right? Really, though, both Pastries took the confidence shown in them by their Captain and ran with it. Down 0-2 to the Italians on red clay (albeit some pretty shoddy red clay, but that's another story), Mladenovic replaced French #1 Alize Cornet (who she'd joined in the Pastries' deciding doubles win in a 3-2 tie over Switzerland last February) for the Day 2 opening match and took down Italian #1 Sara Errani in straight sets with her bigger game in full flight. It was Mladenovic's first career FC singles win. Then Garcia, who starred in France's win over the U.S. last April (taking part in all three points in a 3-2 victory), knotted the tie with a three-set victory over Camila Giorgi, coming back from a set down to win love & 2 in a match where play was stopped for periods due to an unsafe court. With it surprisingly coming down to the doubles, Garcia & Mladenovic joined together to crush the world #1's doubles team of Errani & Roberta Vinci 6-1/6-2 (with Mladenovic ending things with an emphatic ace) to complete an improbable victory, just the seventh such comeback in World Group history, but the first in Group I in which the host nation was the victim. It was also the first loss in FC competition suffered by the Italian duo in seven matches, and puts the first blemish on Vinci's previously undefeated (18-0) FC doubles career. "I was either going to be a genius or a nonsense captain!" Mauresmo said of the decision to insert Mladenovic into the spot for Match #3. "I took the decision to play Kristina because I knew she had the game to beat Errani. We knew the tactics and she was able to deliver on the court which is always the toughest thing to do." With keen coaching and psychological insight into her team member's inner workings, and with a young group of stars (with the likes of a Oceane Dodin waiting in the wings) following and trusting her every move, just what are the Pastries capable of pulling off? Well, they'll face the reigning champion Czech team next, so we'll soon find out.

FRANCE WINS! An ace completes a remarkable comeback from 0-2 down for the French who are now in the semifinals! pic.twitter.com/deldlxm6ha

— Fed Cup (@FedCup) February 8, 2015



=============================




Karolina Pliskova, CZE


...despite not having actually played a Fed Cup singles match in her life, Pliskova was installed as the team leader and singles #1 in the defending champs' tie in Canada this weekend. It might have been interesting had Bouchard shown up, but since she didn't the only thing Pliskova had to worry about was a brief battle with nerves as she tried to close out her Day 1 win over teenager Francoise Abanda. It took her four match point to put the Czechs up 1-0 with the 6-2/6-4 win, but the Maidens fairly well coasted from there on out. They even won the meaningless doubles match to finish off the 4-0 sweep. Officially, Pliskova is the third-best Czech female player, but the team's future seems pretty secure if she's going to assume a larger role next to or as a stand-in for Petra Kvitova over the next few years.


=============================






Maria Sharapova, RUS


...making her first Fed Cup appearance since 2012, Sharapova probably had more pressure on her than any other player in the World Group 1st Round. Seen as someone only dropping in to satisfy her Olympic eligibility (and, let's be honest, rightfully so), she was expected to win and would have been lambasted had she gone down in defeat. No worries, though. She went 2-0 against the Radwanska sisters, crushing Ula on Saturday (winning the first eight games of the match) then clinching the tie win by defeating Aga 6-1/7-5 on Sunday. Employing drop shots (Against Aga! Oh, the humanity -- and audacity -- of it!) as she often did in Melbourne, Sharapova led 6-1/5-2 and held two match points at 5-4 before Radwanska made her work a few more games. She finally broke the Pole's serve to end the match.


=============================





[WG II MVPs]




Arantxa Rus, NED


...even while Rus has had her problems on the WTA tour the last two years, she's been a reliable cog in the Dutch FC lineup. Kiki Bertens has been the leader, but the singles #2 actually came into the tie against the Slovaks with more career Fed Cup victories (12 in 17 matches), and had provided the clinching win over Misaki Doi last spring that had lifted the Dutch team past Japan and into the World Group II 1st Round this weekend. After Bertens opened play Saturday with her first career FC singles defeat (she'd been 8-0), Rus came to the rescue to keep the underrated squad from the Netherlands collective their head above water. She took down highest-ranked Slovak team member Magdalena Rybarikova in straight sets to even the tie, then was given the chance to clinch the victory after Bertens defeated Rybarikova in three sets on Sunday. Rus' 6-3/2-6/6-4 win over Anna Schmiedlova sent the Dutch streaking into this spring's World Group Playoff, and ran her own career FC singles mark to an impressive 14-5.


=============================




Irina-Camelia Begu, ROU


...after losing in the presence of the Romanian President on Saturday (in Garbine Muguruza's smashing FC debut), Begu put on her hero wings on Sunday. Picking up the potential mess left behind after Muguruza downed Swarmette #1 Simona Halep in straight sets to give Spain a 2-1 victory, Australian Open Round of 16er Begu rode to the rescue, keeping alive Romania's hopes for contending for a Fed Cup title in 2016-17 by defeating Silvia Soler-Espinosa 6-2/6-4 to force a deciding doubles match, and then joining Monica Niculescu there to battle and claw their way to a tie-winning victory over Muguruza and veteran Anabel Medina-Garrigues, 5-7/6-3/6-2, as Muguruza's regular doubles partner, Carla Suarez-Navarro, was out injured this week. Sometimes it takes a village. Sometimes it takes a Begu. The Swarmettes are one step away from the 2016 World Group final eight, and it's the OTHER Romanian -- the one ranked #34, not #3 -- that gets much of the credit.


=============================




Timea Bacsinszky, SUI


...Belinda Bencic gets all the headlines, but Bacsinszky, 10-3 in FC singles since 2011, has become the solid core of the Swiss Fed Cup team despite nearly giving up the sport a couple of years ago for a career in hotel management. Fittingly, the 25-year old who upset Petra Kvitova and reached the Shenzhen final in Week 1 notched two wins in Switzerland's 3-1 road win over Sweden, winning all four sets, toughing out a pair of tie-break wins that might have turned momentum in the opposite direction had she lost in either day-opening match against Rebecca Peterson and Johanna Larsson.

How can you entertain 5 journalists at a press conference? #brilliantidea #letsdoitmyway #HopeYouAllComeNextTime pic.twitter.com/cmnSnU2T3t

— Timea Bacsinszky (@TimiBacs) February 8, 2015



=============================




Venus Williams, USA


...with sister Serena ailing on Sunday (though she did contribute a win on Saturday), veteran Venus was called upon to prevent Mary Joe Fernandez from somehow finding a way to oversee a catastrophe of epic Fed Cup proportions on Day 2 in Buenos Aires against the Argentines after the U.S. squad took a 2-0 lead on Saturday. Williams' second straight sets win -- though it would have been nice if she hadn't had to even take the court at all on Day 2 -- of the weekend clinched the American team's first FC tie victory since 2013, ending a 1-3 skid under the guidance of MJF. Venus is now 17-2 in career Fed Cup singles. Her last singles defeat came in 2005 against current Russian FC Captain Anastasia Myskina.

=============================
[Zone Play MVPs]



Aleksandra Krunic, SRB


...enter The Bracelet. After losing five straight ties since reaching the 2012 Fed Cup final, pretty much all occurring as the Serbian Tennis Powers That Be either left Krunic off the squad entirely or relegated her to mop-up duty after the rest of the team has failed miserably, The Bracelet's U.S. Open run helped her to earn the #1 singles slot on the team this week. Naturally, with their old charm bracelet back in their pocket, the Serbs ended their slide, advancing on the back of Krunic's 3-0 singles mark for the week, which saw her clinch the team's Pool win by coming back from 3-0 down in the 3rd against Hungary's Timea Babos in round robin play, and then destroying Croatia's Donna Vekic 6-1/6-1 to wrap up the promotional playoff sweep. That's why she's the Serbian Good Luck Charm, people.


=============================




Olga Govortsova, BLR


...yeah, Vika Azarenka was the star, but Govortsova was the backbone of the Belarusian effort that advanced out of zone play and into the WG II playoffs this spring. She went 4-0 in singles, nearly double-bageling Johanna Konta in the Promotional Playoff sweep of the Brits as the Belarusian team won ten of eleven matches for the week.


=============================




Montserrat Gonzalez & Veronica Cepede Royg, PAR


...a few doubles teams provided the winning point for their nation, but did any pull double doubles duty like Gonzalez and Cepede Royg when all the chips were pushed to the middle of the table? In the Pool-deciding tie with Mexico, the pair won a three-setter to push Paraguay into the Promotional Playoff. Then once they got there it once again came down to the doubles versus Brazil. Again, Gonzalez and Cepede Royg came out on top (this time in two sets) to lift the nation into the World Group II playoffs for the first time since 1995. For her part, VCR also put up a 4-0 mark in singles for the week, with her last win coming over Beatriz Haddad Maia to force the deciding doubles against the Brazilians.


=============================




Anett Kontaveit, EST


...has the torch officially been passed to the 19-year old as the leading lady in Estonian tennis? Maybe. While veteran Kaia Kanepi played just as often, Kontaveit was given the first-up singles role in all four ties contested last week. While Kanepi had a loss, the teenager went 4-0 as Estonia was the only host nation to manage to survive zone play.


=============================




Chanelle Scheepers, RSA


...the 30-year old played lead singles for the top-seeded South Africans in Europe/Africa II zone play, going 4-0 in singles. She was 1-0 in doubles, as well, teaming with Chanel Simmonds to defeat Kanepi/Kontaveit to defeat Estonia and win Pool A, enabling the South Africans to face off in the Promotional Playoff with Finland, a much easier task than a tie with Slovenia may have been.


=============================




Misaki Doi, JPN


...while she was the second-highest ranked woman on the Japanese squad, Doi played twice as many matches as top-ranked Kurumi Nara last week, going 4-0 in singles while leading Japan's successful bid to win the Asia/Oceania I zone and return to the World Group II playoffs this spring.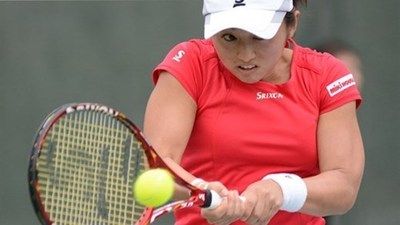 =============================





[RISERS]




Garbine Muguruza, ESP


...as if we didn't know it already, this Muguruza is going places. Maybe big places. Maybe very soon. Opening up her Fed Cup career by destroying Irina-Camelia Begu in front of a Romanian crowd and the nation's president, then coming back on Sunday and doing to same to world #3 Simona Halep to give the Spanish team a 2-1 lead, Muguruza showed why she's the player with the most dominating slam victory ever ('14 RG) over Serena Williams. Without her usual doubles partner CSN on the roster, Muguruza didn't ultimately pull off the triple Romanian play and take down the Swarmettes almost single-handedly, but make no mistake that if CSN is around to join the hard-hitting 21-year old on the Spanish team's roster this spring and in '16, Spain is going to be a threat to go very deep into FC play next year after two consecutive hard-luck 1st Round losses (remember that 3-2 loss to CZE after rain pushed most play to Monday in '14). Romania was lucky to escape with its Fed Cup dreams still intact.


=============================




The Romanians


...it's a good sign for a deep Fed Cup squad when its #1 player (world #3 Simona Halep) can lose a match on a FC weekend, and even without the country's other most accomplished contributor (Sorana Cirstea) on the roster, the squad can still take down a team that had a bull-in-a-china-shop performance going for it as the Team Espana got from Muguruza. With a deep pool of talent, the Swarmettes might be armed for a run at the FC title (or at least a final) in 2016-17, but a loss this weekend would have been a set back that might have pushed the time table back a year. But sometimes survival is all that matters in Fed Cup (see the Czechs in last year's 1st Round, also against Spain), and thanks to Begu and Niculescu the Swarmettes are still a living, breathing threat to live up to their potential. They're in the World Group Playoff for the first time in sixteeen years. One more win in the spring and they'll make their February '16 date with destiny. Or at least the chance to play for the opportunity.




=============================




Jarmila Gajdosova, AUS


...Gajdosova went 0-2 during Australia's run to the FC semifinals in 2014, so she had a reputation to build. Ultimately, her work in Stuttgart wasn't enough to push the Aussies to victory, but she gave every indication that maybe Fed Cup is where she'll really make her mark. With her team cheering her own, she opened play by stunning Angelique Kerber in three sets to give the Aussies a 1-0 lead over the loaded German squad. After Stosur's back-to-back singles defeats, Gajdosova had to stick her head back into the hornet's nest and try to keep Australian hopes alive. She gave it a good effort, taking a break lead in the 3rd set against Andrea Petkovic before falling 8-6. In the end, it was a losing effort, but the improving Australian Fed Cup team might have found their new singles #1... or at least their FC spirit guide.


=============================




Kiki Bertens & The Dutch


...the squad from the Netherlands began 2014 in Europe/Africa zone play, and it seemed highly unlikely that they'd get the chance to play this spring for a spot in the 2016 World Group. Yet, that's exactly the chance they'll have in a few months. Quietly, Kiki Bertens, Arantxa Rus and Richel Hogenkamp (with Michaella Krajicek as a doubles contributor) have jelled into a formidable team, one maybe more than the sum of its individual parts. Even without Daniela Hantuchova and Dominika Cibulkova in the mix this weekend, it was conceivable that the Slovaks could have slipped into the Netherlands and ran off with the tie victory. But credit Rus for saving the day on Saturday, then Bertens bouncing back from her first career FC singles loss a day later to right the Dutch ship. Rus was the MVP this weekend, but the next step for this team will depend on Bertens playing fully up to her ability. She's surely got good FC mojo, currently sporting an overall 15-2 record for her career. If they get a favorable roster match-up this spring, this team might just reach the World Group with a shot to play for the semifinals next February. No one saw that coming last spring. No one. Not even Amelie (but don't hold me to that assumption).


=============================




Alison Van Uytvanck, BEL


...the Belgians failed to advance out of Pool play, but it wasn't because of a lack of effort from the 20-year old red head who gave Serena a good fight (for a while) in Melbourne. She carried the load in singles, going 3-0, and added two doubles wins, to boot.


=============================




The Brits


...ultimately, Great Britain lost out to Belarus in the Europe/Africa I Promotional Playoff, and only got there after wiping away the stain of a Pool play upset at the hands of Turkey by sweeping Ukraine in the final Pool match to advance. But it was a comeback that was nearly Amelie-worthy, and Captain Judy Murray and her son's coach will surely be able to compare a few motivational notes next time they meet. It was a good weekend of work for GBR, with Heather Watson back in the fold and Jocelyn Rae & Anna Smith finally getting some overdue attention just a week after Katie Swan made a surprise run to the AO girls final. And Laura Robson is still out there rehabbing that surgically repaired wrist, too. Suddenly, the Brits have a young talent pool from which to put together a consistently competitive roster.


=============================




Kurumi Nara, JPN


...the highest-ranked woman from Japan only played two matches last week, but she provided the most important single point, winning the clinching singles match over Yaroslava Shvedova in the Promotional Playoff against Kazakhstan. Nara saved a match point against Shvedova in the 2nd set before going on to win in three.


=============================




Zarina Diyas, KAZ


...the 21-year old has nearly climbed into the Top 30 and is the highest-ranked Kazakh. During Pool play in Asia/Oceania I, she went 3-0, saving match point against Hsieh Su-Wei, taking out Zhang Shuai in straights and double-bageling her final opponent to clinch Kazakhstan's win in Pool B. But then she didn't play in the Promotional Playoff against Japan as her replacement, Yulia Putintseva, went down rather meekly to Misaki Doi and then Yaroslava Shvedova squandered a match point in Japan's sweep. Diyas was slated to play doubles in the tie, and is scheduled to be in action this week as the #3 seed in Pattaya City... so who knows how these things are determined.


=============================




Chanel Simmonds, RSA


...there aren't a lot of up-and-coming young South African players, so the 22-year old Simmonds looks like the only player in line to replace Scheepers as the team leader in a few years. She did well this past week in the #2 slot, taking three of her career ten FC singles wins as RSA won the Promotional Playoff out of Europe/Africa II.


=============================





[FRESH FACES]




Tereza Smitkova, CZE & Denisa Allertova, CZE


...the presence of Smitkova, 20, on the roster this weekend looked like a step back from the previous more accomplished Czech FC contributors who have helped the team win three titles in four years. The 20-year old has nearly climbed into the Top 60, won a WTA $125K Challenger last season and reached the Round of 16 at Wimbledon in' 14 in her grand slam debut. Actually, her "no-name" status speaks volumes about the vast depth of Czech talent on tour. Smitkova handled Gabriela Dabrowski 1 & 2 in her FC debut to give the Czechs a 2-0 lead on Saturday, pretty much ensuring a second consecutive 1st Round FC victory by a Czech team that didn't include Kvitova. Fellow FC newbie Denisa Allertova, 21, a current Top 100 player who won a circuit-leading seven ITF challenger crowns in 2014 and who got a 1st Round win in Melbourne last month in her slam debut, picked up a doubles win with Lucie Hradecka in her maiden FC match on Sunday.


=============================




Belinda Bencic, SUI


...the 17-year old had a big freshman Fed Cup debut last season, but has since shown her age and growing pains on occasion. Thankfully, with Timea Bacsinszky around to take the #1 singles load, Bencic was able to hang back and play a somewhat secondary role against Sweden. It worked, as Bacsinszky went 2-0, while Bencic took out veteran Johanna Larsson 6-1/6-2 to give the Swiss a 2-0 lead on Day 1. She's now 4-1 in Fed Cup singles the last two years.


=============================




Anna Schmiedlova, SVK


...the older of the Schmiedlova sisters (Kristina was added to the roster after Cibulkova pulled out), Anna made her mark last year with an upset of Venus Williams at Roland Garros. This weekend, in her FC singles debut, she gave a pretty good impression of a player ready, willing and able to eventually be a singles #1 in FC competition. She opened play by taking out previously undefeated Dutch #1 Kiki Bertens, and went deep into a 3rd set against the far-more-experienced-in-FC-than-she Arantxa Rus in an attempt to push things to the deciding doubles. It was a very good start, with seemingly a lot more of the same to come for the 20-year old.


=============================




Ivana Jorovic, SRB


...the 17-year old former junior #1 played a good second in command to Krunic, going 3-0 in her first career FC singles action, including emerging with the victory in battles against fellow teens, first Dalma Galfi (HUN) in Pool play and then Ana Konjuh (CRO) in the Promotional Playoff. She got a celebratory kiss from Serbian Good Luck Charm #1, too.

Hvala ti mala... ?? pic.twitter.com/M0Ht95Cr5C

— Aleksandra Krunic (@KrunicAlex) February 8, 2015



=============================




Ana Konjuh, CRO


...for a bit, it looked as if 17-year old Konjuh was going to follow in fellow '13 junior slam winner Bencic's footsteps as a Fed Cup heroine. She surely filled the role in Pool play, going 3-0 in singles and 3-0 in doubles, including a big win over Kirsten Flipkens that helped send Croatia to the Promotional Playoff over Belgium. Said Croat Captain Iva Majoli after Konjuh's starring role vs. the Waffles, "She's unbelievable. She's playing the best tennis of her young career at Fed Cup. I'm very, very proud of her. To win the match today under these circumstances, and she knew if she lost we would be out, I'm just so proud. I think Ana is a champion."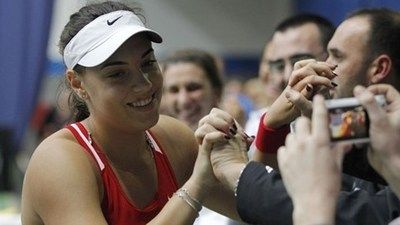 =============================




Jelena Ostapenko, LAT


...the 17-year old junior slam champ notched three singles win on the week, upsetting past tour singles champions Donna Vekic and Kirsten Flipkens.


=============================




Ipek Soylu, TUR


...the 18-year old won three matches, including a straight setter over Johanna Konta in Turkey's upset of Great Britain, to run her career FC singles mark to 5-0.




=============================




Marcela Zacarius, MEX


...the Mexican team narrowly missed out on winning its Pool and advancing to the Promotional Playoff, but the 20-year old went 3-0 in singles to lift her career Fed Cup mark to 10-1.


=============================





[JUNIORS]




Vera Lapko, BLR


...the 16-year old went 3-0 in doubles in her Fed Cup debut week. Lapko was a singles quarterfinalist and doubles champ at the Traralgon junior event last month, and then a girls doubles quarterfinalist in Melbourne. At last year's U.S. Open, she was a junior doubles runner-up.


=============================




Manca Pislak, SLO


...the 17-year old made her Fed Cup debut in Tallinn, winning both her doubles matches. Last month, Pislak made her way through Australian Open junior qualifying and reached the girls singles quarterfinals.


=============================





[SURPRISES]






The Swiss


...hmmm, did the Swiss men's Davis Cup run give the Swiss woman some wild ideas? Maybe not. But maybe. After all, after Patty Schnyder's retirement the prospects for Swiss women's tennis didn't look all that great a short while ago. But Bacsinszky's comeback (her 3rd Round result at the AO lifted her to the top ranking among the Swiss women on tour) and the rise of Bencic, not to mention the success of junior Jill Teichmann, has the squad looking at the very least like a capable underdog come the WG Playoffs this spring. Hey, if a certain Original Swiss Miss decided to put on her old Fed Cup uniform again, things would even get to be quite an occasion. Hmmm, now there's an idea.


=============================




Cagla Buyukakcay and the Turks


...the 25-year old Turk, ranked #117, had probably the best week of her career as she led an upset of Great Britain in Pool play and an overall 5th place finish in Europe/Africa I. Going 3-0 in singles, Buykakcay notched upsets over the #36 (Svitolina, the best win of her career) and #38 (Watson) players in the world on back-to-back days, defeating both in three sets and very nearly pulling a real shocker, which it would have been had Turkey advanced to the Promotional Playoff. They came up one set short. Still, with young Ipek Soylu in the mix, Turkey might very well be able to make a case in a year or two for being the best Fed Cup nation from the Africa/Middle East region, topping slipping Israel and maybe even more traditionally powerful South Africa.


=============================




Paula Cristina Goncalves, BRA


...the 20-year old, at #286 the lowest-ranked member of the Brazilian team, nonetheless played the #1 singles position this week (even as #109 Teliana Pereira was on the roster). She did well, winning all three of her matches, though the Brazilians failed to advance to the WG II playoffs when Goncalves & Pereira teamed up in doubles, losing the deciding Promotional Playoff match to Paraguay's Montserrat Gonzalez & Veronica Cepede Royg. Goncalves is now 11-2 in singles in her FC career.


=============================




Tadeja Majeric, SLO


...the 24-year old, ranked #234, had never won a FC singles match in her career before going 3-1 last week, only dropping her final match via a retirement in the Promotional Playoff vs. Estonia.


=============================




Piia Suomalainen, FIN


...the 30-year old FC veteran, with over 60 career matches, led the Fins into the Promotional Playoff, going 2-0 in singles before the team fell to South Africa.


=============================




Amy Bowtell, IRE


...not particularly shockingly, the 21-year old had a hand in all four of Ireland match wins last week, winning three times in singles and once in doubles to move ever closer to the record that she will inevitably hold as the all-time leader in FC wins for Ireland. The current leader: Gina Niland, who won her last match in 2000. Bowtell has won four ITF singles titles over the last ten months.


=============================




Eri Hozumi, JPN


...in her Fed Cup debut, the 20-year old went undefeated -- 2-0 in singles, 3-0 in doubles -- to notch more victories than any member of the Japanese team that won the Asia/Oceania I zone without dropping a single match.


=============================




Peangtarn Plipuech, THA


...ranked #493, the 22-year old made her Fed Cup debut, winning just one game in her first singles match against Wang Qiang of China. But in her second, she nearly became the latest -- after Luksika Kumkhum the last two years -- Thai player to pull a stunning upset over Yaroslava Shvedova in Fed Cup play. Plipuech led the Kazakh 7-6/5-4 and held two match points before finally falling in three sets.


=============================





[VETERANS]




Svetlana Kuznetsova, RUS


...Sveta's pair of slam titles might not be enough to eventually make her a Hall of Famer, but her great Fed Cup history might be enough to eventually tip things in her favor. Ending her own boycott against the Russian Federation, a multi-player protest that caused the formerly powerful Hordette team to field "D"-level or "partial"-squads since reaching the '13 FC final, Kuznetsova played her first FC tie since 2012. She only played one match, but it was a big one, as she ended Aga Radwanska's overall 14-match FC winning streak (and 14-match FC singles run) with a three-set win on Saturday to put Russia up 1-0. Sharapova did the rest... but, hey, we wouldn't have had a FULL Russian Revolution Reunion without '04 U.S. Open champ Sveta.


=============================




Tammy Tanasugarn, THA


...the 37-year old Thai vet has been playing FC ties since she was a 15-year old just a few weeks shy of Sweet Sixteen back in 1993, so that she's still out there playing a major role is a huge credit to her. Of course, it probably says something about the depth (or lack of it) in Thai tennis, too. But that's another story, I guess. Tanasugarn put up a singles win and two in doubles in her 55th career tie, adding to her all-time Thai records.


=============================




Kaia Kanepi, EST


...Kanepi went 3-1 in singles during Estonia's successful advancement out of Europe/Africa II zone play. The 29-year old now has 28 career singles wins in Fed Cup action, the most in her nation's history. With 41 overall victories, she's just two behind all-time Estonian leader Maret Ani.


=============================





[COMEBACKS]






Victoria Azarenka, BLR


...Vika lost her luggage and parted ways with her coach last week, but she reconnected with the Belarusian roots and helped provide the team a spark. And maybe pushed her own comeback along a few steps, as well. After winning a tough three-set affair against Tsvetana Pironkova in Pool play, her only other match of the weekend was the clinching win over Heather Watson in Belarus' Promotional Playoff sweep of the Brits.


=============================




Team Russia


...even if it ends up being only because of Olympic eligibility rules, the long Hordette Fed Cup nightmare is finally over. This weekend is how it used to be, with a rare Maria twist. After a year of fielding oft-overmatched teams while the nation's top stars boycotted the Russian Federation, the stars trickled back late in '14 and returned in full force for this tie, as the 2004 Russian slam winners -- Captain/Czarina Anastasia Myskina, Maria Sharpova and Svetlana Kuznetsova -- reunited to play under their national flag. Myskina and Sharapova even hugged -- that would have been a HUGE moment a decade ago! Time, and the desire to win and play for Gold, heals all wounds, I suppose. It's good to have the Hordettes back in the FC mix, as they'll now play against Germany in the semifinals for a chance to add to their now-legendary history with an eighth final in the last fifteen years, and the ninth in seventeen. Whether the boycott returns once Shamil Tarpischev's suspension is lifted, though, we'll have to wait and see.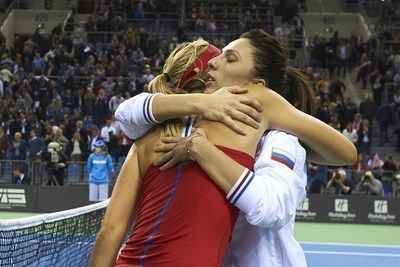 =============================
[DOUBLES]



Jocelyn Rae & Anna Smith, GBR


...Rae & Smith have won so many times as a duo -- ten ITF titles and a WTA runner-up in the last fourteen months -- that it's become a habit. That came in handy last week. The pair went 3-0 in their first FC action, including coming back from match point down to defeat Olga Savchuk & Elina Svitolina to wrap up a sweep of Ukraine in their final Pool match to send the Brits to the Promotional Playoff.


=============================




Shuko Aoyama, JPN


...the 27-year old, a 27-time doubles champion (5 wTA, 22 ITF), picked up three doubles wins in Japan's successful run through Asia/Oceania Group I.


=============================





[DOWN]




Mary Joe Fernandez, U.S. Captain


...leave it to MJF to find her way into the "Down" category on a weekend in which the Sisters-led Bannerettes won a 4-1 tie on clay in Argentina. But Fernandez is the anti-Amelie, so if there's a lack of will (to have a Plan B), then there's a way. After last season managing to go 0-2 in back-to-back ties on U.S. soil, one in which she mined the growing American talent pool yet managed to come up with a roster with no veteran presence or useful doubles contributor, only to see a winnable tie head to a deciding doubles match and the team fall flat on its face, this time around MJF depended entirely on the Williams sisters, as her Captain's duties pretty much ended after they both made themselves available for this weekend. One would think that with Serena battling illness and coming off a seven-match run in Melbourne, and with 34-year old Venus with a condition that could possibly leave her ineffective on a given day, that Fernandez might have filled out the roster with a veteran player, or at least one with a good history on clay, just in case one or both of the Sisters weren't up to snuff. But after already not having someone like Bethanie Mattek-Sands (Varvara Lepchenko was originally slated for the roster, but was unable to play due to her own illness) ready to insert when Serena couldn't go in a clinching match on Sunday, MJF passed over Taylor Townsend (who reached the 3rd Round at Roland Garros last year) for Coco Vandeweghe, who had exactly one match win on clay in '14 and whose power game and history suggests she probably shouldn't even have been on the roster for this particular tie. But Plan B's be damned, MJF always says. Venus bailed her out, preventing what should have been an easy sweep from actually going to the deciding doubles, which really would have been a little embarrassing, even if Serena & Venus (who'd been likely forced into action again) had wrapped things up there. If Mauresmo ever writes a book about coaching, I hope Mary Joe makes sure she gets an advance copy. Maybe she can give it as a welcoming gift to the NEXT U.S. Fed Cup Captain.


=============================


Sara Errani/Roberta Vinci and Team Italia & Co.
...after going out rather roughly while trying to three-peat in Melbourne, one wouldn't have thought that the Italian duo could have had a WORSE weekend in Genoa. But that's what happened. It didn't look like things would go sour for Team Italia on Saturday. Errani had taken out Caroline Garcia in two tie-break sets, and Camilia Giorgi's win over Alize Cornet gave the Italians a 2-0 lead. On clay. In Italy. A fourth consecutive semifinal match-up with the Czechs seems a certainly, since even Amelie Mauresmo couldn't find a way through this one, right? Apparently, she could. Of course, it helps when the usually strong-willed Italian force crumbled, too. Playing on an unsafe court that wasn't "repaired" until the NEXT match, Errani was run out of Genoa by Mladenovic, then Giorgi (as is often her norm) failed to hold a lead. But the Italians still had Errani & Vinci, so all was good. Not. The world #1's won three games against Garcia/Mladenovic, falling to 6-1 in career FC matches as a duo, while Vinci dropped to 18-1 (ouch... so close). Might this tie be the turning point in Team Italia's Fed Cup glory days? For the most part, the players who lifted the team to four FC titles since 2006 are aging, and for all the spirit Giorgi shows her ability to scratch out a defeat from a seeming victory is becoming semi-legendary. All eras end. This one will, too. Maybe it already has.


=============================




The Slovak Team


...even since reaching the 2013 Fed Cup semifinals, the Slovak team has experienced a mine shaft-like fall in the FC hierarchy. Neither Dominika Cibulkova nor Daniela Hantuchova were in action this weekend, but they've been around for many of the recent lowlights, including a loss from 2-0 up against Russia in the '13 semifinals and a tie last year against Germany in which both veterans blew multiple leads. Anna Schmiedlova performed well this weekend, but it couldn't prevent a 4-1 loss to the Dutch that gives the Slovak team four consecutive tie defeats in FC competition since defeating Serbia (which played Bojana Jovonovski & Serbian Bad Luck Charm Vesna Dolonc in singles that weekend, rather than you-know-who) to reach the Final Four two years ago this month.


=============================




Aga Radwanska, POL


...Poland wouldn't have been playing in this weekend's World Group tie with Russia if not for Aga, whose one-woman-team act propelled the Poles from zone play to the Final Eight in less than two years (the same path that may possibly be followed by the Romanian team by this time next year) as she ran off strings of fourteen straight overall match wins, and fourteen consecutive singles victories (with her last loss coming in 2011). Well, that all came to an end against the Hordettes, who showed up with a legit team just in time to make the Poles fight for their World Group life this spring after this weekend's 4-0 sweep. Aga didn't go quietly, though. She forced Sveta to three sets on Saturday, then battled back to 5-5 from 5-2 down in the 2nd against Maria Sharapova on Sunday, saving two match points before losing 7-5. The last time Radwanska lost twice in the same Fed Cup week? In 2008 Europe/Africa zone round robin action, falling to Jelena Jankovic and Sorana Cirstea. This was the first time she's ever dropped a pair of matches against the same nation in a FC week.


=============================




Alize Cornet, FRA


...Cornet had glowing words about Mauresmo's stewardship of the French team heading into the weekend. After dropping her match on Saturday, and then being supplanted in singles and doubles by Mladenovic on Sunday, hopefully she still feels the same way. I suspect she will, since winning cures most potential ills. Remember, Cornet was a member of the Hopman Cup winning French team in '14 despite going 1-3 in singles, and it was quite possibly the highlight of her career... well, at least until she faced off with and emerged the victor in a few matches against Serena Williams last year, anyway. Essentially, Alize took one for the team this weekend... next time she might be the one swooping in for a rescue mission (at least I'm sure that's what Mauresmo told her).


=============================




Donna Vekic, CRO


...Vekic's tour struggles carried over to Fed Cup, as the 18-year old went 1-2, losing badly to fellow teenager Jelena Ostapenko (3 & 1) in Pool play and then Aleksandra Krunic (1 & 1) in the clinching match in the Promotional Playoff against Serbia. In between, she was dropped from the lineup by Croat Captain Iva Majoli in favor of 30-year old world #223 Ana Vrljic in the key Croatia/Belgium round robin match-up. Since winning five matches to take the Kuala Lumpur title last April, Vekic has gone a combined 8-21.


=============================




Kirsten Flipkens & the Belgians


...the Belgians were the #4 seed in Europe/Africa I zone play, but failed to advance to the Promotional Playoff when they were upset by Croatia (led by 17-year old Ana Konjuh) when veteran Flipkens dropped both a singles and doubles match in the 2-1 defeat. In the placement round, she retired from her match with Reka-Luca Jani and the Belgians finished 7th in the zone. Flipkens is now 10-17 in career FC singles matches, and 1-7 in doubles.


=============================




Elina Svitolina, UKR


...so soon after giving Serena Williams a good run in a three-set loss in Melbourne, the 20-year old didn't have a great week in Budapest. She was upset by Turkey's Cagla Buyukakcay, dropping the 3rd set at love, and then lost to Heather Watson in the Pool play finale as the Brits staged an improbable sweep of Ukraine and advanced to the Promotional Playoff.


=============================




Yaroslava Shvedova, KAZ


...it looked as if Shvedova was going to avoid her annual Fed Cup choke last week, surviving two match points to avoid an upset at the hands of the barely Top 500-ranked Plipuech as Kazakhstan won Pool B of Asia/Oceania I to reach the Promotional Playoff against Japan. But then while trying to push the Playoff to the deciding doubles, she failed to convert a match point against Kurumi Nara as the Kazakhs once again failed to live up to their seeming FC promise. Boom... there she goes again.


=============================




Luksika Kumkhum, THA


...a year ago, Kumkhum was a budding star. She upset Petra Kvitova at the Australian Open, then was a Fed Cup hero, too. This year, she lost in the opening round of AO qualifying, then was barely a whisper during Thailand action last week. She only played two singles matches, wasn't given the chance to get win over Yaroslava Shvedova in FC for the third straight year (Plipuech got the opportunity, and nearly did it herself), won just four games against Hsieh Su-Wei and didn't notch a singles win until playing in the 5th/6th place match-up vs. Uzbekistan. Meanwhile, after teaming so successfully in doubles last year with Tammy Tanasugarn, the only time the two were paired this year came in a dead rubber match after Kazakhstan had already wrapped up a Pool victory by sweeping a pair of singles contests.


=============================




China


...as usual. For once, the Chinese DID put up a talented team which included Peng Shuai, Zhang Shuai, Zheng Saisai and Wang Qiang. The nation's singles #1 Peng didn't play in singles, though, and did just once in doubles (in a dead rubber match in the first tie of Pool play), as China failed to reach the Promotional Playoff despite having the most accomplished squad in the zone. By the end, the team just gave up, finishing fourth in Asia/Oceania I after losing the 3rd/4th playoff to Korea despite winning 14 of the 20 games played. Wang defeated Lee So-Ra to open the tie, then Zheng Saisai retired at 2-2 in the second match and the team awarded Korea a walkover in the doubles despite having at least one other player to substitute for Zheng in the would-be deciding match.


=============================





ITF PLAYER:

Tatjana Maria, GER


...the German momentum carried over to the $100K challenger in Midland, Michigan as Maria claimed her twelfth career ITF singles title with a win in the final over Bannerette Louisa Chirico. The 27-year old had previous wins over Maria Sanchez, Asia Muhammad, Sachia Vickery (who's already won two ITF titles in '15) and Nicole Vaidisova, the comeback Czech who reached the semifinals and, who knows, still might one day add her name to the long list of potential future Maiden Fed Cup roster members.



=WORLD GROUP=

1. WG 1st Rd. - Petkovic/GER d. Stosur/AUS
...6-4/2-6/12-10. Oh, Sam. Oh, Petko!


=============================


2. WG 1st Rd. - Garcia/FRA d. Giorgi/ITA
...4-6/6-0/6-2. You mean those tennis courts aren't supposed to have holes? Well, it's only Fed Cup, not Davis Cup... we didn't think anyone would notice. Ah, but Andy sees all...

The court for the Italy-France fed cup match is a disgrace.... Surprise surprise

— Andy Murray (@andy_murray) February 8, 2015



=============================


3. WG 1st Rd. - Garcia/Mladenovic (FRA) d. Errani/Vinci (ITA)
...6-1/6-2. And a Fed Cup legacy gets its first real smudge. Meanwhile, another grows roots.




=============================


4. WG II 1st Rd. - Muguruza/ESP d. Begu/ROU 6-3/6-2
WG II 1st Rd. - Muguruza/ESP d. Halep/ROU 6-4/6-3
...now that's a debut, even if it didn't have a great third act.


=============================


5. WG II 1st Rd. - Ormaechea/ARG d. Vandeweghe/USA
...6-4/6-4. What can the USTA do to Mary Joe-proof the U.S. Fed Cup team? I mean, other than get someone else to captain the team, since we know what won't happen until they get totally embarrassed by the whole thing. (See the U.S. Open stadium situation.)


=============================


HM- WG 1st Rd. - Gajdosova/AUS d. Kerber/GER
...4-6/6-2/6-4. It sort of gets lost in what came after, but let's not forget that this was a hell of a result for Gajdosova. Usually, it's the Aussie Fed Cup stars who get upset on home soil, not the other way around.


=============================





=ZONES=


1. Europe/Africa I Pool - Krunic/SRB d. Babos/HUN
...7-6(6)/0-6/7-6(5). The smallest player on the court always has the biggest heart when Krunic is around. She came back from a break down in the 3rd to defeat an Hungarian player in Budapest to lock away advancement to the promotional playoff. Shame on the Serbian Federation if Krunic doesn't have a role in every FC tie for as long as she desires to take part for at least the next five years.


=============================


2. Europe/Africa I Pool - Azarenka/BLR d. Pironkova/BUL
...6-3/2-6/7-5. Azarenka's first FC action since 2011, delayed a day because of her lost luggage, was a tricky one as the Weeping Angel threatened to turn her to stone. It didn't happen, though. Vika overcame a 3-0 3rd set deficit, helped by Pironkova's missed volleys up 4-3, deuce and 5-6, 15/15.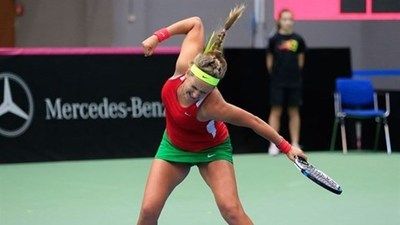 =============================


3. Europe/Africa I Pool - Rae/Smith (GBR) d. Savchuk/Svitolina (UKR)
...6-7(6)/7-5/6-4. With the tie wrapped up, Rae & Smith needed to just win one set in order to distance the Brits from Turkey and win the Pool. But after getting to within two points of doing so at 5-5 in the 1st set tie-break they dropped the set and soon found themselves down match point at 7-6/5-4, 40/30. They saved things on a crazy match point that included great defense from Smith and a stretching overhead backhand volley, then went on to edge out the Ukrainian pair.


=============================


4. Asia/Oceania I Pool - Shvedova/KAZ d. Plipuech 6-7(3)/7-5/6-2
Asia/Oceania I Promotional Playoff - Nara/JPN d. Shvedova/KAZ 2-6/7-6(4)/6-2
...#51-ranked Shvedova, a Top 25 player a little over two years ago, can save two match points against the #493-ranked Thai, but she can also fail to convert a match point against world #44 Nara in a clinching match in the Promotional Playoff. That's sort of the story of Shvedova's career, which seems like it will never amount to what most once thought it probably would have by now.


=============================


5. Europe/Africa I Promotional Playoff - Jorovic/SRB d. Konjuh/CRO
...6-3/2-6/7-5. A secondary Serbian Good Luck Charm? Hey, she learned from the original.




=============================


6. Europe/Africa I Pool - Buyukakcay d. Svitolina 6-3/4-6/6-0
Europe/Africa I Pool - Buyukakcay d. Watson 6-2/3-6/7-5
...I guess I finally got it into my head exactly how to consistently spell Buyukakcay's name just in time, huh?


=============================


7. Americas I Pool - M.Gonzalez/Cepede Royg (PAR) d. V.Rodriguez/Zacarius (MEX) 6-3/3-6/6-3
Americas I Promotional Playoff - M.Gonzalez/Cepede Royg (PAR) d. Goncalves/Pereira (BRA) 6-3/6-3
...if they played soccer, they'd likely already be South American legends.


=============================








=============================


1. WG 1st Rd. - Sharapova d. Urszula Radwanska 6-0/6-3
WG 1st Rd. - Sharapova d. Aga Radwanska 6-1/7-5
...I hope you-know-what won't be storing this up and using it for inspiration to devise a ultimate plan against you-know-who you-know-when and you-know-where.


=============================


2. WG II 1st Rd. - Venus Williams d. Ormaechea 6-3/6-2
WG II 1st Rd. - Serena Williams d. Irigoyen 7-5/6-0
WG II 1st Rd. - Venus Williams d. Irigoyen 6-1/6-4
...this is about as Mary Joe-proof as the U.S. team can get, at least until Madison Keys and "A Player to Be Named Later" become FC beasts down the road. Oh, if only they could hold the Olympics every TWO years and, you know, the Sisters could never age.


=============================


3. $25K Glasglow Final - Kristyna Pliskova d. Ana Bogdan
...6-2/6-2. Karolina wasn't the only Pliskova hitting high notes this weekend. Kristyna won her sixth career ITF singles title.


=============================








**OVERALL FED CUP TITLES**


17...United States
6...Australia
5...Czechoslovakia
5...Spain
4...Italy
4...Russia
3...Czech Republic
2...France
2...West Germany/Germany
1...Belgium
1...Slovak Republic
1...South Africa


[2000's]


4...Italy
4...Russia
2...Czech Republic
1...Belgium
1...France
1...Slovak Republic
1...United States


[2010's]


3...Czech Republic
2...Italy



=2015 Semifinals=


Czech Republic vs. France
Russia vs. Germany


=World Group I Playoffs=


Australia
Canada
Italy
Netherlands
Poland
Romania
Switzerland
United States


=World Group II Playoffs=


Argentina
Belarus
Japan
Paraguay
Serbia
Slovak Republic
Spain
Sweden



*WORLD GROUP COMEBACKS FROM 0-2 DEFICIT*


1996 WG II 1st Rd. - Australia def. Canada(H)
1999 WG II 1st Rd. - Austria(H) def. Australia
2004 WG 2nd Rd. - Spain(H) def. Belgium
2011 WG 1st Rd. - Russia(H) def. France
2013 WG II 1st Rd. - Sweden def. Argentina(H)
2013 WG Semifinal - Russia(H) def. Slovak Republic
2015 WG 1st Rd. - France def. Italy(H)


Vika seems to be handling the whole Sumyk thing rather well, I'd say.




ANTWERP, BELGIUM (Premier $731K/hard indoor)


=Last held in 2008: Justine Henin champion=
14 Paris Indoors Final/February: Pavlyuchenkova d. Errani
14 Paris Indoors Doubles Final/February: Groenefeld/Peschke d. Babos/Mladenovic
15 Top Seeds: Bouchard/Kerber
=============================


=SF=


#3 Petkovic d. Barthel
#2 Kerber d. #4 Safarova


=FINAL=


#3 Petkovic d. #2 Kerber

...the annual Paris Indoors has been replaced on the schedule by the returning Diamond Games in Antwerp, last held in 2008. So, this is probably the final time we'll ever be able to say that LPT is the "reigning champion" of a tour event. Bouchard is the #1 seed, in her first outing with Sam Sumyk. She could have a very tricky first match, though, if Barthel (the Paris Indoors champ in '13) is there in the 2nd Round. Can Petkovic carry over her Stuttgart momentum and use her FC starring role to finally get her '15 WTA campaign rolling? And what about Ka.Pliskova, who'll have to head to Europe from Canada with no rest (or a bye in the 1st Round, it should be noted, unlike either Petko or Kerber)? I'll go with the German teammates becoming opponents, and Kerber, as is usually the case, coming up second-best in a singles final.





PATTAYA CITY, THAILAND (Int'l $250K/hard outdoor)


14 Final: Makarova d. Ka.Pliskova
14 Doubles Final: Peng/Sh.Zhang d. Kudryavtseva/Anr.Rodionova
15 Top Seeds: Peng/Svitolina
=============================


=SF=


#4 Nara d. #7 Puig
#3 Diyas d. (WC) Zvonareva


=FINAL=


#3 Diyas d. #4 Nara

...an interesting mix of players who were stars in this past week's FC action (Nara, Gajdosova), were around mostly just to watch (Peng) or who played well but were on the sidelines right when things became important (Diyas), so how any will react days later is always a question. I'll go with Diyas to get her maiden title, possibly picking up on the momentum from her last match, a double-bagel win in zone pool play last week.


All for now.