Wk.7- For Halep, Happiness was Just a Hump Away
Have camel. Will travel.
Whatever has been ailing Simona Halep in recent weeks and months may have been nothing but something that a brief ride on a camel could fix.




Over the past two years, as she's transformed from a talented Top 50 player into a would-be slam champ, Halep has often come off as an inveterate problem-solver on court and a level-headed and even-tempered individual off it. She made an unexpectedly quick rise up the rankings in 2013 while largely playing without a full-time coach, then parted ways with coach Wim Fissette after just one season even after the Belgian had been on watchtower duty while the Romanian climbed to #2 in the world and reached the Roland Garros final in 2014.

In the last few months, even as she's maintained her standing on tour, she's sometimes been revealed as still being a "work in process" as she's been forced to learn to deal with increased expectations and commitments, and the inherent stress that comes with both.

Beginning with the aftermath of her whitewash of Serena Williams -- the world #1's worst-ever loss -- in the WTA Finals round robin at the end of '14, something has been noticeably off with Halep. She limped off -- not literally, but figuratively... mentally, at least -- in her rematch with Williams in the final in Singapore. Then, in Melbourne, she failed spectacularly in the quarterfinals against Ekaterina Makarova, as she was frustrated by the Russian's game and seemed to want to get away as quickly as possible. Thanks to her own play, that's precisely what happened, too. A week later, in Fed Cup action, she was blasted off the court by Garbine Muguruza in front of a home crowd and the Swarmette team had to be bailed out by the play of the likes of Irina-Camelia Begu and Monica Niculescu rather than live or die based on the two singles results put up by the nation's #1-ranked player.

It's what's happened after matches, though, that has singled out Halep's issues. To her credit, she's been open about it, something which some players might avoid in public. Saying that she "felt the expectation that everyone was waiting for me to win," she admitted that there was a problem. Or she at least copped to the symptoms, noting that her legs sometimes freeze and become heavy in big moments, preventing her from getting to balls and destroying the advantage that her footwork, speed and great defensive skills give her on a match-in and match-out basis on tour. It's certainly seemed to be a classic case of a player, no matter how much she's already accomplished, trying -- and failing, on a small scale that threatened to become a bigger one -- to stay a step ahead of the expectatation game brought about by her own success. It's a moment in a rising player's career when winning matches is no longer the sole focus of their routine, and not winning them ALL at any particular event is considered a disappointment.

It's a real culture change.

In Halep's case, the vultures have been peering over her shoulder in '15, as well. Her dismissal of Fissette in favor of Romanian coach Victor Ionita raised more than a few eyebrows, even as she admitted to being a particularly "picky" player who is sometimes difficult to coach, but who feels more comfortable with an all-Romanian team around her. After her losses in Melbourne and Fed Cup play, as the #1 seed in the season's first big Premier level event in Dubai, Halep once again was forced to stare down the demons that have been nipping at her heels.

Over the past week, Halep clearly blinked in the face of it all, but she never stumbled and, soon, she regained her focus.

First up was a rematch of that troubling match against Makarova in the quarterfinals. After taking the 1st set, Halep dropped the 2nd at 6-1, then saw her 5-3 lead in the 3rd evaporate into a 5-5 tie. But, after failing on four match point attempts, she finally broke the Russian to secure the match. A round later, she lost the 1st set to Caroline Wozniacki, then allowed the Dane just two games in the final two sets. In the final against Karolina Pliskova, the stress of the situation nearly pulled her down again. But, once more, Halep fought it off. After twice failing to serve out the match, holding match points in back-to-back service games and double-faulting two times in a row to take the 2nd set into a tie-break, the Romanian stormed back from 4-3 down to take the set with a smartly executed wide serve that produced a stretching forehand return from the Czech that was easily put away at the net by Halep to claim the title via a 6-4/7-6(4) final score.

It's yet another big step in the right direction for The Pride of Romania's career.

Outside of the series of niggling injuries that slowed her at times last season, her stressful reactions to big moments in recent months have produced the first real lingering doubts about Halep's ability to remain at the top of the game. Over the past two years, she's almost systematically knocked down all the other questions posed to her, from being able to win bigger and better titles and having her slam breakthrough, to defeating top players on big stages. Other than winning a major (though she came close vs. Maria Sharapova in Paris last year), there's nothing that she hasn't done at age 23.

As things stand, even with her stated issues, Halep is 15-2 this season and is the first player to grab a second singles title -- and it came at the biggest non-slam event of the first two months. With all the questions that were facing the Romanian both before and during the week in Dubai, it's easy to forget that.

Yes, it suddenly becomes a very different world when a player reaches the top rungs of the WTA ladder. Some handle things well, ala a Sharapova, when the atmosphere changes. Some, umm, don't. Hello, AnaIvo and Petra. Halep hasn't yet won a slam title, but as her nation's best bet to do so in multiple generations she's been put under a similar microscope even without the accompanying photos of her hugging some shiny piece of historic hardware.

That day will come, though. Eventually. Maybe even soon.

What Halep has been experiencing, and managing to deal with and succeed in spite of, can only help her deal with all that will come her way when her destiny TRULY meets her reality. Weeks like the last one in Dubai might just cause her to look back, and inward, and confidently say to herself, "Yeah, I can handle this."

And then we'll see what she can REALLY do.



*WEEK 7 CHAMPIONS*
DUBAI, UAE (Premier $5.13m/HCO)
S:

Simona Halep/ROU def. Karolina Pliskova/CZE 6-4/7-6(4)


D:

Timea Babos/Kristina Mladenovic (HUN/FRA) d. Garbine Muguruza/Carla Suarez-Navarro (ESP/ESP) 6-3/6-2
RIO de JANEIRO, BRAZIL (Int'l $250K/RCO)
S:

Sara Errani/ITA def. Anna Schmiedlova/SVK 7-6(2)/6-1


D:

Bonaventure/Peterson (BEL/SWE) d. Begu/Irigoyen (ROU/ARG) 3-0 ret.

.@Simona_Halep wins 10th career #WTA title at @DDFTennis & 2nd title of 2015--> http://t.co/lFg3sIiDt6 #tennis pic.twitter.com/wFnfJXY5SI

— WTA (@WTA) February 21, 2015



PLAYER OF THE WEEK:

Simona Halep/ROU


...days after ending her consulting relationship with Thomas Hogstedt, Halep went about righting the little that has gone wrong (though when it has it's done so "loudly") with her '15 season in Dubai. Wins over Daniela Hantuchova and Tsvetana Pironkova set up a rematch of her AO QF loss to Ekaterina Makarova. After going three sets there, she came back from a set down to defeat Caroline Wozniacki to advance to her thirteenth tour singles final in less than two years. After finally closing out Karolina Pliskova in the final to grab her tenth title over that same less-than-two-year stretch, Halep moved to within two titles of matching all-time Romanian leader Virginia Ruzici (Halep's current manager) as her Melbourne fade moves into the background, along with those questions about changing coaches and her ability to handle the stress of her still-new position in the sport's hierarchy. Well, at least until she loses another big match, that is. Hey, Simona, them's the breaks. At least now you know, and can adjust accordingly.


=============================



HIGHLIGHTS from @KaPliskova's nearly 3hr 3-set win over Muguruza in @DDFTennis SFs--> http://t.co/S5fSgbTAf7 #WTA pic.twitter.com/7mzaptIuwe

— WTA (@WTA) February 20, 2015



RISERS:

Karolina Pliskova/CZE & Garbine Muguruza/ESP


...Pliskova's tear continued in Dubai, as the Czech reached her seventh final in the past twelve months (second in '15), and her biggest yet. Playing on her fourth continent in four weeks, Pliskova was tiring and calling a trainer by the time she was finally taken out by Simona Halep in the final, but only after putting up four Top 40 (three Top 25) wins over the likes of Anastasia Pavlyuchenkova, Barbora Zahlavova-Strycova, Ana Ivanovic and Garbine Muguruza. Muguruza ultimately lost in that singles semi to Pliskova, and she and Carla Suarez-Navarro advanced to the doubles final before losing there, but her week in Dubai was still another example of how the Spaniard has become one of the most lethal double threats on tour at just age 21. Wins over Jarmila Gajdosova, Jelena Jankovic, Aga Radwanska (Garbi's now 2-0 vs. A-Rad since being put in her place -- at least her place at that time -- by the Pole in Melbourne last year) and doubles partner CSN put Muguruza into her first semifinal of '15. She seems to be on a very swiftly moving elevator to, quite possibly, the Top 10 by the end of the year (she'd be the first Spaniard to debut there in twenty-six years), but her one nagging issue this season has been a failing to get off the court quickly. She dropped the opening set of three of her five matches in Dubai, managing to overcome it twice before it was a bridge too far in the SF against Pliskova. In fourteen matches this season Muguruza is 11-3 and has yet to lose in straights, but eight matches have gone the distance. She's 6-0 in two-set matches, but 5-3 in those three-setters.

No me voy con las manos vacías!! I am not leaving with empty hands!! #ThanksDubai @DDFTennis :) pic.twitter.com/IP6Uxncjys

— Garbiñe Muguruza (@GarbiMuguruza) February 21, 2015



=============================




SURPRISES:

Johanna Larsson/SWE & Rebecca Peterson/SWE


...go figure that the Swedish contingent would perform so well in the heat in Rio. Larsson, 26, reached the singles semifinals with wins over Maria-Teresa Torro-Flor, Gabriela Ce and Dinah Pfizenmaier. It's Larsson's best tour result since the last time she played in South America, reaching the Bogota final last Bogota. Meanwhile, 19-year old Peterson won her first WTA doubles title (w/ fellow first-time winner Ysaline Bonaventure), outlasting defending Rio champs Begu/Irigoyen, who retired after just three games in the final.


=============================



Settimana dura, settimana sofferta....giorno dopo giorno lottando con tutto quello che avevo dentro...#RioOpen2015 #?? pic.twitter.com/GLBDbvyI4B

— Sara Errani (@SaraErrani) February 22, 2015



VETERANS:

Sara Errani/ITA & Carla Suarez-Navarro/ESP


...before last week, Errani hadn't reached a tour singles QF since the U.S. Open. But after saving three match points in the Rio QF on Friday, she went on to take her first tour singles title in nearly two full years. Errani's eighth career title -- after wins over Teliana Pereira, Lourdes Dominguez-Lino, Beatriz Haddad Maia (she had the 3 MP), Johanna Larsson and Anna Schmiedlova -- will lift her back to within shouting (and nearly touching) distance of the Top 10 at #12 in the new rankings. She also took her best Rafa-esque bite out of the trophy in the post-match ceremony. Suarez-Navarro had a great week in Dubai, even if it didn't included a great finish in either singles or doubles. CSN put up wins over Camila Giorgi and Petra Kvitova before taking Garbine Muguruza to three sets in the QF, then she joined with doubles partner Muguruza to reach the final before losing to Babos/Mladenovic. The Spanish pair have reached four finals in the last nine months and have edged close to the doubles Top 10, but have so far only claimed one title as a duo.


=============================




COMEBACK:

Sofia Arvidsson/SWE


...Arvidsson, 31, took a secondary role a few weeks ago in Sweden's Fed Cup action after a career of workhouse active for her country. Back as a solo act, she picked up the title at the $25K challenger in Surprise, Arizona this weekend. It's her nineteenth ITF title, but her first since 2010 (she won her only WTA title since '06 in Memphis three years ago). Her title run in Surprise featured victories over a slew of younger opponents, including Michaela Gordon (15), Johanna Konta (23), CiCi Bellis (15) and Sanaz Marand (an "ancient" 26) in the final.


=============================




FRESH FACES:

Anna Schmiedlova/SVK & Beatriz Haddad Maia/BRA


...Slovak Schmiedlova followed up her Fed Cup success, where she ended Kiki Bertens' FC winning streak, with the best week of her career in Rio. The 20-year old reached her first career tour level singles final with wins over Alison Van Uytvanck, Romina Oprandi, Veronica Cepede Royg and Irina-Camelia Begu. World #234 Haddad Maia, 18, reached her first career WTA QF in the same event in her native Brazil, taking her wild card into the draw and turning it into victories over Maria Irigoyen and Polona Hercog. She held match points against eventual tournament champ Sara Errani in that QF match, but failed to convert any of her three opportunities and eventually retired after three games in the 3rd set after cramping in the harsh heat.


=============================




DOWN:

Jelena Jankovic/SRB & Peng Shuai/CHN


...after having to go three sets last weekend to get past qualifier Timea Babos in the 1st Round in Dubai, JJ saw her singles ranking fall out of the Top 20 for the first time in 97 weeks last Monday. She then won just four total games against Garbine Muguruza in her next match. JJ is 1-3 this season and hasn't won multiple matches in an event since the U.S. Open, going 3-8 in her last eleven. Peng lost in the singles 2nd Round in Dubai to Tsvetana Pironkova, and also dropped her only doubles outing with Kveta Peschke. Peng, still the #3-ranked doubles player, is now 1-3 in doubles in '15. She's 0-3 in tour level events, with her only doubles victory coming in Fed Cup zone action since losing the WTA Finals championship in her goodbye match with former partner Hsieh Su-Wei, who also hasn't fared nearly as well (3-3) in '15 with Sania Mirza, either.


=============================




ITF PLAYER:

Olga Govortsova/BLR


...Govortsova, 26, was the #8-seed in the $50K Kreuzlingen challenger, in which she took down #3 Romina Oprandi and #6 Kristyna Pliskova before defeating qualifier Rebecca Sramkova (yet another Czech!) 6-2/6-1 in the final. It's the Belarusian's first ITF title since 2012, and just her second since the start of the 2008 season. She's gone 0-4 in WTA singles finals during the stretch. It's Govortsova's fourth career ITF win.


=============================




JUNIOR STAR:

Jelena Ostapenko/LAT


...the 2014 Wimbledon girls champ has won six $10K challenger titles in the past, but her semifinal run in the $50K Kreuzlingen event was her best result at an event so large. The 17-year old Latvian also reached the doubles semis with Vesna Dolonc.


=============================



Career doubles ?? #10 ?????? pic.twitter.com/BCHaqg9IOW

— Kristina Mladenovic (@KikiMladenovic) February 21, 2015
KIIIIIIKKKKKKKIIIIII @KikiMladenovic ?????? Well done girls !!!!!! Hugsss & ?? #Dubai #DoublesChampion2015 !!!

— Michaella Krajicek (@MisaKrajicek) February 21, 2015



DOUBLES:

Timea Babos/Kristina Mladenovic (HUN/FRA) and Lyudmyla Kichenok/Nadiia Kichenok (UKR/UKR)


...friends since they were 10, Timea & Kiki finally have some tangible engraved evidence of their ongoing relationship as they combined to win the Dubai title -- their first as a duo -- after reaching four finals together in '14 but failing to win any crown. They defeated the teams of Garcia/Srebotnik and Muguruza/CSN in their final two matches, as Mladnovic picked up her tenth career WTA title and Babos grabbed #8. Overall, at all professional levels, Mladenovic has now won nineteen doubles/mixed titles with fourteen different partners. The Kichenok sisters won their first tour level doubles title in Shenzhen earlier this season, but were back on their old familiar stomping ground last week in the $50K challenger in Kreuzlingen, Switzerland. The pair defeated the team of Foretz/Ramialson to win their eighteenth ITF title (in their 37th final) as a team, with Lyudmyla winning her 24th career challenger and Nadiia #21.


=============================






1. Rio QF - Errani d. Haddad Maia
...3-6/7-6(2)/3-0 ret. The young Brazilian led 6-3/5-3, holding two match points at 5-3 and then another at 6-5 in the 2nd set.


=============================


2. Dubai 2nd Rd. - Safarova d. Dellacqua
...6-7(6)/7-6(4)/7-5. Dellacqua overcame a Safarova set point in the 1st, and eventually led 7-6/6-5 before the Czech won a five-deuce game to break serve and force a tie-break. Things remained close the rest of the way, but the moment turned the match.


=============================


3. Dubai 3rd Rd. - Suarez-Navarro d. Kvitova
...6-3/4-6/6-3. Kvitova follows up her loss at the hands of Madison Keys in Melbourne with an upset against another Top 20 player in her second match at her next event. The Czech had been 5-1 against Suarez-Navarro before this defeat.


=============================


4. Dubai QF - Halep d. Makarova
...6-3/1-6/7-5. Makarova got back on serve late in the 3rd, but Halep beat back the Hordette -- along with the pressure, as well as her own stress -- by breaking serve to win the match on her fifth match point in the final game.


=============================


5. Dubai QF - Muguruza d. Suarez-Navarro
...6-7(4)/6-3/6-3. Don't worry -- the two went out and won a doubles match as a team later in the day. They'll also face off in the 1st Round in Doha.


=============================


6. Dubai 1st Rd. - Dellacqua/Stosur d. Gajdosova/Lisicki
...6-3/6-4. An Australian/German Fed Cup reunion. But this time, with a 3-to-1 advantage, the Aussies were assured of tasting victory. Elsewhere... Aussie "squabbles":

It was all happening at White Night ?? pic.twitter.com/bOfFyXTDpQ

— Storm Sanders (@stormsanders94) February 22, 2015
@stormsanders94 come on Stormy! Stop taking selfies with Loughie! Get someone to take a proper pic of you two ????

— Daria Gavrilova (@Daria_gav) February 22, 2015



=============================


7. Dubai 2nd Rd. - Diyas d. Petkovic
...7-5/6-3. After an amazing two weeks, Petko's "legs were like gummy balls" in the loss that ended her five-match winning streak.


=============================


8. Acapulco Q1 - Makoto Ninomiya d. Date-Krumm
...6-7(6)/6-2 ret. The 20-year old, #624-ranked Japanese woman makes her way past her fortysomething countrywoman/legend.


=============================


9. Doha Q1 - Schiavone d. Bencic 6-7(4)/6-2/6-2
Doha Q2 - Voegele d. Schiavone 6-2/6-3
...the veteran Italian beat up on the teen Swiss Miss, but Bencic's countrywoman had her back a round later.


=============================


10. Doha Q1 - Savchuk d. Mladenovic 7-6(4)/6-0
Doha Q2 - Kozlova d. Babos 6-2/6-4
...no rest for the wickedly successful. A day after they'd won the doubles title in Dubai, Mladenovic and Babos had already been sent out in the singles qualifying in Doha. Babos had to double-up and play two matches on Sunday to catch up with the Q-draw after her late arrival in Qatar.


=============================


11. $25K Altenkirchen Final - Carina Witthoeft d. Antonia Lottner
...6-3/6-4. The two young Germans faced off in Germany for a challenger title, with 20-year old Witthoeft picking up career win #9 in the same week she'd reached her career-high ranking of #88 last Monday.


=============================


12. $25K Cuernavaca Final - Marcela Zacarius d. Nina Stojanovic
...6-3/6-2. The Mexican woman wins her seventh career ITF singles title, as well as her ninth in doubles (her fifth with partner Victoria Rodriguez).


=============================


HM- $25K Surprise 2nd Rd. - CiCi Bellis d. Susanne Celik
...1-6/7-6(6)/2-2 defaulted. The Swede led this one 6-1/5-1 and had multiple match points, only to eventually be defaulted when she slammed a ball and it traveled into the next court and hit the umpire in the face. Whoops.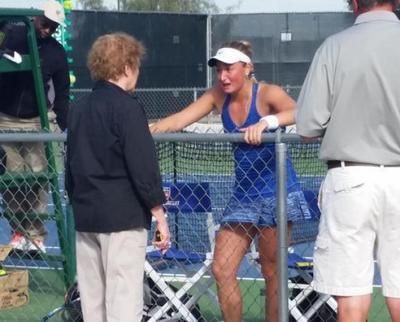 =============================




Meanwhile, on Caro Corner... a little sandboarding was on the agenda.


What's up @CaroWozniacki, just doing a little sandboarding in Dubai--> http://t.co/qKIMsShE6b #WTA #DDFTennis pic.twitter.com/VWDOrMyyhZ

— WTA (@WTA) February 16, 2015


1. Dubai Final - Halep d. Karolina Pliskova
...6-4/7-6(4). The Swarmette wobbled, but she ultimately stood tall. Halep twice served for the match in the 2nd set, holding a MP in both games. On her second MP, she double-faulted, then did it again a point later as she and Pliskova combined for six straight breaks of serve heading into the tie-break. Pliskova led 4-3 and threatened to push things to a 3rd, but three straight errors by the Czech gave Halep her third MP. A big wide serve set up a title-winning put-away at the net as the player with the second-most (15) wins on tour in '15 took out the player with the most (17).

And one selfie with the trophy!didnt win a title,sorry guys i try next time?? #DDFTennis #happyanyway #LoveDubai pic.twitter.com/rBnSIGd37V

— Karolina Pliskova (@KaPliskova) February 21, 2015



=============================


2. Rio Final - Errani d. Anna Schmiedlova
...7-6(2)/6-1. Sisters and finals just didn't mix well in Week 7.


=============================


3. $50K Kreuzlingen Final - Lyudmyla Kichenok/Nadiia Kichenok d. Foretz/Ramialison
...6-3/6-3. Well, unless you were a Kichenok, that is.


=============================


4. Dubai QF - Karolina Pliskova d. Safarova
...3-6/7-6(5)/6-1. Safarova led 6-3/3-1, but Pliskova still pushed her record vs. Czechs not named Kvitova to 4-0 over the last two seasons. For the record, she's 0-2 when she's faced a certain Kvitova over the same period.


=============================


5. Dubai 2nd Rd. - Anastasia Rodionova/Arina Rodionova d. Hingis/Pennetta
...6-3/7-6(2). A big win for the sisters, who faced off with each other in singles qualifying in Dubai, even if their week didn't end with a title as a result.


=============================


HM- Acapulco Q1 - Ula Radwanska d. Naomi Osaka 6-1/6-4
Acapulco Q2 - Chirco d. Ula Radwanska 6-7(2)/6-1/6-0
...a Radwanska invaded North America, but a Bannerette stepped in to keep the threat outside the U.S. border.

.@ARadwanska showing us how high she can jump while still smiling or maybe she's celebrating? You decide... #WTA pic.twitter.com/eMgtJLT8st

— WTA (@WTA) February 22, 2015

Hey, what's SHE so excited about? Hmm... uh-oh.


=============================


HM- Dubai 1st Rd. - Erakovic/Watson d. Chan Hao-Ching/Chan Yung-Jan
...6-4/2-6/13-11. Yeah, I could say that I'm including this one because it involved the Chan sisters, or because Erakovic/Watson saved a MP at 9-8 in the match tie-break. But, really, it's here just so that I could show a picture of Watson taking a bath in a sink:

My dad used to give me my baths in the sink because it was just the perfect size ???? #tbt #babyhev #happy pic.twitter.com/h1JtXS5hVX

— Heather Watson (@HeatherWatson92) February 19, 2015
=============================
Vika, still breaking the rules and proud of it!
Someone asked me today if I need some help with learning left and right side ?????? #IObviouslyGotIt #ImDifferent pic.twitter.com/oCtwbduCet

— victoria azarenka (@vika7) February 18, 2015
And aren't we...
Good night ?? #thankful for you pic.twitter.com/LNmrT8833Q

— victoria azarenka (@vika7) February 21, 2015
Meanwhile...
Welcome to the team Wim! @wimfissette pic.twitter.com/LSYTAWsvxH

— victoria azarenka (@vika7) February 17, 2015




**WTA SINGLES TITLES - since 2012**


26...Serena Williams [7/11/7/1]
10...SIMONA HALEP [0/6/2/2]
10...Maria Sharapova [3/2/4/1]
9...Victoria Azarenka [6/3/0/0]
8...Petra Kvitova [2/2/3/1]
7...Aga Radwanska [3/3/1/0]
6...SARA ERRANI [4/1/0/1]



**WTA FINALS - since 2012**


28 - Serena Williams (26-2)
21 - Maria Sharapova (10-11)
16 - Victoria Azarenka (9-7)
14 - SIMONA HALEP (10-4)
12 - SARA ERRANI (6-6)
11 - Petra Kvitova (8-3)
11 - Aga Radwanska (7-4)
11 - Li Na (4-7) -ret.
11 - Angelique Kerber (3-8)
10 - Caroline Wozniacki (4-6)
8 - Ana Ivanovic (4-4)
8 - KAROLINA PLISKOVA (3-5)



**MOST WTA TITLES - ROMANIANS**


12 - Virginia Ruzici (1975-85)
10 - SIMONA HALEP (2013-15)
4 - Irina Spirlea (1994-98)
4 - Ruxandra Dragomir (1996-97)



**2015 TOP SEEDS WON TITLE**


Shenzhen - Simona Halep, ROU
Brisbane - Maria Sharapova, RUS
Sydney - Petra Kvitova, CZE
Australian Open - Serena Williams, USA
Dubai - Simona Halep, ROU
Rio - Sara Errani, ITA



**2015 FIRST-TIME FINALISTS**


Hobart - Madison Brengle (#84, 24/USA) (L)
Pattaya - Ajla Tomljanovic (#68, 20/AUS) (L)
Rio - Anna Schmiedlova (#75, 20/SVK) (L)



**CAREER CLAY TITLES - active**


11...Serena Williams, USA
10...Maria Sharapova, RUS
10...Anabel Medina-Garrigues, ESP
7...SARA ERRANI, ITA
7...Flavia Pennetta, ITA
7...Venus Williams, USA
6...Jelena Jankovic, SRB
5...Francesca Schiavone, ITA
5...Roberta Vinci, ITA



**2015 ITF TITLES - NORTH AMERICANS**


2 - Sachia Vickery, USA
1 - Usue Arconada, USA
1 - Gloria Liang, CAN
1 - Marcela Zacarius, MEX


It was birthday week on the WTA tour -- in both new and classic forms.


Happy Birthday to #WTA Rising Star @Madison_Keys ?????? http://t.co/Rb8Yq3Wc6h #tennis pic.twitter.com/M0ZkE46hlm

— WTA (@WTA) February 17, 2015
Happy Birthday to 4-time #FedCup champion Hana Mandlikova who is 53 today! pic.twitter.com/uxgzu3uKp8

— Fed Cup (@FedCup) February 19, 2015





DOHA, QATAR (Premier $731K/HCO)


14 Final: Halep d. Kerber
14 Doubles Final: Hsieh/Peng d. Peschke/Srebotnik
15 Top Seeds: Kvitova/Wozniacki
=============================


=SF=


#1 Kvitova d. #6 Petkovic
#7 V.Williams d. (WC) Azarenka


=FINAL=


#7 V.Williams d. #1 Kvitova

...Halep's weekend withdrawal prevents a possible To-Wim-or-Not-to-Wim (as in Fissette, that is) QF meeting between Vika and Halep. This is the fourth time Kvitova and Halep have appeared as the top two seeds in the original draw of an event this season. Halep has pulled out twice and won two titles, while Kvitova won at the other event. So maybe Petra will win her second this week, too?. The draw could open up for Azarenka here without Halep in the bottom half, but she'll still have Kerber in the 1st Round and could get an AO rematch with Wozniacki in the QF. They've already checked out the competition in Doha... though they didn't know it at the time.


.@CaroWozniacki & @Vika7 Azarenka do a quick interview before heading into tonight's @QatarTennis player party. #WTA pic.twitter.com/Ka2qrh5VF2

— WTA (@WTA) February 22, 2015



ACAPULCO, MEXICO (Int'l $250K/HCO)


14 Final: Cibulkova d. McHale
14 Doubles Final: Mladenovic/Voskoboeva d. Cetkovska/Melzer
15 Top Seeds: Sharapova/Errani
=============================


=SF=


#1 Sharapova d. #3 Garcia
#2 Errani d. Krunic


=FINAL=


#1 Sharapova d. #2 Errani

...yeah, I'm pushing Krunic ahead here based as much on "hope" as anything else, but after I've missed as many picks in this space as I already have this season, what's the harm? Anyway, Sharapova is the heavy favorite in this event, as it's one of the few $250K events she'll be called upon to play. If I don't get THIS pick right, then I'll have to consider just (literally) picking a winner out of a hat next week.

And, of course, Genie just HAS to get her face in here somewhere. See?


Highlight of the night... Photobombing Queen B pic.twitter.com/Ed2kxtwFWy

— Genie Bouchard (@geniebouchard) February 16, 2015



All for now.