RG.3- A Czech's Tale *
Good Petra. Bad Petra. Happy Petra. Still Alive Petra.
And on Day 3, that'll have to do.
Petra Kvitova battles through in three sets at the French Open http://t.co/5kq9rGBjvS pic.twitter.com/GSy8nPlev3

— BBC Sport (@BBCSport) May 26, 2015


#4-seed Petra Kvitova, who won the Madrid title just a couple of weeks ago, entered this Roland Garros with seemingly the "best" draw of the Top 4 seeds. Of course, such a thing is relative, as any player -- even a dangerous-but-inconsistent, will-she-or-won't-she type player like the Czech's Kiwi foe today, Marina Erakovic -- can pose a serious threat under the right circumstances. Of course, with Kvitova also inserted into the equation, the chances for head-shaking craziness on the scoreboard increase with double-digit intensity as far as percentages go.

Today was another case of just that. Though, this time, a teetering Petra managed to swerve away from the edge of defeat for at least one round in Paris.

Erakovic, a Split, Croatia-born New Zealander who's actually won a tour singles title (and reached three other finals since 2011) generally tends to not do as well as one would expect, then suddenly she'll rise up and make everyone wonder why she doesn't do it more often. One of two players representing New Zealand to have ever reached the WTA Top 50, she came to Paris with five Top 20 wins in her career and five Top 100 season finishes over the last seven years. Still, the 27-year old has advanced to the 3rd Round of a slam just twice (both times in '13) since going so in just her second career slam MD at Wimbledon in 2008. Kvitova, of course, is a two-time Wimbledon champion who nearly became #1 back in 2012. A slam semifinalist at both the Australian Open and Roland Garros (both also in '12), she's proven that she CAN compete and challenge to win major titles somewhere other than at the All-England Club. If she can just get out of her own way.

She barely did on Day 3, as Erakovic has every reason to believe that she probably should have scored an upset that would have matched her best-ever victory (matching her win over then #4 Vika Azarenka at Stanford in '11). The Kiwi had big chances against the Czech, and (with a lot of help from the all the errors coming off Kvitova's racket) gave Petra all she could handle.

In th 1st set, Erakovic led 4-2, with a break point for a 5-2 advantage. But Kvitova surged back to take the final four games and claim the set. In the 2nd, Erakovic jumped ahead quickly again and knotted the match by taking the set at 6-3. In the 3rd, she looked to possibly be on her way to handing Kvitova her first opening match loss in Paris since 2010 after the Czech twice went up a break and immediately gave back the advantage both times. With Erakovic serving to take a 5-4 lead, Kvitova -- with accompanying celebratory barks -- strung together back-to-back, beautifully constructed points that ended with winners to gain a break and edge ahead for the third time in the set.

Whether the moment broke Erakovic's final line of defense, or Kvitova simply finally began to play up to her talent level, the match was over in a flash after that. Kvitova held at love to win the match, though the Kiwi actually held the overall points advantage (109-106) once the red dust had settled on Chatrier. Kvitova's 47 unforced errors nearly sent her packing, but her 38 winners (to 24 for Erakovic) saved her skin.

The 6-4/3-6/6-4 victory is Kvitova's fifth match win in Paris since she won five en route to the semifinals there three yearas. She's 9-2 on clay this season, while Erakovic drops to 10-12 overall in '15.

Bring on the 2nd Round. I guess.









=DAY 3 NOTES=
...well, the not-for-the-faint-of-heart 1st Round match-up between Jelena Jankovic and Sesil Karatantcheva did indeed come loaded with drama, just not as much as one would have hoped. Mainly because it didn't last long enough for things to get truly sticky.


Jankovic-Karatantcheva is even messier than I had anticipated. #thundervsglitter

— René Denfeld (@Renestance) May 26, 2015


Still, their meeting was literally a decade in the making, as their only past match-up took place on the Kremlin Cup carpet in Moscow in 2005. Karantcheva won 6-2/6-1 then, and followed up with a 6-3/6-4 win today over the #25 seed.

JJ, who turned 30 in February, came into this match dragging along a recent injury history that stretches back to either last season, when she was troubled by a bad back, or to her results since her run to the Indian Wells final in March. Since then, she's pulled out of the 2nd Round in Charleston and retired in the QF of Strasbourg, falling out of the Top 20 and even briefly causing a stir today when it was wrongly reported that she'd called a press conference and some thought she was about to pull out of this tournament, as well.


Oops. It's announced Jelena Jankovic has called a press conference. Cue everyone speculating she'd pulled out. They meant Jerzy Janowicz.

— BBC Tennis (@bbctennis) May 26, 2015


So, really, a Jankovic loss isn't much of a shock. Her 49% 1st serve win percentage and 45 unforced errors (the last on a forehand volley attempt on MP) sort of wrote her ticket out of this slam, her worst result in Paris since '05. Karatantcheva is the story here.

The Bulgarian burst onto the scene in this very event ten years ago, arriving in Paris as a mouthy 15-year old without a slam win on her resume... until she reached the Roland Garros QF. Since then, she's changed her representing nation twice (to KAZ, then back to BUL), gone through a drug suspension, outlived her pregnancy "tall tale" that attempted to explain the positive test, grown up a bit, and then staged a hardly-a-sure-thing comeback that saw her climb her way out of the ITF circuit and back into the "big leagues." She was great fun back then -- enough to be included on the All-Time Backspin MVP List a few years ago -- but you always felt like disaster was just around the corner. Turned out, it was. But now she's back... maybe better than before? Or possibly at least more equipped to stick around for a while. Remember, Sesil is still only 25.
"Life would be infinitely happier if we could only be born at the age of eighty and gradually approach eighteen."

-

Mark Twain
Karatantcheva won her way through qualifying to get into the main draw, and her win over JJ is just her second (w/ a 1st Rd. win in '12, when she reached the 2nd Round as a lucky loser) at RG since that QF run in 2005. In all, she's now 5-8 in slam main draw matches since her original Paris run, and just 3-6 since 2006. Today's victory is her first over a Top 30 player in a decade.

We got a little of the old Jankovician drama down the stretch, as the Serb was arguing with the members of her team in the players box while Karatantcheva was four points away from advancing to the 2nd Round. It wasn't the sort of chaos that we might have gotten out of this pairing under better circumstances, but you sometimes have to go with the Queen Chaos you have, not the one you want or wish to have at a later time.
"Fame is a vapor; popularity an accident; the only earthly certainty is oblivion."

-

Mark Twain
...later, "World's Most Marketable Athlete" Genie Bouchard, one year after reaching the semis, is now an afterthought in Paris. The #6 seed was sent out by Pastry Kristina Mladenovic 6-4/6-4 on Day 3, suffering the first opening round loss in her nine-major career. The Canadian had reached at least the Round of 16 in her last five slams.


Match point for @KikiMladenovic against Eugenie Bouchard. The Frenchwoman is in the 2nd round. #RG15 https://t.co/NdHWvalmOe

— Roland Garros (@rolandgarros) May 26, 2015


So, Mladenovic adds another big win in front of the Parisian fans (are you taking notes, Mademoiselle Garcia?) to the one she got over Li Na at Roland Garros last year. After taking a 5-0 2nd set lead, Mladenovic nearly double-faulted away her advantage against Bouchard, but her lead was far too big to overcome.

Whether Bouchard will be able to overcome her long slump is another question, as her "regular season" troubles have jumped the slam gate. At 7-10 in '15, she's the only player ranked in the Top 10 to have not yet reached double-digits in wins this season. But that'll change soon... as she's now set to fall OUT of the Top 10 at the end of this Roland Garros.


"About today... I mean honestly, I don't know what to say. I'm just not like myself (on court)" - #Bouchard #RG15 pic.twitter.com/hP8kWzgrHK

— Roland Garros (@rolandgarros) May 26, 2015


...Anna Schmiedlova won her first career title in Katowice in early April, but things haven't gone all that great of late. The 20-year old reached the Marrakech semis a few weeks later, but the well has gone completely dry since then. The Slovak's post-title slump continued today in Paris one year after she upset Venus Williams there en route to her best-ever (3rd Rd.) slam result.

Schmiedlova's 7-6(4)/7-6(7) loss to Alison Van Uytvanck on Tuesday drops her to 1-5 since her QF win in Morocco over Timea Bacsinszky. Even worse, though, were the circumstances of her defeat today, as Schmiedlova squandered nearly a dozen opportunities to force a 3rd set against the red-headed Waffle who entered with a career 1-5 mark in majors. In the 2nd set, Schmiedlova led 4-0 and had eight set points on Van Uytvanck's serve in game #9. After the Belgian held serve, she immediately broke Schmiedlova and things soon went to a tie-break.

There Schmiedlova again held the early advantage, holding three more SP at 6-4, 6-5 and 7-6. But Van Uytvanck saved them all as Schmiedlova went 0-for-11 in SP opportunities in the 2nd, notching her first career win in Paris less than a week before the celebration of Justine Henin Day at Roland Garros (well, at least it's a big day here -- June 1st, La Petit Taureau's birthday -- mark your calendar!).





In all, despite her two-set final advantage, Van Uytvanck only held a two-point (95-93) edge in total points. The winners/errors numbers were more interesting, as the Belgian filled the scorecard with a 43-to-47 winners-to-unforced errors ratio while Schmiedlova had a more than respectable 29-to-26. But Van Uytvanck won the big points, converting three of her four BP chances, vs. Schmiedlova's 3-of-14.

...Francesca Schiavone was welcomed back to Roland Garros today. And into a grand slam 2nd Round. And maybe even back to relevance?
"Age is an issue of mind over matter. If you don't mind, it doesn't matter."

-

Mark Twain
The 34-year old Italian, the oldest woman left in the draw (after Venus, six days older, lost yesterday), came into Day 3 riding an eight-match slam losing streak, including seven in a row in the 1st Round (as well as at nine of the last ten majors). Playing in the 3rd set with China's Wang Qiang, Schiavone trailed 3-1 and looked to be ready to continue to limp into the record books (more on that in a second).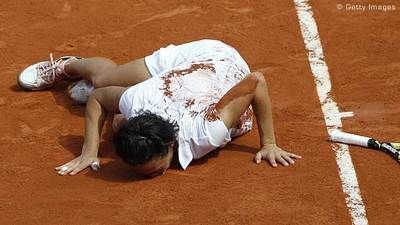 Thankfully, for everyone who wishes to remember the height of Francesca's slam career rather than the last two years, things turned around today. Schiavone won 3-6/6-3/6-4 and recorded her 102nd career win in a major (her 39th in Paris, by far her most at any of the four slams).

As far as the "record-breaking" part, it's notable that this is Schiavone's 59th consecutive appearance in a slam, the second-longest streak ever in women's tennis and the third-longest overall. Ai Sugiyama, currently tied with Roger Federer with 62 in a row, holds the WTA record, but Francesca is closing in on taking it as her own. As she's been on this long slam losing streak, I've wondered if either her ranking would drop (thankfully, she's done well enough on the regular tour to continue to automatically get into the MD of all the majors) and her streak might end in the Q-rounds, or she might just decide to call it a career. I'm not sure what her plans are for '16, but the soon-to-be 35-year old will at least have to play into next season in order to catch the Japanese veteran for the most slam appearances in WTA history.

If she was questioning things, maybe this win today will lead to her deciding to at least play through Rio. Considering how many players get injured and miss at least one slam in their careers, if Schiavone can set the record at between at least 63-65 slams in a row in '16 she's probably going to hold onto the top spot all by her lonesome for a very long time.

There might be only one WTA player that you might think could play long enough, began appearing in multiple draws before turning 18, and has a Federeresque ability to avoid major injuries that would allow her to challenge the mark. The Dane. But Caroline Wozniacki, who's never missed a slam in her career since making her major debut at age 16 in Paris in '07 (she played in six slams before turning 18), has currently played in 33 straight. She'd have to play every slam for seven-plus additional years just to catch Schiavone's current string of 59 in a row, and would have to do so for around nine straight years if the Italian can push the number just a bit farther next season.

So, I suppose you could say that Francesca's really "playing for immortality" over the next 3-4 slams.



=ALL-TIME CONSECUTIVE SLAM MAIN DRAWS=


62...Roger Federer (active)
62...Ai Sugiyama
59...Francesca Schiavone (active)
56...Wayne Ferreira
54...Nathalie Dechy
54...Stefan Edberg
54...Elena Likhovtseva

Earlier in the day, #18 Svetlana Kuznetsova finally got on court for the first time at this Roland Garros and, Sveta being Sveta, she easily won the 1st set, quickly fell behind big in the 2nd before making things close, then easily took the 3rd to advance. Sveta in a nutshell.

Kuznetsova and Schiavone, the '09 and '10 RG champions, face off in the 2nd Round.

...while JJ's injury-saddled lead-up to Roland Garros didn't end well in Paris, the similarly recently-injured #10-seed Andrea Petkovic's 1st Round went well. Very well, in fact. The German defeated Shelby Rogers 6-2/6-1.

Karin Knapp's Nurnberg title run didn't help her in Paris. She lost on Day 3 in her opening round match to #5 Wozniacki, 6-3/6-0. The Dane, while it's not as impressive a number as Serena's, is now 29-4 in career slam 1st Round matches. Late in the day, 34-year old Lourdes Dominguez-Lino saved two match points in the 2nd set and defeated Christina McHale in three sets. McHale has lost in the 1st Round in five of her six appearances in Paris.

Oh, yeah. And Serena Willams opened her Roland Garros with a no-mess 6-2/6-3 win over qualifier Andrea Hlavackova. The little sound you hear is the rest of the field swallowing hard.

...meanwhile, the women's doubles draw has been released. Some notable pairings:

* - there are all-Pliskova and all-Rodionova duos, but not an all-Kichenok team. Lyudmyla & Nadiia are playing with different partners. Hmmm.

* - Hingis/Mirza isn't the only all-vet combo. We've also got Hantuchova/Stosur, Jankovic/Lucic-Baroni and, in a SuperVet pairing, Date-Krumm/Schiavone (combined age: 78)

* - Nurnberg singles finalists Knapp & Roberta Vinci are playing together (this time on the same side of the net), while Vinci's former partner Sara Errani isn't in the doubles draw

* - Maria Jose Martinez Sanchez returned from her pregnancy break in March, and will now join forces with Vera Dushevina to play in her first slam since the 2013 Roland Garros



DAY 3 QUALIFIER WINS:

Lourdes Dominguez-Lino/ESP, Sesil Karatantcheva/BUL



DAY 3 WILD CARD WINS:

none



DAY 3 PASTRY WINS:

Kristina Mladenovic/FRA

...late yesterday in Waco, Alabama's Maya Jensen & Erin Routliffe defended their NCAA Women's Doubles championship.


NATIONAL CHAMPIONS: Routliffe and Jansen finish off a 6-2, 6-7, 6-3 decision to earn their second straight title! pic.twitter.com/15tkr0KrTc

— UA Women's Tennis (@AlabamaWTN) May 25, 2015
Jansen-Routliffe of @AlabamaWTN on winning the doubles national championship. #NCAAAMWT pic.twitter.com/LmoCtcyolg

— NCAA Tennis 2015 (@NCAATennis2015) May 25, 2015






...LIKE FROM DAY 3:

Fans and words of encouragement always help. Especially on bad days.


I have had some really nice messages today with kind words and a lot of support. Thank you all very much. Means a lot #FightingOn #RG15

— Marina Erakovic (@ErakovicMarina) May 26, 2015




..."OH, I DON'T EVEN KNOW WHAT TO SAY ABOUT THIS ONE" FROM DAY 3:

Ummm, "At least she's paying attention and wants to cheer for Sesil," maybe? Take the good where you can get it, I guess.


"What's her first name? I like her and want to cheer but the last name is too long" Karatantcheva finds new fans today

— Tatiana (@_Tatinka_) May 26, 2015




..."HMMM, I'M NOT SURE THIS IS A GOOD SIGN" FROM DAY 3:

After all, Sloane and Twitter -- or at least Sloane and other famous people on Twitter -- should probably keep things at arm's distance. Remember your history so that you don't repeat any part of, Miss Stephens. I'm just sayin'.



...LIKE FROM DAY 3:

Memories... and new memories to come?


I never thought back then I'd be going to Paris to play in the French Open?? #RG2015 @BritishTennis pic.twitter.com/lvYy6T6gyt

— Katie Swan (@Katieswan99) May 26, 2015




...MARIA GETTING SOME COMPETITION ON DAY 3:

Well, at least as far as Russians-in-magazines are concerned. Of course, who knows? Sharapova and Diatchenko face off ON the court in the 2nd Round.


Watch out for @MensHealthRus June's edition with Me!?????? #MensHealthMagazine #Russia pic.twitter.com/bwvNIzDnhT

— Vitalia Diatchenko (@VDiatchenko) May 26, 2015




...EQUAL TIME FROM DAY 3:

Hey, I DID pick her to win the title, after all.


One shoot, few different covers popping up. @EsquireColombia #Cosmopolitan European Editions pic.twitter.com/6EltjMdEL0

— Maria Sharapova (@MariaSharapova) May 26, 2015




...LIKE FROM DAY 3:

Sania being Sania. Next up: Dream Team doubles with Martina.


Happiness in a cup ?? @Ajlatom knows what I am talking bout .. Buhaha (wink wink) #only4 ?? pic.twitter.com/q8Gg83BYPS

— Sania Mirza (@MirzaSania) May 25, 2015




...ANYONE-SENSE-A-MARKETING-OPPORTUNITY? FROM DAY 3:

You don't know Jack! But, after today, Grigor surely does.


.@JackSock takes out World No. 11 @GrigorDimitrov at @rolandgarros. http://t.co/5Ibtemmq7u #atp #tennis pic.twitter.com/SlEcbEiQjy

— ATP World Tour (@ATPWorldTour) May 26, 2015
...and, finally, after three days, the 1st Round is complete. Some trends are apparent:

* - the final 64 includes seven Germans, six Czechs and six Russians (w/ Daria Gavrilova). While the U.S. had the most women in the draw (17), only four won their 1st Round matches -- and two of those defeated a fellow Bannerette to get there. That number tied for the fourth-most players to advance to the 2nd Round, along with the Romanians (from 5 in the MD), Italians (6), Spaniards (6), French (11) and Croatians (5, counting Croatian-Aussie Ajla Tomljanovic).

* - the eight teenagers in the draw went 3-5, with Belinda Bencic, Donna Vekic and Ana Konjuh (the youngest of the bunch) getting victories

* - four qualifiers (Dominguez-Lino, Paula Kania, Karatantcheva & Teliana Pereira) won 1st Round matches, along with two wild cards (Amandine Hesse & Virginie Razzano) and four Pastries (the latter two, as well as Alize Cornet & Mladenovic)

As far as the "Nation of Poor Souls" award, while the Li-less Chinese went 0-4, and the French rebounded from a pretty dreadful start (going a combined 4-7), I'm going to go with the Bannerettes, who combined to go 4-13, though the four who made it through include a 19-time slam champ and a pair of former slam semifinalists (along w/ Irina Falconi). More should be expected.

The "Revelation Ladies" and "Upset Queens" are even tighter races.

Possible "RL" honorees include the Czechs, Romanians, Germans, Croats and Japanese. But I'll go with the "New Australians," as the growing lot of home-grown Aussies are being more than bolstered by a great number of players who have migrated Down Under. In the past, Jelena Dokic, the Rodionovas and Jarmila Gajdosova have been in this category, and now it's Daria Gavrilova and Ajla Tomljanovic. Both are still listed by the WTA as representing Russia and Croatia, respectively, but they now make their homes in Australia and are listed with AUS next to their names in the slams. Both notched 1st Round victories in Paris, so I'll go with them.

As for the "UQ" award, I'm going to hold out to see what happens in the 2nd Round. Right now, the Bulgarians (Pironkova d. Strycova, Sesil d. JJ) are slightly ahead of the likes of the Croats (mostly Vekic d. Garcia) and Germans (Beck d. A-Rad). But there have been few big upsets so far, so let's see if any nation can pull away... or if Bulgaria already has enough if no nations get on an unexpected roll.

The same goes for the "Crash & Burn" winner. Right now, I'm torn a bit between Caroline Garcia and Aga Radwanska. #14 A-Rad may have finally hit bottom with her first one-and-out slam in six years, but #31 Garcia was the First Seed Out and then talked about not wanting to have to play on Chatrier Court anymore because it's just too much for her to handle. #6 Bouchard's early loss isn't surprising enough to rise above, either. Maybe someone else will exit in the 2nd Round and make this an elementary choice.








Don't just train until you're ready. Train until you're satisfied. #nikecourt pic.twitter.com/RfLKPnumJF

— NikeCourt (@NikeTennis) May 26, 2015

Really enjoyed playing out there today! Keeping it bright and yellow?? thanks for all the support!On to the next one! pic.twitter.com/igucQKaqU0

— Caroline Wozniacki (@CaroWozniacki) May 26, 2015

Vegemite with avocado on toast. 'Nuff said. (Gag.)
Australia lands a new tennis star in Daria Gavrilova http://t.co/ZUPsy0Wh5P via @theage #womeninsport

— Sport For Women (@SportForWomen) May 25, 2015




*NCAA WOMEN'S TOURNAMENT CHAMPIONS*




[recent doubles winners]


2010 Hilary Barte / Lindsay Burdette (Stanford)
2011 Hilary Barte / Mallory Burdette (Stanford)
2012 Mallory Burdette / Nicole Gibbs (Stanford)
2013 Kaitlyn Christian / Sabrina Santamaria (USC)
2014 Maya Jansen / Erin Routcliffe (Alabama)
2015 Maya Jansen / Erin Routcliffe (Alabama)



*RG "REVELATION LADIES" WINNERS' NATION/REGION*


2006 France
2007 Italy
2008 Czech Republic
2009 Australia
2010 Germany
2011 North America
2012 France
2013 North America/Atlantic
2014 Spain
2015 Australia (The New Aussies)



*RG "NATIONS OF POOR SOULS"*


2012 Romania (1-5 in 1st Rd.; Cadantu double-bageled)
2013 Czech Republic (2-8 in 1st Rd.)
2014 China (0-4 in 1st; Sh.Zhang "1st Loss" & #2 Li "Crash-and-Burn")
2015 United States (4-13 in 1st Round - 4th best; had most players in draw)



*CONSECUTIVE MATCHES WON AT A SLAM - MEN*


41 - Bjorn Borg, Wimbledon 1976-81
40 - Roger Federer, Wimbledon 2003-08
40 - Roger Federer, US Open 2004-09
36...RAFAEL NADAL, Roland Garros 2010-15 (active)
31 - Pete Sampras, Wimbledon 1993-96
31 - Rafael Nadal, Roland Garros 2005-09



*SERENA WILLIAMS at THE SLAMS - Rd.-by-Rd.*


58-1...1st Rd.['12 RG: Razzano]
55-2...2nd Rd.['98 AO: Venus; '14 RG: Muguruza]
47-8...3rd Rd.
39-8...4th Rd.
26-13...QF
23-3...SF [Venus '00,Henin '03,Clijsters '09]
19-4...F [Venus '01,Sharapova '04,Venus '08,Stosur '11]



*WOMEN'S OVERALL WON/LOST - BY NATION*




[through 1st Rd.]




[North America/Atlantic]


4-13...United States
0-1...Canada
0-1...Puerto Rico


[South America]


1-0...Brazil
0-1...Paraguay


[Russia & Eastern Europe]


6-3...Russia (w/ Gavrilova)
4-1...Romania
2-0...Bulgaria
1-0...Belarus
1-1...Ukraine
0-1...Estonia


[Western Europe & Scandinavia]


7-3...Germany
6-5...Czech Republic
4-1...Croatia (w/ Tomljanovic)
4-2...Italy
4-2...Spain
4-7...France
2-1...Switzerland
2-2...Serbia
1-0...Denmark
1-0...Montenegro
1-0...Slovenia
1-1...Great Britain
1-2...Belgium
1-2...Poland
1-2...Slovak Republic
0-1...Hungary
0-1...Netherlands
0-1...Sweden


[Asia/Pacific]


3-3...Australia (w/ Gavrilova/Tomljanovic)
2-0...Japan
2-1...Kazakhstan
0-4...China
0-1...New Zealand


[Africa/Middle East]


none







TOP QUALIFIER:

Veronica Cepede Royg/PAR




TOP EARLY-ROUND (1r-2r):

xx


TOP MIDDLE-ROUND (3r-QF):

xx


TOP LATE-ROUND (SF-F):

xx


TOP QUALIFYING MATCH:

Q1: Wang Yafan/CHN d. #15 Richel Hogenkamp/NED 2-6/7-6(7)/8-6 (saved 4 MP)




TOP EARLY-RD. MATCH (1r-2r):

xx


TOP MIDDLE-RD. MATCH (3r-QF):

xx


TOP LATE-RD. MATCH (SF-F/Jr.):

xx


=============================




FIRST VICTORY:

(Q) Teliana Pereira/BRA (def. WC Ferro/FRA)




FIRST SEED OUT:

#31 Caroline Garcia/FRA (lost 1st Rd. to Vekic/CRO)




UPSET QUEENS:

xx


REVELATION LADIES:

The New Australians




NATION OF POOR SOULS:

United States (most players in draw w/ 17, but tied for 4th w/ just 4 1st Round winners)




LAST QUALIFIER STANDING:

Rd.1 wins: Dominguez-Lino/ESP, Kania/POL, Karatantcheva/BUL, Pereira/BRA


LAST WILD CARD STANDING:

Rd.1 wins: Hesse/FRA, Razzano/FRA


LAST PASTRY STANDING:

Rd.1 wins: Cornet, Hesse, Mladenovic, Razzano
MADEMOISELLE/MADAM OPPORTUNITY: xx
IT "??": xx


COMEBACK PLAYER:

Nominee: Karatantcheva/BUL


CRASH & BURN:

Nominees: #14 A.Radwanska (1r-Beck; worst slam since '09), #31 Garcia (1r; doesn't want pressure of Chatrier Court)


ZOMBIE QUEEN:

Nominee: Dominguez-Lino/ESP (saved 2 MP vs. McHale in 1st Rd.)
JOIE DE VIVRE: Nominee: Cornet/FRA, Razzano/FRA (underhand serves), Mladenovic/FRA (con. years w/ big RG upsets)


DOUBLES STAR:

xx


KIMIKO DATE-KRUMM VETERAN CUP (KDK CUP):

Nominee: Schiavone/ITA (34; ended 8-match slam losing streak)


JUNIOR BREAKOUT:

xx






*

- a nod to Mark Twain's A Dog's Tale (1904)

...born Samuel Langhorne Clemens (November 30, 1835 – April 21, 1910). American author, lecturer and humorist. Writer of The Adventures of Tom Sawyer (1876) and its sequel, Adventures of Huckleberry Finn (1885). Twain's writing and large personality made him a public figure and, ultimately, an American icon. A renowned traveler, Twain entertained fans around the world with his opinionated wit.




All for Day 3. More tomorrow.