BSMVP 2002-12, Pt.2
After nearly ten years of Backspin, there are bound to be some MVP's with "unfinished business"... just like the entries for #16-20.


In the second group of "essentials," the cheeky, feisty, prehistoric -- and downright spooky -- sides of the WTA get their rightful due:







#20

-

Tatiana Golovin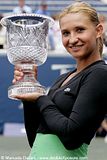 ...born in Russia, representing France, and virtually growing up in America, Golovin was bound to be a "multiple personality" tennis player. "The Frussian Pastry," dubbed as such in this space because she wasn't quite a "full" French Pastry, Golovin had a penchant to produce either very good or very bad results. It was a sort of "Good Tatiana" and "Bad Tatiana" situation, with "The Two Tatianas" somehow combining to produce the "real" Golovin. Still, sometimes the difference was so stark that it was as if a bodysnatching had taken place. Armed with a big forehand, Golovin seemed set for great success, if she could manage to get out of the way of herself. Looking back at Golovin's career in preparation for assembling this list, I sort of wondered why I still had such a favorable memory of her despite a lack of truly great success, and with her oft-preferred
(and distractingly unflattering) too low, too tight, bulging love handles-highlighting on-court outfits giving her an "unprofessional" look that always sort of bugged me. Apart from the nickname -- really, one of my favorites ever -- I think it was because back in 2006-07 she seemed like a player who was climbing the ladder one step at a time, and one who might be on the verge of something VERY good down the line. Backspin strapped in for a great ride. For a while, it looked like it'd be one worth the price of admission, too. In Miami in 2006, where Golovin had only recently moved, she took advantage of her homecourt advantage. With Anna Kournikova watching from the stands, against Maria Sharapova in the SF, Golovin overcame a 6-3/5-1 deficit and four match points to push Sharapova to the wall in the 3rd set. The Russian was forced to pull out all the stops, taking two oddly-timed (or not) bathroom breaks just as things got tight, but still finding herself in danger of going down a break to Golovin with the crowd ready to jump on Maria for her "gameswomanship." Sharapova wrestled away the lead in the deciding set, then saw Golovin tumble into the corner of the court, gruesomely turning her ankle and tearing two ligaments. One point later, Golovin was forced to retire, and Sharapova was hounded for her seeming on-court "indifference" to her opponent's injury. More than anything else, I think that one match -- albeit a loss -- gives me the favorable impression of Golovin that lingers to this day. Later that year, she reached the U.S. Open QF and met, wouldn't you know it, Sharapova. Golovin gave her a good match, losing 7-6/7-6 in the best match played against Sharapova during her "Exquisite in the City" Open title run. The next season, Golovin won her first two titles, got some attention for wearing bright red knickers under her dress at Wimbledon, and finished the year at #13. Ready to peak, she worked hard during the offseason and was focused and ready to make her assault on the Top 10... but then she injured her back. It was eventually diagnosed as a chronic injury for which there was no treatment. By the summer of '08, she'd already played her last match. Right when the story was about to get good, it just fizzled out. Golovin has since appeared in the '09 Sports Illustrated swimsuit issue,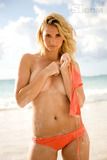 but her future appears to be in tennis commentary work. The Frussian Pastry has never officially retired, so I guess there's always that secret hope that the "lost chapters" of her career will eventually be written, but it's not likely a realistic dream. In a recent interview, she said, "I don't like to say never, and I'm still only 23 (now 24), but I don't think I will be able to play again. At least I don't think I'll be able to play professionally again." So, I guess Golovin is here for a great nickname, some bad fashion choices, a great match she never got to finish and a sad ending to what might have been a wonderful tennis story. To the very end... "Good Tatiana" and "Bad Tatiana." Fitting.



#19

-

Sesil Karatantcheva


..."Come on... who can resist me?" And with those words from a 15-year old Bulgarian named Sesil back in 2005, a Backspin semi-legend was born.
Oh, Karatantcheva was a very promising player back then, too -- the junior Roland Garros champ in 2004. But she's listed here because of the underlying sense of mischief that used to practically ooze from her pores. Essentially, in so many ways, she was a ruder, cruder, louder off-court version of Jelena Jankovic, but with a hint of "danger" inherent in her headline-grabbing comments. In '04, before playing Maria Sharapova, Sesil said she'd "kick her ass off," and the media stir was on. The bubbly, talkative teenager was like a character on an HBO sitcom, delivering age-inappropriate commentary with bright eyes and a sly grin. She said she learned to speak English by listening to the music of the Spice Girls, and she took to heart the notion of telling everyone what she wanted, what she really, really wanted. At various times, with something resembling affection, I called her "Bulgarian Bluster" and "Little Big Mouth" back then. In recent years, even Karatantcheva admitted to "always getting in trouble" in her early days, "kind of like the bad kid on the block." That said, she loved the attention, but she could back up her boasts. She famously knocked off Venus Williams -- who admitted to having never heard of her -- at RG in '05 and reached the QF as a 15-year old. By the end the year, she'd climbed to #35 in the rankings. Without any filter to speak of between her brain and her mouth, and talent to burn, Karatantcheva came off as something of a precocious -- warped, in a good way -- genius. Of course, then the real backlash arrived. Later in '05, it was reported that she'd tested positive for the steroid Nandrolone. She tried to explain the test results by saying that, at 15, she'd gotten pregnant and had an abortion, and the resulting chemical changes in her body had led to the positive drug test. Whether it was credible defense or not, it didn't matter. Either way, her's was no longer a "refreshing" story that the sport wished to trumpet. She received a two-year suspension covering the 2006-07 seasons, missing out on ultra-important developmental time for her game in her late teen years, but returned in '08 with a flourish, blazing through pre-qualifying, qualifying and the main draw in a challenger event in Surprise, Arizona to take the title. She won her second event back, as well. When asked what she'd learned from her two-year absence, Sesil said, "Always use condoms." Watching one of her comeback matches, Tennisworld's Peter Bodo said of her, I think, in one of the best lines EVER written about a player, that she was still "made to play and win tennis matches like a coyote is made to kill bunnies." Since then, though, while she has seemed to have matured quite a bit, she's had a hard time finding the consistency to get herself back into the Top 100. As it turned out, Karatantcheva, in a great interview with Bodo, said in '08 that that original Sharapova comment had come about because the Russian had previously brushed her off as a hitting partner at the Nick Bollettieri Academy, and her youthful exuberance had gotten the best of her. But she said what she felt then, and that's always been the refreshing thing about her... even if some things were sometimes better left UNsaid. She's still trying to make her way back. In 2009, looking for monetary support for her tennis, she began to play for Kazakhstan. Lately, perhaps right on time (considering her two-year blank slate), her game seems to have gotten a bit more traction. She's getting close to re-entering the Top 100 (currently, she's #116), and at Roland Garros last month she made the main draw as a "lucky loser" and notched only her second MD slam match win since '05, very nearly becoming the first "LL" to reach the 3rd Round in Paris in sixteen years. In her next event, she once again made a tour event draw as a "LL" and got a match victory. After all these years, Sesil still has that mischievous streak nipping at her heels. If she could ever get a few steps ahead of it, maybe (she's only 22, with two less years of wear on her body than would normally be the case) she can still make a name for herself as much with her tennis as for the sometimes-wild, always-bumpy road she's traveled to get from then to now.



#18

-

Sania Mirza


...during her star-making turn at the U.S. Open in 2005, a nose-pierced teenager named Sania Mirza wore a series of t-shirts emblazoned with sometimes-cheeky sentiments. One of the more sobering phrases on her chest read, "Well-behaved women rarely make history." At the start of her tennis career, Mirza seemed to embody the sentiment.
Breaking down barriers for young Indian girls and women, she won her first WTA title in her hometown of Hyderabad early in the '05 season. It was just the beginning of Mirza's rise to superstar status in one of the most populated nations on the globe. But it was in Flushing Meadows later that year where Mirza truly broke out. I wrote then, "Back in her home country, the 'Indian Princess' needs to be flanked by bodyguards to avoid being swamped. In New York, though, Sania Mirza could walk through Central Park and be mistaken for your average, multi-pierced 18-year old with a penchant for wearing t-shirts that announce her daily mood (or just serve to get people talking). No, she's not your average Muslim teenager... and it's not just because she's now ventured deeper into a grand slam draw than any Indian-born woman before her, either," noting that, "Occasionally, (she) smacks a ball down the line so hard that you'd swear that it must have made a disparaging remark about her nose ring." In just her fourth career slam appearance, Mirza ultimately reached the Round of 16, becoming the first Indian woman to ever do so. But it was her attention-getting post-match t-shirts and comments that made her that Open's "It" girl. Actually, she was Backspin's first official slam "It" girl, too. While I'd started to award special "Miss Opportunity" and "Upset Queens" awards at slams in 2004, it was the inclusion of the "It" girl award to the Backspin slam ritual that began the expansion to what is now a passel of honors given at each and every major, marking the day-by-day march through time of the season's four biggest events. Mirza was named the WTA's "Newcomer of the Year" in '05 and, with looks that matched her talent, she began to rival the likes of Maria Sharapova in endorsement deals in India. I even sometimes referred to her as "The (Indian) Supernova," as a take-off on Sharapova's Backspin moniker. Of course, Mirza's fame was a double-edged sword. Because of all the attention she received, she was put in the crosshairs of all sorts of Muslim groups in India that found issue with just about everything she said and did. She showed too much skin on the court, she didn't comport herself as a Muslim woman should, etc. There were protests and fatwas, and sometimes a real sense of potential personal danger, as well. Eventually, she even made the decision to no longer play tour events in India (though she did participate in the Commonwealth Games there in '10). For years, it seemed as if a few months couldn't pass without some "controversy" coming her way, usually through no fault of her own, such as the big brouhaha over an oddly-angled photo that seemed to show her propping her bare feet up in front of an Indian flag (an act which, we were told, was surely one that would bring down the Wrath of Khan on civilization as we know it), when she was scheduled to play doubles with -- egads! -- Shahar Peer, an ISREALI (as it turned out, they played together... and no walls came tumbling down as a result of such an "unnatural" act), or when a fatwa was issued by an obscure cleric because Mirza and her fiance were staying in the same house for a week before they were to be married. Still, she was the first Indian woman to reach the Top 50, Top 40 and Top 30, in which she finished the 2007 season. After that, her upward mobility ceased and, while still a big star in India, so did her growing name recognition in the sport. Quite possibly, it was a "perfect storm" that occurred: an ultimately limited game predicated on ridiculously hard groundstrokes, but no "Plan B" if things weren't going her way, as well as a lingering wrist injury that cost her parts of the next three seasons and, maybe, being worn down just a little by all the controversy and pressure spawned by her simply trying to be herself. Over time, Mirza has more adhered to the social mores of her country and religion, either for "her own good," or just because it made her life a little bit easier. While the flashy and opinionated Mirza of '05 has been muted, it should be noted that she did one say that she'd retire after she was married... but she's been hitched to Dubai-based Pakistani cricket star Shoaib Malik for over two years now, and hasn't announced the end of her career yet. In fact, while she still plays singles, she's made a great career for herself lately as something of a doubles specialist, reaching the Top 10. She became the first Indian woman to claim a slam title when she won the Mixed Doubles with Mahesh Bhupathi at the '09 Australian Open, and they just won a second at the '12 Roland Garros. With the Olympics coming up in London later this year, Mirza has the chance to add another "first Indian woman to" accomplishment to her resume. To date, only one woman from her nation has ever claimed an Olympic medal, a weightlifting Bronze in the 2000 Sydney Games. With controversy raging over India's Olympic doubles pairings -- for once, though, Mirza isn't the focal point of it -- it appears as if she'll be teamed with Leander Paes in London later this summer as she attempts to match or better India's previous best-ever female Olympic result. Backspin surely wishes her all the luck in the world, but no matter what happens there'll always be at least a little longing around these parts for the Mirza of 2005, back when she was as fun to watch play as any woman on tour and everything she said and did seemed like it was the newest revelation under the sun. Maybe because it sort of was.



#17

-

"The Radwanska"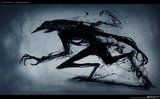 ...who knows what evil lurks in the heart of the WTA? The Radwanska knows. The existence of Agnieszka Radwanska's shadowy, sometimes-meanspirited, Jekyll-esque alter ego was first brought to public attention earlier this year. The Rad's sole mission in "life" is to create havoc and mayhem where there is otherwise tranquility. To spread fear and dread to all corners of the WTA world, seeking vengeance on It's (and A-Rad's) enemies with no thought to the collateral damage that may occur in the process. From the weather to injury-related walkovers, from "crazy, mixed up" scheduling to weird draws, The Radwanska tries to stick its creepy hands into every proverbial cookie jar there is. Just like any creature with a bad attitude and clever Plan, The Rad has a few nemeses that It goes out of Its way to impact, and often tries to use whatever is handy to trip them up -- by any means necessary. If Maria Sharapova, a longtime rival of A-Rad, has a particularly difficult serving day due to windy conditions, you know it's because The Radwanska is hiding in the clouds, exhaling so hard that it kicks up a fierce breeze. If Victoria Azarenka loses her mojo by exchanging her trademark, AO-winning shorts for a fairly typical tennis dress, then loses her #1 ranking with an early slam loss, then you can bet your bottom dollar that it's because The Rad was whispering in the ear of the Nike fashion team during the dark of night, knowing the change would mess with Vika's head. With The Radwanska's existence only recently being uncovered, I suspect that It's position in the overall Backspin universe will only rise over time. At this year's Roland Garros, even I was infected by The Radwanska's insidious virus, as It sort of took over RG's "Daily Backspin." Like a series of bad dreams, the titles rolled out: "Love & War in the Time of The Radwanska," "All Quiet on The Radwanska Front," "Masque of The Radwanska," etc. I seemingly had no control. I COULD NOT stop it. In retrospect, though, it sort of worked out in the end. Sharapova won in Paris. The Radwanska was vanquished, and all was right again the WTA world. Until next time, that is. Just remember, for your own safety, never turn your back on a dark corner of the room... because that's when The Radwanska will get you.



#16

-

Carl & Carla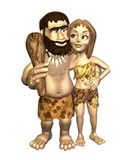 ...naturally, my caveman colleague -- and, lately, his significant other, Carla -- HAS to be included on this list, or else he'd have my head. Literally. Though, I'm sure he'll still soon be ranting and raving about wanting to "squish" me because he and his (far-lovelier-than-he) lady friend didn't finish higher. It's hard to believe, but Carl first filled in for me on an edition of Backspin over five years ago, and only later assumed his normal "Bare Bones Backspin" duties the weekend before most every slam. While we've had our differences over the years: I question his world view (namely, that it's flat), he threatens to squish me. I ask if he's ever heard of a pronoun, he says he's never wrong... then threatens to squish me. It's a never-ending cycle. Still, we uneasily co-exist, and only the holiday spirit has ever really allowed us to call a temporary "truce." I will admit that Carl's picks -- or "Carl Picks," as he so eloquently calls them) -- are sometimes pretty good. He DID pick Victoria Azarenka to win the Australian Open this year, something which he'll likely never let me forget. Carl has changed a little since he first contributed to Backspin. As far as I know, he hasn't been chased from a new home by angry, torch-and-pitchfork-brandishing villagers for a while now. And he seems to have gotten over his longtime fear of fire (fire baaaaddddd!), too. Though, honestly, I think he just avoids situations where he might come into contact with it. No matter, Carl HAS seemed to be a (little bit) better caveman since he met the lovely Carla. She's been a valuable member of the Backspin team this year, filling in for an often-M.I.A. Carl with her "Beautiful Selections," dah-ling. It's too bad she hasn't done better with them, as it's only given Carl more opportunities to spout off about his self-proclaimed dominance in all areas of anything that Carl chooses to take part in. Carl and I rarely see each other, so I suspect his threats will mostly remain idle ones. But I will never mistake him for a "friend," for he DID end his very first post with, I believe, a threat, courtesy of the line, "Todd back next time, if Carl no hurt too bad and take over "Backspin" for self." Carl will always bear watching with a suspicious eye, as far as I'm concerned.





1.
2.
3.
4.
5.
6.
7.
8.
9.
10.
11.
12.
13.
14.
15.


16.

Carl & Carla




17.

"The Radwanska"




18.

Sania Mirza




19.

Sesil Karatantcheva




20.

Tatiana Golovin




21.

Martina Navratilova




22.

Daniela Hantuchova




23.

"The Next Big Thing"




24.

Anna Smashnova & Anabel Medina-Garrigues




25.

Caroline's 'Roo




HM-

"Citizen Anna"



Next time: the Fair One, the one-time Head Honcho and... oh, someone.

All for now.



Other MVP Posts:
#21-25 (w/ HM)