RG.4- A Double Barrelled Upset Story *
Heavy wears the crown of the Swarmette Queen, and the prohibitive "next first-time slam champ."
Especially when Mirjana Lucic-Baroni is trying to knock that crown off her head.
Once again, the Croatian veteran proved successful in her attempt today.
#CNN Tennis: Upset in French Open 2015 http://t.co/UF3v2RXGOG

— News, Views, People. (@TheCampaignPage) May 27, 2015
So, Simona Halep is out of Roland Garros, and as she goes forward she'll have a great deal to think about.
Mostly about what's going on between her ears... and how to quiet the storm within.
"Life does not consist mainly -- or even largely -- of facts and happenings. It consists mainly of the storm of thoughts that are forever blowing through one's mind."

-

Mark Twain


#3-seeded Halep's 6-4/6-1 loss to Lucic-Baroni, her second loss to the current world #70 in the last three slams, was as much a case of the Romanian once again succumbing to the pressure of the moment as it was the Croat playing well. In many ways, this crooked path began with Halep's first loss to Lucic, in the 3rd Round of last year's U.S. Open, her first major since back-to-back runner-up and semifinal results in Paris and London. Then, in their WTA Finals championship match in Singapore, Halep went out rather meekly to Serena Williams after having defeated the world #1 earlier in the week. It was a disappointing ending to her season. But it was a "career season" for Halep, so it was mostly seen as an aberration.

But around multiple corners during this 2015 season, the secondary path has continued to be cut through a sea of otherwise good Halep results. In Melbourne in January, Halep was frustrated in the quarterfinals by Russia's Ekaterina Makarova, ultimately going out in ugly fashion for a potential major champion, seemingly dumping points and looking to "get out of Dodge" as quickly as possible in the closing games. After admitting her failures immediately afterward, and then doing so again when she was run off the court in a home Fed Cup tie by Garbine Muguruza, the Romanian vowed to never put up that sort of (lack of) effort under pressure again.

For the most part, even while things have sometimes been rocky for stretches in some matches, she's held her word ever since. The pressure of expectation, especially back home in Romania, has made the problem-solving Swarmette's abilities to persevere and, well, problem-solve a hit and miss prospect for much of this year. But she seemed to have found a way to get some hold on it, to throw up a wall that her inner will would not allow the demons to climb up and over. As we saw in Halep's in-and-out 1st Round victory over Evgeniya Rodina, she'd developed a pattern and knack for getting into trouble and seeming to experience the same tightness and frustration that accompanied her earlier "marked" defeats, but then finding a way through the darkness of those moments and winning anyway. Even after a mediocre clay court tune-up season, Halep seemed to have developed a new, better pattern when it came to dealing with the storm of thoughts forever blowing through her mind.

Earlier this spring, Halep talked of her enjoyment of playing on the clay, and how it was good for her game. "On clay you have to think about points," she said, "and I like to think and be creative."

As Roland Garros began on Sunday, despite letting the #2 seed slip through her fingers a week earlier, Halep was still installed in one of the top two or three "favorite" positions to win the title. Everyone -- maybe even Halep herself, once she cleared away the mental clutter -- believed that the '14 RG runner-up was deserving of the praise and capable of claiming the honor, as well. And she WAS, too.

Until today, that is. Now she's forced to move on.


"She played a better game today...I just have to take this situation & go forward." #Halep on 2R loss to Lucic-Baroni pic.twitter.com/S7I4pZCTFZ

— Roland Garros (@rolandgarros) May 27, 2015


Make no mistake, Halep's abilities, possible future and '15 accomplishments (three titles, 30+ match wins) are not to be overlooked or pushed to the back of the line in any conversation about the Swarmette. This loss, just like the others were, is just a single defeat. But a trend is developing, and it isn't a good one. The problem has not been solved... and Halep has to figure out how to deal with the moments that cause it to flare up and become a worrisome topic all over again.

Of course, Halep's lingering (and expanding) issues take nothing away from Lucic's win. Sure, she's sort of playing the role of "Pironkova" to Halep's "Venus" when it comes to grand slam upset bids, but this victory is another happy chapter in HER remarkable comeback story. The U.S. Open Round of 16 run and Quebec City title last summer, both coming fifteen years and a lifetime's worth of problems since she entered the scene as a 16-year old title-winner and Wimbledon semifinalist in 1999, are still the unquestioned high points, for sure. But this win is quite large, as well. In fact, while Lucic said today that thinks her game is in fine shape at the moment, capable of winning on any surface, she may have really NEEDED this win.


Big upset as @simona_halep goes down to Mirjana Lucic-Baroni. Keep up with @rolandgarros on 12HD. #RG15 #Tennis pic.twitter.com/RGKdArfyRi

— beIN SPORTS (@beINSPORTS) May 27, 2015


Lucic came into Paris having gone just 7-14 since winning in Quebec City, when she broke the tour record for years between WTA titles. Last week in Strasbourg, she lost a match to Madison Keys in which she was leading 6-4/5-0 to drop to 2-8 in her last ten matches. And today it looked as if she might suffer a similar fate vs. Halep.

Lucic served in the 1st set at 5-3, only to be broken to see the Romanian tie the set at 5-5. But 33-year old Croat held serve and broke Halep (her serve, and her spirit, it turned out) to win the set 7-5. In the blink of an eye, she'd bullied her way to ANOTHER set and 5-0 lead on a tennis court in France. She didn't let this one slip away. The 7-5/6-1 win was highlighted by a huge 29-5 edge over Halep in winners, as well as an xx% 1st serve win percentage. Lucic closed things out with an ace on match point. It's her third career Top 5 win -- two over Halep, and one over Monica Seles in '99. Her second Top 3 win actually gives her more in her career than Halep, who has "only" her commanding win over Serena Williams last October in her column.


WATCH: #LucicBaroni celebrates after logging her 2nd win vs #Halep; the Croat made her RG debut 17 years ago! #RG15 https://t.co/aycjH4wRkl

— Roland Garros (@rolandgarros) May 27, 2015


But, barring one of the most unexpected slam runs in history from Lucic, it's the plight of Halep that this match will be remembered for. The creativity was absent, but the heavy legs and clouded thinking were back... and the conversation is starting to change. If the Romanian is as smart and level-headed as she has so often appeared to be in the past, that can change, though.


"I still dream for many things in this career. If I lost today, it doesn't mean that I can't play" Halep handles loss pic.twitter.com/zZOo6zwTDx

— Roland Garros (@rolandgarros) May 27, 2015


In fact, for Halep, it HAS to.









=DAY 4 NOTES=
...the diminutive Swarmette Queen being the very large exception today, the drumbeat of the dominance of the favorites continued on Day 4. First up was the defending champion, who resumed her role of resident fellow Russian butt-kicker that was briefly (and with an Aussie asterisk) interrupted earlier this season in Miami by Daria Gavrilova, and in "classic form" by Sveta Kuznetsova in Madrid. Facing off with Vitalia Diatchenko, #2 Maria Sharapova dropped just four games in a 6-3/6-1 victory.


Defending champion @MariaSharapova now 12-0 in 2R matches at Roland Garros w/ 6-3 6-1 win over Diatchenko. #RG15 pic.twitter.com/CN4mWuvh1m

— Roland Garros (@rolandgarros) May 27, 2015


On court at the same time, Samantha Stosur was even more stingy vs. French wild card Amandine Hesse, allowing just one courtesy game after taking at 6-0/5-0 lead as she continued with the high level of play she exhibited while winning the Strasbourg title last week.


STUNNING STOSUR: Sam Stosur makes it through to Round 3 of French Open def Amandine Hesse 6-0 6-1 in 53mins #RG15 pic.twitter.com/sCmwaglfg6

— FOX SPORTS News (@FOXSportsNews) May 27, 2015


Sharapova and Stosur will face each other in the 3rd Round. The Russian is 15-2 in their head-to-head, but the Aussie has forced things to three sets in two of their last three clay court match-ups since 2012.

...meanwhile, Germany's Annika Beck might want to pick up an additional check for janitorial services rendered before she leaves Paris, as she has almost single-handedly rid the grounds of Poles this week. After tossing #14 Aga Radwanska over the fence in the 1st Round on Monday, she returned today and made quick work of Polish qualifier Paula Kania.


21-yr-old @BeckAnnika (who d. No.14 seed Aga Radwanska in 1R) beats another woman from Poland, Paula Kania 6-2 6-2. pic.twitter.com/1Y71fFgpOt

— Roland Garros (@rolandgarros) May 27, 2015


The Germans, who already advanced the most women (7) into the 2nd Round from any nation, are really rounding into an impressively cohesive force in Paris. [Insert own World War joke here... but be tasteful, as always.] Opposition was literally surrendering in front of them today. [Insert own French WWII joke here, and follow the aforementioned rules.] Unfortunately, the opponent in question in this case was Gavrilova.

The Russian-Aussie's qualifier-to-semifinalist run in Rome two weeks ago was rendered (ultimately... though she gave it a good go vs. Sharapova on that day) ineffective in its final stage because of an abdominal injury, and things ended in even worse fashion today against German #20-seed Sabine Lisicki. After Lisicki won the 1st set at 6-1, Gavrilova tearfully had to call it a day.

Lisicki, who knows a little bit about going out of slams with tears and a bum body part, offered Gavrilova some heartfelt comfort.


Picture of the day: Lisicki hugging Gavrilova following her withdrawal from R2 due to a stomach injury [Getty]. pic.twitter.com/Bji6wy8y2l

— Gaspar Lança (@gasparlanca) May 27, 2015


The third German to advance today was #11 Angelique Kerber, who has picked up right where her previous 11-match clay winning streak left off a few weeks ago. She won another straight-sets destruction today, defeating Ajla Tomljanovic 6-3/6-2 to give the German forces a clean sweep of the landscape on Day 4. [You know the drill.]

...suddenly, Donna Vekic is unbeatable. The Croatian teen followed up her win over Caroline Garcia with another on Day 4 against Bojana Jovanovski, 6-4/6-3. The 18-year old is into her very first slam 3rd Round. This is also the only time she's put up multiple main draw victories at a tour-level event since she won her sole WTA singles title in Kuala Lumpur thirteen months ago. She did manage to win twice after dropping down to play an event in Istanbul on the ITF circuit last month, and she had a pair of Q-round wins (good ones over Beck and Ajla Tomljanovic, too) in the WTA Wuhan event last September.

Garcia may not like playing on big courts in Paris, but Kristina Mladenovic and Alize Cornet don't mind it all. Cornet became the first Pastry to advance to the 3rd Round today with a hard-fought win today over Alexandra Dulgheru.


.@alizecornet escapes early exit, defeats Dulgheru 6-2 7-5. She's thru to 3R for 3rd time, awaits Lucic Baroni-Halep. pic.twitter.com/clUtL4j9sy

— Roland Garros (@rolandgarros) May 27, 2015


Hesse's earlier loss and Virginie Razzano's 2nd set retirement vs. Carla Suarez-Navarro means the Pastries will share the "Last Wild Card Standing" award.

...late in the day, #19 Elina Svitolina and Yulia Putintseva squared off in a long (neary three hours), fiesty match that included drops shots, moon balls, blown leads, an "interestingly-timed" medical timeout, an extended 3rd set and, finally, an not-exactly-heartwarming hard slap of hands at the net in lieu of a more traditional handshake and/or hug. The two were old junior adversaries, when Putintseva went 3-0 against Svitolina, also adding wins in a pair of challenger events in 2012. Svitolina finally got her first win over the Kazakh in January in the 1st Round of the Australian Open.

Putintseva was in charge early, winning the 1st at 6-1 and taking a 3-0 lead in the 2nd. Svitolina then broke her serve four straight times to claim the set 7-5 and force a 3rd. There the Ukrainian fell behind 4-1, only to battle back once more as things got more and more crazy.


This match will be the end of Putintseva, Svitolina, me, Paris and the rest of humanity. And I love it.

— René Denfeld (@Renestance) May 27, 2015
Tiempo médico para Putintseva. Problemas en el brazo derecho. Está 4-4 40-40 vs. Svitolina #RG15 pic.twitter.com/wTpm5ocBHb

— WTA En Español (@WTAenespanol) May 27, 2015
I see Putintseva is acting against Svitolina pretty much the same way Putin acts against Ukraine And Kjendlie being as inept as EU.

— Oleg S. (@AnnaK_4ever) May 27, 2015


As things went past the twelve-game mark of the 3rd, Putintseva served at 7-7, 30/love only to see her serve broken yet again. Svitolina served out the match, winning 1-6/7-5/9-7 to reach the 3rd Round at her second straight slam and once again send Putintseva out of a major.


After 3hrs @ElinaSvitolina battles past Putintseva 16 75 97! Makes 1st @RolandGarros 3R--> http://t.co/OMo0HN1rUV pic.twitter.com/mu0qh7KCyS

— WTA (@WTA) May 27, 2015
Svitolina takes it and erupts, and they slap hands instead of Shake. Amazing scenes pic.twitter.com/BeDw8R5zkd

— Andrew Jerell Jones (@sluggahjells) May 27, 2015


And with that the "Zombie Queen" was crowned in Paris.


"Do you believe in life after Svitolina/Putintseva?" ~Sylvia Plath

— David Kane (@DKTNNS) May 27, 2015


Someone does. With Halep's exit, either Svitolina, Cornet, Lucic or Beck will reach the QF out of her section.

...in doubles, the Schiavone Express continues on. A day after notching a win in singles, the 34-year old Italian joined with 44-year old Kimiko Date-Krumm to save a match point against Denisa Allertova/Petra Cetkovska and win their 1st Round match 2-6/7-6(8)/6-1.

Hingis/Mirza, Babos/Mladenovic, Hantuchova/Stosur, Hlavackova/Hradecka and the Rodionova sisters were also winners on Wednesday.



...LIKE FROM DAY 4:

Kristina Mladenovic's black dress from yesterday. In color...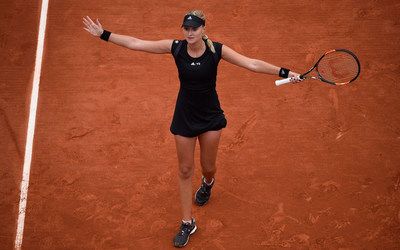 And in B&W...


C'est ton jour. @KikiMladenovic #ImpactTheGame ! pic.twitter.com/NBGsWyPfOU

— adidas France (@adidasFR) May 26, 2015


So, supposes Kiki is the OTHER headlining "Woman in Black" at this Roland Garros. So, I guess it's official... black is the new black.



...THOUGHT FROM DAY 4:

Maybe Simona should never have switched out of the black outfit she wore on Sunday. After all, even a black-clad Ana Ivanovic managed to pull out a comeback win today over Misaki Doi.



...NEWSFLASH FROM DAY 4:

Well, at least one Canadian is in the Top 5...


Charlotte Robillard-Millette se retrouve au 5e rang mondial chez les juniors cette semaine! #CdnTennis pic.twitter.com/8DtvSq5a2a

— Tennis Canada (@TennisCanada) May 26, 2015




...LIKE FROM DAY 4:

A junior reunion. Bencic and Konjuh both won two girls singles slams in 2013, while Siniakova is the New Swiss Miss' doubles partner at Roland Garros. They won their 1st Round match today.


Junior Reunion?????? #rg2015 @anakonjuh @katarinasiniakova pic.twitter.com/J0v9QGEYgP

— Belinda Bencic (@BelindaBencic) May 27, 2015




...LIKE FROM DAY 4:

Petko delivering more personality with a look than most Tennis Channel personalities can for an entire tournament. Though I do mostly like Haber, but that may have something to do with him being a D.C. area sportscaster for the CBS affiliate for a few years before he joined TC full-time.


Gotta love @andreapetkovic -- even when she beats an American. Has endured so much to get back to the top-10. #Danke pic.twitter.com/2CgnCveby0

— Brett Haber (@BrettHaber) May 26, 2015




...LIKE (in spite of the rest) FROM DAY 4:

While the ending wasn't a good one, at least Gavrilova wasn't wearing the exact same outfit as Lisicki. The Gavrilovian Mind, I tell ya.


Outstanding that Gavrilova is wearing an alternate Nike today, with Lisicki wearing the main one. Not twins - for a change.

— Stephanie Myles (@OpenCourt) May 27, 2015




..."HOW TO KEEP A GOOD DOUBLES PARTNER" FROM DAY 4:

By Sania...


"It's no secret that @mhingis is one of the smartest players in the game" @MirzaSania #RG15 pic.twitter.com/K5kwFoQmyx

— Roland Garros (@rolandgarros) May 27, 2015
...and, finally, waiting a day proved to be the correct course of action.

Halep's loss on Day 4 makes the "Crash & Burn" award a pretty cut-and-dry decision. Though, I suppose a loss by an even HIGHER seed tomorrow -- and Serena DID share the award with Li Na last year in a similar situation -- could add another name to the (dis)honoree list.

Meanwhile, Lucic-Baroni's win over Halep, along with Vekic's second upset this week, makes it official: The Croats are the "Upset Queens" of Roland Garros!

Ha! Knew it all along. Kinda sorta.








Chill evening with my bro watchin#realhusbandsofhollywood #cantwaittillshowisbackon @KevinHart4real @BorisKodjoe pic.twitter.com/2QlM61qQGh

— victoria azarenka (@vika7) May 26, 2015

Caroline #Wozniacki on being dumped at the last minute by #RoryMcIlroy http://t.co/A2nz5VpnoH pic.twitter.com/FKapiBEcp9

— The Sunday Times (@thesundaytimes) May 27, 2015

Sometimes, the sun briefly slips behind a dark cloud.
??

— Daria Gavrilova (@Daria_gav) May 27, 2015
Gavrilova crying as she is forced to withdraw from her match with Lisicki. #RG15 pic.twitter.com/6oB71EUXsW

— LetsTalkTennis (@letstalktennis1) May 27, 2015




*ALL-TIME ROLAND GARROS MATCH WINS - WOMEN*


84...Steffi Graf
72...Chris Evert
72...Arantxa Sanchez
62...Conchita Martinez
54...Monica Seles
52...MARIA SHARAPOVA
51...Martina Navratilova
48...SERENA WILLIAMS
46...SVETLANA KUZNETSOVA


[matches]


94...Steffi Graf
85...Arantxa Sanchez
80...Conchita Martinez
78...Chris Evert
62...MARIA SHARAPOVA
62...Martina Navratilova
62...Monica Seles
--
ALSO: Serena Williams (59)



*RG "ZOMBIE QUEENS"*


2008 Dinara Safina, RUS (2 MP down in 4r, 2 MP down in QF; reached final)
2009 Victoria Azarenka, BLR (down 7-5/4-1 in 3r, match susp./darkness; reached QF)
2010 Samantha Stosur, AUS (down MP in QF; reached final)
2011 Maria Sharapova, RUS (down 6-3/4-1 in 2r; reached SF)
2012 Victoria Azarenka, BLR (down 7-6/4-0 in 1r; avoided earlier #1 exit; reached 4r)
2013 Marion Bartoli, FRA (down break 3 times in 1st & 2 MP in 3rd in 1r; 4-1 1st & break in 2nd set in 2r)
2014 Svetlana Kuznetsova, RUS (down 3-1 in 3rd set, opp.served for match twice in 3r; to QF)
2015 Elina Svitolina, UKR (down 6-1/3-0, 4-1 in 3rd set in 2r; wins 9-7)



*RG "UPSET QUEENS" NATIONS*


2004 Ukraine
2005 France
2006 United States
2007 Romania
2008 Czech Republic
2009 Kazakhstan (ex-Russians)
2010 Australia
2011 Romania
2012 United States
2013 Slovak Republic
2014 France
2015 Croatia



*RG "CRASH-AND-BURN" WINNERS*


2008 Serena Williams, USA (lost 3rd Rd.)
2009 Elena Dementieva, RUS (lost 3rd Rd.)
2010 Dinara Safina, RUS (lost 1st Rd.)
2011 Kim Clijsters, BEL (lost 2nd Rd.)
2012 Serena Williams, USA (lost 1st Rd.)
2013 Caroline Wozniacki, DEN (lost 2nd Rd.)
2014 Serena Williams/USA (2nd Rd.) & Li Na/CHN (1st Rd.)
2015 Simona Halep, ROU (lost 2nd Rd.)



*RG "LAST WILD CARD STANDING"*


2008 Mathilde Johansson/FRA & Olivia Sanchez/FRA (2nd Rd.)
2009 Olivia Rogowska/AUS (2nd Rd.)
2010 Jarmila Groth (Gajdosova)/AUS (4th Rd.)
2011 Iryna Bremond/FRA, Caroline Garcia/FRA & Pauline Parmentier/FRA (2nd Rd.)
2012 Claire Feuerstein/FRA, Melanie Oudin/USA & Irena Pavlovic/FRA (2nd Rd.)
2013 Virginie Razzano/FRA (3rd Rd.)
2014 Pauline Parmentier/FRA (4th Rd.)
2015 Virginie Razzano/FRA, Amandine Hesse/FRA (2nd Rd.)






TOP QUALIFIER:

Veronica Cepede Royg/PAR




TOP EARLY-ROUND (1r-2r):

xx


TOP MIDDLE-ROUND (3r-QF):

xx


TOP LATE-ROUND (SF-F):

xx


TOP QUALIFYING MATCH:

Q1: Wang Yafan/CHN d. #15 Richel Hogenkamp/NED 2-6/7-6(7)/8-6 (saved 4 MP)




TOP EARLY-RD. MATCH (1r-2r):

xx


TOP MIDDLE-RD. MATCH (3r-QF):

xx


TOP LATE-RD. MATCH (SF-F/Jr.):

xx


=============================




FIRST VICTORY:

(Q) Teliana Pereira/BRA (def. WC Ferro/FRA)




FIRST SEED OUT:

#31 Caroline Garcia/FRA (lost 1st Rd. to Vekic/CRO)




UPSET QUEENS:

The Croats




REVELATION LADIES:

The New Australians




NATION OF POOR SOULS:

United States (most players in draw w/ 17, but tied for 4th w/ just 4 1st Round winners)




LAST QUALIFIER STANDING:

In 2nd Rd.: Dominguez-Lino/ESP, Kania/POL(L), Karatantcheva/BUL, Pereira/BRA(L)


LAST WILD CARD STANDING:

Virginie Razzano/FRA & Amandine Hesse/FRA (both 2nd Rd.)




LAST PASTRY STANDING:

In 2nd Rd.: Cornet(W), Hesse(L), Mladenovic, Razzano(L)
MADEMOISELLE/MADAM OPPORTUNITY: xx
IT "??": xx


COMEBACK PLAYER:

Nominee: Karatantcheva/BUL, Lucic-Baroni/CRO


CRASH & BURN:

#2 Simona Halep/ROU (lost 2r to Lucic-Baroni/CRO)




ZOMBIE QUEEN:

#19 Elina Svitolina/UKR (2nd Rd. vs. Putintseva - down 6-1/3-0, then 4-1 in 3rd; won 9-7 deciding set)


JOIE DE VIVRE: Nominee: Cornet/FRA, Razzano/FRA (underhand serves), Mladenovic/FRA (con. years w/ big RG upsets)


DOUBLES STAR:

xx


KIMIKO DATE-KRUMM VETERAN CUP (KDK CUP):

Nominee: Schiavone/ITA (34; ended 8-match slam losing streak), Date-Krumm/Schiavone (78-year old doubles duo)


JUNIOR BREAKOUT:

xx






*

- a nod to Mark Twain's A Double Barrelled Detective Story (1902)

...born Samuel Langhorne Clemens (November 30, 1835 – April 21, 1910). American author, lecturer and humorist. Writer of The Adventures of Tom Sawyer (1876) and its sequel, Adventures of Huckleberry Finn (1885). Twain's writing and large personality made him a public figure and, ultimately, an American icon. A renowned traveler, Twain entertained fans around the world with his opinionated wit.




All for Day 4. More tomorrow.