Wk.23- Oh, Giorgi Girl... the Grass, the Grass is Calling
Well, it's the first week of the grass court season.
Do you know where your Radwanska is?
How about your Genie, in or out of a bottle?
Well, at least we know where Camila Giorgi is. In the winner's circle...
finally.


Hey, all it took was four finals, two unconverted match points on Championship Point and a whole lot of Italian fight and drama, both on the court and off.

Not that anyone was cataloging all that or anything. (Clears throat.)







*WEEK 23 CHAMPIONS*




's-HERTOGENBOSCH, NETHERLANDS (Int'l $227K/Grass)


S:

Camila Giorgi/ITA def. Belinda Bencic/SUI 7-5/6-3


D:

Asia Muhammad/Laura Siegemund (USA/GER) d. Jelena Jankovic/Anastasia Pavlyuchenkova (SRB/RUS) 6-3/7-5




NOTTINGHAM, ENGLAND (Int'l $227K/Grass)


S:

Monica Niculescu/ROU vs. Ana Konjuh/CRO


D:

Raquel Kops-Jones/Abigail Spears (USA/USA) d. Jocelyn Rae/Anna Smith (GBR/GBR) 3-6/6-3 [11-9]



The awarding of the first Baltacha Trophy in Nottingham will have to wait until Monday.


"@BritishTennis: Elena Baltacha Trophy to be awarded to winner of #AegonOpen Nottingham http://t.co/Akcm7Wi3bS pic.twitter.com/fF2dVjOhZU". :)

— judy murray (@judmoo) May 4, 2015




MONDAY UPDATE:

after a slow, heavy-legged start after her long weekend, Ana Konjuh rebounded from dropping the opening set of the Nottingham final vs. Monica Niculescu on Monday. It was the first set the 17-year old Croat lost in the tournament. She then swept through the Romanian to win 1-6/6-4/6-2 to claim her maiden tour title and become the youngest WTA singles champ since Tamira Paszek (15) in 2006. She's now risen to a career-best #55 in the new rankings.

Congrats @AnaKonjuh!! Winner of inaugural #AegonOpen & Elena Baltacha Trophy--> http://t.co/WKKBqflqQk 🏆 👏 pic.twitter.com/1PFsKgG460

— WTA (@WTA) June 15, 2015

1st #WTA Title! Camila Giorgi wins @TopshelfOpen with 75 63 victory over Bencic--> http://t.co/gVqVQ6LtKu #tennis pic.twitter.com/JiAtZdVBZQ

— WTA (@WTA) June 14, 2015



PLAYER OF THE WEEK:

Camila Giorgi/ITA


...finally, Giorgi found out how the other half lives. Last year, the Italian reached two finals, going 0-2 despite holding match points in both. After losing earlier this year in the Katowice final, it was apparent that the experience was getting old for the 23-year old. In 's-Hertogenbosch, Giorgi did what she often does best -- fight and survive. She opened with a win over Irina Falconi, then found a way past Michaella Krajicek despite the Dutch woman firing 21 aces (a tour-best for '15) before saving three MP vs. Yaroslava Shvedova in the QF. She defeated another Dutch woman (Kiki Bertens) in the Netherlands in the semis, then showed none of the nerves she had in her previous finals in the championship against Belinda Bencic. Giorgi is the fourth woman to win a WTA singles title this year after being down MP (and there could still be a fifth if Niculescu wins on Monday), as well as the third maiden champion. Usually after matches like this we see a player roll around on the ground in celebration, but Giorgi was so struck by her accomplishment that she seemed totally stunned by it and had little visible outward reaction to the win at all. Naturally, she dedicated her win to her crazy-haired, exuberant coach/father who is always sitting in the front row of all her matches.

Special message from @TopshelfOpen champ Camila Giorgi to her fans ???? #WTA #tennis https://t.co/vkTvBpaF4a

— WTA (@WTA) June 14, 2015
=============================
Carnival atmosphere expected as #AegonOpen #Nottingham final is pushed to Monday - http://t.co/vdFHmUtT0v pic.twitter.com/h8452IFOOA

— British Tennis (@BritishTennis) June 14, 2015



RISERS:

Monica Niculescu/ROU & Alison Riske/USA


...a week after she claimed a $100K challenger event on clay, Niculescu turned things around in Nottingham and has put together her fifth run to a tour-level singles final in the last five seasons (she's won the last two). Due to all the rain, the singles final won't be played until Monday (vs. Ana Konjuh), but it meant the Swarmette didn't have to play TWO matches on Sunday as her future Croat opponent did. Niculescu opened with a win over Varvara Lepchenko, saved five match points vs. Olga Govortsova, then took out Johanna Konta and #1-seeded Aga Radwanska (w/ a love 3rd set) to reach the championship. Meanwhile, Riske's early career was essentially made on the back of her grass court results, so it's no shock when the American puts up good results at this time a year. In 2009, she was set to attend Vanderbilt, but decided to be a full-time pro two weeks before classes were set to begin. In her first full season on tour in 2010, she originally sparked on grass, reaching the Birmingham semis (losing to Sharapova in three sets) as a qualifier and earning a wild card into Wimbledon, where she made her slam debut. Another Birmingham QF, and then a second SF (2013) pushed her career still higher, as she reached the Top 100 for the first time. She got to the 3rd Round at Wimbledon in both '13 and '14, finished in the Top 60 both years, and has since put up a Round of 16 hard court result at the U.S. Open and a 3rd Round in Melbourne, as well. Last year, she won her first tour title in Tianjin. This this time of year is something like a homecoming for the Pittsburgh native, and she reacted accordingly with another grass court semi in Nottingham with wins over Zheng Saisai, Mirjana Lucic-Baroni and Yanina Wickmayer (the Belgian was even one of her victims in that original 2010 run) before losing to Ana Konjuh in the pushed-back semi on Sunday. Riske also had a semi earlier this year in Hobart, and her result this week will lift her ranking up to around #44-45, just behind the career-best of #40 she attained last season.

too good from my opponent 2day but very thankful 4 a fun first week on the beloved grass????will miss @Tropeiro_Brazil !Thank u 4 everything??

— Alison Riske (@Riske4rewards) June 14, 2015
=============================
It's a second top 100 win in 3 days for @JoKonta91 at #AegonOpen #Nottingham as she beats Puig 4-6, 6-4, 7-6(5)! pic.twitter.com/zUW5DFD81q

— British Tennis (@BritishTennis) June 11, 2015



SURPRISES:

Johanna Konta/GBR & Sachia Vickery/USA


...Aussie-born Brit Konta was given a wild card into the main draw in Nottingham, and her results showed that her inclusion was worthwhile. A pair of Top 100 wins over Magdalena Rybarikova and Monica Puig put the #147-ranked 24-year old into a tour-level QF for the first time since she reached the Final 8 in Guangzhou in September '13 (also the last time she notched two Top 100 victories in a single tournament). In that same much-delayed Nottingham event, 20-year old Vickery was the one caught up in the weather report. Her QF match with Ana Konjuh was postponed both Friday AND Saturday before she ultimately lost on Sunday. Still, it was a great week for the young Bannerette, as she completed a qualifying run and put up wins over Wang Qiang and Zarina Diyas, the latter after saving six match points.



=============================




VETERANS:

Jelena Jankovic/SRB & Raquel Kops-Jones/Abigail Spears (USA/USA)


...30-year old world #30 (ah, only JJ) Jankovic came to the Netherlands having gone just 5-4 (with a walkover and a retirement) since reaching the Indian Wells final in March. Back in better health, her results picked up last week as she pulled double-duty in singles and doubles, and saw success in both. Wins over Tereza Smitkova, Andrea Hlavackova and Annika Beck put the Serb into the singles semis (she lost to teen Belinda Bencic), while JJ and Anastasia Pavlyuchenkova put up a win over Babos/Mladenovic and reached the doubles final. All in all, a very good bounce back week on the grass. Although, it should be noted that Jankovic has gone just 1-4 at Wimbledon since 2011... so don't let it go to anyone's head. In Nottingham, they managed to sneak the doubles final in late on Sunday, and the veteran American pair of Kops-Jones (32) & Spears (33) took their 12th title as a duo in their 19th final. It's their second grass court title, having won in Birmingham last year. They also won on hard court in Doha earlier this season, defeating Hsieh Su-Wei & Sania Mirza in the final in the last match before Mirza ended that partnership to join up with Martina Hingis.

Well done Abigail Spears & Raquel Kops-Jones for winning #AegonOpen #Nottingham doubles title http://t.co/15TUDqmy5q pic.twitter.com/BVjO3tphpP

— British Tennis (@BritishTennis) June 14, 2015



=============================




COMEBACKS:

Kiki Bertens/NED & Alexandra Cadantu/ROU


...a week after she failed to back up her 2014 Roland Garros Round of 16 result, falling from #90 all the way out of the Top 100 to #132, Bertens played back home in the Netherlands and reclaimed at least a decent-sized chunk of her lost ranking ground with a semifinal run that included victories over Zhang Shuai, Anastasia Pavlyuchenkova (do you realize she's barely ranked in the Top 40 now... is there any more underachieving player on tour?) and defending champ Coco Vandeweghe. It's Bertens' first tour-level SF result since she reached the final four at the Paris Indoors in 2013. She'll be back at #110 on Monday. Meanwhile, Cadantu is the latest Swarmette striving to re-climb the tennis mountain. Fellow Romanians Mihaela Buzarnescu and Madalina Gojnea have returned to great ITF success already in '15, and now the injury-marred 25-year old Cadantu is attempting to do the same. She was a Top 100 player from 2011-13 (reaching #59 at her height, and reaching a tour final in Monterrey in '12), but after playing through injury last season she fell all the way down to #235. She skipped the first few months of '15, but has since returned and found early success (though she's alredady had to fight through a new shoulder injury). After reaching a final earlier this season, now-#329 Cadantu reached her second of '15 this weekend in the $25K in Galati, Romania, where she won her first ITF singles title since 2011 with a three-set win over Cristina Dinu.


=============================



Being back on grass has me like #maximalamountofhappinessreached pic.twitter.com/BHXMPCYQ0S

— Belinda Bencic (@BelindaBencic) June 7, 2015



FRESH FACES:

Belinda Bencic/SUI & Ana Konjuh/CRO


...the two players who split the junior slam titles -- Konjuh won in Melbourne and New York, Bencic in Paris and London -- in 2013 once again are sharing headlines this week. In the Rosmalen event in 's-Hertogenbosch, 18-year old Bencic reached her second career WTA singles final with wins over Jessica Pegula, Alison Van Uytvanck, Kristina Mladenovic (saving 3 MP) and Jelena Jankovic. It's the New Swiss Miss' first semifinal result of '15, and her first since reaching the Tianjin final last October. She'll rise to #31 in the rankings on Monday, and looks like a good bet to get a Wimbledon seed after having to go the unseeded route at Roland Garros after having been the "First Seed Out" earlier this year at the Australian Open. She made a QF run in her U.S. Open debut last summer. Konjuh has reached her first career tour final in Nottingham, and will face Monica Niculescu on Monday in the delayed final after all the rain late last week in England. She came in at #87, so she'll set a new career high (so far, it's #84) when the new rankings are released no matter what happens on Monday. The Croat put up wins over Shelby Rogers, Casey Dellacqua, Sachia Vickery and Alison Riske (the last two BOTH being completed on Sunday), and if she does win the title she'll become -- at 17 years, 5 months and 19 days -- the youngest WTA singles champ since a 15-year old Tamira Paszek won in Portoroz in 2006. Donna Vekic is the most recent 17-year old to claim a singles title, winning last year at Kuala Lumpur at 17 years, 10 months.

17 year old @anakonjuh reaches the #AegonOpen #Nottingham final after defeating Alison #Riske http://t.co/EyWPNamI2D pic.twitter.com/QBvhogPGsq

— British Tennis (@BritishTennis) June 14, 2015



=============================




DOWN:

Genie Bouchard/CAN & Aga Radwanska/POL


...quick! Somebody put out a net to catch Bouchard before she hits rock bottom! Hmmm, on second thought, maybe that's precisely what needs to happen for things to change. At Rosmalen, it was the same old story for "the most marketable athlete in the world." As the #1 seed, Bouchard faced off with Yaroslava Shvedova in the 1st Round. Things went to a 3rd set, where the Canadian led 4-0 before she collapsed down the stretch as the Kazakh (who's just as likely to lose a similar lead as she is to erase it) swept the final six games, winning the final ten points of the match. Bouchard is now 1-9 in her last ten matches, and 7-11 on the season (with four of those wins coming in Melbourne). She's 8-16 since she reached the Wuhan final late last season. I guess it says a lot about how much you can really learn from the Hopman Cup in Week 1 when you consider that Bouchard actually defeated Serena Williams in Perth. Already having dropped out of the Top 10, Bouchard has her Wimbledon '14 RU points defense staring her in the face in a few weeks. So, I guess "rock bottom" is still out their to be found. Kindly remove the net, please. In Nottingham, it seemed for most of the week that Radwanska wouldn't land in this category as she had seemed to have finally rediscovered her form.

#CaptionThis- @ARadwanska the archer--> http://t.co/rGVyJynQ90 #WTA #AegonOpen #tennis pic.twitter.com/346l2f9JPK

— WTA (@WTA) June 10, 2015

No, not that form. But it doesn't look too bad... I guess. As a #1-seeded wild card, Aga took it to three straight opponents, dropping just eleven total games in three matches vs. Alla Kudryavtseva, Christina McHale and Lauren Davis. But then the rain delayed play, and while Radwanska was ahead of the weather and got her QF match in on Friday, she found herself facing the unorthodox game of Monica Niculescu in a semi on Sunday, knowing she'd likely have to play again that day if she won. As it turned out, she wouldn't have... but as it REALLY turned out, it didn't matter at ALL. She won the 1st set, but was forced to a 3rd by the Romanian... where she dropped the deciding stanza at love to leave yet another tournament with a whimper. In her last six events, Radwanska's losses have included four straight set defeats and a pair of three-setters that have ended with her winning a total of one combined game.


=============================




ITF PLAYERS:

Anett Kontaveit/EST (Wk.22) & Vitalia Diatchenko/RUS (Wk.23)


...a slight look back here, with Kontaveit getting an official "share" of this award for her grass court title run in the $50K Eastbourne event during the concluding week of action at Roland Garros. The 19-year Estonian (#163) put up victories over An-Sophie Mestach, Oceane Dodin, Julia Boserup and Alla Kudryavtseva in the final to win her tenth career challenger title, and her biggest yet. Kontaveit was in the Surbiton $50K grass event this past week, losing to 17-year old Naomi Osaka in the semifinals. Osaka ultimately lost the final to Diatchenko, the 24-year old Russian who recently faced off with Maria Sharapova at Roland Garros. Diatchenko notched additional wins over Naiktha Bains, Tamira Paszek, Naomi Broady and Tara Moore. Yes, THAT Moore. You know, the one that was so impressed with Serena's "acting skills" in her RG semi win over Timea Bacsinszky last week.

Not only is serena one of the best women players of all time, she's also one of the best actresses #suckitup #learnhowtolose #pathetic

— Tara Moore (@TaraMoore92) June 4, 2015
Maybe Tara never saw Serena's guest stint on that episode of "Law & Order: SVU."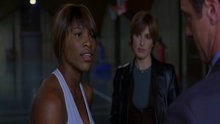 =============================




JUNIOR STARS:

Aliona Bolsova/ESP, Tamara Zidansek/SLO & Karman Kaur Thandi/IND


...a pair of 17-year old juniors won $10K challengers on the ITF circuit, as both Bolsova and Zidansek picked up their second career pro singles titles. The Spaniard won in Madrid, defeating countrywoman Lucia Cervera Vazquez in the final after having teamed up with her to reach the doubles final, while the Slovenian took the Banja Luka event in Bosnia. Zidansek (the current #19 junior) defeated top-seeded Viktoriya Tomova in the QF, then took out Serbian Marina Kachar in the final. On the junior level, 16-year old Indian Thandi won the Grade 1 event in Offenbach, Germany. It was just her second appearance in a G1 event. The #157-ranked junior, she defeated the #5 and #8 seeds en route to the final, where she outlasted Mexico's Jessica Honojosa Gomez. Thandi won the 16-and-under Future Stars competition (going 7-0) at the WTA Finals in Singapore last October. Li Na presented her with the trophy. Here she is in an interview on the BBC after her title run:



=============================



Ladies and gentlemen, your 2015 Topshelf Open doubles champions. ???? @asiamuhammad @WTA pic.twitter.com/bTOlSFA9Ih

— Christopher Levy (@tennis_shots) June 13, 2015



DOUBLES:

Asia Muhammad/Laura Siegemund (USA/GER) & Jocely Rae/Anna Smith (GBR/GBR)


...while things in Nottingham were backed WAY up because of late week/weekend rain, Muhammad and Siegemund got things out of the way early in 's-Hertogenbosch, winning the doubles final on Saturday as both claimed their first career tour titles. It was 24-year old Bannerette Muhammad's first tour final, while Siegemund, 27, previously reached a '15 final in Marrakech with Maryna Zanevska. The British duo of Rae & Smith failed to win their first tour-level title in their home nation when they lost in the Nottingham final to the veteran Bannerette pair of Kops-Jones/Spears. Rae & Smith won the 1st set, leading the deciding super tie-break 7-4 and getting within two points of the title at 9-9 before the Americans edged them out 11-9. Still, it's worth noting that the Brits have combined to win eleven ITF titles, and this was their seventeenth final as a duo on the ITF and WTA circuits (they were the Bastad RU last July) since November '13. A week ago, they reached the $50K challenger final on the grass in Eastbourne, losing to Coco Vandeweghe & Shelby Rogers.


=============================





Maybe Aga got tired out on the practice courts?



.@ARadwanska, @ZarinaDiyas & @JossRae91 playing a game of keep up with @Official_NCLFC at #AegonOpen ? #WTA https://t.co/TrCMYHqCOe

— WTA (@WTA) June 8, 2015
Still, she ALWAYS wins "Shot of the Month."
.@ARadwanska wins May's #WTA Shot of the Month from @MutuaMadridOpen--> http://t.co/vVbAGKJOKu #tennis pic.twitter.com/7dUeodXAMV

— WTA (@WTA) June 12, 2015
Meanwhile, American sensibilities are finally rubbing off on Vika.
While it's raining in ???? I'm channeling my inner Odell Beckham Jr. #football #gottahavefun @OBJ_3 pic.twitter.com/vrJfB3kVwo

— victoria azarenka (@vika7) June 13, 2015


1. Nott 2nd Rd. - Davis d. Linette
...5-7/7-6(13)/6-2. This one was all over the place. Davis led 5-2 in the 1st set, but lost it. Linnette led 5-2 in the 2nd, but she lost it, too. But only after holding two MP, then six more in the TB after taking a 6-2 lead. Davis ended up pushing things to a 3rd set after converting her sixth set point, then she pulled away.

After 2hrs 50mins @LaurenDavis93 edges Linette 57 76(13) 62! Makes #AegonOpen QFs--> http://t.co/1rHgL3cFZ5 #WTA pic.twitter.com/K6kPgblgcy

— WTA (@WTA) June 10, 2015



=============================


2. Nott 2nd Rd. - Niculescu d. Govortsova
...2-6/7-5/7-5. Govortsova led 6-2/5-3 and had five match points. Niculescu could very well ride her comeback all the way to the title on Monday.


=============================


3. Nott 2nd - Vickery d. Diyas
...4-6/7-6(5)/6-1. What exactly was going on in the 2nd Round in Nottingham, anyway? Diyas had three MP at 5-4 in 2nd set, then three more at 6-5. Naturally, Vickery won.

.@SachiaVick saves SIX match points to upset Diyas 46 76(5) 61 for #AegonOpen QF spot--> http://t.co/Dvoaxwqyom #WTA pic.twitter.com/liLTeybqcq

— WTA (@WTA) June 11, 2015



=============================


4. 's-Herto QF - Bencic d. Mladenovic
...7-6(4)/6-7(4)/7-5. Bencic had a MP in the 2nd, but Mladenovic saved it and went on to a 3rd set. Not content with a comeback victory, Kiki had three MP of her own at 5-4 in the final set before the Swiss teen went on to win the 2:55 match.

.@BelindaBencic saves 3 match points to def Mladenovic 76(4) 67(4) 75! Reaches 1st SF of 2015 at @TopshelfOpen! #WTA pic.twitter.com/Zd7f1mlvvg

— WTA (@WTA) June 12, 2015



=============================


5. 's-Herto QF - Giorgi d. Shvedova
...4-6/6-3/7-6(9). Shvedova led 3-1 in the 3rd set, but Giorgi forced a TB and had a MP at 6-5. Shvedova saved that and had three MP of her own before the Italian converted her own second attempt and went on to win her maiden tour title.


=============================


6. 's-Herto 1st Rd. - Shvedova d. Bouchard
...6-4/1-6/6-4. Bouchard led 4-0 in the final set. By the end of the week, Shvedova was having an MRI. It's nothing serious, but she'll be out of Birmingham this week.




=============================


7. 's-Herto Final - Giorgi d. Bencic
...7-5/6-3. Giorgi is the third different Italian (Errani & Knapp) to win a singles title this year, matching the Czechs (Kvitova, Pliskova & Safarova) with the deepest pool of champions in 2015.


=============================


8. 's-Herto 1st Rd. - Mladenovic d. Babos
...7-6(4)/4-6/6-2. Once again, the doubles BFF's meet on the singles court. So far, Kiki is 2-1 in WTA events, 1-0 on the ITF circuit and 1-0 in juniors. Babos got her only victory earlier this year in the Marrakech SF.


=============================


9. Nott Doub QF - C-W.Chan/Y.Xu d. Black/Raymond
...6-2/6-4. Black/Raymond, who won their first of two titles as a duo back in 2003, haven't played together since 2010.


=============================


10. Birm Q1 - Gibbs d. Witthoeft
...7-6(5)/6-7(1)/7-5. Witthoeft led 7-6/5-3 and held four MP in the 2nd set.


=============================


11. Birm Q1 - Krunic d. Askew
...6-2/6-1. This was The Bracelet's first career grass win. She got another on Sunday over Gibbs to reach the main draw.


=============================


12. 's-Herto QF - Bertens d. Vandeweghe
...6-4/6-1. Come on, you didn't think I was going to NOT give a special mention to this one, did you? I mean, how often do we get a Kiki vs. Coco match-up? I mean, ANYWHERE ON EARTH... well, besides maybe a poodles-only dog park somewhere, I mean.

.@KikiBertens knocks out defending champ Vandeweghe 64 61! 1s into @TopshelfOpen SFs--> http://t.co/vJt8bkAaWL #WTA pic.twitter.com/VhO0mzbeQ5

— WTA (@WTA) June 12, 2015
=============================
That's some great hat, Maria.

Monica Niculescu is our first #AegonOpen #Nottingham finalist after defeating No.1 seed #Radwanska 5-7, 6-4, 6-0! pic.twitter.com/xDjuN8I5qn

— British Tennis (@BritishTennis) June 14, 2015

1. 's-Herto SF - Niculescu d. Aga Radwanska
...5-7/6-4/6-0. Making it's debut... "oh, Aga."


=============================


2. 's-Herto 1st Rd. - Beck d. Ula Radwanska
...6-3/6-4. Beck has something against Poles, I guess. In Paris, she knocked off Aga and Paula Kania. Here, she made it a Radwanska two-fer with a win over Ula.


=============================


3. 's-Herto Q3 - Ula Radwanska d. Arina Rodionova
...3-6/7-6(6)/6-0. Early in the week, things were going well for BOTH Radwanskas. Ula trailed 6-3/5-0 and saved a MP. She won the last two games of the match at love.


=============================


4. 's-Herto Q2 - Arina Rodionova d. Anastasia Rodionova
...6-4/6-1. Arina is 2-1 in all-Rodionova match-ups. Both wins have come in 2015.


=============================


5. $25K Kashiwa Final - Erika Sema d. Sawayanagi
...6-4/6-4. Sema wins her 10th ITF singles title, her first since 2013.


=============================


HM- $10K Bol Final - Pantuckova d. Sally Peers 6-3/6-2
$10K Sharm El Shiekh Final - Matteucci d. Sara Tomic 6-4/6-2
...neither Aussie sister won their singles final this weekend. 24-year old Peers (sister of John) is 0-2 in '15 finals, while this was 17-year old Tomic's (sister of Bernard) first career pro singles final.


=============================





Vika and her dad.
Happy birthday daddy!!! I love you very much ?????? pic.twitter.com/B9wZa2cWuk

— victoria azarenka (@vika7) June 9, 2015
Vika & Sascha and a genie in a bottle... but they're not talking about Bouchard. THAT Genie is in a whole heap of trouble... but, so far, Christina Aguilera hasn't recorded a song about it. Hmmm, maybe Justin B. will?
With @BigSascha blasting genie in a bottle song!!! And dancing in the car! We are so gangsta ??????

— victoria azarenka (@vika7) June 9, 2015

Dr.Oz sold Caro some magic beans that he says will cure all her future illnesses for the rest of her life... and turn her toe nails gold. No, I mean REAL GOLD. Dr.Oz says it's so, so it MUST be true, right?
.@CaroWozniacki visits @DrOz to talk health, @USANAinc & even play #tennis! VIDEO--> http://t.co/8NlKZGQ4be ???? pic.twitter.com/mC4pepCQTC

— WTA (@WTA) June 9, 2015

Honors for last month.
Honoured to be the @WTA Rising Star of the Month ??! Thank you everyone for the votes ?? https://t.co/8NW7tuSee7

— Daria Gavrilova (@Daria_gav) June 12, 2015
While scratching the surface of the new one.




**2015 WTA TITLES AFTER SAVING MATCH POINTS**


Antwerp - Andrea Petkovic, GER (8 MP - 2r/Van Uytvanck)
Rio - Sara Errani, ITA (3 MP - QF/Haddad)
Pattaya - Daniela Hantuchova, SVK (2 MP - SF/Erakovic)
's-Hertogenbosch - Camila Giorgi, ITA (3 MP - QF/Shvedova)
--
NOTE: Nottingham finalist Niculescu saved 5 MP in QF vs. Govortsova



**2015 FIRST-TIME CHAMPIONS**


Katowice - Anna Schmiedlova (SVK/20, #67) - d. Giorgi
Bogota - Teliana Pereira (BRA/26, #130) - d. Shvedova
's-Hertogenbosch - Camila Giorgi (ITA/23, #35) - d. Bencic
--
NOTE: Konjuh (CRO/17, #87) in Nottingham final



**2015 FIRST-TIME FINALISTS**


Hobart - Madison Brengle, USA - lost to Watson
Pattaya - Ajla Tomljanovic, CRO-AUS - lost to Hantuchova
Rio - Anna Schmiedlova, SVK - lost to Errani
Bogota - Teliana Pereira, BRA - def. Shvedova
Strasbourg - Kristina Mladenovic, FRA - lost to Stosur
Nottingham - Ana Konjuh, CRO - vs. Niculescu



**WTA TITLES, 18-or-under - since 2007**


5 - Caroline Wozniacki (2008-09)
2 - Anastasia Pavlyuchenkova (2010-11)
2 - Aga Radwanska (2007)
2 - Agnes Szavay (2008)
1 - Timea Babos (2012)
1 - Sorana Cirstea (2008)
1 - Alize Cornet (2008)
1 - Petra Kvitova (2009)
1 - Elina Svitolina (2013)
1 - Donna Vekic (2014)
--
NOTE: Konjuh (17) in Nottingham final



**2015 ALL-UNSEEDED WTA FINALS**


Hobart - Heather Watson/GBR d. (Q) Madison Brengle/USA
Pattaya - Daniela Hantuchova/SVK d. Ajla Tomljanovic/CRO-AUS
Doha - Lucie Safarova/CZE d. (WC) Victoria Azarenka/BLR
Nottingham - Monica Niculesu/ROU vs. Ana Konjuh/CRO



**2015 FINALS w/ TWO TITLE-LESS PLAYERS**


Katowice - A.Schmiedlova/SVK (0-1) d. Giorgi/ITA (0-2)
's-Hertogenbosch - Giorgi/ITA (0-3) d. Bencic/SUI (0-1)



**CAREER GRASS COURT TITLES - active**


6...Serena Williams
6...Venus Williams
3...Maria Sharapova
2...Petra Kvitova
2...Tammy Tanasugarn



**2015 LOW-RANKED SEMIFINALISTS**


#251 - Virginie Razzano/FRA (Strasbourg)
#181 - Hsieh Su-Wei/TPE (Kuala Lumpur)
#158 - Sesil Karatantcheva/BUL (Acapulco)
#134 - Mariana Duque/COL (Bogota)
#132 - KIKI BERTENS/NED ('s-Hertogenbosch)
#130 - Teliana Pereira/BRA (Bogota) [W]
#110 - Lucie Hradecka/CZE (Charleston)
#105 - Alison Van Uytvanck/BEL (Katowice)




Giving credit where (probably just a fluke) credit it due.



To the ??,To the ??! 1st time in #WTA history 4 lefties are ranked inside Top 10--> http://t.co/YtRHBcOPur #tennis pic.twitter.com/mfcAkDFVrF

— WTA (@WTA) June 12, 2015
Just so no one can say I wasn't on top of things early.
Future Grand Slam winner - right here! https://t.co/NowQafkkQm

— Live Tennis (@livetennis) June 13, 2015
Or hold grudges too long...
Happy birthday to former World No.1s @LDavenport76 & @ClijstersKim from the #WTA!! ???? pic.twitter.com/bZ0aMc2ZNK

— WTA (@WTA) June 8, 2015





BIRMINGHAM, ENGLAND (Premier $665.9K/Grass)


14 Final: Ivanovic d. Strycova
14 Doubles Final: Kops-Jones/Spears d. Barty/Dellacqua
15 Top Seeds: Halep/Ivanovic
=============================


=QF=


#1 Halep d. Riske
#12 Azarenka d. #13 Kuznetsova
#4 Kerber d. #11 Cornet
#2 Ivanovic d. #8 Lisicki


=SF=


#12 Azarenka d. #1 Halep
#4 Kerber d. #2 Ivanovic


=FINAL=


#12 Azarenka d. #4 Kerber

...Vika's never won a grass court singles title (though she was the Eastbourne RU in '10, '12 Olympic Bronze winner and Mixed Doubles Gold, and the Wimbledon junior doubles champ in 2004-05), so now would be as good a time as any to complete that Career Surface Slam (yes, she's won on clay -- at Marbella in '11).

Hey, she's trying to blend in, so...


Respecting tradition in ???? ??? My choice was @TwiningsTeaUK Lady Grey pic.twitter.com/Zu3CPMnanU

— victoria azarenka (@vika7) June 14, 2015
Meanwhile, did you miss the announcement this week of another Timea milestone?
The day has come, I got the little ?? of Twitter ! #iamandiwastherealtimea #thankyou #postbirthaypresent pic.twitter.com/rHI29sCLT5

— Timea Bacsinszky (@TimiBacs) June 9, 2015
Or Martina in a hat?
hello from Moscow! pic.twitter.com/WIGvRk3r1b

— Martina Hingis (@mhingis) June 11, 2015
And then there was this...
Friends never gets old ?? #TalesofRossandMonica pic.twitter.com/Ub1rUE91Xf

— Monica Puig (@MonicaAce93) June 13, 2015




All for now.