US.1 - Oh, AnaIvo
Oh, what are we going to do with Ana Ivanovic?
Really, I'm seriously asking.
Because she just seems destined to forever be a future subject of a "What If?" scenario about the career she never had.
Ana Ivanovic out. She's beaten in 3 sets by Dominika Cibulkova. 6-3 3-6 6-3. pic.twitter.com/wpcJosY7Yo

— BBC Tennis (@bbctennis) August 31, 2015


The now 27-year old Serb burst onto the WTA scene early, winning her first tour title at age 17. With a big forehand that dreams are made of, she seemed to be tough and mentally strong. She reached her first slam final at 19, finished '07 in the Top 5, then opened the next season with a second slam final at 20. On the heels of Justine Henin's sudden retirement in the spring of 2008, Ivanovic reached her second straight slam major, replacing the departed Belgian as the Roland Garros champ and world #1. All great things seemed possible.

And then they all went to hell

Well, not really. But sort of. AnaIvo has had a good to very good career, and has never fallen all the way off the tennis map like so many young stars who don't fully pan out, but all the promise that she showed before she rose to the top of the sport disappeared pretty much right at that very same moment. Not ready for the pressure of the spotlight, but in demand in many corners off the court, Ivanovic lost track of the Hall of Fame-worthy talent and the confidence her rise should have given her. At the end of the summer, as the world #1 in New York, she became the first top seed to lose before the 3rd Round when she was sent out in the 1st Round of the Open by #188-ranked qualifier Julie Coin, the biggest upset (numbers-wise) ever at the event. By the end of that '08 season, she'd lost the #1 ranking to fellow Serb Jelena Jankovic and finished at #5 WITH a slam title, after having been #4 WITHOUT one the previous year.

What followed was a string of year-end finishes that were, quite frankly, below her. #22, #17, #22, #13 and #16. Along with the relative mediocrity came a slew of coaching changes and questions. Finally, in 2014, while the coaching in-and-out continued, she somewhat righted her career ship. She upset Serena Williams in Melbourne and reached the Australian Open QF (just her second at a slam since winning RG in '08), won her first tour singles title in three years (eventually grabbing a career-best four), returned to the Top 10 after a five-year absence and even finished in the Top 5.

AnaIvo opened '15 with a final in Brisbane, but hasn't reached another since. Her semifinal in Paris was her first at a major in seven years, but it's been her lone slam result of note since that Melbourne QF run. With her 1st Round loss to Dominika Cibulkova today at Flushing Meadows, Ivanovic's has put up 3rd-3rd-2nd-1st-SF-2nd-1st Round results at the last seven majors.

Ivanovic is still just 27, and her admirable 44 consecutive slam streak could eventually put her in the WTA record books (though she's still four and a half years off the all-time tour best of 62), but time is running out on the hopes that maybe the Serb could still reclaim some of the luster her career has lost over most of the last decade. She'll always be a fan favorite, and successful off the court. But she shouldn't have been a one-slam winner in the style of Gabriela Sabatini.

She was better than that.

As for now, though, I guess it's officially, "Coach, Watch Your Back" time in AnaIvo Land. I mean, shouldn't we be expecting some sort of familiar announcement soon?


Upset Alert: Dominika #Cibulkova has taken out the #7th seed Ana #Ivanovic in 3 sets: 6-3, 3-6, 6-3 #usopen @chase http://t.co/9JLUXO2HQY

— US Open Tennis (@usopen) August 31, 2015


Meanwhile, Cibulkova has had just the opposite sort of career arc.

The Slovak's 6-3/3-6/6-3 win on Day 1 included several swings of momentum but, ultimately, it was Cibulkova who showed the most fight. She came back from 0-2 down in the 1st, getting three straight breaks of serve to end the set. Ivanovic overcame a 3-1 deficit in the 2nd to force a 3rd, but Cibulkova wasn't about to bow to the pressure. AnaIvo broke her to take a 1-0 lead in the final set, but then Cibulkova reeled off four consecutive games, saving two break points in game #6 to hold for 4-2 in what turned out to be Ivanovic's last true stand. The loss made #7 Ivanovic the first seed to fall at this year's Open... but anyone who dubs this a "surprise," or even a real "upset," isn't really being true in the face of the facts.


Slovakia's Dominika #Cibulkova celebrates after upsetting #7 seed Ana Ivanovic #USOpen http://t.co/aXYYNkRmrq pic.twitter.com/ItfirYZLFa

— Getty Images Sport (@GettySport) August 31, 2015


Cibulkova was a bit of a late bloomer, with her aggression-and-speed combo not securing her first tour title until 21 after she'd been "the best title-less" player on tour for a few seasons. Always a dangerous firebrand of a player who could upset anyone on a good day, she reached her maiden slam final last year in Melbourne at 24, and became a Top 10er for the first time two months before turning 25.

She returned to the AO this year and reached the quarterfinals, but Achilles' surgery put her out all spring. As the summer hard court has progressed, Cibulkova's game has started to round back into form, leading up to today's easy morning pick for "Most Intriguing Match-Up" with Ivanovic.

After surviving today, the unseeded Slovak now assumes the role of "de facto" #7 seed in AnaIvo's place, and the fiery firecracker (hmmm, is that redundant?) is dangerous and more than up to the task. Well, at least more so than the actual #7 seed she now replaces in what has become a virtually decimated quarter of the draw after Monday's string of high profile losses in what was once the "Sharapova Quarter." Assuming her health isn't an issue, Cibulkova seems to have a clear shot at the quarterfinals, and might be the favorite there to reach the semis should she get that far. She should be approached with caution.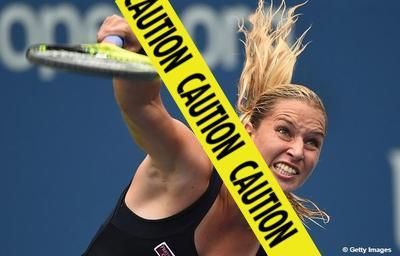 Oh, and, of course, she's one of the many players at this Open sporting a pair of those you'd-sort-of-like-to-cover-your-eyes-because-of-the-brightness-but-they-look-too-good-to-turn-away shoes.


Now I want Cibulkova's shoes, too

— Diane Elayne Dees (@WomenWhoServe) August 31, 2015


Go, Domi, go.




=DAY 1 NOTES=
...it's Day 1, so the first award -- for the first main draw victory -- usually is dispensed within the first hour. At this Open the "First Victory" honors go to Mariana Duque. The Colombian defeated the youngest player in the draw, 16-year old wild card Bannerette Sonya Kenin, 6-3/6-1 in just under an hour. Duque's win is another sign that the fortunes of South American women's tennis are FINALLY starting to take an up-tick. Brazil's Teliana Pereira has won two tour titles this year, and was also the "First Victory" winner at Roland Garros. So after no South Americans were given this slam honor since I've been keeping track of it since 2009, TWO won it in 2015. That might not sound like a big deal, but at some slams in recent years NO South American women posted 1st Round wins, and I believe more than once there weren't ANY in the main draw to even get any victories.

Pereira lost today to '14 Open semifinalist Ekaterina Makarova (#13) 6-3/6-3.

...#15 seed Aga Radwanska, a year after being the first woman to advance to the 2014 Open 2nd Round, was the second to do so today, taking out young Czech Katerina Siniakova 6-2/6-3. The Pole showed some nice aggression in the match, winning 13 of 15 net approaches and hitting four aces, including a final one on match point. She won 81% of her 1st serves, and 69% of her 2nd serves. Especially for her, that's pretty good.

...Backspin's Q-Player of the Week advanced to the 2nd Round, as well. Jessica Pegula defeated Alison Van Uytvanck 7-5/6-3 today to get her first career slam win.


Jessie Pegula, the 21-year-old daughter of Terry & Kim Pegula, has won her first match this year at the #USOpen. pic.twitter.com/VgF2Qzgi8z

— News 4, WIVB-TV (@news4buffalo) August 31, 2015


The daughter of the owner of the NFL's Buffalo Bills and NHL's Buffalo Sabres, I've been seeing Pegula called "heiress" the last day or so. Though technically correct, I'm not sure if it was meant as a compliment or not, considering how often so many seem to be mention with disdain that Ernests Gulbis comes from a rich family. Of course, Pegula isn't the first "heiress" on tour -- remember, Carling Bassett?



...as the afternoon wore on, along with the loss by AnaIvo, things got a bit, ummm, how should I say? Interesting.

#30 seed Svetlana Kuznetsova and Kristina Mladenovic traded off trying to choke away their good fortune in their 1st Round match-up. The Pastry won the 1st set 6-3, then went up 4-1 in the 2nd. She served at 5-4, holding triple match point at 40/love... and then burped out four straight unforced errors, hit a double-fault, and handed over the break to the veteran Hordette and former Open champ. But Sveta being Sveta, it wouldn't last. She was immediately broken back as Mladenovic took a 6-5 lead, then served out the 6-3/7-5 win on her second chance, winning on MP #5.


.@KikiMladenovic knocks out 2004 #USOpen champ Kuznetsova 6-3, 7-5--> http://t.co/1zn4CsNmji pic.twitter.com/8llVzNsJ6m

— WTA (@WTA) August 31, 2015


But that was nothing compared to the match between Madison Brengle and Zheng Saisai. In a spinny, moonballing contest, the Bannerette -- who, you might remember, finally ended her decade-long career quest by recording her first career slam MD match win at last year's U.S. Open -- led 6-2/4-2, only to lose serve three straight times to drop the set and see the Chinese woman take a 5-2 lead in the 3rd. Zheng served for the match at 5-2 and 5-4, but the long, drawn-out (eventually 3:21) match eventually went Brengle's way when, in game #12 of the 3rd, she finally got the break of serve to win on her sixth MP (all in that final game), 6-2/5-7/7-5.

She then dropped her racket, raised her arms in celebration, picked up the racket up again... then trudged, with the sort of short steps you see from an exhausted tennis player, to the changeover area, where she plopped herself down in her chair like a worn-out dish rag that had been forced to sop up way more liquid than it could hold. Just like any early Zombie Queen nominee should, I suppose.

...meanwhile, what was once the "Sharapova Quarter" was simply decimated. With #3 Sharapova absent, and #7 Ivanovic and #30 Kuznetsova already having been ousted, the carnage wasn't over.

#21 Jelena Jankovic won the 1st set over hard-hitting wild card Oceane Dodin, but the Pastry charged back to win the 2nd and take a 4-2 lead in the 3rd. With her right leg taped up from mid-calf to mid-thigh, Dodin fell behind love/40 on serve as JJ looked ready to get back on serve. But Dodin held for 5-2, then served for the match at 5-3. She held at love, taking the match 2-6/7-5/6-3.

ALL the Serb hopes aren't dashed, though. Bojana Jovanovski won today, and '14 Open star Aleksandra Krunic plays tomorrow.

In the same quarter, in a match that went on simultaneously with the Jankovic loss, U.S. Open Series champ (cough, cough, hack, hack) Karolina Pliskova (#8) was ridden out of town on a rusty rail with a few jagged nails sticking out by qualifier Anna Tatishvili in 52 minutes. The Georgian-turned-Bannerette played spectacularly, but it's hard to not see this as another weak-ass slam result from the Top 10 Czech, who has STILL yet to advance past the 3rd Round at a major (hey, at least she outlasted twin sister Kristyna at this slam... but only barely, as she lost in the opening round of qualifying). After winning the 1st set 6-2, Tatishvili ran off to a 5-0 lead in the 2nd, while Pliskova was left to stew in her pre-Open remarks of a week or so ago about focusing on doing better in the slams.

Serving at 5-1, Tatishvili held at love to take the match, almost insultingly ending things against the big-serving Maiden with a second serve ace up the "T" on MP. Ouch.


American Anna Tatishvili upsets the #8 seed Pliskova in straight sets #USOpen2015 #newyork pic.twitter.com/ZQfPR2TvJr

— BreakThru Radio (@BreakThruRadio) August 31, 2015


Later, #10 Carla Suarez-Navarro went down 6-1/7-6(5) (double-faulting on MP) to Czech Denisa Allertova, losing her SEVENTH consecutive match (she hasn't won since before Wimbledon); while

#13 Makarova, #17 Elina Svitolina and #25 Genie Bouchard (a good straight sets win over Alison Riske) were the only three of seven seeds in the Former Sharapova Quarter to win today, essentially assuring a "surprise" or newcomer semifinalist. Of course, Makarova reached the final four a year ago, but she's been injured and off-form on hard courts this summer, so it was hard to expect a similar result a few days ago. Who knows whether she's physically right enough to repeat today's performance for four more (at least) rounds.

In The Match That Time (and Maria) Forgot, it was a Battle of the Darias, as battery-powered Russo-Aussie Gavrilova faced off with "lucky loser" Hordette Kasatkina.

Quite possibly the absence of her expected opponent (Sharapova) put a little pressure on the back of Gavrilova, who had to take a gander at the draw on front of her and realize that a BIG opportunity could be there for the taking. The young Russian got the better of her early, taking the 1st set 6-2, and was up a break at 3-2 in the 2nd before Gavrilova got her footing in the match, breaking her to get back on serve. She won the 2nd with a break at love to send things to a 3rd.

In the 3rd, at 1-1, Gavrilova took a medical timeout as a trainer came to the court and massaged the back of her thighs while she stretched out on her stomach on the court surface. She then came out and held serve, then broke Kasatkina to go up 3-1. The Russian got the break back a game later. The two exchanged breaks again in games #7 and #8, then Kasatkina broke for 6-5 when Gavrilova let a passing shot go at the net, only to see it catch the sideline and break her to give the Russian a chance to serve for the match.

During the changeover, while Kasatkina sat in her chair Gavrilova stayed on her feet and walked around, as one had to believe she might be experiencing some cramping in the latter stages of a humid New York day. In the final game, from 30/30, Gavrilova sprayed a pair of shots and Kasatkina had her first career slam victory, winning 6-2/4-6/7-5 in 2:26. While Gavrilova doubled Kasatkina in winners (40-20), she more than did the same in unforced errors (52-24), as well.

Kasatkina, the 2014 RG girls champ, is the first "lucky loser" to notch a slam MD win since Irina Falconi at the 2014 Australian. The last time a female LL reached the 3rd Round at a major was Sandra Kleinova at the 1997 AO. The Russian faces Ana Konjuh in the 2nd Round.


That match redefined "intense." Daria Kasatkina defeats Daria Gavrilova 62 46 75. #USOpen2015 pic.twitter.com/lsHmlpiYp4

— Rachel Dulitz (@racheldulitz) August 31, 2015


Of course, the survivor of the former Sharapova Quarter will meet the winner of the Serena Quarter. Hmmm, maybe it's not Serena who's feeling the MOST pressure of history at this U.S. Open, huh?

...update as of the late afternoon:



QUALIFIER WINS:

Kiki Bertens/NED (def. Lucic-Baroni), Anett Kontaveit/EST (def. Dellacqua), Jessica Pegula/USA (def. Van Uytvanck), Anna Tatishvili/USA (def. Ka.Pliskova)


WILD CARD WINS:

Oceane Dodin/FRA (def. Jankovic), Bethanie Mattek-Sands/USA (def. Kozlova)


BANNERETTE WINS:

Madison Brengle (def. Sai.Zheng), Lauren Davis (def. Watson), Irina Falconi (def. Crawford), Madison Keys (def. Koukalova), Bethanie Mattek-Sands (def. Kozlova), Jessica Pegula (def. Van Uytvanck), Anna Tatishvili (def. Ka.Pliskova), Coco Vandeweghe (def. Stephens), Venus Williams (def. Puig)



AMERICAN STILL TO FINISH ON DAY 1:

: S.Williams

...late in the afternoon, after a disappointing hard court lead-up, Venus Williams (#23) didn't suffer one of "those" losses that you try to put out of your mind as quickly as possible, but it looked a little shaky for a bit.

Williams served for the match at 6-4/5-3 against Monica Puig, but failed to close things out. Things went to a tie-break, where Venus led 6-3 and held four match points. But Puig won six of the final seven points of the TB, and things went to a 3rd set when Venus double-faulted on the Puerto Rican's set point. But Williams rebounded in the final set, breaking Puig on her fourth BP of game #1 and never giving up the advantage. Venus never faced a BP in the 3rd, winning 6-4/6-7(7)/6-3 to notch her 65h career U.S. Open match win (fifth all-time, behind Evert, Navratilova, Serena and Graf).

...meanwhile, the American media's veneration of Coco Vandeweghe continued on ESPN today.

As it turned out, though, the big-hitting Bannerette actually deserved it on Day 1. Though I'm sure she'll say something that will tick me off soon. She simply overpowered #29 Sloane Stephens, winning 6-4/6-3.

Oh, and she made a little history, too, agreeing to the USTA/ESPN notion of being interviewed between sets by Pam Shriver.


ESPN made history by interviewing @CoCoVandey in the middle of a match. http://t.co/qv3ws0nxOe (More info coming.) pic.twitter.com/oMJfD4sJB3

— Chris Chase (@ChrisChaseFTW) August 31, 2015


Not sure if this a good idea, though. It was interesting, but it sort of reeks of ESPN desperation, I think.

...before the start of the night session, qualifier Kiki Bertens dispensed of Mirjana Lucic-Baroni, who made big headlines at the Open last year with her upset of Simona Halep (who she also beat at this year's Roland Garros).




DISLIKE FROM DAY 1:

No Maria.


.@MariaSharapova has withdrawn from the @USOpen with a right leg injury--> http://t.co/6pdMwyqJJs #USOpen pic.twitter.com/MnCQ7rAixm

— WTA (@WTA) August 30, 2015


Alas, Sharapova withdrew from the Open on Sunday. Any slam without Sharapova loses a little luster, and she's now missed the event two of the last three years.

It's also a sad development for Sharapova. With or without the leg injury that cost her her entire hard court summer schedule, she probably didn't have much of a shot to win this title. Truth is, she may never again really be a TRUE threat to do so, with her best chances at more major crowns likely being at Roland Garros or even at the Australian Open. And that, too, is a lamentable development, for Sharapova more than any other player -- male or female -- fits snugly into the bright lights, big city vibe of the Open in New York.

Remember, she was once Exquisite in the City. At the time, it seemed the Open was going to be "her" slam over the course of her career. Things change.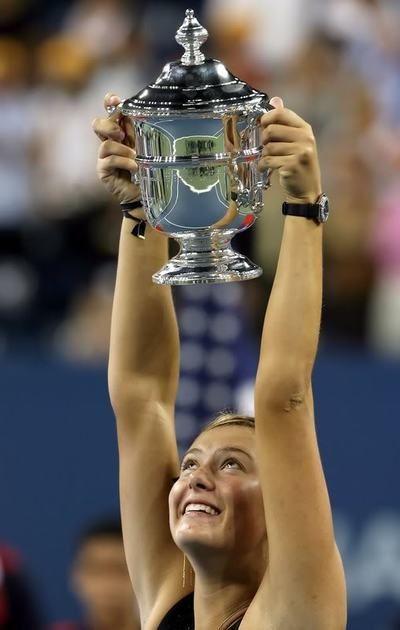 LIKE FROM DAY 1:

Googlicious.


.@Google is ready for the @USOpen! pic.twitter.com/parJjCNvZq

— WTA (@WTA) August 31, 2015




LOVE FROM DAY 1:

I always enjoy the Swiss Mini-People!


#Federer #Wawrinka #bacsinszky #bencic #USOpen2015 pic.twitter.com/nyIazbQE1F

— MiniPeople.ch (@SwissMinipeople) August 31, 2015




FORGOTTEN WOMAN FROM DAY 1, Part 1:

Quick! Name the missing 2014 U.S. Open semifinalist who reached the final four of this event one year ago! There was Serena, Caro, Makarova and... to be continued...



UPDATE FROM DAY 1:

The other Russian Maria...





LIKE FROM DAY 1:

A nice little moment-put-to-paper (or screen, I guess) from the other OTHER Russian Maria...


A doodle from the car... http://t.co/dPZoMwkFSN pic.twitter.com/lmVQVcqIcb

— Maria Sharapova (@MariaSharapova) August 30, 2015




Hmmm... FROM DAY 1:

Probably not a good sign. Two months after reaching the Wimbledon final, but after a winless hard court season, Garbine Muguruza has confirmed her split with coach Alejo Mancisidor after Cincinnati.



LIKE FROM DAY 1:

By the way, I really like the skeleton, work-in-progress look of Arthur Ashe Stadium as the project to finally get the roof in place is ongoing. Of course, it'll look very different a year from now.

I also enjoyed seeing Centre Court the year before the roof went up there, when the structure was somewhat stripped down without the overhang, making the whole feel a more "open" one.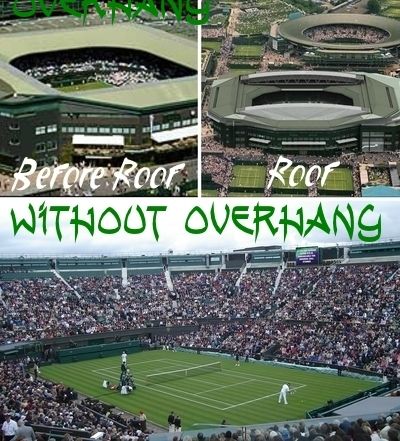 FORGOTTEN WOMAN FROM DAY 1, Part 2:

Well, of course, it's Peng Shuai. We won't likely hear her name uttered during this slam because, well, we're sort of stuck with ESPN covering it. But the Chinese woman had quite the dramatic Open a year ago. Unfortunately, it ended that way, too.



Peng concluded '14 by ending her longtime doubles partnership with Hsieh Su-Wei, and it's been downhill from there. Her season record is 6-7 (and 0-4 in doubles, after being ranked #1 as recently as July '14), and when we last saw her she was retiring at Roland Garros with a back injury, then announcing that it was severe enough that she was ending her season right then and there.

Peng was supposed to pick up the torch set down by Li Na this season. It hasn't worked out that way.



DISLIKE FROM DAY 1:

Really, ESPN? You take the ENTIRE U.S. Open package, leaving CBS and even the-fill-in-the-slam-gaps Tennis Channel out of the mix, and then promote your wall-to-wall coverage of the event as something great. And then you leave the first two hours of each day during the event to air on ESPN3 rather than any of your THREE over-the-air networks? After having used the same hours of the day to air Wimbledon earlier in the summer, your own home nation slam isn't worthy of something other than online coverage? Typical.

Worse yet, even the actual network coverage that ESPN does deign to air seems to have no rhyme or reason to it. There's no all-knowing-eye coverage of the event that keeps everyone fully updated about the happenings on all the courts, jumping from one match to the other when events call for it, but there's also no real coverage of even the matches that are chosen for air. The Williams/Puig match was left for a long stretch in the 3rd after the Puerto Rican won the dramatic 2nd set tie-break, only coming back when Williams was a game away from putting away the match.

(Rolls eyes.)



...and, finally...





ATP Backspin's Galileo West and I have combined for a "Backspin Volley" that looks at the players that made up the "Graf Era" and the "Serena Era." The first part debuted earlier today, with the other two rolling out over the first few days of this Open.

Here's something from that collaboration that was left on the editing room floor. It's something of a "Baffle the Backspinner" quiz. I tried to answer GW's brain teasers, and you could, too, if you wish.



Galileo: We're going to play a game. I have taken five different players from the Open era and I would like you to guess their highest rankings. Don't try to guess the player. I want you with an open mind and nothing but the information before you guess what their highest ranking was. And remember these players could be anyone. I may even throw in a man just to throw you off.





Player 1:

Number six in doubles. 4-4 in slam finals. 27-24 in all finals. Four Fed Cups. 14 slam semi-finals.



Todd: I tried to so as you said, but it's hard not to try to match up an actual player (so I did both). I'd say somewhere between #3-5, largely because the four slam titles cuts down the candidates. Someone with a Hana Mandlikova-like career.




GW: You nailed it. Mandlikova it indeed was. She only ever got to world number three and she won four slams [equal to Clijsters]. Two out of two [one for the player and the ranking, seeing as you tried to name payers].





Player 2:

Number one in doubles. 1-3 in slam finals. 40 finals in singles. Three Olympic medals. Has beaten several different number ones.



TS: Well, that one's easy because all those numbers are very familiar to me. That's my All-Time Backspin fave Jana Novotna, who got to #2.




GW: I thought you'd nail that one. Yes you're correct again. It was Novotna. She made it to world number two as we all know. So four from four.




TS: Ah, Jana.





Player 3:

Has thirteen Tier 1 finals. 0-1 in slam finals. 6 slam semi-finals.



TS: Hmmm, 0-1 in slam finals, but a solid near-high end career. I'd say between #5-8. (Maybe someone like Pam Shriver, since you said Tier I? I could be way off on that one. Dementieva is close, but I know she was in two slam finals.)




GW: That's Jankovic and she of course was world number one. Her career feels better than those numbers, doesn't it? That's four from six.





Player 4:

Has four finals at the YEC. 1-2 in slam finals. 55 singles finals. 30 in doubles. 18 slam semi-finals.



TS: Somewhere between #4-6. I'm getting a Conchita Martinez vibe, but the 18 slam semis is too high. A 1970's era player?




GW: World number three. Sabatini. Four from eight.




TS: Wow, 18 semis. She really should have won more than one slam.





Player 5:

4-3 in Tier 1 finals and 21 finals overall. 0-1 in slam finals. Two junior slam titles.



TS: I won't go as high here. Maybe #11-15? (Or could this be the ATP player?)




GW: That's a world number two. That's Aga Radwanska. And I thought you'd guess one of either her or Jankovic. So four from ten. I would've got about 2 out of ten. In fact I think four is a great score. No sarcasm here.


TS: I think the "Tier I" sent me off course. If it'd been "Premier" I might have focused in better. This is a good brain exercise though!



Vika's 2006 U.S. Open debut... she got her first career slam MD win and reached the 3rd Round at 17 years old.

Multi-talented Caro.
Sunday night jamming session.. #piano #beethoven pic.twitter.com/pJCNIjLilL

— Caroline Wozniacki (@CaroWozniacki) August 31, 2015
In my debut piece as a senior editor, I speak about my two career defining @USOpen runs. http://t.co/jILdNEG0of pic.twitter.com/u8MoFX15js

— Caroline Wozniacki (@CaroWozniacki) August 31, 2015
And ANOTHER cover.
Thank you #Rhapsody for making me this months cover girl! pic.twitter.com/cCElhVnNgb

— Caroline Wozniacki (@CaroWozniacki) August 31, 2015
#Rhapsody pic.twitter.com/uQOoXHHQNc

— Caroline Wozniacki (@CaroWozniacki) August 31, 2015

Or not. Oh, well... a surprise run was a nice idea while it lasted.
Daria Gavrilova won't have to face Sharapova on Monday, but she's got her eye on the second week @usopen. Read: http://t.co/DHGEqjYGNl

— WTA Insider (@WTA_insider) August 31, 2015




*RECENT U.S. OPEN "FIRST VICTORY"*


2009 Vania King, USA (def. Yakimova)
2010 Francesca Schiavone, ITA (def. Morita)
2011 Monica Niculescu, ROU (def. Mayr-Achleitner)
2012 Anna Tatishvili, GEO (def. Foretz-Gacon)
2013 Carla Suarez-Navarro, ESP (def. Davis)
2014 Aga Radwanska, POL (def. Fichman)
2015 Mariana Duque, COL (def. Kenin)


[2015]


AO: Julia Goerges, GER (def. Bencic/SUI)
RG: Teliana Pereira, BRA (def. Ferro/FRA)
WI: Victoria Azarenka, BLR (def. Kontaveit/EST)
US: Mariana Duque, COL (def. Kenin/USA)



*RECENT U.S. OPEN "FIRST SEED OUT"*


2005 #28 Flavia Pennetta, ITA (Schruff)
2006 #15 Anna-Lena Groenefeld, GER (Rezai)
2007 #29 Samantha Stosur, AUS (Cornet)
2008 #24 Shahar Peer, ISR (Li)
2009 #25 Kaia Kanepi, EST (K.Chang)
2010 #8 Li Na, CHN (K.Bondarenko)
2011 #5 Petra Kvitova, CZE (Dulgheru)
2012 #27 Anabel Medina-Garrigues, ESP (Hradecka)
2013 #29 Magdalena Rybarikova, SVK (Mayr-Achleitner)
2014 #25 Garbine Muguruza, ESP (Lucic-Baroni)
2015 #7 Ana Ivanovic, SRB (Cibulkova)


[2015]


AO: #32 Belinda Bencic, SUI (Goerges)
RG: #31 Caroline Garcia, FRA (Vekic)
WI: #24 Flavia Pennetta, ITA (Diyas)
US: #7 Ana Ivanovic, SRB (Cibulkova)



*BACKSPIN 2015 PLAYER-OF-THE-MONTH WINNERS*


JAN: Serena Williams, USA
FEB: Andrea Petkovic, GER
MAR: Simona Halep, ROU
1Q: Serena Williams, USA
APR/MAY: Angelique Kerber, GER
MAY/JUN: Maria Sharapova, RUS
2Q Clay Court/RG: Serena Williams, USA
JUN: Angelique Kerber, GER
2Q Grass Court/WI: Serena Williams, USA
JUL/AUG: Angelique Kerber, USA
AUG: Serena Williams, USA


[2015 Weekly POW Award Wins]


5...Serena Williams, USA
3...Simona Halep, ROU
3...Angelique Kerber, GER
2...Belinda Bencic, SUI
2...Petra Kvitova, CZE
2...Maria Sharapova, RUS
2...Samantha Stosur, AUS
1...Timea Bacsinszky, SUI
1...Camila Giorgi, ITA
1...Martina Hingis/Sania Mirza, SUI/IND
1...Teliana Pereira, BRA
1...Andrea Petkovic, GER
1...Karolina Pliskova, CZE
1...Lucie Safarova, CZE
1...Anna Schmiedlova, SVK
1...Washington Kastles (Team of the Week)
1...Caroline Wozniacki, DEN


[2015 Fed Cup Overall MVP Wins]


1...Sara Errani, ITA
1...Andrea Petkovic, GER


[2015 Fed Cup Team MVP Wins]


2...Timea Bacsinszky, SUI
2...Aleksandra Krunic, SRB
2...Arantxa Rus, NED
1...Lara Arruabarrena, ESP
1...Victoria Azarenka, BLR
1...Irina-Camelia Begu, ROU
1...Bianca Botto, PER
1...Veronica Cepede Royg/Montserrat Gonzalez, PAR
1...Misaki Doi, JPN
1...Alexandra Dulgheru, ROU
1...Sara Errani, ITA
1...Caroline Garcia/Kristina Mladenovic, FRA
1...Olga Govortsova, BLR
1...Anett Kontaveit, EST
1...Petra Kvitova, CZE
1...Akvile Parazinskaite, LTU
1...Andrea Petkovic, GER
1...Karolina Pliskova, CZE
1...Charlotte Roemer, ECU
1...Chanelle Scheepers, RSA
1...Anna Schmiedlova, SVK
1...Maria Sharapova, RUS
1...Prarthana Thombare, IND
1...Venus Williams, USA
1...Caroline Wozniacki, DEN
*...Captains of the Week: Amelie Mauresmo/FRA(1), Anastasia Myskina/RUS(1)







TOP QUALIFIER:

(WC) Jessica Pegula/USA




TOP EARLY-ROUND (1r-2r):

xx


TOP MIDDLE-ROUND (3r-QF):

xx


TOP LATE-ROUND (SF-F):

xx


TOP QUALIFYING MATCH:

Q3: Tereza Mrdeza/CRO d. #2 Yaroslava Shvedova/KAZ 5-7/7-6(8)/7-6(4) [3:12; saved 3 MP]




TOP EARLY-RD. MATCH (1r-2r):

xx


TOP MIDDLE-RD. MATCH (3r-QF):

xx


TOP LATE-RD. MATCH (SF-F/Jr.):

xx


TOP ASHE NIGHT SESSION MATCH:

xx


=============================




FIRST VICTORY:

Mariana Duque/COL (def. Kenin/USA)




FIRST SEED OUT:

#7 Ana Ivanovic/SRB (lost 1st Rd. to Cibulkova/SVK)




UPSET QUEENS:

xx


REVELATION LADIES:

xx


NATION OF POOR SOULS:

Nominee: Serbia


CRASH & BURN:

Nominee: Serbs (#7 Ivanovic, 1st Rd.-Cibulkova; #21 Jankovic, 1st Rd.-Dodin), #8 Ka.Pliskova (out 1st Rd. in :52 to Tatishvili; U.S. Open Series winner)


ZOMBIE QUEEN:

Nominee: Brengle/USA (1st Rd. - blew 6-2/4-2 lead, Sai.Zheng served at 5-2 and 5-4 in 3rd, Brengle broke to won on 6th MP of final game)


IT ("xx"):

xx


Ms.OPPORTUNITY:

xx


LAST QUALIFIER STANDING:

Day 1 wins: Bertens/NED, Kontaveit/EST, Pegula/USA, Tatishvili/USA


LAST WILD CARD STANDING:

Day 1 wins: Dodin/FRA, Mattek-Sands/USA


LAST BANNERETTE STANDING:

Day 1 wins: Brengle, Davis, Falconi, Keys, Mattek-Sands, Pegula, Tatishvili, Vandeweghe, V.Williams (S.Williams to finish on Day 1)


COMEBACK PLAYER:

Nominee: Duval (lost in qualifying), Cibulkova


KIMIKO DATE-KRUMM VETERAN CUP (KDK CUP):

xx


DOUBLES STAR:

xx


BROADWAY-BOUND:

xx


LADY OF THE EVENING:

xx


JUNIOR BREAKOUT:

xx





All for Day 1. More tomorrow.