US.9 - And Vinci Makes Four
While everyone was awaiting the most-talked-about-match-of-the-day that was to be played under the lights, there was a women's singles semifinalist to be determined before the sun went down.
With the lingering heat and humidity of a New York summer bearing down on them beginning at noon, two unseeded woman -- 22-year old Kristina Mladenovic and 32-year old Roberta Vinci -- met to find out which would survive the daylight hours, then have their head hit the pillow tonight content in the knowledge that they had at least one more match to play at this U.S. Open.


On opposite ends of the tennis career spectrum, Mladenovic and Vinci had nevertheless both gotten to the stage of playing for their first major semifinal appearance by following along a similar path -- by first making their mark in the doubles arena, as well as on the Fed Cup stage. Placed in the quarter of the draw that was absent its top-seeded woman (#3 Maria Sharapova) before play began, they saw most of the other "expected" contenders fall by the wayside last week, so both woman had already made (almost) the most of their opportunity. Vinci was even given a walkover into this quarterfinal match when her Round of 16 opponent (Genie Bouchard) pulled out after suffering a concussion, giving the Italian her third career slam final eight result (all at the Open) and adding another chapter to her late-blooming singles success (her six best slam results have all come since her 29th birthday). Meanwhile, Mladenovic had never even played a slam Round of 16 until her exciting Round of 16 win over '14 semifinalist Ekaterina Makaraova two days ago, and even with all her potential (a junior slam champion, Fed Cup star and the perpetrator of several big upsets of top players the last couple of years) she came into this slam having never won a tour singles title nor held a career ranking higher than #35.

Yet one was going to be the next opponent of a Williams Sisters, one match away from a grand slam final.

In the beginning, the veteran Vinci was the one who handled the situation better in the first career match-up between the two. With Mladenovic slow to react well to the Italian's now-rare mix of slice and serve-and-volley tennis, the Pastry fell behind in the 1st and was unable to find her footing. Vinci broke serve for a 2-0 lead and held the advantage throughout, serving out the set at 6-3 without ever facing a break point.

In the 2nd set, Mladenovic was finally able to carve out opportunities for herself, but had a difficult time capitalizing on them. In game #2, she went up 40/love on the Vinci serve, ultimately holding five break points, but the Italian held with a big serve up the middle that produced an error from the French woman. A game later, Mladenovic held a game point on serve, but Vinci broke her to take the lead in the set. Considering the situation, and Mladenovic's past tendencies to often collapse -- or nearly do so -- under the weight of big moments (though her wonderful star turn in the 3rd set vs. Makarova hinted that something may have changed), it wouldn't have been surprising had she not won another game in the match.

But then something great happened -- Kiki rose to the occasion.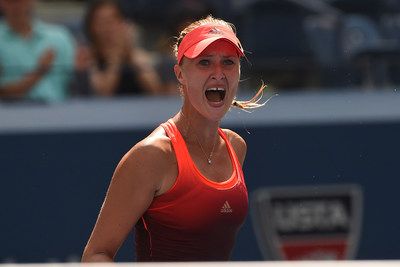 Rather than wilt in the heat (that'd come later), Mladenovic broke back and then held for a 3-2 lead, perhaps channeling the inspired moments of pluck brought out of her by French Fed Cup Captain Amelie Mauresmo the last two seasons when the confidence shown in her by the former #1, two-time slam champ and Hall of Famer paid off with the younger player shining for France when the pressure was at its greatest. When Vinci dumped a backhand approach shot into the net to give Mladenovic another BP in game #6, she ran around a Vinci serve in order to smack a forehand winner into the corner to break and take a 4-2 lead.

A game later, though, the Pastry, in the early stages of feeling the effects of the heat and injury, fell down love/40 after two double-faults. She got back on deuce, but two more DF eventually allowed Vinci to break back. Mladenovic held two BP a game later, but the Italian held for 4-4. The Pasty made a call for a trainer following game #8, and she appeared to be close to hitting "the wall." But she rebounded from 15/40 on serve, saving two BP with big forehand winners, then won a doubles-style duel at the net with Vinci to reach game point. An ace got the hold for 5-4, then Mladenovic received treatment from a trainer (massaging her calves, giving her medication) in the changeover area. The Pastry came back strong after the break, seemingly catching a second wind. After both held serve, Mladenovic took a 40/15 advantage on Vinci's serve, then sliced a forehand return into the short court that opened things up for the backhand crosscourt winner that secured a 7-5 set win to knot the match.


Let's have a Kiki! #Mladenovic takes the second set 7-5, and we're headed to a final set! @chase #usopen http://t.co/wDVL3qAIjN

— US Open Tennis (@usopen) September 8, 2015


In the 3rd, it seemed as if Vinci was going to be the one who'd succumb to the moment. Testy and arguing with her team in the Players Box, she fell down BP in game #4. She saved two, though, holding for 2-2. It was a key moment, but it was a few games later when the match officially turned in her favor. Serving at 3-3, Mladenovic endured a 16-minute, 10-deuce game in which she held six game points, but ultimately came up short in a see-saw series of points that finally ended with Vinci getting the break on her fifth BP opportunity of the game. Mladenovic once again called for a trainer, claiming a second injury (she'd used up all her visits concerning her previous ailments). After getting her thigh wrapped, the Pastry's worsening condition put her into the position of having to go for big shots in order to simply survive.

Bending over in pain often during the final games, Mladenovic managed to hold for 5-4, occasionally pulling off brilliant go-for-broke winners, but being unable to maintain the consistency to string points together under the pressure. Vinci served for the victory, reaching match point. After failing to put away her first opportunity, the Italian saw Mladenovic once again try to run around a serve to get a better angle on a forehand return, but this time she put her shot into the net to end the 6-3/5-7/6-4 match.


#RobertaVinci defeats Kristina 6-3, 5-7, 6-4 to enter #USOpen semis. Vinci to face winner of Serena-Venus clash pic.twitter.com/JHturwADkH

— India Today (@IndiaToday) September 8, 2015


In the end, it was a disappointing finish to a great tournament for Mladenovic. But she'll climb into the Top 30 in the rankings after this Open, and one gets the sense that her career from here on out will be divided into two segments: what she did before this U.S. Open, and what she did after gaining so much confidence from her performances in New York over the last nine days.

Meanwhile, the victory puts Vinci into her first slam semifinal at age 32, as well as complete the set of Italian slam semifinal results put up during the careers of the quartet of stars -- Vinci, Francesca Schiavone, Sara Errani & Flavia Pennetta -- who have led Team Italia to four Fed Cup titles and one additional final over the last decade. Before this generation's accomplishments, zero Italian woman had ever advanced so far in grand slam competition.

Vinci has usually been the overlooked member of that group of players who've often had more fight than all the opponents they've faced in a tournament -- combined. Schiavone won Roland Garros, while Errani reached the final in Paris. Pennetta has spent her time in the spotlight in NYC, as well (and will again be there tomorrow vs. Petra Kvitova). Vinci's career, though, has pretty much been defined by what she did as a partner next to Errani on the doubles court. The now ex-duo won a Career Doubles Slam, and that and her FC history may very well earn her a spot in Newport one of these days.

But there's just something about doing it all on your own.

Her 2015 U.S. Open result may not be a career-DEFINING moment (not yet, anyway) for Vinci, but it could very well turn out to be the most special one in what has turned out -- in the closing stages -- to be a tennis life story to be admired, right along with those of the rest of her countrywomen.








=DAY 9 NOTES=


...speaking of Italians, it was a good day for two-thirds of that quartet on the doubles court on Tuesday, as well. Errani & Pennetta defeated Arruabarrena/Klepac today to reach the WD semifinals. They'll play the #1-seeded Dream Team of Hingis/Mirza, who came back from 5-0 down in the 1st set against the Chan sisters to win a tie-break (they were down 5-4 in that, too) and then the match in straight sets, 7-6(5)/6-1.

...in juniors, #1-seeded Marketa Vondrousova (the Czech has been good in the slams in doubles, but not singles) lost today to Slovak Viktoria Kuzmova, while Bannerette Kylie McKenzie took out #3-seeded Wimbledon girls finalist Anna Blinkova. Elsewhere, Iryna Shymanovich (BLR) defeated Raveena Kingsley (USA), Wimbledon girls winner #10 Sofya Zhuk knocked off Aussie Kimberly Birrell, Anastasia Detiuc (MDA) took out Brit Maia Lumsden and Hungary's Dalmi Galfi (#2) eliminated another Brit, Emily Arbuthnutt. Meanwhile, after knocking off Claire Liu in the 1st Round, Hordette Elena Rybakova took out #7 Charlotte Robillard-Millette (CAN) today.

...meanwhile, in the opening round of the WTA 125K Series' inaugural outing in Dalian, China, Kristyna Pliskova has to be asking when it will all stop.

At Wimbledon, Kristyna outlasted her twin Karolina in the draw, reaching the 3rd Round while her Top 10-ranked sister lost in the 2nd. Ever since the Czech defeated Svetlana Kuznetsova in the 2nd Round at SW19, Kristyna has yet to win again. Ranked #113, her 1st Round loss today in Dalian came to the #220-ranked Lu Jing-jing of China, 6-2/6-4. It's her sixth consecutive defeat, a string that has also included losses to the world #126 and #641.

It's a mutated strain of the "Kuznetsova Curse," I'm tellin' you.


LIKE FROM DAY 9 DAY 8: Sugar Ray Simona!


Fistpumps on fleek like pic.twitter.com/HfryPqdQWp

— WTA Reactions (@WTAreactions) September 7, 2015




PREDICTION FOR DAY 9:

That Petra gets a cab before that guy in the background. Hopefully.


Do I look like a New Yorker or what?! ??#petrainnyc pic.twitter.com/lFt0H4dvqs

— Petra Kvitova (@Petra_Kvitova) September 8, 2015




LIKE ON DAY 9:

Finally...


Good luck tonight @colbertlateshow! Hope to visit you after the #usopen. pic.twitter.com/I9yhdkFnCJ

— US Open Tennis (@usopen) September 8, 2015




NO DRAMA FROM DAY 9:

But Dinara IS in New York.





LIKE FROM DAY 9:

Speaking of Russians...


Hi everyone! Can you see any changes in myself??? pic.twitter.com/L8LSreS7Mn

— Maria Kirilenko (@mkirilenko) September 8, 2015




LIKE FROM DAY 9:

I guess Vika wasn't taking Brad Gilbert's advice to go have a burger, either. She and Simona can compare notes tomorrow.


Fortune cookie u right and I will ?? pic.twitter.com/DEfAXVyEcP

— victoria azarenka (@vika7) September 8, 2015




OF NOTE FROM DAY 9:

Serena's first victim at this Open is still a bit pensive. But check out the glittery bag!


September 8, 2015
...and, finally... an early post today, since there will definitely be an evening edition after the Serena/Venus match.


#Serena "She's fast I'm fast. She hits hard I hit hard. She serves big I serve big. Like playing a mirror." #usopen pic.twitter.com/5TAoKJ4H3T

— US Open Tennis (@usopen) September 8, 2015
The career record between them is close, but Serena has won 6 of last 7 against Venus. Quarterfinals at 7 ET, ESPN pic.twitter.com/K2gmoYYDaT

— ESPN Stats & Info (@ESPNStatsInfo) September 8, 2015




*WOMEN'S SINGLES QF*


#1 Serena Williams/USA vs. #23 Venus Williams/USA
Roberta Vinci/ITA def. Kristina Mladenovic/FRA vs.
#5 Petra Kvitova/CZE vs. #26 Flavia Pennetta/ITA
#20 Victoria Azarenka/BLR vs. #2 Simona Halep/ROU



*MEN'S SINGLES QF*


#1 Novak Djokovic/SRB vs. #18 Feliciano Lopez/ESP
#19 Jo-Wilfried Tsonga/FRA vs. #9 Marin Cilic/CRO
#5 Stan Wawrinka/SUI vs. #15 Kevin Anderson/RSA
#12 Richard Gasquet/FRA vs. #2 Roger Federer/SUI



*WOMEN'S DOUBLES QF*


#1 M.Hingis/S.Mirza (SUI/IND) def. #9 Chan Hao-Ching/Chan Yung-Jan (TPE/TPE)
#11 S.Errani/F.Pennetta (ITA/ITA) def. #15 L.Arruabarrena/A.Klepac (ESP/SLO) vs.
#12 A.Kudrayvtseva/A.Pavlyuchenkova (RUS/RUS) vs. #4 C.Dellacqua/Y.Shvedova (AUS/KAZ)
A.Groenefeld/C.Vandeweghe (GER/USA) vs. #5 C.Garcia/K.Srebotnik (FRA/SLO)



*MEN'S DOUBLES QF*


S.Johnson/S.Querrey (USA/USA) vs. L.Mayer/J.Sousa (ARG/BRA)
#8 J.Murray/J.Peers (GBR/AUS) def. #4 M.Matkowski/N.ZImonjic (POL/SRB)
#12 P.Herbert/N.Mahut (FRA/FRA) def. #3 Rojer/Tecau (NED/ROU)
#6 Bopanna/Mergia (IND/ROU) vs. D.Inglot/R.Lindstedt (GBR/SWE)



*MIXED DOUBLES SF*


A.Hlavackova/L.Kubot (CZE/POL) vs. B.Mattek-Sands/S.Querrey (USA/USA)
#4 M.Hingis/L.Paes (SUI/IND) vs. #2 Y.Chan/R.Bopanna (TPE/IND)




Good morning #NYC waking up to this ???????? ?? pic.twitter.com/OlUUrfqYo9

— victoria azarenka (@vika7) September 8, 2015




*LOWEST-SEEDED WOMEN IN US OPEN SF, since 2000*


Unseeded - 2000 Elena Dementieva, RUS
Unseeded - 2009 Yanina Wickmayer, BEL
Unseeded - 2011 Angelique Kerber, GER
Unseeded - 2013 Flavia Pennetta, ITA
Unseeded - 2014 Peng Shuai, 2014


Unseeded - 2015 Roberta Vinci, ITA


Wild Card - 2009 Kim Clijsters, BEL (W)
#28 - 2011 Serena Williams, USA (RU)
#19 - 2006 Jelena Jankovic,SRB
#17 - 2014 Ekaterina Makarova, RUS
#12 - 2005 Mary Pierce, FRA (RU)
#12 - 2007 Venus Williams, USA
#10 - 2001 Serena Williams, USA (RU)
#10 - 2002 Amelie Mauresmo, FRA
#10 - 2012 Sara Errani, ITA
#10 - 2014 Caroline Wozniacki, DEN (RU)
--
TO PLAY: #20 Azarenka, #23 V.Williams, #26 Pennetta



*UNSEEDED WOMEN IN SLAM SF, since 2000*


2000 Australian Open - Jennifer Capriati
2000 Wimbledon - Jelena Dokic
2000 U.S. Open - Elenea Dementieva
2002 Roland Garros - Clarisa Fernandez
2003 Roland Garros - Nadia Petrova
2007 Australian Open - Serena Williams (W)
2008 Wimbledon - [WC] Zheng Jie
2009 U.S. Open - [WC] Kim Clijsters (W)
2009 U.S. Open - Yanina Wickmayer
2010 Australian Open - Zheng Jie
2010 Australian Open - [WC] Justine Henin (RU)
2010 Wimbledon - Petra Kvitova
2010 Wimbledon - Tsvetana Pironkova
2011 Wimbledon - [WC] Sabine Lisicki
2011 U.S. Open - Angelique Kerber
2013 U.S. Open - Flavia Pennetta
2014 U.S. Open - Peng Shuai
2015 Australian Open - Madison Keys
2015 U.S. Open - Roberta Vinci
==
(W)-won title; (RU)-finalist; [WC]-wild card



*ITALIAN WOMEN IN SLAM SF*


3...Sara Errani - 2012 Roland Garros (RU), 2012 U.S. Open, 2013 Roland Garros
2...Francesca Schiavone - 2010 Roland Garros (W), 2011 Roland Garros (RU)
1...Flavia Pennetta - 2013 U.S. Open [to play '15 QF]
1...Roberta Vinci - 2015 U.S. Open



**U.S. OPEN "Ms. OPPORTUNITY" WINNERS**


2004 Shinobu Asagoe, JPN
2005 Elena Dementieva, RUS
2006 Tatiana Golovin, FRA
2007 Svetlana Kuznetsova, RUS
2008 Jelena Jankovic, SRB
2009 Caroline Wozniacki, DEN
2010 Kaia Kanepi, EST
2011 Angelique Kerber, GER
2012 Sara Errani, ITA
2013 Li Na, CHN
2014 Peng Shuai, CHN
2015 Roberta Vinci, ITA


[2015]


AO: Ekaterina Makarova, RUS
RG: Timea Bacsinszky, SUI & Alison Van Uytvanck, BEL
WI: Garbine Muguruza, ESP
US: Roberta Vinci, ITA



*BACKSPIN 2015 MONTHLY "DOWN" WINNERS*


JAN: Andrea Petkovic, GER
FEB: Petra Kvitova, CZE
MAR: Maria Sharapova, RUS
1Q: Italian Fed Cup Team
APR/MAY: Aga Radwanska, POL
MAY/JUN: Simona Halep, ROU
RG: Simona Halep, ROU
2Q Clay Court: Simona Halep, ROU
JUN: Genie Bouchard, CAN
2Q Grass Court/WI: Petra Kvitova, CZE
JUL/AUG: Ekaterina Makarova, RUS
AUG: Garbine Muguruza, ESP


[2015 Weekly DOWN Wins]


9...Genie Bouchard, CAN
8...Aga Radwanska, POL
4...Ana Ivanovic, SRB
4...Jelena Jankovic, SRB
4...Petra Kvitova
3...Sara Errani/Roberta Vinci, ITA/ITA
3...Simona Halep, ROU
3...Angelique Kerber, GER
3...Madison Keys, USA
3...Sabine Lisicki, GER
3...Garbine Muguruza, ESP
3...Andrea Petkovic, GER
3...Kristyna Pliskova, CZE
3...Carla Suarez-Navarro, ESP
3...Serena Williams, USA
2...Mary Joe Fernandez (U.S. Fed Cup Captain)
2...Caroline Garcia, FRA
2...Yui Kamiji, JPN (WC)
2...Luksika Kumkhum, THA
2...Svetlana Kuznetsova, RUS
2...Peng Shuai, CHN
2...Flavia Pennetta, ITA
2...Karolina Pliskova, CZE
2...Francesca Schiavone, ITA
2...Maria Sharapova, RUS
2...Yaroslava Shvedova, KAZ
2...Samantha Stosur, AUS
2...Donna Vekic, CRO
2...Roberta Vinci, ITA
2...Venus Williams, USA








TOP QUALIFIER:

(WC) Jessica Pegula/USA




TOP EARLY-ROUND (1r-2r):

#2 Simona Halep/ROU




TOP MIDDLE-ROUND (3r-QF):

xx


TOP LATE-ROUND (SF-F):

xx


TOP QUALIFYING MATCH:

Q3: Tereza Mrdeza/CRO d. #2 Yaroslava Shvedova/KAZ 5-7/7-6(8)/7-6(4) [3:12; saved 3 MP]




TOP EARLY-RD. MATCH (1r-2r):

2nd Rd. - #12 Belinda Bencic/SUI d. Misaki Doi/JPN 5-7/7-6(3)/6-3 (down 3 MP in 2nd; outburst/crying/no shake umpire's hand)




TOP MIDDLE-RD. MATCH (3r-QF):

3rd Rd. - #20 Azarenka d. #11 Kerber 7-5/2-6/6-4


TOP LATE-RD. MATCH (SF-F/Jr.):

xx


TOP ASHE NIGHT SESSION MATCH:

Nominee: 2nd Rd. - Cetkovska/CZE d. #4 Wozniacki/DEN 6-4/5-7/7-6(1) (saved 4 MP; ended 12:12 a.m. after 3:02)


=============================




FIRST VICTORY:

Mariana Duque/COL (def. Kenin/USA)




FIRST SEED OUT:

#7 Ana Ivanovic/SRB (lost 1st Rd. to Cibulkova/SVK)




UPSET QUEENS:

United States




REVELATION LADIES:

Japan




NATION OF POOR SOULS:

Serbia (1-4; #7 Ivanovic, #21 Jankovic and '14 star Aleksandra Krunic out in 1st Rd.)




CRASH & BURN:

#8 Karolina Pliskova/CZE (1st Rd. loss to Tatishvili/USA; :52; U.S. Open Series "winner")




ZOMBIE QUEEN:

(LL) Daria Kasatkina/RUS (lucky loser, reached3rd Round after wins over Gavrilova & Konjuh -- best LL slam result since 1997, best at Open since 1993)




IT ("Kiki"):

Kristina Mladenovic/FRA




Ms.OPPORTUNITY:

Roberta Vinci/ITA




LAST QUALIFIER STANDING:

Johnna Konta/GBR & Anett Kontaveit/EST (both 4th Rd.)




LAST WILD CARD STANDING:

Bethanie Mattek-Sands/USA (3rd Rd.)




LAST BANNERETTE STANDING:

In QF: S.Williams, V.Williams


COMEBACK PLAYER:

#20 Victoria Azarenka/BLR




KIMIKO DATE-KRUMM VETERAN CUP (KDK CUP):

Nominee: V.Williams, Pennetta


DOUBLES STAR:

xx


BROADWAY-BOUND:

Nominees: Cetkovska, Raymond (farewell performance)


LADY OF THE EVENING:

Nominees: Cetkovska, S.Williams, Mladenovic


JUNIOR BREAKOUT:

xx





All for Day 9. More tomorrow.