BSMVP 2002-12 - The Final Four, Pt.2
Justine vs. Kim.
Kim vs. Justine.
It's been the eternal Backspin battle. Since forever and a day ago,
La Petit Taureau
has always bested Barbie when it's come to where they've stood in the Backspin hierarchy. But, in their final battle in this space, will the trend continue?
Who is THE MVP of Backspin's first ten years? Well, you're about to find out.

-

The Battle of the Belgians

-


One is the very epitome of Backspin's yin. The other is her personal yang. After ten years, it's fitting that the Waffles -- Justine Henin & Kim Clijsters -- would end this rundown of "essential" MVP's for this space by facing off against each other one final time.
But how do you pit the "Face of Backspin" versus it's #1 adversary and have it truly be a fair fight? Well, actually, it's pretty easy because, in this arena, one woman has been just as important as the other. For very different reasons, of course. But the importance of the role of both was notably bolstered by her Belgian counterpart's scale-balancing position on the other side of the Backspin "most favored" spectrum. They've always been natural opponents, and that trend continues here. For one final time.

While the "gameswomanship-prone" Henin often came up short in some people's opinion, tradition has always favored the diminutive "La Petit Taureau," here. On the other hand, the smiley Clijsters, so (overly) loved by the media that I often joked that they essentially "rented space in her butt," has rarely been a player that I've seen eye-to-eye with, and only grudgingly bestowed credit upon. If Henin did something, I generally found a way to defend it. If Clijsters courted too much attention, cutting her down to size as often as possible became my raison d'etre. I generally don't ascribe to "attack-style" blogging, but it was hard to resist the impulse when it came to Clijsters. For the most part, I think, I kept the criticism (and cynicism), on some level, "fun." But I admit that I surely jumped back-and-forth between playfully twisting the knife I'd just figuratively lodged in her back and possibly liking "getting blood on my hands" a little TOO much. On the whole, I think, it was a neat trick to turn the WTA's "most well-liked" player into Backspin's requisite "villain," while the player who most kept at arm's length because of her less-than-open personality became the column's "First Lady" of tennis. Black was white. White was black. It fit my iconoclastic purposes and, to borrow a cliche, it was just crazy enough to work.

Of course, it didn't start out that way. In the beginning, I, too, wasn't particularly a fan of Henin. What a wonderfully strange trip it turned out to be. There was no love to lose for Henin after the "wave off" against Serena Williams in Paris in 2003. So, you see, in many ways, I understood all the criticism Henin received for such things as her '06 mid-match retirement against Amelie Mauresmo in the Australian Open final. By then, I'd developed a small "blind spot" when it came to such things, as Henin's on-court excellence and heart blotted out the detrimental aspects of any of her more "black-hat" tendencies from my Backspinning eyes. In fact, I chose to embrace them, since I felt like she came by them honestly. Often, it's the misunderstood character in a story that is the most interesting. Perceived as a "villain" or "difficult" because of their flaws, peeling away the layers to get to the heart of WHY they are the way they are can be a fascinating endeavor. I love characters like that. And, as far as Backspin has been concerned, Henin fit the part.

This space's assuming of something of a "protective" relationship with Henin developed over time. But, to focus things on one single moment, it's safe to say that she changed the course of her perception within Backspin's borders in one 24-hour period, winning me over with her back-to-back wins over Jennifer Capriati (in an epic semi) and Clijsters (when pre-match talk was whether Henin would even be able to physically recover in time to give a full effort in the final) to win the U.S. Open in '03. I loved her fight, and that she didn't care about how some of her actions were perceived during her first go-around on tour.
Her goal was to win, and that was all that really mattered. And she did, too, claiming seven slams, more than twice as many as any other woman during the span between her first ('03 Roland Garros) and last ('07 U.S.) major wins. During the first phase of her career, once she learned how to deal with in-match pressure, the diminutive Belgian was the most dependable big-match player on tour. And there's something to be said for a player who rarely ever lets you -- or herself -- down when it matters most. Backspin jumped onto the LPT 1.0 bandwagon, and it was a brilliant ride to glory.

Clijsters was reliable in the first phase of HER career, too. But for totally opposing reasons. While Henin could be counted on to bring her best tennis in her biggest matches at the biggest events, the young Clijsters could be depended on to be bested by her opponent under the same circumstances.

Clijsters had the shots, legs, speed, athleticism and defensive skills to win multiple slams... and, yes, even win a career Grand Slam. She grew up with her wall decorated with posters of Steffi Graf, one of the all-time great slam title collectors. But Clijsters lost her first four slam finals from 2001-04, losing three times to Henin. For a player with so much going for her, especially during a timespan when a fellow Belgian with a decided size disadvantage managed to claim multiple major titles, Clijsters was the epitome of a slam underachiever. Her '05 U.S. title (when Mary Pierce effectively decided to not show up for the final) saved her from being labeled the best player to never win a slam... but then the player who inherited the position, Amelie Mauresmo, immediately trumped Clijsters by winning two slams in 2006, defeating Henin in the final of both. KC was an underachiever yet again.

At the time, I wondered if KC's preternatural "niceness" was the essential missing ingredient in her grand slam recipe. In their '01 Roland Garros final, it was interesting that Capriati complained about the chants of Belgian fans and other annoyances throughout. Her edginess played a big part in Capriati's slam success, just as Henin's single-minded drive was in her's. Clijsters was never accused of such things. Often, she seemed more about having fun and making friends than actually winning. I often said that many of Kim's more admirable qualities would make her a great friend, but that for an elite athlete with all-timer possibilities, she had a very wanting profile in a sport where heart and desire are sometimes as important as natural talent (especially in the clutch moments in big matches where KC 1.0 so often came up short).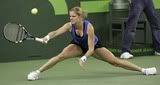 Clijsters 1.0 became a slam champion, but she was better known for her personality and splits than she was for big-time victories. Oh, and I never let that fact slip by, either. Especially when the much-talked-about "love" that so many fellow players, fans and media openly expressed for her effectively led them to give her a pass for her many fumbles. As for me, I called her "Kim C. Clijsters," with the "C" standing for "choke," and "Easy Bake' Kim, for her propensity to cook herself under pressure.

Maybe some of the vitriol with which I sometimes went after Clijsters was, in some ways, my way of defending the oft-chastised, "distant" Henin, because it was precisely the "good" side of Clijsters that often riled me up the most. For "Nice Kim" (said with insincerity dripping from my fingertips) almost religiously courted approval, handing out champagne bottles to fans, running through puddles and squeegeeing courts during rain delays at the U.S. Open, and going about her single-minded quest to be awarded the tour's mythical "Miss Congeniality" award every year, giving her a Teflon-like coating and protection from criticism for all that she didn't achieve on the court. Unlike when the likes of Mauresmo, Jankovic, Safina and Wozniacki did it later, hardly a word of protest was uttered when Clijsters became the FIRST woman to rise to #1 without ever having won a slam. I dubbed her the "So-Called #1," and when she backed out of the '04 Olympics (where, fittingly, Henin would win Gold in one of her career's finest moments) because she'd be forced to wear an outfit provided by a company other than her clothing sponsor Fila, naturally, I took to referring to her as "FilaKim." Imagine if Henin had pulled that trick, or Serena Williams. It'd still be being used to bash them. But, with Clijsters, no one remembers. Instead, when she finally played in the Olympics this summer, all the talk was about her finally fulfilling a career dream by participating in the Games, not how she'd so easily turned her back on her only other previous opportunity. With KC, that's always how things have gone... and, for most of the last ten years, I could never let it rest. Bless her.

If the "Kimmy worship" had been linked to her ability to get the most of her talent in KC 1.0, rather than as a substitute for it, then it wouldn't have been so galling. She would have simply been one of the game's biggest stars, with the credentials to back it up. As it was, she became Backspin's biggest adversary, the yang to the "Face of Backspin's" yin. She was a great "character" for this space to follow, and a better one I likely couldn't have created from scratch all by myself.

Surely, natural talent had a great deal to do with Henin's success. But it was her single-minded desire and focus, sometimes to the detriment of her reputation outside of a close clique that sometimes seemed to begin and end with her coach since the age of 14, Carlos Rodriguez, that set Henin apart from the rest. It was what made her refuse to quit training, sometimes to the detriment to her own body, until her health compelled it. It was what made finishing second-best so distasteful to her. La Petit Taureau's renowned desire was both shaped and concentrated by the death of her mother from cancer in 1995. When Henin won her first Roland Garros title in '03, she recalled the day eleven years earlier when her mother had taken her to Court Suzanne Lenglen. In the stands, Henin said that she'd told her mother, "'One day I'll be on that court and maybe I'll win.' And today I did.'"

With that, an important layer was removed. Even if many people didn't like some of her actions, they all emerged from that initial inclination to live up to that statement to her mother. Henin's wholehearted pursuit of her tennis career led to an estrangement with her family, and her intense desire prevented her from developing friendly relationships with the other players on tour whose goal it was to prevent her from claiming what she wanted. She had to do what she'd told her mother she would, and too bad for you if you stood in her way.


Henin's entire first career was a testament to her devotion to that notion of making her mother -- and herself -- proud. The familial rift lasted a decade... until her brother was injured in an auto accident late in JH 1.0. With her own personal life crumbling around her, the recently-divorced Henin broke form and reached back for her family. It changed everything. With her emotional connection to her family -- and maybe her mother -- renewed, Henin put together her most masterful campaign in '07. It was statistically the best season of her career. She finished #1, went 63-4, won two slams and claimed ten singles titles, still the most by any woman in the last fifteen seasons. But it wrung out of her all the emotions that had fueled her success. When it was over, Justine was done, retiring for the first time in the spring of '08, two weeks before the "Queen of Clay" was to attempt to win her fourth straight crown in Paris. She then went on what turned out to be an abbreviated sabbatical to find a new purpose in a tennis-less life.

While LPT 1.0 was all about the drive to achieve in the face of obstacles, KC 1.0, which had ended a year earlier in the spring of '07 with Clijsters' own first retirement, was more about lost opportunity. Henin's seven slams were an example of what a player could do if she was able to focus her efforts, while her fellow Belgian's single crown, which would have been a career-defining achievement for a lesser player, was hugely disappointing for someone as skilled as Clijsters. But the story wasn't over for either woman. The period of time from spring '07 to spring '09 was a strange one for Backspin, as the tour was Clijsters-less for a year, then absent of either Waffle for more than another year. Clijsters returned to the tour in the summer of '09, but was active in an Henin-less WTA for only a short time, as LPT returned the following January.

In their 2.0 phases. both Clijsters and Henin once again showed that no two tennis careers can be lived in exactly the same way... even if they're lived by the same player. While, for Henin, that was a bad thing, for Clijsters, it changed her career's legacy and, eventually, even led to a Backspin "truce." Of course, it wasn't an easy road to that. When Clijsters returned, I realized how much I'd missed my figurative, bare-knuckled sparring sessions with her personality, both on and off court.


Overall, Clijsters returned a changed player -- for the good. She won her second U.S. Open in just the third tournament of her comeback. She then quickly found the slam success that had eluded her in her previous career, successfully defending her Open championship a year later. Of course, there was still an overkill of "Kim love" in the media as, apparently, her becoming a mother and then winning a grand slam title was the greatest achievement in the history of not only sports, but also humanity, including the feat of space travel and the successful testing of that time machine one summer day in the year of 215-...oops, have I said too much, "Future Sloane?". Never mind that many word class female athletes had taken breaks to have children over the years, then returned to prominence in their sports. But this was tennis, and most of the commentators were men, so I think many of them felt like they HAD to make a big deal about it, and most of the female commentators who did the same were former players from an era in which year-long training of the sort that the top players undertake today was hardly the norm. But, most importantly, it was Kim. So it HAD to be true. She was not only a great player, but also the most admirable entity in the galaxy. Naturally.

All the overt adulation made it easy to slip back into my old anti-Clijsters ways, too. Of course, it helped when things took "stomach-turning" turns when she was the subject of a public statue in Belgium,
and then Mattel produced a Barbie doll in Clijsters' (not-really-accurate) likeness, along with a tiny "accessory" -- a mini-doll of her cute daughter Jada. And thus Clijsters' "Barbie" moniker, her last of many, was born. Well, strike that. After both those things went down in 2010, and after Henin, perhaps not coincidentally (yin-yang, remember), had returned to the tour, I went full force at KC yet again. For most of the season, except for during slams, I steadfastly refused to refer to her by her actual name. From calling her Jada's Mama, Brian's Wifey, Elke's Sister, Justine's Countrywoman and many others, I was able to get through the majority of the season without typing out her name. Oh, it was great passive-aggressive fun, I say. I've easily had more fun at Clijsters' expense on this blog than any other player. No one, EVER, will surpass her in terms of nicknames.

Thing is, Clijsters' accomplishments in KC 2.0 were great. Just not for the reasons talked about by so many.

So often a bridesmaid in 1.0, Clijsters literally became a bride in 2007. Jada was born. And her father Leo died, like Henin's mother, of cancer. With her non-tennis life experiencing so many highs and sobering lows, the pressure that so often dogged Clijsters' first career no longer had the relevance it once did. When she came back, it was because she saw an opportunity, and wanted to truly take advantage of it. Finally. And she did just that. The wound-healing, career-redefining second act of KC 2.0 was a rare feat. Many top athletes in many different sports legitimately retire, only to return. Some comebacks are successful, but they're never BETTER than the original career stint that made the athlete a star in the first place. And even if there have been a few (-and-far-between) comebacks that might have improved upon the past, none of them showed as vast an improvement as that of Clijsters. Such a thing is a tough, close-to-impossible, thing to pull off.

Just ask Henin.

In LPT 1.0, Henin's ability to sometimes-inadvertently create friction with her opponents even once led Clijsters to refer to some of her actions as "disrespectful to the game" (it was one of the few times that she publicly came off as something other than "nice" Kim). Again, in announcing her comeback, Henin's timing might have been considered "questionable" by some, seeing that it came just days after Clijsters' victory at the '09 U.S. Open. It cluttered the headlines of the new champ's success with whispers and rumors, and then actual facts, about Henin's own upcoming return to the game the following season.

That, as well as Henin's quick start in '10, showed great promise for LPT 2.0. I know that I was ready for a full-fledged sequel, especially in light of Clijsters' success. But it never really worked out. While the changes in Clijsters' life had allowed her to be more "focused on success" on the court, leading her to be a more tactically aggressive player (the "Killer Kim," willing-to-take-no-prisoners persona that briefly appeared in NYC in '05 became a regular on-court thing), the opposite occurred with Henin. Long before, loss has served to focus Henin's first career. In fact, the drive it instilled within her helped to make her great. Finding more inner peace with herself and her life off the court, I felt, always threatened to wear down the sharp edges of Henin's personality that had made her such a driven champion. And I think I was right. When she returned, Henin said she wanted to have a different reputation from the cut-anyone-off-in-traffic one she'd had in LPT 1.0. Nevermind that not caring about how opponents viewed her played such a role in shaping the intimidating aura of the original version of herself. During LPT 2.0, she eschewed the "black hat" tactics a bit and, well, it just didn't work.

Things started well, as Henin reached the Australian Open final a month into her comeback, but she never won a 2.0 slam, and many of the sort of grind-it-out match wins that LPT had specialized in turned into losses. The classic, rabid-dog-trapped-in-a-corner moments never re-materialized. She even tried to change her game and become a net-rushing, super-aggressive player who tried to shorten points by producing quicker winners than the ones that occurred at the end of long rallies during 1.0. But that didn't work, either. You could almost SEE her brain trying to tell her body what to do on the court, and the beautifully natural flow of her original game was lost. At times, SHE seemed lost, as well. Whatever Henin was looking for in her return to the game, she never really found it. Then, ironically, just when she seemed to be taking small steps toward something better, she slipped and fell in a 4th Round match at Wimbledon against Clijsters half a season into her comeback, injuring her elbow. After having won the opening set, Henin was noticeably less aggressive the rest of the match. Clijsters won, defeating Henin in a slam for the first time since 2002, breaking the 12-12 tie in their head-to-head career series. They'd never play each other again.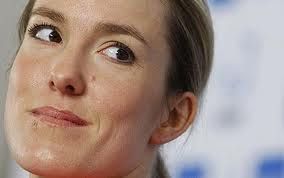 When the Australian Open rolled around again in 2011, the excitement about Henin's comeback had dimmed quite a bit. After losing in the 3rd Round to Svetlana Kuznetsova, a player she'd previously dominated in head-to-heads, Henin retired again, citing a doctor's diagnosis that her elbow injury would not get better, and saying that her inability to train effectively had led her to decide that it was time to walk away. In a sense, her exit was almost a relief. It mercifully ended what turned out to be a misguided attempt at a Second Act, with the curtain coming down just in time to avoid having the winning memories of La Petit Taureau overtaken by those of the 2.0 Henin, and all the things she no longer was on the tennis court. At the time, I felt that part of Henin, injury or no injury, knew she could never again be what she'd been... and that just wasn't good enough for her. One final time, winning was what mattered most.

By the end of 2011, it was difficult to remember that she'd even played at all that season. But the memory of LPT was still alive and well. It still is, in fact. And for that I'm grateful.

While the '11 AO was Henin's final event, it turned out to be an important one for Clijsters (and Backspin), too.

By the time she went to Melbourne in January '11, even I'd finally called a truce with Kim. With twice as many slams under her belt in 2.0 as 1.0, it was impossible to ignore Clijsters' accomplishments (or begrudge Barbie her well-earned spotlight) this time around. Giving in and learning to ♥ KC, I held my breath and decided to back "My Kim" for that tournament, knowing that if she won the crown she would officially have re-written her career legacy with a brilliant Second Act. In the AO final, after having won three slams in which her opponent had wilted under the pressure, Clijsters finally showed that she could put a boot on a willing opponent's neck and win a 3rd set to claim a major, taking down Li Na and proving once and for all that 2.0 truly WAS different. Belatedly living up to her talent, I could no longer view her as an underachieving "pretender." After so many years, she was finally a TRUE champion in my eyes. Even the Clijsters contrarian in me could no longer deny it. To that point, she was 27-2 in slam matches since her comeback, for crap's sake. She'd met my "conditions," as well as exceeded expectations. While there was never going to be any sort of Henin-like embrace, she'd finally earned the respect of Backspin. The "truce" stuck... but, in a weird way, I won one final "victory."

In many ways, that AO title run was the last time Clijsters 2.0 ever existed.

Iin "joining forces" with Clijsters it almost seems as if I'd overturned the karmic apple cart. Soon after the AO, she injured her ankle dancing at her cousin's wedding (of all things). She's been mostly a tour "ghost" who makes occasional cameos ever since, as the wedding injury set off the chain of a neverending string of injuries that have dogged her and kept her mostly at bay for the last year and a half. She hasn't won a title since that AO, and hasn't appeared in a final since the ankle injury. So, was my "Backspin hug" toxic on some level? Should I take the blame for what's happened to the last half of 2.0? Or, considering my history with Barbie, should I maybe take the "credit?" I'm not saying. But I wasn't trying to do such a thing to Kim. REALLY.

(Pardon me while I try to hang my head as low as it can go -- pausing to make sure everyone's looking -- and slink out of the room. "Innocent" to the last drop.)

So, in the end, Clijsters, though her career numbers still pale in comparison to Henin, "outlasted" her countrywoman. Even if only technically. With her current run at the U.S. Open set to be the final event of her career, KC might even have one final remarkable coda to add to her comeback.

But which Belgian is Backspin's "MVP?" Who's been the most "essential" character for this space's first ten years? Oh, bother. Keep on going to find out...



HM-
"Citizen Anna"
25.
Caroline's 'Roo
24.
Anna Smashnova & Anabel Medina-Garrigues
23.
"The Next Big Thing"
22.
Daniela Hantuchova
21.
Martina Navratilova
20.
Tatiana Golovin
19.
Sesil Karatantcheva
18.
Sania Mirza
17.
"The Radwanska"
16.
Carl & Carla
15.
"Punch-Drunk"/"Punch-Sober" (Elena Dementieva)
14.
Nadia Petrova
13.
Venus Williams
12.
Tennisrulz "Head Honcho" Pierre Cantin
11.
Jelena Dokic
10.
The Tennis Gods
9.
Caroline Wozniacki
8.
Anastasia Myskina
7.
The Hordettes
6.
"The Supernova" (Maria Sharapova)
5.
"The Kuznetsova Curse"
4.
Serena Williams
3.
Jelena Jankovic
2.
Justine Henin
-

Kim Clijsters






...that sound you hear is me biting the bullet.

When I began this list, I really wasn't sure which Belgian was going to end up as the all-time MVP. I just knew it was going to be either Henin or Cljisters. While I almost had last-minute, heart-tugging reservations -- and any final eleventh-hour teeth-grinding moment revolving around Clijsters (like, say, her pulling out of the U.S. Open) still might have tipped the scales in Henin's favor as recently as last week -- I eventually realized that Barbie, even more so than La Petit Taureau, had lived the "ultimate Backspin experience" over the past decade.

Henin's portrayal here was mostly a one-sided admiration society. I admired her as a player, and even used some of her "sketchier" traits to my storytelling advantage. Calling her the "Face of Backspin" is no simple turn of phrase. I'll always prefer LPT to her Belgian countrywoman in terms of my feelings about tennis. It won't even be close. But while replacing Henin is a difficult task, somewhat recently accomplished by combining an affinity for another in-your-face "troublemaker" (Vika Azarenka) with a more straightforward embrace of a potential "all-timer" (Petra Kvitova), it CAN be accomplished on some level. And I, for one, can live with the NextGen "faces" seizing control of the "most-favored" part of this ongoing story.

It's not so easy with Clijsters. She was truly unique.

It's hard to find a good antagonist, let alone a great one. Clijsters' role in the Backspin drama has been essential in maintaining the storytelling format. She was perfectly cast, and played the role to the hilt. I made more hay out of small things that Clijsters said or did, or were said about her by her too-loving admirers, than I have out of many players' entire careers. Recently, I've tried to cast Caroline Wozniacki, another smiling blonde with a lack of major title cred, in something of a Clijstersian light. On some levels, she's been an adequate fit, and she could still very well grow into the position. But it's hard to imagine she could ever be as much of a longtime focal point as Clijsters was. Even the nickname that the Dane has "sort of" earned over the past year -- "Midge" -- is a sideways tribute to Clijsters, as it's the name of (the doll) Barbie's friend who has always been seen by the public as a "wannabe Barbie." Nice, but not as good as the original.

There's a statue of Henin hitting her sweeping backhand outside the Hall of Records at Backspin Academy. It's wonderful to look at, and it stirs great memories about all that LPT was and has meant to this space. But Clijsters has an entire reading floor inside the Hall dedicated to her. After they pass by Henin's statue, visitors can spend hours perusing "the record" of Clijsters' career left there, and still leave perplexed about how one player could have been torn down for so long by the Backspin Powers That Be, but still be able to survive the sometimes-vicious cycle and earn a measure of respect when all was said and done. It'll be hard to explain to the generation of researchers who didn't witness it all first-hand, but the facts will be laid out in the files, ready to be examined and interpreted, if anyone so chooses to take the time to do so.

And that's why she's the MVP.




In the end, the second careers of both Belgians provided the "winning" margin, as had their original careers provided all there was to digest about them, Henin would be wearing the MVP crown right now. Clijsters 2.0 completely changed the trajectory and image of HER entire WTA career profile, as well as added an important epilogue to her history here. If she hadn't come back, "Barbie" would never exist. The sometimes-painful act of learning to ♥ Kim would never have happened, either, and the "truce" that came about because she finally found a way to live up to expectations would simply be a myth, only brought up by firelight right after the latest scary story told about The Radwanska. That it all happened while LPT 2.0 simultaneously never gained much traction only served to make it that much more important. In the three years of her comeback, Clijsters lived an entire second Backspin lifetime, covering the entire "favored-or-not-favored" spectrum. A spectrum, it should be noted, pretty much brought into existence by her and her Belgian counterpart.

In the end, it was just enough to give her the edge.

Any day now, they'll BOTH be gone forever. I'll miss them. As a whole, and individually. But they really won't be going anywhere. The neverending quest to find their latest replacements in this ongoing story means the memory of all they meant to Backspin will always be there, right under the surface.

Just give it a little scratch, and it'll all come flooding back. ♥ ya, Kim... and Justine.

All for now.