2015 BSA's: Top Performances
The WTA season is over, but there are still things that remain to be quantified...
such as the best performances of the year.
How do they measure up?


"A few weeks ago I didn't know if I would be here. This is the biggest day of my life!"
-

Aga Radwanska, after completing her unlikely path to the title at the WTA Finals
*PERFORMANCES OF THE YEAR*
[Individuals]
1.

Belinda Bencic claims her biggest career title in Toronto by defeating four Top 10 players, including #1 Serena Williams (SF) and #3 Simona Halep (in the final, before the Romanian moved to #2 in the rankings a day later), becoming the first Swiss woman to win the Rogers Cup since 2000. The 18-year old is the youngest to defeat Williams in a full match since Maria Sharapova at the WTA Championships in 2004. In total, two of Bencic's defeated foes were slam champs (Williams/Ivanovic), three reached #1 (Williams/Ivanovic/Wozniacki) and all six wins came against players who have played in slam finals during their careers (Williams/Ivanovic/Halep/Wozniacki/Lisicki/Bouchard). To add a dash of season to her recipe for success, Bencic also saved a MP in her 3rd Round victory over Lisicki.


=======================================




2.

Serena Williams claims slam #20 at Roland Garros, taking the long way around nearly every match over the two-week event. She played five three-setters, coming back from 0-1 down four times, including in three straight matches for the first time since her very first slam title run in NYC in 1999. Anna-Lena Friedsam pushed her to three sets, Vika Azarenka held a set and 4-2 lead on her in the 3rd Round, and Sloane Stephens was three points from a straights sets victory in the Round of 16. In the semis, Timea Bacsinszky led by a set and a break as a flu-ridden Williams seemed about to collapse. In the final, leading by a set and 4-1 (one point from 5-1), Williams hit a bad stretch as Lucie Safarova turned her game around and Serena had to stage one final comeback (from 2-0 down in the 3rd) before she could confirm what we all already knew: she's STILL the best. Now, definitely... and with arguments for all-time status set to officially commence once her final career chapter is complete.


=======================================



3.

Serena Williams completes her second "Serena Slam," winning her fourth straight major title, her sixth Wimbledon crown and her 21st slam, surpassing Martina Navratilova as the oldest women's slam champ in the Open era at 33 years, 263 days. Serena has won eight major titles since turning thirty. Only two other woman (Navratilova and Margaret Court) in the Open era have won as many as three. She showed up at the U.S. Open with a chance at her first Grand Slam (the last to accomplish the feat was Steffi Graf in 1988), only to fall in the semifinals to Roberta Vinci in the upset of the year.


=======================================




4.

Aga Radwanska wraps up her fabulous fall with a remarkable underdog run to the biggest title of her career at the WTA Finals. Despite going 1-2 in round robin play, with her only win coming in her final match after being down 5-1 in a 1st set TB to #1-seeded Simona Halep (the loss of just one set vs. the Romanian would have eliminated A-Rad from SF contention), the Pole advanced to the semifinals when Maria Sharapova defeated Flavia Pennetta in straight sets in the final RR match in her group. Her second (Muguruza) and third (Kvitova in the final) wins over Top 5 players during the week made Radwanska a singles champion for the third time in the fall (she won without dropping a set in both Tianjin and Tokyo) and lifted her year-end ranking to #5 (her third Top 5 finish in four years).

She does it! @ARadwanska wins the biggest title of her career!! #WTAFinals https://t.co/tFbUx4S2ue

— WTA (@WTA) November 1, 2015



=======================================




5.

Simona Halep becomes the fourth woman in WTA history to claim the first two Tier I/$2m+ Premier events of the season, winning in Dubai and Indian Wells. She then loses a tight three-set semifinal (7-5 3rd) to Serena Williams in Miami, narrowing missing out on a chance to become the first woman to ever sweep the first three biggest non-slam events in a season.


=======================================




6.

At 33, Flavia Pennetta becomes the oldest first-time slam champion in tour history at the U.S. Open, getting wins over two Top 4 players (Kvitova & Halep) and topping Roberta Vinci in the first-ever all-Italian final at a major.

#Pennetta defeated 3 seeded players en route to the title: No. 22 Stosur, No. 5 Kvitova and No. 2 Halep. #usopen pic.twitter.com/BPwPqyhXJl

— US Open Tennis (@usopen) September 12, 2015
=======================================
7.

Timea Bacsinszky becomes the unofficial "Queen of Mexico," winning back-to-back titles in Acapulco and Monterrey to claim her first tour titles since 2009, after nearly giving up the game due to injuries two years ago. The Swiss' winning streak ultimately reaches a career-high fifteen matches, a tour-best run this season which was matched only by Serena Williams' own 15-match winning streak in the spring and summer.

Timea Bacsinszky se coronó por segunda semana consecutiva, en Acapulco y en Monterrey. ¡Una increíble historia! pic.twitter.com/O7dxN0m7L8

— Abierto Mexicano (@AbiertoTelcel) March 9, 2015
#AdicciónDeportiva La suiza Timea Bacsinszky conquista el Abierto de Monterrey, hizo lo mismo en Acapulco. pic.twitter.com/4PsCP6WCr2

— TDW Radio (@TDW_Radio) March 9, 2015



=======================================




8.

Serena Williams wins her eighth career title (in ten finals) in Miami, surpassing 700 career wins and remaining undefeated in her last twenty-one matches since dropping a round robin match to Simona Halep at the 2014 WTA Finals.


=======================================




9.

Serena Williams wins career slam #19 at the Australian Open, defeating '14 runner-up Dominika Cibulkova and four players who'd ultimately rank in the year-end Top 20, including 2015 season #3 Garbine Muguruza (#24 seed) and #4 Maria Sharapova (#2), pounding eighteen aces in the final against the Russian.


=======================================




10.

Angelique Kerber becomes 2015's first (of several, as it turned out) "Queen of Clay" nominee, winning back-to-back titles in Charleston (her first on tour since '13) and Stuttgart, putting up three Top 10 victories (def. Sharapova, Makarova & Wozniacki) while becoming just the third German (Anke Huber '91/'94, Julia Goerges '11) to be crowned champion in the 37-year history of the tournament. Kerber's winning streak of eleven matches was the tour's longest on clay by any woman during the 2Q.


=======================================




11.

Maria Sharapova's high point during a clay season in which she battled a lingering leg injury, and then illness, was her third title run in Rome in the last four years. She lost just one set while defeating the likes of Vika Azarenka, Daria Gavrilova (avenging her Miami defeat at the hands of the Russian/Aussie) and Carla Suarez Navarro in the final. Sharapova's eleventh career clay title ranks her behind only Serena among active WTA players.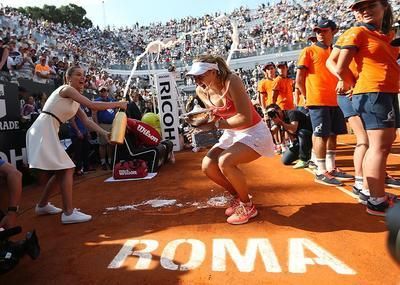 =======================================




12.

Garbine Muguruza, with new coach Sam Sumyk in her corner for the first time during the fall, brushes aside her inconsistencies and puts together a focused run to the Wuhan final, then follows up with her only '15 singles title in Beijing before starring in both singles (SF) and doubles (RU) at the WTA Finals in Singapore. The results allow the Wimbledon finalist to become the first Spaniard to finish a season in the Top 3 in nineteen years.

WTA Beijing: Garbiñe Muguruza Battles Past Timea Bacsinszky, Wins Second… http://t.co/ICqBG4Vn2l #VAVELTennis #VAVEL pic.twitter.com/LuSUbLUri4

— VAVEL USA Tennis (@VAVELUSATennis) October 13, 2015



=======================================




13.

Angelique Kerber wins in Stanford, defeating Aga Radwanska, Elina Svitolina and Karolina Pliskova in the final to grab her fourth title of the season, all coming on a fourth different surface (hard, green clay, red clay & grass).


=======================================




14.

Serena Williams defends her Cincinnati title with wins over Ana Ivanovic, Elina Svitolina and Simona Halep in the final. With her fifth '15 singles title, she yet again led the tour in 2015.


=======================================




15.

Petra Kvitova once more proves in Madrid that she's not a one-surface wonder. After two early three-setters, Kvitova swept her final four matches in straight sets to take the title, including getting her first career win over Serena Williams (ending a 27-match streak dating back to last season) in the semis and then a dominant 1 & 2 victory over an exhausted Svetalana Kuznetsova in the final.


=======================================




16.

Lucie Safarova wins her biggest career title in Doha, taking down three Top 20 players (Makarova, Petkovic & CSN, all of whom soon after climbed into the Top 10), an ex-world #1 (Azarenka) and another former slam champ (Stosur).


=======================================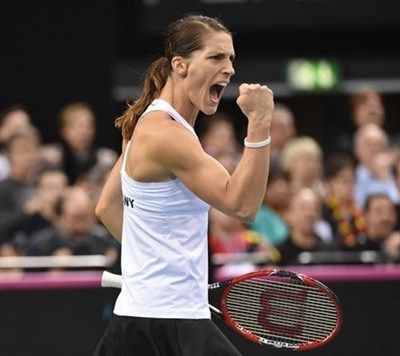 17.

Andrea Petkovic leads Germany past Australia and back to the Fed Cup semifinals, saving a match point and winning a 12-10 3rd set vs. Samantha Stosur, then clinching the tie by taking an 8-6 3rd set vs. Jarmila Gajdosova. A week later, she saves eight more match points en route to the Antwerp title, lifting her into the Top 10 for the first time since 2011. Unfortunately, in an otherwise disappointing campaign during which the German admittedly questioned her continued place on the tennis tour, these back-to-back outings were the unquestioned highlights of Petko's season. If only February could have been longer than twenty-eight days.


=======================================




18.

Proving a longtime Backspin point, Serbian Good Luck Charm Aleksandra Krunic, holding down the #1 singles slot after being ridiculously relegated to mop-up (or no) duty in recent FC outings, leads Serbia out of Europe/Africa Zone play as the team ends a Fed Cup losing streak that began after Serbia's win in the 2012 semifinals. The only question: Why did it take three years to put The Bracelet back into the mix?

=======================================




19.

With Belinda Bencic absent and Martina Hingis' FC singles "comeback" producing no wins (0-2 vs. the Radwanska sisters), Timea Bacsinszky puts the Swiss Fed Cup team on her back in the World Group Playoffs. Bacsinszky has a hand in all three points for the Swiss, defeating both Aga and Ula in singles and the A-Rad a second time in the deciding doubles while partnering Viktoriya Golubic, as the "Queen of Mexico " -- The People's Timea -- expands her kingdom to Poland, sending the Swiss into next season's World Group for the first time since 2004.

=======================================




20.

Petra Kvitova defends her New Haven title, knocking off four Top 20 players (Wozniacki, Safarova, Radwanska and Keys) en route to her third career title at Yale.


=======================================




21.

Venus Williams, 35, closes out her season by winning the Elite Trophy in Zhuhai to secure her first Top 10 season since 2011. The victory makes her the oldest year-end Top 10er since Martina Navratilova (38) 1994, and helps her round out her best overall season numbers in years, including 41 wins and three titles (both her most since '08).


=======================================




22.

Teliana Pereira wins in Bogota, becoming the first Brazilian woman to claim a tour singles title since 1988. Combined with a $50K challenger crown, a WTA-level qualifying run and main draw victory, Pereira's overall winning streak hit fourteen matches.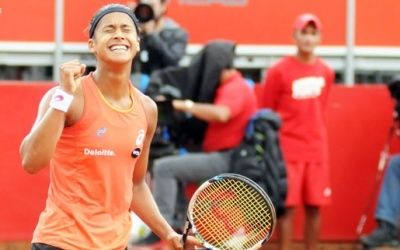 "This has been the best week of my life."


-

Teliana Pereira, after winning Bogota


Later in the season in Florianopolis, Pereira won again, becoming the first Brazilian woman in thirty years to win a tour singles title in her native country. In 2016, the total number of tournaments in Brazil will rise to three, with Rio and Florianopolis being joined by the Olympic tennis event (also in Rio).


=======================================




23.

Angelique Kerber wins her first career grass title in Birmingham, completing a "career surface slam" with wins over Tsvetana Pironkova, Jelena Jankovic, Katerina Siniakova, Sabine Lisicki and Karolina Pliskova.

.@AngeliqueKerber wins 6th career #WTA title & 3rd of 2015 at #AegonClassic--> http://t.co/3kEOJCHo16 #tennis pic.twitter.com/E5VWiVB2wG

— WTA (@WTA) June 21, 2015



=======================================




24.

In Guangzhou, Jelena Jankovic wins her first tour title since 2013 (her first on hard court since 2010), then three weeks later wins another in Hong Kong with victories over Venus Williams and Angelique Kerber. During the stretch, JJ becomes the third active WTA singles player with 600 match wins.

'I can still beat the best': @Jelena_Jankovic crowned champion at @HKTennisOpen. http://t.co/BeUDHKmuYe pic.twitter.com/qMoluxaYVY

— SCMP News (@SCMP_News) October 19, 2015



=======================================




25.

Petra Kvitova easily takes Sydney, defeating Peng Shuai, Jarmila Gajdosova (in 3), defending champ Tsvetana Pironkova and Karolina Pliskova in the first all-Czech tour singles final in six years.


=======================================




26.

Not long after reuniting with former coach David Taylor, Samantha Stosur turns around her previously disappointing '15 season (a 6-10 start, w/ no QF results) in Strasbourg. After opening with a love & 3 win over defending champ Monica Puig, the Aussie won three straight three-set matches (defeating Kristina Mladenovic in the Pastry's first career tour final) to win the seventh singles title of her career.


=======================================




27.

Karolina Pliskova, already leading the tour in too many categories to count -- other than titles, that is -- gets her first (and only, it turned out) '15 singles title in front of a home crowd in Prague, winning a trio of three-set matches, including her second all-Czech final (vs. Kvitova in Sydney) this season against Lucie Hradecka.

So special to win a tittle at home! I had amazing week here in prague and thanks everyone for support:) #madridsoon pic.twitter.com/hqLHkaIhEG

— Karolina Pliskova (@KaPliskova) May 2, 2015



=======================================




28.

Back in Prague to end her 2015 campaign, Karolina Pliskova's season full of "just missed it" moments ends on a high note, as she assumes the lead role in the Czech Republic's 3-2 win over Russia in the Fed Cup final. With the Maidens down 1-2 on Sunday, Pliskova defeats Anastasia Pavlyuchenkova to send things to the deciding doubles, then teams with Barbora Strycova to take out Pavlyuchenkova and Elena Vesnina and clinch the Czechs' fourth FC crown in the last five years.


=======================================




29.

Svetlana Kuznetsova wins the Kremlin Cup in Moscow, her first tour title since summer '14 and her maiden singles title on Russia soil. She defeated Anastastia Pavlyuchenkova in the first all-Hordette WTA final since 2011 to become the first thirtysomething Hordette to win a WTA singles title.


=======================================



1st WTA title! ?? @WTA @KatowiceOpen_ pic.twitter.com/cNLFwBMgp5

— AK Schmiedlová (@akschmiedlova) April 12, 2015



30.

In Katowice, Anna Schmiedlova wins her first career tour singles title and puts together a ten-match winning streak (which included her second Fed Cup anchor stint for the Slovak squad in '15).


=======================================




31.

In Marrakech, Elina Svitolina ups her career record in WTA finals to 3-0. Last year, Svitolina defended her maiden career title (Baku) and became the first teen with multiple career singles crowns since 2010. She's now swept all six sets in her three career finals, each of which included her defeating a player who'd previously won a tour singles title in the championship match. The highest-ranked woman (at #15) from Ukraine in WTA history, the now 21-year old ended the season at #19.

=======================================




32.

In Washington D.C., Sloane Stephens finally grabs her maiden tour singles title in her very first appearance in a final, taking the crown without dropping a set all week two and a half years after jumping into the spotlight with a semifinal result at the 2013 Australian Open.

Ladies and gentlemen, your 2015 Citi Open champion. ???? @SloaneStephens pic.twitter.com/nQ4G4hjKUY

— Christopher Levy (@tennis_shots) August 10, 2015



=======================================




33.

The three-week long grass tune-up season produced a trio of first-time tour singles champions in Camila Giorgi, Ana Konjuh and Belinda Bencic. Giorgi survived a gauntlet in 's-Hertogenbosch, defeating Michaella Krajicek despite the Dutch woman hitting 21 aces, saving three match points against Yaroslava Shvedova and then defeating Bencic in her fourth career final after failing to win twice in '14 after holding MP in both contests. The same weekend, 17-year Konjuh won in Nottingham to become the youngest singles champion on tour since 2006, then in the final pre-Wimbledon event 18-year old Bencic matched her old junior rival (they split the four junior slams titles in '13) by making her grass season a sterling one with a maiden title run in Eastbourne in which she defeated #5 Caroline Wozniacki, '14 Wimbledon RU Genie Bouchard, defending champ Madison Keys and former SW19 finalist Aga Radwanska in the championship match.

3rd time lucky I guess??? thank you everyone for all the nice messages?? #firstwtatitle #eastbourne2015 pic.twitter.com/0CSdRAPlNT

— Belinda Bencic (@BelindaBencic) June 27, 2015



=======================================




34.

Margarita Gasparyan wins in Baku (sweeping the singles and doubles titles) to become the first maiden Russian singles champion on the WTA tour since 2011.

IMG Tennis newscomer Margarita Gasparyan wins WTA event in Baku, her first tournament. Congrats Rita! #IMGTennis pic.twitter.com/Fpj8C9CaQT

— IMG Tennis (@IMGTennis) August 3, 2015



=======================================




35.

Samantha Stosur wins on the clay in Bad Gastein, coming back from a set and 4-2 down in the final vs. Karin Knapp.

.@BamBamSam30 wins 2nd title of 2015 & 8th career title at @WTAGastein--> http://t.co/Z5p6F3BrXH #WTA #tennis pic.twitter.com/uHlX0mFqmr

— WTA (@WTA) July 26, 2015



=======================================




36.

Maria Sharapova drops just one set en route to winning Brisbane, the first Week 1 title of her career. Wins over Carla Suarez-Navarro, Elina Svitolina and Ana Ivanovic secured Sharapova's thirteenth consecutive season with at least one WTA singles title, the fourth longest streak in tour history behind those by Navratilova (21), Evert (18) and Graf (14).


=======================================




37.

After seeing fortysomething Kimiko Date-Krumm grab most of the headlines in recent years, Japanese tennis had a sudden bubbling up of great results this season. Nao Hibino won her maiden tour title in just her second career WTA main draw in Tashkent, briefly taking away the top-ranked position amongst the Japanese women from Misaki Doi, who took it back and won her own maiden title in Luxembourg three weeks later. Meanwhile, maybe the fairest of them all, big-serving Naomi Osaka was the surprise winner of the Rising Stars competition at the WTA Finals. A few weeks later, Osaka defeated Hibino in the semifinals of the WTA $125 Series event in Hua Hin to reach the biggest final of her career. Don't be surprised if SHE'S the highest-ranked Japanese player by this time next year.


=======================================




38.

Sara Errani and Anna Schmiedlova trade off titles in Rio and Bucharest. Errani saved three match points in the QF round before defeating Schmiedlova for career title #8 in Rio. Five months later in Bucharest, Schmiedlova returned the favor by defeating Errani in a final rematch for her second 2015 title. The Slovak didn't drop a set all week.


=======================================




39.

Johanna Konta dominates hard courts one level below the regular tour, winning back-to-back challengers. She then qualified for the U.S. Open and extended her winning streak to sixteen matches with victories over Garbine Muguruza and Andrea Petkovic to reach her first career slam Round of 16. The Brit's lead-up grass season had shown signs of what was to soon come, as she got wins over Ekaterina Makarova and soon-to-be Wimbledon finalist Muguruza. After having never finished a season in the Top 100, Konta was the highest-ranked Brit on tour at #47 at the end of the '15 season.


=======================================




40.

Johanna Larsson wins her maiden tour title in Bastad, sweeping both the singles and doubles crowns. She's the first Swede to win in Bastad in nineteen years.


=======================================




HM-

Heather Watson wins Hobart, grabbing her first title since missing time with glandular fever in 2013. She's the first British woman to win a second career title since 1985.

.@HeatherWatson92 captures @HobartTennis title with 63 64 win over Brengle--> http://t.co/Uuz4kOpz0b #tennis pic.twitter.com/MjxA3fGyGB

— WTA (@WTA) January 17, 2015



=======================================






[Once More For Old Times Sake]


Italy's "upset" of the U.S. squad in the Fed Cup World Group Playoffs in the spring was led, for one final time, by two parts -- Sara Errani and Flavia Pennetta -- Italian Quartet. On Saturday, Errani got a win over Lauren Davis to prevent Italy from falling into a 2-0 hole. The next day, in Match #3, she became just the second player in FC history (after Anastasiya Yakimova in 2012, of all people) to take a set off Serena Williams. She even served for the match at 6-4/5-4, and forced Williams to battle back to get the win, tiring her out for the deciding doubles that arrived soon after due to Pennetta's quick singles victory over Christina McHale that knotted the tie. In the doubles, Pennetta, playing in her hometown of Brindisi, teamed with Errani to easily defeat Serena and Alison Riske, winning 6-0/6-3 as the Americans played as if they'd never met before they walked onto the court (which wasn't THAT far off -- they'd only met a few days earlier... which isn't a surprise when you consider the Mary Joe Fernandez constructed the roster). It turned out to be FC Goddess Pennetta's final appearance (at least as a player) in the team competition, as she announced she would retire after winning the U.S. Open five months later. She ends her Fed Cup career with twelve straight FC singles victories, having not lost since 2009. Together, Pennetta and Errani (with Roberta Vinci and Francesca Schiavone) led the Italians to five FC finals in the past decade, winning four titles. This was likely the greatest Italian generation's last big FC weekend and, for old times sake, they left us with a final wonderful memory. Grazie.



[DOUBLES]




#1 -

Martina Hingis & Sania Mirza ruled the doubles courts at Wimbledon. The world's #1-ranked team won the women's doubles to claim Hingis' first title in the event since 1998 and finally got Mirza her first career slam women's doubles title (she'd been the only one of the thirty-three women ranked #1 in doubles who hadn't yet won a WD major). Hingis wasn't finished, though. A day later, she returned to Centre Court and won the Mixed doubles with Leander Paes to become the first woman to sweep the Wimbledon doubles titles since Cara Black in 2004.


=======================================




#2 -

The Dynamic Duo take Paris. Well, NEARLY all of it, anyway, as doubles partners Lucie Safarova and Bethanie Mattek-Sands had a hand in all three women's championship matches at Roland Garros (coming within a Serena of sweeping them all). Safarova came into RG sporting just a 5-4 clay court record in the spring, but she timed the peaking of her game perfectly. Thrilling her fans (around the world and in the stands, as well as the lockerroom), she became the first Czech woman to reach the final in Paris since 1981, not dropping a set on her way to the championship match. In the final, she took advantage of Serena Williams' 2nd set downturn to force a 3rd and take a break lead there before Serena turned things around. The result made Safarova the seventh Czech woman to reach the singles Top 10 (#7), while she also climbed into the doubles Top 5 after she and BMS won their second straight slam title (in just their sixth tournament as a duo), defeating world #1's Hingis/Mirza for the second time in '15 en route to the final. Not only that, but BMS cleaned up in the Mixed, as well, taking the title with Mike Bryan to become the first woman to sweep both doubles competitions in Paris since 2001.

And yes... There is champagne in there! @rolandgarros @luciesafarova #RG2015 #CorkAlmostKilledUs #LightWeights pic.twitter.com/anqlkZLecn

— Bethanie MattekSands (@BMATTEK) June 7, 2015



=======================================




#3 -

Martina Hingis and Leander Paes win three-quarters of a Mixed Doubles Grand Slam, taking the titles at the Australian Open, Wimbledon and the U.S. Open. Hingis' win in Melbourne was her first slam title since 2006. She ultimately claimed five slam crowns in the 2015 season alone.


=======================================




#4 -

Martina Hingis & Sania Mirza end their current partnerships and team up for the first time in Indian Wells and Miami, going 10-0 without dropping a set, sweeping through Ekaterina Makarova & Elena Vesnina in both finals. It kicks off a (partial) season in which they combine to win nine titles, two slams, the WTA Finals and finish as the top two ranked doubles players in the world.

=======================================




#5 -

Martina Hingis & Sania Mirza end their season by dominating the WTA Finals, going 5-0 to extend their 22-match, five-title winning streak into 2016.


=======================================




#6 -

In Charleston, in their third event as a pair, Martina Hingis & Sania Mirza win their third straight title. The win lifts Sania Mirza into the #1 doubles ranking, making her the first Indian woman to ever top the WTA rankings.

?3 Tournaments ?3 Titles! @MHingis & @MirzaSania win @FamilyCircleCup--> http://t.co/P7bZ8rSDB4 #WTA #tennis pic.twitter.com/Gy8llWkYKK

— WTA (@WTA) April 12, 2015



=======================================




#7 -

Martina Hingis sweeps the doubles and mixed at a second consecutive slam, winning her second '15 major with Sania Mirza and third this season with Leander Paes. Now with a combined twenty career slam titles, Hingis hadn't won any U.S. Open title since she swept the singles and doubles competitions seventeen years ago at age 18.



"I (would) rather win, alongside Sania and Leander, grand slam titles than having to struggle with my body... I was just, like practicing yesterday and I almost hurt myself."


-

Martina Hingis, on the possibility of a singles comeback




=======================================




#8 -

The Chan sisters -- Hao-Ching & Yung-Jan -- are successful doubles players with other partners, but there's just something special about them playing together. It showed in Cincinnati, as they teamed for the biggest title ever for both. The siblings saved a MP in a match-deciding super tie-break in the 2nd Round against #3-seeded Garcia/Srebotnik, won a 19-17 STB to down Errani/Pennetta in the QF, upset #1-seeded Hingis/Mirza in the SF in another STB, and then took the crown from #4-seeded Dellacqua/Shvedova in a straight sets victory in the final. Behind only the Williams Sisters in WTA history when it comes to doubles titles won by all-sister duos, the Chans were the second-best doubles team on tour in the final third of the season. From Toronto until the WTA Finals, the Taiwanese siblings won two titles and reached two more finals, going 24-2 against every team but the #1-ranked Hingis/Mirza, against whom they were 1-5.


=======================================




#9 -

Bethanie Mattek-Sands makes a successful comeback from '14 hip surgery, winning back-to-back doubles titles in Sydney (w/ Sania Mirza) and the Australian Open (w/ Lucie Safarova), capturing her first career women's doubles slam crown in her first-ever pairing with the Czech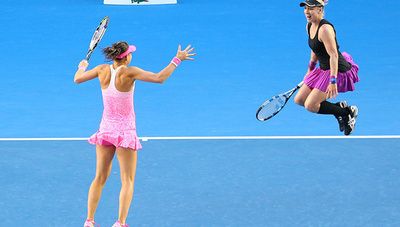 ======================================




#10 -

Sania Mirza puts up her best result with new (and, ultimately, temporary) partner Hsieh Su-Wei by reaching the Doha final, but nevertheless ends the pairing in order to team with Martina Hingis in Indian Wells and Miami. The new superstar (superhero?) duo sweep both titles and Mirza rises to #3, less than 150 points behind co-#1's (and now ex-partners) Errani & Vinci. She'd soon become the first Indian #1.

=======================================





[WHEELCHAIR]




#1 -

Jiske Griffioen wins the Australian Open Wheelchair singles crown, defeating world #1 Yui Kamiji in the final and preventing her from being the reigning champ in all seven grand slam WC disciplines.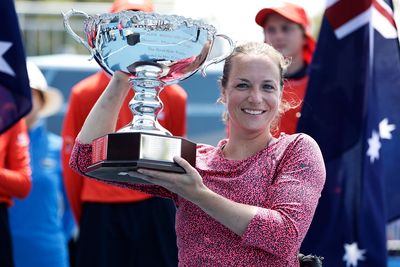 =======================================




#2 -

Jiske Griffioen defeated fellow Dutch player Aniek Van Koot in the singles final at Roland Garros to win her second straight major of '15. A doubles team, Griffioen & Van Koot -- they completed a four-event Doubles Grand Slam in '13 -- also won the their sixth career slam doubles crown in Paris, ending Yui Kamiji & Jordanne Whiley's attempt to win a sixth straight major. Griffioen won four additional slam doubles titles with future Hall of Famer Esther Vergeer from 2007-08.


=======================================




#3 -

Brit Jordanne Whiley defeats best friend Kamiji in the U.S. Open women's Wheelchair singles final 6-4/0-6/6-1 to claim her first slam singles crown. The match took place simultaneously with the Djokovic/Federer final on the last day of play.

That moment when all your dreams come true!! ???? #USOpen2015 pic.twitter.com/NNDbmrxETM

— Jordanne Whiley MBE (@jordannejoyce92) September 14, 2015



=======================================




#4 -

Yui Kamiji & Jordanne Whiley win the Australian Open Wheelchair doubles title, claiming their fifth consecutive slam title. The duo combined to win a true Grand Slam in 2014.


=======================================




#5 -

Yui Kamiji & Jordanne Whiley win their sixth of seven slam titles with their championship turn at Wimbledon. The Japanese-British duo defeated the Dutch combo of Jiske Griffioen & Aniek Van Koot at SW19 in the seventh consecutive slam final match-up between the two teams. Griffioen/Van Koot had ended Kamiji/Whiley's five-straight title run a month earlier in Paris.

Here's how @jordannejoyce92 & Yui Kamiji successfully defended their #WimbledonFinal title http://t.co/gYX5RGlj00 pic.twitter.com/zmGfQAnGl7

— BBC Sport (@BBCSport) July 12, 2015
=======================================
[JUNIORS]
#1 -

Dalma Galfi wins the U.S. Open junior title (def. Sonya Kenin) and climbs into the #1 girls ranking, joining Aniko Kapros (2000) and Agnes Szavay (2005) as past junior slam champs from Hungary. Both finished the season as the Girls overall #2 those years.


=======================================




#2 -

Unseeded 15-year old Russian Sofya Zhuk wins the Wimbledon junior title, defeating fellow Hordette Anna Blinkova (#12) in the final to become just the second girl from her country to win the SW19 crown (2002 Vera Dushevina). Zhuk, who trains at the Justine Henin Academy, didn't lose a set the entire tournament.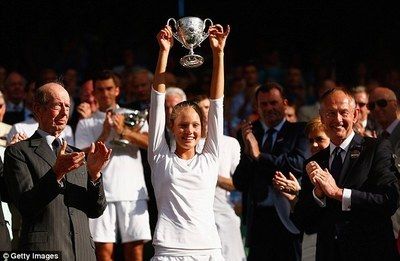 =======================================




#3 -

The Czechs win the girls Fed Cup 16s, with Marketa Vondrousova leading the way as the junior Maidens defeat Canada in the semis and the U.S. in the final. It's the Czech Republic's first FC 16s title since 2001.

=======================================




#4 -

At Roland Garros, Paula Badosa became just the second Spanish girl to claim a junior slam singles crown, joining Lourdes Dominguez-Lino (1999) as female champions in Paris.


=======================================




#5 -

Preparing for their future Fed Cup success, Czech Maidens Miriam Kolodjiekova & Marketa Vondrousova win the girls doubles titles at both the Australian Open and Roland Garros.


=======================================




#6 -

The Russians take the Fed Cup 14s title, defeating the U.S. team in the final with an undefeated Vlada Koval leading the way. Anastasia Potapova clinched the win with a three-set victory over Hurricane Tyra Black. It's the Hordettes' second straight 14s title, and third consecutive final appearance.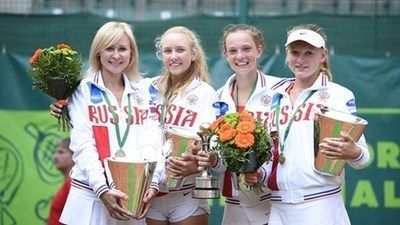 =======================================




#7 -

Unseeded Slovak Tereza Mihalikova defeats Brit Katie Swan to win the Australian Open girls title, becoming the first from her nation to win the AO, and the first Slovak junior to take home a slam since 2007.


=======================================




#8 -

Hungary's Dalma Galfi didn't win THE biggest junior titles of the grass season, but she claimed arguably the SECOND biggest ones. The 16-year old won the Roehampton singles title and the Wimbledon doubles title (w/ Fanni Stollar). Two months later she won the U.S. Open girls crown and became the top ranked junior in the world.


=======================================





"I was either going to be a genius or a nonsense Captain!"
-

Amelie Mauresmo




[TEAMS]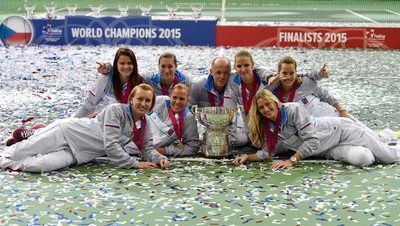 #1 -

The Czech Rebublic battles back from a 2-1 deficit in the final against Russia, locking away a second straight FC championship, and fourth title in the last five years.


=======================================




#2 -

Amelie & Co. evict Team Italia. The French overcome a 0-2 deficit against the Italians in the 1st Round of Fed Cup. On clay. In Italy. With Kristina Mladenovic and Caroline Garcia (both 1-0 in singles on Day 2, with Kiki making her FC singles debut) winning the deciding match against the previously-undefeated-in-FC-action world's #1 doubles team of Sara Errani & Roberta Vinci. And that's all, folks. Literally, in the case of Errani/Vinci, who ended their long-time partnership a few weeks later without teaming for another match, and maybe for the super-successful FC era for Team Italia, as well. Flavia Pennetta played in her final pre-retirement Fed Cup in the spring, a farewell victory over the U.S. squad that preceded her retirement announcement after winning the U.S. Open at the end of the summer.

=======================================




#3 -

Led by Martina Hingis, the Washington Kastles win a record fifth consecutive World Team Tennis championship. It's the team's sixth title in the last seven years.

=======================================
#4 -

Serbia downed Paraguay 4-1 in the World Group II Playoffs, winning back-to-back Fed Cup ties for the first time in three years. With The Bracelet around, what else would you expect? The one "bright side" of Jelena Jankovic's Charleston injury was that Serbian Good Luck Charm Aleksandra Krunic got to once again take on the majority load of a FC tie for Serbia, going one more step toward righting a wrong that took far too long for the Serbian Tennis Powers That Be to recognize. After having ably held down the #1 singles position in February as the Serbs claimed a tie in FC for the first time since winning in the 2012 semifinals, Krunic led the way again with Ana Ivanovic on the roster (going 1-0) and JJ watching. She even played a "meaningless" doubles match, guiding the younger Ivana Jorovic just as JJ and AnaIvo had her during Serbia's run to the 2012 final. On the court to clinch yet another tie in her second singles match, Krunic lost a total of nine games in her three matches. She is simply a Fed Cup demon. (The good kind.)


=======================================




#5 -

Aga Radwanska (w/ Jerzy Janowicz) leads Poland to its first Hopman Cup crown, as A-Rad defeats Serena Williams (w/ John Isner) in both singles and the deciding doubles in the final.

=======================================




HM -

The Vanderbilt Commodores, led by Aussie Freshman Astra Sharma, claim the school's first NCAA Women's Team championship.

Some great photos from last night's big win! #NationalChamps #FightDores https://t.co/1do4bwv0R6 pic.twitter.com/6OtoPXd4QI

— VanderbiltUniversity (@VanderbiltU) May 20, 2015



=======================================



[Best New Threat to Civilization...or, at least, Czech domination?]
Forget The Radwanska. Maybe we should all fear the Swarm. Serena Williams sure was spooked by the whole notion of a Romanian threat (loudly) encircling her in the stands in Miami, and soon afteward the Canadians confirmed that the Swarmettes -- collectively -- are a single-minded force to be reckoned with in North America and beyond. I first started calling this surging generation of Romanians "The Swarm" all the way back in 2008, so it's nice to finally see things coming together. I've been touting a possible FC title run for 2016-17 for over a year, as well, and their two '15 ties sure made it look like the process might be moving along right on schedule. In February, even with a Simona Halep loss, a fully-stocked Romanian roster (led by Irina-Camelia Begu) advanced past Spain. In April, on the road without two of their top three ranked players, the Romanians still had enough talent to spare, advancing past Canada with the likes of Alexandra Dulgheru (who hadn't played FC in four years) and Andreea Mitu (subbing for an injured Begu and making her own debut) leading the charge. Only the champion Czechs have been able to recently pass through multiple Fed Cup rounds (the Russians at least always had Sveta) en route to a title even while occasionally going without their unquestioned #1 singles star in recent years, but even the sting of the Romanian "B" players proved lethal in 2015. The paths of these two teams are now set to cross in 2016, as the two-time defending champion Maidens have been drawn to meet the Swarmettes in Romaina in World Group 1st Round play next February. Game on.

[Pan-American Games Achievers]
Colombia's @MaryDuqueMarino wins @TorontoPanAm singles gold--> http://t.co/ininvCPqfM #WTA #tennis pic.twitter.com/4ESzyphEh1

— WTA (@WTA) July 17, 2015

Mariana Duque claims the singles Gold medal. It's the Colombian's fourth career Pan-Am medal (two s/d Silvers in '07, and a doubles Bronze in '11). She just missed out on a sixth medal, losing in the mixed doubles Bronze Match.


=======================================


20-year old Mexican Victoria Rodriguez is a surprise star at the Toronto games, winning Silver in both singles and doubles. Rodriguez defeated #2-seed Monica Puig in the semis before losing to #3 Duque in the final.


=======================================


Gabriela Dabrowski & Carol Zhao win the doubles Gold in front of a home crowd. Dabrowski also won the mixed Silver.

How special it was to win gold at home. Thanks to everyone who came out and made the experience so memorable for us. pic.twitter.com/2KG1WCzWUT

— Carol Zhao (@CarolZhao95) July 17, 2015



=======================================





[NON-CHAMPIONS DIVISION]




"I feel good right now. I can maybe touch the sky with my finger."


-

Roberta Vinci




#1 -

Roberta Vinci wins four three-set matches through six rounds (one of which was a walkover from a concussed Genie Bouchard) at the U.S. Open, including an upset of #1 Serena Williams in the semis, to become the fourth Italian woman from the current veteran generation to reach a slam singles final.

#Vinci on the win: "It's the best moment of my life." #usopen pic.twitter.com/n0AvI0VNPa

— US Open Tennis (@usopen) September 11, 2015



=======================================




#2 -

Even in defeat, Heather Watson becomes a British tennis legend at Wimbledon. Showing that she could play with the best, she led Serena Williams by a double-break in the 3rd set in their 3rd Round match, serving for the match and getting to within two points of what would have been a history-altering upset. It was the sternest test faced by the eventual champion the entire fortnight.

Heather Watson: "I've learnt I can compete with the best in the world." #Wimbledon pic.twitter.com/v4Vq4gUSH6

— Wimbledon (@Wimbledon) July 3, 2015
=======================================
#SAPStatOfTheDay: @TimiBacs=1st Swiss to reach a Grand Slam SF since 2004! @SAPSports #tennis pic.twitter.com/UXCKX30v88

— WTA (@WTA) June 3, 2015



#3 -

Already one of the most encouraging stories of the season, Timea Bacsinszky put some big event teeth into her '15 season with a slam SF run at Roland Garros. She defeated AO semifinalist Madison Keys, got her second '15 win over Wimbledon champ Petra Kvitova and reached her first career slam semi, the first Swiss woman to do so since 2004. Once there, she led an ill Serena Williams by a set and a break at 3-2 before Serena did what she does... win the final ten games of the match and go on to take the title.


=======================================




#4 -

Carla Suarez-Navarro reaches her first career Premier Mandatory final in Miami, notching two Top 10 victories and upsets over a pair of former tournament champs (Aga Radwanska & Venus Williams). Two days later, she becomes the first Spanish woman to debut in the Top 10 in twenty-six years. (Later in the season, Garbine Muguruza joined her, and finished the season there... while CSN did not.)


=======================================




#5 -

Garbine Muguruza becomes the first Spanish woman to reach the Wimbledon women's singles final since 1996 (when Garbi was in the "terrible twos.") It's the sixth straight year in which a first-time slam finalist has reached the championship match at SW19. She's now the fourth Spanish woman to climb into the Top 10.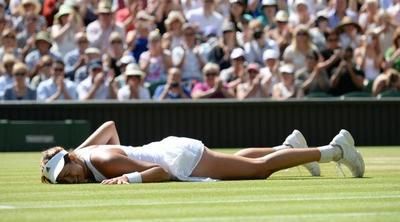 =======================================




#6 -

Aga Radwanska rediscovers her form during the grass season, putting up semifinal and runner-up results in tune-up events before reaching her third career semi at Wimbledon, where she lost a three-setter to Muguruza. The Pole returned to the Top 10 after the fortnight, and put together a great fall run (winning three titles) that lifted her into the Top 5.


=======================================




#7 -

Madison Brengle makes it through qualifying and reaches her first tour final in Hobart, then defeats #13-seeded Andrea Petkovic at the Australian Open en route to her first career slam Round of 16. After completing her decade-long quest to notch her first main draw slam win at the U.S. Open in August '14, Brengle won more tour-level main draw matches in the first month of 2015 than she had during her entire career (she's been a Top 250 player since 2007) before this season. The 25-year old ended the season ranked inside the Top 40.


=======================================




#8 -

In Madrid, Svetlana Kuznetsova reminds everyone why she's a likely future Hall of Famer... even while coming up short of another large result. The Russian defeated Top 10er Ekaterina Makarova, Top 20er Garbine Muguruza, survived a long match against Samantha Stosur, saved 2 MP vs. Lucie Safarova and got her first win over Maria Sharapova in seven years to reach her first final in nine months. Her eleven hours on court caught up with in the final, as leg and stomach injuries prevented her from being competitive against Petra Kvitova. Late in the season, Kuznetsova would win the Kremlin Cup title in Moscow.


=======================================




#9 -

Daria Gavrilova spends thirteen hours on the court in Rome, making her way through qualifying, notching wins over Belinda Bencic, Ana Ivanovic and Timea Bacsinszky to reach her first tour semifinal before she was ultimately slowed by an abdominal injury that likely resulted from her marathon week of play. Unfortunately, the injury lingered, eventually leading to her retirement from her 2nd Round match at Roland Garros.


=======================================




#10 -

In Rome, Carla Suarez-Navarro records three Top 10 wins (Bouchard, #4 Kvitova and #2 Halep) before losing in three sets in the final to #2 Maria Sharapova.

Carla Suarez Navarro came from a set down to beat second seed Simona Halep at the Italian Open http://t.co/f32bGFKlUv pic.twitter.com/UFyIjLyu1e

— BBC Sport (@BBCSport) May 16, 2015



=======================================




#11 -

Venus Williams reaches the Australian Open quarterfinals, her best slam result since 2010, and climbs to #11 in the rankings. She reached a second slam QF at the U.S. Open, and ended the season with her first Top 10 year-end ranking in five years.



"This old cat has a few tricks left."
-

Venus Williams




=======================================




#12 -

Simona Halep rebounds from her disappointing clay and grass seasons with final runs in Toronto and Cincinnati, and her best-ever result (a SF, albeit a disappointing loss) at the U.S. Open as she re-takes the #2 ranking from an injured Maria Sharapova and ultimately estabishes a new Romanian benchmark by finishing the season there.


=======================================




#13 -

In Indian Wells, Jelena Jankovic recaptures her former title-winning (2010) form in the desert. Her run to the final included her first Top 20 victory (Madison Keys) since the summer of '14, as well as wins over Belinda Bencic and Sabine Lisicki, as she lifted her ranking back into the Top 20. The Serb went on to win two tour titles in 2015, her first since the 2013 season... but finished at #21.


=======================================



#14 -

Russian teenager Daria Kasatkina gets into her first career slam MD at the U.S. Open as a lucky loser due to Maria Sharapova's withdrawal, and she advances all the the way to the 3rd Round. It's the best slam result by a LL since 1997, and the best at Flushing Meadows since 1993.

The success of 2015's "lucky losers" often belied their standing this season. In all, eighteen lucky losers notched 1st Round victories on tour in '15, with four reaching the QF stage and three the SF:

1) Sesil Karatantcheva, representing her native Bulgaria again after a five-year stint as a Kazakh, subbed for Daniela Hantuchova (foot) and reached her second career WTA singles semi in Acapulco

2) Brit Naomi Broady lost in Quebec City qualifying, but entered the main draw when Klara Koukalova withdrew due to illness. She didn't lose again until she'd reached her first tour semifinal. In the QF, she defeated Anna Tatishvili, who'd knocked off another LL -- Nadiia Kichenok -- in the 1st Round.

3) Lesia Tsurenko lost in New Haven qualifying, then entered the draw as a lucky loser when #1-seed Simona Halep pulled out after reaching the Cincinnati final. It was the Ukrainian's second career SF result as a LL ('13 Brisbane).



=======================================




#15 -

Less than a year after deciding to retire from the sport following last summer's grass court season, Andreea Mitu reaches the Round of 16 at Roland Garros after having come to Paris without a main draw slam victory in her career. She defeated #12 seed Karolina Pliskova and former RG champ Francesca Schiavone.


=======================================




#16 -

Caroline Wozniacki didn't win in Stuttgart (though she served for the title and came within two points of claiming it... twice), but she notched two Top 10 victories (CSN & Halep) to reach her first clay court final since 2011, and her first at a Premier event since 2012.


=======================================




#17 -

In an overall disappointing season, Alize Cornet DID still manage to reach her first Round of 16 at Roland Garros... and answered the question, "What would it look like if Cornet actually won Roland Garros?"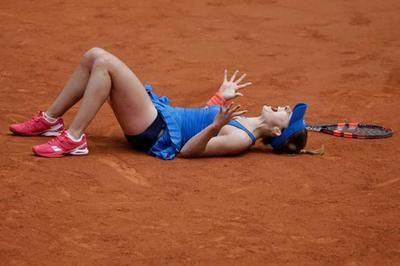 =======================================




#18 -

Belgian Alison Van Uytvanck, the world #93, came to Paris with just one main draw slam match win in her career. She ended up becoming the first Waffle to reach the Roland Garros QF since Justine Henin in 2007.

.@AlisonVanUytvan advances to 1st Grand Slam QF! Cruises past Mitu 61 63 at @RolandGarros--> http://t.co/d2b62ufeuB pic.twitter.com/tmcb7pOntn

— WTA (@WTA) June 1, 2015



=======================================




#19 -

In Tianjin, Danka Kovinic becomes the first woman from Montenegro to reach a WTA singles final.


=======================================




#20 -

While her twin sister Karolina (#11 seed) once again failed to achieve a breakthrough slam performance at Wimbledon (losing in the 2nd Round), the less heralded Kristyna Pliskova upset Tereza Smitkova (who reached the '14 Round of 16) and #26-seed Svetlana Kuznetsova to reach the 3rd Round. Kristyna won the Wimbledon girls title in 2010.


=======================================





[Fancy Meeting You Here]


After Anna Tatishvili retired from a late night (1:40 a.m.) singles match, she pulled out of the Istanbul doubles with partner Kristyna Pliskova. Inserted in their place in the draw was the first alternate team of Daria Gavrilova and Elina Svitolina (the Ukrainian was the defending doubles champ, after winning the '14 crown with Misaki Doi), who'd never played together as a duo. All they did was knock off the #1 seeds in the QF (in two tie-breaks and 10-5 super tie-break), the #4 seeds in the SF and then came back from a set down to take the final against Cagla Buyukakcay & Jelena Jankovic in a 10-4 STB.





[Best Performance - Most "Pironkova-like"]


A year after winning her first career title there after qualifying and winning eight matches in eight days, Tsvetana Pironkova returns to Sydney (again as a qualifier) and nearly repeats the process. Again, she makes it through qualifying, extending her winning streak in the event to fourteen matches before finally losing in the semifinals to eventual champ Petra Kvitova.



[Best/Worst Decade-Long Beat Down x 17]


Serena Williams celebrated the eleventh anniversary of her loss in the 2004 Wimbledon final to Maria Sharapova with a thorough destruction of the Russian in the 2015 semifinals, running her career record in their head-to-head to 18-2, with seventeen straight victories. Williams went on to win the title, while Sharapova didn't play her next full match until the WTA Finals.




[Most Tantalizing Taste]


Australian Open 2nd Rd. - Victoria Azarenka d. Caroline Wozniacki
...6-4/6-2. In an early-round match-up of former #1's (the earliest in a slam since 2005), Azarenka was as bold as her DayGlo yellow outfit. Her defense was all-encompassing and her volleys crisp as Vika controlled rallies with her consistency and aggression (21/26 at the net, a necessary tactic with Wozniacki being 16/18). Fittingly, Azarenka ended the match with a perfect volley on MP to secure her first Top 10 win in over a year, then danced for an Aussie crowd that, for the first time in years, wasn't against the new "underdog" Belarusian.

"This is vintage Azarenka right now."

-

ESPN's Pam Shriver, during the Azarenka/Wozniacki match

2015 didn't quite turn out how Vika would have wished. But "the old Vika" is in there somewhere, it's just a case of finding a way to allow her to fully spread her wings once again. Sigh... maybe 2016?



[The Open Run That Never Was]



UPDATE: Eugenie #Bouchard has withdrawn from women's singles competition due to a concussion. #Vinci into the QFs. pic.twitter.com/NWRDXO0Ded

— US Open Tennis (@usopen) September 6, 2015

Genie Bouchard was finally looking like herself. Her old self. Her 2014 self, when she reached a pair of slam semifinals in Melbourne and Paris, and then the Wimbledon final. Since then, injuries, distraction, the microscope that accompanies winning and various other things combined to send the Canadian (and her confidence) tumbling down the rankings. In Flushing Meadows, though, she was looking good. She'd already handily defeated Alison Riske, then took out Polona Hercog and Dominika Cibulkova in straight sets and was beginning to show a bit of her old bravado (the pre-Open meeting on the practice courts w/ Jimmy Connors may have helped), as she made a point to note that she was the only player still alive in the singles, doubles and mixed.


#Bouchard: "(Jimmy) told me he truly believes in me. Reminded me: hey, I need to believe in myself as well." #usopen pic.twitter.com/vrQE2VZRvP

— US Open Tennis (@usopen) September 5, 2015


Well, then Bouchard slipped in the locker room and hit her head following her late night mixed doubles victory, suffering a concussion and leading her to withdraw from all three competitions. She had been set to face Roberta Vinci in the Round of 16. She'd lost 1 & 0 to the Italian a week earlier in New Haven, but that was pretty clearly a drop-in-and-drop-out tournament visit by Bouchard, judging by how quickly she beat it to NYC for a Nike promotion. Had she defeated the Italian this time, would Bouchard have lasted until the semifinals and then defeated Serena Williams, as Vinci ultimately did? Or would Serena have instead reached the final and pulled off her Grand Slam? Bouchard's fall may have changed tennis history. The Tennis Gods work in mysterious ways.


.@GenieBouchard retires in the 2nd set. @AndreaPetkovic moves into @ChinaOpen 2R--> http://t.co/93WsKuWIZG #WTA https://t.co/qe3K7HY64e

— WTA (@WTA) October 5, 2015


It surely changed what was left of Bouchard's season. After pulling out of several events due to lingering concussion symptoms, she was forced to retire from the one match she played in Beijing (a month after her fall) before finally ending her season early. Of course, the Canadian's STORY wasn't finished, though. (More on that later.)



[Game]


Australian Open SF - Serena Williams d. Madison Keys
...7-6(5)/6-2. Down 7-6/5-1, Keys might have just gone quietly in her semifinal match-up with #1 Williams. But instead the 19-year old saved seven match points on serve with a series of aces, thudding shots and a lack of nerves or dejection. It was a wonderful thing to watch, and maybe a glimpse of the near future on the WTA tour. She'd save an eighth MP on Serena's serve before making her first slam SF appearance as memorable in defeat as it was in accomplishment.



[Game: Good Petra Edition]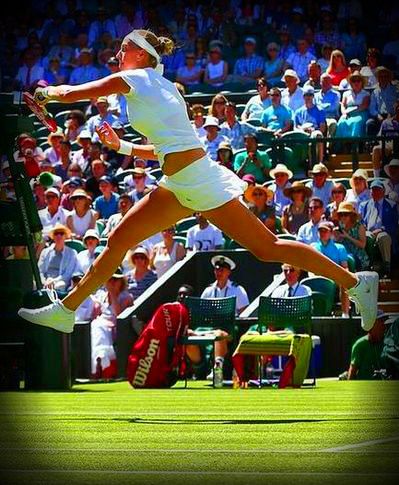 ...in her 1st Round match at Wimbledon, a merciless Petra Kvitova took out Kiki Bertens 6-1/6-0, winning twenty-eight of twenty nine service points, including 22/22 on 1st serves. Her only lost point came on a double-fault. The defending SW19 champion lost two rounds later to Jelena Jankovic.



[Set: "Anti-Radwanska Trance" Special]


Australian Open 4th Rd. - Venus Williams d. Aga Radwanska
...6-3/2-6/6-1. Turning back the clock to the prime of her career, Venus plays as if "in a trance" (her words) in the 3rd set against Radwanska, allowing the Pole just two points on her own serve in the set and using a big serve, excellent court coverage and Wimbledonesque volleys to out-point A-Rad 30-16 in the set, converting on 7-of-9 net approaches as she burst into her first slam Final Eight in four and a half years.

#Venus Williams explains the trance-like state that propelled her to win: http://t.co/iWmdUfmp8m #ausopen

— Australian Open (@AustralianOpen) January 26, 2015




[Shot]


Francesca!




[The Point That Made It All Possible]



Unreal Set Point! @ARadwanska wins the opening set vs Halep 7-6(5)! #WTAFinals https://t.co/3eI3qP6YIW

— WTA (@WTA) October 29, 2015
[Tweener vs. Tweener]
My "tweener" trick shot from todays practice.. #practicemakesperfect pic.twitter.com/ZCPwBWm8ps

— Caroline Wozniacki (@CaroWozniacki) April 9, 2015
[To Serve Well is Divine...but it doesn't always get you a title]
?????????????????????????????????????????????????????? ALL of @SabineLisicki's record setting 27 aces--> http://t.co/mnhgSx6Vtp #WTA #tennis https://t.co/JKV6ZB7ETx

— WTA (@WTA) June 18, 2015

In a 2nd Round match in Birmingham, Sabine Lisicki defeated Belinda Bencic while hitting a tour-record 27 aces in the two-set match. Additionally, the German's barely-out serve just missed matching the tour-record 131-mph record she set last season. Lisicki lost in the semifinals to countrywoman Angelique Kerber, then had her worst Wimbledon result (3rd Rd.) since 2008 and was the focus of public comments by Toni Nadal about Lisicki actually being the best player from Germany, but that her lack of fitness is holding her back, and that it is something "that everybody can see."



[Best Fed Cup Captain]


Amelie Mauresmo. Really, any questions about who should win this one EVERY time should probably have been put to rest by now.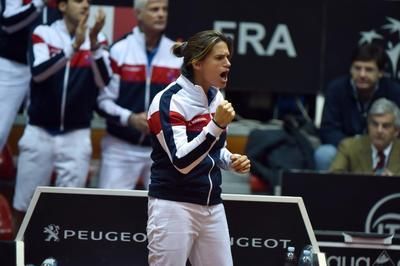 [Best Fed Cup Save]


Venus Williams going 2-0 in Fed Cup play vs. Argentina, bailing out U.S. Captain Mary Joe Fernandez from making another decision-making blunder -- including non-claycourter Coco Vandeweghe on the roster for a road tie on clay, then not having a legit back-up plan when Serena Williams' illness prevented her from playing her match on Sunday -- that could have cost another FC tie win for the Americans after questionable roster moves and game day changes by MJF led to two defeats on U.S. soil in 2014 and a 1-3 skid since '13. If Williams had lost her match, the tie would have gone to the deciding doubles, where Venus would have likely had to play with little rest. Even if it had turned out all right for the Bannerettes, coming down to a one-match showdown before a partisan crowd in Argentina would have been more than a little embarrassing considering the comparative "historic weight" of the roster of the two teams, and the suddenly-very-deep pool of U.S. talent from which Fernandez can now conceivably pull together a roster. The "save" provided only a brief respite from MJF's poor roster decisions, though, as the American team lost to Italy in the spring largely due to the squad's lack of a second solid clay courter (after Serena) and a skilled doubles player, which would have come in handy in the deciding doubles match against Errani/Pennetta.



[Most Lively Racket]


In her 2nd Round match at the Australian Open, Oceane Dodin's racket seemed to have a mind of its own. And Karolina Pliskova took advantage of it by hitting a winner.



[Best Racket Abuse: Flashback Edition]


Vika Azarenka in Miami, recalling memories of her "crazy kid" years


Victoria Azarenka Breaks Racket ~ WTA Miami 2015 https://t.co/bEnu79AqHp

— FansV1kaAzarenka (@FansV1ka) March 29, 2015
The ultimate Azarenka smashing racket collection https://t.co/EL4WVrqUNg

— Giulio Fedele (@fedele_giulio) March 29, 2015
[Best Dress]
Reactions on Radwanska's new #Lotto dress: disco ball, OMG sunglasses please. What you say? http://t.co/0MwtXZ3BAp pic.twitter.com/oMbStymg19

— Women's Tennis Blog (@womenstennis) May 20, 2015


...it's a pity Aga only got to wear it for one match in the City of Light.



[Best Tantrum]


Petko in Dubai




[Best Stare]



.@KikiMladenovic giving the death stare ?? https://t.co/j10SYFeP9T

— Kikitard (@Kikitard) May 29, 2015
[Best Performance - Belgian Barbie-Out-of-the-Blue Edition]
@Clijsterskim looking good out there today Kimmy! #comeback? Ah JK but we miss you! Congrats @andreapetkovic what a couple of weeks 4 U kid!

— rennae stubbs (@rennaestubbs) February 15, 2015




Antwerp tournament director Kim Clijsters, after Carla Suarez-Navarro's neck injury prevented her from playing the final, squared off in a one set exhibition against new champion Andrea Petkovic. Looking much like her old self, she defeated Petkovic 5-3... and then went about literally tearing down the tournament before shutting out the lights.

Tournament Director @Clijsterskim helps in the break down after the @WTAdiamondgames #WTA #Antwerp pic.twitter.com/R0x8LTOQ7I

— dannykendall (@dannykendall) February 15, 2015

Naturally, this all meant that La Petit Taureau had to do SOMETHING...

[Best LPT That's-Your-Bet?, Okay-I'll-Raise-You-With-This Performance]
A few weeks after Clijsters' all-consuming performance in Antwerp, Justine Henin made some news of her own by getting married to longtime boyfriend Benoit Bertuzzo, father of her daughter Lalie


And big things are coming in 2016 for LTP, as well.


Congratulations to @Justine_Henin on being nominated today for the International Tennis Hall of Fame! #WilsonWomen pic.twitter.com/qDBCXPBoNt

— Wilson Tennis (@WilsonTennis) October 23, 2015


Henin's advantage won't last long, though. Clijsters will be eligible for induction in Newport in 2017.



[Best Trophy]



Swedish Open champion Johanna Larsson & friend



[Best Player/Umpire Interaction]



Learning not to laugh at a player for celebrating a point too early like pic.twitter.com/MJDFys1qHS

— WTA Reactions (@WTAreactions) August 19, 2015




[Best Court-side "Magic Trick"]


Timea Bacsinszky changes her dress without leaving the court, or exposing any underthings




[Best Post-Match Ceremony]


A very chatty Venus in Auckland




"That's my rapper name."

-

Venus Williams, on her "Queen Vee" nickname



[Best Post-Match Q&A... with Volumes Able to Be Read Between the Lines]


Venus Williams converts match point. Barbora Strycova winces as she walks to the net, obviously with all sorts of choice words streaming through her mind, then gives a rather transparent "look of disapproval" to Venus, who noticed.

Venus: "Was that look for something?"
BZS: "No."
Venus: "All right, good."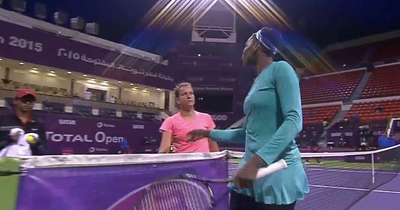 [LI NA AWARD - Best Post-Match Interview]
Here's the video of Roberta Vinci's post-match interview. Disappointing for Serena, but this is fantastic stuff http://t.co/LUYmlvMyL1

— Josh Hakala (@joshhakala) September 11, 2015
[Worst Match Point?]
http://t.co/vsCqBvpLHy MT @cbfowler: Underhand serve on match point. Long for double fault. We nominate Razzano for @SportsCenter #NotTop10

— ESPNTennis (@ESPNTennis) May 25, 2015


...can you imagine how the fans in Paris would have reacted had Razzano not been French?



[Best Comedy Duo]



Meet @andreapetkovic and @jelena_jankovic, tennis' best comedic duo: https://t.co/xYVzSu7tPO. This is a must-watch, we promise. #FCC2015

— Family Circle Cup (@FamilyCircleCup) April 9, 2015
Learning 'Southern' with @Jelena_Jankovic? on #WTALive Fan Access by @XeroxCorp! Get ready to laugh ya'll ;) http://t.co/m1l3DebYc2 #WTA

— WTA (@WTA) April 11, 2015
[USTA's "Greatest" Hits]
The "Playoff" that Wasn't a Playoff...
Current USTAHTWCC (French Open WC) Standings: 17 yo Katerina Stewart: 96 18 yo Louisa Chirico: 81 19 yo Allie Kiick: 81 One tournament left!

— Parsa (@Smith_J1989) May 3, 2015

In Indian Harbour Beach, the third $50K leg of the USTA's playoff for the reciprocal wild card into the Roland Garros main draw, had a very familiar look. Two weeks earlier, Louisa Chirico defeated Katerina Stewart in the Dothan final. A week later, Stewart defeated Chirico en route to the Charlottesville final, which she lost to Allie Kiick. Going into the final event, Stewart led the race 96-81 over Chirico and Kiick, who were in two-way tie for second. In IHB, Stewart defeated Kiick en route to her third straight final, where she met and defeated Chirico for a second time during the stretch. Not that it mattered, as Chirico ended up winning the wild card berth in an inane tie-break system that gave it to her because she was ranked higher than Stewart after they "tied" in the playoff standings because only the best two results from the three-event stretch are counted. Their overall results:

Stewart: RU-RU-W (2-1 vs. Chirico)
Chirico: W-1st-RU (1-2 vs. Stewart)

Ummm, wasn't the point of having the playoff to reward the player who earned the WC through better results over the assigned three-event period? So, it's not really a true "playoff," considering pretty much all of the contending players played in all three events. Apparently, no one thought about a tie-breaker that included the "best points average" over the playoff stretch, which would have given the WC to Stewart, or some head-to-head component (ditto).

One has to figure that this loop hole will be fixed like most things associated with the USTA -- after the point which it shouldn't have been something that needed to be corrected in the first place. Not to slight the 18-year old Chirico, who rose through qualifying to reach her second final in three weeks, but 17-year old Stewart, whose win gave her three challenger titles on the season, should have been assured of making her slam debut at RG. It seems fairly elementary. Unless you're talking about the USTA.


=======================================




The "Captain" Who is STILL Captain?...


Apparently, no embarrassing, poorly-thought out tie sunk by MJF's horrendous roster decisions or numerous game day anti-"hunches" is enough to put her Captain's position in jeopardy. Only the USTA.


=======================================




The Series "Champion" Who Wasn't the Champion of Anything...


From the people who brought you the RG Wild Card "Playoff" spectacle from earlier in the year, I present to you the second "playoff" mess overseen by the USTA in 2015 alone: the U.S. Open Series. And this one comes from the total opposite end of the tennis insanity spectrum. The "winner" of this summer's Series was Karolina Pliskova. Not because she performed the best over the assigned stretch of North American tournaments, but because she had one high-level result and then entered more tournaments than anyone else.

Naturally.

The Czech's QF result in New Haven sealed the deal. But, once again, only after the cluster-you-know-what that the USTA's rules had made of another "playoff/race" situation. Pliskova went a mediocre 6-4 in North America this summer before the Open, winning no titles (though she did reach the Stanford final) and losing to a "lucky loser" on the day she clinched the title. In all, Pliskova totaled 75 points, well behind Cincinnati champ Serena Williams' 145 (for 2 events) and Toronto/Cincy runner-up Simona Halep's 140 (for her 2 finals), but since the Czech played in at least three events (four, actually, though she got a "zero" for an early loss in Toronto -- among the players in contention for the title, Aga Radwanska was the only other to play in three total events) she got her point total DOUBLED to 150, edging out the field for the "win" because of a rule that began to be enforced in 2014, some ten years after the inaugural U.S. Open Series in 2004.

Interestingly, the rule went into effect in the first year AFTER both winners of the 2013 U.S. Open Series -- Serena Williams and Rafael Nadal -- also went on to win the U.S. Open and claim their accompanying $1 million bonuses, the only time that situation has occurred during the run of the Series.

So, while they'd surely say the rule was designed to help the tournaments get a better field of players, one might also wonder if the USTA and its partners were attempting to make it easier for an overworked (and not necessarily highly-achieving) player to win the Series... and not be in as advantageous a position when it came to winning the Open and claiming the bonus prize money. What? They wouldn't... would they?

Hmmm...


=======================================




The President, err, Presenter, err, I mean sideline reporter...


USTA President Katrina Adams presented the U.S. Open women's championship trophy to Flavia Pennetta. The thought at the time was that had Serena Williams been in the final, Steffi Graf might have been on hand for the honors, considering Williams would have been trying to equal her Grand Slam feat from 1988. Surely, Adams stepping into the spotlight and grabbing the microphone was just a "second option," and not a case of the USTA President, with the power to do so since assuming the reigns AFTER the '14 Open, wanting to grab the chance to hear herself speak. It was easy to give her the benefit of the doubt. Until...

Later in the season, with obviously nothing else better to do, Adams was once again seen and heard in an odd (and unecessary) place. During the WTA Finals, the USTA President and CEO was part of the world television feed from Singapore as the featured sideline commentator on both Tennis Channel and, for the final, the coverage featured on ESPN2. Adams has been a serviceable commentator for a while, though hardly one anyone would miss should she be absent, what with her decided lack of on-air personality and generally rote in-match notes. Although, I guess it's not as if she has anything else more important to do... oh, yeah, except for the fact that she does. Or supposedly so.

Of course, it should be noted that former players with deep current USTA links -- Mary Joe Fernandez and Patrick McEnroe -- are already featured on ESPN2's regular coverage, so such head-shaking broadcasting notes are hardly uncommon. And, yes, that's the only thing that needs to be said when one wonders why there is never any legitimate criticism of anything relating to the USTA during ESPN's tennis coverage.


=======================================




The Case of Genie Bouchard v. the USTA...


Bouchard's run in all three U.S. Open disciplines came to a crashing end because of a late night slip, fall and concussion in the lockerroom due to -- apparently -- a cleaning fluid on the floor of a room with limited lighting. After struggling to overcome lingering symptoms, the Canadian was forced to retire from the only post-Open match she attempted to play and has yet to play a full match since her injury. Bouchard filed a lawsuit against the USTA for money lost to due to the injury layoff.

While one would expect some sort of quiet settlement that kept the story out of media headlines as much as possible in a case such as this, the USTA instead came out swinging while requesting things go to trial. The official response essentially blamed Bouchard for her fall, condemned her for not immediately seeking treatment and pretty much called her a liar by pointing out her use of social media in an attempt to, one assumes, make the case that she really wasn't as injured as she has claimed.


Today's Genie Bouchard update, in which USTA says she assumed risk and disregarded protocols by entering a room. https://t.co/waFUPHCIW8

— Ben Rothenberg (@BenRothenberg) November 17, 2015


One would think that an organization that oversees athletics would refrain from attempting to blame an athlete for a concussion, or questioning the severity of the injury, considering that it's a subject about which medical evidence is still coming in, and a topic which the U.S.'s #1 sports league, the NFL, has been vexed and thrown for a loop by for the last few years, garnering consistently negative press because of its initially consistently lacking response toward such injuries and their potential long-term effect on an individual.

While the brass knuckles tactic could be a hard line taken to eventually force a settlement, what's the upshot if there isn't one here?

1) The USTA loses, pays up and is made to look foolish, not to mention have the organization's integrity impugned because of such a callous stance against a player injured not on a court, but in the lockerroom of the USTA-governed tournament grounds. This isn't a nuisance, slip-and-fall case against Wal-Mart. Bouchard attempted to play, but was unable to do so. A blame-the-victim defense is a tricky one loaded with risk.

2) The USTA wins and manages to embarrass (or worse) a recent Top 10 player, make her fellow tour members wonder if the organization really cares about workplace safety during the Open and causing them to ponder what might happen to them should they, too, injure themselves in an on-grounds accident because of the possible negligence of USTA employees. Should they speak up? Look what happened when Bouchard did.

3) Either way, a jury trial in the case would only be a bad deal for both parties, both tours and the sport itself. But we're talking about the USTA, so it's par for the course to be unable to see the forest for the trees.


Eugenie Bouchard upset by 'aggressive' USTA lawsuit rebuttal, lawyer says https://t.co/DzB6mO6wRv

— ESPNTennis (@ESPNTennis) November 18, 2015


Really, though, what else would one expect from the organization that has managed to oversee the virtual death of tennis as a major sport in the U.S. despite the presense of the Williams Sisters on the WTA tour, as well as the popular Federer-Nadal-Djokovic-Murray merry-go-round (which is the one tennis subject that plays well to the casual sports fan in the States) on the ATP side, for most of the last fifteen years?

And I didn't even mention how the self-annointed "biggest and best tournament in the world" will only soon become the THIRD of the tennis majors to actually have a court covered by a roof. But, you know, I wouldn't want to be unreasonable in my criticism or anything like that. (Shrug.)


=======================================





[Best Centre Court Balancing Act]



WATCH Nice hat @serenawilliams #Wimbledon http://t.co/KVEqimFPrk

— Wimbledon (@Wimbledon) July 11, 2015
"I can't sit here and say (I'm the greatest). But I can sit here and say that I'm the greatest player that I've been able to be." -

Serena Williams
[Worst Police Work]
[Best Off-Duty "Police" Work]
Reclaiming what's rightfully yours like pic.twitter.com/OMJUdUA08B

— WTA Reactions (@WTAreactions) November 6, 2015
[Most Unsurprisingly Short Coach/Player Relationship]
Martina Navratilova and Agnieszka Radwanska end coaching relationship after five months. http://t.co/sSrq01YaHf pic.twitter.com/hAlJ1m5N9F

— SI Tennis (@SI_Tennis) April 24, 2015


...of course, it just never quite felt like a long-term partnership, right? Ultimately, though, things worked out pretty well in the end. For both. Martina won the Legends competition held with the WTA Finals in Singapore, while Aga won the singles title.



Which causes one to look back at one particular moment with new eyes...



[Best Performance by a Seagull]




...when this moment occurred, on June 26 (the same date of the original Radwanskian Massacre at Wimbledon in 2013), it seemed like it might be a bad omen for Aga. A day later, she lost in the Eastbourne final, after all. But she reached the Wimbledon semis soon after, and the way things played out in the final months of the 2015 season, rather than have something "taken" from her by the winged beast... maybe Aga's tennis soul was restored.

The Tennis Gods -- and malevolent entities -- sometimes work in mysterious generous ways.







*TOP PERFORMANCE WINNERS*


2003 Justine Henin-Hardenne = U.S. Open
2004 Maria Sharapova = Wimbledon
2005 Kim Clijsters = North American hardcourt season
2006 Maria Sharapova = U.S. Open
2007 Justine Henin = U.S. Open
2008 Venus Williams = Wimbledon
2009 Serena Williams = Wimbledon
2010 Serena Williams = Wimbledon
2011 Petra Kvitova = Wimbledon
2012 Serena Williams = Olympics
2013 Serena Williams = Roland Garros
2014 Petra Kvitova = Wimbledon
2015 Belinda Bencic = Toronto


All for now.