AO.1 - Oh, Simona

And the accident report read:
the lure of The Cliffs of Simona was just too strong.
Again.


#4-seeded Simona Halep, ousted in the 1st Round in Melbourne a year ago in the first chapter of Zhang Shuai's remarkable run to the quarterfinals, failed to escape the long shadow of that disappointment on Day 1 of the '17 edition of the Australian Open. In fact, she took one big step backward with an all-encompassing 6-3/6-1 defeat at the hands of #52 Shelby Rogers.


UPSET!

World No.52 @Shelby_Rogers_ knocks out Simona Halep 6-3, 6-1 for a spot in @AustralianOpen second round! #AusOpen pic.twitter.com/m6409BZUMb

— WTA (@WTA) January 16, 2017
Congratulations Shelby #Rogers #AusOpen pic.twitter.com/KeBzK2IHpt

— #AusOpen (@AustralianOpen) January 16, 2017


This was, quite simply, a thunderously frustrating, but hopefully not dispiriting defeat for Halep after a season of relative progress when it came to dealing with her remaining big match demons and nagging leg injuries, and seemingly arrived at the season's first major in the right frame of mind (she even spent some offseason time in Australia with coach Darren Cahill) and primed to loosen up and fly right, learning to comfortably live up to the "next first-time slam winner" tag that was uncomfortably put on her shoulders a few years ago. Since her appearance in the Roland Garros final in '14, though, two players have gone on to become ACTUAL first-time slam champions on the women's tour. But neither of them were named Halep, who herself has failed to reach a slam final over the stretch, (now) losing in the 1st Round of a major once in each of the past three seasons.

A loss in Week 1 to Katerina Siniakova didn't give Halep the start she desired to her season, but there was hope for a quick turnaround in Melbourne with Rogers on the other side of the net. While the big-hitting Bannerette has seemingly been constantly getting better and better both before and since her QF run at Roland Garros last spring, she met Halep on the hard courts of the U.S. Open last summer in their only previous meeting, a match which the Romanian won with relative ease, taking a 6-2/6-3 decision.

Rogers never let such a repeat performance happen on Monday, making Halep the first big seed to fall in the season's opening slam. After expertly taking the 1st set, she jumped to an early break lead in the 2nd and never relented until the match was over. As Halep's game level went down further as she had difficulties with her movement (after the match, she revealed she was suffering from knee tendinitis during the match, and felt pain forty-five minutes in), Rogers' continued to go up. She crushed a forehand return winner down the line to go up a double break and never looked back. She only faced one BP in the entire match.


Halep hampered by a leg/knee injury, not moving well. Rogers cool as a cucumber. Has served incredibly well today, just 1 BP. #AusOpen

— WTA Insider (@WTA_insider) January 16, 2017


While Rogers moves forward, Halep must now move on. Again. Putting another slam disappointment behind her. It took her until May in Madrid to grab her first title of the '16 season after her early AO exit, the latest in the season she'd won her first title since her breakthrough '13 campaign when she won six events and climbed from just inside the Top 50 to just outside the Top 10. Halep ultimately won three titles last year and put up 4th Rd.-QF-QF results at the final three slams, completing her third straight Top 4 season.

Thankfully, the season is more than ten months long, not just one.

Such a longer-term outlook is necessary when traversing the rocky terrain of a WTA schedule. Unfortunately, Halep is becoming quite familiar with the process.








=DAY 1 NOTES=
...needless to say, it wasn't a good few hours for Romanian women's tennis at the start of Day 1. Not only was Halep the first seed to crash out of this AO, but Patricia Maria Tig was also the very first player to lose in the main draw, falling in a whitewash defeat at the hands of Olympic Gold medalist Monica Puig in just fifty-three minutes. The Puerto Rican raced to a 6-0/5-0 lead before Tig managed to hold to avoid the double bagel, then she matter-of-factly served out the 6-0/6-1 win. The victory ends Puig's three-match losing streak in majors.

Fellow Swarmette, #27-seeded Irina-Camelia Begu was nearly swept away in the early Romanian riptide, as well, before coming back from dropping the 1st set to take out Yaroslava Shvedova in three. Later in the day, Sorana Cirstea finally righted the ship, winning 2 & 1 over Irina Khromacheva.

...for a while, it looked as if #7 Garbine Muguruza might follow Halep out the door. She won the 1st set at 7-5 over Kiwi Marina Erakovic, but then took a medical timeout and left the court. She returned favoring the injured thigh that caused her Week 1 exit, and quickly fell down a break in the 2nd. She rallied and won 7-5/6-4, but the alert has been sounded. She's now officially on the "questionable" list for the rest of the first week.

...Australia's next great hope, 16-year old wild card Destanee Aiava made her slam debut on Day 1, becoming the first player born in the 2000's to play a MD match at a major (and the first ever of Samoan descent). She lost to qualifier Mona Barthel, but she looked good. Composed and powerful, she surely didn't have the air of the youngest player in the draw. She broke the German when she was serving for the match at 5-4 in the 2nd, and the set eventually went to a TB. She held close there, as well, before Barthel finally pulled away for a 6-3/7-6(4) victory.

As should be the case, Aiava's arrival only stirred up hope in Aussie tennis circles for her future.


She may have lost on her #AusOpen debut, but Australian fans are excited about 16-year-old @destaneeaiava! https://t.co/QkjFdT1mGs

— Twitter Sports ???? (@TwitterSportsAU) January 16, 2017


...the Aussie fans did have some home nation WINS to cheer about, as well. Wild cards Ash Barty (back after her cricket break) and teenager Jaimee Fourlis both picked up their first career AO wins.


This is @ashbar96's first ever win in Melbourne!

She last played at the #ausopen in 2014 - we're so glad to have her back! pic.twitter.com/CAv8etggx7

— #AusOpen (@AustralianOpen) January 16, 2017
Fourlis wins big to reach AO second round #tennis @TennisAustralia: Young Aussie Jaimee Fourlis stunned Anna… https://t.co/hNMLHrLVjN

— Tennis Feeds (@tennisfeeds_) January 16, 2017


...meanwhile, winning titles in Week 1 didn't have as much cache in Melbourne as most thought it would. Lauren Davis losing to Samantha Crawford after having won the 1st set wasn't a HUGE surprise, as Crawford had vastly underperformed in the '17 opening weeks one year after she'd been a minor star during the same period last season. Crawford ultimately dominated in the 3rd set, winning 4-6/6-3/6-0. But Katerina Siniakova, even against the always dangerous veteran German Julia Goerges, wasn't expected to fall on Day 1 after SHE had taken the opening set. But that she did, losing 3-6/6-3/6-4.

Her time will come. It'll just have to wait.

...on the other end of the experience spectrum, #13-seeded Venus Williams, playing in her seventeenth AO and 307th career slam match, was made to work on Monday by Kateryna Kozlova, the Ukrainian who did the same thing at last year's U.S. Open, pushing Williams to three sets in the 1st Round. This time, Venus gradually gained her footing in the Melbourne heat, keeping close in the 1st and winning a 7-5 tie-break. In the 2nd, Kozlova went up an early break, but Venus pulled ahead as she started to flash the big serve and net coverage skills that won her so many Wimbledon titles.


Venus on fire.

The best pictures from her win today --> https://t.co/djrSk6677r.#ausopen pic.twitter.com/6Qtv8IwZHF

— #AusOpen (@AustralianOpen) January 16, 2017


Even with the 2:00 of work that had threatened to be more, and maybe because of the way she headed such a fate off at the pass by lifting her game when it counted most, Venus was in good spirits after the match. No matter how often Sam Smith tried to remind her how old she was. (Though, really, it's hard to ignore the tasty fact that Kozlova was born in 1994, the same year that Venus started her pro career, you know?)


A wonderful start for #Venus #AusOpen pic.twitter.com/QVhFuaUdDg

— #AusOpen (@AustralianOpen) January 16, 2017


...Karolina Pliskova won't play until Day 2, but twin sister Kristyna was busy on Day 1. One year after she fell in a 9-7 3rd set in the 3rd Round vs. Monica Puig, though she set a tour record with 31 aces in the process, the Czech very nearly had her hands full in a match with potential future Fed Cup undertones vs. Swiss Viktorija Golubic.

With a history of failing to put away slam matches when she's had the chance to do so, then ultimately losing long, drawn-out matches, Pliskova flirted with danger yet again on this day. In the latter stages of what had been a close 3rd set, Pliskova started to pull away. She executed a brilliant drop shot off a short ball to reach BP in game #8, then Golubic fired a shot long one point later to put the Czech up 5-3. But when serving for the match, Kristyna began with back-to-back shaky errors, one on a loose shot fired needlessly long, then another on an awful drop shot attempt from the baseline. A DF on BP broke her own serve at love to put things back on serve at 5-4. Uh-oh.

But Golubic's own errors in game #10 ultimately prevented a rehash of the Puig Affair. On MP, before the start of the point, Pliskova walked to the backcourt and faced the wall, leaning in and almost hiding her face against it, then slowly turned around and faced her accuser... err, I mean her opponent. And, for once, it was that same opponent who blinked. Another Golubic error into the bottom of the net gave Pliskova a 6-3/2-6/6-4 win.

So... progress? For Day 1, umm, yeah. Progress.

...a year after holding a match point in the 1st Round vs. eventual champ Angelique Kerber, Misaki Doi continued her poor start to 2017 with a 7-5/7-5 loss to Pauline Parmentier. She's now 1-3 on the season. A year after she saved her career with a 1st Round upset of Simona Halep in Melbourne, #20-seeded Zhang Shuai handled qualifier Aliaksandra Sasnovich 6-0/6-3. What a difference a year can make.

Well, not for Simona, I guess.

...elsewhere, it was quite a nice day for #11 Elina Svitolina. She immediately jumped on Galina Voskoboeva, winning the first eight games of the match and then coasting to a 6-0/6-2 victory. She needs to cut back on the six DF, though.

Francesca Schiavone's Australian Open career ended in fairly quick order vs. Julia Boserup, as the Italian vet fell 6-2/6-4 less than a week after the 36-year old's announcement that she'd retire at the end of the '17 season. The Bannerette had to face down a few demons in the match's final game, though, double-faulting twice while serving for the win but getting the hold when Schiavone couldn't pull off the shots to put her under even more pressure to hold her nerve.

There wasn't much fanfare as Schiavone waved goodbye to the crowd gathered around Court 20. While she's had some glorious moments in Melbourne, though, it's at the NEXT slam on the schedule where the emotions are sure to well up as the former RG champ bids adieu to Paris later this spring.

#8 Svetlana Kuznetsova dropped just one game to Mariana Duque, but her countrywoman, #23 Daria Kasatkina, wasn't so lucky.

Kasatkina's match-up with 31-year old Peng Shuai, now fully back from back surgery and playing in her first AO in two years (when she reached the Round of 16), had the earmarks of a very tough match for the Russian, and the 19-year old's inconsistent performance on Day 2 did her no favors. Peng took the 1st set at love, but Kasatkina gradually got her teeth into the match. She led by an early break in the 2nd and twice served for the set, coming within two points of knotting the match. After seeing things get back on serve, she broke Peng when she was serving at 5-5 after the Chinese vet had held GP. Things went to a TB, which Kasatkina led 4-2, and she seemed prepared to seize control. But then her play suddenly slipped again and she fell behind 5-4. Peng reached MP at 6-5, and took home the win when Kasatkina sailed a backhand return to exit in the 1st Round at her second consecutive slam (after having reached the 3rd Round in her first four major appearances).

Countrywoman Li Na had some of her best career moments in Melbourne, and Peng surely has much support in the "Grand Slam of Asia/Pacific." With Kasatkina out of the way, Peng, a U.S. Open semifinalist in 2014, suddenly becomes a very intriguing floater in this draw. She looks to be in great shape, which could be key in the Aussie heat (remember, she was eventually wheeled out of that SF in NYC three seasons ago, the victim of the summer weather in Flushing Meadows vs. Caroline Wozniacki).

...in weekend ITF action, Ukraine's Anhelina Kalinina, who missed most of the first eight months of last season while recovering from a shoulder injury and was ranked just #747 heading into Week 2 as a result, won the $25K Daytona Beach title after having made her way through the qualifying rounds. She defeated Bannerette Elizabeth Halbauer 6-1/6-2 sets in the final to claim her fourth career challenger singles crown. The 19-year old also won the doubles title with former UCLA star Robin Anderson.


Congratulations to Anhelina Kalinina on her Singles and Doubles Championships #Daytona25K @USTAProCircuit pic.twitter.com/QKSvpHr9GN

— Neal Trousdale (@tlaenpix) January 15, 2017


In Antalya, another Ukrainian, soon-to-be 25-year old (on Wednesday) Anastasiya Vasylyeva won her ninth career ITF title by taking the $15K final over Germany's Tayisa Morderger. Meanwhile, 19-year old Morderger took the doubles with twin sister Yana. It's their second title as a duo, having won there first last season.
In the night match on Laver, #1-ranked and defending champ Angelique Kerber faced off with Lesia Tsurenko. After having lost in the past two weeks to Svitolina and Kasatkina, the German opened the match by losing the first six points, committing five unforced errors.

She settled down after that, though, and played a very neat, perfectly-timed opening round match. Well, after having led 6-2/4-2, at least she did just that until she did finally show a bit of nerves while trying to serve out the match at 5-4. Then failed to convert BP on Tsurenko's serve at 5-5, and had to hold to force a TB. But, looking tight and hitting her legs (urging them to move), Kerber failed to secure a GP and was broken on Tsurenko's fifth BP of the game as the Ukrainian sent things to a 3rd set.

Down 1-2 in the final set, things were starting to look "iffy" for Kerber, as Tsurenko wasn't budging. A long rally was ended by a Tsurenko drop shot that gave her a BP. But Kerber's running forehand winner up the line off a sharply angled backhand return by Tsurenko saved the BP, and she held for 2-2. Employing her great defensive skills, and suddenly looking confident again, Kerber broke a game later to go up 3-2. With Tsurenko shaking out her cramping racket hand, Kerber held for 4-2, then broke serve again as Tsurenko's game began to totally lose its previous edge.

Serving for the match for a second time on the night, Kerber did it with room to spare, holding at love for a 6-2/5-7/6-2 victory. A year ago, she saved MP in the opening round. This year, she survived this.


Final W/UFE:

Kerber: 27/34
Tsurenko: 30/40

— WTA Insider (@WTA_insider) January 16, 2017
All right, Angie... if that's the way you want to do it.



...YOU KNOW DAY 1 OF THE AUSTRALIAN OPEN IS HERE WHEN...:

you once again hear the bush birds calling at the dawning of the day






...LIKE ON DAY 1:

That we'll be able to say this next year, the year after, and the decade after that, too.


V never goes out of style.#ausopen pic.twitter.com/jUf4wJ9eeN

— #AusOpen (@AustralianOpen) January 16, 2017




...WHEN YOU'RE "THE HAPPY SLAM" ON DAY 1...:

I guess you can almost get away with a cheery Twitter goodbye to a player who just suffered a crushing defeat.


Thanks Simona #Halep good luck for the rest of 2017! #AusOpen pic.twitter.com/oBLhzsYItr

— #AusOpen (@AustralianOpen) January 16, 2017




..."AWWWWL, ISN'T THAT CUTE," ON DAY 1?:

During ESPN2's opening segment, Chris Evert noted how unexpected Angelique Kerber's 2016 title run was by saying that the German had only been an "afterthought" when they'd discussed the potential contenders at the start of last year's tournament... as if the ESPNers dubbing someone a "contender" means anything. Anything. At. ALL.

You know who they didn't mention at all this time around? Elina Svitolina, the player with three wins over #1-ranked players since last summer. Now, I'm not saying that that means the Ukrainian is going to win the Australian Open in two weeks. But, you know, I'm just sayin'.

They didn't mention WTA Finals champ Dominika Cibulkova, either. Or Johanna Konta, a '16 semifinalist and Week 2 Sydney winner who's 8-1 on the season. So, well, you get the drift.



...LIKE ON DAY 1:

That said, I WILL give a nod to ESPN's Cliff Drysdale for saying something that SHOULD be obvious, but unfortunately isn't to the Powers That Be. After Halep's loss, he said that this was precisely why people need to watch slams from the BEGINNING, because you just never know what's going to happen.

Exactly.



...LIKE ON DAY 1:

The green outfits of the AO ball kids.


Our #WooliesBallkids getting in a bit of fun before action begins at the #AOSocialPark #ausopen. pic.twitter.com/2BWgueZ4TL

— #AusOpen (@AustralianOpen) January 15, 2017




...LIKE ON DAY 1:

That Elena Vesnina is equally adept with 'roos AND "hogs."


That's how you need to roll in Melbourne ??????????? @AustralianOpen @WTA pic.twitter.com/VSw6Sfo7K4

— Elena Vesnina (@EVesnina001) January 16, 2017




...LIKE ON DAY 1:

That Wang Qiang won't play until Day 2, but she's already had quite an Australian Open experience to remember.


Wang Qiang posted this on her Weibo, saying "I can't even concentrate on my training!" ??

Roger's movement in the background though. ???????? pic.twitter.com/0DWlBTVdJX

— Cherry (@cherryyc) January 13, 2017
Wang Qiang strikes again. This time is Rafa. pic.twitter.com/0V4nvrZE4L

— Ratazana (@Ratazana) January 16, 2017




...KNOWING ON DAY 1:

...that CoCo Vandeweghe would be talking up an s***-storm about her opponent "finding a way" to win after throwing up on court and having a long medical timeout which ultimately turned the momentum of the 2nd set, transforming a 4-2 deficit into a tie-break win, then undertaking an Alize Cornet-like celebration while her opponent just went to her seat to put away her racket, steaming all the way.

But that won't happen now since it was Vandeweghe herself that was on the winning side of that equation vs. #15 Roberta Vinci.


Vandeweghe struggling severely in the second set against Vinci. Keeled over at the back of the court, trainer alongside her. pic.twitter.com/qJaMxCC5X9

— The Tennis Island (@thetennisisland) January 16, 2017
Vinci is SO MAD at Vandeweghe after the long MTO in the middle of the game. Roberta was leading 4-2*, now serves *5-4. pic.twitter.com/upFwg2zegb

— BreakPointBR (@BreakPointBR) January 16, 2017
CoCo Vandeweghe defeats Roberta Vinci 6-1, 7-6(3), celebrates like she just won the calendar-year Golden Slam...and cured cancer.

— Ricky Dimon (@Dimonator) January 16, 2017
CoCo #Vandeweghe crying after the win over Roberta Vinci. Italian didn't buy that scene. pic.twitter.com/awbqZRZQ1u

— BreakPointBR (@BreakPointBR) January 16, 2017
#handshake pic.twitter.com/GKLvJRktIN

— The Tennis Island (@thetennisisland) January 16, 2017
Coco Vandeweghe battles through nausea to win against Vinci pic.twitter.com/ch5QY23whh

— #AusOpen (@AustralianOpen) January 16, 2017


Yeah, but we know what CoCo's deal would be if the proverbial Day 1 shoe was on the other foot, don't we? Not that the U.S. tennis media will ever talk about that. I guess the comfort of the knowledge will have to be enough... as well as the promise that this moment will be remembered the next time Vandeweghe trolls an opponent during or after a match (for no apparent reason) and gets applauded for being a "personality," or engages in a snotty political argument from a Trumpian position behind her Twitter account.

The countdown begins now.


...and, finally... I just wanted to use this moment to point out that, very under the radar, the tour is seemingly making an effort to edit the history of the game. Namely, eradicating the name "Steffi" Graf from its records in favor of "Stefanie" Graf. Or at least that was the case in the latest version of the official 2017 Media Guide, as every mention of the Hall of Famer within the historical record has been changed in the publication since last year, from her career bio to her listings in the championship matches of major tournaments, and even in the general charts and lists that include her accomplishments alongside those of the other greats of the game.

Interestingly, as of the other day, the same treatment had yet to take effect on the tour's official website bio page. See below, from the '17 Media Guide listings to the current Graf bio on the site.



Now, I realize that Graf never particularly liked the name "Steffi," feeling that it was given to her without her consent, though she never made any real issue of it during her long playing career. Surely, if she had requested it, she would have been referred to as "Stefanie" during her playing career if she'd wanted to be (as is the came when players change or hyphenate their names after getting married). Later, especially in recent years it has been no secret that she has often chosen to be called by her given name of "Stefanie" when given the opportunity, and last year was even significantly referred to on all tour media as such when she did promotion for the WTA's Zhuhai event as the Elite Trophy ambassador last year.


Real Legend??
No.1 for 377 weeks????
22 Grand Slam titles??
Golden Slam in One year??
our #WTAEliteTrophy ambassador Stefanie Graf In #Zhuhai?? pic.twitter.com/RKXVnmMqSz

— WTA Elite Trophy (@WTAEliteTrophy) November 6, 2016


Still, to suddenly alter her name in ALL tour records more than seventeen years after she played her last competitive match, after she'd been known widely as "Steffi" for (literally) over three decades -- and ALWAYS when she was playing and winning titles -- is a bit much. If she were to be referred to in tour records as Stefanie "Steffi" Graf, per her request, it would be an acceptable change, I suppose, but to eradicate the name by which an all-time player was referred to since 1984 is ridiculous. Years from now, some may not even realize that she was recognized as "Steffi Graf," whether she preferred it or not, by the ENTIRE sporting world for her entire career (and well beyond).

There's a reason why histories are kept, and they are to set the record straight for future generations and make sure that names, places and things are remembered correctly AS THEY WERE, not how someone may WISH them to be remembered.

I don't know, there's just something vaguely Orwellian about this.

Some may not agree. But I don't like it one bit.

And so it begins...


Make some noise for Rogggger Federeeeer ???? @rogerfederer #AusOpen #KidsDay #Federer pic.twitter.com/D42xyci0ZG

— Marija (@Maria_youRFan) January 14, 2017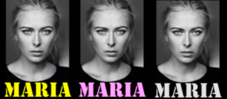 Resistance is futile.









*RECENT AO "FIRST SEED OUT"*


2005 #16 Ai Sugiyama, JPN (lost to Sucha)
2006 #9 Elena Dementieva, RUS (lost to Schruff)
2007 #25 Anabel Medina-Garrigues, ESP (lost to Vesnina)
2008 #32 Julia Vakulenko, UKR (lost to Vesnina)
2009 #23 Agnes Szavay, HUN (lost to Voskoboeva)
2010 #14 Maria Sharapova, RUS (lost to Kirilenko)
2011 #28 Daniela Hantuchova, SVK (lost to Kulikova)
2012 #19 Flavia Pennetta, ITA (lost to Bratchikova)
2013 #32 Mona Barthel, GER (lost to Pervak)
2014 #7 Sara Errani, ITA (lost to Goerges)
2015 #32 Belinda Bencic, SUI (lost to Goerges)
2016 #17 Sara Errani, ITA (lost to Gasparyan)
2017 #4 Simona Halep, ROU (lost to Rogers)



*RECENT AO "FIRST VICTORY" HONORS*


2009 Patricia Mayr, AUS (def. Schruff)
2010 Dinara Safina, RUS (def. Rybarikova)
2011 Evgeniya Rodina, RUS (def. Rogowska)
2012 Victoria Azarenka, BLR (def. Watson)
2013 Maria Sharapova, RUS (def. Puchkova)
2014 Kirsten Flipkens, BEL (def. Robson)
2015 Julia Goerges, GER (def. Bencic)
2016 Petra Kvitova, CZE (def. Kumkhum)
2017 Monica Puig, PUR (def. Tig)












TOP QUALIFIER:

Elizaveta Kulichkova/RUS




TOP EARLY ROUND (1r-2r):

x


TOP MIDDLE-ROUND (3r-QF):

x


TOP LATE ROUND (SF-F):

xx


TOP QUALIFYING MATCH:

Q1 - Ons Jabeur/TUN def. Dalila Jakupovic/SRB 2-6/7-6(5)/7-5 (comeback from 6-2/4-1 down)




TOP EARLY RD. MATCH (1r-2r):

x


TOP MIDDLE-RD. MATCH (3r-QF):

x


TOP LATE RD. MATCH (SF-F/Jr./Doub.):

x


TOP LAVER/MCA NIGHT MATCH:

x


=============================




FIRST VICTORY:

#29 Monica Puig/PUR (def. Tig/ROU)




FIRST SEED OUT:

#4 Simona Halep/ROU (lost to Rogers/USA)




UPSET QUEENS:

x


REVELATION LADIES:

x


NATION OF POOR SOULS:

x


LAST QUALIFIER STANDING:

Day 1 wins: Barthel/GER, Boserup/USA, Vikhlyantseva/RUS, Voegele/SUI


LAST WILD CARD STANDING:

Day 1 wins: Barty/AUS, Fourlis/AUS


LAST AUSSIE STANDING:

Day 1 wins: Barty, Fourlis


Ms. OPPORTUNITY:

x
IT (??): x


COMEBACK PLAYER:

x


CRASH & BURN:

Nominee: #4 Halep (1st Rd. AO loss 2 con. years)


ZOMBIE QUEEN:

x


KIMIKO VETERAN CUP:

x


LADY OF THE EVENING:

x


DOUBLES STAR:

x


JUNIOR BREAKOUT:

x



All for Day 1. More tomorrow.