Wk.19- Gracias, Madrid
One could make a case that the WTA just had the sort of week that dreams are made of.


Week 19's event in Madrid included the early-outs of the likes of players named Azarenka, Li, Wozniacki, Radwanska and Kvitova. But it didn't really matter. Even as some occurrences produced a spate of hand-wringing last week, the women's game's two biggest names set off on a collision course for the final. And that's always a good thing. Although it all ended in fairly predictable fashion, Madrid was all about the journey, as one of the best shows in sport took a rare, non-slam dance in the worldwide spotlight. So what if much of what was talked about actually happened occurred OFF the court, it was still a fabulously fun week.

We saw Maria Sharapova make headlines for magazine covers and being the focal point of press-related spy games as photographic evidence was finally uncovered -- perhaps because of a parked-in-public-view blue Porsche won in Stuttgart by a certain blond, Siberian-born candy maven -- of the Russian's much-rumored relationship with Bulgarian tennis (soon-to-be supernovic?) star Grigor Dimitrov. Gotcha!

After one win, Sharapova wrote "How did you catch us?" on a courtside camera lens. Priceless.

We saw Sloane Stephens put on a full frontal assault against Serena Williams via a magazine interview and social media, shining a light on the world #1's egregious use of the "unfollow" button and her unwillingness to buddy-up to the player who got a win against her in Melbourne. Essentially, it all single-handedly set back the young Bannerette's entire generation in the eyes of every living generation that came before it, until an actual grown-up -- Venus Williams -- quite possibly brokered a Stephens face-saving "peace deal." That Venus managed this while also taking the time to purchase a stake in the WTT along with Andy Roddick says much about her multi-tasking abilities. Venus for WTA CEO!

After another win, Sharapova wrote about her going over ten million followers on Facebook. Not quite as priceless, but a nice "See, I'm just like everyone else" moment for Maria.

Oh, some things happened ON the court, too. I mean, who could overlook the return of Victoria Azarenka? In two straight-sets matches, she managed to show sides of the "bratty" Vika that all the Whack-a-Vika aficionados love to look down their noses at, while also giving those of us who tend to fall under her I'll-say-what-I-want-because-I'm-thinking-it-at-the-moment charm when she reminded everyone why we still feel that nagging tightening in the gut whenever they see a match being umpired by Mariana Alves.

Oh, how did it take so long for this space to make Vika its "face?"

Meanwhile, there were actual on-court impressions made, too. Imagine that. Namely, that Serena might just be ready to make up for lost time in Paris starting in a couple weeks. After getting off to not-great starts most of last week -- winning a 1st set tie-break vs. Yulia Putintseva in the 1st Round, dropping a love set to Anabel Medina-Garrigues and falling behind 4-2 in the 3rd in the QF, and winning a tight 7-5 1st set over Sara Errani in the SF -- Williams had no such difficulty when she faced off with Sharapova in the final, as the world's top two ranked players met to decide the #1 ranking.

Going into Sunday, the Russian hadn't lost a set all week, but she was never really in contention in the final. Of course, that's nothing new in tennis' "best non-rivalry rivalry," as the one set won by Sharapova when the two met in the Miami final in March was just an aberration in a head-to-head history that has been remarkably one-sided for nearly nine years. Since getting Williams' attention (Are you listening, Sloane? If you ask Maria about the bear trap you stepped in last week, you might want to go ahead and start gnawing on your foot right now.) with two wins over her in 2004, Sharapova never sees the "Serena hospitality" that the American sometimes bestows upon others, when she has a hard time getting herself focused and all the working parts of her game into gear on certain days. Maria pretty much always gets the Serena who sternly asks, "What are you doing on MY court?" when they meet. As a result, Sharapova just isn't the same mentally strong player against Williams that she is against most other mortals. I guess that goes with knowing that if your opponent plays her best you have little chance to win, an odd reality for the four-time slam champ.

Against Serena, Maria learns how "the other half" lives.

In the Madrid final, as has been the pattern with far lesser opponents in Williams' past, it was a case of Serena winning the 1st set in the tunnel before the warm-up, meaning she really only had to win one set for the title, the fiftieth of her career and fourth of 2013. While Williams was on top of her game from point #1, Sharapova was far from it. In fact, she opened the match with a double-fault, the first of three straight service games that she began with a DF. She was broken in the first two as Serena built a 4-0 advantage. In Game #5, the Russian managed to hold on her fifth game point after double-faulting on two previous GP. While Williams would easily take the 1st set at 6-1, Sharapova coach Thomas Hogstedt told her to go forward, and that she had nothing to fear against Williams. What was the worst that could happen, that she'd lose to her once again?

Sharapova took to Hogstedt's words early in the 2nd. After Williams framed a shot and followed it with an error to hand the Russian a break in Game #1, Sharapova had a nice hold for 2-0 and seemed set to maybe at least make a match of the set. It didn't last long, though, as DF #6 led to a love break for 3-3. Serena saved a BP with a huge serve and held for 4-3, effectively ending Sharapova's chances in the match. Up 5-4, with Sharapova on serve, Williams outhit Sharapova on the first two points of the game, then saw a DF and forehand error on match point finally put the period on the end of Serena's 6-1/6-4 win, her twelfth straight over her opponent. Williams served at nearly an 80% clip for the match, highlighting just how much of a difference there can be between a world #1 on her "worst surface" against a world #2 on her best.

Who knew?

And now comes Rome, where Sharapova is the two-time defending champion, and where this very same match-up could greet us next weekend. The last time Williams won in Rome was 2002... hmm, the very same year she last won Roland Garros. It sort of makes me think back to the potentially telling, as statements like this from Williams have a tendency to be, "lament" made by Serena before the season about her lack of a second RG trophy. "I only have one lonely trophy. He has spider webs on him," she said. It sort of sounded then like she was planning on doing a little housecleaning, and it still does for a player who is now 28-1 on clay over the last two seasons, and who has an intense desire to erase from existence that single loss -- a squandered-lead shocker to Virginie Razzano in Paris -- that she already likes to say never really happened.

No matter what occurs this week in Rome, Sharapova might still go to Paris as the favorite to defend -- or maybe the CO-fave with you-know-who, but that notion would all rest on Serena's renowned bad luck in the City of Lights rearing its ugly head yet again. Another win in Rome, in the final over Sharapova, just might set a course that even Williams' Paris demons might not be able to alter.

Maria might always have Paris, but Serena wants it back. In the post-final ceremony in Madrid, Williams surprisingly addressed the crowd with some passable Spanish. "Gracias," she said, before sheepishly handing off the microphone with a chuckle.

After last week in Madrid, on and off court, the WTA might be saying the same thing.



*WEEK 19 CHAMPIONS*
MADRID, SPAIN (Premier €4.033/RCO)
S:

Serena Williams/USA def. Maria Sharapova/RUS 6-1/6-4


D:

Pavlyuchenkova/Safarova (RUS/CZE) d. Black/Erakovic (ZIM/NZL)

PLAYER OF THE WEEK:
Serena Williams/USA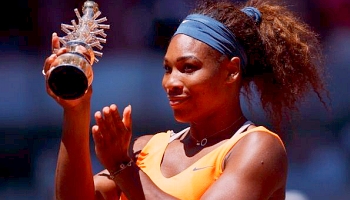 ...career tour title #50 came a day after career tour match win #500 for Williams, who pushed her record on clay to 28-1 over the last two seasons, and her head-to-head against Sharapova to 13-2. Currently riding a 19-match win streak, Serena thus passes Azarenka's "unofficial" (since two walkover exits were thrown into the mix) tour-best season mark of eighteen in a row. Last year, of course, Vika strung together a 26-match streak. Williams would get to twenty-four with a title in Rome this week.


=============================




RISERS:

Sara Errani/ITA & Ekaterina Makarova/RUS


...no one's overlooking Errani anymore, and certainly not on clay. If they are, well, then they aren't paying much attention. Or they broadcast for ESPN2, I guess. No difference. Anyway, Errani, interestingly continuing the practice of foregoing the regular doubles pairing with Roberta Vinci (even as the pair still sport a 28-match clay winning streak), put up her fourth SF-or-better result of 2013, getting Madrid wins over Urszula Radwanska, Sorana Cirstea, Varvara Lepchenko and Ekaterina Makarova before putting up a close 1st set (7-5) against Serena in the final four. Speaking of Makarova, she, too, continues to move up the rankings. After Madrid wins over Lucie Safarova, Victoria Azarenka and Marion Bartoli en route to the QF, the Hordette is back in the Top 20 at #20, just one spot off the career-best ranking she held in January.


=============================




SURPRISES:

Lucie Safarova/CZE & Asia Muhammad/USA


...coming into this season, Safarova had only won one tour doubles title in a career that spanned a decade. So far in 2013, she's already won two. In Charleston, with Kristina Mladenovic, she defended the title she'd won there a year earlier with Anastasia Pavlyuchenkova. This weekend in Madrid, she picked up another crown with the Russian, who joined with her to defeat Mladenovic (w/ Galina Voskoboeva) in the semis. In the new rankings, Safarova is now up to a career-best doubles rank of #22. Meanwhile, 22-year old Asia Muhammad won this week's ITF "Hey, Didn't You Used to Be...?" Award, taking the $25K challenger in Raleigh, North Carolina with wins over Maria-Fernanda Alves, Jamie Loeb, Samantha Crawford and Chalena Scholl in the final. It's Muhammad's second career ITF win, but her first since taking a $10K crown in 2007. In fact, she hasn't even reached an ITF semifinal since 2008. Asia was so hot last week that she threw in an appearance in the doubles final, too, just for kicks and giggles.


=============================




VETERANS:

Maria Sharapova/RUS & Anabel Medina-Garrigues/ESP




...another final (the 50th of her career), another loss to Serena (#13). The Madrid defeat is Sharapova's fifth straight in a final against Williams over the last seven seasons, and the twelfth consecutive loss to her since the start of '05. Straight sets wins over Alexandra Dulgheru, Christina McHale, Sabine Lisicki, Kaia Kanepi and Ana Ivanovic, not to mention eschewing any potential flower shop endorsements, appearing on a swimsuit cover for Latin American Esquire magazine, and being officially "outed" as Grigor Dimitrov's girlfriend on the streets of Madrid just days after his upset of world #1 Novak Djokovic had made Sharapova the big story of the week. Well, until she no longer was, that is. One final stinging stat: Sharapova is 28-4 this season, with three of those losses coming to Serena. Meanwhile, Medina-Garrigues had a pretty good, pretty fortuitous week in Madrid. A wild card in the draw, she saw Venus Williams pull out of her 1st Round match with the Spanish vet. Instead, AMG got "lucky loser" Stefanie Voegele, then another LL in Madison Keys in the 2nd, and a walkover from Yaroslava Shvedova in the 3rd. Facing off with Serena in the QF, she actually bageled Williams in the 2nd set and led 4-2 in the 3rd before the predictable happened and the American pulled things together. At least it freed AMG up to head to Rome to attempt to qualify for the main draw there, which she did over the weekend, wrapping up a berth with a win on Sunday over Yulia Putintseva, with whom Serena had opened up the week in Madrid with a 1st Round win. Sometimes the Tennis Gods like to wrap things up in a little bow, which they can then unravel at a later date.


=============================




COMEBACKS:

Ana Ivanovic/SRB & Barbora Zahlavova-Strycova/CZE


...well, it's been five years since AnaIvo won Roland Garros, and it's becoming harder and harder to remember the moment. But she's still trying to fight her way back into the Top 10, and is making some decent progress. In Madrid, she notched wins over Bethanie Mattek-Sands, Chanelle Scheepers (who'd defeated JJ in the 1st Round), Laura Robson and Angelique Kerber before falling to Sharapova in the semifinals. She's now at #13 in the rankings, 650 points behind #10 Sam Stosur. Zahlavova-Strycova, now back from her six-month doping violation suspension, claimed the $75K Trnava, SVK challenger with wins over Katerina Siniakova, Serbian Bad Luck Charm Vesna Dolonc, Serbian Good Luck Charm Aleksandra Krunic and Karin Knapp in the final. Coming in ranked #189, BZS had been 0-3 this season since returning to action in mid-April after having tested positive last year for a stimulant she'd said had entered her system when she used the weight loss supplement ACAI Berry Thin.


=============================




FRESH FACE:

Laura Robson/GBR


...all right, so it was an up-and-down week for Robson. But after the slip-slidey nature of her season following her Australian Open upset of Petra Kvitova, I think she'll take Madrid and run with it for as long as she can (which might not be long, as she'll face Venus in the 1st Round in Rome). Either way, last week in Spain, Robson threw coach Zeljko Krajan over the side, got a straight sets win over Agnieszka Radwanska in the 2nd Round, led Ana Ivanovic 5-2 in the 3rd set and had two chances to serve out the match against the eventual semifinalist. She didn't, but why quibble? At least she didn't get into a social media battle with a player who'll now forever after (and a day) have her name on her you-know-what list. And I'm not talking about Aga, either.


=============================




DOWN:

Victoria Azarenka/BLR


...playing for the first time since mid-March, when she pulled out of the Indian Wells QF with foot and ankle injuries, Azarenka showed a bit of rust on both her game and her on-court demeanor in Madrid. On the bright side, she battled with Oeiras champ Anastasia Pavlychenkova in the 1st Round, winning a pair of tie-breaks to advance, but then went down in straights one round later to Ekaterina Makarova. A few rackets sacrificed their natural lives in the effort, as well, as did chair umpire Mariana Alves' belief (far-flung hope?) that some of her own worst on-court moments had been lost to time and memory lapses. Ummm, no. Just like Serena, who's had her own issues with Alves in the past, Vika doesn't forget. Hmmm, that sounds like a good #13 for the "Reasons to Love Vika" list I started last season.


=============================




ITF PLAYER:

Caroline Garcia/FRA


...two years ago, the then 17-year old Pastry made quite the name for herself in Paris when she took a 6-3/4-1 lead against Maria Sharapova in their 2nd Round match at Roland Garros. Garcia ultimately lost that match, but her future seemed bright. It still might be, but she's pretty much hovered between #130-150 ever since. Her win at the ITF circuit event in Cagnes-sur-mer, France -- she defeated Maryna Zanevska in the final -- gave her the second $100K challenger title of her career. Still just 19, Garcia climbs to a new career-high rank of #114 this week.


=============================




JUNIOR STAR:

Maria Bouzkova/CZE


...one Maria had ultimate success this weekend. It's just that this one was Czech, not Russian. The 14-year old Maiden, the #2 seed at the Grade 1 Mediterranee Avenis junior event in Morocco, claimed the her first G1 title with a win in the final over American Johnise Renaud. From Prague, the #81-ranked girl also lost in the doubles final with Sara Tomic (what an odd she must have had, huh?), who'd been the #1-ranked singles seed at the start of the week. Of some interest, Bouzkova's ITF site bio says that she started playing tennis at the age of 1. Which begs the question, do they even make rackets that small?


=============================






1. Madrid 1st Rd. - Azarenka d. Pavlyuchenkova
...7-6(8)/7-6(3). Vika saved three set points in the 1st, winning on her own ninth. In the 2nd, she saved three more after squandering a 5-2 lead. Once more, Pavlyuchenkova takes two steps forward, and one step back after winning in Oeiras a couple of days before. Naturally, befitting her whiplash-style results, A-Pav went on to win the doubles.


=============================


2. Madrid 2nd Rd. - Makarova d. Azarenka

...1-6/6-2/6-3. Vika didn't end her week as well as Pavlyuchenkova, though. Instead, she jumped in a time machine, broke a few rackets and delivered a withering little retort to chair umpire Mariana Alves that might just have to be included on the "Reasons to Love Vika" list, too. In fact, let's call it Entry #14. In case you can't make out Vika's words, she said, "After all you've done, how are you still in the game?" Remember, Alves' list of questionable moments go all the way back to the 2004 U.S. quarterfinal between Serena and Jennifer Capriati, which included the slew of controversial calls from Alves that almost single-handedly brought the current instant replay system into the sport.


=============================


3. Madrid 2nd Rd. - Hantuchova d. Kvitova
...2-6/6-2/6-3. Wake me when it's over. Hey, where's that time machine?


=============================


4. $10K Villa Maria Final - Montserrat Gonzalez d. Camila Silva
...6-3/4-6/6-3. The 18-year old from Paraguay wins her second straight title in her third consecutive final. Hmmm, I wonder if Sharapova would consider buying a summer home at this place? I'm sure there are places to park blue Porsches.


=============================


5. $10K Sharm El Sheikh Final - Ipek Soylu/TUR d. Camilla Rosatello/ITA
...7-5/6-1. The 17-year from Turkey wins her first career ITF singles crown.


=============================


HM- Rome Q2 - Oudin d. Hampton
...4-6/6-3/6-3. Hmmm, somehow I doubt that Oudin's advice earlier this season to Sloane Stephens included getting into a magazine/social media playground fight with the baddest female tennis player on earth. Ah, kids.


=============================






1. Madrid Final - S.Williams d. Sharapova
...6-1/6-4. It's now been 101 months (and counting) since Sharapova last defeated Serena.


=============================


2. Madrid 2nd Rd - Robson d. A.Radwanska 6-3/6-1
Madrid 3rd Rd. - Ivanovic d. Robson 5-7/6-2/7-6
...you mess with The Rad, you eventually get the horns. This time, pretty quickly, as Robson blew a 5-2 3rd set lead vs. AnaIvo, failed in two attempts to serve out the match, and then the "little Rad" sitting on her shoulder caused the Brit to be unbalanced and serve a DF on match point. Tsk, tsk.


=============================


3. $50K Fukuoka Doubles SF - Namigata/E.Sema d. Bobusic/Sanders
...6-3/6-2. A week after getting some early-season payback in singles (in Gifu) against Sanders for "crimes against the Sema sisters," Erika gets it in doubles. And she didn't even have to leave Japan to do it, either.


=============================


4. Madrid Doubles Final - Pavlyuchenkova/Safarova d. Black/Erakovic
...6-2/6-4. Black fails to get what would have been her biggest title since winning Madrid in '09 with Liezel Huber.


=============================


5. Madrid 1st Rd. - S.Williams d. Putintseva 7-6/6-1
Madrid QF - S.Williams d. Medina-Garrigues 6-3/0-6/7-5
Rome Q2 - Medina-Garrigues d. Putintseva 4-6/7-6/7-5
...AMG wins the Serena Consolation Bowl.


=============================








**MOST FINAL MATCH-UPS, 2012-13**


4...S.WILLIAMS (4) vs. SHARAPOVA (0)
4...Azarenka (3) vs. Sharapova (1)
3...S.Williams (2) vs. Azarenka (1)



**MOST WTA FINALS, 2011-13**


17...MARIA SHARAPOVA (7-10)
16...Victoria Azarenka (11-5)
15...SERENA WILLIAMS (13-2)
13...Caroline Wozniacki (8-5)
11...Petra Kvitova (9-2)
10...Agnieszka Radwanska (8-2)
10...Li Na (4-6)



**#1 vs. #2, 2012-13**


2012 Indian Wells Final - #1 Azarenka d. #2 Sharapova
2012 Stuttgart Final - #2 Sharapova d. #1 Azarenka
2012 Beijinb Final - #1 Azarenka d. #2 Sharapova
2012 WTA SF - #2 Sharapova d. #1 Azarenka
2013 Doha Final - #1 Azarenka d. #2 S.Williams
2013 Miami Final - #1 S.Williams d. #2 Sharapova
2013 MADRID FINAL - #1 S.WILLIAMS d. #2 SHARAPOVA
--
RECORDS: S.Williams (2-1), Azarenka (3-2), Sharapova (2-4)



**2013 SINGLES TITLES DEFENDED**


Australian Open - Victoria Azarenka, BLR
Doha - Victoria Azarenka, BLR
Acapulco - Sara Errani, ITA
Charleston - Serena Williams, USA
Stuttgart - Maria Sharapova, RUS
MADRID - SERENA WILLIAMS, USA





ROME, ITALY (Premier $2.216m/red clay outdoor)
12 Final: Sharapova d. Li
12 Doubles Champions: Errani/Vinci
13 Top Seeds: S.Williams/Sharapova
=============================


=QF=


#1 S.Williams d. Pavlyuchenkova
#6 Li d. #4 A.Radwanska
#3 Azarenka d. Lisicki
#2 Sharapova d. #7 Errani


=SF=


#1 S.Williams d. #6 Li
#2 Sharapova d. #3 Azarenka


=FINAL=


#1 S.Williams d. #2 Sharapova

...will Serena be able to psych out Sharapova for Paris with a win here?


All for now.