Wk.16.1- Makarova Does Moscow
Ah, a Fed Cup weekend so good that, well, it threatens to never end.


A quick rundown of some stand-outs from 2013's second weekend of Fed Cup action (part 1):



*FIVE THINGS THAT WERE GOOD*




1.

A-Rad, vowing revenge and, naturally, getting it...as well as a nice ride atop the rest of the Polish team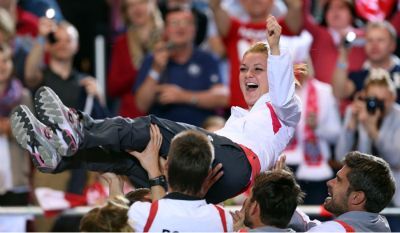 2.

Marion Bartoli, proving French coach Amelie Mauresmo's perseverance was well worth the effort


3.

Jelena Ostapenko, a Fed Cup achiever at the tender age of 15


4.

Canada, still rising up in the rather long shadow of its tennis neighbors to the south


5.

Ekaterina Makarova, Russia's new "clutch" Fed Cup performer... at least when the "B-Team" is around



*THREE THINGS THAT WEREN'T*




1.

Current Sloane Stephens. Still.


2.

Petra Kvitova, at least for three sets (to be continued)


3.

Aleksandra Krunic's "good luck"... at least when combined with teammate Vesna Dolonc's "bad luck"



*ONE THAT REMAINS TO BE SEEN*


The two days of rain in Switzerland that totally wiped out the Swiss women's World Group Playoff tie against Australia. It either has given Sam Stosur's ailing calf an important two extra days to heal, or the damp conditions that will likely persist into Monday's play will just make the injury linger longer.

*AND ONE THAT HOPES TO REPEAT HISTORY, as it's already assured another edition of Backspin for this week*
Sunday's rain also pushed back the conclusion of Italy's semifinal tie against two-time defending champion Czechs. After having fallen behind 2-0, and then seeing Petra Kvitova drop the 1st set of Match #3, things weren't looking good on Sunday for a comeback similar to Russia's from 0-2 down against the Slovaks this weekend. But another day means the Czech's need to only go 2-0 on Monday, not 3-0 in a single day. Might that be enough light to lead the Czechs back to the final?



*WEEK 16*



=Semifinals=


Italy (H) vs. Czech Repubilc - Italy leads 2-1
Russia (H) def. Slovak Republic 3-2


=World Group Playoffs=


Australia vs. Switzerland (H) - to be played on Monday
Germany (H) def. Serbia 3-2
Spain (H) def. Japan 4-0
USA (H) def. Sweden 3-2


=World Group II Playoffs=


Poland def. Belgium (H) 4-1
France (H) def. Kazakhstan 4-1
Argentina (H) def. Great Britain 3-1
Canada def. Ukraine (H) 3-2


=Zone II Promotion Finals=


[Europe/Africa]: Tunisia def. Lithuania 2-1
[Europe/Africa]: Latvia def. Montenegro (H) 2-1

[Semifinals MVPs]
Ekaterina Makarova/RUS
(overall P.O.W.)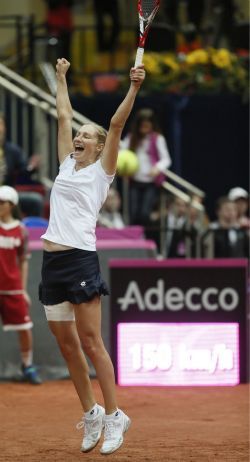 ...when things look dire, call on Makarova. At least that's what Russian FC coach Shamil Tarpischev must remember to write on his hand -- in ink -- whenever the Hordettes are participating in a Fed Cup tie from here on out. After all, in February, with Russia down 2-1 again Japan, Tarpischev sent Makarova (then without a singles win in her FC career) out with the mission to prevent the heavily-favored Russian team from being eliminated. She got a singles win, then teamed with Elena Vesnina to win the deciding doubles, too. Well, with déjà vu bells ringing all over Moscow, the same thing happened on Sunday. Russia was down 2-1 after being swept in the Saturday singles, and Tarpischev replaced Anastasia Pavlyuchenkova (0-1 on Day 1) with Makarova in the second singles match of the day. She got her second career FC win with her back against the wall, coming back from a break down (she trailed 4-2) in the 3rd set to knock off Daniela Hantuchova (with 30 career FC wins, and a 2-0 record against Makarova) on her fourth match point, taking the final four games of the match. Then, once more, Makarova and Vesnina (winners in Indian Wells a few weeks ago) teamed to come back from a set down versus Hantuchova and Dominika Cibulkova and get the win to send Russian back to the Fed Cup final after a one-year absence. Russia's comeback was just the fifth from a 2-0 deficit in World Group play since the current format of play began, and the first since another group of Hordettes did it against France in 2011.


=============================





[WG PO MVPs]




Anna-Lena Groenefeld & Sabine Lisicki, GER


...neither Groenefeld nor Lisicki set foot on the court for singles in Stuttgart in Germany's WG Playoff encounter with Serbia, but they turned out to be the most important players in the building. Tied 2-2 after four singles matches, ALG and Lisicki jumped into the fray and finally put an end to Serbia's FC "luck" with deciding doubles matches, handily winning 2 & 4 in the 3-2 tie victory.


=============================




Carla Suarez-Navarro/ESP


...there any number of Spanish women over the years who'd come to mind when you'd want to put together a team to win a FC tie on red clay in Barcelona, including, in fact, Team Espana's coach Conchita Martinez. As it was, it was CSN that Martinez installed as singles player #1 for Spain's WG Playoff tie with Japan, and she turned out to be a perfect fit. CSN defeated both Misaki Doi and Ayumi Morita (handing her a second straight loss, after her previous 11-match winning streak) in straight sets, raising her career FC mark to .500 at 7-7.


=============================




Serena Williams/USA


...hold onto your seats, I'm going to say something absolutely shocking. Ready? All right, here it goes... Serena went undefeated this weekend! I know, hard to believe, isn't it? Well, maybe not. After all, her straight sets wins over both Johanna Larsson and Sofia Arvidsson in the U.S.'s WG Playoff tie with Sweden ran her career FC singles mark to 10-0 (and extends her season winning streak to 13 matches). She's 3-0 in FC doubles, too, but thanks to Venus' win in Match #4, she didn't have to try to improve upon that mark on Sunday.


=============================





[WG II PO MVPs]




Agnieszka Radwanska/POL


weeks ago, Aga was vowing "revenge" on Belgium for the Waffles' defeat of the Poles the last time they were in the WG II Playoffs, back in 2010. She got it, going 2-0 in Poland's 4-1 road win and extending her FC winning streak to ten matches. Although, Kirsten Flipkens DID end A-Rad's FC straights sets match winning streak at nine, taking the 1st set in their match on Sunday. Of course, Aga wasn't TOO upset about it, considering she didn't throw another of those 360-degree, backhand flip volleys off a net cord shot at Flipkens like she did a few weeks ago. I guess The Radwanska is in a somewhat "mellow" mood at the moment. I'm sure it won't last long, though.


=============================




Marion Bartoli/FRA


...it took nine years for 28-year old "newbie" Bartoli to make her FC singles debut, but it finally happened this weekend. And La Trufflette made the most of it, too, leading the Pastries to a 4-1 WG II Playoff win over Kazakhstan. Bartoli never lost a set, opening play by bageling Galina Voskoboeva in the 1st set of a 6-0/6-3 win, then winning 4 & 3 against Yaroslava Shvedova on Day 2.


=============================




Paula Ormaechea/ARG


...Ormaechea's mid-match retirement in what could have been the clinching match in February's match-up with Sweden ultimately spelled doom for Argentina. But in the WG II Playoff tie with Great Britain, Ormaechea got to finish what she started. After a straight sets Day 1 win over Johanna Konta, Ormaechea followed up on Day 2 with a three-set win over Laura Robson in Buenos Aires in the match that always seemed destined to be won by whichever would ultimately be the winning nation. It was, as Argentina won 3-1.


=============================




Eugenie Bouchard & Sharon Fichman, CAN


...things were a bit shaky on Saturday, as the Canadians narrowly avoided a 2-0 hole against Ukraine in the WG II Playoffs after the nations split a pair of three-setters. After another singles split on Saturday, Bouchard and Fichman combined to take out their fellow young counterparts Elina Svitolina and Lesia Tsurenko in the deciding doubles match. It was Bouchard's first FC match in doubles, while Fichman is now 13-4.


=============================





[RISERS]




Maria Kirilenko/RUS


...while fiance Alex Ovechkin has been burning up the NHL lately, Kirilenko surely wasn't on Saturday. Her straight sets loss to Daniela Hantuchova put the Russians down by what seemed to be an insurmountable 2-0 score. Playing the first match on Sunday, whether or not the Hordettes went down meekly or made a run at a comeback was all on Kirilenko's shoulders. When she took out Dominika Cibulkova 7-5/6-1, the drive to the final was suddenly on once again. So what if she's still only 2-3 in career FC singles matches. Right now, her one victory on Sunday keeps the hopes of a fifth Russian Fed Cup title -- the first since 2008 -- alive and well.


=============================




Ekaterina Makarova/Elena Vesnina, RUS


...earlier this season, the doubles duo of Makarova and Vesnina were riding a 20-1 string that stretched back to last season. After winning the deciding doubles match for Russia in the FC 1st Round against Japan in February, they followed up by winning their third career title as a duo in Indian Wells. With a second FC clincher now under their belts against the Slovak Republic, what will be this Russian pair's SECOND encore?


=============================




Mona Barthel/GER




...Barthel has gotten off to greats season starts the last two years, but then has seemed to veer well off path after that. Despite her obvious talent, she comes up very small at times. Making her FC debut in the WG Playoffs, Barthel battled Ana Ivanovic to a tie-break in the 1st set, but lost it, then eventually dropped Match #1 in three sets. But with Germany down 2-1, Barthel returned on Day 2 to try to keep her team alive. Rather than fold as she sometimes has in the clutch in any months other than January or (early) February, Barthel won a three-setter over Bojana Jovanovski to get her maiden FC win and set things up for Groenefeld and Lisicki's push for victory in the doubles.


=============================




Urszula Radwanska/POL


...Aga provided incentive and most of the points in Poland's 4-1 WG II Playoff road win over Belgium, but it was Ula that got the clinching point. After having lost on Day 1 to Kirsten Flipkens -- putting U-Rad in the small minority of women who can say they failed to beat the Waffle in FC play -- she came back to defeat Alison Van Uytvanck in Match #4 to wrap things up. She's now 11-9 in FC singles in her career.


=============================





[FRESH FACES]




Ons Jabeur/TUN

(Zone MVP)


...in the Europe/Africa II zone playoffs, Jabeur led the way as Tunisia advanced out of pool play and won the deciding Promotional Playoff over Lithuania. Jabeaur, 18, went 4-0 in singles play, upping her career FC mark to 14-2.


=============================




Elina Svitolina/UKR


...the Ukrainians didn't get past the Canadians in a 3-2 loss in WG II Playoff action, but Svitolina did just about all she could to give them a chance. Entering with a 0-3 career FC mark, the teenager notched a pair of wins over Team Canada's leading stars -- Eugenie Bouchard, from a set down on Day 1, and Sharon Fichman in straights on Day 2 to send things to the deciding doubles match.


=============================





[JUNIOR]




Jelena Ostapenko/LAT

(Zone MVP)


...the 15-year old has already reached the Australian Open Girls QF and won ITF singles and doubles crowns in 2013. This past week, Ostapenko made her Fed Cup debut. And it was more than successful. She went 4-0 in singles, then teamed with Diana Marcinkevica in the Promotional Playoff to win the deciding doubles match -- coming back from a set down -- to defeat Danka Kovinic/Danica Krstajic of host nation Montenegro 2-1.


=============================





[SURPRISES]




Silvia Soler-Espinosa/ESP


...SSE had just a 2-3 career FC record heading into this weekend's WG Playoff tie with Japan, while Ayumi Morita was 16-7 with eleven straight wins. But that mattered little on the clay in Barcelona on Day 1, when Soler-Espinosa took down Morita 2 & 3 to give Spain what turned out to be an unassailable 2-0 lead after Saturday's singles action.


=============================




Maria Irigoyen/ARG


...Ormaechea did the heavy lifting in Argentina's WG II Playoff win over the Brits in Buenos Aires, but it was Irigoyen, normally a doubles specialist (she had 1-4 singles and 8-3 doubles FC marks), who was called upon to secure the clinching point in Match #4 against Elena Baltacha. She had to go three sets, but Irigoyen did it, taking the 3rd at 6-1 and rendering her usual spot -- the doubles match -- "dead" and called off altogether in Argentina's 3-1 win.


=============================





[VETERAN]




Venus Williams/USA


...it wasn't pretty, but it didn't really matter. After Serena's second victory of the weekend put the Bannerettes within one win of victory, coach Mary Joe Fernandez went the "safe" route by calling on Venus to face off with Johanna Larsson rather than roll the dice with Sloane Stephens. Venus won 6-3/7-5, running her career FC singles mark to 15-2, but only after a 3rd set that saw her serve fall apart. First, it seemed, because of nerves, and then later because of her lingering back injury which caused her to resort to just trying to get her serve inside the box. It didn't always go well. She threw in seven double-faults in the 2nd set alone, and failed to convert on seven match points before she finally clinched the vital third point in the tie for the Americans.


=============================





[COMEBACKS]




Ana Ivanovic/SRB


...some of the blame for Serbia's 1st Round loss in February had to be placed at the feet of the country's two best players, Ivanovic and Jelena Jankovic, either not being available to play or, in AnaIvo's case, being a late, injury-related withdrawal. Well, Ivanovic was back this weekend for the WG Playoff tie with Germany, and her 2-0 singles mark single-handedly kept the tie alive until the doubles. 15-6 in FC singles, and 3-2 in doubles, one is tempted to ask whether things might have turned out differently had Ivanovic teamed with Krunic in the deciding doubles match. But why cry over spilt milk, right? Of course, I would have raised an eyebrow on this issue BEFORE the match, as well.


=============================




Alize Cornet/FRA


...with the late, illness-related withdrawal of Bartoli from France's World Group tie earlier this year, the Pastries were essentially lost at sea with their "best" roster player sporting a hideous 1-8 career FC singles mark. That player was Cornet, but she didn't even get onto the court in singles in France's February crushing at the hands of the Germans. She was called on this weekend in the WG II Playoffs, though. After Bartoli's easy Match #1 win on Saturday, Cornet's three-set loss to Yaroslava Shvedova dropped her FC record to 1-9. But after Bartoli got the Pastries to within a single win of a tie victory, Cornet DID manage to return and get the clincher in Match #4, defeating Ksenia Pervak (her first loss in four FC matches) 6-3/6-1. If confidence is a journey... small steps.


=============================





[DOWN]




Slovakian Fed Cup Team's experience


..the Slovaks went to Moscow with a decided FC experience advantage (54 singles wins to six for each combined squad) over the Russians. And after they went up 2-0 with wins from Cibulkova and Hantuchova on Saturday, it seemed like the script was written for the Slovak squad to return to the FC final for the first time since winning the title in 2002. But it just wasn't meant to be, as Hantuchova lost a break advantage in the 3rd set in the final singles match, and then she and Cibulkova lost a set lead in the deciding doubles.


=============================




Serbian Fed Cup Team's "good luck charm"


...my, what a difference a year makes. In 2012, Serbia climbed all the way into its first FC final. Now, after back-to-back losses with less-than-complete teams, the Serbs will find themselves back in Group II play next February. As things played out, Ana Ivanovic did her part as the #1 singles player, going 2-0 and overcoming Bojana Jovanovski's 0-2 mark as the tie with Germany went to the doubles. But after Aleksandra Krunic had previously teamed with Jovanovski and Jelena Jankovic to win deciding matches, "wet blanket" Vesna Dolonc, the new Serb who was initially placed on the Serbian roster in the 1st Round in February instead of Krunic, proved that a third partner isn't always a "charm." Krunic's "good luck" was neutralized by Dolonc's "bad" vibes -- she's now 1-2 in FC singles/doubles matches, with her one win coming via a Cibulkova retirement when the Slovak was leading their match 6-4/5-4 in February's 1st Round -- and the rest was history. Unfair, you say? Sure... maybe. But prove otherwise. Ha!


=============================




Ayumi Morita/JPN


...even while losing to Russia in the 1st Round in February, Morita was a star, going 2-0 to run her FC singles winning streak to eleven straight matches. Well, all that ended in Barcelona against the Spaniards. Morita's magic went "poof," as she lost to Silvia Soler-Espinosa and Carla Suarez-Navarro, both in straight sets, in Japan's 4-0 wipeout at the hands of Spain in the WG Playoffs.


=============================




Lesia Tsurenko/UKR


...with the tennis version of the Hunger Games taking place in Kiev over the weekend, it was a battle for survival amongst a slew of youngsters. And all of them notched wins, too! Well, check that. All of them notched wins save for one player. And that would be Tsurenko. In Ukraine's 3-2 WG II Playoff loss to Canada, Tsurenko had a hand in all three points lost -- two in singles, and then as part of the doubles duo with Elina Svitolina that lost the deciding match to Eugenie Bouchard and Sharon Fichman. Quite a difference from last year, when Tsurenko nearly led a FC 1st Round upset of Italy by defeating Francesca Schiavone (1 & 2!) and Sara Errani (via retirement), when assisting in the taking of a love set in doubles from Flavia Pennetta and Roberta Vinci.


=============================




Sloane Stephens/USA


...well, at least Sloane got to carry the American flag around the court in celebration of the U.S.'s WG Playoff win over Sweden. Even though it was Venus Williams, not Sloane, who was called upon to get the clinching singles win on Sunday to avoid having things go to the doubles. And even though it WAS Sloane who came up very small in her FC singles debut on Saturday against Sofia Arvidsson, losing in three sets in a match in which she racked up 74 unforced errors and (shades of vs. Vika in Oz) she came out very flat in the 3rd after a weather delay. Stephens fell behind 4-0 and failed in her one attempt -- at 30/30 in Game #5 -- to possibly get a break to get back into the contest. What with her post-AO slide, and bad FC debut, it's impossible to question Mary Joe Fernandez's move to go with a more experienced player on Day 2, even if that player had been Varvara Lepchenko rather than Venus. It wasn't Stephens, whose time will eventually come, and that was all the really mattered for the U.S. team when it came to victory or defeat.


=============================





[ITF]




TOP PLAYER:

Ajla Tomljanovic/CRO


...the 19-year Croat linked with the Evert Academy won the biggest challenger event of her career at the $50K in Dothan, Alabama. Tomljanovic, who reached the Miami 4th Round last month with wins over Ksenia Pervak and Julia Goerges, notched victories last week over Michelle Larcher de Brito, Shelby Rogers (they later teamed to reach the doubles SF), Allie Kiick and Alison Riske before coming back from a set down in the final to defeat Zhang Shuai. The title is the fourth of Tomljanovic's career on the ITF circuit, but her first since 2011.


=============================




COMEBACK:

Michaella Krajicek/NED


...it's hard to believe Krajicek, sister of former Wimbledon champ Richard and a three-time tour singles champion in her own right, is still just 24 years old. It's been a long, strange trip for the young Dutch woman, who had much early success in her career, winning those titles in 2005 and '06, finishing in the year-end Top 40 in 2006-07, and reaching a career-high #30 in 2008. Her results have been up and down ever since, and not even that over the past year. Krajicek's '12 year was pretty much devastated by illness and a knee injury that has mostly kept her off tour for the last eleven months. Going into last week, she was ranked #922 as she went to the $10K event in Heraklion, Israel to play just her third match since last May. She hadn't won a match since Miami last March. Well, she made up for that last week, sweeping both the singles and doubles titles, defeating Indy De Vroome 3-6/6-2/6-4 in the final to get her first ITF singles crown since 2010. Krajicek and countrywoman De Vroome teamed to grab the doubles crown.


=============================




JUNIOR STARS:

Elise Mertens/BEL & Beatriz Haddad Maia/BRA


...the 17-year old Waffle Mertens, the #8 junior and a Girls quarterfinalist at the Australian Open in January, won her first career ITF title in the $10K event in Sharm El Sheikh, Egypt. She defeatd Spaniard Arabela Fernandez-Rabener in straight sets in the final. Meanwhile, 16-year old Brazilian Haddad Maia won the latest $10K Antalya challenger, defeating Czech Tereza Martincova in the final, to grab her fourth career circuit crown (and her second this season). She's now 12-2 in ITF matches in '13, and 10-4 in junior action.


=============================






1. FC SF - Makarova/Vesnina d. Cibulkova/Hantuchova
...4-6/6-3/6-1. Cibulkova is now 1-8 in Fed Cup doubles matches. Slide over on the bench, Vesna.


=============================


2. WG PO - Arvidsson d. Stephens
...6-4/4-6/6-1. Will Sloane get FC advice from Kirsten Flipkens next?


=============================


3. WG PO - Groenefeld/Lisicki d. Dolonc/Krunic
...6-2/6-4. Lisicki is now 3-0 in FC doubles... but there's no way "good luck" and Lisicki can appear on the same plain of existence.


=============================


4. WG II PO - Bartoli d. Voskoboeva
...6-0/6-3. La Trufflette will always remember her first time. Amelie might, too.


=============================


5. WG II PO - Bouchard/Fichman d. Svitolina/Tsurenko
...6-4/6-3. Welcome to the World Group, Canada! Don't take it for granted, eh? (And don't fill up on Canadian "bacon" or Canada Mints, either!)


=============================


HM- WG II PO - Ormaechea d. Robson
...6-4/4-6/6-2. Robson's third loss since the AO to a player outside the Top 100, and the sixth against a player ranked below her on the WTA computer.


=============================






1. WG PO - V.Williams d. Larsson
...6-3/7-5. The eighth match was the charm for VW, but the seven 2nd set DF's and obvious continued difficutly with her back wasn't.


=============================


2. WG II PO - A.Radwanska d. Flipkens
...4-6/6-1/6-2. Was The Rad showing kindness to Kirsten, giving her a "free" set to make things "even" for that 360-degree shot? Ah, silly Belgian... nothing is ever "free" when it comes to you-know-What.


=============================


3. WG II PO - U.Radwanska d. Van Uytvanck
...6-1/6-4. One good ride for a Radwanska deserves another!




=============================


HM- $25K Namangan Final - N.Kichenok d. Kalashnikova
...6-2/6-3. In her third final of '13, Nadiya finally gets a win. And, wouldn't you know it, it comes at the expense of the player who took out her sister Lyudmyla in the 2nd Round. Ah, twins.


=============================








**RECENT FED CUP FINALS**


2000 United States def. Spain 5-0
2001 Belgium def. Russia 2-1
2002 Slovak Republic def. Spain 3-1
2003 France def. United States 4-1
2004 Russia def. France 3-2
2005 Russia def. France 3-2
2006 Italy def. Belgium 3-2
2007 Russia def. Italy 4-0
2008 Russia def. Spain 4-0
2009 Italy def. United States 4-0
2010 Italy def. United States 3-1
2011 Czech Republic def. Russia 3-2
2012 Czech Republic def. Serbia 3-1
2013 Russia vs. Czech Republic or Italy



**BACK FROM 2-0 DEFICIT IN WORLD GROUP PLAY**


1996 Australia def. Canada
1999 Austria def. Australia
2004 Spain def. Belgium
2011 Russia def. France
2013 Russia def. Slovak Republic



=2013 Final=


Russia vs. Czech Republic or Italy


=2014 World Group=


Czech Republic
Germany
Italy
Russia
Slovak Republic
Spain
United States
[Australia or Switzerland]


=2014 World Group II=


Argentina
Canada
France
Japan
Poland
Serbia
Sweden
[Australia or Switzerland]





STUTTGART, GERMANY (Premier $794K/red clay outdoor)
12 Final: Sharapova d. Azarenka
12 Doubles Champions: Benesova/Zahlavova-Strycova
13 Top Seeds: Sharapova/Li
=============================


=SF=


#1 Sharapova d. #7 Wozniacki
#2 Li d. #4 Errani


=FINAL=


#1 Sharapova d. #2 Li

...Sharapova clay court defense of her Roland Garros title begins. Neither top seed is coming off a Fed Cup weekend, and they should be mentally fresh (or, unlike Errani, having to make a mid-week trip to Germany... if she even stays in the draw at all) . So, no need to go against chalk in the end.



MARRAKECH, MOROCCO (Int'l $235K/red clay outdoor)
12 Final (Fes): Bertens d. Pous-Tio
12 Doubles Champions (Fes): Cetkovska/Panova
13 Top Seeds: Cibulkova/Cirstea
=============================


=SF=


#5 Bertens d. Soler-Espinosa
#2 Cirstea d. #3 Cornet


=FINAL=


#2 Cirstea d. #5 Bertens

...Cibulkova is the #1 seed, but is dealing with the Slovakian collapse in Moscow. Cornet, meanwhile, is feeling good after clinching a tie for France. Bertens is the defending champion, but I'll go with the Romanian. Yeah, I know... nothing like a "winning formula." Oh, well.


All for now. More on Monday.