Wk.18- A Revolutionary Russian Renaissance?
Has it really been nine years since the official rise of the Hordettes?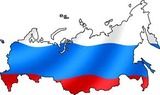 Back in 2004, after gathering their forces on the borders of the WTA, the Russians "stormed the castle," taking three straight slams, the WTA Championships and the first of four Fed Cup titles over a five-year stretch. Anastasia Myskina, Maria Sharapova and Svetlana Kuznetsova became slam champions, with Elena Dementieva twice being a major runner-up to her countrywomen. That season, four Russians finished the year ranked in the Top 6, and the nation has been a consistent force in the sport ever since. With numbers on their side, the Hordettes dominated large stretches of WTA action throughout the rest of the 2000's.

Two players from the generation (Sharapova and Dinara Safina) eventually rose to #1 in the world, and at least two Hordettes finished in the year-end Top 10 every season for nine straight years once Anastasia Myskina and Elena Dementieva first did it in '03. Since Anna Kournikova became the first post-Soviet era Russian to find WTA success in 1997, finishing in the Top 10 in 2000, eight other Russian women have reached the Top 10 since '01, more than any other nation during that span. In all, they've won seven slam crowns, produced twelve major runner-ups, one singles Gold Medalist, and put four other players on the Olympic medal stand (including a sweep of all three spots in Beijing in '08). Ultimately, the level-headed Sharapova, after surviving career-threatening shoulder surgery, emerged as the most enduring Russian force in the sport, outlasting pretty much all of her more emotionally-hampered Russian countrywoman as a slam threat and completing a Career Grand Slam last season in Paris. For a while, it seemed as if the Russian pool of talent would be never-ending and forever slam-worthy.

But that notion has changed a little over the last few seasons.

Oh, the Hordettes still populate the tour, but the numbers have dwindled a bit and, save Sharapova, who had to stage a four-year comeback to do it, their slam "worthiness" hasn't been in the discussion for a while. The leading edge of players of the 2000's Russian tennis revolution, as is to be expected over the course of a nearly decade of play, has become tattered and torn, with many key figures disappearing altogether. Myskina is long gone, while Dementieva likely left a season or two too soon. The injury-plagued Safina doesn't appear to ever be coming back, while her injured countrywoman Vera Zvonareva had yet to play a match in '13. The enigmatic Kuznetsova, for her part, is still around, but sometimes doesn't seem to "be" on the court even when she is; while Anna Chakvetadze's fall from Top 5 player to "Do You Remember Her?" status came after a particularly nasty off-the-court hostage incident. Meanwhile, a slew of Russian-born players now play for Kazakhstan, and the expected second wave of "NextGen" Russian success has been slow in coming.

Some of their most impressive statistical numbers have taken hits, too. In 2012, for the first time since 2002, only a single Russian (Sharapova) finished in the Top 10. The Hordettes' streak of leading the tour as the nation with the most different singles champions in a given season ended (three nations had three to Russia's two). And while there were still more Russian singles finalists than from any other nation in 2011-12, Hordettes filled less than twenty final slots in those seasons after averaging twenty-nine a season from 2003-10. In 2011, only seven singles titles were won by Russians, the lowest total since 2002, when they won six. Then, in 2012, only six titles were claimed by Hordettes. 2012 was the only the second season since '03 in which a WTA final was not contested between two Russian women, and the first since '05. There has been at least one Russian in the semifinals of thirty-one of the last thirty-six slams, but only Sharapova has managed the feat over the last eight majors. And while the one-Russian-in-the-Top 10 streak was extended to ten years last year, no Hordette has authored a Top 10 ranking debut since 2007, when Chakvetadze was the last Russian to climb so high for the very first time.

Needless to say, it's not exactly a "buy now" trend.

Recently, though, there has been at least some light visible at the end of the proverbial Russian revolution tunnel, if such a thing exists. For one, almost single-handedly, Sharapova has lifted the standing of the entire group. She (briefly) returned to #1, won Roland Garros and seems on the verge of adding to her career slam haul this season and/or over the next few years. Not only that, but several late-blooming Russians are finding career-best success as the tour has become a more hospitable place for veterans. Maria Kirilenko, 26, had her best season-ending rank (#14) in '12, while 30-year old Nadia Petrova (at #12) had her best season since '08 last year. Ekaterina Makarova, 24, saw her first Top 20 season in '12 and has shined in Fed Cup play in '13, while earlier this season Elena Vesnina (26) finally won her first career title and has twice teamed with Makarova to win deciding doubles matches in FC play this year. Speaking of Fed Cup, with a group of players I "lovingly" call the Russian "B-Teamers," the Hordettes overcame a 2-0 deficit against the Slovak Republic in the semis to reach the final. They'll host the championship in Moscow later this season, looking for their first FC crown since 2008.

While the (so far) lack of follow-up success of the NextGen Hordettes surely hasn't constituted it being called a "lost generation," ala the post-Williams Sisters/Davenport/Capriati generation of Bannerettes, the younger group -- and the revolutionaries' late-blooming generational counterparts -- that have come after the 2004'ers has surely turned out to be an unpolished, less striking lot. They win, but rarely big, following in the footsteps of the likes of Safina and Zvonareva, who crumbled on court in their potentially-grandest days, not the big moment grabbing players like the multiple slam-winning Sharapova and Kuznetsova.

Anastasia Pavlyuchenkova, now 21, has always been the key player who would determine precisely how the NextGen Hordettes would be viewed. A junior champ extraordinaire, she was touted while still a young teen as the "next Russian champion." For the most part, it hasn't happened. Blessed with a slam-competitive power groundstroke game, she's nonetheless had a hard time breaking through at big events. She reached two slam QF in '11, but failed after leading Francesca Schiavone in Paris 6-1/4-1 in her bid to reach her first slam semifinal, then immediately slumped in '12 and fell from her Top 20 ranking to barely inside the Top 40. Fitness questions and sometimes-freakish week-to-week consistency have bedeviled her up-then-down seasons the last few years. Earlier this year, she notched two Top 10 wins in Brisbane before being pollaxed by Serena Williams in the final. Still, her talent, even with all the two-steps-forward-and-one-step-back shenanigans, has shined through enough to allow her to grab five titles since 2010, the last coming this weekend in Oeiras, Portugal. With two titles in hand, on two different surfaces, already this season, has Pavlyuchenkova turned some sort of corner? Only time will tell.

The overall track record of the Russians has improved in 2013, too. After just two different Russians won singles titles last season, four have already done so this year. Pavlyuchenkova's Oeiras crown, coming a week after Sharapova's in Stuttgart -- the first time since '11 that two Hordettes have won titles in back-to-back weeks on tour -- gives the Russians six total titles in '13 through eighteen weeks, tying last year's full season mark, and just one fewer than 2011's total of seven.

While the overall impact of the follow-up generation of Russians, as well as most of the generations of players that will forever after come around down the road, will never edge close to the impact of the group of now-gone and current veteran Horde members who remain to "play for history," or simply play out the back-half (at best) of their careers, the lasting influence of the Hordettes who led the way nearly a decade ago will only grow stronger if Russia continues to be a WTA power player after proven champions like Sharapova are long gone.

Until another "next champion" comes along, Pavlyuchenkova is still the "key" player when it comes to the continuation of Russian success in the shadow of the revolution. As she goes, so will go the NextGen Hordettes.

Anastasia, it's your serve.



*WEEK 18 CHAMPIONS*
OEIRAS, PORTUGAL (Int'l $235K/RCO)
S:

Anastasia Pavlyuchenkova/RUS def. Carla Suarez-Navarro/ESP 7-5/6-2


D:

Y.Chan/Mladenovic (TPE/FRA) d. Jurak/Marosi (CRO/HUN)

PLAYER OF THE WEEK:
Anastasia Pavlyuchenkova/RUS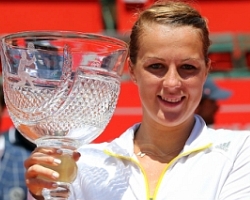 ...while Pavlyuchenkova is still looking for consistency and a true grand slam breakthrough worthy of her position in the post-2004's Hordette generation, she's still managing to collect a fair number of singles titles on her way to where she's always been expected to be. Her Oeiras crown was her second of the season, and fifth of her career, and came after a string of wins over Shahar Peer, Estrella Cabeza-Candela, Elena Vesnina, Romina Oprandi and Carla Suarez-Navarro.


=============================




RISERS:

Carla Suarez-Navarro/ESP & Romina Oprandi/SUI


...what with Elena Vesnina finally getting her first tour singles title earlier this year, CSN has become the most "hard-luck" player in the WTA. Once again, she put up a good showing in Oeiras, knocking out Marina Erakovic, Yanina Wickmayer, Monica Puig and defending champ Kaia Kanepi, getting a bit of payback after losing to the Estonian in the final a year ago when this tournament was held in Estoril. This was CSN's second '13 final, and the fifth of her career. Thing is, she's now 0-5 in those matches. Meanwhile, Oprandi, 27, continued to put up good "late-bloomer" numbers, getting Oeiras victories over Kiki Bertens, Peng Shuai and Svetana Kuznetsova to reach the semifinals, just the third such tour-level result of her career, but the first since she did it in 2011 on the grass in 's-Hertogenbosch.


=============================




SURPRISES:

Monica Puig/PUR & Madison Keys/USA


...it's good to be lucky, and a "loser." Apparently. Both teenagers lost qualifying matches this past week, but ended up getting the last laugh. In Oeiras, Puig, after a nice win over Maria-Teresa Torro-Flor, was taken out by Galina Voskoboeva, only to slip into the main draw and get upset victories over Julia Goerges and Francesca Schiavone to reach her first career tour-level QF. This weekend in Madrid, Keys was felled by fellow Bannerette Bethanie Mattek-Sands, only to be a late replacement for Tamira Paszek in the main draw and get a HUGE 1st Round win over Li Na. In Sydney in January, Keys took Li to three sets in a quarterfinal match-up.


=============================




VETERANS:

Petra Rampre/SLO & Shahar Peer/ISR


...33-year old Rampre, ranked #277 in the world, tied her best-ever ITF result with her third career $50K challenger title, winning the Indian Harbour Beach event in Florida with a 6-0/6-1 win in the final over Dia Evtimova. She got previous victories over the likes over Laura Pous-Tio and youngsters Mayo Hibi and Belinda Bencic. Earlier in Oeiras, Peer went 3-0 in qualifying -- getting wins over Karin Knapp, Anastasia Rodionova and Catalina Castano -- before falling in the 1st Round to eventual champ Pavlyuchenkova. Peer has put up a 9-2 mark in her recent forays into tour-level Q-rounds.


=============================




COMEBACKS:

Kaia Kanepi/EST & Alexandra Dulgheru/ROU


...even though the Portugal Open wasn't held in Estoril, where she won the title a year ago, Oeiras was a mostly-suitiable replacement for Kanepi, who continued her latest comeback from injury by getting wins over Kristina Mladenovic, Sorana Cirstea and Ayumi Morita en route to the semifinals, where she lost to CSN, the player she beat in last year's final... hmmm, considering that, maybe "mostly-suitable" wasn't the right way to describe things. Oh, well. Forward movement is still good for the Estonian, who got a 1st Round win Sunday in Madrid over Flavia Pennetta. Dulgheru, a Top 30 player in 2011, was out from March to November last season after surgeries on both knees, an absence that caused her to take a nearly 200-spot tumble down the rankings. In January, Dulgheru won a small ITF event in Antalya, Turkey to begin to get a little traction in her comeback. Ranked at #363 this weekend in Madrid, her third tour-level event since she returned to the court at the end of last year, the Romanian won two qualifying matches (including one over Marina Erakovic) to reach the main draw.


=============================




FRESH FACES:

Kristina Mladenovic/FRA & An-Sophie Mestach/BEL


...who wouldn't want to play doubles with Mladenovic? I mean, at the very least, you'd have a good shot to reach a final. In Oeiras, the Pastry reached her third consecutive doubles final -- with three different partners -- and won her third doubles crown of the season (also with three different partners). Chan Yung-Jan (who also won a 125 Series crown w/ her then-teenaged partner in '12) pulled the long straw this week in Portugal, celebrating with Mladenovic as Kristina won her fifth tour-level doubles crown since last August. And, altogether now, she's won those five titles with... five different partners. At the $50K challenger in Gifu, Japan, 19-year old Waffle Mestach claimed the biggest title of her career. After early wins over Yurika Sema and Kimiko Date-Krumm (via retirement), ASM won a 1-6/6-3/6-0 final over China's Wang Qiang, who dropped her second ITF singles final in as many weeks.


=============================




DOWN:

Marion Bartoli/FRA & Caroline Wozniacki/DEN


...La Trufflette did well in her first-ever Fed Cup singles action two weeks ago, but her stint with new coach Jana Novotna has yet to bear any fruit on the regular tour. While she still sports the WTA's longest active Top 20 streak -- 309 weeks as of Monday -- Bartoli had dropped four consecutive tour-level singles matches after her 1st Round exit in Oeiras last week until finally getting a win on Sunday in Madrid when Elena Vesnina retired in the 2nd set of their 1st Round match. Meanwhile, a day after wishing a Twitter birthday to Rory McIlroy -- "Happy birthday to the most amazing person I know! @McIlroyRory today u are the oldest you have ever been and the youngest you will ever be! -- Wozniacki was sent packing from Madrid with little trouble in a 6-2/6-4 loss to Yaroslava Shvedova. After looking as if she might be picking up some momentum, the Dane, wrapped around caddying a bit for her favorite golfer at the Masters week or so ago, has skidded off course with a 2-4 mark since reaching the Indian Wells final.


=============================




ITF PLAYER:

Yvonne Meusburger/AUT


...the 29-year old Australian won her second challenger of the season at the $25K event in Wiesbaden. Her fourteenth career circuit crown came after she ran off wins over Jill Craybas, Barbora Krejcikova, Anna-Lena Friedsam, Dinah Pfizenmaier and Sharon Fichman in the final.


=============================




JUNIOR STAR:

Belinda Bencic/SUI


...the Melanie Molitor-coached 16-year old, the #5 junior in the world, had her best bigger-event result at the $50K challenger in Indian Harbour Beach, Florida. A winner of two previous $10K titles, Bencic reached the semifinals here after reaching the main draw as a qualifier (def. Allie Will), then upsetting the #1 seed (Tatjana Maria) and Shelby Rogers en route to the final four.


=============================






1. Oeiras Final - Pavlyuchenkova d. Suarez-Navarro
...7-5/6-2. A-Pav joins Serena and Sharapova as the only women with '13 titles on multiple surfaces.


=============================


2. Oeiras 1st Rd. - Schiavone d. Dominguez-Lino
...6-3/6-2. A couple of days later, an "instant rematch" of the Marrakech final plays out pretty much the same way as the original.


=============================


3. Oeiras 2nd Rd. - Puig d. Schiavone 6-3/6-2
Madrid 1st Rd. - Keys d. Li 6-3/6-2
...maybe it was something about "6-3/6-2?" Either way, two "lucky losers" have gotten extremely fortunate over the past week.


=============================


4. Madrid 1st Rd. - Ivanovic d. Mattek-Sands
...6-7(10)/6-3/6-2. Not so much "luck" for the qualifier who defeated "lucky loser" Keys in the final qualifying round in Madrid, though. Hmmm... there's (partially) that "6-3/6-2" scoreline again, too.


=============================


5. Madrid 1st Rd. - Hantuchova d. Stephens
...6-3/7-5. Stephens is becoming the "most predictable" player on tour. Even this, in some way, probably should have been seen coming, I guess. Habitual name-droppers -- surely you remember all of Sloane's comments in interviews about "me and Serena" over the past year -- tend to get bitten by their "bonds" with said "names" at some point down the line.


=============================


6. Oeiras SF - Suarez-Navarro d. Kanepi
...6-4/6-1. One year, a different city and a round earlier, CSN gets some payback for losing to Kanepi in 2012's Estoril final in Portugal.


=============================


7. $10K Villa Allende Final - Montserrat Gonzalez d. Constanza Vega
...6-4/6-1. The 18-year old from Paraguay gets her first ITF singles crown. She won her first in doubles, too.


=============================


8. $25K Wiesbaden Doubles SF - Dabrowski/Fichman d. Knoll/Krunic
...6-4/6-2. Aleksandra can't win 'em all.


=============================


9. Madrid 1st Rd. - Kvitova d. Wickmayer
...4-6/7-5/6-4. It's just never easy, is it?


=============================


10. Madrid 1st Rd. - Scheepers d. Jankovic
...6-7/6-3/6-3. Did Ricardo & Sabine put the juju jinx on JJ last week? This one prevented a 2nd Round JJ/AnaIvo match, by the way.


=============================






1. Oeiras 1st Rd. - U.Radwanska d. Cibulkova
...2-6/6-4/6-4. What do the Radwanskas have against Dominika anyway? First, Aga served her a pair of bagels in January, then Ula gives her an extra kick while she's still down following the Slovak Republic's historic Fed Cup collapse.


=============================


2. Oeiras 2nd Rd. - Morita d. U.Radwanska 6-2/6-3
Madrid 1st Rd. - Errani d. U.Radwanska 6-3/6-1
...Ayumi and Sara, expect some Radwanskian retribution later. But not when Errani ties Venus & Serena for most career weeks (8) as doubles #1 this week.


=============================


3. $50K Gifu 1st Rd. - E.Sema d. Sanders
...6-1/6-4. Storm went 3-0 vs. the Semas over a span of two weeks about a month or so ago. I guess revenge IS a dish best served cold.


=============================








**2013 WTA TITLES**


3...Serena Williams (Brisbane, Miami, Charleston)
2...Maria Sharapova (Indian Wells, Stuttgart)
2...Victoria Azarenka (Australian Open, Doha)
2...Agnieszka Radwanska (Auckland, Sydney)
2...ANASTASIA PAVLYUCHENKOVA (Monterrey, Oeiras)



**2013 SINGLES FINALS - RUSSIANS**


3...Maria Sharapova (2-1)
3...ANASTASIA PAVLYUCHENKOVA (2-1)
1...Maria Kirilenko (1-0)
1...Elena Vesnina (1-0)
1...Oga Puchkova (0-1)



**CAREER TITLES - ACTIVE RUSSIANS**


29...Maria Sharapova
13...Svetlana Kuznetsova
13...Nadia Petrova
12...Vera Zvonareva
8...Anna Chakvetadze
6...Maria Kirilenko
5...ANASTASIA PAVLYUCHENKOVA



**MOST 2013 FINALISTS - BY NATION**


9...RUSSIA (6 wins)
5...Italy (3)
5...United States (3)
5...Germany (1)
4...Czech Republic (2)
4...SPAIN (1)
3...China (1)



**2013 CONSECUTIVE DOUBLES FINALS**


4...Errani/Vinci (January-February, 3-1)
4...Petrova/Srebotnik (2-2)
3...KRISTINA MLADENOVIC (2-1)



**2013 ITF TITLES**


4...Reka-Luca Jani, HUN
4...MELANIE KLAFFNER, AUT
3...Jovana Jaksic, SRB
3...Julia Kimmelmann, GER
3...Tara Moore, GBR
3...Aliaksandra Sasnovich, BLR





MADRID, SPAIN (Premier $4.033K/red clay outdoor)
12 Final: S.Williams d. Azarenka
12 Doubles Champions: Errani/Vinci
13 Top Seeds: S.Williams/Sharapova
=============================


=QF=


#1 S.Williams d. #6 Li Shvedova
#3 Azarenka d. #7 Errani
#4 A.Radwanska d. #11 Petrova
#2 Sharapova d. #9 Stosur


=SF=


#1 S.Williams d. #3 Azarenka
#2 Sharapova d. #4 A.Radwanska


=FINAL=


#1 S.Williams d. #2 Sharapova

...remember, Serena -- even without the blue clay -- has lost on clay to only Virginie Razzano since last spring. If Maria were to prevail over Serena, well, truthfully, it might be bad news for the Russian in Paris.... it possibly serving to focus Serena's sights on that title even more. So maybe Sharapova should just let the "natural" course of things play out in Madrid (i.e. watch Williams lift the trophy), then take the same course of action Roland Garros, where Serena's luck is rarely ever good, while Maria's was quite fantastic one year ago.


All for now.