Day of the Supernova

The calendar might have said that Saturday was Australia Day in Melbourne, but at Rod Laver Arena it was the "Day of the Supernova," for an Australian Open that looked anything but at its beginning turned out to be Maria Sharapova's for the taking at its end.



Torsten Blackwood/AFP/Getty Images



Sharapova's 7-5/6-3 win in the final over Serbia's Ana Ivanovic completed a moment in the Russian's career that was as surprising as it was ironically "predictable."

After her own demolition in last year's Oz final at the hands of Serena Williams, Sharapova had her sights set on redemption in 2008 from Day 1. And with the cover provided her by a difficult draw, she found herself with less outside pressure to succeed until she actually began to cut a wide swathe through that draw by mowing down her accomplished opposition one by one. By the time she was declared the favorite to emerge as champion, it was already too late for anyone to prevent it from becoming a reality.

From her unexpected destruction of Lindsay Davenport to her textbook deconstruction of Justine Henin, with the absurdity of the latest Yuri "controversies" in between, this Australian Open revolved on a Supernovian axis on the women's side. As she has done in reaching her career's other high points, Sharapova's tale of Aussie atonement turned into one of domination, as she didn't drop a single set (the third slam winner to do so in the past year, following in Henin's footsteps in Paris and NYC) en route to claiming a third slam title at a third different tournament.

Against AnaIvo, Sharapova's ability to exert her greater big-match experience was both reticent and ever-present. She won her first twelve serve points in the 1st set, but then hesitated as Ivanovic's pulverizing returns clouded her thinking, momentarily shaking her focus and leading to back-to-back double-faults that broke her own serve to knot the set at 4-4. But down 4-5, 30/0, the tentativeness disappeared with a service hold... and preceded a string of events that saw the Serb crack just enough to turn the match in the Supernova's favor. Ivanovic was broken, then Sharapova held at love for a 7-5 win, claiming twelve of the final fourteen points to secure the set.

The momentum carried over into the 2nd stanza, as Sharapova lost just two points on serve (24/26) and closed out the latest triumphant chapter of her career... and life.

One of the great things about sports is being able to watch a player "grow up," as both an athlete and an individual. Tennis is unique in how we are able to quite literally do just that as players navigate their teen years on their way to adulthood and, in some cases, marriage and motherhood, in front of the eyes of the world. Viewed from a distance under such circumstances, tennis stars often become something "more" than simply a "player" in the eyes of their fans and are often identified by simply their first names. Chrissie, Martina (I or II), Steffi, Monica, Serena, Kim, Venus, Justine... and Maria, to name a few.

As Sharapova spoke during the post-final ceremony, about the death of the mother of one of the members of her tennis "family" and her own physical and emotional struggles of the season just past, one could rightfully witness the unwavering march of time.

Ivanovic is just 20, but even with her childhood in war-torn Serbia well known, she's still just at the beginning of her very public journey through the sport, while 20-year old Sharapova has seemingly been around forever. In hindsight, one now realizes just how much of a relative kid she was when she won Wimbledon in 2004. It was something easily passed over at the time because, quite frankly, such an accomplishment was something that was expected of a player with so much promise. That she reached such a height at 17 was noteworthy and eye-opening, but hardly mind-boggling.

Five years from now, her Melbourne '08 self will seem quite different than it does today, as well. But it's that filter of time that makes the collective memories of athletic achievement both special and eternal. It's why we keep coming back, watching individuals such as Sharapova grow on and off court, while others loom on the horizon, waiting for their turn to experience similar journeys of their own on the world's athletic stages.

Sharapova said that Billie Jean King called her before the match and offered the thought that "pressure is a privilege." For Sharapova, it's also a condition she and her family have worked to position her to face for most of her life, going back to before her and her father's pilgrimage from Siberia to Florida. Unlike some, she thrives in it in ways both similar to and differently from the likes of her contemporaries named Henin, Davenport or Williams.

Few players could have failed more brilliantly than Sharapova had her tennis gambit not produced the champion that it has. Comparisons to a previous Russian star, often unfairly cast as being less talented than she was simply because it fits the generally-accepted stereotype, could have proven prophetic, creating a lasting image of a pseudo-athlete more star than champion. It would have been an image she would not have relished no matter how many lucrative marketing deals she would have still banked had she never won any title of much significance.

But Sharapova has managed to outgrow those comparisons by a ridiculously-large margin. She was always going to become a star. Becoming a champion took commitment and focus, and the athletic achiever she's proven herself to be means that any future discussion of her career will never need to be weighed down by "what if" regrets and/or contrary addendums.


su*per*no*va* (soo'puhr-NOH-vuh) n.

A rare celestial phenomenon in which a star explodes, resulting in an extremely bright, short-lived object.


The day will come when Sharapova is gone, having left behind days like this one in Melbourne when all the work, pain and expectations were at once worthwhile... as well as just a single episode in a life played out for all to scrutinize.

Roger Federer spoke the other day of a "monster" of expectation created by his own success. Sharapova, too, lives with some of the same obstacles/pressures to succeed. So far, the once and future Supernova has found a way to rise above it, answering the call of a career, a life and a sport.

Pressure IS a privilege... but it's one that is also earned. And Sharapova has done just that.

G'day, Maria.





Jonathan Erlich & Andy Ram defeated two-time Oz champions Arnaud Clement & Michael Llodra in the Men's Doubles final. It's the third slam title in Ram's career, and Erlich's first.




Dutch teen Arantxa Rus defeated Aussie Jessica Moore 6-3/6-4 in the Girls final, but the home country DID get one 2008 champion when Bernard Tomic knocked off Yang Tsung-Hua 4-6/7-6/6-0 to win the Boys title.







=LATE-ROUND (SF-F) AWARDS=




TOP PLAYER:

Maria Sharapova / RUS


...has the Sharapova Scenario taken hold?


RISERS:

Ana Ivanovic / SRB & Victoria Azarenka/Shahar Peer (BLR/ISR)




SURPRISES:

Alona Bondarenko/Kateryna Bondarenko (UKR-UKR) & Jessica Moore / AUS




VETERAN:

Sun Tiantian / CHN




FRESH FACES:

Arantxa Rus / NED & Anastasia Pavlyuchenkova/Ksenia Lykina (RUS/RUS)




DOWN:

Jelena Jankovic / SRB




COMEBACK:

Sania Mirza / IND









*CAREER SLAM TITLES - ACTIVE*




[Aust-RG-Wimb-US]


8...Serena Williams [3-1-2-2]
7...Justine Henin [1-3-0-2]
6...Venus Williams [0-0-4-2]
3...Maria Sharapova [1-0-1-1]
3...Lindsay Davenport [1-0-1-1]
2...Amelie Mauresmo [1-0-1-0]
2...Mary Pierce [1-1-0-0]
1...Svetlana Kuznetsova [0-0-0-1]
1...Anastasia Myskina [0-1-0-0]



*MOST CAREER WTA TITLES - RUSSIANS*


17...Maria Sharapova
10...Anastasia Myskina
9....Svetlana Kuznetsova
9....Olga Morozova
8....Elena Dementieva
7....Nadia Petrova
6....Anna Chakvetadze
5....Dinara Safina
5....Vera Zvonareva



*MEN'S DOUBLES CHAMPS - 2000-08*


2000 Ellis Ferreira & Rick Leach
2001 Jonas Bjorkman & Todd Woodbridge
2002 Mark Knowles & Daniel Nestor
2003 Arnaud Clement & Michael Llodra
2004 Arnaud Clement & Michael Llodra
2005 Wayne Black & Kevin Ullyett
2006 Bob Bryan & Mike Bryan
2007 Bob Bryan & Mike Bryan
2008 Jonathan Erlich & Andy Ram



*FINALS*




[WOMEN'S]


#5 Maria Sharapova/RUS def. #4 Ana Ivanovic/SRB - 7-5/6-3


[MEN'S]


#3 Novak Djokovic/SRB vs. Jo-Wilfried Tsonga/FRA


[WOMEN'S DOUBLES]


Alona Bondarenko/Kateryna Bondarenko (UKR/UKR) def. #12 Victoria Azarenka/Shahar Peer (BLR/ISR) - 2-6/6-1/6-4


[MEN'S DOUBLES]


#8 Jonathan Erlich/Andy Ram (ISR/ISR) def. #7 Arnaud Clement/Michael Llodra (FRA/FRA) - 7-5/7-6


[MIXED DOUBLES]


#5 Sun Tiantian/Nenad Zimonjic (CHN/SRB) vs. Sania Mirza/Mahesh Bhupathi (IND/IND)


[GIRL'S]


#14 Arantxa Rus/NED def. Jessica Moore/AUS - 6-3/6-4


[BOY'S]


#5 Bernard Tomic/AUS def. #10 Yang Tsung-Hua/TPE - 4-6/7-6/6-0


[GIRL'S DOUBLES]


#1 Anastasia Pavlyuchenkova/Ksenia Lykina (RUS/RUS) def. Elena Bogdan/Misaki Doi (ROU/JPN) - 6-0/6-4


[BOY'S DOUBLES]


Hsieh Cheng-Peng/Yang Tsung-Hua (TPE/TPE) def. #2 Vasek Pospisil/Cesar Ramirez (CAN/MEX) - 3-6/7-5/10-5



**BACKSPIN FLASHBACK - SHARAPOVA'S SLAM TRIUMPHS**
July 2004 - "The Passion of the Supernova" (Wimbledon)
September 2006 - "Exquisite in the City" (US Open)
January 2008 - "Day of the Supernova" (Australian Open)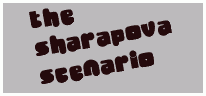 **BACKSPIN HISTORY OF THE SCENARIO**
December 2005 - Intriguing Question #5
August 2006/Week 31-"The Scenarios Abound"
October 2006/Week 42-"The Supplemental Scenario"
January 2007 - Intriging Question #3
August 2007/Week 31- "Scenarios-a-Poppin'"


TOP QUALIFIER:
Julia Schruff / GER
TOP EARLY ROUND (1r-2r):
Maria Sharapova / RUS
TOP MIDDLE-ROUND (3r-QF):
Maria Sharapova / RUS
TOP LATE ROUND (SF-F):
Maria Sharapova / RUS
TOP EARLY RD. MATCH (1r-2r):
1st - Jankovic def. Paszek 2-6/6-2/12-10
TOP MIDDLE-RD. MATCH (3r-QF):
QF - Sharapova def. Henin 6-4/6-0
TOP LATE RD. MATCH (SF-F):
SF - Ivanovic def. Hantuchova 0-6/6-3/6-4
=============================
FIRST SEED OUT:
#32 Julia Vakulenko / UKR (1st Rd.-Vesnina)
UPSET QUEENS:
The Russians
REVELATION LADIES:
The Poles
LAST QUALIFIER STANDING:
Marta Domachowska / POL & Hsieh Su-Wei / TPE (4th Rd.)
IT GIRL:
Casey Dellacqua / AUS
MISS OPPORTUNITY:
Daniela Hantuchova / SVK
COMEBACK PLAYER:
Yan Zi & Zheng Jie / CHN-CHN
ZOMBIE QUEEN:
Jelena Jankovic / SRB (1st Rd.- down 3 MP to Paszek)
CRASH & BURN:
#2 Svetlana Kuznetsova / RUS (3rd Rd.- A.Radwanska)
DOUBLES STARS:
Alona & Kateryna Bondarenko / UKR
JUNIOR BREAKOUT:
Jessica Moore / AUS & Arantxa Rus / NED


All for now.