Wk.2- Bare Bones Backspin: Carl & the Carla Introduction

Backspin is bare-boned.


Hello, puny soon-to-be-squished-by-Carl tennis fans. Me Carl. Carl tired from all extra work stupid Todd pass off to me so far this season. He lazy. Carl strong. Carl no sleep if no want to, and time occupied more lately than normal now that Carl have Carla. Carla Carl's woman, and want Carl to officially introduce her this week. Carla not so happy with small role in Christmastime post -- again, Todd fault -- so Carl must do honors. Carl meet Carla in Central Park after U.S. Open last summer. Both out looking for breakfast. Some puny clown snap photo of our first meeting and it go viral and cause Carl all sorts of headaches from many groups. Carl hate Twitter. No worry, though. Carl squish photographer. Photographer not seen since. Never will be.

But, still, photo now in Carla photo folder on new computer Carl steal for her. Carl not sure if Carla like photo. Carl feel Carla may use against Carl sometime in future. Here picture: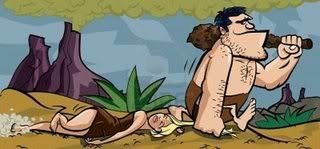 Carla calm Carl a little. But no mean Carl not in squishing mood after once again getting no champion picks right in Week 2!!!!!! Think Todd doing something to make Carl pick wrong. Carla listen to "Coast-to-Coast AM" radio show and believe in mind control. Carl looking into it. Carl no put past Todd. Carl will squish Todd. Someday.



*WEEK 2 CHAMPIONS*




SYDNEY, AUSTRALIA (Premier $637K/hard outdoor)


S:

Victoria Azarenka d. Li Na 6-1/1-6/6-3


D:

Peschke/Srebotnik d. Huber/Raymond




HOBART, AUSTRALIA (Int'l $220K/hard outdoor)


S:

Mona Barthel d. Yanina Wickmayer 6-1/6-2


D:

Begu/Niculescu d. Chuang/Erakovic





PLAYER OF THE WEEK:
Victoria Azarenka/BLR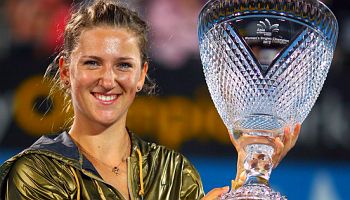 ...Vika coming of age? Win Sydney in third consecutive appearance in tour singles final going back to 2011 season. Big wins over Jankovic, Bartoli, A.Radwanska and Li sends to Melbourne confident, and one of six women with shot at #1 ranking in two weeks.


=============================




RISER:

Agnieszka Radwanska/POL


...get easy win in unwanted 1st Round match against sister Urszula, plus beat Petkovic and Wozniacki (both injured, though) to reach Sydney SF. Look like same player from late '11. A LONG AND CONVOLUTED (thank Carla for word) way from #1, but is (technically) one of the six woman who can rise to #1 after Melbourne.


=============================




SURPRISE:

Angelique Kerber/GER


...German first to reach two singles SF in 2012. 0-2 there, though, after wins over Vesnina, Errani and Cirstea got her to final four in Hobart one week after Auckland.


=============================




COMEBACK:

Anna Chakvetadze/RUS


...long road back for Russian, but showing signs that getting close. Reach Hobart QF after wins over Niculescu and Pironkova, then retire from match against Peer with cramping. Carl try to vote for Anna, but chased from polling place with sticks of fire. Carl still hate fire.


=============================




VETERANS:

Li Na/CHN & Kveta Peschke/Katarina Srebotnik (CZE/SLO)


...Li win first seven matches in 2012 (three in Hopman, four in Sydney), including over Bartoli in Perth, then Safarova and Kvitova while trying to defend '11 title. Lose three-setter to Azarenka, but Carl intrigued by Na chances in Melbourne. Peschke/Srebotnik top doubles team in '11, but trumped (wink, Carla) in last half of year by Huber/Raymond. In first meeting in '12, though, they strike back and defeat 13-11 in deciding super tie-break to win final over American pair. Their ninth title as team.


=============================




FRESH FACE:

Mona Barthel/GER


...21-year old, ranked #64, HUGE week in Hobart. Qualify, then win first career tour singles title. Defeat defending champion (Gajdosova, QF), #2 seed (Medina-Garrigues, 2nd Rd.) and #1 seed (Wickmayer, in Final) along way. "Fourth-best" German? Carl wonder.


=============================




DOWN:

Andrea Petkovic/GER


...Lisicki retire Week 1. Goerges retire Week 2. Petkovic withdraw from AO, and out 6-8 weeks with back injury. So long, Top 10 ranking. Curse of Steffi???? Oh, well. At least "unknown" countrywomen, Barthel and Kerber, taking up slack.


=============================






1. Syd SF - Li d. Kvitova
...1-6/7-5/6-2. Kvitova lead 6-1/3-1, with same ease as Carl snap enemy's femur in fight. But start to miss shots, and Li back in match like in Paris last year when Czech lose 3-0 3rd set lead against her. Fool once, shame no Na. Fool twice, shame on Petra. Kvitova know it, too. Toss racket twice in match. Unlike her. End unofficial 18-match, four-event winning streak.


=============================


2. Syd QF - A.Radwanska d. Wozniacki
...3-6/7-5/6-2. Caro go from 4-1 down in 2nd to serving for match at 5-4. Injure left wrist, but no want to retire. Lose match, but end up keeping #1 ranking when Kvitova lose later in day. MRI on wrist show "no major damage," but make Carl not want to pick Dane in Melbourne.


=============================


3. Syd F - Azarenka d. Li 6-1/1-6/6-3
Syd SF - Azarenka d. A.Radwanska 1-6/6-3/6-2
...Carl impressed by Vika coming back from very poor sets to put away matches in Sydney. Carl pick Li to win title, but no want to squish anything in end. Carl interested in watching Azarenka in Aussie Open.


=============================


4. Syd 2nd Rd - Wozniacki d. Cibulkova
...7-5/2-6/6-4. Wozniacki back from 4-0 hole in 3rd. Still, no good way to go into Australian Open.


=============================


5. Syd 2nd Rd - Kvitova d. Dulgheru
...7-5/3-6/6-4. Kvitova almost have flashback to Dulgheru making Czech First Seed Out at last year's U.S. Open. Romanian play #7 Zvonareva in 1st Round in AO.


=============================


6. Hob F - Barthel d. Wickmayer 6-1/6-2
Hob Doubles F - Begu/Niculescu d. Chuang/Erakovic 6-7/7-6/10-5
...Haha! Todd say last week that Romanian "due" to win title, and pick Begu as singles champ. She lose in 2nd Round, but then she and Niculescu (second Romanian) DO win title -- in doubles! Carl still laughing at Todd about that one.


=============================


7. Syd 1st Rd - Jankovic d. Goerges
...6-1/3-1 ret. Carl think JJ soon looking ahead in AO draw and seeing Wozniacki (and ex-coach Ricardo Sanchez) possibly waiting for her there. Carl think she maybe get distracted and not make it that far herself.


=============================


8. Syd Q - Arvidsson d. Dulgheru 6-7/7-6/7-5
Syd 1st Rd - Dulgheru d. Arvidsson 6-1/6-1
...Dulgheru like second chances. But, in 2nd Round against Alexandra, so did Petra.


=============================


9. Syd Doub 1st Rd - Arvidsson/Dokic d. Dulgheru/Krajicek
...6-1/6-3. Arvidsson like third chances.


=============================


10. Hob 1st Rd - Pironkova d. Watson
...7-6/3-6/7-6. Carl think Tsvetana see Heather and think back at Wimbledon. Naturally, Pironkova then win.


=============================


HM- Hob 1st Rd - Cirstea d. Pervak
...6-2/7-6. Pervak lose 1st Round. Voskoboeva lost 1st Round, too. Sesil lose first round of AO qualifying. Not good week for Kazakh women's tennis.


=============================






1. AO Q1 - Pavlovic d. Kr.Pliskova 1-6/6-3/7-5
AO Q1 - Bratchikova d. Ka.Pliskova 6-1/6-2
...bad week for Pliskova sisters, too.


=============================


2. AO Q1 - Flipkens d. E.Sema 6-1/6-2
AO Q1 - Chang d. Y.Sema 6-4/6-3
...ditto for Semas.


=============================


3. Hob Doub QF - K.Bondarenko/An.Rodionova d. Hradecka/Medina-Garrigues
...7-6/3-6/10-6. In case of cross-sister power sharing, two halves of two sibling pairs knock off #1-seeded team in Hobart.


=============================








**DEFEATED DEFENDING CHAMPION & TOP SEED, WON TITLE**




[since 2009]


2009 Miami - Victoria Azarenka, BLR
2009 Quebec City - Melinda Czink, HUN
2009 Seoul - Kimiko Date-Krumm, JPN
2009 Osaka - Samantha Stosur, AUS
2010 Palermo - Kaia Kanepi, EST
2010 Stanford - Victoria Azarenka, BLR
2011 Auckland - Greta Arn, HUN
2011 Pattaya - Daniela Hantuchova, SVK
2012 HOBART - MONA BARTHEL, GER



**MOST WTA FINALS**




[since 2009]


24...Caroline Wozniacki (15-9)
13...VICTORIA AZARENKA (9-4)
12...Vera Zvonareva (5-7)
11...Maria Sharapova (5-6)


[since 2010]


16...Caroline Wozniacki (12-4)
10...VICTORIA AZARENKA (6-4)
10...Vera Zvonareva (3-7)



**WTA TITLES - 2010-12**


12...Caroline Wozniacki
6...VICTORIA AZARENKA
6...Kim Clijsters
6...Petra Kvitova
4...Maria Sharapova
4...Roberta Vinci
4...Serena Williams





Carl pick five events so far. Three of Carl's champion picks reach final, but Carl still with NO CHAMPIONS CORRECT!!!! Carl want to squish!!!!!!!!!!!!!!!!!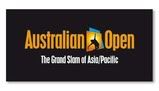 *WOMEN*




=QF=


li d. wozniacki
azarenka d. schiavone
s.williams d. kuznetsova
bartoli d. kvitova


=SF=


azarenka d. li
bartoli d. s.williams


=FINAL=


azarenka d. bartoli

...Carl think Vika ready. Carl trying to get leg up on Todd. Carl know HE not picking Azarenka.



*MEN*




=QF=


djokovic d. ferrer
murray d. tsonga
federer d. fish
nadal d. dimitrov


=SF=


murray d. djokovic
federer d. nadal


=FINAL=


federer d. murray

...Roger still classic. Just like Carl.


Carl must go now. Carla want Carl to find food, but no want Carl to catch and kill food. Want Carl to go to store and BUY it! Carla domesticated (Carl admit she type out word), and want Carl to be, too. Carl not sure want it, though. Sigh. Carl go look for place to buy food, while dream of finding enemy to squish along way. Could be gone all weekend.

Carla want Carl to post formal picture taken by professional photographer. Look all right. But Carl never stand still that long again.





Anyway, Carl see you... eventually.