2008's Most Intriguing Question: Is the Valkyrie About to Rise?
The captivating Valkyrie soars over the battlefield atop her majestic steed, governing the conflict while diligently meting out the fates of the warriors below. Her task completed, she plucks their bodies from the earth and conducts their souls directly to Valhalla.



Each season several spirited tennis teenagers poke their heads from their protective shelters, testing to see if the environment is amenable to a successful foraging trip into the great wide open landscape of the WTA tour. A few even manage to collect a few moments of early glory before scampering back to safety. Alas, some never manage to gather the confidence, game or ability to surprise opponents in quite the same way again, and their early prosperity turns out to be something akin to beginner's luck.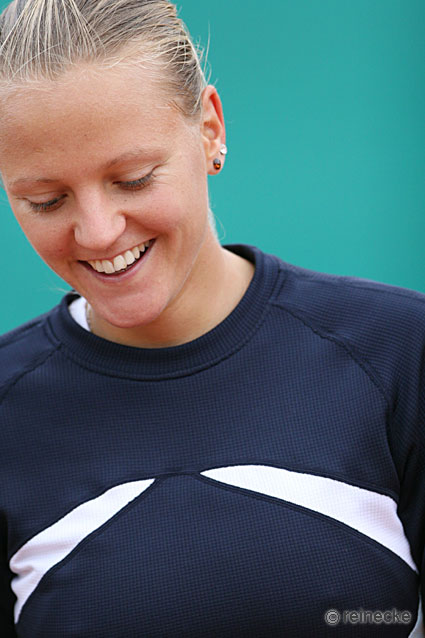 Don't expect Agnes Szavay to be lumped into that crowd, though. She's set to become one of the exceptional players who use their initial experiences as a primer for how to chase down even more success. Over the past twelve months, the soon-to-be-19-year old Hungarian has ascended from #207 to as high as #19 in the world, and is the second youngest player in the Top 20 (she's just four months older than Nicole Vaidisova).

The WTA battlefield is about to become even more perilous, for the rise of the Valkyrie has already begun.




Actually, the girl who admires Lance Armstrong's fight has been lurking in plain sight within the sport's shadows for a couple of seasons. In 2005, she won the Roland Garros junior crown and was the Girls RU at the Australian Open. At 16, in just her third WTA main draw, she reached her first tour-level singles SF in Modena in July of that year. After being slowed by a bought with mono in '06, Szavay proceeded this past season to make her own distinctive mark on the women's game.

A SF in Budapest in April was followed by a $75K challenger win in Zagreb in May. By June, she'd climbed to #53, then followed up her qualifying run at Roland Garros with another at Wimbledon. She then claimed her first tour title in Palermo soon afterward.




But it was on the hard court circuit that the budding Valkyrie put together something of a "Late Szummer of Szavay" variety show as she knocked off three Top 10 players, nearly won New Haven, reached the U.S. Open quarterfinals as an unseeded player in just her third slam main draw (upsetting Nadia Petrova along the way), then became the season's youngest two-time titlist when she flashed inherent big-time mettle against Jelena Jankovic in the Beijing final, erasing a match point with a nervy second serve ace and winning twelve of the final fourteen games.

It was during this stretch that the skills that Szavay brings to the battlefield became apparent, with impressive pop on a serve in crunch time and a startlingly effective two-handed backhand being chief among them. But maybe the most important weapon she brandished may have been what was going on between her ears. Ironically, it was a trait most clearly seen in a tournament Szavay failed to win.

With an air of impeccable assurance, she virtually stalked the court in New Haven In August with the preternaturally calm demeanor of a player capable of far greater things in the near future. After qualifying, she knocked off the likes of Sam Stosur, Daniela Hantuchova and Alona Bondarenko to reach the final. Then, up a set against Svetlana Kuznetsova and looking poised to become the first qualifier in WTA history to win a top Tier event (her tournament set totals showed her with a 15-1 advantage), she was forced to retire with a back injury as the rigors of playing her eighth match in nine days finally was too much for her body to overcome.

But no matter the ultimate outcome of the New Haven event (or her unsuccessful QF rematch with the Contessova at the US Open just a few weeks later), that Szavay outshined so many and was doing the same to the former grand slam champion and world #2 was indisputable. Every inch of her face bore the definitive countenance of a future champion.

The Valkyrie belonged... and she knew it. And for a young player at this station in her career, that's more than half the battle.

Two weeks later in Beijing, as if to further prove a point, in her third singles final in a two-month span, Szavay overcame a 7-6/5-1 deficit to upend Jankovic in the final for her first Top 5 victory. It won't be her last.

Szavay wasn't exactly born into the breadbasket of tennis in Kiskuhalas, Hungary. Attila may have been a Hun, but the area has never produced a truly top-level female tennis talent. Oh, a few Hungarians were tour champions before the Valkyrie arrived, four-time title winner Andrea Temesvari being the most successful of the bunch, topping out at #10 in the rankings in 1983 at age 17 (the #2-ranked Hungarian at the moment is #124 Melinda Czink). At the start of 2007, Szavay's tour bio stated that her goal was to be a Top 20 player. So, after accomplishing that goal this past September, it appears that she'll have to re-think her objective for '08. Might I suggest single digits?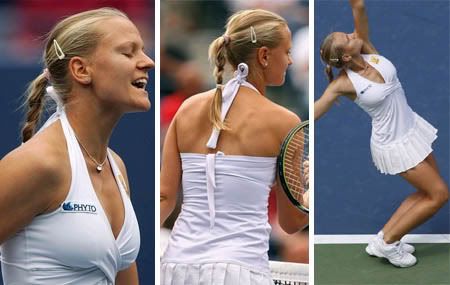 The fortunes of talented rising players are often governed as much (if not more) by their self-belief and emotions as by their improving abilities (see Jelena Dokic). Questions about Szavay's body's capacity to withstand the labors of a full season (back and thigh injuries were incurred during her szeason's fabulous final stanza) could be a legitimate obstacle to greater immediate success (just ask Vaidisova how quickly a potential breakthrough season can degenerate into a frustrating one), but at least 2007 seemed to hint that her advancement will not be hindered by what is traditionally a young player's biggest adversary -- herself. It's impossible to get past the visage of assured belonging on Szavay's face during her New Haven heroics, or the imbued confidence that produced the comeback in Beijing. She seems set to take off... sooner rather than later.

This coming season, more and more top players will be forced to warily keep their eyes to the sky in an attempt to avoid the Valkyrie's brand of natural selection. Some will be successful in their gameplans, but many will feel her wrath. By the end of her szeason-long production in 2008, Valhalla could be quite crowded.

Livestzrong, Agnes.







**DID YOU KNOW?**


...there might be another pair of WTA sisters making a splash before long? To the list that includes Williams, Radwanska and Bondarenko siblings, we might have to add the Szavay sisters in a few years.

Yes, Agnes has a tennis-playing little sis, 14-year old Blanka.

Oh, and their dad Zsolt says that she's BETTER than Agnes. Of course, we've heard this sort of thing before... from some guy named Richard, talking about a little lady named Serena.

Uh-oh.







*2008 PREDICTIONS*


...from here, the crystal ball says that Szavay's stomping grounds in 2008 will become more varied and exclusive. She has few points to defend from the first half of the season, and has a great chance to make a run for the lower portion of the Top 10 before heading back to North America for the hard court circuit there next szummer. Whether or not she can fashion anything close to a sequel to her '07 heroics will determine if she'll end up in the Top 10 once the season concludes.

I'm going to say she will (we'll soon see if Tennisrulz Head Honcho Pierre Cantin agrees in "Backspin Volley"), with three titles (at least one a Tier II or better), multiple slam QF-or-better results and maybe even an appearance in the YEC in the cards.

Oh, and look for her and doubles partner Vladimira Uhlirova to reach a slam final, as well, after last season winning a title in Budapest, reaching two additional finals and the US Open SF.

As the season is about to start, Szavay already has something to smile about before she turns 19 on December 29. Earlier this month in Budapest, she defeated Ana Ivanovic in an exhibition. Sure, it means absolutely nothing... but she'll surely remember it if she comes up against AnaIvo in a big match during the opening stages of the '08 season.

It would violate the Valkyrie Code to do otherwise, after all.


All for now.



NEXT UP:
The Rest of Europe