Serena Saves the World
If you had to depend on any woman in the world to win a single tennis match on any given day or night, your best bet, after all these years, after all the ups-and-downs and great days and bad, after all the controversy and, lately, some uncharacteristic losses on big stages, and after all the over-eager pronouncements that she might never win another major championship, that woman would STILL be one Miss Serena Williams... the new (and "old") Wimbledon champion.
Again. After all these years.
"Well, I'm just happy. I'm so happy to be playing. I'm so happy to be on the court. I feel like this is where I belong. I mean, maybe I don't belong in a relationship. Maybe I don't belong somewhere else. But I know for a a fact I do belong on this tennis court."

-

Serena Williams


Coming into this Wimbledon, Williams had gone through the ringer and come back out since her last slam win in London two years ago. An unfortunate trip to a German restaurant, which she left with a bloody foot that would ultimately require two surgeries. The resulting hematoma and embolism that placed her in the hospital, endangered her career and put her life in jeopardy. And then there's the mysterious "other things" that both Serena and Venus have talked about that the younger Williams has had to deal with during the period that we still don't know the actual details of (perhaps we'll find out one day in her tell-all autobiography?). She'd flashed her old dominant form on hard court and clay over the past year, only to crash out of slams in uncharacteristic ways, being blistered in a final by Sam Stosur in New York, then ousted in the 1st Round in Paris by Virginie Razzano in her worst slam result ever.

After Roland Garros, I piped in with the thought that Serena losing so early in Paris likely assured that she'd be winning Wimbledon the following month. At least that was how the old Serena would have handled things. But was the 2012 version of her "the old Serena," or just an "old" Serena. 30-year old tennis players haven't always been treated kindly by tennis over the past two decades, and Williams had surpassed the big "3-0h" since she won her thirteenth slam crown at the All-England Club in 2010.

At this Wimbledon, though, after some of the same sort of growing pains that have accompanied so many of her other slam victories, we found out which Serena we were dealing with... as did the rest of women's tennis. And, as usual, it was an awesome sight to behold. Putting on a serving display of which has never been seen the likes of in the history of women's tennis, Williams quite literally served her way into the Ladies championship match. The most dominating single shot in women's tennis -- probably ever -- saved Serena's skin in matches against Zheng Jie (3rd Round) and Yaroslava Shvedova (4th) in tight, long 3rd sets (9-7 & 7-5, respectively) when the rest of her game was letting her down. But she successfully tightrope-walked over the dual precipices of elimination, and by the time she played world #4 and defending champion Petra Kvitova in the quarterfinals, a more-focused Serena was barely giving an inch in ANY part of her game. Against #2 Victoria Azarenka in the semis, even a fine form of the Belarusian's game wasn't enough to take a set off Williams. She entered the final as a heavy favorite.

It was easy to casually understand why Serena had made it so far into this fortnight. Power and destruction are her game, and such a two-headed hydra is hard to miss. As far as her final opponent, 23-year old Pole Agnieszka Radwanska, goes, though, it takes a little patience to figure her out. Ranked #3 in the world, and with a shot to elevate to #1 by winning the Wimbledon title, A-Rad's game is characterized by a secret bag of tricks and magic dust, directed by a steel-trap, creative mind that sometimes seems to expertly build a solid skyscraper out of something that often resembles a pile of flimsy popsicle sticks. Unless you watch closely. In reality, Radwanska is something of a mad genius, throwing in spins and variety on what seems like a whim, but is really more of a well-thought out plan (little "p") that she manages to imagine and then figure out how to actualize... with the entire process sometimes occurring between the time a ball leaves the face of her racket and when it reaches that of her opponent.


Of course, A-Rad is something of a "hydra," too. On one hand you have Agnieszka. But, on the other, you have The Radwanska. An alter ego of tremendous power and drive, and one with a Plan (capital "P") for world domination, by any means necessary. And darned if It didn't almost pull it off at this Wimbledon, too. Since Aga stepped back a bit from her father's coaching following last year's Wimbledon, ultimately working with Polish Fed Cup coach Tomasz Wiktorowski, she's added some power to an accurate serve. And The Rad provides the willingness to pull it out in big moments. After years of too-defensive, wait-for-an-error play, since last summer, she's shown an occasional knack for stepping into one of the rallies she often controls with her wide array of shots and actually ending it with a winner rather than hoping for a mistake on the other side of the net. Oh, sometimes The Rad side of Aga enjoys pulling an opponent around on a string until she shoots herself in the foot out of frustration -- just ask Angie Kerber) -- but it's the unpredictability of precisely when The Radwanska will strike with something bigger that has enabled A-Rad to wrap up a series of big titles over the past year and quickly climb up the rankings after having seemed to "stall out" somewhere around #10-12 at this time last year. In The Quarter That Time Forgot, Radwanska kept her head down, did what she's learned to do, and the both plans worked out quite nicely for the first-time slam finalist and her "other self." Well, to a point.

In many ways, the final WAS a "two against one" affair. It just wasn't fair... for Agnieszka or The Radwanska. Serena didn't really give them too much of a chance, though the two DID find a way, after a rough start, to make things interesting before the day was through.

Radwanska hadn't played Serena in singles for four years, and hadn't felt the full force of her power. Early on, it showed. As expected, Williams controlled the flow of her service games, setting the tone by holding in game #1 with an ace. But it was the overall pressure of the REST of Serena's game that often turned A-Rad into a player not fully recognizable as the one with The Rad living inside her. While she appeared unflappable, she was indeed VERY flappable. She committed more errors and double-faults in small spurts of time against Williams than she often did in an entire set -- heck, even matches considering A-Rad went twenty games without an unforced error earlier in this tournament -- coming into the final. In her first service game, it was apparent that things weren't going to be easy. Radwanska attempted a drop shot, one of her favorite tricks, on the first point... but Serena got to it and won the point. After battling for 8:33, and having game point, Radwanska dropped the game after committing more than one uncharacteristic error and immediately found herself in a 2-0 hole.

She was never able to climb out of it.

Radwanska held game point in her second service game, as well. But a double-fault and error off a deep Williams shot turned a "routine" hold into another break of serve. 4-0. By this point, Serena was rolling. She fired an ace to take the fifth game. Finally, perhaps getting used to the pace of Williams' shots, Radwanska saved face in game #6. After saving two set points, she converted her third game point attempt with an ace of her own for 5-1. Serena served out the set at 6-1, but The Radwanska had finally managed to spread its wings. At least a little.

After a brief rain delay and the closing of the Centre Court roof, Williams came out and committed three consecutive erors (had The Rad stolen her soul in the locker room?). Agnieszka held for 1-0, but Williams righted herself to get a break lead at 2-1. In the first point of game #4, Radwanska's flick-shot winner showed The Rad was still trying to break free, but the Pole was too often caught totally flat-footed on the baseline as Williams fired her unreadable serves past her for aces. A-Rad led 30/love on Serena's serve in game #6, but Williams pulled things back and held with an ace for 4-2. Serena got to within a single point of a 5-3 lead, but Radwanska's backhand down-the-line winner on game point turned the tide of the set. As Serena tightened just a bit, The Radwanska grabbed hold of Aga's racket and began to try to work Williams' last nerve. A Serena error game Radwanska her first break point of the match. Another long Serena shot made the score 4-4.

Suddenly, Agnieszka put her Rad shoes on. She started controlling rallies with her fascinating combination of spins, pinpoint accuracy and anticipation leading to a sudden winner of her own or a shot that simply twisted Serena into an error. Maybe all those melons The Rad had destroyed at Radwanska Abbey over the past two weeks didn't die in vain, after all. As Williams began to be forced into mistakes, A-Rad took over. Rather than being handed the runner-up plate, she was forcing a 3rd set. She held for 6-5, then went up 30/love on Williams' serve. Serena committed a backhand error and fell behind 15/40, then saw her "sure" win slip away and become a 7-5 set in Radwanska's favor. Over her last four service games, the Pole lost a total of four points.

In the 3rd, Radwanska wobbled, but she didn't fall over. After going up 40/30 in game #1, but then double-faulting and throwing in an additional eror, Radwanska faced an early break point. But unlike in the 1st set, she held and continued her momentum. In game #3 it was more of the same. A-Rad missed a short shot at the net, pushing it wide. Another double-fault put her down 15/40, but she saved the break points and held for 2-1.

But, at that point, Williams was tired of foolin' around. Where every Radwanska opponent at this Wimbledon had allowed her to keep them down, Serena came out firing even BIGGER shots. In game #4, she opened with an ace. Then another. And another. And another. Four thundering blows to the jaw of The Radwanska and the (still) flat-footed Aga. The score was 2-2, but for all intents and purposes it was all over save for the child-like glee with which Serena would later hold the Venus Rosewater plate.

Williams stepped into a Radwanska serve and broke for 3-2. Two games later, she went up 40/love on A-Rad. Radwanska saved three break points, but a drop shot from Serena put away the fourth attempt for a 5-2 lead. Serving for the championship, her first in twenty-four months, Williams slugged another ace and a service winner to get to 40/15 and double match point. She only needed one point. She didn't end things with the expected ace, but her backhand winner from the baseline more than did the job. With the title secure, Williams fell onto her back and put her hands over her face. After losing just three points on serve in the final set, Serena won 6-1/5-7/6-2.




After the match, Radwanska (or was it PARTLY The Rad?) smoke with a hoarse voice and underlying emotion. They called the fortnight the "best two weeks" of their lives. After putting up a valiant effort against a force even greater than the combination of their own, what was evident from their play in this match was the same thing that we've been forced to learn over the past year: The Radwanska -- and A-Rad -- will live to fight and slay another day.

In the end, Serena's predictability won out over Radwanska's stealthily unpredictable nature. After the worst grand slam of her life, Williams came back and grabbed maybe her most precious... the one that came after she'd questioned whether its like would ever come her way again. When she's questioned, she provides an emphatic answer. When she's counted out, she's in. When it's said that it's over, she says that it has only just begun. Try to push her out the door, and she pushes it open just a little wider. Climbing into the stands to hug her family, friends and team after her win, it was apparent that THIS title will stand out from many of her others, when all is said and done.

Williams' win rekindles her (still) burning link to history. Slam win #14 (goodbye "unlucky" #13) is her fifth Ladies title at SW19. She's the first thirty-plus year old woman to claim a slam since Martina Navratilova won Wimbledon in 1990. Oh, and her efforts served (no pun intended) to cement the already-popular notion that her serve is the best ever in women's tennis, and quite possibly issues a good challenge to that of Pete Sampras' serve when it comes to its ability to thoroughly dominant a grand slam.

After hitting 23 aces in the 3rd Round, then a record 24 in a TWO-set match in the semifinals, Serena had "only" 17 today. It gives her 102 for the tournament, more any any woman OR man, and likely sets a women's slam record that will stand for quite a while. Well, unless Serena breaks it in the not-too-distant future, that is. While Serena will be ranked #4 on Monday, she got wins at this Wimbledon over the current #2 (Azarenka, the new #1), #3 (Radwanska) and #4 (Kvitova), and the #1-but-soon-to-be-#3 Maria Sharapova hasn't beaten Serena in seven and a half years. Oh, and Williams will be heading back to the All-England Club for the Olympics later this month, and the North American hard court season she dominated last summer, too.

While a WTA world with The Radwanska sitting atop it might have been a wild notion to ponder (or fear?), Serena made sure it never got to that point. "Woman of Steel Saves the World" is how the Daily Planet might declare it in Metropolis. But, really, Williams is just "Serena"... she only seems larger than life sometimes because no else who has come this way before has ever been quite like her.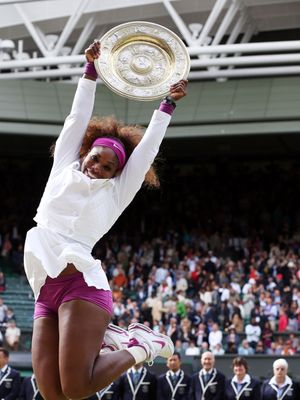 After once resembling a juggernaut of fierceness, Serena now embodies the notion that whatever doesn't kill you makes you stronger. And considering her history, think about THAT for a moment.

Oh, brother... err, I mean Sister.
















=DAY 12 NOTES=




...Williams is the WTA's seventh consecutive different winner of a slam singles crown. By the way, the women's record is nine... from 1937-39.





==RECENT WOMEN'S SLAM WINNERS==


2011 AO: Kim Clijsters, BEL
2011 RG: Li Na, CHN
2011 WI: Petra Kvitova, CZE
2011 US: Samantha Stosur, AUS
2012 AO: Victoria Azarenka, BLR
2012 RG: Maria Sharapova, RUS
2012 WI: Serena Williams, USA

...I don't know if anyone noticed it when Serena climbed into the friends box to hug everyone, but when Venus stood up she revealed that she was rockin' some great-looking black-and-white pants. EleVen strikes again!

...late in the day, under the roof, Serena returned to win the Ladies' Doubles title with Venus, defeating the Czech pair of Andrea Hlavackova & Lucie Hradecka 7-5/6-4 in the final. Venus, completely a nice comeback of her own at this Wimbledon, closed things out with an ace. It's their 13th slam doubles championship as a duo, and their 5th at Wimbledon.

With Serena's earlier singles victory added in, she and Venus are now both in the "5 & 5 Club," having won at least five Wimbledon crowns in both singles and doubles.



=="5 & 5 CLUB"==




[women & men]


Laurence Doherty (5/8)
Billie Jean King (6/10)
Suzanne Lenglen (6/6)
Martina Navratilova (9/7)
William Renshaw (7/5)
Serena Williams (5/5)
Venus Williams (5/5)

...well, Elena Vesnina is one win away from getting the last laugh on Liezel Huber. After two seperate dust-ups with Huber in this season's three slams, the two met on the court again in the Mixed Doubles semifinals. Vesnina & Leander Paes (who's had his own share of controversy lately) defeated Huber & Bob Bryan to reach the final. The pair will now face off with Huber & Bob B.'s partners -- Lisa Raymond & Mike Bryan -- in the final. The winner between Vesnina (looking for her maiden slam win) and Raymond gets the "Doubles Star" honor.

...Eugenie Bouchard did it! With her win over Ukraine's Elina Svitolina in the Girls final, Bouchard became the first Canadian -- girl or boy -- to win a slam junior singles crown. Poor, Filip Peliwo -- being scheduled in the Boys final on SUNDAY meant he didn't get the chance to grab the honor. Oh, well. Being the first Canadian MALE to be a junior slam champ would be pretty good, too.

Actually, Bouchard isn't finished yet. She could sweep the singles AND doubles, as she and Taylor Townsend are in the Girls Doubles final against Belinda Bencic (SUI) & Ana Konjuh (CRO). Townsend, remember, swept both Girls titles in Melbourne earlier this year.

...sorry, Caro. Frederik beat you to it, too.

With Jonathan Marray & Frederik Nielsen's win in today's Gentlemen's Doubles final over Robert Lindstedt & Horacio Tecau, Marray became the first British man to win the Wimbledon Doubles since 1936, and only the second since 1923. Geez, holy hell. Hmmm, are the Tennis Gods screwing with us, considering Andy Murray -- what's a vowel between countrymen? -- will be trying to become the first British men's SINGLES slam winner since '36, as well, on Sunday?

Ah, but Britain has nothing on Denmark. Apparently, though there seems to be some debate about some woman from the 1930's based on what they were saying on ESPN, Nielsen is the first Dane to win a Wimbledon crown of any kind. Kudos to him. I wonder if Caroline will ask for a photo of the trophy to put in her tennis bag? You know, for inspiration.

I wish she would, actually. That'd make me feel a lot better about her, on some strange level.

...and, finally, something odd -- at least in this day and age -- might just come true at this Wimbledon. EVERY major women's, men's and junior title might end up being won (or shared) by a player from an (officially, or essentially so) English-speaking, "old line" tennis nation. Other than Nielsen sharing the men's Doubles, it could be a clean sweep:



Men's Singles:

Murray (GBR) is in the final


Women's Singles:

Serena (USA) won


Men's Doubles:

Marray (GBR) shared title


Women's Doubles:

Venus & Serena (USA/USA) won


Mixed Doubles:

Raymond & Mike Bryan (USA/USA) are in the final


Girls Singles:

Bouchard (CAN) won


Boys Singles:

Saville (AUS) vs. Peliwo (CAN) in the final


Girls Doubles:

Bouchard & Townsend (CAN/USA) are in the final


Boys Doubles:

Harris & Kyrgios (AUS/AUS) are in the final

From what I can tell, it would be the first time that sort of thing has happened since 1984 at Wimbledon (though, it wouldn't be a PURE sweep, as was the case in '84, due to Nielsen's inclusion in the mix). The '84 Winners:



Men's Singles:

John McEnroe (USA)


Women's Singles:

Martina Navratilova (USA)


Men's Doubles:

Peter Fleming/John McEnroe (USA/USA)


Women's Doubles:

Martina Navratilova/Pam Shriver (USA/USA)


Mixed Doubles:

Wendy Turnbull/John Lloyd (AUS/GBR)


Girls Singles:

Mark Kratzmann (AUS)


Boys Singles:

Anabel Croft (GBR)


Girls Doubles:

Caroline Kuhlman/Stephanie Rehe (USA/USA)


Boys Doubles:

Ricky Brown/Robbie Weiss (USA/USA)



Does it mean anything? Probably not. But I just thought it was an interesting factoid.


















*WOMEN'S SINGLES FINAL*




#6 Serena Williams/USA def. #3 Agnieszka Radwanska/POL 6-1/5-7/6-2





*MEN'S SINGLES FINAL*


#3 Roger Federer/SUI vs. #4 Andy Murray/GBR



*WOMEN'S DOUBLES FINAL*




Williams/Williams (USA/USA) def. #6 Hlavackova/Hradecka (CZE/CZE) 7-5/6-4





*MEN'S DOUBLES FINAL*




Marray/Nielsen (GBR/DEN) def. #5 Lindstedt/Tecau (SWE/ROU) 4-6/6-4/7-6/6-7/6-3





*MIXED DOUBLES FINAL*


#4 Vesnina/Paes (RUS/IND) vs. #2 Raymond/M.Bryan (USA/USA)



*GIRLS SINGLES FINAL*




#5 Eugenie Bouchard/CAN def. #3 Elina Svitolina/UKR 6-2/6-2





*BOYS SINGLES FINAL*


#1 Luke Saville/AUS vs. #4 Filip Peliwo/CAN



*GIRLS DOUBLES FINAL*


#1 Bouchard/Townsend (CAN/USA) vs. #7 Bencic/Konjuh (SUI/CRO)



*BOYS DOUBLES FINAL*


#4 Harris/Kyrgios (AUS/AUS) vs. Donati/Licciardi (ITA/ITA)



*WOMEN'S WC DOUBLES FINAL*


#1 Griffioen/Van Koot (NED/NED) vs. Shuker/Whiley (GBR/GBR)



*MEN'S WC DOUBLES FINAL*


#1 Ammerlaan/Vink (NED/NED) vs. Egberink/Jeremiasz (NED/FRA)
















*ALL-TIME SLAM TITLES*


24...Margaret Smith-Court
22...Steffi Graf
19...Helen Wills-Moody
18...Martina Navratilova
18...Chris Evert
14...SERENA WILLIAMS
12...Billie Jean King
12...Suzanne Lenglen



*WOMEN'S SLAM CHAMPS AT AGE 30+*


3...Martina Navratilova (2 at 30, 1 at 33)
3...Margaret Court (2 at 30, 1 at 31)
2...Billie Jean King (30 & 31)
2...Chris Evert (30 & 31)
1...Virginia Wade (31)
1...Ann Haydon Jones (30)
1...SERENA WILLIAMS (3)



*WIMBLEDON FINALS - ACTIVE*


8...Venus Williams (5-3)
7...SERENA WILLIAMS (5-2)
2...Maria Sharapova (1-1)
1...Petra Kvitova (1-0)
1...Marion Bartoli (0-1)
1...AGNIESZKA RADWANSKA (0-1)
1...Vera Zvonareva (0-1)



*WIMBLEDON GIRLS FINALS - since 2002*


2002 Vera Dushevina/RUS def. Maria Sharapova/RUS
2003 Kirsten Flipkens/BEL def. Anna Chakvetadze/RUS
2004 Kateryna Bondarenko/UKR def. Ana Ivanovic/SRB
2005 Agnieszka Radwanska/POL def. Tamira Paszek/AUT
2006 Caroline Wozniacki/DEN def. Magdalena Rybarikova/SVK
2007 Urszula Radwanska/POL def. Madison Brengle/USA
2008 Laura Robson/GBR def. Noppawan Lertcheewakarn/THA
2009 Noppawan Lertcheewakarn/THA def. Kristina Mladenovic/FRA
2010 Kristyna Pliskova/CZE def. Sachie Ishizu/JPN
2011 Ashleigh Barty/AUS def. Irina Khromacheva/RUS
2012 Eugenie Bouchard/CAN def. Elina Svitolina/UKR



*RECENT WIMBLEDON DOUBLES CHAMPIONS*


2008 Serena Williams & Venus Williams, USA/USA
2009 Serena Williams & Venus Williams, USA/USA
2010 Vania King & Yaroslava Shvedova, USA/KAZ
2011 Kveta Peschke & Katarina Srebotnik, CZE/SLO
2012 Serena Williams & Venus Williams, USA/USA
















TOP QUALIFIER:

Sandra Zaniewska/POL




TOP EARLY-ROUND (1r-2r):

#3 Agnieszka Radwanska/POL




TOP MIDDLE-ROUND (3r-QF):

#2 Victoria Azarenka/BLR




TOP LATE-ROUND (SF-F):

#6 Serena Williams/USA




TOP QUALIFYING MATCH:

Q3: #12q Mirjana Lucic/CRO d. #24 Bibiane Schoofs/NED 7-5/6-4




TOP EARLY-RD. MATCH (1r-2r):

1st Rd. - Tamira Paszek/AUT d. #7 Caroline Wozniacki/DEN 5-7/7-6/6-4




TOP MIDDLE-RD. MATCH (3r-QF):

3rd Rd. - #6 Serena Williams/USA def. #25 Zheng Jie/CHN 6-7/6-2/9-7




TOP LATE-RD. MATCH (SF-F/Jr.):

xx


TOP UNDER-THE-ROOF MATCH:

1st Rd. - Tamira Paszek/AUT d. #7 Caroline Wozniacki/DEN 5-7/7-6/6-4




=============================




FIRST WINNER:

Samantha Stosur/AUS (def. C.Suarez-Navarro/ESP)




FIRST SEED OUT:

#16 Flavia Pennetta/ITA (lost to C.Giorgi/ITA




UPSET QUEENS:

United States




REVELATION LADIES:

Netherlands




NATION OF POOR SOULS:

Slovak Republic (1-3 in 1st Rd.; 3 players w/ WTA titles lost)




LAST QUALIFIER STANDING:

Camila Giorgi/ITA (4th Rd.)




LAST WILD CARD STANDING:

Yaroslava Shvedova/KAZ (4th Rd.)




LAST BRIT STANDING:

Heather Watson/GBR (3rd Rd.)




IT (ALTER EGO):

"The Radwanska"




Ms.OPPORTUNITY:

Agnieszka Radwanska/POL




COMEBACK PLAYER:

Mirjana Lucic/CRO (first main draw Wimbledon win since '00; reaches 3rd Rd.; '99 semifinalist)




CRASH & BURN:

#7 Caroline Wozniacki/DEN (lost 1st Rd. to T.Paszek/AUT, worst slam result since debuted at '07 RG)




ZOMBIE QUEEN:

Tamira Paszek/AUT (down 2 MP vs. C.Wozniacki/DEN in 1st Rd.; after down 6-4/4-0 in Eastbourne SF and 5 MP in Eastbourne Final; Y.Wickmayer/BEL served for match in 3rd Rd.)




DOUBLES STAR

Nominees: L.Raymond/USA, E.Vesnina/RUS


JUNIOR BREAKOUT:

Eugenie Bouchard/CAN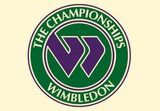 All for Day 12. More tomorrow.