Wk.32- Better Late Than Never... Welcome, Petra
While her participation may be coming "a bit late," it's finally time to welcome Petra Kvitova to the 2012 WTA season.
So...
"Welcome, Petra. Mwah!"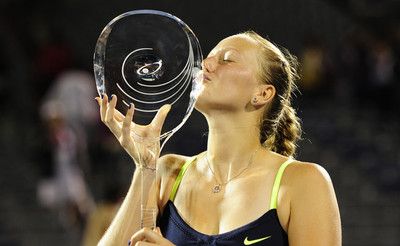 Even with two slam semifinal berths to her credit, Kvitova had spent most of 2012 living just on the outside of the conversation. While three different players have held the #1 position, she wasn't one of them. While three different women have lifted grand slam trophies, and twenty-four claimed tour singles titles, she remained in the shadows.

Until tonight in Montreal, that is.

Even since she won Wimbledon last summer, Kvitova has been an always-intriguing time bomb of a player. Capable of exploding all over an unsuspecting -- though, really, they always know it's possible -- opponent, but also "armed" with a bit of a tendency to see her game *(at least temporarily) implode upon itself in a hail of errors. Since last summer, the Czech's results have been all over the place. She went through a not-unexpected drought immediately after her SW19 triumph, then rebounded to dominate the indoor season in the 4th Quarter and take "Player of the Year" honors. She ended the season winning back-to-back titles (tying her for the tour lead with seven), twelve straight matches and by leading her fellow Czechs to their first Fed Cup crown since 1988, and the Czech Republic to its first ever as an independent nation.

And then the crickets began to chirp in the dead of night. And, boy, have they been chirping for a long time. For nearly ten months, in fact. During that time, Kvitova not only went title-less, but she was also final-less, going 0-4 in semifinal matches while being unable to put away the sort of big points that she'd handled with so much ease during her run to the Wimbledon crown.

Kvitova had begun the year seemingly destined to rise to the #1 ranking. She nearly did, too. One win away from playing for the top ranking in the Sydney final, Kvitova blew a 6-1/3-1 lead against Li Na in the semifinals. In the Australian Open, Stuttgart and Roland Garros semis, the Czech lost to Maria Sharapova (fittingly, the same player she'd handled so efficiently in the SW19 final) while failing to covert twenty-five of thirty break point attempts. Back to defend her Wimbledon title, she lost in the quarterfinals to Serena Williams. Then, getting a once-in-a-lifetime "second chance" at the All-England Club this summer, she was taken out on the grass in the Olympics by Maria Kirilenko when the Russian committed just one unforced error in their entire QF match.

Following the Olympics, Kvitova headed for North America, where the heat and her asthma had failed to mix very well in the past. So it was easy to think that her summer was going to continue to be a very long one. But, as it turned out, it could become the place where she "saves" her season. This past week in Montreal, after very nearly getting run out in straight sets in the 1st Round by Ksenia Pervak, Kvitova pulled out a 4-6/7-6/6-0 victory with an emphatic 3rd set. It seemed to point her in the right direction... and, for the first time since last October, stayed true to it.

Of course, it wasn't "easy." Kvitova had to come back from a set down to take out Caroline Wozniacki in the semifinals, then was forced to turn around another potential spoiler moment being provided by Li in Monday's final. Li held a 3-1 lead in the opening set, and held break point in Game #5 for 4-1 after Kvitova had helped things along with a double-fault. But Kvitova held in the 14-point game, then got a break for a 3-3 lead. She served at 5-3, only to be broken, but got back the advantage with a break of her own in Game #12 to take the 7-5 set after a 16-point game, putting away the 1:02 1st set on her firth set point. After Li claimed the 2nd set, Kvitova got a break for a 4-2 lead in the 3rd and pulled away in the closing moments.

Kvitova's first career North American title is the eighth singles crown of her career, but her first since winning the WTA Championships to close out her 2011 singles campaign. It was a long time coming... but it's better late than never.

And, anyway, as WTA history has often told us, good things often come to Czechs who wait. Finally, Petra's 2012 is over. Whew!



*WEEK 32 CHAMPIONS*
MONTREAL, QUEBEC CAN (Premier $2.168m/HCO)


S:

Petra Kvitova/CZE def. Li Na/CHN 7-5/2-6/6-3


D:

Jans-Ignacik/Mladenovic (POL/FRA) d. Petrova/Srebotnik (RUS/SLO)




PLAYER OF THE WEEK:

Petra Kvitova/CZE


...Petra continues to be a time bomb of a player, but after belatedly jogging her memory about how to close out big matches maybe she'll be able to blow up in more opponents' faces than her own down the stretch, allowing her to massage her 2012 season standing between now and the Czech Republic's attempt to defend the Fed Cup crown in November. Certainly the likes of Ksenia Pervak (a love 3rd set), Marion Bartoli (see below), Tamira Paszek, Caroline Wozniacki and Li Na can attest to the notion that the Kvitova that showed up in Montreal is not the one many players would like to face all too often. Now 8-2 in career tour singles finals, it's finally time to see if Kvitova can put together that nice string of '12 results that we'd been stunned back in January to know she'd still be looking for come late summer.


=============================




RISER:

Aleksandra Wozniak/CAN


...quite simply, this is the time of the season when Wozniak is in her element. Four years ago, she was the surprise winner in Stanford, becoming the first tour singles champ from Canada in over twenty years. After sliding down the rankings a bit in recent seasons, she's made a nice comeback during the '12 season. But, still back home is where she's apt to be most dangerous. In Montreal, Wozniak put together wins over Daniela Hantuchova, Jelena Jankovic and Christina McHale to reach the QF, becoming the first Canadian to reach the Final 8 in the Rogers Cup since Patricia Hy-Boulais back in 1992.


=============================




SURPRISES:

Lucie Safarova/CZE & Klaudia Jans-Ignacik/Kristina Mladenovic (POL/FRA)


...it's because of results like hers in Montreal this past week that pretty much assure that any time Safarova has a good week she's got a shot to be listed in the "Surprise" category, no matter how much she's managed to accomplish -- in off-and-on fashion, as is her wont -- over the years. First off, the Czech got wins over the likes of '11 Rogers Cup runner-up Samantha Stosur and Roberta Vinci to reach the semifinals. Then, once there, she led Li Na 5-1 in the 3rd set. But, dredging up memories of countrywoman Jana Novotna, that was when she collapsed. She dropped the last six games to be drummed out of the tournament, missing out on an all-Czech final against Kvitova. It'd have been the first all-Czech singles final since January 2009, when an 18-year old Kvitova defeated Iveta Benesova in Hobart to claim her first career title. On Sunday, the Rogers Cup crowned its doubles champs. In a surprise, the winners were Klaudia Jans-Ignacik and Kristina Mladenovic, easily claiming the biggest titles of their careers. For Jans-Ignacik, 27, it was her third career doubles crown (second in '12), while 19-year old Mladenovic, in just her second career final (she reached the '11 Copenhagen final with yet another Polish player, Katarzyna Piter), became a tour champion for the very first time.


=============================




VETERANS:

Li Na/CHN & Roberta Vinci/ITA


...in her last tournament before being joined by new coach Carlos Rodriguez in Cincinnati, Li showed that there's still something for LPT's old coach to work with. Notching wins over Eugenie Bouchard, a pair of '12 slam runners-up (Sara Errani & Agnieszka Radwanska), and Lucie Safarova, she reached her third final of the season. But, proving that Rodriguez DOES indeed have some things to work on with Li, the Chinese vet's loss to Kvitova dropped her to 0-3 in those finals. In fact, Li is still missing a follow-up title to her 2011 Roland Garros crown. Meanwhile, amid all the odd exits and absences in Montreal, Vinci's success there was easy to overlook. The Italian reached the quarterfinals, getting wins over Yanina Wickmayer, Ana Ivanovic (a double-bagel!) and usually-super-consistent-result-getter Angelique Kerber.


=============================




COMEBACK:

Caroline Wozniacki/DEN


...last week, just like with her Olympic journey, was another of those "yeah, but" situations for Wozniacki. On the surface, she had a good week, reaching the Montreal semifinals with wins over Kiki Bertens, Varvara Lepchenko and longtime friend Aleksandra Wozniak. But, again, her week ended with her being ridden off the court by a more powerful player (Kvitova). The loss drops the formerly #1-ranked Dane to 4-7 against Top 20 players this season, and 0-5 against Top 10ers (0-6 if you count her previous Hopman Cup loss to Kvitova). By bad (stat) luck of the draw, Wozniacki's win over Serena Williams earlier this season came when the American was ranked #11 (but it's evened out by Caro's 0-2 mark against Angelique Kerber before the German climbed into her current Top 10 ranking). Thing is, she has often put herself into position to win those Top 10 matches. In her five tour losses, she won the opening set four times (and against Kvitova in Perth, she lost a 1st set tie-break). Wozniacki's consistency generally wears down the majority of the players she faces, but against the very best players it's the more aggressive, and especially harder-hitting, games that usually win out in the end. While Wozniacki's gains of recent months have been admirable, so far, it still has not been enough. But maybe boyfriend Rory McIlroy's run to a second major golf title this weekend will end up helping Wozniacki, too. After all, if she can't learn from his climb back into to the winner's circle that by continuing to work hard could get her back some of what she's lost over the last year, then nothing will bring it out of her.


=============================




FRESH FACE:

Annika Beck/GER


...Beck, 18, won the Roland Garros girls crown a few months ago, and has managed to extend her success into the ITF circuit throughout the season. Her latest title, a $25K event in Koksijde, Belgium, was her third (in five challenger finals) of 2012. The German picked up wins over Kristina Kucova, Cristina Dinu and Bibiane Schoofs in the final.


=============================




DOWN:

Agnieszka Radwanska/POL


...A-Rad had a chance to rise to #1 with a title run in Montreal, but she came up far short of that target, losing to Li Na in the 3rd Round, collecting just three total games in the match. She's the #1 seed this week in Cincinnati, but to say her post-Wimbledon form has been wanting would be an understatement. Maybe The Mustafina managed to put a scare into The Radwanska in London?


=============================




ITF PLAYER:

Romina Oprandi/SUI


...after Wimbledon, Oprandi, at a $100K event in Biarritz, won her first event since beginning to represent Switzerland. Last week, she picked up her second, a $50K challenger in the Bronx. She defeated Allie Will, ChiChi Scholl, Tatjana Malek, and Anna Chakvetadze in the final.


=============================




JUNIOR STAR:

Victoria Duval/USA


...the 16-year old Bannerette won the USTA National Championship title and will get a wild card into the main draw of the U.S. Open. As the #17 seed, Duval, a Girls quarterfinalist at last year's Open, defeated #3 Allie Kiick in the final, 3-6/6-1/6-0. Kiick will get a wild card entry into next week's Open qualifying rounds.


=============================






1. Montreal SF - Li d. Safarova
...3-6/6-3/7-5. Safarova is just as likely to overcome a 5-1 deficit as she is to lose one. The Czech did the latter against Li in the 3rd set here. Come to think of it, that first sentence could apply to Li, too.


=============================


2. Cincinnati 1st Rd. - Peng d. Jankovic
...5-7/7-5/7-6(8). This was one of the sort of JJ losses where you want to ram your head into a wall. So imagine how she feels. Jankovic served for the match at 7-5/5-4, only to play a horrid game that included two double faults and a break of serve at love. After Peng came back to take the 2nd, the two played into a 3rd set tie-break. There, once again, JJ was in position to win, going up 6-3, with back-to-back points on serve. Naturally, she lost them, along with three other match points in the breaker. Two points after Jankovic lost her fifth MP, Peng had her first. She only needed one, winning the tie-break 10-8. This is the fifth match this season that JJ has lost after holding match point. The Fed Cup final can't get here fast enough... or can it?


=============================


3. Montreal SF - Kvitova d. Wozniacki
...3-6/6-2/6-3. Sure, Petra eventually put the hammer down on the Dane as the match progressed. But this one DID take place while Rory McIlroy was busy winning the PGA Championship. Might Caro have been trying to get back into the locker room as quickly as possible so that she could watch?


=============================


4. Montreal Final - Kvitova d. Li
...7-5/2-6/6-3. So many of the final stats showed how close this one was. Kvitova and Li were deadlocked in 1st serve percentage (65%-65%), aces (3-3), unforced errors (43-43) and breaks of serve (Kvitova 4-of-12 on BP attempts, and Li 4-of-10).


=============================


5. Montreal 2nd Rd - Paszek d. Azarenka
...3-3 ret. Azarenka had a post-Olympic 1st Round bye, then a late-week opening match. After it was suspended after six games and its conclusion pushed back yet another day, Vika withdrew with a knee injury. Sure, it might have caused the also absent (but from the start, not mid-tournament) Maria Sharapova to roll her eyes when she heard the news, but it's wise to expect this sort of thing (as we saw all over both the littered-with-walkovers-or-"weird"-upsets men's and women's draws at last week's Rogers Cup events) when a "high-level" tournament is scheduled to begin just days after the Olympics, and a few weeks before the U.S. Open.


=============================


6. Montreal 3rd Rd. - Kvitova d. Bartoli
...6-1/6-1. Said Bartoli, "Her performance today was extraordinary,", adding, "When she plays like that she makes it very hard for her opponent to compete."


=============================


7. Montreal 2nd Rd. - Vinci d. Ivanovic
...6-0/6-0. AnaIvo must have had a REALLY good time in London.


=============================


8. Montreal 1st Rd. - Karatantcheva d. Cirstea
...6-0/6-0. And Cirstea wasn't even in London!


=============================


9. Montreal Doubles SF - Petrova/Srebotnik d. Huber/Raymond
...6-4/6-4. Huber & Raymond's disappointing summer continues. They were Rogers Cup champs in 2011.


=============================


10. Cincinnati Q1 - Daniilidou d. Vandeweghe
...6-3/7-6. Coco's ranking is into the Top 75, but, counting her loss to Serena, she's just 2-4 since reaching the Stanford final as a Lucky Loser. Since this match, the resurgent Daniilidou has put up additional wins over Kateryna Bondarenko and Vania King.


=============================






1. Montreal QF - Li d. A.Radwanska
...6-2/6-1. Aga just wasn't losing matches by scores like this during the first half of the season. And not to anyone not named Vika, either.


=============================


2. Cincinnati Q2 - U.Radwanska d. Robson
...6-3/6-2. One final London melon is sacrificed before it rots.


=============================


3. $50K Bronx Doubles 1st Rd. - #1 Ka.Pliskova/Kr.Pliskova d. T.Hladlikova/ChiChi Scholl
...6-3/3-6/10-4. As one Scholl sister loses to a #1-seeded doubles team on the U.S. East Coast...


=============================


HM- USTA Nat'l Jr. Chsp (San Diego) - Chalena Scholl d. #1 Krista Hardebeck
...2-6/6-0/6-1. The other (younger) Scholl sibling takes out a #1-seed on the West Coast.


=============================








**WTA TITLES - LAST THREE SEASONS**


12...Caroline Wozniacki, DEN
9...Victoria Azarenka, BLR
9...Serena Williams, USA
7...Maria Sharapova, RUS
7...PETRA KVITOVA, CZE
6...Agnieszka Radwanska, POL
6...Kim Clijsters, BEL



**WOZNIACKI vs. TOP 10ers in 2012**


Hopman Cup (exhibition) - lost to #2 Petra Kvitova 6-7/6-3/4-6
Sydney - lost to #8 Agnieszka Radwanska 6-3/5-7/2-6
Miami - lost to #2 Maria Sharapova 6-4/2-6/4-6
Madrid - lost to #9 Serena Williams 6-1/3-6/2-6
Olympics - lost to #4 Serena Williams 0-6/3-6
Montreal - lost to #6 Petra Kvitova 6-3/2-6/3-6
--
NOTE: def. current #4 S.Williams in Miami when Williams was ranked #11; lost twice to current #7 Kerber (Copenhagen & Stuttgart) when Kerber was #15 & #14, respectively





CINCINNATI, OHIO USA (Premier $2.168m/hard outdoor)
11 Final: Sharapova d. Jankovic
11 Doubles Champions: King/Shvedova
12 Top Seeds: A.Radwanska/S.Williams
=============================


=SF=


#3 Stosur d. #8 Bartoli
#2 S.Williams d. #4 Kvitova


=FINAL=


#2 S.Williams d. #3 Stosur

...until developments change the course of things, it seems kind of silly to look in any other direction, don't you think?


All for now.







THIS WEEK:

The MVP List, Pt.4