Roland Garros Preview: The Arc of Her Triumphs?

Serena Williams' annual springtime trips to Paris tend to play out like a country/western song, minus the part about her dog passing away. She loves the city. But you know that part of her hates it, as well.
Eleven years ago, she was the queen of the terre battue, but never once since.
And she wants her crown back.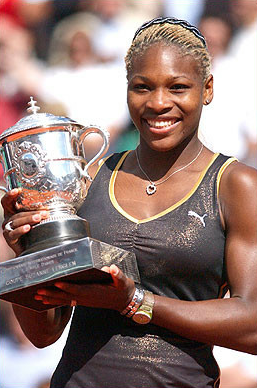 Has it really been as long ago as 2002 that Serena lifted her one and only Coupe Suzanne Lenglen? Amazingly, yes. Of course, looking at her then, much has changed. And not just the hair color, either. Back then, at just 20, she still hadn't surpassed her sister as the dominant force in the women's game. In fact, it'd been over two years since her one and only slam title, and her win in Paris was just the first leg of her four-part "Serena Slam" run. Now, back at #1 at 31 and dominating like she hasn't since that 2002-03 stretch, she's mindfully playing for history, and playing more thoughtfully, consistently and, for that matter, just plain more often than she used to. Her current 24-match win streak is the longest of her career, which in a era in which she's often dominated is even more surprising than the fact that she still hasn't found a fitting bookend for her first Lenglen Cup replica.

Back then, Serena powered through her opponents on the court. Oh, she can still do that. But she outmaneuvers and sometimes out-thinks them now, too. Of course, that big ol' serve helps, and so does the fact she can still get at least one set off a player -- even Sharapova -- in the tunnel leading to the court, just based on the aroma of her aura emanating from her pours before a big match. A week ago on the clay in Rome, Williams resembled a female version of Rafa Nadal on the dirt, turning defense into offense and making opponents hit four winners in a point to be awarded with one.

That. Is. Not. A. Good. Thing. For. The. Rest. Of. The. Field. In. Paris.

Especially not one year after her stunning come-from-ahead loss to Virginie Razzano -- the only opening match defeat in her slam career -- pretty much set up this year's Roland Garros as THE target for slam success for Serena. And she very rarely needs a second attempt when she's focused on such a goal.

Oh, sure. There will be other players there to challenge her in Paris. But if they're named Maria or Vika, the only other women to lift slam crowns who weren't named Serena at the last five majors, one doubts that Williams be in anything other than TOP form in what would be the Women's final. No, her biggest obstacle will come before the final Saturday. Namely, Serena's seemingly unending streak of "it's always something" that has prevented her from ultimate Parisian success, with the biggest crazy-assed example being her only 1st Round slam loss in what is now fifty total such matches last year against Razzano.

But Serena's luck will eventually turn, and it's a pretty fair bet that it'll happen at this Roland Garros. If not, someone else is about to get very, very lucky.

Since I don't want to say too much, lest The Radwanska hear and get some big ideas, I guess I'd better do a quick overview of the draw, quarter-by-quarter, while I still have time:



=SERENA QUARTER=




*POWER RANKINGS*


1.

Serena Williams, USA...

the #1 player. Quite possibly the G.O.A.T. (the latest to weigh in, of course, was Miss Twitter -- but that was after she'd called her a "phoney," so take it with a big ol' grain of sea salt). But not a champion at Roland Garros since 2002. The Wave, The Razzano... it's always been something in Paris that has kept Williams out of the winner's circle and lifting the Coupe Suzanne Lenglen. But with a 33-1 clay record the last two seasons, and coming to Paris undefeated on the surface for the second straight spring, this time with wins in clay finals over both Sharapova and Azarenka, Serena would seem to be the proverbial freight train ready to run roughshod over everyone on the terre battue, right? Right?
2.

Anastasia Pavlyuchenkova/RUS or Roberta Vinci/ITA...

Pavlyuchenkova has won two titles in recent months, but her results still swing from incredibly encouraging to "what-the-hell-just-happened?" on a weekly basis. Clay IS her favorite surface, though, and she nearly made the semis in Paris two years ago. It was an Italian that stopped her then, and it could be again, as Vinci may be standing there waiting to take the sting out of the Russian's latest attempt at a slam breakthrough in the 3rd Round. Serena would likely await the winner in the Round of 16... but that's never a given with Serena in Paris.
3.

Svetlana Kuznetsova/RUS or Ekaterina Makarova/RUS...

the winner of their 1st Round all-Hordette battle will essentially become the wild card of the quarter. Ekaterina can beat anyone (including Serena, as she did in Melbourne last year), but so can Sveta. Including herself.
4.

Angelique Kerber, GER...

she's a workhorse, but seems to end up plowing the field at the end of the day rather than relaxing in the shade of the barn with a big trophy by her side. The German might outlast everyone in the quarter but Serena, but it's hard to pick her as a potential champ. Hence, the #4 spot (or #6, depending on how you count things up) on this list.


THE BRACKET BUSTER:

Varvara Lepchenko, USA... nearly stole a match from eventual Brussels champ Kanepi a few days ago, and capable of a big upset. Say, maybe, #8 seed Kerber in the 3rd Round?


THE WILD CARD:

Svetlana Kuznetsova, RUS... because she is who she is, she's always a dark horse to win the whole thing. Or go out in the 1st Round.


DON'T COUNT HER CHICKENS:

Caroline Wozniacki, DEN... she's lost five straight matches, has announced that Piotr will soon no longer be her coach (he'll be replaced -- cough, cough -- "permanently" by some, let's just say it again, "mystery coach to be named later"). She's lost in the 1st Round of two of the last three slams... who wants to bet on her making it three of four?


THE POOR SOUL:

Anna Tatishvili, GEO... blame Virginie! After Serena's once-in-a-lifetime 1st Round slam loss to the Pastry last year, Anna should simply cover her head and hope for the best. Maybe she should just wear a helmet to protect herself from the probable holy hell about to be brought down on her by Mademoiselle Williams.


=In the End...=


Serena. Plain and simple. Unless something happens. Which it often does in the City of Light.



=RADWANSKA QUARTER=




*POWER RANKINGS*


1.

Sara Errani, ITA...

the Italian was a surprise finalist a year ago, but it wouldn't be a shock if she returned to the final Saturday this time around. Well, unless she defeated Serena to get there. That's not likely, and both would have to the reach the semis for that to come about, anyway. If something happens to Serena in Paris, Errani will be right there to pick up the pieces.
2.

Nadia Petrova/RUS or Carla Suarez-Navarro/ESP...

CSN is a whiz on clay, while Nadia CAN be a whiz on any surface. Except for when she's a complete disater, that is. They should meet in the 3rd Round to figure out which it'll be.
3.

Ana Ivanovic, SRB...

she's been threatening to become relevant again, so why not make it official at the place where she had her biggest win in 2008? Fact is, this is the best chance -- draw-wise and reality-wise -- she's had at a slam in quite a while.
4.

Agnieszka Radwanska, POL...

A-Rad is the top seed here, but her play has been bad lately, and she's suffering from that shoulder injury that's been lingering for over a year. Plus, she's got her Wimbledon final to defend in a month, so she'll be cautious. Hard to see her lasting TOO long. But The Radwanska does have Its ways of bending time and space, so who knows?


THE BRACKET BUSTER:

Venus Williams, USA... there IS opportunity there, including the chance to knock off BOTH Radwanskas in the first three rounds, but unlike her sister, Venus has NEVER won in Paris. It won't happen in 2013, either, but she could leave a mini-trail of Radwanskian victims.


THE WILD CARD:

(literally) Virginie Razzano, FRA... a year ago, she famously upset Serena in the 1st Round. A wild card, she faces a fellow Pasty WC (Feuerstein) in the 1st Round, and could get shots at seeds Julia Goerges and AnaIvo in the first week. The crowd will pick her up, so don't count her out.


DON'T COUNT HER CHICKENS:

Agnieszka Radwanska, POL... I hope I don't get a "gift" of a melon at my front door tomorrow morning for this.


THE POOR SOUL:

???... just so long as it's not me!


=In the End...=


E-R-R-A-N-I. (Unless The Rad is cranky... and we know that's always possible, even with Aga with one shoulder tied behind her back.)



=THE VIKA QUARTER=




*POWER RANKINGS*


1.

Victoria Azarenka, BLR...

it's not her best surface, but she looked pretty good (eventually) in Rome. She's never gone past the QF in Paris, and might not again if Li Na is in second week form after a hit-and-miss season since her Melbourne final run. She's got a potentially very tough 1st Round match-up with fiery Russian Elena Vesnina.
2.

Li Na, CHN...

Carlos Rodriguez knows something about having a player peak in the second week of a slam, and former charge La Petit Taureau KIND OF liked Paris a "little," as well. But this is an interesting and potentially pothole-filled quarter, and Li's going to have to be on -- even in the 1st Round against never-a-good-bet-in-a-slam-no-matter-how-exemplary-her-career-has-otherwise-been AMG -- from Day 1 to traverse the course.
3.

Kaia Kanepi, EST...

the Estonian once again flashed her talent, as well as her propensity to make things WAY tougher on herself than they need to be, en route to the Brussels title. In a perfect world, she'd be a dark horse to challenge the "bigs" in this quarter, including Kirilenko (3rd Rd.), Li (4th) and Vika (QF). But then you remember that QF in London against Kvitova a few years ago. Kanepi, when she's been healthy, has bounced back well since then, and is in far better shape than she used to be. But she'll always be a blown lead waiting to happen.
4.

Hmmm, ummm, Francesca Schiavone???...

I said this was an interesting quarter, didn't I? So much so that '10 champ Schiavone, who could ALWAYS be at her last Roland Garros whenever she shows up in Paris these days, has a small opening for creating a little of her old magic here, as well. Unseeded, she could get countrywoman (and also unseeded) Flavia Pennetta in the 2nd Round, and maybe Marion Bartoli (though not likely) after that before a possible meeting with Vika. If she can get some momentum, this is the one slam where she could still pull off a shocker even more mind-blowing that what she did in Paris a three years ago.


THE BRACKET BUSTER:

Lucie Hradecka, CZE... just off a final run in Strasbourg, the (mostly doubles-playing) Czech isn't a threat in a singles final, but her serve can take down anybody on a good day.


THE WILD CARD:

Yaroslava Shvedova, KAZ... she's reached the RG quarterfinals two of the last three years, but had a 1st Round exit sandwiched in between. She might face Li in the 3rd Round.


DON'T COUNT HER CHICKENS:

Marion Bartoli, FRA... maybe Jana Novotna's coaching methods will pay off at Wimbledon, traditionally the best slam for both professor AND pupil.


THE POOR SOUL:

Anabel Medina-Garrigues, ESP... come on, it's a slam. So we know she won't reach the QF, and most likely won't get to the 2nd Round, either. She's still joined-at-the-hip in WTA history with Anna Smashnova as the only players with ten tour singles titles and zero slam quarterfinals. She faces Li in the 1st Round.


=In the End...=


Vika is poised for possibly her best Roland Garros run ever, but if The Force of LPT was strong Down Under for Li, just imagine what it might be able to help her accomplish in Paris.



=SHARAPOVA QUARTER=




*POWER RANKINGS*


1.

Maria Sharapova, RUS...

the defending champ has a really good draw. Oh, she might have to "unfollow" Sloane if they meet in the Round of 16, but after that the only thing keeping her from winning this quarter would be just ONE of the trio of potential spoilers named Kvitova, Jankovic and Stosur. And whoever survives that section of the draw probably won't be fit any longer to put up much of a fight against Maria. Ah, more time to promote Sugarpova!
2.

Samantha Stosur, AUS...

really, only because she's had such success in Paris before. Still, even she has to know that she's got a shot at SOMETHING here because her pre-Maria section of the draw includes not just her, but even-more-potentially-flighty contenders like Kvitova, Jankovic, Peng, Safarova and Hantuchova. She couldn't ask for a better sure-I'm-a-head-case-but-what-about-them? springboard than that.
3.

Dominika Cibulkova, SVK...

she made the QF in Paris last year, and the SF in '09. But she's often been something of a basket case since The Rad took her to the tool shed and gave her the "what-fer" back in January. She might have to beat Stephens and Sharapova back-to-back to reach the second week.
4.

One of Them...

JJ, Kvitova, Sloane. Who knows which version of any of them might show up on a day-by-day, match-by-match, point-by-point basis. On good days, they're threats. On others, not so much. One of them might reach of the QF, though.


THE BRACKET BUSTER:

Tsvetana Pironkova, BUL... "bracket buster" is sort of her middle name. Even though this isn't Wimbledon, the Bulgarian has a history of slam upsets. She might face Sharapova in the 2nd Round. Hmmm.


THE WILD CARD:

Petra Kvitova, CZE... she reached the semis last year, losing to Sharapova. If she can sustain some good play, she could get a QF rematch with the candy seller. It's probably not likely, though.


DON'T COUNT HER CHICKENS:

Maria Sharapova, RUS... you know she's eyeing the other side of the draw and sticking pins in her Serena doll already. Or maybe force-feeding it gummy candies until it explodes.


THE POOR SOUL:

Petra Kvitova/CZE or Aravane Rezai/FRA...the loser of their 1st Round encounter will be left to ponder, "What went wrong?" At least they'll still be in Paris.


=In the End...=


Maria should get her shot to defend this title. But it'll be a pretty faint one if things go according to form in the top half.













=QUALIFYING ROUNDS=




TOP PLAYER:

Anna Schmiedlova, SVK


...the '12 RG Girls runner-up (and Backspin "Junior Breakout" winner in Paris a year ago), Schmiedlova became the youngest qualifier with victories over #15-seed Julia Cohen, Kurumi Nara and Alla Kudryavtseva.


RISERS:

Paula Ormaechea/ARG & Mariana Duque-Marino, COL


...the race for South American supremacy is on, as both the #1 and #3-ranked players from the continent made it through qualifying.


SURPRISES:

Dinah Pfizenmaier/GER & Julia Glushko/ISR


...consistent ITF challenger performers, both are making just their second slam main draw appearances. Pfizenmaier qualified for RG last year, as well.


VETERANS:

Galina Voskoboeva/KAZ & Yuliya Beygelzimer/UKR


...Voskoboeva becomes the latest Kazakh to qualify for a slam (Sesil didn't make it this time), while Beygelzimer took out South American #2 Teliana Pereira.


COMEBACKS:

Barbora Zahlavova-Strycova/CZE & Vania King/USA


...BZS is already making much headway since returning from her doping-related suspension, while King is still trying to show why she's STILL got more career titles than the reigning Miss Twitter.


FRESH FACE:

Grace Min, USA


...the 2011 U.S. Open Girls champ can get it done on red clay, too.


SISTERS & SISTERS-IN-LAW:

Zuzana Kucova/SVK & Sandra Zahlavova/CZE


...30-year old Zuzana, sister of Kristina, is the oldest qualifier, while Sandra, sister-in-law of fellow qualifier Barbora, joins her in the main draw.


DOWN:

Estrella Cabeza-Candela, ESP


...the #1 seed. A Spaniard. On red clay. But she lost in the first round of qualifying. Not good.


OTHER QUALIFIERS:

none




WILD CARDS:

Ashleigh Barty/AUS, Claire Feuerstein/FRA, Stephanie Foretz-Gacon/FRA, Caroline Garcia/FRA, Irena Pavlovic/FRA, Virginie Razzano/FRA, Aravane Rezai/FRA, Shelby Rogers/USA


LUCKY LOSER:

none so far



=QUALIFYING MATCHES=




Q1:

Andreea Mitu/ROU d. #1 Estrella Cabeza-Candela/ESP 6-3/6-3


...and yet, of course, no Swarmette made it through to the main draw.


Q2:

Zhou Yi-Miao/CHN d. #23 Andrea Petkovic/GER


...the road back isn't easy.


Q2:

#24 Barbora Zahlavova-Strycova/CZE d. Alexandra Panova/RUS 1-6/7-5/10-8
Zuzana Kucova/SVK d. #12 Jessica Pegula/USA 3-6/6-2/8-6
...hard work paid off rather nicely for the qualifying Czech and Slovak.






1st Rounds Aren't Made for Sisters:

Q1 - Kurumi Nara/JPN d. Erika Sema/JPN, Dinah Pfizenmaier/GER d. Chiara Scholl/USA, Vania King/USA d. Lyudmyla Kichenok/UKR, Grace Min/USA d. Varatchaya Wongteanchai/THA, Vera Dushevina/RUS d. Yurika Sema/JPN, Andrea Petkovic/GER d. Nadiya Kichenok/UKR


...apparently.


The Rodionova:

Q3 - Julia Glushko/ISR d. Anastasia Rodionova/AUS




The Sole Sister Survivor:

Q3 - Zuzana Kucova/SVK d. Irina Falconi/USA


...of course, if both Radwanskas go out in the 1st Round at RG this week (which IS possible), all sisters -- excluding maybe those of the Williams variety, but even they might not be immune... it is Paris, after all -- would be advised to run for cover.



*RG "Q-PLAYER OF THE WEEK" WINNERS*


2006 Julia Vakulenko/UKR
2007 Timea Bacsinszky/SUI & Ioana-Raluca Olaru/ROU
2008 Maria Jose Martinez-Sanchez/ESP & Yanina Wickmayer/BEL
2009 Yaroslava Shvedova/KAZ
2010 Kaia Kanepi/EST
2011 Sloane Stephens/USA
2012 Kiki Bertens/NED
2013 Anna Schmiedlova/SVK



*SLAM QUALIFYING/WILD CARDS*




=OLDEST=


WC: Stephanie Foretz-Gacon (32), Virginie Razzano (30)
Q: Zuzana Kucova (30), Yuliya Beygelzimer (29)


=YOUNGEST=


WC: Ashleigh Barty (17), Caroline Garcia (19)
Q: Anna Schmiedlova (18), Grace Min (19)


=CONSECUTIVE SLAM '13 QUALIFYING RUNS=


none


=CONSECUTIVE RG QUALIFYING RUNS=


2...Dinah Pfizenmaier, GER (2012-13)


=CONSECUTIVE SLAM WILD CARDS=


2...Ashleigh Barty, AUS ('13 AO/'13 RG) - WC at 5 of last 6 slams
2...Caroline Garcia, FRA ('13 AO/'13 RG)


=CONSECUTIVE RG WILD CARDS=


3...Caroline Garcia, FRA (2011-13)
2...Ashleigh Barty, AUS (2012-13)
2...Claire Feuerstein, FRA (2012-13)
2...Aravane Rezai, FRA (2012-13)













**ROLAND GARROS #1 SEEDS SINCE 2003**


2003 Serena Williams (SF)
2004 Justine Henin-Hardenne (2nd Rd.)
2005 Lindsay Davenport (QF)
2006 Amelie Mauresmo (4th Rd.)
2007 Justine Henin (W)
2008 Maria Sharapova (4th Rd.)
2009 Dinara Safina (RU)
2010 Serena Williams (QF)
2011 Caroline Wozniacki (3rd Rd.)
2012 Victoria Azarenka (4th Rd.)
2013 Serena Williams



*RECENT RG SEMIFINALISTS*


2006: Henin-Hardenne (W) - Kuznetsova (RU) - Clijsters/Vaidisova
2007: Henin (W) - Ivanovic (RU) - Jankovic/Sharapova
2008: Ivanovic (W) - Safina (RU) - Jankovic/Kuznetsova
2009: Kuznetsova (W) - Safina (RU) - Stosur/Cibulkova
2010: Schiavone (W) - Stosur (RU) - Dementieva/Jankovic
2011: Li (W) - Schiavone (RU) - Bartoli/Sharapova
2012: Sharapova (W) - Errani (RU) - Kvitova/Stosur



**LOW-SEEDED RG SEMIFINALISTS - since 2000**


unseeded...Clarisa Fernandez, 2002
unseeded...Nadia Petrova, 2003
#30...Samantha Stosur, 2009
#21...Mary Pierce, 2005 (W)
#20...Dominika Cibulkova, 2009
#17...Francesca Schiavone, 2010 (W)
#16...Elena Likhovtseva, 2005
#16...Nicole Vaidisova, 2006
#14...Paola Suarez, 2004
#14...Justine Henin, 2001
#13...Dinara Safina, 2008
#12...Kim Clijsters, 2001
#11...Marion Bartoli, 2011
#10...Justine Henin, 2005 (W)



*ROLAND GARROS GIRLS FINALS - since 1998*


1998 Nadia Petrova/RUS def. Jelena Dokic/AUS
1999 Lourdes Dominguez-Lino/ESP def. Stephanie Foretz/FRA
2000 Virginie Razzano/FRA def. Maria-Emilia Salerni/ARG
2001 Kaia Kanepi/EST def. Svetlana Kuznetsova/RUS
2002 Angelique Widjaja/INA def. Ashley Harkleroad/USA
2003 Anna-Lena Groenefeld/GER def. Vera Dushevina/RUS
2004 Sesil Karatantcheva/BUL def. Madalina Gojnea/ROU
2005 Agnes Szavay/HUN def. Ioana-Raluca Olaru/ROU
2006 Agnieszka Radwanska/POL def. Anastasia Pavlyuchenkova/RUS
2007 Alize Cornet/FRA def. Mariana Duque-Marino/COL
2008 Simona Halep/ROU def. Elena Bogdan/ROU
2009 Kristina Mladenovic/FRA def. Daria Gavrilova/RUS
2010 Elina Svitolina/UKR def. Ons Jabeur/TUN
2011 Ons Jabeur/TUN def. Monica Puig/PUR
2012 Annika Beck/GER def. Anna Schmiedlova/SVK



**FIRST-TIME SLAM CHAMPS AT ROLAND GARROS**




[Open Era]


1971 Evonne Goolagong, AUS
1974 Chris Evert, USA
1976 Sue Barker, GBR
1977 Mima Jausovec, SLO
1978 Virginia Ruzici, ROU
1987 Steffi Graf, GER
1989 Arantxa Sanchez, ESP
1990 Monica Seles, YUG
1997 Iva Majoli, CRO
2003 Justine Henin, BEL
2004 Anastasia Myskina, RUS
2008 Ana Ivanovic, SRB
2010 Francesca Schiavone, ITA
2011 Li Na, CHN
--
NOTE: Ann Haydon-Jones won first career slam at '61 Roland Garros, before Open era began in '68



*RUSSIAN RG SEMIFINALISTS, since 2003*


2003 Nadia Petrova
2004 Elena Dementieva (RU), Anastasia Myskina (W)
2005 Elena Likhovtseva, Nadia Petrova
2006 Svetlana Kuznetsova (RU)
2007 Maria Sharapova
2008 Svetlana Kuznetsova, Dinara Safina (RU)
2009 Svetlana Kuznetsova (W), Dinara Safina (RU)
2010 Elena Dementieva
2011 Maria Sharapova
2013 Maria Sharapova (W)



**RECENT WOMEN'S SLAM WINNERS**


2012 AO: Victoria Azarenka, BLR
2012 RG: Maria Sharapova, RUS
2012 WI: Serena Williams, USA
2012 US: Serena Williams, USA
2013 AO: Victoria Azarenka, BLR



*TWO-OR-MORE TITLES AT ALL 4 SLAMS - W/M*




[AO-RG-WI-US, years]


Margaret Smith Court [11-5-3-5, 1960-73]
Roy Emerson [6-2-2-2, 1961-67]
Chris Evert [2-7-3-6, 1974-86]
Steffi Graf [4-6-7-5, 1987-99]
Rod Laver [3-2-4-2, 1960-69]
Martina Navratilova [3-2-9-4, 1978-90]
--
ACTIVE, NEED 2nd RG TITLE: Roger Federer [4-1-7-5, 2003-12], Serena Williams [5-1-5-4, 1999-12]



=ALL-TIME RG MATCH WINS - MEN=


56...Guillermo Vilas
54...ROGER FEDERER
53...Ivan Lendl
52...RAFAEL NADAL
51...Andre Agassi
49...Bjorn Borg













=ROUND OF 16 PREDICTIONS=


#1 S.Williams d. #15 Vinci
#8 Kerber d. (Q) Zahlavova-Strycova
#14 Ivanovic d. #4 A.Radwanska
#5 Errani d. #20 Suarez-Navarro
#6 Li d. Kanepi
#3 Azarenka d. Schiavone
#9 Stosur d. #7 Kvitova
#2 Sharapova d. #17 Stephens



=QUARTERFINAL PREDICTIONS=


#1 S.Williams d. #8 Kerber
#5 Errani d. #14 Ivanovic
#3 Azarenka d. #6 Li
#2 Sharapova d. #9 Stosur



=SEMIFINAL PREDICTIONS=


#1 S.Williams d. #5 Errani
#2 Sharapova d. #3 Azarenka



=FINAL PREDICTION=


#1 S.Williams d. #2 Sharapova

...if she gets there, she'll win. But Serena managing to survive the journey to the final in Paris is always the most difficult task of all.

Carl & Carla will weigh in with their opinions soon in Bare Bones Backspin!



*MEN*




=ROUND OF 16 PREDICTIONS=


#1 Djokovic d. #16 Kohlschreiber
#12 Haas d. Andujar
#3 Nadal d. #13 Nishikori
#8 Wawrinka d. #7 Gasquet
#5 Berdych d. #11 Almagro
#4 Ferrer d. #14 Raonic
Nieminen d. #17 Monaco
#2 Federer d. #15 Simon



=QUARTERFINAL PREDICTIONS=


#1 Djokovic d. #12 Haas
#3 Nadal d. #8 Wawrinka
#5 Berdych d. #4 Ferrer
#2 Federer d. Nieminen



=SEMIFINAL PREDICTIONS=


#3 Nadal d. #1 Djokovic
#5 Berdych d. #2 Federer



=FINAL PREDICTION=


#3 Nadal d. #5 Berdych

...anything else would just be a blatant attempt to be different, you know?





All for now. Day 1 -- and the Daily Backspin -- awaits. Bare Bones Backspin for Week 21, too.