Wk.32- Not Bad, eh?
It was a somewhat familiar-feeling week on the WTA tour.


Serena Willams played, and won. Hardly a headline-grabber, I know.

Thus, the bigger stories last week in Toronto inevitably turned out to include a minor controversy about the tournament importing former men's stars (hello, Mr. Pistol Pete) and current ATP players recently ejected from the event in Montreal to come, travel expenses paid and additional money included, play night exhibition matches in order to boost the attendance/financial figures at the less-well attended Rogers Cup tournament there. A sound business decision? Yeah, probably. But one would think that a women's tour with a female CEO might at least attempt to work out a way to boost the numbers that, you know, didn't sort of make the WTA look small and inconsequential in the process. But this is the WTA tour in the Stacey Allaster era, so common sense rarely is front of mind when knee-jerk reactions are way easier.

"Grunt-o-Meter," anyone?

Meanwhile, ESPN focused all week on unexpected finalist Sorana Cirstea's great coaching. Hmm, could it have had anything to do with the fact that her adidas coaching program on-court handler for this week was Darren Cahill, who ALSO works for ESPN? Let me see... I wonder. That said, Cahill's exchanges with Cirstea WERE some of the more interesting, entertaining and effective that we've seen and heard since the advent of the miked sideline conversations a few seasons ago. Good thing... or ESPN might be accused of tooting its own horn or something. And it never does that.

Toot-toot.

Of course, in the end, Serena reminded everyone why we pay attention, even when we're a little distracted. She never lost a set, and rarely looked in trouble, even when she wasn't exactly feeling up to par. By the time the day was over on Sunday, after a rather nice post-match ceremony where Cirstea likely picked up a few additional fans (and she already was graced with a Romanian-heavy contingent in Toronto this week), Serena even played the role of comforter and all-around morale-booster.



See, when all is said and done, even with everything else going on, Serena ends up leaving the lasting, and final, impression. She just has that knack.



*WEEK 32 CHAMPIONS*
TORONTO, ONTARIO CAN (Premier $2.216m/HCO)
S:

Serena Williams/USA def. Sorana Cirstea/ROU 6-2/6-0


D:

Jankovic/Srebotnik (SRB/SLO) d. Groenefeld/Peschke (GER/CZE)
SUZHOU, CHINA (WTA $125K Challenger/HCO)
S:

Shahar Peer/ISR def. Zheng Saisai/CHN 6-2/2-6/6-3


D:

Babos/Krajicek (HUN/NED) d. X-Y.Han/Hozumi (CHN/JPN)

PLAYER OF THE WEEK:
Serena Williams/USA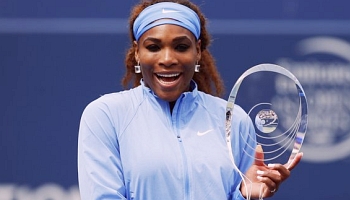 ...once more, Serena wins a title without dropping a set (the closest she came was a tight affair against Agnieszka Radwanska in the semis, when Williams played through "gastrointestinal issues"). Additional wins over Francesca Schiavone, Kirsten Flipkens, Magdalena Rybarikova and Sorana Cirstea in the gives her her third Rogers Cup crown (2001, '11 and '13 -- all in Toronto), and 54th career title (moving her past Monica Seles on the all-time WTA list) in seventy singles final appearances. Williams now has eight titles this season, tying her career-best single season total (2002).


=============================




RISER:

Sorana Cirstea/ROU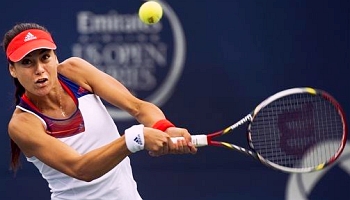 ...one of the first "Swarmettes," and the first of the group to grab a tour title in 2008 at age 18 (she then reached the Roland Garros QF a year later), Cirstea's so-far-unrealized potential has sort of symbolized the period for her generational countrywoman. Until 2013, that is. This season, the Romanians have truly broken out. Simona Halep has won three titles, and Monica Niculescu won her first. In Rome, qualifier Halep went from qualifier to semifinalist, getting wins over one ex-slam champ (Kuznetsova), a former #1 (Jankovic, saving 2 MP) and a Top 10 player (A-Rad). In Toronto, Cirstea improved on Halep's big event performance, defeating two slam champs (Kvitova & Li) and two #1's (Wozniacki & Jankovic, saving 2 MP vs. the Dane) to reach the biggest final of her career, and her first of any kind on tour since winning that '08 title in Tashkent. A season ago, Cirstea ended a nearly two-year drought of semifinals and ended up appearing in four, losing notably in Stanford to (you guessed it) Serena, who also ended her run on Sunday. This was Cirstea's third SF-or-better result in '13 (Stanford was one of them yet again, though Cirstea declared after the final that Toronto was now her favorite tournament), and in the new singles rankings she's attained a career best of #21, bettering her #23 standing in '09. Next up for her is Cincinnati, where she could face conquered Toronto foes Wozniacki (2nd Rd.) and Kvitova (3rd Rd.) yet again in the early rounds.


=============================




SURPRISE:

Jelena Jankovic/SRB


...JJ has won thirteen singles titles in her career, but heading into last week she'd won only one crown in doubles, at Birmingham in 2006 with Li Na. After being one of Cirstea's headline-grabbing victims in singles, who'd have thought the second doubles title of the Serb's career would be as big as the one in Toronto? She and partner Katarina Srebotnik, a Rogers Cup finalist last year, ended the undefeated run of Stanford/Carlsbad champions Raquel Kops-Jones & Abigail Spears, and took the title with a win in the final over Anna-Lena Groenefeld & Kveta Peschke. Jankovic, a singles champ in Bogota, is the seventh woman to win both singles and doubles titles on tour in '13.


=============================




VETERAN:

Katarina Srebotnik/SLO


...meanwhile, Srebotnik's Toronto crown was the 34th of her career, and her fourth of 2013, including two high-level Premier events (Miami w/ Petrova). One of her opponents in the final, Peschke, has won nine titles with the Slovenian vet in their partnering past, including the 2011 Wimbledon crown.


=============================




COMEBACK:

Shahar Peer/ISR


...the 26-year old Israeli's climb back up the WTA rankings is one of the most unnoticed stories on tour in 2013. She's spent much of the year ranked outside the Top 100, and her early season highlights were just making it through qualifying rounds, as she did in Miami. In Katowice, she entered the main draw as a lucky loser and reached the QF, truly putting her return to form into motion. She reached the Budapest QF without having to first go through qualifying, then reached her first final in nearly two years a few weeks ago in Baku. Last week, in the WTA 125 challenger in Suzhou, China, Peer got wins over Zarina Diyas, Zhou Yi-Miao and #1-seed Timea Babos to reach her second straight singles final. Once there, she took out Zheng Saisai and became the third woman to win WTA, ITF and WTA-125 challenger titles in her career, winning her biggest title since Tashkent in 2009. The title run finally lifted her back into the Top 100, too, as she jumps from #113 to #83 in the new rankings.


=============================




FRESH FACES:

Zheng Saisai/CHN & Lauren Davis/USA



...at the WTA-125 challenger held in Suzhou, China, it was the 19-year old Zheng, unseeded and ranked #195, who performed the best in front of the home crowd, notably knocking off #4-seeded countrywoman Zhang Shuai in the QF. Though she lost in the final to Peer, this was Zheng's biggest final of her career. She's 3-5 in ITF circuit finals, but none came in an event larger than the $50K variety. Meanwhile, 19-year old Davis, all 5-foot-2 inches of her, went up against two-time slam champ Svetlana Kuznetsova in Toronto and emerged victorious. Twice. After coming back from a set down to take out the Russian in the final round of qualifying, she drew her once again as a lucky loser in the 1st Round. Again, Davis dropped the 1st set, but still she found a way to victory, overcoming Kuznetsova serving for the match at 5-4 in the 2nd to win 3-6/7-5/7-5. She lost in her next match against Marion Bartoli, in the Pastry's first match since Wimbledon, but Davis still had quite a week to remember.


=============================




DOWN:

Caroline Wozniacki/DEN & Angelique Kerber/GER


...Wozniacki, the #9 seed, slid into Azarenka's vacated #2 position in the Toronto draw, getting a 1st Round bye and a seemingly great break. Then she failed to convert two match points in the 2nd set against Cirstea and lost in three to the eventual finalist. The Dane still hasn't won a title in 2013, after waiting until late September to win her first last season. Kerber, who hasn't won a tour title since April '12, nor reached a tour final since last summer in Cincinnati, lost her first match in Toronto, failing to put away Dominika Cibulkova despite leading 4-1 in the 3rd set. Right about now, I wonder if the German is questioning her decision to keep playing and spitting in the face of injuries as often as she has this season? After putting up six QF-or-better results in her first ten events in '13, she's had just one in her last five.


=============================




ITF PLAYER:

Madison Brengle/USA


...BrengleFly -- boy, I haven't been able to use that one in a LONG time -- won the $25K challenger in Landisville, Pennsylvania, her second ITF crown this season. With four straight Top 200 seasons, Brengle came into last week at #208, but wins over Stephanie Foretz-Gacon, Petra Rampre, Johanna Konta (who retired in the SF, ending her back-to-back ITF title streak) and Olivia Rogowska in the final got her the fifth circuit title of her career (the first came back in '05 -- and she's only 23 now, so she really a "young 'un" then). Of note, Rogowska (w/ Monique Adamczak) defeated Brengle (w/ Naomi Broady) in the doubles SF, and went on to take that title.


=============================




JUNIOR STAR:

Petra Uberalova/SVK


...with no "true" junior players to grab this honor this week, I'll go with the 18-year old Slovak, who won her third ITF crown of the season in a $10K challenger in Vienna, defeating Katerina Kramperova in the final. Pursuing her pro career and ranked #496 on the WTA computer, Uberalova is only at #80 in the junior rankings, but did recently reach the girls doubles SF with Belinda Bencic at Wimbledon, and the pair were the girls U.S. Open runners-up in doubles last year. In the junior singles at SW19 this summer, Uberalova lost in the 2nd Round to eventual semifinalist Louisa Chirico.


=============================






1. Toronto Final - S.Williams d. Cirstea
...6-2/6-0. Still, Romanians are 4-1 in finals this season. Americans are 8-3. Those not named Serena? They're 0-2.


=============================


2. Toronto 2nd Rd. - Cirstea d. Wozniacki
...5-7/7-6(0)/6-4. Wozniacki came back from 5-3 down in the 2nd to hold two match points at 6-5. After failing to convert either, she dropped a 7-0 tie-break and Cirstea's run to the final was officially "on."


=============================


3. Toronto SF - Cirstea d. Li

...6-1/7-6(5). After a visit from Cahill, Cirstea overcame a 4-1 2nd set deficit and held two match points at 6-5 before Li forced a tie break. The Chinese vet led there 4-3 before a deluge of poor serving and errors did her in, pushing Cirstea into her biggest-ever final in front of a very Romanian-friendly crowd.


=============================


4. Suzhou Final - Peer d. Sai.Zheng
...6-2/2-6/6-3. Three of the four WTA 125 challengers that have been held were played in Asia, but no Asian player has yet been crowned a singles champion. Three -- one each from Japan, Taiwan and China -- have been runners-up, though.


=============================


5. Toronto Doubles 1st Rd. - Goerges/Zahlavova-Strycova d. Mladenovic/Voskoboeva
...7-5/6-4. Mladenovic won the Rogers Cup crown with Klaudia Jans-Ignacik last season, kicking off her eight titles with eight partners stretch over the past year.


=============================


6. Toronto 3rd Rd. - Kvitova d. Stosur
...6-3/6-3. Carlsbad champ Stosur had come back from a set down to win both her 1st Round (vs. Glushko) and 2nd Round (CSN) matches. Although she won, at 5-2 in the 2nd, Kvitova threw in three double faults and was broken. Leading one round later to...


=============================


7. Toronto QF - Cirstea d. Kvitova
...4-6/7-5/6-2. Petra, being Petra, lost nine straight games in the middle of this one. A year ago, the Czech won the U.S. Open Series. There will be no successful defense. Kvitova dropped from #7 to #9 in the new singles rankings.


=============================


8. Toronto 1st Rd. - Bouchard d. Kleybanova
...6-3/6-1. Still, it was the Hordette's first WTA match in seventeen months.


=============================


9. Toronto 2nd Rd - Stephens d. Barthel
...6-3/4-6/6-4. No significant leads blown? Even with these two involved? Shocking.


=============================


10. Toronto 3rd Rd. - A.Radwanska d. Stephens
...6-1/7-6. Ah, here it is. Stephens led 4-1 in the 2nd, and was twice up a break in the set.


=============================


11. Toronto 3rd Rd. - Rybarikova d. Bartoli
...7-5/1-0 ret. La Trufflette was bothered by a hamstring after winning Wimbledon. In her first event back, she went out with an abdominal injury.


=============================


12. $25K Izmir Doubles Final - Krunic/Piter d. Boxx/Guthrie
...6-2/6-2. Hmmm, maybe Mladenovic can team up with "Serbian Good Luck Charm" Krunic at some point? Of course, having the 20-year old as a doubles partner didn't prevent Katarzyna Piter from losing in the other final at this challenger, dropping her to 0-4 in ITF circuit singles finals in '13.


=============================






1. Toronto SF - S.Williams d. A.Radwanska
...7-6/6-4. A-Rad is now 0-6 vs. Serena, winning just one set (in the '12 Wimbledon final), but against a gastrointestinal illness-inflicted Williams she put up a good showing here. Enough to move into first in the U.S. Open Series standings, even without a title this summer in North America. Of course, Serena (at #2, just five points behind) will likely move past her this week in Cincinnati.


=============================


2. Toronto 1st Rd. - Flipkens d. V.Williams 0-6/6-4/6-2
Toronto 3rd Rd. - S.Williams d. Flipkens 6-0/6-3
...family honor. Venus could face the Belgian again in the 2nd Round in Cincy.


=============================


3. Suzhou 1st Rd. - Zhou d. Y.Sema 6-2/6-1
Suzhou 1st Rd. - Krajicek d. E.Sema 6-2/6-4
...Suzhou = Sema success? Umm, no.


=============================


4. Toronto 1st Rd. - Pennetta d. U.Radwanska 6-3/3-6/6-2
Cincinnati Q1 - Martic d. U.Radwanska 4-6/6-4/6-4
...Aga's Series lead notwithstanding, it's been a pretty hard luck summer for the Radwanska sisters.


=============================


5. $10K Arad Final - Anastasiya Komardina d. Lina Gjorcheska
...6-3/6-2. Yeah, not TECHNICALLY a sister involved here. But I can never avoid listing the event a "Arad"... as in Arad, Romania. Maybe Komardina is a Minion?


=============================








**U.S. OPEN SERIES - STANDINGS**


105...Agnieszka Radwanska
100...Serena Williams
95...Dominika Cibulkova
95...Sorana Cirstea
85...Samantha Stosur



**SERENA WILLIAMS - TITLES BY SEASON**


1999: 5
2000: 3
2001: 3
2002: 8
2003: 4
2004: 2
2005: 1
2006: 0
2007: 2
2008: 4
2009: 3
2010: 2
2011: 2
2012: 7
2013: 8



**2013 PREMIER MANDATORY/PREMIER 5 CHAMPIONS**




[singles]


Doha - Victoria Azarenka, BLR
Indian Wells - Maria Sharapova, RUS
Miami - Serena Williams, USA
Madrid - Serena Williams, USA
Rome - Serena Williams, USA
Toronto - Serena Williams, USA


[doubles]


Doha - Sara Errani/Roberta Vinci, ITA/ITA
Indian Wells - Ekaterina Makarova/Elena Vesnina, RUS/RUS
Miami - Nadia Petrova/Katarina Srebotnik, RUS/SLO
Madrid - Anastasia Pavlyuchenkova/Lucie Safarova, RUS/CZE
Rome - Hsieh Su-Wei/Peng Shuai, TPE/CHN
Toronto - Jelena Jankovic/Katarina Srebotnik, SRB/SLO



**LONG 2013 WIN STREAKS**


34...Serena Williams, March-June
17...Victoria Azarenka, January-May (w/ two walkover exits during span)
13...Agnieszka Radwanska, January
11...Maria Sharapova, March
11...Simona Halep, June
10...SERENA WILLIAMS, July-August



**2013 HARD COURT TITLES**


3...SERENA WILLIAMS
2...Victoria Azarenka
2...Agnieszka Radwanska
1...14 WTA title-winners & 1 WTA 125 winner



**DEFEATED #1 SEED, WON TITLE**


Paris - Mona Barthel, GER (def. Errani/Final)
Monterrey - A.Pavlyuchenkova, RUS (def. Kerber/Final)
Katowice - Roberta Vinci, ITA (def. Kvitova/Final)
's-Herto. - Simona Halep, ROU (def. Vinci/2nd Rd.)
Palermo - Roberta Vinci, ITA (def. Errani/Final)
Stanford - Dominika Cibulkova, SVK (def. A.Radwanska/Final)
Suzhou 125 - Shahar Peer, ISR (def. Babos/QF)



**WTA/WTA 125 SINGLES & DOUBLES TITLE IN 2013**


Lara Arruabarrena-Vecino, ESP - 1 WTA-125 singles/1 WTA doubles
Mona Barthel, GER - 1 WTA singles/1 WTA doubles
Sara Errani, ITA - 1 WTA singles/3 WTA doubles
JELENA JANKOVIC, SRB - 1 WTA singles/1 WTA doubles
A.Pavlyuchenkova, RUS - 2 WTA singles/1 WTA doubles
Elena Vesnina, RUS - 2 WTA singles/2 WTA doubles
Roberta Vinci, ITA - 2 WTA singles/3 WTA doubles



**LOW-RANKED FINALISTS**


#228 Catalina Castano, COL - Cali 125 (lost to Arruab.-V.)
#198 Paula Ormaechea, ARG - Bogota (lost to Jankovic)
#197 Bethanie Mattek-S., USA - K.Lumpur (lost to Ka.Pliskova)
#195 ZHENG SAISAI, CHN - Suzhou 125 (lost to Peer)
#149 Shahar Peer, ISR - Baku (lost to Svitolina)



**2013 WTA SF**


9...SERENA WILLIAMS (8-0+W)
7...Maria Sharapova (5-2)
7...Sara Errani (4-3)
7...AGNIESZKA RADWANSKA (3-4)
6...Victoria Azarenka (4-1+L)
5...LI NA (3-2)



**MOST 2013 DOUBLES TITLES**


5...Kristina Mladenovic, FRA (4 doubles/1 mixed)
4...KATARINA SREBOTNIK, SLO
4...TIMEA BABOS, HUN (3 WTA + 1 WTA-125)
3...Kimiko Date-Krumm, JPN
3...Sara Errani, ITA
3...Anabel Medina-Garrigues, ESP
3...Nadia Petrova, RUS
3...Roberta Vinci, ITA



**OLDEST 2013 DOUBLES CHAMPIONS**


42 - Kimiko Date-Krumm, JPN (3 titles)
37 - Kveta Peschke, CZE (1)
33 - Cara Black, ZIM (1)
33 - Catalina Castano, COL (1 WTA-125)
32 - KATARINA SREBOTNIK, SLO (3)





CINCINNATI, OHIO US (Premier $2.216m/hard court outdoor)
12 Final: Li def. Kerber
12 Doubles Final: Hlavackova/Hradecka d. Srebotnik/J.Zheng
13 Top Seeds: S.Williams/Azarenka
=============================


=QF=


#1 S.Williams d. Halep
#5 Li d. #4 A.Radwanska
Cibulkova d. #3 Sharapova
#2 Azarenka d. Cirstea


=SF=


#1 S.Williams d. #5 Li
#2 Azarenka d. Cibulkova


=FINAL=


#1 S.Williams d. #2 Azarenka

...yeah, yeah -- I left off Sharapova from the QF picks in her first event with Jimmy Connors. I guess I just didn't want to pick TOO much chalk. Well, I mean, other than a #1 vs. #2 final and Serena winning title #55, of course. Then again, if it should happen, Azarenka vs. Cibulkova, as we've learned in the past, is no certainly to go to the Belarusian.


All for now.