Wk.31- The Month of Opportunity
Has it really been a month since Marion Bartoli left London as a newly-minted grand slam champion?


Yep, it has. So, since we've yet to see how La Trufflette is going to handle the sparkling new title (and all the potential pressure that comes with it) attached to her tennis biography, how has everyone else been doing? Well, as things turn out, there has been plenty of success to go around...



**PLAYERS OF THE MONTH - WK. 28-31**


1.

Samantha Stosur, AUS


...turned a bad month into a great one by simply changing her mind after a poor performance in Stanford and skedaddling on down to Carlsbad to give it a go there


=============================


2.

Raquel Kops-Jones & Abigail Spears, USA


...and the doubles players ask, "What about us?" The Bannerette pair are burning up the North American hard courts, winning in both Stanford and Carlsbad.


=============================


3.

Dominika Cibulkova, SVK


...won in Stanford, and tamed a Radwanska in the process. Two of them, in fact.


=============================


4.

Simona Halep, ROU


...the Swarmette's title run in Budapest gave her three crowns in a four-event summer jaunt


=============================


5.

Serena Williams, USA


...sure, she never lost a set in Bastad. So, give her points for winning on clay (a tour-best fifth title there in '13) right after Wimbledon, but take a spot or two on this list away for having not played a hard court event yet this summer. Of course, all that changes this week in Toronto.


=============================


6.

Roberta Vinci, ITA


...won the Palermo duel with friend, Italian, countrywoman (and doubles partner) Sara Errani, who "lent" her the title SHE won a year ago.


=============================


7.

Yvonne Meusburger, AUT


...it was a long road to a maiden tour title, but 29-year old Meusburger, after failing in the Budapest final, turned around a week later and finally got a crown of her own in Bad Gastein.


=============================


8.

Elina Svitolina/UKR


...just 18, after taking ITF and WTA 125 titles previously, Svitolina was crowned a "regular" WTA level champ in Baku. Look out above?


=============================





RISER:

Magdalena Rybarikova, SVK


FRESH FACE:

Kristina Mladenovic, FRA (doubles)


SURPRISE:

Lisa-Maria Moser, AUT


VETERAN:

Andrea Hlavackova, CZE


COMEBACK:

Andrea Petkovic, GER


JUNIOR STAR:

Barbora Krejcikova, CZE


ITF PLAYER:

Polona Hercog, SLO


WTT MVP:

Martina Hingis, SUI


TEAM:

Washington Kastles (WTT)


DOWN:

Angelique Kerber, GER



*20 ADDITIONAL MOMENTS TO REMEMBER*




1.

Kristina Mladenovic's win in Palermo with Katarzyna Piter gives the Pastry eight doubles/mixed titles with eight different partners over the past year


2.

Anabel Medina-Garrigues' title in Bastad with Klara Zakopalova gives her three doubles titles on three surfaces with three different partners in 2013


3.

14-year old Usue Arconada's D.C. qualifying win over Maria Irigoyen made her the youngest player to notch a win in a tour event since 2009


4.

Roberta Vinci in 9-1 in career singles finals


5.

Arantxa Rus ended her WTA record 17-match main draw losing streak with a win over Maria-Teresa Torro-Flor in Bad Gastein. She reached the QF.


6.

Lisa-Maria Moser was ranked #725 when she was awarded a Bad Gastein main draw wild card, enabling her to make her tour debut. She reached the QF, too.


7.

Dominika Cibulkova was 0-4 vs. Agnieszka Radwanska before defeating her in the Stanford final


8.

Sam Stosur was 0-8 vs. Victoria Azarenka before defeating her in the Carlsbad final


9.

The Washington Kastles have won three straight WTT titles, and four in five years; and their 34-match winning streak set a North American record for professional team sports


10.

Martina Hingis entered the Hall of Fame, then "unretired" for a second time and rejoined the WTA doubles tour after an MVP & title-winning turn in WTT play with the Kastles


11.

18-year old Danka Kovinic became the first player representing Montenegro to reach an ATP or WTA singles quarterfinal, doing so in Budapest in her main draw tour debut


12.

18-year old Elina Svitolina won WTA and ITF titles in back-to-back weeks


13.

Maria Sharapova, Ana Ivanovic and Heather Watson changed coaches


14.

Petra Kvitova did not


15.

While Caroline Wozniacki... well, who really knows?


16.

Agnieszka Radwanska struck a (covered) nude pose for ESPN the Magazine, was criticized and dropped as a spokesperson by a Catholic group in Poland, then winningly defended her decision in Stanford... even if she didn't win the title in the end


17.

Anne Keothavong retired


18.

Cancer survivor Sandra Klemenschits won her first tour doubles title at Bad Gastein, while cancer survivor Alisa Kleybanova was the WTT's "Rookie of the Year" en route to leading the Springfield Lasers to the league final


19.

One year after reaching the Stanford final as a "lucky loser," Coco Vandeweghe made it through qualifying this year... then lost in the 2nd Round


20.

And proving once again that incumbency is very important in Washington, D.C., even in tennis, both Magdalena Rybarikova (singles) and Shuko Aoyama (doubles) defended their titles at the women's event held outside the nation's capital



*WEEK 31 CHAMPIONS*
CARLSBAD, CALIFORNIA USA (Premier $794K/HCO)
S:

Samantha Stosur/AUS def. Victoria Azarenka/BLR 6-2/6-3


D:

Kops-Jones/Spears (USA/USA) d. H-C.Chan/Husarova (TPE/SVK)
WASHINGTON, D.C. USA (Int'l $235K/HCO)
S:

Magdalena Rybarikova/SVK def. Andrea Petkovic/GER 6-4/7-6(2)


D:

Aoyama/Dushevina (JPN/RUS) d. Bouchard/Townsend (CAN/USA)

PLAYER OF THE WEEK:
Samantha Stosur/AUS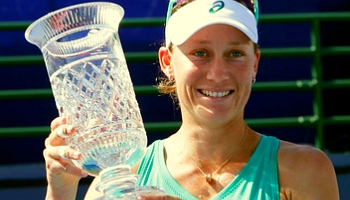 ...sometimes Stosur just blocks out all the pressure and personally-inflicted mind games and plays the hell out of the sport, using her kick serve, groundstrokes and volley skills to great effect. Last week, especially late, was a fitful example of what can happen when she does, too. After her early exit in Stanford, the Aussie changed her plans and took a last minute wild card into the Carlsbad draw. All she did was knock off Varvara Lepchenko, Sesil Karatantcheva, #4 Agnieszka Radwanska, Virginie Razzano and #3 Vika Azarenka, ending a 0-8 career-long drought against the Belarusian with a comprehensive straight sets win in the final. Thing is, this is just Stosur's fourth career title in sixteen trips to tour singles finals, and her first since she won the U.S. Open in 2011. Stosur is managing to put together a fine career, one that feels a bit of the "just-outside-of-Hall-of-Fame-worthy" variety (unless her past doubles glory tips the scales in her favor), but every time she wins something big you can't help but shake your head and think she should have won so many more. I suppose that says a great deal good, but also bad, about her.


=============================




RISERS:

Magdalena Rybarikova/SVK & Raquel Kops-Jones/Abigail Spears (USA/USA)



...even as the defending champ, Rybarikova flew pretty low under the radar last week in Washington. Before the event, her name wasn't routinely being dropped in the event's daily over-the-air promotions. In fact, it wasn't mentioned at all. Then, even after #2-seeded-but-#1-billed, Sloane Stephens was gone in a blink of the eye, Rybarikova was still a "non-person" in the eyes of the tournament. No matter, the Slovak still ended up becoming the seventh woman this season to successfully defend a singles crown. Wins over Christina McHale, Jana Cepelova, Angelique Kerber (the #1 seed whose name made a brief cameo in radio ads after Stephens' ouster), Ekaterina Makarova and Andrea Petkovic in the final garnered the 24-year old her fourth career tour singles title, improving her career final mark to 4-1 and making her one of just ten women with at least one singles title in each of the last three seasons. In California, fresh off their win in Stanford, Kops-Jones and Spears managed to defend their Carlsbad title from a year ago, as well. Opening up with a 1st Round win over Raymond/Robson, they also ended the Hantuchova/Hingis run in the QF before taking the final over Chan Hao-Ching and Janette Husarova. This is career title #8 for the American pair, who must be wondering right about now why they don't have a doubles version of the U.S. Open Series.


=============================




SURPRISE:

Shuko Aoyama/JPN


...the 25-year old Aoyama claimed her first tour doubles title a year ago in Washington, teaming with Chang Kai-Chen to take the crown. A year later, she returned, this time partnering with Vera Dushevina, and became the sixth woman this season to defend a doubles crown along with a different partner than the one she'd won a title with last year. D.C. was Aoyama's second title this season, as she also won in Kuala Lumpur with Chang.


=============================




VETERAN:

Virginie Razzano/FRA


...Razzano has quite the impressive list of conquered foes on her career resume, including those with names like Safina, Zvonareva, Dementieva, Hingis and Williams (both of them). Last week in Carlsbad, coming in as the #131-ranked player in the world, the Pastry added Petra Kvitova's name to that list when she saved two match points and eventually won a three-and-a-half hour marathon QF with the Czech before falling in the semifinals to eventual champ Stosur. Earlier in the week, "all" Razzano did was gain additional wins over former slam winner Svetlana Kuznetsova and Top 20 player Carla Suarez-Navarro, as well.


=============================




COMEBACK:

Andrea Petkovic/GER


...Petko would be right to curse the weather right about now. After a D.C. run that included wins over Mona Barthel and Paula Ormaechea, due to rain, the German didn't get onto the court until 12:30 a.m. Saturday night for her semifinal match against Alize Cornet. She did win it to reach her second '13 final since her latest comeback from injury, but the match didn't finish until after 2 a.m.. Then, Petkovic had to return on Sunday for a late afternoon final against a well-rested Magdalena Rybarikova. Rybarikova won the straight sets match to defend her title. But, still, one has to wonder how things might have gone with a more level playing field.


=============================




FRESH FACE:

Elina Svitolina/UKR


...a week after claiming her first WTA International level title in Baku, the 18-year old from Ukraine jumped down to the ITF circuit, but continued her winning ways. Svitolina's title run in the $75K event in Donetsk, Ukraine gave her her second ITF crown of the season, and wins over the likes of Dinah Pfizenmaier and Timea Babos, the latter via an 11-9 3rd set tie-break in the final, extends her match winning streak to ten and her record over a three-week stretch (which also included a tour-level SF in Bad Gastein) to 13-1.


=============================




DOWN:

Angelique Kerber/GER & Sloane Stephens/USA


...the top two seeds in Washington, neither reached the SF. #1 Kerber, who hasn't won a tour title since April '12, nor reached a tour final since last summer in Cincinnati, fell in the QF to eventual champ Rybarikova. #2 Stephens, the sole focus of the pre-event promotion of the D.C. women's event, lost in the 1st Round to Olga Puchkova. She's still searching for her first career tour final.


=============================




ITF PLAYER:

Johanna Konta/GBR


...apparently, it was a good weekend for Australian-born women's tennis players, as Aussie-turned-Brit Konta grabbed her second ITF title in as many weeks, the latest being a $100K challenger in Vancouver. The 22-year old opened the week with an upset of top-seeded Hsieh Su-Wei and things only got better from there, ending with a win in the final over Canada's Sharon Fichman.


=============================




JUNIOR STARS:

Barbora Krejcikova & Katerina Siniakova (CZE/CZE)


...last week, after claming both the Roland Garros and Wimbledon titles this season, the Czech duo won the European Junior Championships in Switzerland (while Krejcikova also won in singles). This week, they moved on to a $25K challenger in Bad Saulgau, Germany. They didn't win the title, but they did reach the final after knocking off the #2 and #3 seeds before losing to top-seeded Laura-Ioana Andrei & Elena Bogdan. In singles, both Krejcikova and Siniakova also reached the QF.


=============================






1. Carlsbad QF - Razzano d. Kvitova
...6-7(6)/7-5/7-6(8). Over the course of the three-and-a-half hour battle, Kvitova failed to convert a break point at 5-5 in the 2nd that would have given her a chance to serve for a straight sets win (shades of those Sharapova matches from '12?). At 5-4 in the 3rd, Kvitova saved three match points, then held two of her own at 6-5 and 8-7 in the deciding tie-break. Finally, on her second MP of the TB, and fifth in the match, Razzano added yet another former Wimbledon champion's scalp to her collection of career prizes.


=============================


2. Carlsbad Final - Stosur d. Azarenka
...6-2/6-3. Vika was in the final in body, but not particularly in spirit, at least as far as her form was concerned. From especially poor serving in the early going -- three DF in four points over two games, as she twice fell down a break in the 1st -- to an inability to win big points -- 1/12 on break points, including 11 straight unconverted over a four-game stretch on Stosur's serve -- throughout, Vika looked like a player at the end of a long week after coming back from an injury and having not played in a month. After early errors that kept Vika in the match, Stosur settled down and started working her serve ala her '11 U.S. Open run, getting a confidence-boosting first victory over Azarenka in nine tries. Still, Vika is back up to #2 in the latest rankings.


=============================


3. D.C. 2nd Rd. - Niculescu d. Keys
...6-1/2-6/7-6(6). Keys held two match points at 5-4 in the 3rd before saving three MP in the deciding tie-break, though ultimately falling to the Swarmette. She later pulled out of the final qualifying round in Toronto with a shoulder injury.


=============================


4. Carlsbad 2nd Rd. - Kvitova d. Robson 6-1/6-2
Carlsbad 1st Rd. - Ivanovic d. Cibulkova 4-6/6-3/6-2
...Carlsbad isn't Melbourne, where Robson upset Kvitova under the night sky on Laver this past January. Carlsbad isn't Stanford, either, as last week's champ there, Cibulkova (the '12 Carlsbad winner), was shipped out in short order a bit farther down the California coast.


=============================


5. D.C. 1st Rd. - Puchkova d. Stephens 7-5/6-3
D.C. 2nd Rd. - Ormaechea d. Puchkova 3-6/6-3/4-1 default
...what started as a good week for Puchkova, knocking off #2-seed Stephens, ended one round later with her being defaulted from a match after hitting a ball in anger that ended up making contact with a linesperson. Oops.


=============================


6. D.C. QF - Rybarikova d. Kerber 7-6(0)/3-6/6-3
D.C. Final - Rybarikova d. Petkovic 6-4/7-6(2)
...after defeating top-seeded Kerber in 2013's first in-tournament match-up of a #1 seed against a defending champion, Rybarikova went on to become the third different Slovak -- after Cibulkova and Hantuchova -- to notch a tour title this season. Meanwhile, Germans are 1-7 in 2013 singles finals.


=============================


7. Carlsbad 1st Rd. - Karatantcheva d. Goerges 6-3/7-5
Carlsbad Doubles 1st Rd. - Hantuchova/Hingis d. Goerges/Jurak 6-1/6-1
...Goerges has lost four straight, and six of seven. With her luck running still drier, she and Jurak, the '12 runners-up in Carlsbad, lost their opening match to Hantuchova/Hingis to kick off the Swiss Miss' comeback campaign.


=============================


8. Carlsbad Doubles QF - Kops-Jones/Spears d. Hantuchova/Hingis
...4-6/7-5/10-3. Hantuchova/Hingis were up a break twice in the 2nd set, and led 6-4/4-2 before the soon-to-be two-time Carlsbad champs battled their way back to a victory.


=============================


9. D.C. Doubles Final - Aoyama/Dushevina d. Bouchard/Townsend
...6-3/6-3. Even with a loss, the North American pair put up a good result with their first tour-level final after having combined to win four junior slam crowns in doubles, including one together at Wimbledon in 2012.


=============================


10. Toronto Q2 - Davis d. Kuznetsova
...5-7/6-4/6-4. Coming back from a set down against the former slam champ, this was likely the biggest win yet of the young Bannerette's career. Her reward? A spot in the main draw... where she'll face "lucky loser" Kuznetsova in the 1st Round. Sheesh.


=============================


11. Toronto Q2 - Zhao d. Begu
...6-4/6-4. Another final qualifying round upset... and Zhao doesn't get Begu in the 1st Round, either. She'll face Pavlyuchenkova, with the winner getting Li.


=============================


12. $25K Bad Saulgau Final - Reka-Luca Jani d. Patricia Mayr-Achleitner
...7-6/6-3. You know what's coming next, so... "Reka-Luca Jani! Reka-Luca Jani! Reka-Luca Jani!" Title #7, in her eighth final of 2013. Both numbers lead the circuit.


=============================


HM- $10K Savitaipale Final - Karen Barbat d. Antonina Lysakova
...7-5/6-3. The 21-year old Dane -- but not THAT Dane -- has now won back-to-back titles, and ten consecutive matches, on the ITF circuit. She might be ranked about 700 places behind you-know-who, but Barbat is currently "carrying" Danish tennis. All right, so maybe that's overstating things JUST A BIT, but you get the idea.


=============================






1. Carlsbad QF - Azarenka d. U.Radwanska 6-1/6-2
Carlsbad QF - Stosur d. A.Radwanska 7-5/2-6/6-3
...needless to say, after back-to-back losses, it wasn't a good Friday for the Radwanska clan. Still, Aga sits at #3 in the U.S. Open Series standings, just 10 points behind co-leaders Stosur and Cibulkova, and is scheduled to still play two more events before heading to Flushing Meadows.


=============================


2. Carlsbad Doubles QF - Black/Erakovic d. Huber/Llagostera-Vives
...6-4/3-6/12-10. Black gets the best of ex-partner Huber, coming back from 10-9 in the 3rd set breaker. She and Erakovic would lose in the semis to eventual champs Kops-Jones/Spears.


=============================








**WTA FINALS - 2011-13**


18...Serena Williams (16-2)
18...VICTORIA AZARENKA (11-7)
18...Maria Sharapova (7-11)
13...Caroline Wozniacki (8-5)
11...Petra Kvitova (9-2)
11...Agnieszka Radwanska (8-3)
10...Li Na (4-6)
9...Sara Errani (5-4)
8...Marion Bartoli (3-5)
7...SAMANTHA STOSUR (2-5)



**MOST FINAL MATCH-UPS - 2012-13**


5...S.Williams vs. Sharapova (Serena 5-0)
4...Azarenka vs. Sharapova (Azarenka 3-1)
4...S.Williams vs. Azarenka (Serena 3-1)
2...Sharapova vs. Li (Sharapova 2-0)
2...A.Radwanska vs. Cibulkova (tied 1-1)
2...AZARENKA vs. STOSUR (tied 1-1)



**2013 ITF TITLES**


7...REKA-LUCA JANI, HUN
5...Jovana Jaksic, SRB
5...Deniz Khazaniuk, ISR
5...Melanie Klaffner, AUT
4...Montserrat Gonzalez, PAR



**CAREER WTA TITLES - AUSTRALIANS**


92...Margaret Court, 1968-76
68...Evonne Goolagong, 1970-80
17...Kerry Melville-Reid, 1968-79
15...Dianne Fromholtz-Balestrat, 1973-79
9...Wendy Turnbull, 1976-83
6...Jelena Dokic, 2001-11
5...Alicia Molik, 2003-05
4...Anne Minter, 1987-89
4...SAMANTHA STOSUR, 2009-13





TORONTO, ONTARIO CAN (Premier $2.216m/hard court outdoor)
12 Final: Kvitova d. Li
12 Doubles Final: Jans/Mladenovic d. Petrova/Srebotnik
13 Top Seeds: S.Williams/Azarenka (w/d)
=============================


=SF=


#1 S.Williams d. #11 Kirilenko
#6 Kvitova d. #18 Ivanovic


=FINAL=


#1 S.Williams d. #6 Kvitova

...Serena returns, this time on hard court. Everyone is paying full attention now.



SUZHOU, CHN (WTA $125K Challenger/hard court outdoor)
12 Final: ($100K ITF/October: Hsieh d. Duan) =new WTA 125 event=
12 Doubles Final: ($100K) Bacsinszky/Garcia d. Z.Yang/Y.Zhao
13 Top Seeds: Babos/Doi
=============================


=SF=


#3 Peer d. #1 Babos
#4 Zhang Shuai d. #5 Duan


=FINAL=


#3 Peer d. #4 Zhang Shuai

...these WTA 125's are supposedly for the "next generation" of tour stars to gain their footing, but they've become a place where veterans -- Date-Krumm, Castano... now Peer? -- can have a go at regaining their footing, as well.


All for now.