Wk.42- Caro Turns on the Light Before the WTA Season Goes Dark
As the season reaches its final turn, available singles titles are getting scarce. And, though it seems like it's been the case over the last five months, it's really NOT because Serena Williams and Simona Halep have pretty much hogged them all.
With the clock ticking down on 2013, Caroline Wozniacki finally managed to grab one of her own.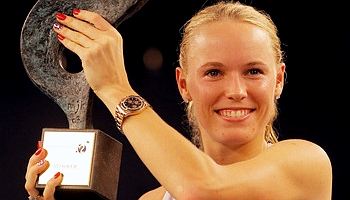 While Halep's improvement has been apparent for all to see since early this summer, as five titles and a Top 20 ranking have gone hand-in-hand with a more aggressive approach that has paid immediate dividends for the Romanian, similar things haven't come quite so quickly for Wozniacki.

The former #1 has been working to improve all season, but it's been a struggle to escape her lifelong affinity for the ultra-defensive game that got her to the top of the sport even while never forcing her to actually defeat the very best players to get there. Slowly but surely, after briefly dropping out of the Top 10 in February, the Dane has realized that she needs to add to her game to become relevant once again. As she's tried to play catch-up with the women who've passed her by in the rankings, Wozniacki has experienced a great deal of one-step-forward-and-two-steps-back sort of stretches in her results. Just when she seemed to be on the right track, such as reaching the final at Indian Wells, her results would soon tail off once again. Still, as the season has gone along, her improvements have been more noticeable as her serve has been altered and improved, and her willingness to move forward more often to end points has reared its pretty head on occasion, as well, while not pushing aside the defensive prowess and consistent groundstrokes that have long been the hallmark of Caro's game.

Even before last week, Wozniacki had posted '13 wins over the likes of Serena Williams, Victoria Azarenka, Petra Kvitova, Angelique Kerber and Sloane Stephens (twice). But as she came into Luxembourg time was running out to actually win something tangible, and her possible spot in the WTA Championships field had just been pulled like a rug out from under her feet via Angelique Kerber's "LinzGate" maneuvering and eventual title a week ago (the Dane will instead be an alternate in Istanbul).

Quite possibly figuring out a way to put things together, or maybe just still perturbed at the circumstances that caused her to issue a complaint to WTA CEO Stacey Allaster, Wozniacki finally rose above the crowd.

Much as she did in the closing weeks in 2012 with wins in Seoul and Moscow, the Dane salvaged a portion of her 2013 season with a title run that extends her seasons with at least one crown to six, as she dropped just one set all week and quite possibly put what will be a final flourish on what will be her fifth straight year-ending Top 10 ranking, tied with Azarenka for the longest current streak on tour.

Of course, winning titles just before the lights are turned off for a WTA season doesn't always mean much the following year. The Dane will have to continue to improve in order to even get close to regaining some of the footing -- and ranking -- she had a few seasons ago.

After all, while this latest Wozniacki title -- she's behind only the Williams Sisters and Sharapova amongst active players -- is her twenty-first, an impressive number for someone still so young (23) in this era of tennis, it also means that she now officially shares with Pam Shriver a more dubious honor that the Dane really wants nothing to do with. You see, now Shriver and Wozniacki are tied with the most career singles titles without having won a grand slam. Soon, Caro will stand alone. Whether she ever reverses history and stands alone at the end of a major is still a huge question, but at least she seems to have finally gotten herself pointed in something resembling the correct direction.

Forward, not backward.



*WEEK 42 CHAMPIONS*
MOSCOW, RUSSIA (Premier $794K/HCI)
S:

Simona Halep/ROU def. Samantha Stosur/AUS 7-6/6-2


D:

Kuznetsova/Stosur (RUS/AUS) d. Kudryavtseva/An.Rodionova (RUS/AUS)
LUXEMBOURG, LUXEMBOURG (Int'l $235K/HCI)
S:

Caroline Wozniacki/DEN def. Annika Beck/GER 6-2/6-2


D:

Vogt/Wickmayer (LIE/BEL) d. Barrois/Thorpe (GER/FRA)

PLAYER OF THE WEEK:
Simona Halep/ROU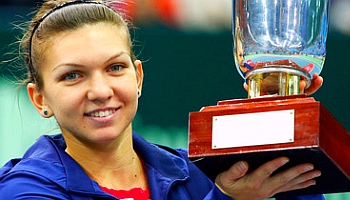 ...although Halep was just the #5 seed in Moscow, she received a bye in the 1st Round after Angelique Kerber's withdrawal from the event. How much did it matter? Probably not much, as the Romanian, after a few weeks of falling into the habit of letting some leads (and matches) slip away, once again picked up the head of steam that she's been carrying for the last five months. And what a productive five months it's been, too. In May, she was ranked #64 and was just 8-9 on the season. Then she put together a run to the Rome semis as a qualifier. From Rome until now, Halep's gone 40-8, won five titles -- on three surfaces, and both outdoors and indoors -- and, after her title in Moscow, lifted her ranking as of Monday to #14, yet another new career high for the Swarmette. Halep reached the final by giving up just seven total games in victories over Magdalena Rybarikova, Alisa Kleybanova and Anastasia Pavlyuchenkova. She lost eight in the final against Sam Stosur, but still managed to prevail in straight sets with her thirteenth win over a Top 20 player since May.


=============================




RISERS:

Anastasia Pavlyuchenkova/RUS & Stefanie Voegele/SUI


...after having gone 0-5 in her previous trips back home to play in the Kremlin Cup in Moscow, Pavlyuchenkova managed to show that she might not be totally and forever destined to disappoint in big stage events and/or in places when expectations are high. Nice wins over Caroline Garcia, Maria Kirilenko and Daniela Hantuchova paved her way to the semifinals. Meanwhile, in Luxembourg, Voegele followed up her semi run in Linz with another, her fourth of the season. It wasn't the only accomplishment that the Swiss repeated from a week ago, either, as she got her second victory over Sloane Stephens in less than a week (in the QF), putting the victory alongside others over Mona Barthel and Karolina Pliskova before being forced to retire from her SF match with Annika Beck. The 23-year old is up the #44, a new career high.


=============================




SURPRISES:

Stephanie Vogt/Yanina Wickmayer (LIE/BEL)


...in a battle for the Luxembourg doubles crown between teams consisting of four women looking for their first career tour doubles title, Vogt & Wickmayer triumphed over Kristina Barrois & Laura Thorpe (who'd earlier upset #1 seeded Petrova/Srebotnik) after having advanced to the final when Polona Hercog (w/ Lisa Raymond) was forced to retire in the semifinals.


=============================




VETERANS:

Samantha Stosur/AUS & Svetlana Kuznetsova/RUS


...on the whole, Stosur's season hasn't been a good one. But, wow, what a difference two weeks can make when it comes to the 2014 prospects of the Aussie under the tutelage of coach Alicia Molik. Two weeks ago, other than in her title run in Carlsbad, Stosur hadn't had another semifinal-or-better performance all year. Then she went to Osaka and won a second title (more than she's ever won in a single season) and, after pretty much having left her doubles career behind years ago, reached the doubles final, too. In Moscow, she was at it again. Singles wins over Kaia Kanepi, Alize Cornet, Ana Ivanovic and Svetlana Kuznetsova put her in finals in consecutive weeks for the first time since 2005 (Gold Coast and Sydney in Weeks 1-2). She reached the doubles final again, as well. This time, Stosur flipped her results, losing in the singles decider to Simona Halep and winning the doubles with Kuznetsova for career crown #24, but just her second since '07. Speaking of Kuznetsova, who notched doubles win #16 (but just her second since '09), she also had a nice run in singles, taking out Lesia Tsurenko, Sofia Arvidsson and Roberta Vinci en route to her first semifinal since Auckland in January 2012.


=============================




COMEBACKS:

Caroline Wozniacki/DEN & Alisa Kleybanova/RUS


...a year after winning the Kremlin Cup title, Wozniacki switched gears and went to Luxembourg and won there instead. It's the first title the Dane has claimed since that successful trip to the Russian capital last October. All but one (QF vs. Bojana Jovanovski) of Wozniacki's five matches was wrapped up in straight sets, including wins over home favorite Mandy Minella, Monica Niculescu, Sabine Lisicki and youngster Annika Beck in the final. In Moscow, an even bigger comeback continued, as Kleybanova's return from Hodgkin's lymphoma now includes her first tour level QF since her return to the WTA. The Hordette notched victories over Carla Suarez-Navarro and Varvara Lepchenko.


=============================




FRESH FACES:

Annika Beck/GER & Katarzyna Piter/POL


...these two pitted off in the best match of the week, a 3:12 clash in the Luxembourg quarterfinals won by the 19-year old German. Piter, 22, saved two match points in the 2nd set, only to see Beck save one in the 3rd set before going on to win. Ultimately, Beck, the Roland Garros girls champ last year, reached her first tour level final after additional wins over Tsvetana Pironkova, Lucie Safarova and Stefanie Voegele. Piter, a Lux qualifier a week after being the same in Linz, got main draw wins over Belgians Kirsten Flipkens and Yanina Wickmayer and reached the doubles semis with Kristina Mladenovic.


=============================




DOWN:

Maria Kirilenko/RUS


...as the #3 seed, Kirilenko moved into #1-seeded Angelique Kerber's spot at the top of the draw when the German withdrew after having qualified for Istanbul. She promptly lost in the 2nd Round to countrywoman Anastasia Pavlyuchenkova. Since the conclusion of Roland Garros, when Kirilenko became the first Russian to make her Top 10 debut in six years, she's gone just 9-8 after putting up a 27-10 season record up to and including Paris. Accordingly, her ranking has dropped nearly out of the Top 20 (she's currently #18).


=============================




ITF PLAYERS:

Kristyna Pliskova/CZE & Mariana Duque-Marino/COL


...a week ago, Pliskova was winning her first tour doubles title with her sister Karolina in Linz. This weekend she locked up a $50K ITF challenger crown in singles in Limoges, France. The Czech defeated the likes of Mirjana Lucic-Baroni, Tara Moore, Anhelina Kalinina and Anna-Lena Friedsam before taking out Tamira Paszak in three-set final. Duque-Marino claimed the $25K in Rock Hill, South Carolina with wins over Allie Kiick, Melanie Oudin and Anna Tastishvili in the final. It's her fifteenth career challenger title, and third this season. She's up to #97 with the win, just three spots behind the career-best ranking she achieved in February '10, as MDM looks like she'll wrap up '13 with her first year-end Top 100 finish. The 24-year old from Bogota also took the doubles with Maria Irigoyen.


=============================




JUNIOR STARS:

Belinda Bencic/SUI, Barbora Krejcikova/CZE & Elise Mertens/BEL


...in Week 42, increasing ITF success came in inverse order as far as the current junior rankings are concerned. #1 Bencic was the singles runner-up to Kazakh Zarina Diyas in the $25K in Makinohara, Japan, while #4 Krejcikova reached the singles semis and won the doubles (w/ Lenka Jurikova) at the $10K in Dubrovnik, Croatia. It was #7 Mertens, though, who had the most success, taking her second challenger title of 2013 in the $10K in Sharm El Sheikh, Egypt with a win over fellow Waffle Klaartje Liebens in the final.


=============================






1. Moscow Final - Halep d. Stosur
...7-6/6-2. I said last week that I might end up regretting not taking Halep to win in Moscow. I guess I should have listened to myself.


=============================


2. Lux F - Wozniacki d. Beck
...6-2/6-2. Well, since the Dane recently expressed displeasure with such queries, I hope no one asked Caro about Rory McIlroy since, you know, theirs is a relationship that both strive to keep ultra private. Why, you'd hardly even know they've been seeing each other considering how little they appear in public togeth-... oh, wait.


=============================


3. Lux QF - Voegele d. Stephens
...6-3/3-6/6-2. Well, now Voegele is most definitely NOT going to be Sloane's mentor. "Unfriend" her at your own risk, Stefanie.


=============================


4. Lux 1st Rd. - Petkovic d. Bouchard
...2-6/7-5/6-1. The path to success is not without the occasional bump in the road.


=============================


5. Moscow QF - Kuznetsova d. Vinci
...6-2/6-3. A Russo-Italian clash BEFORE the Fed Cup final.


=============================


6. Lux Doub SF - Barrois/Thorpe d. Petrova/Srebotnik
...6-2/3-6/10-8. Petrova and Srebotnik get in some action before heading to Istanbul, one year after Nadia won there with Maria Kirilenko.


=============================


7. Moscow Doub SF - Kudryavtseva/An.Rodionova d. Huber/Rosolska
...7-5/6-2. Rosolska is Huber's tenth different doubles partner in a WTA event in 2013.


=============================


8. $10K Quintana Roo MEX Final - Denise Muresan/USA d. Renata Zarazua/MEX
...6-4/6-1. Another young Mexican, this one is just 16 and reached the final in just her third career ITF event. Amongst the first main draw pro wins of her career was a semifinal victory over Ashley Weinhold.


=============================


HM- $10K Pereira COL Final - Anna Katalina Alzate Esmurzaeva/NED d. Szabina Szlavikovics/HUN
...6-1/6-2. Oh, so many letters. (Between the two, sixteen of the twenty-six letters in the alphabet, to be exact.)


=============================






1. Lux Doubles 1st Rd. - Hercog/Raymond d. Hsieh/Hsieh
...6-7/7-6/10-7. Thus, the Hsieh siblings didn't become the tenth all-sisters duo to win a tour doubles crown.


=============================


2. Lux 2nd Rd. - Voegele d. Ka.Pliskova 6-1/3-6/6-3
$50K Limoges Final - Kr.Pliskova d. Paszek 3-6/6-3/6-2
...one week after the Pliskovas became the ninth WTA sister team to be crowned a champion, Kristyna had a more suitable follow-up result than Karolina.


=============================


3. Lux 1st Rd. - S-W.Hsieh d. K.Kucova
...4-6/7-6/6-3. A rare Hsieh-vs.-Kucova, "lower level" sister-vs.-sister head-to-head clash.


=============================








**MOST SEASON TITLES - last 10 years**


10...Serena Williams, 2013
10...Justine Henin, 2007
9...Kim Clijsters, 2005
7...Serena Williams, 2012
7...Lindsay Davenport, 2004
6...Victoria Azarenka, 2012
6...Caroline Wozniacki, 2011
6...Petra Kvitova, 2011
6...Caroline Wozniacki, 2010
6...Justine Henin-Hardenne, 2006
6...Lindsay Davenport, 2005
5...SIMONA HALEP, 2013
5...Kim Clijsters, 2010
5...Maria Sharapova, 2006
5...Nadia Petrova, 2006
5...Maria Sharapova, 2004
5...Amelie Mauresmo, 2004
5...Justine Henin-Hardenne, 2004



**CAREER WTA TITLES - active**


56...Serena Williams
44...Venus Williams
29...Maria Sharapova
21...CAROLINE WOZNIACKI
17...Victoria Azarenka



**2013 WTA TITLES**


10...Serena Williams, USA
5...SIMONA HALEP, ROU
3...Victoria Azarenka, BLR
3...Agnieszka Radwanska, POL



**CONSECUTIVE SEASONS w/ a TITLE - active streaks**


11 - Maria Sharapova, 2003-13
7 - Serena Williams, 2007-13
6 - CAROLINE WOZNIACKI, 2008-13
5 - Victoria Azarenka, 2009-13
5 - Roberta Vinci, 2009-13
4 - Li Na, 2010-13



**MOST WTA TITLES WITHOUT SLAM WIN**


21...CAROLINE WOZNIACKI *
21...Pam Shriver
19...Manuela Maleeva-Fragniere
19...Nancy Richey
16...Elena Dementieva
15...Dianne Fromholtz
14...Zina Garrison
13...Jelena Jankovic *
13...Nadia Petrova *
13...Agnieszka Radwanska *
--
* - active



**2013 WTA FINALS**


12...Serena Williams (10-2)
6...Victoria Azarenka (3-3)
5...SIMONA HALEP (5-0)
5...Maria Sharapova (2-3)
4...Agnieszka Radwanska (3-1)
4...Petra Kvitova (2-2)
4...Anastasia Pavlyuchenkova (2-2)
4...Sara Errani (1-3)



**2013 WTA/WTA 125 SF WIN PCT. LEADERS - 3+ SF**




[best]


1.000 - Serena Williams (11-0 +W)
1.000 - SAMANTHA STOSUR (3-0)
0.857 - Victoria Azarenka (6-1 +L)
0.833 - SIMONA HALEP (5-1)
0.800 - Petra Kvitova (4-1)
0.750 - Sabine Lisicki (3-1)


[worst[


0.000 - STEFANIE VOEGELE (0-4)
0.000 - Alexandra Cadantu (0-3)
0.000 - Flavia Pennetta (0-3)
0.000 - Venus Williams (0-3)
0.250 - Jamie Hampton (1-3)
0.250 - Klara Zakopalova (1-3)



**MOST CAREER WTA TITLES - ROMANIANS**


12...Virginia Ruzici (1975-85)
5...SIMONA HALEP (2013)
4...Irina Spirlea (1994-98)
4...Ruxandra Dragomir (1996-97)





WTA CHAMPIONSHIPS; ISTANBUL (hard court indoor)
12 Final: S.Williams d. Sharapova
12 Doubles Final: Petrova/Srebotnik d. Hlavackova/Hradecka
13 Top Seeds: S.Williams/Azarenka
=============================


*RED GROUP*


#1 Serena Williams (3-0) *
#3 Agnieszka Radwanska (1-2) *
#8 Angelique Kerber (1-2)
#5 Petra Kvitova (1-2)


*WHITE GROUP*


#4 Li Na (3-0) *
#2 Victoria Azarenka (2-1) *
#7 Jelena Jankovic (1-2)
#6 Sara Errani (0-3)

Alternates: C.Wozniacki, S.Stephens



=SF=


S.Williams d. Azarenka
Li d. A.Radwanska


=FINAL=


S.Williams d. Li



DOUBLES CHAMPIONS:

Hsieh/Peng


All for now.