FC II Day 1 Update, Part 2: Cornet + Cramps = Future Madison?
We might have glimpsed a tiny bit of the future on Saturday night in the USA/France tie, but it wasn't Future Sloane who made a cameo.
It was...
Future Madison?
Of course, it took the cramping up of Alize Cornet to drag her out into the spotlight.



**WORLD GROUP PLAYOFFS**


The final FC II action of Saturday took place in the late afternoon and into the evening in North America. In both ties, the host nations had something to smile about on the eve of Day 2.

In Quebec City, Team Canada took a 2-0 lead against the visiting Slovak Republic. But, whew, it wasn't an easy task. In the opening match, all-time Canadian FC star Aleksandra Wozniak (30 singles wins in 33 ties) faced off with Charleston finalist Jana Cepelova, suddenly the top-ranked player in action from her nation with the absence of Dominika Cibulkova and Daniela Hantuchova. As it turned out, the 20-year did a right fine impersonation of the sort of results that both her more veteran countrywomen had in February.

And that isn't a good thing.

Cepelova led Wozniak 6-4/5-2 and seemed on course for a win. She served for the match at 5-3, only to be broken and drop the set 7-5. In the 3rd, she led 3-1 and served once again for the match at 5-3. After getting within two points of victory, she was broken again and Wozniak went on to take the 2:22 opening match 4-6/7-5/7-5.

In the second match, Eugenie Bouchard played Kristina Kucova, who turned out to be anything but a pushover. The Slovak grabbed a quick 3-0 lead in the 1st, and served for the set at 5-4. She held four set points. But Bouchard took the set to a tie-break, which the Canadian won 7-0. Kucova didn't go away, though, and took the 2nd set to knot the match. Finally, with the all-volunteer Genie Army having predictably pulled together a vocal majority in Quebec, Bouchard took the match 7-6(0)/2-6/6-1.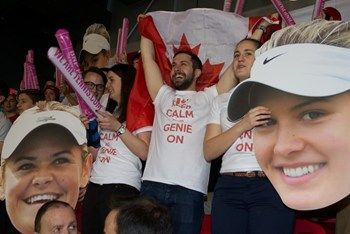 There was even more drama in the USA/France tie in St.Louis, though early on it didn't look as if that was going to be the case.




In the opening match, Bogota champ Caroline Garcia easily dispatched the "more experienced" Fed Cup player Sloane Stephens, dominating from the start and showing zero nerves in a 6-3/6-2 victory. While Garcia was constantly bolstered by vocal French captain Amelie Mauresmo, the low energy-looking Current Sloane was supported by the low-energy looking U.S. bench and a very serious Mary Joe Fernandez. Tennis Channel commentator Rennae Stubbs, in direct opposition to what she was seeing with the U.S. team, talked about how vocal she and her Aussie teammates were during her Fed Cup career. I found myself agreeing with her, especially noting the great contrast with how MJF did very little to emotionally prop up Stephens and how Mauresmo expertly handled Garcia. But, then again, it was also easy to wonder if any amount of cheering or support would spark Current Sloane. Just ask Paul Annacone, who's still trying (in vain?) to find exactly what it is that will motivate Stephens on a match in and match out basis. The commentators at TC seemed to think that Stephens' loss was some huge shock. But, really, anyone who's been watching over the past year would have been more shocked if it'd been Future Sloane who'd shown up in St.Louis, rather than the same old Current Sloane who did.

Maybe how Madison Keys hung in and eventually outlasted Alize Cornet in the second match will do the trick for Stephens on Day 2, dragging her future self out into the light somewhere other than at a slam? Yeah, probably not. Still, on the same night that fellow generational stars Garcia and Bouchard notched big wins, Stephens' inability to follow suit speaks loads... even if she's too distracted to hear it.

Keys was a ghost of a player in her FC debut in February, where she also took to the court with the U.S. trailing 1-0. She had a hard time even winning a game vs. Italy. That wasn't the case here, as she flashed her power strokes and had quite a few nice winners. Unfortunately, she usually followed them up with errors that gave back to Cornet whatever advantage she'd grabbed or change of momentum she might have kicked off. Keys broke Cornet when the Pastry served for the 1st at 5-3, forcing things to a tie-break, but the Frenchwoman won it 7-4 to take the lead one hour into the match.

Katowice champ Cornet went up 3-1 in the 2nd, saving six break points in a 14-minute game, but things began to fall apart not long afterward when her movement and serve began to be compromised by cramping in her left thigh. Three double-faults (she couldn't push off her leg) in a single game broke Cornet for 3-3, but Keys couldn't keep the advantage. Trying to end things and not be forced into the unknown territory of a 3rd set, the Pastry reached 5-3 and served for the match at 5-4. But the Bannerette stuck with it, got the break and improved her play down the stretch as Cornet's game became more and more limited. Pulling away at 4-4 in the 2nd set tie-break, Keys won 7-4 then took a two-break lead in the 3rd. The double-break was a necessity, it turned out, since Cornet twice cut the lead in half by getting breaks of her own (usually helped along by Keys errors and/or ill-timed double-faults). It wasn't enough, though. Keys, exponentially more fired up than Stephens, showed a bit of what she might eventually be able to do with a little more WTA seasoning, winning 6-7(4)/7-6(4)/6-3 in nearly three hours.

Maybe more importantly for the Bannerette team, Cornet is scheduled to face Stephens in the first match on Sunday afternoon. If she can't physically make the start time, Mauresmo will once again to called upon to expertly juggle her roster in a way that will give it a chance for success. Oh, where is La Trufflette when Mauresmo needs her? Cornet would likely be replaced by Virginie Razzano in the opening match, giving Stephens, in the wake of the Keys success that she watched from the sidelines, the chance to put up a win that would make the Garcia/Keys meeting in the second match a potentially titanic (or maybe Titanic, depending on what happens) clash.

Of course, the likelihood of another "Sloany" performance from Stephens would probably make Razzano the unexpected star of Day 2. under such circumstances. But the U.S. doesn't necessarily need a win from Stephens to win the tie. Remember, doubles player extraordinaire Kristina Mladenovic is also out injured, meaning Mauresmo might choose to keep Cornet in reserve for that possible no-holds-barred match, or use her team-reading skills to come up with the right doubles combo for success on a roster that is suddenly limping toward the finish line.

If Mauresmo, with one (and maybe half of another) hand tied behind her back, can still find the lineup that can take out the U.S. squad, her captaincy abilities will once more dwarf those we've seen from MJF in any tie that hasn't involved a Williams.



**WORLD GROUP II PLAYOFFS**




Well, if the Brazilians were pinning all their hopes on the idea that Belinda Bencic's tempter and youth would cause her to fold in the clutch so that they could advance past the Swiss and out of zone play in 2015 for the first ever, it looks like they were mightily mistaken. After Brazilian #1 Teliana Periera's first match loss to Timea Bacsinszky, 17-year old Bencic followed up with a straight sets win over Paula Cristina Goncalves, coming back from an early break in the 1st to win 6-3/6-3 to give her squad a commanding 2-0 lead. Bencic can clinch the win for Switzerland with an opening match victory over Peliana on Sunday.


All for now.