US.8 - A Tale of Two Cities
It'a the best of times. It's the worst of times.
As we cut down to the final eight in the women's singles draw at this U.S. Open, the competition is evolving into a tale of two cities.
The one occupied by Serena Williams, and the one playing host to everyone else.


Yes, make no bones about it, it's becoming more and more apparent that Serena Williams looks to be settling in in New York. And that's probably not good news for anyone but her.

Today, Williams faced off in the Round of 16 with Kaia Kanepi, who'd managed to save two match points earlier in the tournament against 2011 title winner (and Serena conqueror) Sam Stosur. While her opponent wasn't the now-faltering Aussie, two-time defending U.S. Open champ Serena played close with the Estonian. For half a set. The two were tied at 3-3 in the 1st, but from that point on Williams simply went about matter-of-factly and singlehandedly making sure that the United States didn't fail to place a player -- male or female -- in ANY grand slam singles quarterfinal for an entire season for the very first time. Williams broke Kanepi's serve in four of five games in the 2nd, going to to win 6-3/6-3 to reach the final eight for the first time at a major since she defeated Sloane Stephens in the 4th Round at Flushing Meadows one year ago.


Five-time champion @serenawilliams is back in the QFs! d. #Kanepi 6-3, 6-3. Plays #Pennetta next. #usopen pic.twitter.com/bCzD87CxUz

— US Open Tennis (@usopen) September 1, 2014


Calm and in control and, during her post-match interview, seemingly with a huge weight lifted from her shoulders after finally advancing into the second week at a '14 slam, Williams has to be looking at the landscape of this tournament and realizing that she could be less than a week away from having yet another weighty matter -- that Martina & Chris tying 18th major title -- removed from her agenda, and she's already a little giddy about it. Yes, there are still handful two slam finalists and another slam winner left in the draw, but if Williams has returned to being Serena, rather than the slam impostor we've seem on three other occasions this season, it's hard to believe she won't be smiling come the weekend... and not just about a doubles effort with Venus.

Right now, Serena is looking like she might be the toast of the town yet again.



=DAY 8 NOTES=
...meanwhile, Genie Bouchard's North American summer came to the sort of ending today that one might have seen coming for weeks, save for the notion that the Canadian has been the most consistent slam performer on tour throughout the 2014 season and because of that she just might be able to slowly build her momentum-less hard court season into something similar to the three semifinal-or-better results at majors that she's already put up this season both before and after she celebrated her 20th birthday.

But it wasn't meant to be against Russian Ekaterina Makarova.

The only player to have career wins over both Williams sisters but never to be ranked #1, the Hordette has a history of taking down big names in slams, and New York Times Sunday Magazine cover girl Bouchard surely has managed to make herself just that heading into this U.S. Open. While the Canadian retained some of the fight that she had in Melbourne, Paris and London today, Makarova and the heat eventually drained what was left of it out of her.

Down a double-break early in the 1st, Bouchard failed to break back after holding triple break point soon afterward. Down 4-2, though, she came roaring back, throwing in back-to-back aces while holding for 5-4, then aggressively moving in on Makarova's serve a game later. After going up 40/love on the Russian, Bouchard again flirted with failing to break, as the point reached deuce, but a Makarova double-fault and error combo helped things along. The break knotted the set at 5-5, then Bouchard struggled to hold (finally doing so on her third game point) before Makarova forced a tie-break. An early mini-break was ultimately all that the Russian would need there, grabbing the advantage and never relinquishing it, controlling the tie-break with her groundstrokes and taking it at 7-2 to win the 1st set.


Bouchard getting rubbed down with ice by the trainer during the changeover. She trails Makarova 6-7(2), 2-3. pic.twitter.com/6C0gRxa2QN

— ESPNTennis (@ESPNTennis) September 1, 2014


In the 2nd, Makarova's play remained high, while Bouchard was nearly done in by the heat of New York, as sticky humidity has engulfed the east coast of the U.S. the last two days after what has been a fairly mild summer. After the fifth game of the 2nd, with Makarova up 3-2, the Canadian was treated by trainers, had her blood pressure checked (Maria... shhhhh) and was declared to be suffering from heat illness. She came out and was immediately broken for 4-2. But Makarova played a poor service game immediately afterward, putting things back on serve as she dumped her service game and gave Bouchard hope that if she could just hold on physically she might be able to win the mental game in the 3rd set.

But it didn't happen. Serving to stay in the match down 5-4, the visably flagging Bouchard couldn't continue with her comeback. She quickly fell behind love/40, and when Makarova blasted a return winner off a mediocre serve it was all over. The Russian won 7-6(4)/6-4 to reach her second consecutive U.S. Open quarterfinal, while Bouchard will have to wait a year to attempt to complete a "Career Slam QF Slam," as she would have reached the Final Eight at all four majors after playing in just seven slams had she won today.


QFs for @katemakarova1, who defeats #Bouchard, 7-6, 6-4. She'll face winner of Azarenka / Krunic. #usopen pic.twitter.com/EZAC2mifxV

— US Open Tennis (@usopen) September 1, 2014


Hmmm, could Makarova be heading toward finally, on the tenth anniversary of Svetlana Kuznetsova's NYC title run, ending the decade-long drought of a NEW slam-winning Hordette? Well, she's CAPABLE of it, having already beaten Serena in a slam in the past. But the Russian always seems to come up just short in such situations, having never reached a slam semifinal since she's so far not been able to string together wins over big-name players in the second week of a slam. And if she ends up facing Victoria Azarenka in her next match, that's precisely what she would have to do.

I'm thinking she might be wishing for Aleksandra Krunic to be on the other side of the net, though. Afterall, putting off that second big win -- possibly over Serena in the SF -- for another round surely wouldn't be a bad development for the usually-eventually-star-crossed Makarova. Sometimes it's all about kickin' the can down the road, a little bit at a time.

...it was a good day for Flavia Pennetta. Not that that is anything new when she comes to New York.


.@flavia_pennetta is back in the @usopen quarterfinals for the 2nd yr in a row, with a 75 62 win over Dellacqua. pic.twitter.com/Eos4ffEoyB

— ESPNTennis (@ESPNTennis) September 1, 2014


A year after reaching her first career slam semifinal at Flushing Meadows, the 32-year old is back in the QF for the fifth time in her last six Open appearances. She defeated Casey Dellacqua in the first Round of 16 match completed on Labor Day Monday, then she went right back out a little later for some more rewarding work. In the doubles, Pennetta and Martina Hingis advanced to the final eight there, as well.

...elsewhere in doubles, another high seed was sent packing as #2 Hsieh Su-Wei & Peng Shual were knocked off by Kimiko Date-Krumm & Barbora Zahlavova-Strycova.

With the Women's Doubles QF set, and with the Mixed still to decide three of the semifinalist teams by the end of Monday, there are multiple women alive in multiple draws.

SINGLES/DOUBLES: Makarova, Pennetta, S.Williams
DOUBLES/MIXED: Cara Black, Sania Mirza, Kveta Peschke, Katarina Srebotnik

...in junior action, #1-seeded girl CiCi Bellis got a 1st Round win over Mexico's Renata Zarazua on the Grandstand Court. After signing some autographs, of course.


After making her @usopen main draw debut last week, 15yr old @cicibellis99 began her campaign for junior title today. pic.twitter.com/xW0OQotOAi

— ESPNTennis (@ESPNTennis) September 1, 2014



No, Vika wasn't part of "The Fappening." She posted this herself.





...LIKE FROM DAY 8:

A very intriguing Mixed Doubles pair moving onto the semifinals.


American mixed doubles team of Taylor Townsend & Donald Young celebrate their 2-6,7-6(3),10-5 QF win over Barty/Peers pic.twitter.com/8p4iiTusFy

— ESPNTennis (@ESPNTennis) September 1, 2014




...AUTUMN-LIKE FROM DAY 8:

The American Experience.


I think completing my first fantasy football draft might take the prize for accomplishment I'm most proud of this week #playoffdreams ????

— Nicole Gibbs (@Gibbsyyyy) September 1, 2014


Even if I hate fantasy football, and much prefer the real thing.



...BLAST FROM THE PAST FROM DAY 7: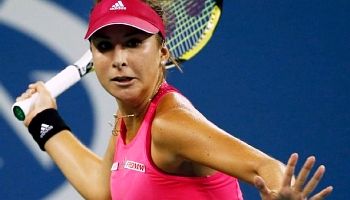 Remember when junior champs used to arrive on tour the following year and make a big mark? Yeah, it's been awhile. But 17-year old Belinda Bencic, last year's girls #1 and a two-time junior slam winner, is on the cusp of doing just that at this U.S. Open. She's already knocked off Yanina Wickmayer (a former Open semifinalist), Kurumi Nara (#31 seed), Angelique Kerber (Top 10 & former semifinalist) and Jelena Jankovic (Top 10, an ex-#1 and former Open runner-up), with only unseeded Peng Shuai now standing between her and a maiden slam semifinal berth. Peng is probably the favorite going into that match, but there's a reason the Chinese vet has yet to win an official WTA singles title, and it isn't because she always lives up to her advanced billing.



...HIDDEN MESSAGES FROM DAY 8??:

During a CBS Sports informational "Tennis for the Modern World" tidbit (sponsored by esurance) today, the changing of tennis attire was noted, specifically how it's gone from long pants and baggy skirts to outfits that are "just as performance-focused as the players themselves," with "smart clothing" (which track perspiration rates and links the data to smart phones) causing "one-time fashion statements to transform into performance statements." Yeah, yeah. That's all fine and good. But the "fashion statement" phrase was uttered just as a clip of Vika in her '13 monstrosity was shown. Hmmm, coincidence?






...LIKE FROM NIGHT 7:

Cool TwitPics from Roger Federer.


Happy with my @usopen win tonight. Where is the road going to take me next? I'll just follow coach Seve and see :) pic.twitter.com/a59q76Q4wr

— Roger Federer (@rogerfederer) September 1, 2014
...THE DINARA CHALLENGE FROM DAY 8, or Day 1 of 61:
And my #61dayschallenge is,61 days of workout without stopping or quitting!!!! So today was 1/61?? Scandinavian walk pic.twitter.com/SQdNm0HobZ

— Dinara Safina (@Dinarik27) September 1, 2014




...LIKE FROM DAY 8:

Petko being Petko.


I AM COOKING AND IT'S AMAZING AND EVERYBODY'S EXCITED AND WE WILL ALL DIE SOON PROBABLY MAYBE FOR CERTAIN pic.twitter.com/yotcD0e7Gj

— Andrea Petkovic (@andreapetkovic) September 1, 2014
...and, finally, The Face of Backspin II vs. The Serbian Good Luck Charm tonight on Ashe. Will Vika cross the line and set up a QF match with Ekaterina Makarova, with the possibility of a third straight Open that includes a meeting with Serena maybe awaiting her in the semifinals, or is Krunic not ready to end her career run just yet? Could be a good one. Same with Raonic/Nishikori.





=WOMEN'S SINGLES QF=


#1 Serena Williams/USA vs. #11 Flavia Pennetta/ITA
(Q) Aleksandra Krunic/SRB or #16 Victoria Azarenka/BLR vs. #17 Ekaterina Makarova/RUS
Belinda Bencic/SUI vs. Peng Shuai/CHN
#10 Caroline Wozniacki/DEN vs. #13 Sara Errani/ITA



=MEN'S SINGLES ROUND OF 16=


#1 Novak Djokovic/SRB def. #22 Philipp Kohlschreiber/GER
#8 Andy Murray/GBR def. #9 Jo-Wilfried Tsonga/FRA
#16 Tommy Robredo/ESP vs. #3 Stan Wawrinka/SUI
#10 Kei Nishikori/JPN vs. #5 Milos Raonic/CAN
#6 Tomas Berdych/CZE vs. Dominic Thiem/AUT
#14 Marin Cilin/CRO vs. #26 Gilles Simon/FRA
#7 Grigor Dimitro/BUL vs. #20 Gael Monfils/FRA
#17 Roberta Bautista-Agut/ESP vs. #2 Roger Federer/SUI



=WOMEN'S DOUBLES QF=


Hingis/Pennetta (SUI/ITA) vs. #5 Peschke/Srebotnik (CZE/SLO)
#3 C.Black/Mirza (ZIM/IND) vs. Diyas/Y.Xu (KAZ/CHN)
S.Williams/V.Williams (USA/USA) vs. #4 Makarova/Vesnina (RUS/RUS)
#8 Hlavackova/J.Zheng (CZE/CHN) vs. Date-Krumm/Zahlavova-Strycova (JPN/CZE)



=MEN'S DOUBLES QF=


#1 B.Bryan/M.Bryan (USA/USA) vs. #7 Marrero/Verdasco (ESP/ESP)
Lipsky/R.Ram (USA/USA) vs. #12 Butorac/Klaasen (USA/RSA)
Berlocq/L.Mayer (ARG/ARG) vs. #4 Dodig/Melo (CRO/BRA)
#11 Granollers-Pujols/M.Lopez (ESP/ESP) vs. #2 Peya/Soares (AUT/BRA)



=MIXED DOUBLES QF=


#1 Mirza/Soares (IND/BRA) vs. #6 Srebotnik/Bopanna (SLO/IND)
YJ.Chan/Hutchins (TPE/GBR) vs. Peschke/Matkowski (CZE/POL)
Spears/S.Gonzalez (USA/MEX) vs. #3 C.Black/Paes (ZIM/IND)
[wc] Townsend/Young (USA/USA) def. Barty/Peers (AUS/AUS)







**WTA CAREER SLAM QF - active**


38...SERENA WILLIAMS, USA
33...Venus Williams, USA
21...Maria Sharapova, RUS
15...Svetlana Kuznetsova, RUS
12...Victoria Azarenka, BLR (to play 4th Rd.)
10...Li Na, CHN
10...Agnieszka Radwanska, POL



**WTA SLAM QF - 2010-14**


10...Victoria Azarenka, BLR (to play 4th Rd.)
10...SERENA WILLIAMS, USA
8...Petra Kvitova, CZE
8...Li Na, CHN
8...Maria Sharapova, RUS
7...Agnieszka Radwanska, POL
6...SARA ERRANI, ITA
6...CAROLINE WOZNIACKI, DEN



*UNSEEDED/WC/Q in SLAM QF SINCE 32-SEED DRAW*




[began w/ 2001 Wimbledon]


01 US - Bedanova
02 AO - Ad.Serra-Zanetti
02 RG - Pierce,C.Fernandez,Suarez
02 WI - Likhovtseva
02 US - Bovina
03 AO - Shaughnessy,Ruano-Pascual
03 RG - Pierce
04 WI - Sprem
04 US - Asagoe
05 RG - Karatantcheva
06 AO - Hingis(wc)
06 WI - Bremond(q)
07 AO - S.Williams,Safarova [Serena won title]
07 US - Szavay
08 RG - Kanepi,Suarez-Navarro(q)
08 WI - Zheng(wc),Tanasugarn
09 AO - Dokic(wc),Suarez-Navarro
09 RG - Sharapova,Cirstea
09 WI - Lisicki,Schiavone
09 US - Wickmayer,K.Bondarenko,Oudin,Clijsters(wc) [KC won title]
10 AO - Henin(wc) [Henin reached final]
10 RG - Shvedova
10 WI - Kvitova,Kanepi(q),Pironkova
10 US - Cibulkova
11 WI - Lisicki(wc),Paszek
11 US - Kerber
12 AO - Makarova,Errani
12 RG - Shvedova(q)
12 WI - Paszek
13 AO - Kuznetsova
13 RG - Kuznetsova
13 WI - Kanepi
13 US - Hantuchova
13 US - Pennetta
14 RG - Muguruza
14 WI - Zahlavova-Strycova
14 US - Bencic
14 US - Peng
--
NOTE: (q)Krunic still to play 4th Rd.



*BACKSPIN 2014 DOWN PLAYER-OF-THE-MONTH*


JAN: Petra Kvitova, CZE
FEB: Roberta Vinci, ITA
MAR: Petra Kvitova, CZE
APR: SRB Fed Cup Team
MAY: Petra Kvitova, CZE
RG: Serena Williams, USA
JUN: Serena Williams, USA
JUL: Samantha Stosur, AUS
AUG: Victoria Azarenka, BLR


[2014 Weekly DOWN Player Award Wins]


7...Petra Kvitova, CZE
6...Serena Williams, USA
4...Victoria Azarenka, BLR
4...Sloane Stephens, USA
4...Samantah Stosur, AUS
4...Roberta Vinci, ITA
3...Kaia Kanepi, EST
3...Sabine Lisicki, GER
3...Franesca Schiavone, ITA
3...Caroline Wozniacki, DEN
2...Eugenie Bouchard, CAN
2...Jana Cepelova, SVK
2...Dominika Cibulkova, SVK
2...Alize Cornet, FRA
2...Sara Errani & Roberta Vinci, ITA/ITA
2...Caroline Garcia, FRA
2...Simona Halep, ROU
2...Svetlana Kuznetsova, RUS
2...Hsieh Su-Wei/Peng Shuai, TPE/CHN
2...Karin Knapp, ITA
2...Flavia Pennetta, ITA
2...Tsvetana Pironkova, BUL
2...Agnieszka Radwanska, POL
2...Maria Sharapova, RUS
2...SRB Fed Cup Team
2...SVK Fed Cup Team







TOP QUALIFIER:

#32q Aleksandra Krunic/SRB




TOP EARLY-ROUND (1r-2r):

#1 Serena Williams/USA




TOP MIDDLE-ROUND (3r-QF):

xx


TOP LATE-ROUND (SF-F):

xx


TOP QUALIFYING MATCH:

Q3: Duan Yingying/CHN d. Irena Pavlovic/FRA 6-3/1-6/7-6(5) [Pavlovic up 5-1 3rd, held MP]




TOP EARLY-RD. MATCH (1r-2r):

1st Rd. - (WC) CiCi Bellis/USA d. #12 Dominika Cibulkova/SVK 6-1/4-6/6-4 (Bellis world #1208)




TOP MIDDLE-RD. MATCH (3r-QF):

xx


TOP LATE-RD. MATCH (SF-F/Jr.):

xx


TOP ASHE NIGHT SESSION MATCH:

xx


=============================




FIRST WINNER:

#4 Aga Radwanska/POL (def. S.Fichman/CAN)




FIRST SEED OUT:

#25 Garbine Muguruza/ESP (lost to M.Lucic-Baroni/CRO)




UPSET QUEENS:

United States




REVELATION LADIES:

United States (12 Bannerettes 2nd Rd.)




NATION OF POOR SOULS:

France (1-5 in 1st Rd.; only win in Pastry-vs.-Pastry match-up)




CRASH & BURN:

#12 Dominika Cibulkova/SVK (AO runner-up; lost 1st Rd. to Bellis/USA, 15-year old in slam debut)




ZOMBIE QUEEN:

Mirjana Lucic-Baroni/CRO (in Round of 16 for first time in 15 years, after family's abusive background<)




LAST QUALIFIER STANDING:

In 4th Rd.: A.Krunic/SRB, M.Lucic-Baroni/CRO(L)


LAST WILD CARD STANDING:

Nicole Gibbs/USA (3rd Rd.)




LAST BANNERETTE STANDING:

Serena Williams/USA (in QF)




IT ("Girl"):

CiCi Bellis/USA (15-year old Wild Card; youngest MD win since 1996 - Anna Kournikova)




Ms.OPPORTUNITY:

xx


COMEBACK PLAYER:

Caroline Wozniacki/DEN




BROADWAY-BOUND:

Nominee: S.Errani/ITA, A.Krunic/SRB, B.Bencic/SUI, V.Azarenka/BLR


LADY OF THE EVENING:

Nominee: S.Williams/USA


DOUBLES STAR:

xx


JUNIOR BREAKOUT:

xx





All for now. More later.