US.6 - Good Luck Has Nothing to Do with It
New York is the Serbian Good Luck Charm Aleksandra Krunic's very own good luck charm. For Petra Kvitova?
Yeah, not so much.


The little Serb with the big heart, 21-year old Krunic has been a Backspin favorite for a while now. Mostly, though, she's been a doubles star. Specifically in Fed Cup play. During Serbia's historic run to the 2012 Fed Cup final, the Moscow-born (and famed Spartak Club-trained) Krunic was the team's good luck charm, taking part in multiple victories during the series of tie-deciding doubles matches that gradually -- and dramatically -- pushed the team through each round. Since the start of 2013, though, the Serbian team has mostly failed to include Krunic on the roster, usually in favor of a newly-Serbian Vesna Dolonc, who had no FC history to speak of and who has performed poorly when called upon. It's been something of a karmic victory for all things right and "good-lucky" that ever since the Serbs started to throw anyone and everyone with "SRB" by their name onto FC rosters instead of (the now-only-added-to-the-roster-if-multiple-players-get-injured) Krunic, Serbia has yet to win a single tie. Their most recent loss to Romania in the World Group II Playoffs this past spring gives Team Serbia five straight tie defeats since reaching the final with Krunic in attendance and as an important contributor. The team's fall back into zone play in '15 is now complete. Serves them right.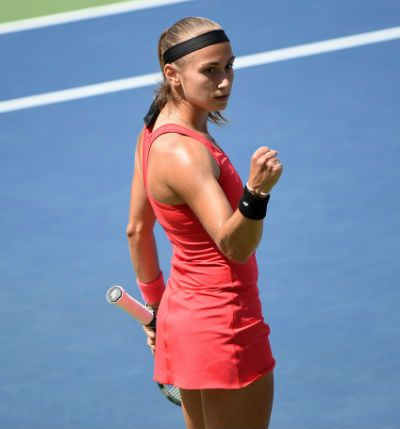 Meanwhile, Krunic has gone about putting together an ever-improving singles career. Since the start of the 2013 season, Krunic has put away a pair of ITF titles, running her career mark in singles finals to 8-2. A year ago, she qualified for her first career slam main draw at the U.S. Open. She lost in the 1st Round, but last week she returned to Flushing Meadows and qualified again. Things have gone much differently in the main draw this time around. After opening with a win in her Open debut over Paula Kania, she moved up a level by taking out #27-seed Madison Keys in the 2nd Round for the biggest win of her career, showing surprising pop on her shots and serve, while never giving an inch in the area of competitiveness against the Bannerette.

Going up against Wimbledon champ Petra Kvitova seemed as if it would be whole different ball of wax. As it turned out, though, it wasn't.

Kvitova has never reached the quarterfinals in New York. The chaos of the city and tournament grounds rub right up against her shy personal nature, and the humid U.S. east coast summer weather plays additional havoc with her asthmatic condition. Oh, and her post-Wimbledon title results have often left something to be desired, too. She didn't handle her new fame well three years ago after her first SW19 win, and she didn't play particularly well this summer on hard courts, either. Yes, she won in New Haven, but all the big names lost early and she was the only seed to reach the final eight in Connecticut. It was a hard court season-salvaging week in Connecticut for her, but it really didn't necessarily mean anything when it came to her chances at having her best ever U.S. Open. That said, she opened well, dominating in her first two matches in Flushing Meadows. But what was she going to do when the weather started to heat up, and so did her opponent?

That's what happened today... and Petra's bad history repeated itself.

With Krunic, though she showed great respect for Kvitova's tour statue after the match, giving no ground between the lines, the Serb dared the Czech to take the match. Employing good defense and a decided lack of fear, Krunic reached break point on Kvitova's serve in the ninth game of the match, firing a backhand winner down the line. Kvitova, looking pushed to the limit already, with sweat soaking through her clothes and dripping off her forehead, double-faulted to give Krunic the chance to serve for the set. Appearing fresh as a proverbial daisy in a field, the Serb used her defensive skills to make Kvitova play long points. With errors creeping into the Czech's game, the Serb won the long rallies and then threw in a drop shot to force Kvitova to race to retrieve it. Reaching the ball, she put it into the net to give Krunic set point, then fired a forehand wide to decide the matter. Krunic led 6-4.

Kvitova went up 2-0 in the 2nd, but Krunic didn't blink or back down. When the Czech failed to convert a game point for a 3-0 lead, Krunic got the break to get back on serve. A game later, the Serb sprayed an overhead and was break point down, but she saved it with a drop shot and open court winner. As Kvitova couldn't stop the errors from coming, Krunic held for 2-2. A game later, another long Kvitova forehand gave her opponent a break lead at 3-2, as the look of panic and desperation on the Czech's face was apparent. Trying to pump herself up with her patented, winner-punctuating shouts, Kvitova did enough to possibly break the will of less willful competitors. But not Krunic. The Serb refused to give the match momentum back, and challenged Kvitova to make the shots to the end long rallies in order to TAKE it.

Krunic went up a break at 3-2, then Kvitova saved two break points to hold and close to 4-3. After another drop shot, Krunic missed a passing shot and faced a break point, which the Czech converted for 4-4. But while Kvitova continued to visibly become drained in the heat, Krunic was no wilting flower. Great defensive gets helped produce a Kvitova error with a long forehand to reach break point. After failing on her first try, Krunic got a second BP chance courtesy of a backhand pass. A wild Kvitova backhand sailed long and the Serb got the break for a 5-4 lead.

By this point, Krunic was now the strong breeze, not the flower. Another drop shot gave her a 40/love lead a game later, reaching triple match point. After not getting the first, the Serb had no problem coming back a point later and stringing Kvitova along in a long rally until the Czech fired another errant forehand wide, giving Krunic the biggest win of her career via a 6-4/6-4 scoreline, a second win over a Petra at this tournament (Martic, in qualifying), and a trip to her first major Round of 16.


No. 3 Petra #Kvitova goes down to qualifier and World No. 145 Aleksandra #Krunic 6-4, 6-4 in the third round. #usopen pic.twitter.com/Ejb7WRDaZV

— US Open Tennis (@usopen) August 30, 2014


While Kvitova's summer hard court season ends with old/new questions about her (in)ability to live up to her ranking (she had a chance to end this Open as the #1-ranked player) anywhere outside the All-England Club, Krunic has no problem embracing chaos. Why, she's played doubles with her, after all.

Speaking of Jelena Jankovic, Krunic surely has seemed to pick up a few traits of her countrywomen over the years. Her hustle and affinity for doing splits on the court are very JJ, while her speed-talking post-match English interviews are reminscent of Ana Ivanovic. Why, she's even adopted the pulled-back-tight ponytail look of Queen Chaos, even if ol' QC isn't really sporting it at this Open. If she hadn't already won a slew of fans with her play, Krunic likely grabbed them with her on-court interview afterward. Dutifully respectful to Kvitova, having watched her at Wimbledon, she said she didn't think she really had a chance to win against the Czech. Able to be funny in one of multiple languages, Krunic might just be not only the Serbian Good Luck Charm, but a charm for many others, as well.

For once, karma has aided the slight, #145-ranked Serb. Her new coaching relationship with Branislav Jevremovic -- this is their first tournament together -- seems like pure kismet, and she's now exceeding even her own goals for herself by a wide margin. In a recently-conducted "Getting to Know" interview with Krunic on the tour's website, she stated her "short-term goal" as being able to reach the main draw at her favorite slam in Melbourne. As far as "long-term," it was to be Top 50 by the end of next year. Well, it all seemed reasonable, and maybe even overly optimistic, at the time, I guess.

Hmmm, maybe now Krunic won't even have to wonder whether or not she'll be on the 2015 Serbian Fed Cup roster. Imagine that. Actually, come to think of it, when she gets the call early next year, maybe Krunic should just say, "No thanks, I'm busy that weekend." If the team captain questions her change of heart, she can just say it's something she learned in New York.

She didn't find good luck in the city. It finally found her.



=DAY 6 NOTES=
...the best thing about Vika Azarenka's win today over Elena Vesnina is that it went by so fast that before I'd realized that the match had started (hey, it was college football's opening weekend, as well, you know) it was already over. Azarenka, picking up steam with each victory, won 6-1/6-1 in less than hour. While she saved the only two break points she faced against the Hordette, she converted all five she held on Vesnina's serve. It's Azarenka's 100th career slam match win.


.@vika7 becomes only eighth active player to reach 100 Grand Slam wins today with a 61 61 victory over Vesnina. pic.twitter.com/TiykGx1BHh

— ESPNTennis (@ESPNTennis) August 30, 2014


She'll get Krunic next, as Serbian Good Luck meets Vika Verisimilitude. May the best Backspin fave win.

...as ATP Backspin's Galileo West pointed out to me the other day, Casey Dellacqua is having a pretty good year in singles. So true, even if it maybe has gone hand in hand with a doubles campaign (w/ Ashleigh Barty) that hasn't flown quite as high as last season (after reaching the '13 final, the Aussies lost in the 1st Round in '14). Dellacqua is still alive in singles, though, reaching her second career slam Round of 16 today (the other came seven months ago in Melbourne) with a 6-3/3-6/6-4 win over Karolina Pliskova. The Czech serving monster out-aced Dellacqua 11-1, but Casey put up just enough points everywhere else (92-89 for the match) to outlast countrywoman -- and higher-ranked, for now -- Sam Stosur at the third grand slam this season. With Dellacqua now assured of passing #30 and achieving another singles career-high, she isn't that far off from becoming the highest-ranked Aussie in both doubles AND singles.

...Flavia Pennetta's affinity for New York continues, as the Italian advanced to the Round of 16 for the fifth time in her last six Open appearances, ousting "Last Wild Card Standing" Nicole Gibbs in straight sets. Gibbs leaves Queens in a very good mood, though...


Steps in the right direction this week. Time to build on it in Asia and finish the year strong! Thank you @usopen for an amazing week! ??

— Nicole Gibbs (@Gibbsyyyy) August 30, 2014


Serena Williams is the "Last Bannerette Standing." Of course, she should be, I guess, considering she's now eliminated three countrywomen through the first three rounds of this U.S. Open. Today's victim was naturaliz-... sorry, I thought that was her actual name... fellow American Varvara Lepchenko, who lost 6-3/6-3. She'll next face Kaia Kanepi, who took out Carla Suarez-Navarro. Kanepi sometimes is unable to complete the deal in big matches, but if she's "on" that could turn out to be a very interesting match against Serena.

Meanwhile, two days after dispatching 15-year old CiCi Bellis, Zarina Diyas wasn't able to follow up with a win over Ekaterina Makarova. The Russian defeated the Kazakh in straight sets, reaching her second straight slam Round of 16.

...in doubles, a big upset came today in the form of top-seeded Sara Errani & Roberta Vinci losing in three sets to Aussies Jarmila Gajdosova & Ajla Tomljanovic. #2 Hsieh Su-Wei & Peng Shuai advanced, along with Martina Hingis & Pennetta, who all advanced to the Round of 16. the Original Swiss Miss, by the way, is still seeking her first slam title of any kind since winning the 2002 Australian Open with fellow "Spice Girls Doubles" partner Anna Kournikova.




...THIS JUST IN: JJ will play under the lights on Ashe on Sunday night! Yes, sir... and ma'am. Bencic gets her first big stage spotlight there, too.

...meanwhile, with no HUGE comeback situations, the "Zombie Queen" award has so far gone unfilled. While Errani, for her win after seeing Venus Williams serving up 5-3 in the 3rd, is a candidate. But since I don't think I can award the much-deserved "Comeback" honor to a very deserving Mirjana Lucic-Baroni after her return to the spotlight after fifteen years away or in the background for reasons beyond her control -- I already gave her a slam comeback award at Wimbledon three years ago when she beginning to slowly rebuild her career -- I think I'll go with the 32-year old Croat for "ZQ," for very different reasons than normally decide who gets it. And I'm perfectly fine with that.
.@vika7 reaches fourth rd of 16 at the #usopen, d. #Vesnina 6-1, 6-1 in 56 minutes. How far will the No. 16 seed go? pic.twitter.com/qrA6wVyLvl

— US Open Tennis (@usopen) August 30, 2014



Lurking, but, progressively with each and every round, not nearly as quietly.





...LIKE FROM DAY 6:

Arvidsson, sounding very Vika (and Sania) like.


To avoid critisism...say nothing,do nothing and be nothing.

— Sofia Arvidsson (@Sofia_Arvidsson) August 30, 2014




...WORTH NOTING FROM DAY 6:

It's Andy Roddick's birthday...


Who remembers this moment? Happy birthday to former #usopen champion @andyroddick! pic.twitter.com/GkC29FK6uo

— US Open Tennis (@usopen) August 30, 2014


Roddick might have been both the luckiest and unluckiest player in recent memory. Unlucky, of course, because he came of age in the era of "The Big 3" or, on occasionally, "Big 4." And lucky because he was fortunate enough to at least slip ONE slam win in before the "dark ages" would arrive for anyone not named Federer, Nadal, Djokovic or Murray.

For the women, Hana Mandlikova has to be in the "most unlucky" running, being faced with a career where she was constantly looking up at Navratilova and Evert in the rankings. Still, though, she won four slam titles at three different majors (and twice reached the Wimbledon final... losing to both women). Of course, her career high point came in New York in 1985, when she defeated both Chris & Martina to win her only U.S. Open title.





...LIKE FROM DAY 6:

Anna C. continues to prowl the Open.


Woow Krunic made my day! Great match!! Good job ,girl!!!! ??????????

— Anna Chakvetadze (@achakv87) August 30, 2014


...

LIKE

/

EYE ROLL

FROM DAY 6: CBS Sports' broadcast open -- in the final year in which the network will hold TV rights, as ESPN takes over the full package in '15 -- included a "Who's Who?" montage of all the great players and voices of the last forty-six years. It started with Bud Collins! Good stuff.

Of course, then a few minutes later Bill MacAtee introduced the upcoming Serena/Lepchenko match by noting how Lepchenko was born in Uzbekistan but now represents the U.S. First, since she listed her nationality as being American in 2007, and began to represent the U.S. in 2011, it's not really "news." But, really, did the networks share an inter-office memo that commands everyone to note that Lepchenko wasn't born on American soil every time she plays a slam match? And what would they do if Lepchenko played Anna Tatishvili, the Georgia-born (and not the U.S. Georgia, either) player who only recently began playing under the U.S. flag -- spend the entire match talking about Uzbeki and Georgian geography?

No, of course not -- they'd probably just mention "Georgia" as often as possible, hoping the viewers would think Tatishvili grew up on Peach Tree Aventue in Atlanta. Or maybe Peach Tree Boulevard. Or quite possibly Peach Tree Way.



...WHEN IN DOUBT FROM DAY 6:

Get new hair...





...WHEN IN RETIREMENT FROM DAY 6:

...or go to a spa, like Dinara.





...INTERESTING FROM DAY 5/6:

Last night's win by Maria Sharapova over Sabine Lisicki (which means at least one Russian has advanced to the Round of 16 at 56 of 57 slams, by the way) makes her 18-0 in Ashe night matches, just two off Pete Sampras' record. Of note, though, is that she's only played forty TOTAL U.S. Open matches, meaning nearly half her total matches in New York have seen her given the star treatment of a night session showcase under the lights. I guess that'll happen when you enter the fray as a 17-year old star, and a decade later you've never stepped out of the spotlight.

Roger Federer, for example, who is now 26-1 on Ashe at night, has played eighty total U.S. Open matches. So his night match-to-total match percentage is very good, but it's not quite Sharapovian.

...with one 3rd Round match remaining, Genie Bouchard's Ashe Court (yep, she's getting the Sharapova treatment... this is her second night appearance in five career Open matches) meeting with Barbora Zahlavova-Strycova, I'll be back later tonight with the traditional "You Show Me Your List, I'll Show You Mine" post highlighting all the important stats regarding all of this slam's final sixteen survivors.

...and, finally, some comments from Lucic-Baroni's emotional press conference the other day:


"I feel goofy right now. I feel like I'm 15 now. I feel so excited. It's crazy. I'm 32, but I don't feel like that. My body is really great. That's really important. I feel fit. I feel strong in my mind. I feel very excited, even after so many years on tour. That's what I find really -- exciting is not the word. Kind of surprising a little bit. I still have so much desire, so much to play. I have such an amazing husband and such a happy life at home that I don't need to do this. I would be perfectly fine having a family. But people don't realize how much I want this and how hard I worked for this. Yeah, it's these moments in these last two weeks that are just -- I mean, it's what I work for. It's just so fulfilling, so amazing."





=WOMEN'S SINGLES ROUND OF 16=


#1 Serena Williams/USA vs. Kaia Kanepi/EST
#11 Flavia Pennetta/ITA vs. #29 Casey Dellacqua/AUS
(Q) Aleksandra Krunic/SRB vs. #16 Victoria Azarenka/BLR
#17 Ekaterina Makarova/RUS vs. xx
Belinda Bencic/SUI vs. #9 Jelena Jankovic/SRB
#14 Lucie Safarova/CZE vs. Peng Shuai/CHN
#5 Maria Sharapova/RUS vs. #10 Caroline Wozniacki/DEN
#13 Sara Errani/ITA vs. (Q) Mirjana Lucic-Baroni/CRO



=MEN'S SINGLES ROUND OF 16=


#1 Novak Djokovic/SRB vs. xx
#9 Jo-Wilfried Tsonga/FRA vs. #8 Andy Murray/GBR
xx vs. xx
#10 Kei Nishikori/JPN vs. #5 Milos Raonic/CAN
xx vs. xx
xx vs. xx
xx vs. xx
xx vs. xx







*U.S. OPEN "LAST BANNERETTE STANDING"*


2008 Serena Williams (W)
2009 Serena Williams (SF)
2010 Venus Williams (SF)
2011 Serena Williams (RU)
2012 Serena Williams (W)
2013 Serena Williams (W)
2014 Serena Williams (in 4th Rd.)



*RECENT BEST AMERICAN WOMEN'S SLAM RESULTS*




=2011=


AO: Venus Williams (3rd)
RG: Vania King & Bethanie Mattek-Sands (3rd)
WI: Serena Williams (4th)
US: Serena Williams (RU)


=2012=


AO: Serena Williams (4th)
RG: Sloane Stephens (4th) & Varvara Lepchenko (4th)
WI: Serena Williams (W)
US: Serena Williams (W)


=2013=


AO: Sloane Stephens (SF)
RG: Serena Williams (W)
WI: Sloane Stephens (QF)
US: Serena Williams (W)


=2014=


AO: Sloane Stephens & Serena Williams (4th)
RG: Sloane Stephens (4th)
WI: L.Davis, M.Keys, A.Riske, S.Williams, V.Williams (3rd)
US: Serena Williams (in 4th Rd.)



*BACKSPIN 2014 FRESH FACE-OF-THE-MONTH WINNERS*


JAN: Eugenie Bouchard, CAN
FEB: Belinda Bencic, SUI
MAR: Elina Svitolina, UKR
APR: Donna Vekic, CRO
MAY: Monica Puig, PUR
RG: Garbine Muguruza, ESP
JUN: Madison Keys, USA
JUL: Elina Svitolina, UKR
AUG: Elina Svitolina, UKR


[2014 Weekly Fresh Face Award Wins]


8...Belinda Bencic, SUI
4...Eugenie Bouchard, CAN
4...Lauren Davis, USA
4...Zarina Diyas, KAZ
4...Madison Keys, USA
4...Garbine Muguruza, ESP
4...Anna Schmiedlova, SVK
4...Elina Svitolina, UKR
4...Taylor Townsend, USA
3...Jana Cepelova, SVK
3...Ana Konjuh, CRO
3...Sachia Vickery, USA
2...Annika Beck, GER
2...Vicky Duval, USA
2...Camila Giorgi, ITA
2...Anett Kontaveit, EST
2...Grace Min, USA
2...Kurumi Nara, JPN
2...Jelena Ostapenko, LAT
2...Alison Riske, USA
2...Shelby Rogers, USA
2...Ajla Tomljanovic, AUS
2...Coco Vandeweghe, USA







TOP QUALIFIER:

#32q Aleksandra Krunic/SRB




TOP EARLY-ROUND (1r-2r):

#1 Serena Williams/USA




TOP MIDDLE-ROUND (3r-QF):

xx


TOP LATE-ROUND (SF-F):

xx


TOP QUALIFYING MATCH:

Q3: Duan Yingying/CHN d. Irena Pavlovic/FRA 6-3/1-6/7-6(5) [Pavlovic up 5-1 3rd, held MP]




TOP EARLY-RD. MATCH (1r-2r):

1st Rd. - (WC) CiCi Bellis/USA d. #12 Dominika Cibulkova/SVK 6-1/4-6/6-4 (Bellis world #1208)




TOP MIDDLE-RD. MATCH (3r-QF):

xx


TOP LATE-RD. MATCH (SF-F/Jr.):

xx


TOP ASHE NIGHT SESSION MATCH:

xx


=============================




FIRST WINNER:

#4 Aga Radwanska/POL (def. S.Fichman/CAN)




FIRST SEED OUT:

#25 Garbine Muguruza/ESP (lost to M.Lucic-Baroni/CRO)




UPSET QUEENS:

United States




REVELATION LADIES:

United States (12 Bannerettes 2nd Rd.)




NATION OF POOR SOULS:

France (1-5 in 1st Rd.; only win in Pastry-vs.-Pastry match-up)




CRASH & BURN:

#12 Dominika Cibulkova/SVK (AO runner-up; lost 1st Rd. to Bellis/USA, 15-year old in slam debut)




ZOMBIE QUEEN:

Mirjana Lucic-Baroni/CRO (in Round of 16 for first time in 15 years, after family's abusive background<)




LAST QUALIFIER STANDING:

In 4th Rd.: A.Krunic/SRB, M.Lucic-Baroni/CRO


LAST WILD CARD STANDING:

Nicole Gibbs/USA (3rd Rd.)




LAST BANNERETTE STANDING:

Serena Williams/USA (in 4th Rd.)




IT ("Girl"):

CiCi Bellis/USA (15-year old Wild Card; youngest MD win since 1996 - Anna Kournikova)




Ms.OPPORTUNITY:

xx


COMEBACK PLAYER:

Nominee: C.Wozniacki/DEN, J.Jankovic/SRB


BROADWAY-BOUND:

Nominee: J.Jankovic/SRB, S.Errani/ITA, A.Krunic/SRB, B.Bencic/SUI


LADY OF THE EVENING:

Nominee: M.Sharapova/RUS, S.Williams/USA


DOUBLES STAR:

xx


JUNIOR BREAKOUT:

xx





All for now. More later.