Australian Open Preview: Of History and Hunches

Two weeks into the season, with only a handful of matches on which to judge things, with few players truly "match-tough," and as those that seem to be just that maybe now a bit tired after their first bit of extended 2015 competition, how are we really to try and figure out what is going to happen at the Australian Open?
Well, as usual, there are always history and hunches to go on.


At the slam which best rewards fitness, a smart offseason training regimen, the glory of early season health (wink-wink, Na) and a little bit of good fortune, often the ultimate winner turns out to be a what might sometimes be viewed as just another face in the crowd.




Sometimes, though, they're a little more than that.

Here's a quick overview of the women's draw, quarter-by-quarter, and what might happen over the next two weeks:



=SERENA QUARTER=




*TITLE CONTENDERS*


1.

Serena Williams, USA

...which Serena will we get? The one who's dominated the Australian Open at times during her career, Soul Surviving her way to five titles (including as a #7 seed and when unseeded) and "saved" her '14 season by winning in NYC and Singapore, or the one who fumbled her way through three slams last year, suffered her worst-ever slam defeat (in Paris) and her worst-ever loss (at the WTAF), then began her season in Perth by dropping her opening set at love to Flavia Pennetta, then suffered losses to Genie Bouchard and Aga Radwanska, who are a combined 0-10 against her in matches that count? Though she's the #1 seed, Williams' quarter is a tricky one. It includes two of the players (Cornet & Muguruza) who handed her slam defeats in '14, her closest hard court rival in recent years (Azarenka), her reigning BFF (Caro), a former AO finalist (Cibulkova) and a player who's made a career of upsetting big names at slams (Pironkova). Serena could still dominate one more time... or get her '15 off to an even worst start than she did her '14 campaign.
2.

Victoria Azarenka, BLR (circa 2012-13, early '14)

...rarely has an unseeded player not named Williams been quite as dangerous at a slam as Azarenka. Remember, she won this title in 2012-13, and save for that 3rd set in the QF vs. A-Rad last year she might have been playing Li Na in the final seeking a three-peat. Also, Vika was a Brisbane RU to Serena last January before things started to go haywire. She's only played one match in '15, but it was an intriguing one as she held match point against Karolina Pliskova in Brisbane a week before the Czech pushed Petra Kvitova throughout a two tie-break final a few days ago in Sydney. Can Vika get match tough enough, quickly enough, to make a dent at this AO? She'll face Sloane Stephens in the 1st Round, meeting the Bannerette for a third straight year in Melbourne. After that, it'd likely be Caroline Wozniacki in probably what would be both the most intriguing -- and telling -- match of the first week. If she can reach the 3rd Round, she could very well contend for the title no matter how much Whack-a-Vika media coverage might bubble up yet again Down Under.


THE BRACKET BUSTER:

Garbine Muguruza/ESP

...a year ago, the Spaniard came to Melbourne hot off of winning her first tour title in Hobart. Her AO run ended in the 2nd Round when she was psyched out by a magician/Pole. Since then, she's upset her idol Serena at Roland Garros (handing her that worst-ever slam loss), reached the Top 20 and last week showed that Aga Radwanska does NOT have her number in a three-set win over the Hopman Cup champ in Sydney. #24-seeded Muguruza could meet Williams again in the round of 16, with the victor facing off with the survivor of the crazy/rugged bottom half of this section for a berth in the semifinals. Serena rarely allows a younger player to get her goat twice, but a confident Muguruza would not be easy to send packing if the American is sporting "B" or "C"-level game.


THE WILD CARD:

Tsvetana Pironkova/BUL

...naturally. After being disrespected and having to try to defend her Sydney title by once again coming out of qualifying last week (she reached the SF, falling to eventual champ Kvitova), Pironkova might actually still have a little more gas in the tank for Melbourne than she did last season when she flamed out in the 2nd Round. She opens with Hobart champ Heather Watson, but if she takes out the Brit she could get the chance to go on a seed-killing spree that might include #11 Cibulkova and #19 Cornet, with the likes of #8 Wozniacki, Azarenka or the always-dangerous #25 Barbora Zahlavova-Strycova waiting in the wings.


FIRST BIG SEED OUT?:

#15 Jelena Jankovic/SRB

...sadly, it's true. Timea Bacsinszky, who defeated Kvitova in Week 1, is more than capable of making Queen Chaos' trip to Melbourne a very short one indeed (and in deed).


DON'T COUNT THEIR '14 SLAM RUNNER-UP CHICKENS:

Dominika Cibulkova/SVK & Caroline Wozniacki/DEN

...can lightning strike twice in Melbourne for '14 singles runner-up Cibulkova? Though she's still capable, especially early in the season before she's worn down all over again, it isn't likely. The Slovak has a tricky 1st Rounder vs. Kirsten Flipkens, then could get either giant killer (and, even at 5-foot-3, Domi would still count) Pironkova. Few players ended '14 on a better run than Wozniacki, who then opened '15 by reaching the Auckland final, where she was handled somewhat surprisingly easily by Venus Williams. The Dane then injured her wrist in Sydney. She has an upset-minded Taylor Townsend to start things, and if she escapes there she could face Azarenka. Wozniacki is 5-3 against the former AO champ, but hasn't beaten her since 2010 in a match in which the Dane actually converted a match point to end the contest. Really, Wozniacki couldn't have asked for a more dangerous, landmine-infested draw than this unless she was facing an entire field of a certain Irish golfer's girlfriends, best buds and relatives. Speaking of which, Rory McIlroy pulled off his first competitive hole-in-one this week... so we'll soon find out if that was a bad omen for Caro, or quite the opposite.


THE POOR SOULS:

Alison Van Uytvanck, BEL & Sloane Stephens, USA

...well, Serena is 56-1 in career 1st Round slam matches, so one would think the 20-year old Waffle isn't likely to hand all-time AO woman's match win leader Williams her first opening round loss in Melbourne. If she did, though, it wouldn't be an overreaction to start looking to the skies to see if there are any buzzards circling overhead. As for Stephens, well, she's already had two very hyped match-ups with Azarenka in Melbourne the last two years, and she won just five total games in each of them as she was essentially controlled throughout by the Belarusian on both occasions, no matter all the overblown medical-timeout controversy (sure to be dredged up yet again now) that accompanied their meeting two years ago. In many ways, the Current/Future Sloane legend was both born and died in the 48-hour timespan -- the day of their '13 AO semifinal, and the twelve hours that both preceded and followed it -- that surrounded that match. Fact is, Stephens hasn't reached ANY tour semi since then, and even if she manages to win AO III vs. Vika it'll be easy to attribute it to Azarenka's lack of match toughness in just her second outing since mid-September rather than some notion that Future Sloane has suddenly been reincarnated under the Aussie sun.



=PETRA QUARTER=




*TITLE CONTENDERS*


1.

Petra Kvitova, CZE

...even with her asthma in the Melbourne heat, Kvitova HAS reached a SF in Melbourne (2012). Sure, she was upset in the 2nd ('13) and 1st ('14) Round the last two years, but anyone who saw the fit and confident looking (and barking) Petra during her just-completed title run in Sydney would be hard-pressed to say she CAN'T win this title and grab the #1 ranking that narrowly eluded her exactly three years ago this month. There's no one in this section she wouldn't be favored to defeat, and maybe only two players (Serena & Maria) in the entire draw who she'd have to actually raise her game to defeat. A major win anywhere other than London would elevate Kvitova to another level in her career. The level that so many have been predicting for her to eventually reach since 2011. This could be the slam where it actually happens.
2.

Venus Williams, USA (circa the 1990's... for just two more weeks)

...could Venus really be for real, and contend for her first hard court major since 2001? Well, it'd surely be an unlikely run for the 34-year old but, then again, she DID just become the fourth-oldest WTA singles champion ever in Week 1 in Auckland and looked pretty darn good doing it, too. With her condition, it's always a roll of the dice when it comes to Venus avoiding a bad day over the course of two weeks, so things would have to go her way, as far as the weather, her scheduling and the avoidance of back-to-back long matches. In good form, though, she'd be the favorite to emerge from the bottom half of this section, including in a possible Round of 16 meeting with Aga Radwanska, though the Pole did defeat her in the Montreal final last summer. And, really, who wouldn't be intrigued by a QF match-up with Kvitova, after Venus gave the Czech her most competitive match during her title run at Wimbledon last summer? That's be an historic rematch to root for.


THE BRACKET BUSTER:

Coco Vandweghe/USA

...while there are a lot of intriguing names in this section -- from Krunic, Keys and Lepchenko, to Brengle and Dellacqua -- most aren't really positioned in the draw in areas where surprising or crowd-pleasing deep runs seem likely. So, I'll go with the Bannerette, who has had her most consistent results on hard court and has the sort of big serve that could challenge anyone on a good day. She's positioned in the Stosur/Petkovic section, so she's got a shot to face Kvitova in the 4th Round. If Vandeweghe put that particular Czech scalp on her wall, everything in this section would suddenly get very wild.


THE WILD CARD:

Aga Radwanska/POL

...while '14 didn't exactly have as many great highs for Aga as many expected, she DID reach the semifinals in Melbourne a year ago. This year, after working with Martina Navratilova this offseason, Radwanska went to Perth and led Poland to the Hopman Cup title, setting aside her typical self-defeating, pre-match mindset in matches against big hitters and getting a win over Serena while showing some of the "closing" ability that she lacked the last two seasons. But then she lost out in a three-setter to Muguruza in Sydney, so was it all a mirage? She's in a decent slot in the draw to pull off a second week run, but since she might have to take out the likes of both Venus and Kvitova in order to match her Final Four result from '14, the chances seem good that Aga will take a step back in Melbourne. Of course, if either or both of those woman fall victim to upset bids, well, that could change EVERYTHING. I mean, REALLY change everything.


FIRST BIG SEED OUT?:

#13 Andrea Petkovic/GER

...if it happened, it'd surely be a shame. But Petko hasn't exactly shown great form in the early weeks of 2015, leaving her susceptible to a potential 1st Round upset by Madison Brengle. BrengleFly has carried over her Summer of Madison run in the U.S. to a Summer of Madison II sequel (or would it be "prequel," considering the time difference? Hmmm.) in Australia this past week, qualifying and reaching her first tour final in Hobart. It was a decade-long quest for Brengle to finally get her first career main draw slam match win at last year's U.S. Open, so to think she'd get her second in the last two majors might be fool's gold. But it could happen.


DON'T COUNT HER FLAAAHHHVIA CHICKENS:

#12 Flavia Pennetta/ITA

...now, this isn't any sort of commentary on the fabulous Flavia, who reached the AO quarterfinals in '14. This is more a comment about her 1st Round opponent, countrywoman Camila Giorgi. Giorgi has a pair of slam Round of 16's the last three seasons, but her most impressive stat might be that she's a combined 6-2 in her career against the other Italians in this AO draw, including being 2-1 against Pennetta.


THE POOR SOULS:

Samantha Stosur/AUS & Francesca Schiavone/ITA

...remember when these two met in Paris to decide the Roland Garros title in 2010? Yeah, well, things have changed. Stosur, for her part, has managed to stick around and put up occasionally good results. She HAS managed to climb back into the Top 20, but she's never been at her best in the pressure cooker that is playing back home in Australia. She's only advanced beyond the 3rd Round of the AO twice (the last time in '10) in twelve tries, and isn't likely to do so this time, either. She faces Monica Niculescu first, then could face Coco Vandweghe a round later. Well, that is, unless Coco falls in the 1st Round to Schiavone. But that's even less likely than a deep run from Stosur. Unbelievably, the 34-year old Italian, camped outside the Top 75 these days, has lost seven straight slam singles matches, falling in the 1st Round in eight of her last nine majors.



=SIMONA QUARTER=




*TITLE CONTENDERS*


1.

Simona Halep, ROU

...while she bettered the result at both Roland Garros and Wimbledon last year, Halep made her first real dent in a major at last year's Australian Open when she reached the QF. She's already claimed a title this season (Shenzhen), then pulled out of Sydney (she was the #1 seed), so she isn't coming in having already played too much in '15. While many eyebrows were raised when Halep replaced Wim Fissette as her coach after the '14 season, things have gone pretty well so far with Victor Ionita. Of course, unlike some more dependent players, Halep's own intelligence and on-court tennis sense will determine her ultimate fate, so it's hard to imagine, barring an injury, the Pride of Romania NOT surging deep into the second week at this slam. It would seem that, aside from maybe Sharapova, Halep (even with a potentially tricky 2nd Round vs. Gajdosova) is the player most likely able to be inked into the QF in the brackets, and then we'll see what happens once she gets there. Could she become the latest first-time slam champ in two weeks? Maybe, but it still seems like her best chance at that in '15 might come in Paris. In either event, she'll likely have to find a way past a certain fair-haired Russian for it to become a reality.
2.

Ana Ivanovic, SRB

...AnaIvo had a great 2014 season, winning more titles than ever and reaching the Top 5. But she never did any better than the QF at a major, and that Final Eight run (accomplished with a win over Serena at the AO) was just her second at a slam since she won Roland Garros in 2008. In the first half of her career, she reached three major finals. While she's at #2 here, do I think she can REALLY win this title? Umm, no. Not really. But I'm not sure there's anyone else not named Simona in this section who can, either.


THE BRACKET BUSTER:

Karolina Pliskova/CZE

...if only the lethal-serving Czech had one good slam result to point to, she'd be a real dark horse in this event. Her Sydney final this week was the seventh of her young career. She battled and defeated Vika Azarenka in a close match in Week 1 (we'll soon see how much of an accomplishment that really was), and then battled and lost to Petra Kvitova in a pair of tie-breaks in the first all-Czech final in six years just a few days ago. Even while losing to her countrywoman, Pliskova, while not yet with a complete game, had the look of a player THIS CLOSE to pulling off something very big. Will it come at this Australian Open? Well, she's just 6-10 in slam MD matches so far, with her 3rd Round at last year's U.S. Open her best result. That will change soon, as she's now a Top 20 (and rising) player. Grrr, I'm SO tempted to pick something big for her at this major. I DO have her with her best-ever slam result, but how much better?


THE WILD CARD:

Ekaterina Makarova/RUS

...well, here's the Hordette's first real test since she reached her maiden slam semifinal last summer at Flushing Meadows. The Russian's talent is good enough to win a slam, but her consistency never has been. She's in the Top 10 now, though, and theoretically should be able to drive deep into the draw in Melbourne and prove she's up to becoming a regular threat, rather than just a tennis time bomb continually ticking in every major draw. She'll have to be on her game to do it here, maybe putting up wins over a Pliskova and Ivanovic in order to get a shot at Halep in a QF. Game on, Ekaterina.


FIRST BIG SEED OUT?:

#14 Sara Errani/ITA

...I think it's entirely possible -- maybe likely -- that all the seeds in this section will reach the 3rd Round, but based on early round (singles) form, I think the Italian might be the one most likely to be the first to come up totally flat.


DON'T COUNT HER SWISS MISS CHICKENS:

Belinda Bencic/SUI

...the AO #32 seed knocked off two Top 10ers to reach the U.S. Open QF as a 17-year old in just her fourth slam last summer (becoming the youngest to reach the Open Final Eight since Hingis in '97), but while her future is bright she's still capable up getting run by the sort of 6-3/6-0 score that Daria Gavrilova took her down with this past week. She opens with Julia Goerges, with Klara Koukalova likely waiting in the wings. With everyone expecting more from her at this slam, it'd be natural for her to produce much, much less.


THE POOR SOUL:

Anastasia Pavlyuchenkova/RUS

...I've talked up the Russian quite a bit since the end of last season, so I'm sure I've now cooked her Hordette goose for the balance of the '15 season. Already a perpetual slam underachiever, Pavlyuchenkova has won fewer matches (6) at the Australian Open than at any other slam. So, well, what can anyone really expect from her here? Actually, I'm picking her to reach the Round of 16, so I'm figuring she'll achieve something less than that.



=MARIA QUARTER=




*TITLE CONTENDERS*


1.

Maria Sharapova, RUS

...back in 2008, Sharapova won the Australian Open and seemed ready to rise to the very top of women's tennis in every way. She did, sort of, when she briefly assumed the #1 ranking when Justine Henin retired (the first time). But a lingering shoulder injury reversed Sharapova's trajectory, nearly ended her career and forever changed the way she played the game. Ultimately, it made her a better player, as her wonky and inconsistent serve forced her to improve her court movement and speed, eventually turning her into the best claycourter in the women's game. But she's yet to reclaim any truly historic part of the conversation when it comes to winning slams on grass or hard court, where she won the first three of her five career slams. This Australian Open might be her best shot at doing just that, and likely reclaiming the #1 ranking from Serena in the process. She looked in great form while winning Brisbane in Week 1, and the only player that she can't mentally defeat, defame or outlast is way over on the other side of the draw, and in not particularly good form herself in this early season. Will Sharapova need some help (i.e. someone to defeat Serena for her) to win her second AO crown? Yeah, probably. But for the first time since she won in Melbourne in 2008, she looks ready to take full advantage of it should the opportunity present itself.
2.

Genie Bouchard, CAN

...okay, kid, let's see what you've got this time around. Few young players in recent years -- decades, really, since Martina Hingis first confidently appeared on the scene -- have arrived on tour, succeeded quickly on the big stage and seemed to simply expect such things of herself quite the way Bouchard did in '14. Of course, that and all her off-court enterprises and opportunities are also a double-edged sword that raises the price of expectations like a piano hovering on a rope just above a young player's head. We sort of saw some of the price of that with Bouchard's results in Montreal and Singapore last season. Still , though, when she was healthy and prepared Bouchard thrived far more often in the spotlight than she wilted. She'll have a lot of results to back up in '15, and her first will be her '14 semifinal run at the Australian Open. Her win over Serena in Perth can't do anything but bolster Bouchard's prospects in Melbourne, and she should be able to get her feet under her in the early rounds. The Canadian seems a safe bet to at least reach the Round of 16, and a potential QF meeting with Sharapova might be the most publicized women's match all season.


THE BRACKET BUSTERS:

Carla Suarez-Navarro/ESP & Angeliqe Kerber/GER

...this quarter seems set up to produce that much-anticipated Sharapova/Bouchard QF clash, but either of these women could overturn that table and lock the Canadian out of that media-friendly match-up. Both have opened '15 in good form, with Kerber scoring QF & SF results in the first two weeks, and CSN putting up a pair of QF. They could square off in the 3rd Round for the right to face Bouchard. The Canadian has faced off against Kerber and CSN five times, with every last one of the match-ups coming slams in 2013-14. Bouchard is 3-2, but 0-1 (vs. Kerber) in the only of those match-ups on hard court. Kerber and Suarez-Navarro are 2-2 against one another, with the German holding a 2-1 advantage on hard court.


THE WILD CARD:

Lucie Safarova/CZE

...a year ago, Safarova held match point against Li Na in the 3rd Round. The Czech missed on an attempt at a winner that would have claimed the match, then the Chinese vet went on to win the title. But Safarova rebounded with a first career slam SF at Wimbledon, and arrives in Melbourne inside the Top 20 and a dark horse to be a second week surprise. Her 1st Round match against Yaroslava Shvedova is no given, but if Safarova can find her way into a Round of 16 clash against Sharapova, things could get interesting. The Czech hasn't gotten a win over her since 2010, but she took her to three sets in their last three meetings, including twice on Sharapova's most-favored clay surface in Stuttgart (where she's won three straight titles). Of course, this whole situation could also just mean that another eventual slam champion (Sharapova would be the third at the last five slams) would have defeated Safarova en route to the title.


FIRST BIG SEED OUT?:

#27 Svetlana Kuznetsova/RUS

...of course, being Sveta, the Russian could just as easily surge to the second week -- if she's feeling particularly good about, well, whatever it is that causes Kuznetsova to occasionally play out of her shoes and remind everyone that she's a two-time slam champ, Fed Cup star and an "is she/is she not?" future Hall of Famer -- as she could fall to Caroline Garcia in the 1st Round. But, again, Sveta being Sveta, it's always proper to prepare for the worst.


DON'T COUNT HER CHINESE CHICKENS:

Peng Shuai/CHN

...Li is gone, so into the vacuum steps Peng, right? Right? Yeah, maybe not. The new Chinese #1's first slam appearance since being wheeled off the court of her U.S. Open semifinal comes with a bit more pressure, both internal and external, than normal. And now she doesn't even have her long-time doubles partnership with Hsieh Su-Wei to fall back on. The #21 seed opens with qualifier Tatjana Maria, but things get progressively more difficult from there. No, it doesn't look like the highest-ranked player without a tour level singles title is going to make her first a major in Melbourne and keep the AO title "in-house."


THE POOR SOUL:

Petra Martic/CRO

...a former Top 50 player who's reached a tour level final, qualifier Martic isn't your typical run-of-the-mill 1st Round road kill for a top seed, but the Croatian is just 1-5 in the AO main draw and now faces #2-seeded Sharapova in her opening match. While Sharapova only has three 1st Round slam exits in her forty-five previous slam draws, two of them have come in Melbourne. Her last at the AO was in 2010, but her only other one-and-done slams were her first two career slam MD appearances back in 2003.











*AUSTRALIAN OPEN TOP SEEDS - since 2003*


2003 Serena Williams (W)
2004 Justine Henin-Hardenne (W)
2005 Lindsay Davenport (RU)
2006 Lindsay Davenport (QF)
2007 Maria Sharapova (RU)
2008 Justine Henin (QF)
2009 Jelena Jankovic (4th)
2010 Serena Williams (W)
2011 Caroline Wozniacki (SF)
2012 Caroline Wozniacki (QF)
2013 Victoria Azarenka (W)
2014 Serena Williams (4th)
2015 Serena Williams



**RECENT WOMEN'S SLAM WINNERS**


2011 WI: Petra Kvitova, CZE
2011 US: Samantha Stosur, AUS
2012 AO: Victoria Azarenka, BLR
2012 RG: Maria Sharapova, RUS
2012 WI: Serena Williams, USA
2012 US: Serena Williams, USA
2013 AO: Victoria Azarenka, BLR
2013 RG: Serena Williams, USA
2013 WI: Marion Bartoli, FRA
2014 US: Serena Williams, USA
2014 RG: Maria Sharapova, RUS
2014 WI: Petra Kvitova, CZE
2014 US: Serena Williams, USA



*AUSTRALIAN OPEN FINALS - ACTIVE*


5...Serena Williams (5-0)
3...Maria Sharapova (1-2)
2...Victoria Azarenka (2-0)
1...Dominika Cibulkova (0-1)
1...Ana Ivanovic (0-1)
1...Venus Williams (0-1)



*RECENT AUSTRALIAN OPEN SEMIFINALISTS*


2005: S.Williams (W) - Davenport (RU) - Dechy/Sharapova
2006: Mauresmo (W) - Henin-Hardenne (RU) - Sharapova/Clijsters
2007: S.Williams (W) - Sharapova (RU) - Clijsters/Vaidisova
2008: Sharapova (W) - Ivanovic (RU) - Jankovic/Hantuchova
2009: S.Williams (W) - Safina (RU) - Zvonareva/Dementieva
2010: S.Williams (W) - Henin (RU) - Li/Zheng
2011: Clijsters (W) - Li (RU) - Zvonareva/Wozniacki
2012: Azarenka (W) - Sharapova (RU) - Clijsters/Kvitova
2013: Azarenka (W) - Li (RU) - Stephens/Sharapova
2014: Li (W) - Cibulkova (RU) - Bouchard/A.Radwanska



*AUSTRALIAN OPEN GIRLS FINALS - since 2005*


2005 Victoria Azarenka/BLR def. Agnes Szavay/HUN
2006 Anastasia Pavlyuchenkova/RUS def. Caroline Wozniacki/DEN
2007 Anastasia Pavlyuchenkova/RUS def. Madison Brengle/USA
2008 Arantxa Rus/NED def. Jessica Moore/AUS
2009 Ksenia Pervak/RUS def. Laura Robson/GBR
2010 Karolina Pliskova/CZE def. Laura Robson/GBR
2011 An-Sophie Mestach/BEL def. Monica Puig/PUR
2012 Taylor Townsend/USA def. Yulia Putintseva/RUS
2013 Ana Konjuh/CRO def. Katerina Siniakova/CZE
2014 Elizaveta Kulichkova/RUS def. Jana Fett/CRO



**BEST AO GIRLS/WOMEN'S RESULTS**




[won Girls & Ladies titles]


Evonne Goolagong (1970 Jr. Champion; 1974-77 Women's Champion)
Chris O'Neil (1973 Jr. Champion; 1978 Women's Champion)
Victoria Azarenka (2005 Jr. Champion; 2012-13 Women's Champion)


[others]


Lindsay Davenport (1992 Jr. Runner-up; 2000 Women's Champion)
Maria Sharapova (2002 Jr. Runner-up; 2008 Women's Champion)



**FIRST-TIME SLAM CHAMPS AT AUSTRALIAN OPEN - OPEN ERA**


1977 Kerry Melville-Reid, AUS
1978 Chris O'Neil, AUS
1979 Barbara Jordan, USA
1980 Hana Mandlikova, CZE
1995 Mary Pierce, FRA
1997 Martina Hingis, SUI
2001 Jennifer Capriati, USA
2006 Amelie Mauresmo, FRA
2012 Victoria Azarenka, BLR



*ACTIVE SINGLES PLAYERS - FIRST SLAM FINAL*


1997 U.S. Open - Venus Williams
1999 U.S. Open - Serena Williams (W)
2004 Wimbledon - Maria Sharapova (W)
2004 U.S. Open - Svetlana Kuznetsova (W)
2007 Roland Garros - Ana Ivanovic
2008 U.S. Open - Jelena Jankovic
2009 U.S. Open - Caroline Wozniacki
2010 Roland Garros - Francesca Schiavone (W)
2010 Roland Garros - Samantha Stosur
2010 Wimbledon - Vera Zvonareva
2011 Wimbledon - Petra Kvitova (W)
2012 Australian Open - Victoria Azarenka (W)
2012 Roland Garros - Sara Errani
2012 Wimbledon - Agnieszka Radwanska
2013 Wimbledon - Sabine Lisicki
2014 Australia Open - Dominika Cibulkova
2014 Roland Garros - Simona Halep
2014 Wimbledon - Genie Bouchard



*RUSSIAN AUSTRALIAN OPEN SEMIFINALISTS*


1975 Natasha Chmyreva (L)
2005 Maria Sharapova (L)
2006 Maria Sharapova (L)
2007 Maria Sharapova (W)
2008 Maria Sharapova (W)
2009 Elena Dementieva (L), Dinara Safina (W), Vera Zvonareva (L)
2011 Vera Zvonareva (L)
2012 Maria Sharapova (W)
2013 Maria Sharapova (L)



**ALL-TIME AO MATCH WINS - WOMEN**


61...SERENA WILLIAMS
60...Margaret Court
56...Lindsay Davenport
52...Martina Hingis
47...Steffi Graf



**LOW-SEEDED AO CHAMPIONS - OPEN ERA**


Unseeded - 1978 Chris O'Neil, AUS
Unseeded - 2007 Serena Williams, USA
#12 - 2001 Jennifer Capriati, USA
#7 - 2005 Serena Williams, USA
#5 - 1979 Barbara Jordan, USA
#5 - 2008 Maria Sharapova, RUS
#4 - 1995 Mary Pierce. FRA
#4 - 1997 Martina Hingis, SUI
#4 - 2014 Li Na, CHN



*BACK-TO-BACK US/AO TITLES - since 1988*


1988-89 Steffi Graf
1989-90 Steffi Graf
1991-92 Monica Seles
1992-93 Monica Seles
1993-94 Steffi Graf
1997-98 Martina Hingis
2002-03 Serena Williams
2003-04 Justine Henin-Hardenne
2008-09 Serena Williams
2010-11 Kim Clijsters



*SLAM TITLES AFTER AGE 30*


5...Serena Williams (2 at 30, 2 at 31, 1 at 32)
3...Martina Navratilova (2 at 30, 1 at 33)
3...Margaret Court (2 at 30, 1 at 31)
2...Billie Jean King (30 & 31)
2...Chris Evert (30 & 31)
1...Virginia Wade (31)
1...Ann Haydon Jones (30)



*TOP 4 SEEDS TO SLAM SF - OPEN ERA*


AO (4): 1969,1970,1974,1993
RG (1): 1992
WI (10): 1973,1976,1978,1979,1988,1992,1995,2003,2006,2009
US (1): 1975












=ROUND OF 16 PREDICTIONS=


#24 Muguruza d. #1 S.Williams
Azarenka d. #19 Cornet
#4 Kvitova d. #13 Petkovic
#18 V.Williams d. #6 A.Radwanska
#22 Ka.Pliskova d. #5 Ivanovic
#3 Halep d. #23 Pavlyuchenkova
#7 Bouchard d. #17 Suarez-Navarro
#2 Sharapova d. #16 Safarova

...hey, if Alize was able to advance past Serena three times in '14, why can't Muguruza do it twice over the course of the past year?






=QUARTERFINAL PREDICTIONS=


#24 Muguruza d. Azarenka
#4 Kvitova d. #18 V.Williams
#3 Halep d. #22 Ka.Pliskova
#2 Sharapova d. #7 Bouchard

...a semifinals where Maria is the "elder stateswoman," and the #1 ranking would be truly up for grabs.



=SEMIFINAL PREDICTIONS=


#4 Kvitova d. #24 Muguruza
#2 Sharapova d. #3 Halep

...Kvitova looked fit and ready in Sydney, but whether she can make it through two weeks in the Melbourne heat might be an ever bigger question than whether my preseason pick of a '15 slam semi for the Spaniard could be lived up to in the first month of the season.



=FINAL PREDICTION=


#2 Sharapova d. #4 Kvitova

...and Sharapova would likely be #1 again, coming full circle after her shoulder injury scuttled all those plans for tour dominance after winning in Melbourne back in '08.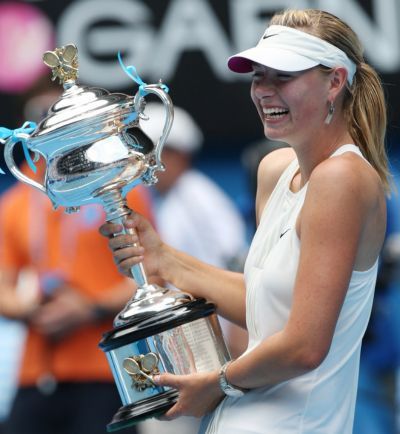 As far as the men are concerned...



=ROUND OF 16 PREDICTIONS=


#1 Djokovic d. #13 Bautista-Agut
#8 Raonic d. #12 Lopez
#4 Wawrinka d. #16 Fognini
#5 Nishikori d. #9 Ferrer
#7 Berdych d. #11 Gulbis
#3 Nadal d. #24 Gasquet
#10 Dimitrov d. #6 Murray
#2 Federer d. Kyrgios



=QUARTERFINAL PREDICTIONS=


#1 Djokovic d. #8 Raonic
#5 Nishikori d. #4 Wawrinka
#7 Berdych d. #3 Nadal
#2 Federer d. #10 Dimitrov



=SEMIFINAL PREDICTIONS=


#5 Nishikori d. #1 Djokovic
#2 Federer d. #7 Berdych



=FINAL PREDICTION=


#2 Federer d. #5 Nishikori




...suddenly, it's the late 2000's again. Apparently.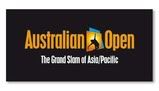 All for now. After the Week 2 post (with the AO Q-Awards), Day 1 -- and the Daily Backspin -- awaits.