Wk.9- The Rime of the Danish Marathoner
Famous last words...
"Peace for our time." - Neville Chamberlain
"I am not a crook." - Richard Nixon
"Brownie, you're doing a heckuva job." - George W. Bush
"I've got time." - Caroline Wozniacki
Hmmm. Well, maybe scratch out that last one. But don't mark it out in ink.
Let's use pencil... just in case.
The end of the story is still to be determined.


Once upon a time, Caroline Wozniacki, the Danish Marathoner, wore a proverbial albatross around her neck. It was the very #1 ranking she'd attained through much hard work, but which existed without an accompanying -- and "validating" -- grand slam title. She had the feathered beast tied around her neck for sixty-seven weeks between 2010-12. When quizzed at the time about a game style that lacked offensive firepower and an aggressive will, seeming prerequisites for ultimate success, she brushed aside the negative aspects of her otherwise cozy place in the sun and talked about how young she was, and how she "had time" to fulfill her tennis destiny.

But did she?

After all, tennis history was already filled with stories of good young players who never reached their stated goals. Adding hers to the list would be easy, and hardly headline-worthy once another lived out a similar fate. She wouldn't be the first with broken down racket dreams, and she surely wouldn't be the last. Then, right on cue, it happened. The Danish Marathoner's figurative standing slipped. Her #1 ranking was lost, as was her long string of weeks in the Top 10. While she never became irrelevant, she was no longer considered a current, truly viable threat against the powerful players who'd achieved more on the game's grandest stages than she. Her window of opportunity seemed to have closed shut on her fingers. Both older and younger foes had pushed her aside, while she went about changing coaches, making personal off-court plans and talking of motherhood. All the old dreams seemed to have, while not disappeared, surely been reconfigured for a new era in her career. An era of less expectation, and a troubling clinging to the ways of the past made it appear that no break in the dark clouds would ever arrive.

It looked like time may have passed her by, no matter what she'd said about it being on her side.

But then, just when her aspirations for ultimate success on the court seemed bleak, and was being willingly replaced by happiness off it, plans changed. Not because of her own feelings and actions, but by a new reality set forth by those -- well, one -- around her. Rather than wallow in the unexpected change of plans, the Danish Marathoner grabbed the moment by the throat and went about making many of the alterations that she'd been pestered about years earlier. As she grew ever more confident and willing to take risks off the court, she did the same on it. Her game became more offensive, and her willingness to be aggressive belated arrived.

The increased level of success was tangible.

Six months ago, she returned to the Top 10. Wins against players with high standing became more frequent. She reached her first major final in five years, and nearly stole the show in the season-ending get-together in Singapore. She even ran an actual marathon, strengthened a friendship with a person of very high standing and became a "star" all over again. As last year ended, her reputation had been restored and the dreams for major accomplishment were rekindled. She's since returned to the Top 5, as well.

But is time still on her side?

For all the good that Wozniacki brought with her into 2015, there has been a slight nibbling at the edges of her era of "new" results. Her long voyage out of the land of mist and snow to return to a land of great, sunny hope has been mixed with some reminders of the past. Not good ones, either. In a series of chapters similar to those from her "albatross days," heavy hitters with grand moments in their past have often been placed before her, but the Danish Marathoner has yet to find a way to overcome the obstacle.

In the Auckland decider, Venus Williams came back from a set down to win in three, allowing just six games in the final two stanzas. In Melbourne, past nemesis Victoria Azarenka ended the Dane's slam dreams with an early, dominating defeat... then did it again (and even better) a few weeks later in Doha. In between, highly-ranked Simona Halep dropped the 1st set, then downed Wozniacki 1 and 1 in the final two sets.

2.0 this was not. Even with all the good vibes emanating from the Marathoner, this all had a decidedly familiar look to it. Day after day, day after day... there was water, water every where, nor any drop to drink.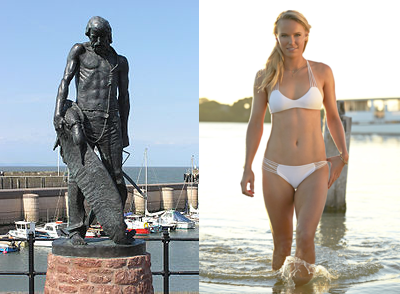 Last week in the much smaller ocean of Kuala Lumpur, Wozniacki quite possibly took a small step toward reshaping her rime yet again. She won her first title of the season, extending her years with a crown to eight, once more showing the form that she carried into the season while dropping just one set in the tournament. But if it hadn't been the case, it would have been a terribly dark day. After, as the #1 seed, the Dane far outclassed -- at least in current standing -- the opposition. In order, her fallen victims ranked #160, #122, #81, #181 and #94.

The old legacy of the albatross is silenced. For now. But title #23 only adds to Wozniacki's standing record as the most crowns won by a woman without a major title. The lingering curse of the feathered beast has yet to be entirely slayed. The window of opportunity is still ajar, though whether it is once again wide open remains to be seen.

Still, Kuala Lumpur has served to brighten once more the notion that the final relaying of the Rime of the Danish Marathoner will not cause anyone to awake the next morning a sadder and a wiser man or woman. Today, time is still on her side. But is it a reality, or just a mirage?

One suspects that, for the Dane, finding out that answer is what 2015 is supposed to be about.



Fan for life.
.@TimiBacs... https://t.co/C8CvNtpM2T

— Enrique Cavazos (@kke26) March 7, 2015
And Monterrey was well protected.
#WTA Superheroes! @AnaIvanovic, @NastiaPav, @KikiMladenovic & @JaksicJovana. VIDEO--> http://t.co/0NnJO8dBSw #tennis pic.twitter.com/NuS13MLZfU

— WTA (@WTA) March 3, 2015
Though not from the rain.
*WEEK 9 CHAMPIONS*
MONTERREY, MEXICO (Int'l $500K/HCO)
S:

Timea Bacsinszky/SUI def. Caroline Garcia/FRA 4-6/6-2/6-4


D:

Dabrowski/Rosolska (CAN/POL) d. An.Rodionova/Ar.Rodionova (AUS/AUS) 6-3/2-6 [10-3]
KUALA LUMPUR, MALAYSIA (Int'l $250K/HCO)
S:

Caroline Wozniacki/DEN def. Alexandra Dulgheru/ROU 4-6/6-2/6-1


D:

Liang Chen/Wang Yafan (CHN/CHN) d. Beygelzimer/Savchuk (UKR/UKR) 4-6/6-3 [10-4]




CO-PLAYERS OF THE WEEK:

Timea Bacsinszky/SUI & Caroline Wozniacki/DEN


...Bacsinszky is, quite simply, as the post-match master of ceremony said at around 1:10 a.m. local time (after a four-hour rain delay interrupted and pushed the final deep into the night), the "real queen of Mexico" after sweeping both the Acapulco and Monterrey titles with victories in a pair of finals over Caroline Garcia the last two weekends. So, the self-described (on her Twitter profile) "pro yellow fluffy ball player" will rise to yet another new career-high ranking, leads the 2015 tour with three finals, two titles, 18 match wins and a best-of-the-year 12-match winning streak (topping Maria Sharapova's 11-match run from January), as well. It wasn't an easy run in Monterrey, either. Bacsinszky had to fight all week. After defeating Yanina Wickmayer early on, she had to overcome a 6-4/4-2 deficit against Lesia Tsurenko. After knocking off Ula Radwanska, she survived Sara Errani twice serving for the match in a 2:40 battle of wills. The final against Garcia, as noted, had it's own unique set of difficult circumstances, as she dropped the opening set, weathered the match interruption and had to fight off Garcia with a wonderful-to-watch blend of defense and big serving down the stretch of the 3rd set. So, after nine weeks, go ahead and put the Swiss at the head of the early list of contenders for the WTA's Most Improved Player, and maybe Comeback Player, as well, as her story of nearly quitting the sport two years ago after a serious foot injury that required surgery, taking her off tour for nearly a year and setting her back for the better part of three, will now only have more reason to be repeated. But that's the past. Let's look at her present. Bacsinszky's run over the last few months hasn't come against lightweights. She's put up recent wins over current Top 10ers Sharapova, Ekaterina Makarova and Petra Kvitova since late last season, and her only two losses in twenty 2015 matches have come against Garbine Muguruza (in three sets) and Simona Halep (in the Shenzhen final in Week 1). She's earned the tears of joy that suddenly overwhelmed her during her on-court interview... and her ability to perfectly construct a handwritten message in English -- writing backwards, with a marker on a large pane of glass -- to Monterrey and the fans after the final deserves some healthy kudos, too. Although, to be totally honest, she DID sort of flub up that last "y"... but no one said she's perfect.



Wozniacki's title run in Kuala Lumpur was the 23rd of her career, and rarely has she been more dominant. The Dane gave up, in order, just four five, four and four games en route to her 39th career career tour singles final. Of course, since the highest-ranked player the world #5 faced all week in Malaysia was ranked #81 (Carina Witthoeft), I suspect if anything else had been the case it would have meant Wozniacki had a tough week. Oh, well, SOMEONE had to take the title, and the "small ones" help to foster confidence for possible "big ones" down the line. Actually, Caro's quick rebound from dropping the opening set in the final against Alexandra Dulgheru might have been more important than the four match wins that preceded it. The Romanian took the set at 6-4, but was only able to take three total games the rest of the way as Wozniacki did what she'd failed to in her previous '15 final in Auckland (vs. Venus Williams) -- control the 3rd set with the title on the line. It was enough for her to feel good enough to take her first-ever trophy selfie.

"@CWTennis: @CaroWozniacki taking a trophy selfie ?? pic.twitter.com/3GaLhcqAFB" Haha caught in the act ??

— Caroline Wozniacki (@CaroWozniacki) March 8, 2015



=============================





RISERS:

Caroline Garcia/FRA & Urszula Radwanska/POL


...a week ago, 21-year old Pastry Garcia's runner-up experience in Acapulco was a bit anticlimactic. She got a walkover from Maria Sharapova in the semis, then was wiped out in the final by Timea Bacsinszky. Wins over Karin Knapp, Francesca Schiavone, Magdalena Rybarikova (who retired after a set) and a dominating victory over Ana Ivanovic had already made the week in Monterrey a more complete one, then Garcia's performance in another final against Bacsinszky, while it still had the same ultimate result, was surely a better representation of her rising status in the sport. She won the 1st set, overcame a slow start after a four-hour rain delay, and then pushed the Swiss to pull out all the great defense and big serves she could to avoid a late surge that would have put things back on serve late in the set (as well as the night, as the match didn't end until after 1 a.m.). Afterward, Garcia even pulled out a prepared trophy ceremony speech that she delivered in Spanish to the adoring -- and whooping -- Mexican crowd. In Monterrey, U-Rad may have had her best week since her return from shoulder surgery last February. She qualified with wins over Andrea Hlavackova and Richel Hogenkamp, then got nice main draw victories against Maria-Teresa Torro-Flor and Daniela Hantuchova to reach just her third tour QF (w/ Tashkent in '14 and Auckland earlier this year) since her comeback. Just as was the case last week, Ula also defeated recent Pattaya champ Hantuchova to reach her QF in New Zealand in Week 1.


=============================




SURPRISES:

Cristina Sanchez-Quintanar/ESP & Liang Chen/Wang Yafan (CHN/CHN)


...the former Aggie three-sport star was at it again this past week in Tunisia. Sanchez-Quintanar, 25, has played four $10K events in Port El Kantaoui this season, reaching three singles finals after having returned to the sport late last year after having had her NCAA eligibility run out at Texas A&M at the close of the 2012-13 season (she played college soccer during her remaining time on campus). Unfortunately, as occurred in her two previous finals, CSQ lost. But she's getting closer. This time, the world #752, after defeating the #4, #7 and #1 seeds to get there, lost in the final to #3 Chanel Simmonds by a 2-6/7-6(0)/6-4 score. She didn't go away empty-handed, though. Sanchez did win the doubles title with Clara Tanielian (def. Simmonds in the final), giving her a third professional title to go along with the two ITF doubles wins she had back in 2009. CSQ is 16-4 in singles in 2015. In Kuala Lumpur, Liang & Wang followed up their loss to the Kichenok twins in the tour-level event in Shenzhen in Week 1 with another final against an all-Ukrainian pair, this time Yuliya Beygelzimer & Olga Savchuk. Things went better this time, though, as the Chinese duo claimed their first title together by winning a 10-4 match tie-break to decide the champion. 26-year old Liang, ranked #84, won a previous WTA crown with Chuang Chia-Jung in Guangzhou last season, but for 20-year old Wang (#128) it's the first time she's lifted any tour-level hardware.


=============================




VETERANS:

Hsieh Su-Wei/TPE & Jarmila Gajdosova/AUS


...Hsieh's week began with her and Sania Mirza's doubles runner-up result in Doha being the prelude to the announcement that the two powerhouse doubles stars would no longer be a team. But things picked up from there. The 29-year old, ranked #181 in singles (#6 in doubles), went solo via a wild card into the Kuala Lumpur main draw and put up victories over Casey Dellacqua, Misa Eguchi and Elizaveta Kulichkova to reach her first WTA singles semifinal (def. by Wozniacki) since she won the Guangzhou title back in September '12. Gajdosova, 27, entered last week having nearly climbed back into the Top 50 (#52) after falling outside the Top 200 in 2013 after missing six months with mono. In Kuala Lumpur, she got wins over Cagla Buyukakcay, Luksika Kumkhum and Kurumi Nara to reach her first tour semifinal since she did it at the very same event back in 2011. The Slovak-turned-Aussie won a pair of tour singles crowns over a four-month stretch in 2010-11.


=============================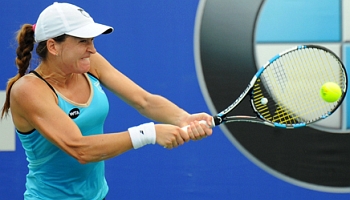 COMEBACKS:

Alexandra Dulgheru/ROU & Nicole Vaidisova/CZE


...25-year old Swarmette Dulgheru was one of the first of the current crop of Romanians to break through on the WTA tour, winning her first of two tour titles (both in Warsaw) in 2009 at age 19. A year later, she defended her crown and ended '10 at #29, climbing to a career-best #26 a season later. But after injuring her knee in 2012, she missed eight months and dropped out of the Top 200. She's been slowly attempting to climb back ever since. She began to get some traction last season, getting a notable win over Caroline Garcia and returning to the Top 100, finishing at #105. She arrived in Kuala Lumpur ranked #94, and opened things with a win over #2 seed Sabine Lisicki. She followed up with victories over Duan Yingying, Julia Goerges and Jarmila Gajdosova, coming back from a 7-5/4-2 deficit and saving fourteen break points in the 3rd set to reach her first tour final since she won her second Warsaw crown in '10. In Monterrey, Czech Vaidisova qualified (def. Lucie Hradecka & Arina Rodionova) to reach her first WTA singles main draw since her return to the sport late last season, and her first since Memphis in 2010. She lost to Ana Ivanovic, but it's a big first step as she edges close to a return to the Top 300. She ranked as high as #7 in 2007 and, at 17, came within a one poor shot selection of holding a match point to reach the Roland Garros final in 2006 (she'd beaten Mauresmo and Venus in back-to-back matches before losing to Svetlana Kuznetsova in three sets in the first of a pair of slam semis for Vaidisova over a seven-month stretch in 2006-07).

=============================




FRESH FACE:

Elizaveta Kulichkova/RUS


...the 18-year old Hordette, who came into Kuala Lumpur ranked #171, made it through qualifying (getting a win over former countrywoman Daria Gavrilova) and then got main draw victories over Bojana Jovanovski and Yulia Putintseva (another former Russian) to reach her first tour-level singles quarterfinal. Kulichkova swept the girls titles in her final junior event at last year's Australian Open.

World No.171 Elizaveta Kulichkova upsets Jovanovski 63 63 at @BMWMO2014--> http://t.co/K97GXgwxDH #WTA #tennis pic.twitter.com/izoEx38k0G

— WTA (@WTA) March 2, 2015



=============================




DOWN:

Sabine Lisicki/GER & Dominika Cibulkova/SVK


...the good fortune that Andrea Petkovic has experienced in 2015 hasn't spread to her countrywoman Lisicki. In fact, the 2013 Wimbledon finalist's season has been pretty dismal so far. The #2 seed last week, her 1st Round exit in Kuala Lumpur at the hands of eventual finalist Alexandra Dulgheru (the German had 10 double-faults on the day) dropped her to 1-6 this season. She hasn't won multiple singles matches at any event since last September. When does the grass season start, anyway? Meanwhile, one year after she blew a big lead in the Kuala Lumpur final and lost to teenager Donna Vekic, Cibulkova had an even worse week this time around. She began the week by falling out of the Top 20 (last March, she'd been Top 10 following her AO final run), though she seemed in good spirits.


I love our lazy mornings.. #appreciatelittlethingsinlife Milujem nase lenive rana... pic.twitter.com/W4OpVwtyYv

— Dominika Cibulkova (@Cibulkova) March 5, 2015


That soon changed, though, when she announced that her lingering Achilles injury will require surgery that will keep her out until (at least) the grass season.


musim ist na operaciu.. surgery is needed.. http://t.co/YuDN31rxgI MORE: http://t.co/OiGEfzgTYU Photo: @milanhutera pic.twitter.com/Icd3IW902A

— Dominika Cibulkova (@Cibulkova) March 6, 2015
Statement from Dominika #Cibulkova on her withdrawal & pending surgery. Get better, Domi! See you next year #BNPPO15 pic.twitter.com/rRdtrwYNfx

— BNP Paribas Open (@BNPPARIBASOPEN) March 6, 2015



=============================




ITF PLAYER:

Lourdes Dominguez-Lino/ESP


...in the $25K challenger in Curitiba, Brazil, 33-year old Spanish vet LDL grabbed her fifteenth career ITF singles crown (she has two WTA wins, the last coming in 2011) with wins over Andrea Gamiz, Beatriz Garcia Vidagany, Veronica Cepede Royg, Stephanie Vogt and Danka Kovinic in the final to complete her first ITF singles title run since 2012. Not shockingly, considering she's from Spain (importantly, something which probably won't "limit" countrywoman Garbine Muguruza) all seventeen of LDL's pro singles titles have come on red clay.


=============================




JUNIOR STARS:

Vera Lapko/BLR & Marketa Vondrousova/CZE


...the juniors both reached their first pair of professional finals in the $10K in Sharm El Sheikh, Egypt. After combining to win the doubles title, they faced off in the singles championship, as well. 16-year old Belarusian Lapko, the #39-ranked girl who has also made her Fed Cup debut in' 15, defeated 15-year old Czech Vondrousova in a 7-5/6-3 final. Vondrousova, the #8 junior, won the Australian Open junior doubles in January and reached the Wimbledon girls singles semifinals last summer. Yep, I know, it's hard to believe that a Czech would do well at the All-England Club... I mean, that almost NEVER happens.


=============================



Doubs title in Curitiba#thankspartner#vamos ???? pic.twitter.com/YhnKWhqVwc

— ysaline Bonaventure (@YsaBona) March 6, 2015



DOUBLES:

Ysaline Bonaventure/Rebecca Peterson (BEL/SWE)


...they'll always have Brazil. Just last month, Bonaventure & Peterson teamed up to win the first WTA doubles title for both in Rio in the very first event in which they ever played together (they'd only even played singles against each other once before, with Peterson winning in Sweden in '13). They've since played two additional challenger events in Brazil, reaching the semis in one and then winning the second in the $25K Curitiba tournament this weekend. As the #1 seeds, the 20-year old Belgian and 19-year old Swede defeated Beatriz Garcia Vidagany & Florencia Molinero in the final to run their record as a pair to 9-1.


=============================



Without Stan the Man or Roger the Fed, the Swiss didn't fair as well as hoped against the Wafflemen. So, if Timea's words are to be believed, I guess that means that Belgium has the best chocolate?


From Monterrey I wish you guys good luck!Show them who owns the best Chocolate ??! #BELSUI #DavisCup #SupportTheSwiss pic.twitter.com/AybkFAwOJu

— Timea Bacsinszky (@TimiBacs) March 5, 2015


1. Monterrey SF - Bacsinszky d. Errani
...6-0/4-6/7-6(3). The scrappin' Swiss takes out the fightin' Italian. Errani saved six break points at 5-4 in the 2nd to hold and force a 3rd set. There, she served for the match at 5-4 and 6-5, only to see Bacsinszky break her both times. In the deciding tie-break, up 5-3, the Swiss woman stopped play and challenged an Errani shot at the baseline. It was called out, giving Bacsinszky MP at 6-3. She won to advance to her second straight final a point later, winning the 2:40 battle to tie Maria Sharapova with a '15 tour-best winning streak of eleven matches. The tie wouldn't last long.

.@TimiBacs makes 3rd final of 2015! Edges Errani 60 46 76(3) at @Abierto_MTY--> http://t.co/dd6PVllWeD #WTA #tennis pic.twitter.com/nXwvfpfcai

— WTA (@WTA) March 8, 2015



=============================


2. Monterrey 2nd Rd. - Bacsinszky d. Tsurenko
...4-6/6-4/6-4. To battle was in Bacsinszky's blood in Mexico. Early in the week, Tsurenko led 6-4/4-2, but the Swiss turned things around with a break for 5-4 in the 2nd on her sixth BP of game #9.


=============================


3. KL SF - Dulgheru d. Gajdosova
...5-7/7-5/7-6(4). The Aussie led 7-5/4-2, but the Swarmette won the star-crossed battle to break serve in the final set. In the 3rd, the two went 0-for-17 in BP attempts, with Dulgheru saving fourteen chances on her own serve. The Romanian didn't lose any of her serves in the tie-break, either, and that was enough to allow her to produce her best tour result in five years.


=============================


4. Monterrey Final - Bacsinszky d. Garcia
...4-6/6-2/6-4. This was the first time players faced off in two finals in two weeks since Kim Clijsters and Li Na split Sydney and Australian Open titles in 2011. After Garcia claimed the 1st set, with Bacsinszky up 3-1 in the 2nd, a four-hour rain delay pushed the conclusion of the match until nearly 1 a.m. local time. After at first looking like the Swiss player was going to outclass the Pastry in the aftermath of the delay, a physio break for Garcia with Bacsinszky next to serve up 4-3 in the 3rd set led directly into a great finish. In that eighth game, which lasted fifteen minutes, Bacsinszky was forced to save five BP -- usually with the help of big, well-placed serves -- and, after a missed swing volley down the line by Garcia on BP #5, the Swiss hit a big second serve to hold for 5-3. Great defense and timely serving eventually helped her serve things out two games later, as well, but only after she celebrated a converted match point that was challenged by Garcia and overturned. No matter, the match ended one point later when Garcia netted a groundstroke.


=============================


5. Monterrey 1st Rd. - Schiavone d. Mattek-Sands
...3-6/7-6(3)/6-4. BMS served at 6-3/5-4, and then again at 6-5. But this comeback was nothing for Francesca compared to...


=============================


6. Monterrey 2nd Rd. - Garcia d. Schiavone
...7-6(2)/6-0. Yeah, Schiavone lost this match. But it didn't prevent her from pulling off a stinging forward-facing tweener winner, the early leader for "Shot of the Year."



=============================


7. Monterrey 2nd Rd. - Rybarikova d. Hercog
...7-5/3-6/7-6(11). The Slovak wins a wild one. She held a MP at 5-4 in the 3rd set, but was forced to a tie-break. She led 4-0, only to see Hercog surge back and hold four MP of her own. But Hercog lost back-to-back serve points to give Rybarikova a second MP. It was one pillow to many.

No such thing as too many pillows ?? pic.twitter.com/NdYHH3lYAc

— Polona Hercog (@PolonaHercog) March 7, 2015



=============================


8. Monterrey 1st Rd. - Hantuchova d. Puig
...7-6(1)/3-6/7-5. Hantuchova came back from MP down to win a title in Pattaya, and she was up to her new tricks again last week. Puig had four MP in the 3rd set here, while the Slovak ultimately won on #5 of her own. She didn't go on to win the title this time, though.


=============================


9. Monterrey 1st Rd. - Rybarikova d. Jaksic
...6-3/3-6/7-5. Do you remember? A year ago, Jaksic reached the final in Monterrey to set up the very first all-Serb WTA singles final with AnaIvo. Things didn't go as well for the OTHER JJ this year, but she's already looking forward to 2016.

Thanks for having me @Abierto_MTY can't wait to be back next year! I will miss you Monterrey so much! #foreverinmy?? pic.twitter.com/bkzsLeN3J9

— Jovana Jaksic (@JaksicJovana) March 4, 2015
Spending last minutes in Monterrey...I already miss you @Abierto_MTY !!! See you next year ?? pic.twitter.com/babOUlGAmn

— Jovana Jaksic (@JaksicJovana) March 5, 2015



=============================


10. Monterrey QF - Errani d. Pavlyuchenkova
...7-5/6-4. This one ended Pavlyuchenkova's 17-match winning streak in Monterrey, as she'd won the title in her last three appearances in 2010, '11 and '13. And the Hordette didn't REALLY get engaged, either.

Random proposal ?? right after the match,I might haven't been chilled about it!!??#2sweet#shock#notengaged pic.twitter.com/cdqv9ccNF9

— A. Pavlyuchenkova (@NastiaPav) March 6, 2015



=============================


11. Monterrey SF - Garcia d. Ivanovic
...6-1/6-4. In an emphatic end to a dominant performance, Garcia aced AnaIvo on match point. Felines the word over mourned.


I am Catwoman. Hear me roar! #MichellePfeiffer #BatmanReturns #PlayersParty #AbiertoMty pic.twitter.com/ugoQPsayUK

— Ana Ivanovic (@AnaIvanovic) March 2, 2015
Can you see I was little nervous picking up Catwoman suit the other day. ?? #abiertomonterrey pic.twitter.com/WvoaXWV6H6

— Ana Ivanovic (@AnaIvanovic) March 3, 2015


And so, I suspect, did Jose the Bear.



Good win today. But bear didnt want to talk to press ;) ?? #AbiertoMty pic.twitter.com/Xohgo4UIYl

— Ana Ivanovic (@AnaIvanovic) March 4, 2015



=============================


12. KL Final - Wozniacki d. Dulgheru
...4-6/6-2/6-1. This was their fourth meeting, with the first match coming in 2006 and this one being their second of '15 (last week in the Doha 2nd Rd., when Caro won nine of ten games before the Romanian's retirement). The set Dulgheru took off Wozniacki here was her first ever against the Dane.


=============================


HM- $10K Antalya Final - Cristina Dinu d. Reka-Luca Jani
...2-6/6-4/6-2. Reka-Luca Jani! Reka-Luca Ja-! Oh, wait. She lost in her attempt for career ITF crown #19. Instead, the Swarmette got her thirteenth.


=============================




Meanwhile, also on Caro Corner... things got progressively better as the week went on.


When you fall asleep but your friends are still around?????? not mentioning any names @JennaGreen ?? #fbf pic.twitter.com/Q1gHe7OwKu

— Caroline Wozniacki (@CaroWozniacki) March 6, 2015
Thunder and lightening freaks me out ????

— Caroline Wozniacki (@CaroWozniacki) March 7, 2015
8 STRAIGHT YEARS! @CaroWozniacki has now won at least 1 #WTA title every year since 2008--> http://t.co/Uf4aQiXJWY pic.twitter.com/YUqyJcZlRI

— WTA (@WTA) March 8, 2015


1. Monterrey Final - Dabrowski/Rosolska d. Anastasia Rodionova/Arina Rodionova
...6-3/2-6 [10-3]. The Rodionovas are denied in their attempt to become the third different all-sisters duo to win a tour title through the first nine weeks of '15, and the eleventh pair all-time. 2013 Linz runners-up Dabrowski/Rosolska nab their second and fourth career tour titles, respectively, but their first as a team. The Rodionovas have won a pair of challenger titles together, but also lost their only other tour final as a pair in Kuala Lumpur in 2010.

Congratulations Gabriela #Dabrowski & Alicja #Rosolska winners of the #AbiertoMty 2015 doubles title in Monterrey. pic.twitter.com/KiBVTMu3u2

— TennisTV (@TennisTV) March 8, 2015



=============================


2. Monterrey Q3 - Babos d. Kateryna Bondarenko 7-5/2-6/6-4
Monterrey Q3 - Vaidisova d. Arina Rodionova 6-3/6-2
Monterrey Q3 - Urszula Radwanska d. Hogenkamp 6-1/6-2
...Monterrey qualifying wasn't kind to sisters unless they were named Radwanska. Ula won two more matches in the main draw.


=============================


3. KL 1st Rd. - Hsieh Su-Wei d. Dellacqua
...7-5/2-6/6-3. Hsieh's win over #35 Dellacqua was her best in over a year, since she upset then-#22 Flavia Pennetta last February.


=============================





Vika's family: Classic Edition
Vika's tennis family: With yet another new addition in hitting partner Sascha Bajin. Yes, THAT Sascha. Serena's longtime hitter partner.
A ball is not supposed to look like that after one practice @vika7 you need to stop PINISHING them... pic.twitter.com/hmt7RVcRdj

— sascha Bajin (@BigSascha) March 6, 2015
And he arrives with no hard feelings... so at least we won't have to hear (TOO much... and ESPN, I'm talking to you) about that the next time Serena and Vika face off.
"@serenawilliams: @bigsascha @vika7 don't have too much fun without me congrats Sasha????????" all love and respect! Thx for being cool ??????

— victoria azarenka (@vika7) March 4, 2015
All work and no play makes Vika a very unruly Belarusian. So, play... on the ESPN SportsCenter L.A. set.
Tennis player Victoria Azarenka stops by SC LA, plays ping pong & does "shmoney dance." Watch after DAL/GSW on ESPN. https://t.co/Sfd9EFWTbF

— SportsCenter (@SportsCenter) March 7, 2015




**2015 WTA FINALS**


3...TIMEA BACSINSZKY, SUI (2-1)
2...Simona Halep, ROU (2-0)
2...Maria Sharapova, RUS (1-1)
2...CAROLINE WOZNIACKI, DEN (1-1)
2...CAROLINE GARCIA, FRA (0-2)



**2015 WINS OVER DEFENDING CHAMPIONS**


Sydney - Petra Kvitova def. Tsvetana Pironkova (SF) #
Dubai - Lucie Safarova def. Venus Williams (3rd Rd.)
Monterrey - Caroline Garcia def. Ana Ivanovic (SF)
--
@-won title



**2015 #1 SEED WON TITLE*


Shenzhen - Simona Halep, ROU
Brisbane - Maria Sharapova, RUS
Sydney - Petra Kvitova, CZE
Australian Open - Serena Williams, USA
Dubai - Simona Halep, ROU
Rio - Sara Errani, ITA
Kuala Lumpur - Caroline Wozniacki, DEN



**LONGEST ACTIVE SEASON STREAKS w/ WTA TITLE**


13 years - Maria Sharapova, 2003-15
9 years - Serena Williams, 2007-15
8 years - CAROLINE WOZNIACKI, 2008-15
5 years - Petra Kvitova, 2011-15



**CONSECUTIVE 2015 SINGLES FINALS**


2 - Maria Sharapova (Brisbane-W,AO-L)
2 - TIMEA BACSINSZKY (Acapulco-W,Monterrey-W)
2 - CAROLINE GARCIA (Acapulco-L,Monterrey-L)



**CAREER WTA FINALS - active**


82...Serena Williams (65-17)
76...Venus Williams (46-30)
57...Maria Sharapova (34-23)
39...CAROLINE WOZNIACKI (23-16)
34...Svetlana Kuznetsova (14-20)
33...Victoria Azarenka (17-16)



**2012-15 WTA FINAL MATCH-UPS - active**


7...S.Williams vs. Azarenka (SW 5-2)
6...S.Williams vs. Sharapova (SW 6-0)
4...Azarenka vs. Sharapova (VA 3-1)
2...Azarenka vs. Stosur (1-1)
2...BACSINSZKY vs. GARCIA (TB 2-0)
2...Halep vs. Stosur (SH 2-0)
2...Koukalova vs. Muguruza (1-1)
2...A.Radwanska vs. Cibulkova (1-1)
2...Sharapova vs. Halep (MS 2-0)
2...Sharapova vs. Ivanovic (MS 2-0)
2...S.Williams vs. Jankovic (SW 2-0)
--
ALSO w/ 2: S.Williams/Li, Sharapova/Li



**2015 WTA SF**


3...TIMEA BACSINSZKY, SUI (3-0)
3...Karolina Pliskova, CZE (2-1)
3...Maria Sharapova, RUS (2-0+L)
3...CAROLINE WOZNIACKI, DEN (2-1)


The birthdays just keep on comin'...


Happy Birthday to 4x #WTA Fan Favorite Award winner @ARadwanska!! ?????? http://t.co/5V2JX7VWoD #tennis #AgaBDay pic.twitter.com/7GySvfJEuz

— WTA (@WTA) March 6, 2015
Happy Birthday to 3-time #FedCup champion @Petra_Kvitova who turns 25 today on #internationalwomensday! pic.twitter.com/aBAJv4RMjH

— Fed Cup (@FedCup) March 8, 2015


Of course, Petra's bigger news during the week was that she'll miss Indian Wells, citing "exhaustion" after playing four matches over the past five weeks.


.@Petra_Kvitova has withdrawn from @BNPParibasOpen due to exhaustion--> http://t.co/ICBxr1n9M2 #WTA #tennis pic.twitter.com/YPxIRADITz

— WTA (@WTA) March 5, 2015


Everyone (else) heads for the States.


No matter how dark it is, there is always something to smile about! Have a nice day! ?? pic.twitter.com/tqWkj7Etxl

— Yanina Wickmayer (@wickytennis) March 7, 2015


Where there are other issues to contend with, as Nicole Gibbs is well aware.


LA is only place in the world where turning ur blinker on reduces the change that someone will let you into the next lane ????????

— Nicole Gibbs (@Gibbsyyyy) March 6, 2015


Indian Wells has a mid-week start, so I'll be back shortly with a quick preview.

Guess who's a three-time finalist, and two-time champion, there. Of course, SOMEONE else will be there this time around who wasn't during any of those runs. Hint: 16 wins in a row.



Hmmm, I suggest Maria heed her own "warning" over the next two weeks.


All for now.