2015 BSA's: Upsets of the Year
At the end of a long season, some matches are more memorable than others. For those who won, as well as those who lost.
Ahh, to win is wonderful, but to upset is divine.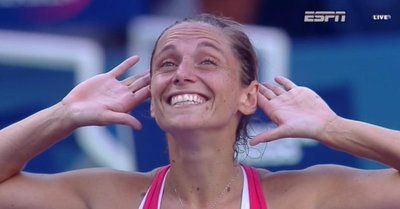 "Today is my day. Sorry, guys."

-

Roberta Vinci

*UPSETS OF THE YEAR*
In one of the biggest surprises in tennis history, Roberta Vinci defeated Serena Williams http://t.co/lr74IR9CMJ pic.twitter.com/XbjZpUIv5Y

— The New York Times (@nytimes) September 11, 2015



1.

U.S. Open SF - Roberta Vinci d. Serena Williams
...2-6/6-4/6-4. Is a loss to a fighting world #43-ranked player who climbed as high as #11 two years ago and has been doubles #1 REALLY a "greatest upset ever in sports" contender, as some who couldn't name more than four current Top 20 players would have you believe? Umm, no... at least I don't think so. But under the circumstances, it was HUGE as, with an eye on an all-Italian final following countrywoman Flavia Pennetta's win in the first semifinal, Vinci wielded her racket as if it was a magic wand. With an array of drop shots, slices and angles the Italian vet kept Williams off-balance while ALSO keeping her nerve in the clutch after Williams took a break lead early in the 3rd set, only to never be able to right her error-prone game as she had while running off thirty-three straight slam wins and getting within one victory of playing in the final with a chance at a Grand Slam. Vinci had never taken a set off Williams in four previous meetings (one a few weeks earlier in Toronto), and this was just the fifth loss by Serena in twenty-nine career slam semifinals. Solidifying the moment as an all-time memory, Vinci then followed up by stealing the show with a crazy-honest post-match interview that brought to mind the very best of Li Na... with an Italian accent.

"This is like a dream. I beat Serena, I'm in a Grand Slam final. It's the best moment of my life" -@Roberta_Vinci pic.twitter.com/HH4I2FzXpF

— WTA (@WTA) September 11, 2015
"I don't want to talk about how disappointing it is for me. If you have any other questions, I'm open for that."

-

Serena Williams, in her post-SF press conference
=======================================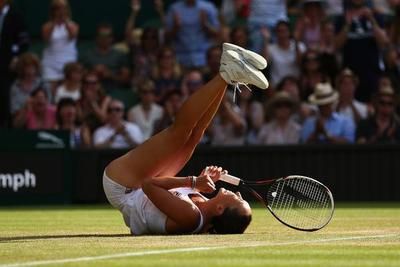 2.

Wimbledon 3rd Rd. - Jelena Jankovic d. Petra Kvitova
...3-6/7-5/6-4. Good Petra, Bad Petra... Good Petra, Bad Petra. Let's call the whole thing off. And that's what happened, too, as far as Kvitova's defense of her Wimbledon title was concerned. The Czech led JJ 6-3/4-2, winning thirteen straight points in one stretch and still having not been broken in the tournament. But once Jankovic got a break to get back on serve at 4-4, the slide began, then a second break to win the 2nd set sent Kvitova "down the other side." A nearly ten-minute off-court break between sets didn't turn the match in her favor, as errors and a curious case of brain lock (stopping play to challenge a line call when she up was up 30/15 on JJ's serve at 4-4, and in complete control of the point -- the ball was in, and instead of having two BP for a shot to serve FOR the match Kvitova was soon serving to stay IN it) proved to be Petra's final undoing against the resurgent Serb.

=======================================
3.

Miami 2nd Rd. - Daria Gavrilova d. Maria Sharapova
...7-6(4)/6-3. Already 0-5 in Miami finals, Sharapova didn't come close to such a result this time around. Instead, the world #2 was expertly ousted by a #97-ranked wild card in former girls #1 and U.S. Open junior champ Gavrilova, 21, who notched her first career Top 10 win. The Russo-Aussie, Moscow-born but the latest full-fledged Hordette to transfer Down Under, outshined her idol (at 12, she watched then-countrywoman Sharapova play at Wimbledon) at nearly every turn just two weeks after having forced eventual Indian Wells champ Simona Halep to go three sets in their 2nd Round encounter.


"I'm just so excited, I'm so happy, I can't explain it. I always believed and that's probably why I won."

-

Daria Gavrilova



=======================================




4.

WTA Finals rr - Aga Radwanska d. Simona Halep
...7-6(5)/6-1. After failing to put away set point in the 1st against #1-seeded Halep in her final RR match, Radwanska was staring down the barrel of her second 0-3 Finals week in three years (at the moment, she'd gone 1-9 in her last ten matches at the event dating back to 2012) when she trailed 5-1 in the 1st set TB, knowing that dropping even one set would eliminate her from semifinal contention. But when the Little Pole That Could charged back with six straight points she changed the direction of the event, as well as quite possibly both Halep's career (for good or bad... we'll maybe begin to see in '16), as well as her own (ditto). Her straight sets win, coupled with Maria Sharapova's sweep of Flavia Pennetta later in the day, pushed A-Rad into her third year-end tournament semis. What happened on the weekend was Radwanskian history.


=======================================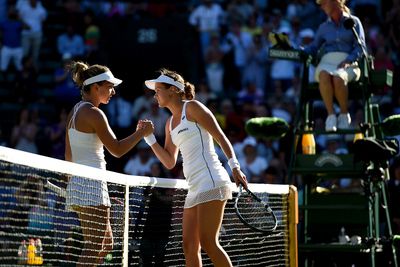 5.

Wimbledon 1st Rd. - Jana Cepelova d. Simona Halep
...5-7/6-4/6-3. A healthy Cepelova (unfortunately, a rare sight) is a dangerous Cepelova, and the world #106 was just that against the #2-seeded Halep. The Romanian won the 1st set and seemed on her way to victory before dropping her last two service games in the 2nd. Halep nearly got back on serve late in the 3rd, getting to 40/love on the Slovak's serve as she tried to finish things off at 5-3. But Cepelova swept the final five points of the match to record her second career Top 5 win (w/ that win over Serena in Charleston last year).


=======================================




6.

Australian Open 3rd Rd. - Madison Keys d. Petra Kvitova
...6-4/7-5. The 19-year Bannerette arrives on the slam stage as she out-hits the #4-seeded Wimbledon champ, breaking her five times and serving out both sets in a calm, cool, collected and routine fashion. She'd go on to become the latest North American teen -- after Sloane Stephens and Genie Bouchard -- to have a breakthrough slam semifinal result in Melbourne.

.@Madison_Keys gets biggest win of her career, defeating World No.4 Petra Kvitova 64 75 for a spot in #AusOpen R16. pic.twitter.com/6nshjPdhra

— ESPNTennis (@ESPNTennis) January 24, 2015
=======================================
7.
Madrid 1st Rd. - Alize Cornet d. Simona Halep 7-6(6)/6-3
Roland Garros 2nd Rd. - Mirjana Lucic-Baroni d. Simona Halep 7-5/6-1

WATCH: #LucicBaroni celebrates after logging her 2nd win vs #Halep; the Croat made her RG debut 17 years ago! #RG15 https://t.co/aycjH4wRkl

— Roland Garros (@rolandgarros) May 27, 2015

...Halep came into the clay season off a very good, though not perfect, 1Q. On the surface that is generally considered her best, and where she put up great results the last two springs, the Swarmette Queen went a combined (and mediocre) 6-4 in '15, with these two early round straight sets losses the giant elephants wearing polka dot socks in the middle of her 2Q results. The first match was Cornet's fourth Top 2 victory since last February, but Halep was the runner-up in Paris just last year. After losing the #2 ranking (and #2 seed) before heading to Roland Garros, Halep was bounced by Lucic, the same player who knocked her out of last year's U.S. Open. Falling behind 5-0 in the 2nd set, Halep was out-hit 29-5 in winners for the match. This was her her worst slam result in nearly two years... until she lost in the 1st Round a Wimbledon a month later.


=======================================




8.

Australian Open 1st Rd. - Madison Brengle d. Andrea Petkovic
...5-7/76-(4)/6-3. The #13-seeded German had thirty-one career slam match wins vs. Brengle's one, but that didn't prevent Brengle from following up her "Summer of Brengle" in North America with a "Summer of Brengle: Down Under Edition" run in Melbourne by overcoming Petkovic, who served at 7-6/5-3, and then going on to reach her first career slam 4th Round.


=======================================



Madison Brengle earns 1st career Top 10 win! Shocks Kvitova 63 76(2) at @PorscheTennis--> http://t.co/FSLxWjNFS7 #WTA pic.twitter.com/bixxs6VDcf

— WTA (@WTA) April 23, 2015



9.

Stuttgart 2nd Rd. - Madison Brengle d. Petra Kvitova
...6-3/7-6(2). BrengleFly's hard-earned upward mobility continued, as she skipped over one milestone in favor of an even greater one. The Bannerette had never defeated a Top 10 player in her career, but that didn't stop her from taking out Top 5er Kvitova in the wake of the Czech's undefeated Fed Cup weekend.


=======================================



Errani/Pennetta prove too good for Williams/Riske, a 60 63 victory sees Italy retain their #FedCup WG place #ITAUSA pic.twitter.com/fFOXqqxojC

— Fed Cup (@FedCup) April 19, 2015



10.

Fed Cup World Group Playoff - Italy d. United States 3-2
Match #5 - Sara Errani/Flavia Pennetta (ITA) d. Serena Williams/Alison Riske (USA) 6-0/6-3
...on her first weekend of play on red clay this season, the poor roster makeup of the U.S. team and absence of sister Venus proved to simply be too much for even Serena to overcome. Of course, a resurgent Italian team still smarting from a February FC collapse had something to do with it, as well. After being forced to a tie-break in a straight sets win on Saturday, then having to battle for three sets to defeat Errani (the Italian took just the second ever set lost by Serena in FC competition and even served for a straight sets win) earlier in the day, Williams was forced into action yet again for Mary Joe Fernandez's why-would-we-ever-need-a-doubles-player? squad and simply wasn't able to bring anything to the table. Serena hadn't played FC doubles in a dozen years. Playing with Riske for the first time (they hadn't even met until earlier in the week) in the deciding doubles match, the Americans fell behind 5-0 in just seventeen minutes as the Italian duo thrilled the crowd -- Pennetta was playing in her hometown -- and proved that the fabled veteran squad had at least one more heroic weekend left for which history would be able to judge them. Williams was broken at love twice in the 2nd set, as she suffered her first loss in seventeen career Fed Cup matches.


=======================================




11.

Australian Open 1st Rd. - Lucie Hradecka d. Ana Ivanovic
...1-6/6-3/6-2. After her most consistent year, and coming off a nice run to the Brisbane final, AnaIvo was a Top 5 seed in the same slam at which she upset Serena Williams in '14. In other words, she had expectations... so maybe getting knocked off by the qualifier Czech vet on Day 1 in Melbourne wasn't that big of an upset, after all. Her late-match meltdown is something we've seen before, too. The loss set the stage for a predictable "step back" season for the Serb.

=======================================




12.

Roland Garros 2nd Rd. - Andreea Mitu d. Karolina Pliskova 2-6/7-6(5)/6-4
Roland Garros 3rd Rd. - Andreea Mitu d. Francesca Schiavone 7-5/6-3
...a year ago, Mitu was ready to quit the sport, then she made it through Wimbledon qualifying and won four ITF titles late in the season. Fastforward to 2015, and the Romanian reached the Top 100, recorded her first tour main draw win, made her Fed Cup debut and notched her first Top 10 victory (def. Bouchard), then reached the Round of 16 in Paris after taking out Pliskova after the Czech led 6-2/4-3 with a break before ending the run of former RG champ Schiavone in straights after the Italian vet led 4-1 in the 1st and served at 5-3. As it turned out, despite being the lowest-ranked of the five Romanians in the RG draw, Mitu was the Last Swarmette Standing.

WATCH: An emotional @andreea_mitu celebrates after her upset of 2010 champion #Schiavone to reach the R16. #RG15 https://t.co/NQOdgajHu5

— Roland Garros (@rolandgarros) May 30, 2015



=======================================




13.

Istanbul 1st Rd. - Kateryna Bondarenko d. Venus Williams
...6-4/7-6(4). One half of the Ukrainian Bondarenkos takes out one half of the Williams Sisters to grab her first Top 20 win since 2012. Venus won four consecutive games to serve for the 2nd set at 6-5, only to see Bondarenko close out the match by claiming eleven of the final fifteen points.

Kateryna Bondarenko shocks Venus 64 76(4) at @Istanbul_Cup! 1st Top 20 win since 2012-> http://t.co/Onlo0W6w5D #WTA https://t.co/sfMPpD2Fx7

— WTA (@WTA) July 21, 2015



=======================================




14.

Europe/Africa I Zone - Cagla Buyukakcay/TUR d. Elina Svitolina/UKR 6-3/4-6/6-0
Europe/Africa I Zone - Cagla Buyukakcay/TUR d. Heather Watson 6-3/3-6/7-5
...the Turkish Fed Cup team failed to pull a shocker and advance to the E/A I promotional playoff, but an upset round robin win over Great Britain was nearly the tipping point feat that did the deed. Still, Buyukakcay was a star, upsetting off #36 Svitolina and #38 Watson on back-to-back days for the two biggest wins of her career.


=======================================




15.

Hopman Cup RR - Genie Bouchard d. Serena Williams 6-2/6-1
Hopman Cup Final - Aga Radwanska d. Serena Williams 6-4/6-7(3)/6-1
...sure, the wins in Perth's team exhibition competition didn't actually "count." Neither Bouchard nor Radwanska have ever defeated Williams in their combined ten official tour match-ups, as both have taken just one set each off the world #1. Aga even got a second win over Serena, teaming with Jerzy Janowicz to defeat Williams and John Isner to in the doubles to take Poland's first Hopman Cup title. Bouchard's '15 season never really hit such a "high" again.


=======================================




16.

Stuttgart 1st Rd. - Petra Martic/Stephanie Vogt d. Martina Hingis/Sania Mirza
...6-3/6-3. Martic & Vogt, playing in their first match as a duo, become charter members of the We Beat the Dream Team Club, ending the initial undefeated run of Hingis/Mirza after fourteen straight wins. Of course, it likely helped that Hingis wasn't exactly 100% after a weekend of Fed Cup singles action, and both she and Mirza had to fly into Germany (Sania all the way from Hyderabad) after both had participated in FC action just a few days earlier. Petra and Stephanie will leave that part out when they recount the feat later.


=======================================




17.

Roland Garros 1st Rd. - Sloane Stephens d. Venus Williams
...7-5(5)/6-1. Sloane gets her second career slam win over a Williams, joining Ekaterina Makarova as the only players to defeat both Serena and Venus in a major who have never themselves been ranked #1. Stephens came within three points of an additional RG win over Serena in the Round of 16.


=======================================




18.

Australian Open 1st Rd. - Julia Goerges d. Belinda Bencic
...6-2/6-1. After reaching the quarterfinals in her last slam appearance at the U.S. Open, 17-year old Bencic, the #32 seed, wasn't just the "First Seed Out" in Melbourne on Day 1, she was the first player in the entire tournament to go down in defeat in the 1st Round.


=======================================




19.

Australian Open Doubles 3rd Rd. - Goerges/Groenefeld d. Errani/Vinci
...6-3/4-6/7-5. The Germans end the #1-ranked, two-time defending AO doubles champions' dreams for a three-peat. No women's doubles team has won three consecutive titles at a slam since Virginia Ruano Pascual & Paola Suarez won the U.S. Open from 2002-04. As it turned out, this loss was the "canary in the coal mine" for the future of the Italian pair. About a month -- and an horrific Fed Cup loss -- later their Career Grand Slam winning partnership was suddenly kaput. They won a total of five slam crowns during a stretch of just over two years.


=======================================




20.

Eastbourne 2nd Rd. - Johanna Konta d. Ekaterina Makarova 6-2/6-4
Eastbourne 3rd Rd. - Johanna Konta d. Garbine Muguruza 6-4/4-6/6-3
...the Brit notched her first career Top 10 win over the Russian in a result that foreshadowed the then-Top 10er's disappointing Wimbledon (2nd Rd.) and injury-plagued close to the '15 season, then followed up with a win over then-Top 20 player Muguruza in a result which hardly told us anything about what would happen at Wimbledon. The Spaniard would reach her first career slam final in London, climbing into the Top 10 for the first time at #9 (knocking Makarova out of the Top 10.)

.@JoKonta91 shocks Makarova 62 64 at #AegonInternational! 1st career Top 10 win--> http://t.co/gDo0yHF2P6 #WTA pic.twitter.com/RwhuzMxhPC

— WTA (@WTA) June 23, 2015



=======================================




21.

Wimbledon 2nd Rd. - Bethanie Mattek-Sands d. Ana Ivanovic
...6-3/6-4. The American qualifier, a former Round of 16er (2008) staging a successful comeback from '14 hip surgery, took it to AnaIvo. "Old school" style. In a performance filled with net rushes and continual movement, BMS converted 28/39 net points, including 19 volley winners (she led the #7-seeded Serb 32-15 in overall W's).


=======================================




22.

U.S. Open Q2 - Claire Liu d. Jana Cepelova
...7-6(4)/6-4. The 15-year old wild card makes an early name for herself, taking out the Slovak who has defeated the likes of Serena Williams AND Simona Halep during the last two seasons. Liu's play belied her lack of experience (she was the first player born in the 2000's to be ranked by the WTA), as she survived blowing a 5-1 1st set lead to win a tie-break, then overcame a 4-2 deficit in the 2nd to win in straight sets.


=======================================




23.

U.S. Open 1st Rd. - Anna Tatishvili d. Karolina Pliskova
...6-1/6-2. The #8-seeded Czech's shaky status as the new U.S. Open Series champ was quickly (in :52, to be exact) taken to the ground in Flushing Meadows by the qualifier. Tatishvili made Pliskova one of the first high seeds to be run out of town on an oft-used (as it turned out) rusty rail by breaking Pliskova's big serve five times, leading 6-1/5-0 before things were made to look "better" in final scoreline. To add insult to ignominy (Pliskova's 1st Round exit is the earliest ever by a women's Series winner, and matches only Andy Roddick's opening round defeat as the men's '05 champ), Tatishvili ended things against the tour's ace leader with a 2nd serve ace up the "T" of her own on match point to officially bring down the curtain.


=======================================




24.

Roland Garros 4th Rd. - Timea Bacsinszky d. Petra Kvitova 2-6/6-0/6-3
Roland Garros 4th Rd. - Lucie Safarova d. Maria Sharapova 7-6(3)/6-4
...not "tremendous" upsets, considering many factors. The Swiss reached the semifinals, while Safarova would go on to play in her first slam singles final. Also, Bacsinszky had already beaten Kvitova earlier in the season, and Bad Petra was most definitely present after the Czech won the opening set. Safarova had battled defending champ Sharapova (23-2 at RG since '12) in close losses in recent match-ups, as well. But Sharapova was the #2 seed and Kvitova #4 -- and they BOTH went out on Day 9 in Paris, the same day that #1 Serena Williams was close to being upset by Sloane Stephens, too. Shocking, huh, that Williams survived the carnage and went on to win the title? Yeah, right.


=======================================




25.

Indian Wells 3rd Rd. - Jelena Jankovic d. Madison Keys
...5-7/6-4/6-3. JJ can still boast a far-more-noteworthy career than the 20-year old Keys. But this win, which fueled her surprise run to the I.W. final, was the Serb's first over a Top 20 player since knocking off Sloane Stephens the previous August in Montreal.


=======================================




26.

Australian Open Q1 - Wang Yafan d. Luksika Kumkhum
...2-6/7-6(5)/6-2. In 2014, Kumkhum upset Petra Kvitova in the 1st Round of the Australian Open. A year later, she, as the #7 seed, was the one getting upset in the opening round of qualifying in Melbourne.


=======================================




27.

Roland Garros 1st Rd. - Annika Beck d. Aga Radwanska
...6-2/3-6/6-1. Aga's pre-summer troubles continued. The last time she met the German in Indian Wells last year, A-Rad won 6-0/6-0. This loss was the Pole's worst slam result since the '09 Australian, and only her third career 1st Round exit at a major.

.@BeckAnnika upsets Radwanska 62 36 61 in 1R of @RolandGarros! 1st Top 20 win of 2015--> http://t.co/ck8Yq4Onn1 #RG15 pic.twitter.com/OnsXJwy4vM

— WTA (@WTA) May 25, 2015



=======================================




28.

Rising Stars Final - Naomi Osaka d. Caroline Garcia
...3-5/5-4(6)/4-1. This might not be considered an "upset" by this time next year, but at the time of Singapore's four-player Rising Stars exhibition Garcia was by far the most well known and highest ranked player in the mix. After going undefeated in round robin play (including a three abbreviated-set win over Osaka) and leading her #202-ranked opponent in the final by a set and 3-0, holding four MP, Garcia fell to the Japanese teen. This might turn to be a true "I knew her when" moment for the Serena-idolizing Osaka. Stay tuned.


=======================================




29.

Fed Cup World Group II Playoffs - Sara Sorribes Tormo/ESP d. Paula Ormaechea/ARG
...4-6/7-6(2)/6-1. Ormaechea has been Argentina's best FC player the last few years, but the Spanish teenager made her debut for Team Espana a memorable one, setting the tone for a disappointing performance for the host nation. Sorribes dropped the 1st set, then staged a successful comeback despite twice being down a break in the 2nd. After having nearly pushed the Williams-stacked U.S. squad to the doubles in February, Argentina went on be shut out by the Spanish "B"-team, with Ormaechea dropping a second match against Lara Arruabarrena, who was also playing in her first career FC tie.


=======================================




30.

Wimbledon Q1 - Katie Swan d. Kristina Kucova
...6-3/6-4. The 16-year old British junior, ranked #866 on the WTA computer, takes out a player ranked 748 spots above her.


=======================================




HM-

Indian Wells 3rd Rd. - Belinda Bencic d. Caroline Wozniacki
...6-4/6-4. This didn't turn out to be much of an "upset" by the end of 2015, but its worth a mention. This was the New Swiss Miss' best career win and her first over a Top 5 player. Bencic would eventually pass Wozniacki in the rankings and put up a 4-0 record against the Dane.


=======================================





[The Means to a New Swiss Miss End]



.@BelindaBencic shocks World No.1 Serena Williams 3-6, 7-5, 6-4! Makes @RogersCup final--> http://t.co/KI8HeZNxms pic.twitter.com/zdgwzzg3CU

— WTA (@WTA) August 16, 2015

Toronto SF - Belinda Bencic d. Serena Williams
...3-6/7-5/6-4. In a crazy match that played out like "The Three Faces of Serena," 18-year old Bencic becomes the youngest player to defeat Williams in a completed match since a 17-year old Sharapova in 2004. For the day, Serena's serve was as "off" as it's ever been (12 DF vs. her 16 aces) as she was broken seven times and had 59 UE. Still, Bencic's nerves -- and Williams "near-Serenativity" -- nearly got the best of her. She served up 5-3 in the 2nd, but double-faulted on SP and lost 10 of 11 points as Williams knotted things at 5-5. Bencic battled back from love/40 on serve two games later to hold, and then broke Serena to take things to the 3rd. The teenager took a two-break, 4-0 lead in the final set after saving six BP in two serve games (three each), then served for the match at 5-1 and 5-3, missing on a backhand pass up 30/15 in game #9 that would have given her MP. She double-faulted on BP and Williams closed to 5-4, seemingly putting her in position to steal a victory in a manner that she often does. But perhaps Bencic unwittingly heeded Rogers Cup HOF inductee Justine Henin's comments from the week about players not believing they can beat Serena as much as they should, for she bounced right back and broke Williams to take the match for her first career win over a world #1. It was Serena's first defeat in a three-set match in 2015, and her first since she dropped a three-setter to Venus in LAST year's Rogers Cup semifinals. Bencic went on to win her biggest career title to round out a week-long performance that came in at #1 on Backspin's "Performance of the Year" list for 2015.

The result of three good whacks from Serena. pic.twitter.com/SlH1nerXzj

— WTA Insider (@WTA_insider) August 16, 2015



=======================================


Toronto Final - Belinda Bencic d. Simona Halep
...7-6(5)/6-7(4)/3-0 ret. The "day after" curse didn't lay a hand on the New Swiss Miss' gumption. This one might have gone down as a true classic had it played out differently in the 3rd set, but it still will be remembered for the drama-filled first two sets. After starting with five straight breaks of serve, Halep eventually took a 4-3 lead but the long rallies common to both players' games likely played a part in the leg injury that led to the first of her multiple visits with the WTA trainer. Throw in Bencic's changeover meltdown with her father, then her comeback from 1-4 down in the tie-break to claim the 1:08 1st set and the stage was set. While both players were experiencing physical difficulties at the end of a long week, Halep's issues were far more obvious. The leg, combined with the heat and her flat-out exhaustion following her SF win over Sara Errani led to her plodding around the court between points in the 2nd, bending over due to pain or looking as if she was trying to keep the contents of her stomach right where they belonged. In the late going, Bencic failed to put the set away while Halep refused to stop fighting to keep it alive. She actually seemed to be working against her own desires, as after she'd win points she'd appear to sigh and be disappointed because it meant that the end continued to be anything but near. Bencic's growing frustration led to her tossing her racket, while Halep got a break for a 6-5 lead, then seemed to pick up her game a bit more while winning the tie-break to force a 3rd set. After taking the long walk to leave the court, Halep returned to give things a go, but after falling down 3-0 she finally decided to preserve herself to fight another day and retired, giving Bencic the first gigantic title of her promising career.


=======================================





[Wheelchair]


Australian Open WC Final - Jiske Griffioen d. Yui Kamiji
...6-3/7-5. The Dutch 29-year old wins her first WC slam singles crown, taking out the world #1 who was seeking her third straight singles slam title to go along with five straight slam doubles titles.


=======================================


U.S. Open WC Final - Jordanne Whiley d. Yui Kamiji
...4-6/6-0/6-1. Against her doubles partner and best friend, Whiley defeats the two-time slam champ Kamiji in the literal shadow of a rocking Ashe Stadium as Novak Djokovic was taking down Roger Federer in the men's final. It's the Brit's first career slam singles title.

"It feels like a dream." @jordannejoyce92 wins #USOpen http://t.co/2i9GTVJmyh pic.twitter.com/JLjmBePxQz

— Express & Star (@ExpressandStar) September 14, 2015



=======================================



[The Fall of Bouchard... no pun intended]



1.

Fed Cup World Group Playoff - Alexandra Dulgheru/ROU d. Genie Bouchard/CAN 6-4/6-4
Fed Cup World Group Playoff - Andreea Mitu/ROU d. Genie Bouchard/CAN 4-6/6-4/6-1
...after at first deciding against it, Bouchard's late announcement that she would indeed join the Canadian team back home in Montreal was initially greeted with enthusiasm. Little did everyone know that it would simply be the first act of Genie's "lost weekend." Playing against a Romanian team without Simona Halep, Bouchard was expected to carry the team on her shoulders. Instead she caused it to bite the dust, losing on Day 1 to Alexandra Dulgheru in the injury-plagued Swarmette's first FC action since 2011. The last game, a hold by the Romanian, included three break points and four match points. But the final result was still the same, no matter the too-little-too-late fight that Bouchard put forth. Afterward, Dulgheru openly mocked Bouchard's refusal to shake hands with her opponents during the ceremony attended by both teams earlier in the week. Day 2 proved to be even worse for the (what-does-it-take-for-her-to-be-chagrined?) Canadian, as she was taken down by Irina-Camelia Begu's late replacement, Andreea Mitu, who clinched the tie in her FC debut.


"I don't want to comment on the gesture, it depends on the person's education. I would never do that but it's maybe just how she was raised and we have to accept this attitude. Alex played really well and I'm very happy she beat Bouchard. (The Celebration) was very well thought of and actually funny."

-

Simona Halep, on Genie Bouchard and Alexandra Dulgheru
=======================================
2.

Wimbledon 1st Rd. - Duan Yingying d. Genie Bouchard
...7-6(3)/6-4. The freefall of the 2014 Wimbledon finalist recorded its arguable "nadir" against the world #117 Duan, a qualifier whose rangy size has led her to be dubbed the "Lindsay Davenport of China." It was Bouchard's second straight 1st Round slam loss, as she dropped to 2-12 in her last fourteen matches.


=======================================




3.

Charleston 1st Rd. - Lauren Davis d. Genie Bouchard
...6-3/6-1. In this case, Davis grabbed her first career Top 10 win as Bouchard suffered her third consecutive loss, all to players ranked #65+. Numbers four and five in a row would come a week later in the Fed Cup play vs. Romania.


=======================================




4.

Antwerp 2nd Rd. - Mona Barthel d. Genie Bouchard
...4-6/6-1/6-2. No, not a tremendous upset, especially since the German has often been at her best at indoor events. But Bouchard was the #1 seed here and playing her first match with new coach Sam Sumyk, who she'd recently swiped from Vika Azarenka. A Princess and the Pea scenario would soon play out... as Sumyk was an ex-employee of Bouchard, as well, by the end of '15 while the Canadian was barely ranked in the Top 50, battling concussion symptoms and engaged in a lawsuit vs. the USTA because of a slip and fall in the U.S. Open locker room.


=======================================




5.

Indian Wells 4th Rd. - Lesia Tsurenko d. Genie Bouchard 6-7(5)/7-5/6-4
Miami 2nd Rd. - Tatjana Maria d. Genie Bouchard 6-0/7-6(4)
...the first loss in I.W. turned multiple times. Bouchard led 3-0 and 4-1 in the opening set, breaking Tsurenko three straight times to begin the match, but was pushed to a tie-break. She served for the match at 5-4 in the 2nd, but an abdominal injury made serving difficult and Tsurenko pushed things to a 3rd set. Bouchard took a two-break lead there, but became less and less effective as Tsurenko, injured ankle and all, found a way to wait out the storm and prevail. That defeat begat the Canadian's Miami exit, as Bouchard was again hampered by injury while losing to the German qualifier, who notched her first Top 10 win since 2010. Bouchard's first four losses of the season, in order, came against players ranked #2, #42, #85 and #113. She'd ultimately lose five more times during the season to players ranked outside the Top 50.

=======================================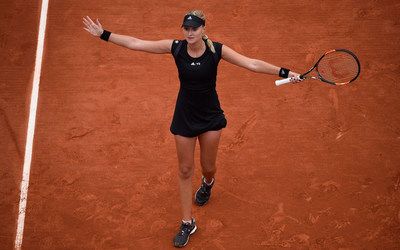 HM-

Roland Garros 1st Rd. - Kristina Mladenovic d. Genie Bouchard
...6-4/6-4. For all her "regular season" problems, Bouchard could, for a while, at least stand by her consistent slam success. Well, that notion came to an end in Paris. The #6 seed suffered her worst loss in nine career slams appearances, dropping out of the Top 10 as a result (and that was BEFORE her Wimbledon '14 runner-up points came off), though Kiki's inability to close things out after leading 5-0 in the 2nd made things "interesting." A year ago, Mladenovic upset Li Na at Roland Garros.


=======================================





[The Radwanskian Massacre: Junior Edition?]


Wimbledon Girls 1st Rd. - Anna Brogan d. #1 Marketa Vondrousova 6-1/6-2
Wimbledon Girls 1st Rd. - Maia Lumsden d. #3 Dalma Galfi 7-5/6-3
Wimbledon Girls 1st Rd. - Viktoria Kuzmova d. #4 Anna Kalinskaya 7-6(4)/6-4
...on Day 7, evil lurked in the shadows of the All-England Club. At least for the juniors. Three of the top four seeds lost in a matter of hours, including both of the Roehampton finalists (Galfi and Vondrousova) and the Roland Garros girls RU (Kalinskaya). On the same day on the women's side, Aga Radwanska won a crazy good 4th Round match against Jelena Jankovic en route to the semifinals, setting the stage for a fall campaign that would lead to Aga winning three titles, including the WTA Finals and seemingly righting her career. Hmmm... wasn't the malevolent entity said to have originally gained Its power through the fear and upset of children? I'm just sayin'.


=======================================





All for now.