Wk.47- Carlsbad, Carlisnotbad... Carlsbad, Carlisnotbad...
Once more, with feeling.

*WEEK 47 CHAMPIONS*
CARLSBAD, CALIFORNIA USA (WTA $125K Series; HCO)
S:

Yanina Wickmayer/BEL def. Nicole Gibbs/USA 6-3/7-6(4)


D:

Veronica Cepede Royg/Gabriela Ce (PAR/BRA) d. Oksana Kalashnikova/Tatjana Maria (GEO/GER) 6-1/4-6 [10-8]

And @wickytennis wins!!!!?????????? #carlsbadclassic pic.twitter.com/7SA7goO8YW

— Carlsbad Classic (@CarlsbadClassic) November 29, 2015



PLAYER OF THE WEEK:

Yanina Wickmayer/BEL


...the former world #12 and slam semifinalist has put together her best season since 2012 (when she finished #23), and she ended her Top 50 year (#49) with a title run at the WTA $125K Series event in Carlsbad. In Tokyo in September, Wickmayer won her first tour-level singles crown in over five and a half years. The 26-year old Belgian strung together wins last week over Julia Boserup, Kristie Ahn, CiCi Bellis and Maria Sakkari before taking out Nicole Gibbs in straight sets in the final. Wickmayer didn't lose a set all week.


===============================================




RISERS:

Nicole Gibbs/USA & Daniela Seguel/CHI


...Gibbs didn't let her disappointment over just missing out on the Australian Open wild card get her down. Instead, she rebounded with a run to the biggest final of her career at the 125 Series event in Carlsbad, knocking off Alla Kudryavtseva (via default... more on that later), Veronica Cepede Royg, #2-seeded Tatjana Maria and Jennifer Brady before losing to top-seeded Yanina Wickmayer. Of course, if she'd won the title the #122-ranked Bannerette would have lifted her ranking into the Top 100 to assure herself a spot in the AO main draw anyway. But, well... Nicole seems to be getting into the habit of coming up just short. As it is, she'll be at around #109. At least she gave us another example of some of the things NOT to ask her if you happen to cross paths, though.

Oh you're a tennis player, #volume2 A)how many racquets r in that bag?! B)how's ur fronthand? C)we should play sometime!! *shadows strokes*

— Nicole Gibbs (@Gibbsyyyy) November 20, 2015

Santiago-born Chilean Seguel, 23, took the lead for 2015 ITF singles titles with her victory in the $10K Santiago final when Argentina's Catalina Pella retired in the final. As a duo, the pair lost in the doubles final to Montserat Gonzalez and Ana-Sofia Sanchez.

Daniela Seguel se proclamó campeona del ITF de Las Condes https://t.co/3fxGBtrWIK pic.twitter.com/V3PWHbAnfC

— El Gráfico Chile (@ElGraficoChile) November 28, 2015



===============================================




SURPRISES:

Prerna Bhambri/IND & Marina Melnikova/RUS


...Bhambri, 23, is currently the third-highest ranked Indian woman in singles, but her third ITF title of the season (all since late October) gives her more than anyone from her nation in 2015. She won her second consecutive $10K challenger in Gulbarga, India with a victory in the final over countrywoman Natasha Palha.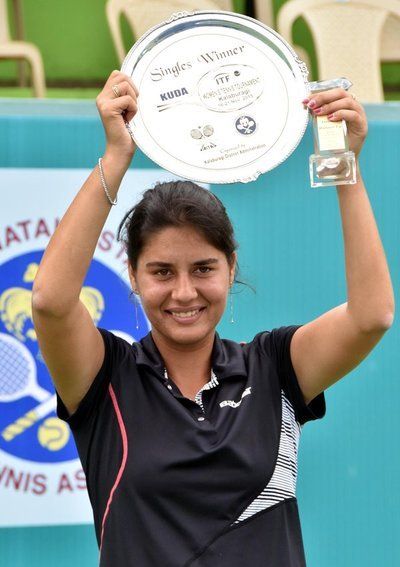 At the 125 Series event in Carlsbad, 26-year old Hordette Melnikova continued to have late-blooming success during her '15 campaign. The Russian has spread out her good results not only all over the calendar this year, but also across the globe. She put up a MD win in Stuttgart as a lucky loser in April, reached a career-best singles ranking of #170 in May, appeared in qualifying at all four slams in 2015 (she'd only been in the '14 U.S. Open Q-rounds prior to '15), won a $50K doubles title in Turkey with Spanish vet Laura Pous Tio in July, reached the final at a pair of additional $50K events this fall in Mexico and then again at the Taipei 125 Series event last weekend to lift her doubles ranking to a career-best #132. Melnikova was back in North America last week, where she reached the singles QF in Carlsbad with upset victories over Sharon Fichman and #3-seed Bojana Jovanovski.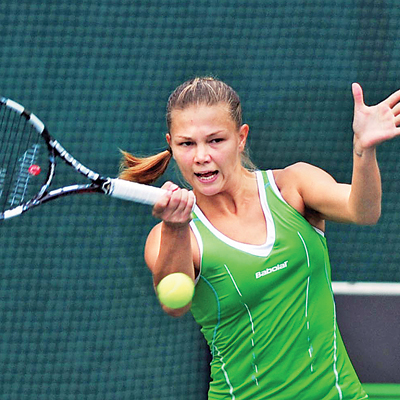 ===============================================




VETERAN:

Tatjana Maria/GER


...the 28-year German continued her '15 comeback surge this past week. Maria's season results have included a pair of $100K finals (winning one), as well as a title at a $50K challenger in Toronto in October. This week in Carlsbad she added a doubles RU (she reached the WTA-level final in Bastad in July) and a QF result in singles. At #71 in singles, 2016 will be the first season she'll begin with a Top 100 ranking since 2010.


===============================================




COMEBACK:

Alisa Kleybanova/RUS


...ah, here she is again. The Hordette's second comeback is (so far) going rather swimmingly. After returning to action for the first time since the '14 Wimbledon two weeks ago with a title turn at a $10K challenger in Antalya, Kudryavtseva is currently still at it in another $10K in Turkey. After rain interrupted play at the end of the week, she finished off her QF match and won a SF to reach the final after having entered the draw as a qualifier. With her winning streak at twelve matches, the Russian will play for her second straight title on Monday against Hungary's Anna Bondar.


NOTE:

Bondar def. Kleybanova 6-3/6-4


===============================================




FRESH FACES:

Maria Sakkari/GRE, Jennifer Brady/USA & CiCi Bellis/USA


...in Carlsbad, a slew of young players put up nice results. World #182 Sakkari, 20, reached the semifinals with victories over Amra Sadikovic and Samantha Crawford. The Greek woman has won three ITF titles this season, and made it through qualifying at the U.S. Open to make her slam MD debut in the summer. College star (UCLA) Brady, 20, also reached the semis with wins over Danielle Lao, Elitsa Kostova and Marina Melnikova. Brady won a $25K challenger title in October. 16-year old Bellis reached the QF after posting nice victories over Julia Glushko and Katerina Stewart. Her week in Carlsbad was Bellis' first action since losing in the final round of U.S. Open qualifying to Jelena Ostapenko.

RT if you are on team #ComebackCiCi @cicibellis99 #cicibellis #carlsbadclassic pic.twitter.com/m6a1Z9Tors

— Carlsbad Classic (@CarlsbadClassic) November 25, 2015



===============================================




DOWN:

Alla Kudryavtseva/RUS


...Kudryavtseva's season ended on a sour note, to say the least, as the Russian was defaulted from her 2nd Round singles matches against Nicole Gibbs in Carlsbad, precipitating her removal from the doubles draw (where she'd been partnered with Vania King), as well. Kudryavtseva took to social media to issue an apology for her on-court behavior.

@AllaK11: To @WTA @queen_v21 @Gibbsyyyy and everyone who was following my match tonight....140 words ain't enough... pic.twitter.com/aQM9c0EiIZ

— Alla Kudryavtseva (@AllaK11) November 24, 2015

According to an eyewitness report of the incident at TennisForum.com:

"They moved the match to the stadium court (court 1) due to darkness because it is equipped with lights. Right before they moved, Alla took a medical timeout and was complaining about lots of stuff. As soon as they moved to the stadium court, she started complaining about one corner of court on her side being dark and that she couldn't see the ball while serving. As she gets more frustrated, she hit all her shots so hard where many landed far out. After she missed an easy put away, she hit a ball out of the court and got a code violation. During the change over after she lost 3 games in a row, she threw the racquet on the ground so hard and it jumped into the audience and almost hit the guy in front of me. After that, WTA supervisor came on court to calm her down but her emotion was just out of control. Then she stormed out of the court and the chair umpire announced that Nicole won the match.

Bonus: When I was walking towards my car, I saw her crying on the side of the parking lot." - from JeffreyGOLU


===============================================




ITF PLAYER:

Jana Fett/CRO


...clearly, the Force is with Fett. The 19-year old Croat grabbed the biggest title of her career (two $15K crowns were the previous best) at the $75K challenger in Toyota, Japan with a three-set win in the final over Luksika Kumkhum. She put up impressive wins over #2 seed Patricia-Maria Tig, #6 Misa Eguchi and #7 Naomi Osaka to reach the final. The win is the fifth of Fett's career, and her third title run of 2015. Having come in ranked at a career-best #215, she'll climb to a new career high of #151 on Monday.

ITF-Toyota($75K)-Final: @JanaFett df Kumkhum 64 46 64. Third Title of the season for the Croatian. Congrats!! pic.twitter.com/IguKXXuCf0

— José García (@garzucho) November 29, 2015
===============================================
JUNIOR STARS:

Kayla Day/USA & Karman Thandi/IND


...Day, 16, won the biggest title of her junior career at the Grade 1 Yucatan Cup in Mexico. The #5 seed, lefty Day defeated #2 Usue Arconada in the semis and then #4 Bianca Andreescu in the final to run her record to 16-1 since the U.S. Open junior competition. Her recent stretch of good results also included a Grade B1 title at the Pan American Championships in Tulsa in Week 41 (for which she also won a share of Backspin's "Junior Star" honors). Earlier this season, Day was a member of the U.S. team that lost to the Czechs in the Fed Cup 16s final.

#TevlinChallenger Karman Kour Thandi vs Isabelle Boulais @CdnTennisNews pic.twitter.com/4PaXDLC4P0

— Neal Trousdale (@tlaenpix) October 27, 2015

Meanwhile, Thandi, 17, picked up her second professional title with her second straight doubles win with fellow Indian teen Dhruthi Tatachar Venugopal in a $10K challenger in Gulbarga, India. The pair defeated Nidhi Chilumula & Eetee Maheta in a 10-7 final set tie-break in the final.


===============================================




DOUBLES:

Veronica Cepede Royg & Gabriela Ce (PAR/BRA)


...in another case of South American tennis showing signs of life, Cepede and Ce (who got into the main draw as alternates thanks to Kudryavtseva's default in singles, and Vania King's suddenly partner-less situation) grabbed the biggest title of both their careers with a three-match run at the 125 Series event in Carlsbad. The duo defeated #2-seeds Dabrowski/Fichman in a 10-8 tie-break 3rd set in the 1st Round, as well as #1-seeded Kalashniskova/Maria in a 10-8 3rd TB in the final. It's the 23-year old Venezualan and 22-year old Brazilian's first title together of any kind, as they'd never played together before this event.


RT to say congrats to Gabriela Ce and Veronica Cepede Royg for winning the Doubles Final! Such epic matches! pic.twitter.com/QogsNZrS4Q

— Carlsbad Classic (@CarlsbadClassic) November 28, 2015


Of note, 25-year old Georgian Oksana Kalashnikova, the RU in Carlsbad with Tatjana Maria, was also the RU (w/ Gasparyan) at another 125 Series event in Limoges earlier this year, and won a tour-level title in Bucharest with Demi Schuurs.


===============================================






An Instagram that, I suspect, only Sharapova could post. At least, unlike a certain Canadian pop star who visited the Anne Frank House a while back, Maria didn't give an opinion about whether little Anne would have thought Sugarpova was yummy. Smart move.



Maria does Denmark.
Someone needs to learn how to jump And I need to learn how to dress for the cold. ?? pic.twitter.com/D8gQ3IrX6f

— Maria Sharapova (@MariaSharapova) November 26, 2015


1. Carlsbad 1st Rd. - Gibbs d. Kudryavtseva
...6-2/3-2 default. Nicole expressed no lingering issues with Alla's default-precipitating antics.

We all have bad days! Wishing you a great offseason and 2016. ???????? https://t.co/Hv2mfksSNC

— Nicole Gibbs (@Gibbsyyyy) November 24, 2015

By the weekend, all was forgotten.

Beach selfie... Need a surfing teacher pronto..... ???????? pic.twitter.com/UsbUiRoB9X

— Alla Kudryavtseva (@AllaK11) November 28, 2015



===============================================


2. Carlsbad QF - Sakkari d. Crawford
...6-1/6-7(3)/6-2. Crawford's loss prevented a possible face-off in the final with Gibbs, the player Crawford "stole" the USTA AO wild card berth from with a title run in the final playoff event.


===============================================


3. Carlsbad Final - Wickmayer d. Gibbs
...6-3/7-6(4). The Waffle becomes the tenth woman to win both WTA and WTA 125 singles titles during her career, and the second (w/ JJ) to win at least one of each during the 2015 season alone.


===============================================


4. Carlsbad 1st Rd. - Bellis d. Glushko
...6-3/6-4. CiCi's first MD win at a pro event since a $50K challenger in Sacramento in July.


===============================================


5. Carlsbad 1st Rd. - Sakkari d. Brett Berger
...6-0/6-0. It didn't end well for the 16-year old local girl making her pro debut, but it's still a scrapbook-worthy moment (or whatever the digital equivalent is these days).

Local tennis phenom Brett Berger, 16, makes her debut Tuesday at the @CarlsbadClassic: https://t.co/RBgSS92jOd pic.twitter.com/xkNsLvpRTd

— The Coast News Group (@coastnewsgroup) November 25, 2015



===============================================


6. Carlsbad SF - Gibbs d. Brady
...6-0/6-3. In an all-Pac 12 clash, two-time NCAA champ (and former Stanford Cardinal) Gibbs finishes off current UCLA Bruin Brady.

Carlsbad: @Gibbsyyyy beats Jennifer Brady 6-0 6-4 because she's awesome like that.

— Dan Brusca (@danbrusca) November 28, 2015



===============================================


7. $10K Pereira Final - Laura Pigossi/BRA d. Victoria Bosio/ARG
...5-7/6-0/6-2. The Brazilian wins the all-South American affair against the Argentine in an event that did NOT include her countrywoman Teliana Periera. Go figure. Pigossi swept the titles in the event, taking the doubles with Swarmette Jaqueline Cristian.

Laura Pigossi se quedó con el triunfo de la Copa Federación Colombiana de Tenis.https://t.co/YsXZKzWKRp pic.twitter.com/6AcqY6o4bB

— El Diario del Otún (@eldiariodelotun) November 29, 2015



===============================================


8. $10K Port El Kantaoui Final - Isabella Shinikova/BUL vs. Chiraz Bechri/TUN
...this final won't be played until Monday, but the winner will be notable. 24-year old Bulgarian Shinikova, 5-1 in finals this season, will be looking to tie Daniela Seguel for the ITF lead (6) in 2015 titles. Tunisia's Bechri has put together a dream run in her home nation event. The #634-ranked 17-year old will be playing for her maiden professional singles title.


NOTE:

Shinikova def. Bechri 6-1/6-2


===============================================






You never forget your previous (temporary) doubles partner of 2015.



When you tell your hubby you need a blanket because you're cold and not feelin so good. @MirzaSania knows this face😐 pic.twitter.com/6395GvNcSj

— Bethanie MattekSands (@BMATTEK) November 24, 2015
I know it all too well ?? on the brighter side ,you look very cute.. And pretty ?? https://t.co/7ux09sHdaw

— Sania Mirza (@MirzaSania) November 25, 2015
The SUPER Dream Team?
Catching up with my legendary partners @maheshbhupathi @mirzasania and @Leander #santina pic.twitter.com/ZF7dvTQuuE

— Martina Hingis (@mhingis) November 27, 2015
Ummm, the Super DUPER Dream Team?
Delhi - we have arrived ?? see you all tonight ... @Maheshbhupathi @leander @Martina pic.twitter.com/J4PkXNxxaS

— Sania Mirza (@MirzaSania) November 27, 2015
And... can you spot the USTA spy with (I'm sure) a hidden camera ready to get a shot of Genie smiling and not holding her head because she's perpetually dizzy?
Let's try this again ???? pic.twitter.com/Qs1FRLjaTA

— Genie Bouchard (@geniebouchard) November 27, 2015
Needless to say, the USTA didn't retweet that one. Or, then again, maybe they will... I mean, Bouchard isn't curled up in the corner, so I suspect they'd think that this image bolsters their case.
Meanwhile, Venus is looking a little bit different... and is already thinking about Rio.


1. Carlsbad 2nd Rd. - Crawford d. Naomi Broady
...3-6/7-6(4)/6-4. The USTA Australian Open Wild Card Playoff winner carries over her momentum, coming back from 0-4 down in the 3rd to defeat the Brit, who lost nine of her last ten points on serve. A week ago, Broady blew a 5-1 lead in another come-from-ahead defeat.


===============================================


2. Carlsbad Q2 - Francoise Abanda d. King
...6-4/6-4. The 18-year old Canadian makes it through the Q-rounds at her biggest event since she did it at the 2014 U.S. Open. Aside from not getting to play in the doubles, King still had a memorable week...

After 4 yrs I completed my degree @UMassLowell! Thnx to my sister Mindy @minx_clothing for the impromptu grad party?? pic.twitter.com/Fi6OJBO8MY

— Vania King (@queen_v21) November 25, 2015



===============================================


3. $10K Gulbarga Final - Prerna Bhambri d. Palha
...6-0/6-4. Prerna is the cousin of current ATP #91 Yuki Bhambri, whose sisters Ankita and Sanaa played professionally. Her brother Prateek also played on the ATP tour.


===============================================


HM- Toyota $75K Final - Omae/Peangtarn Plipuech d. Kumkhum/Tanaka
...3-6/6-0 [11-9]. 23-year old Thai Plipuech, sister of 18-year old fellow player Plobrung, picks up her 23rd ITF doubles title. She's won five with five different partners in 2015.


===============================================





Just wait until the USTA gets hold of this! They'll try to force her to give back her 2015 U.S. Open prize winnings!
#mood ayyy pic.twitter.com/GlSV9FZl2C

— victoria azarenka (@vika7) November 27, 2015

Sharapova wasn't the only one in Denmark this week.
Look who I found in Denmark today ?? @serenawilliams pic.twitter.com/FMr8LcJydm

— Caroline Wozniacki (@CaroWozniacki) November 25, 2015
Gotta stick up for your friends! https://t.co/5uOImFAP4g

— Caroline Wozniacki (@CaroWozniacki) November 25, 2015
.@CaroWozniacki beats Serena Williams at the Energi Denmark Champions Battle! ??--> https://t.co/mvmLfLCJVo pic.twitter.com/NeDqU2Sfyw

— WTA (@WTA) November 27, 2015
All the beautiful lights and decorations are up everywhere in Copenhagen! I love this part of year!! pic.twitter.com/ee3zRprUWC

— Caroline Wozniacki (@CaroWozniacki) November 28, 2015

I'll give Luke Saville the benefit of the doubt and say he's most definitely NOT having trouble with the task at hand.
Sometimes it's not just a metaphor.
And the winner is....... pic.twitter.com/w7p8RgNULy

— Daria Gavrilova (@Daria_gav) November 26, 2015
Vote Gavrilova!
Vote 1 @Daria_gav for the @WTA Rising Star of the Year award: https://t.co/79MCbeFMcG #Gavrilova #WTA pic.twitter.com/03L2QrZBT6

— TennisAustralia (@TennisAustralia) November 26, 2015




**2015 WTA $125 SERIES CHAMPIONS BY RANKING**


#25 Jelena Jankovic (Nanchang)
#35 Caroline Garcia (Limoges)
#49 YANINA WICKMAYER (CARLSBAD)
#71 Zheng Saisai (Dalian)
#82 Yaroslava Shvedova (Hua Hin)
#84 Timea Babos (Taipei)



**2015 WTA $125 SERIES FINALS**


NANCHANG: Jelena Jankovic/SRB d. Chang Kai-Chen/TPE
DALIAN: Zheng Saisai/CHN d. Julia Glushko/ISR
LIMOGES: Caroline Garcia/FRA d. Louisa Chirico/USA
HUA HIN: Yaroslava Shvedova/KAZ d. Naomi Osaka/JPN
TAIPEI: Timea Babos/HUN d. Misaki Doi/JPN
CARLSBAD: Yanina Wickmayer/BEL d. Nicole Gibbs/USA



**WINNERS OF WTA & WTA 125 SERIES TITLES IN CAREER**


Lara Arruabarrena, ESP
Timea Babos, HUN
Caroline Garcia, FRA
Jelena Jankovic, SRB (*-won both in 2015)
Bojana Jovanovski, SRB
Shahar Peer, ISR
Yaroslava Shvedova, KAZ
Elina Svitolina, UKR
YANINA WICKMAYER, BEL (*-won both in 2015)
Zhang Shuai, CHN



**2015 WTA 125 SERIES FINALISTS w/ NO WTA SINGLES FINALS*


Dalian - Julia Glushko (#158, 25/ISR) (L)
Limoges - Louisa Chirico (#120, 19/USA) (L)
Hua Hin - Naomi Osaka (#203, 18/JPN) (L)
Carlsbad - NICOLE GIBBS (#122, 22/USA) (L)



**LOW-RANKED 2015 WTA 125 SERIES FINALISTS*


#203 Naomi Osaka, JPN (Hua Hin) (L)
#191 Chang Kai-Chen, TPE (Nanchang) (L)
#158 Julia Glushko, ISR (Dalian) (L)
#122 NICOLE GIBBSs, USA (Carlsbad125) (L)
#120 Louisa Chirico, USA (Limoges) (L)


[semifinalists]


#253 Lu Jiajing/CHN (Nanchang 125)
#232 JENNIFER BRADY/USA (Carlsbad)
#203 Naomi Osaka/JPN (Hun Hin) (RU)
#191 Chang Kai-Chen/TPE (Nanchang) (RU)
#183 Han Xinyun/CHN (Nanchang)
#182 MARIA SAKKARI/GRE (Carlsbad)
#158 Julia Glushko/ISR (Dalian) (RU)
#139 Petra Martic/CRO (Dalian)
#122 NICOLE GIBBS/USA (Carlsbad)



**2015 ITF TITLES*


6...DANIELA SEGUEL, CHI
6...ISABELLA SHINIKOVA, BUL
5...ANNA BONDAR, HUN
5...Fatma Al-Nabhani, OMA
5...Daria Kasatkina, RUS
5...Deniz Khazaniuk, ISR
5...Anne Schaefer, GER
5...Valeriya Strakhova, UKR
5...Tamara Zidansek, SLO



Announcing an Olympic-friendly all-Pastry doubles pairing for 2016 will likely be the first step in another doubles teams shake-up for next season. Timea Babos and Katarina Srebotnik, '14 partners of Mladenovic and Garcia, respectively, made things rather tidy by just announcing that they would play TOGETHER in the new year.
Happy to announce my new partnership in doubles with @CaroGarcia for 2016! Exciting goals ahead of us! ???????? pic.twitter.com/06M5slawJT

— Kristina Mladenovic (@KikiMladenovic) November 25, 2015
Hey, it's always prudent to be ready. For what, I'm not sure. But, whatever it is, Sveta is ready for it. Most definitely.
?????? pic.twitter.com/Tx4s5ITspu

— Svetlana Kuznetsova (@SvetlanaK27) November 27, 2015


Speaking of Russians, here's another Serena Williams U.S. Open 1st Round Victim Update...


Russian Cup Awards?? ????????? ???????? ???????????? ?????? "??????? ?????"?????? #???????????? pic.twitter.com/0Rjg8zFdLF

— Vitalia Diatchenko (@VDiatchenko) November 29, 2015


Meanwhile, I think we know who's going to win this award (since she always does). Although, one has to wonder if the WTA was stacking the deck and trying to spread out Aga's total votes to give her LESS of a chance to win. I mean, she's got four of the ten nominations for "Shot of the Year." Silly, WTA... Radwanskian fans are as such that they might just find a way to have their favorite Pole win BOTH groups of nominations!


LAST day to VOTE for the Top 4 #WTA Shots of the Year! Group A--> https://t.co/RKqDGfL0z9 https://t.co/LCTcFZG5yi

— WTA (@WTA) November 29, 2015
LAST day to VOTE for the Top 4 #WTA Shots of the Year! Group B--> https://t.co/RBtbxX7LaB https://t.co/YASa2yj9dx

— WTA (@WTA) November 29, 2015



And, finally, when in doubt, hug a tree beach umbrella...





This is the last regularly-scheduled weekly Backspin update of 2015. But the Backspin Awards continue this week, with the '16 season preview -- with the "Grand Slam Master List" and "Prediction Blowout" -- awaiting in December.


All for now.