2015 BSA's: Matches of the Year
The 2015 WTA season is complete, but we surely can't move on without a
supersized
look back at the best matches of the year, right? Well, we COULD, but we don't HAVE to.
How many can you remember? (
Not that it matters... Backspin will do the remembering for you.
)





*2015 MATCHES OF THE YEAR*




1.

Roland Garros 2nd Rd. - Francesca Schiavone d. Svetlana Kuznetsova
...6-7(11)/7-5/10-8. As expected, Francesca and Sveta teamed up for another memorable slam "instant classic." At the 2011 Australian Open, they faced off in a slam record 4:44 marathon, while this "short" 3:50 affair was "only" the third-longest women's match in RG history. But that just condensed the drama into a shorter window. Schiavone held a set point in the 1st, but Kuznetsova took the lead on the fourth SP of her own. The Italian won the 2nd after being down an early break. In the 3rd, the Russian led 4-2 and served for the match four times, holding a match point, but the '10 RG champ refused to give in, outlasting the '09 winner as the match ended with ten breaks of serve in the final eleven games.

So many emotions from 2010 champion @Schiavone_Fra after grinding out a 2R victory over #Kuznetsova. #RG15 https://t.co/e7Q9ECzvum

— Roland Garros (@rolandgarros) May 28, 2015
Vi siete divertiti? Did you enjoy it? @rolandgarros pic.twitter.com/mQBfFPBVib

— Francesca Schiavone (@Schiavone_Fra) May 28, 2015
This classic French Open moment is brought to you by Francesca Schiavone. pic.twitter.com/a4j6CBuL0w

— Chris Oddo (@TheFanChild) May 28, 2015
=======================================
VICTORY! 2-time finalist Azarenka records 380th career match-win, d. Kerber in epic 3-set battle. Up next: Lepchenko pic.twitter.com/WvmmxC6CKB

— ESPNTennis (@ESPNTennis) September 5, 2015



2.

U.S. Open 3rd Rd. - Victoria Azarenka d. Angelique Kerber
...7-5/2-6/6-4. In the women's match of the tournament, Voracious Vika battled Angie Excellent in a high-quality affair that lived up to the advance billing that their potential early round encounter (at a second straight slam) kicked up on the day the draw was made.
Vika flashed much of her aggressive game of old (she was 37/51 on net points), while Kerber often held her in check with get-to-everything defense and winners down the line. Azarenka made a set of things after falling behind 5-2 in the 1st, winning it 7-5. After Kerber held onto her early 3-1 lead in the 2nd, Azarenka pulled away in the 3rd with a break for 3-2. Still, Kerber saved six MP and held for 5-4, forcing Vika to hold her nerve and serve things out. And she did, following Sascha Baijin's words to a "T" by finding a way to "pinish" (finish + punish).

What do you get when you mix 'Finish' and 'Punish'? (via @cjzero) http://t.co/MB74YY5Nqh https://t.co/ZsgaYoYHSr

— SB Nation (@SBNation) September 5, 2015
=======================================
The Serena Slam is still alive. The world No.1 survives an epic against Heather Watson 6-2, 4-6, 7-5 #Wimbledon pic.twitter.com/zq9XNeFQCf

— Wimbledon (@Wimbledon) July 3, 2015



3.

Wimbledon 3rd Rd. - Serena Williams d. Heather Watson
...6-2/4-6/7-5. As she often does, Serena had to wobble on the edge of defeat before she turned her nose toward the finish line in a slam. This time, though, she really DID look doomed as Watson's expert defense and smart, big-point play put her on the verge of pulling off what may have been the biggest win by a British woman at Wimbledon in nearly forty years (the last time a Brit defeated a world #1 was in 1979). Watson was up a double-break at 3-0 in the 3rd, and Williams needed six BP chances to win the 18-point game #4 to begin her climb back. Still, after Williams got back on serve, Watson broke her at love (in an error-strewn game by Serena) and served for the match at 5-4, coming within two points of victory. Williams finally got the break on her fourth BP try and bulled her way to the win. The rest was history. Literally, as she completed her second "Serena Slam" at the end of the fortnight.

Serena: "[Heather] was playing so good, there was nothing I could do. She should've won the match. She gave her all" pic.twitter.com/D246lymBMM

— Wimbledon (@Wimbledon) July 3, 2015



=======================================




4.

Fed Cup 1st Rd. - Andrea Petkovic/GER d. Samantha Stosur/AUS
...6-4/2-6/12-10. 2015's opening Fed Cup weekend was Petko Time. With Germany down 1-0 to the Aussies, Petkovic pulled the tie back from the brink in a 3:16 match in which she saved a MP at 5-4 in what turned out to be a 22-game 3rd set. Stosur led 14-5 in aces, 61-56 in winners and had fewer (35/43) unforced errors than Petkovic. But the German led 147-137 in points, winning the big points when it mattered most.

=======================================




5.

Miami SF - Serena Williams d. Simona Halep
...6-2/4-6/7-5. An instant early-season classic that made the Miami Open final more than a little anticlimactic. Unlike in Singapore in 2014, where she was taken off-guard by her round robin result against Williams, and in-from Halep (as she was so often early in '15) truly believed she could win this time around. And she very nearly did, too. Serena's forehand went in and out all match, and she was often bothered by the (overly?) boisterous Romanian crowd in what she sees as her "backyard tournament." But the Williams serve (as usual) often bailed her out of trouble and Halep's defense (and guts) made Serena reach for something more in the clutch. Of course, she found it just in the nick of time... but not until after Halep broke her to take the 2nd set, then again when Serena was serving for the match at 5-3 in the 3rd. If only Halep could have carried over the attitude she had here into the remainder of her season. This loss ended her 14-match winning streak, and after starting the year 24-2 (3-0 in finals) Halep was 25-15 (0-2 in finals) from this match forward.

=======================================
Serena Williams wins battle against Victoria Azarenka, 3-6, 6-4, 6-2 to reach 4th round of the French Open. pic.twitter.com/cj1WDesepu

— SportsCenter (@SportsCenter) May 30, 2015



6.

Roland Garros 3rd Rd. - Serena Williams d. Victoria Azarenka
...3-6/6-4/6-2. In their second face-off of the 2Q (along with the "Choke of the Year" #1 in Madrid in which Vika double-faulted three straight times on MP), Azarenka again put herself in position for a win over Williams only to be unable to finish off the upset. Looking as close as she had up until that time to her "old self" in her return, a shorts-wearing Vika was aggressive and confident as she took a 6-3/4-2 lead. After Williams edged back, with Vika serving down BP/SP at 4-5, the two got into a disagreement over a late call that Serena argued had affected her wayward shot (replays showed that the call had been made AFTER Williams' swing). Azarenka was forced to re-play the point, which she lost to drop the 2nd set. Her cursing in the changeover area earned her a code violation, but she channeled her anger to take a 2-0 lead in the 3rd, but then seemed to allow the blown call to aggravate her again anytime anything went against her. With her opponent's frustration mounting, Williams grabbed control and won the final six games of the match. Afterward, Azarenka said, "That call was bull****, everyone knows it," and called for an expansion of replay that would address such a situation.

=======================================




7.

Charleston Final - Angelique Kerber d. Madison Keys
...6-2/4-6/7-5. Things got off to an error-heavy start for both, but as the match went on it transformed into both an offensive (Keys) and defensive (Kerber) clash full of momentum swings, ultimately becoming a pretty tense and dramatic contest down the stretch. Keys' errors ultimately did her in, though, as she failed to hold in three of her first four and two of her last three service games in the match, losing a 4-1 3rd set lead. Serving at 5-5, Keys led 40/love, but Kerber edged back and the American double-faulted to give the German a break point. An unforced error gave Kerber a 6-5 lead, and she then served out the match at love. In the end, both players had to pick themselves up off the ground.

Congrats @AngeliqueKerber Great finale @FamilyCircleCup pic.twitter.com/ED7PC7msf6

— Marine Dupomont (@MarineDupomont) April 12, 2015



=======================================




8.

Stanford QF - Angelique Kerber d. Aga Radwanska
...4-6/6-4/6-4. In a cool match filled with all the great points, long rallies, drop shots, lobs, etc. that one would expect from this match-up, Radwanska's double-fault and error combination to break herself in game #9 of the 3rd set proved to be too much for the Pole to overcome. Kerber held at love as Aga tired down the stretch, then went on to take the title.

Ninja sighting! Incredible lob from @ARadwanska over Kerber--> http://t.co/AtAqJIndUw #WTA https://t.co/tFQxDne93R

— WTA (@WTA) August 8, 2015
Unreal! Another epic rally from @ARadwanska & @AngeliqueKerber--> http://t.co/AtAqJIndUw #WTA https://t.co/xE07YfkTAS

— WTA (@WTA) August 8, 2015



=======================================




9.

Rome 1st Rd. - Jarmila Gajdosova d. Elena Vesnina
...1-6/6-2/7-6(14). Both players have a history of dramatic losses, so what do you get when you put them together on opposite sides of the court? Well, this match. In the 3rd set, Gajdosova led 3-0, but Vesnina surged to hold two MP at 5-4. Things then went to a deciding tie-break, where both players held five more MP each over the final nineteen points of a 30-point breaker. For the record, Vesnina was a point away at 6-5, 7-6, 10-9, 12-11, and 14-13; while Gajdsova matched her at 8-7, 9-8, 11-10, 13-12 and, finally, 15-14.


=======================================




10.

Rome 2nd Rd. - Daria Gavrilova d. Ana Ivanovic
...5-7/7-6(2)/7-6(7). The Russian-Aussie qualifier's relentless attitude was put to the test by AnaIvo. The Serb took the 1st and erased a 4-0 2nd set deficit, then broke Gavrilova when she served for the set at 5-4. Gavrilova dominated the tie-break to send things to the 3rd, where Ivanovic again battled back from a 4-2 deficit, saving three MP at 6-5 and forcing yet another tie-break. Again, Gavrilova took the lead at 4-0, and 6-3, only to see AnaIvo save four more MP before finally putting the Serb away on her eighth MP.

What a win for @Daria_Gav! 8th match point is the lucky one after a grueling 3hrs! #WTA #IBI15 #tennis https://t.co/hk2OQZe9Bb

— WTA (@WTA) May 13, 2015



=======================================




11.

Prague 1st Rd. - Ana Konjuh d. Belinda Bencic
...7-5/6-7(6)/7-6(3). In a battle of two-time 2013 junior slam champs (and '15 maiden tour title winners, as well), Konjuh got to match point with a 6-0 lead in the 2nd set tie-break. Bencic saved those six consecutive MP, then three more at 5-4 in the 3rd set as the Croat double-faulted to break herself. Up 6-5 in the 3rd, Bencic actually held three MP of her own, but Konjuh proved that turnabout is more than fair play by saving all three, then finally winning on her own 10th MP.

Sweet mother of tennis gods...muahahahahahaha (that's Bencic on the left, Konjuh on the right of that scoreline) pic.twitter.com/zqHhYtH2bT

— AR (@andyrobuk) April 28, 2015



=======================================




12.

Monterrey Final - Timea Bacsinszky d. Caroline Garcia
...4-6/6-2/6-4. A week after playing for the Acapulco title, Bacsinszky and Garcia became the first players to face off in tour finals in back-to-back stops since Kim Clijsters and Li Na split Sydney and Australian Open titles in 2011. After Garcia claimed the 1st set, with Bacsinszky up 3-1 in the 2nd, a four-hour rain delay pushed the conclusion of the match until nearly 1 a.m. local time. After at first looking like the Swiss player was going to outclass the Pastry in the aftermath of the delay, a physio break for Garcia with Bacsinszky next to serve up 4-3 in the 3rd set led directly into a great finish. In that eighth game, which lasted fifteen minutes, Bacsinszky was forced to save five break points -- usually with the help of big, well-placed serves -- and, after a missed swing volley down the line by Garcia on BP #5, the Swiss hit a big second serve to hold for 5-3. Great defense and timely serving eventually helped her serve things out two games later, as well, but only after she celebrated a converted match point that was challenged by Garcia and overturned. No matter, the match ended one point later when Garcia netted a groundstroke.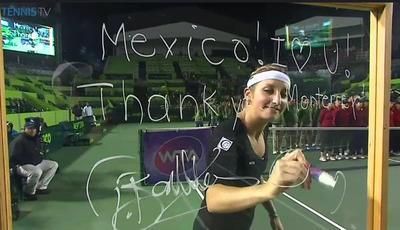 =======================================




"I was tired. I was sweaty. I was dead."

-

Alize Cornet, after defeating Kirsten Flipkens in Dubai




13.

Dubai 1st Rd. - Alize Cornet d. Kirsten Flipkens
...6-0/6-7(6)/6-3. Alize was, well, even more Alize than usual. Cornet won the first six games of the match, as well as the last six. In between in the 3:11 match, the Pastry limped, fell, yelled, argued and made a few poor decisions (including not challenging a bad line call that gave Flipkens a set point in the 2nd). On the heels of a personally discouraging Fed Cup weekend (she contributed to France's 0-2 hole vs. Italy, and watched from the sidelines as her less-experienced teammates managed to dig the Pastry squad out of the hole in historic fashion), Cornet erased any lingering bad memories the only way she knew how -- by putting on a "death-defying" show and living to tell about it.


=======================================



Your 2015 @SydneyTennis champion @Petra_Kvitova & finalist Karolina Pliskova--> http://t.co/QlIw1bDOOB #WTA #tennis pic.twitter.com/QhB44Xa9Ix

— WTA (@WTA) January 16, 2015



14.

Sydney Final - Petra Kvitova d. Karolina Pliskova
...7-6(5)/7-6(6). An out-of-the-box contender winner for the best two-set match of the season, the first all-Czech tour final since 2009 proved to be a high-quality, entertaining affair. Pliskova served for the set in the 1st, but Kvitova was too good. The younger Maiden then came back from an early break down in the 2nd to force a second tie-break, which got to 6-6 before Kvitova prevailed. By the end of the year, though, it was Pliskova who was surging, assuming Petra's usual leadership role and carrying the Maidens to another Fed Cup title.


=======================================



When someone tells you there's a slice of cheesecake on the other side of the net pic.twitter.com/KZSLtBcLJ8

— WTA Reactions (@WTAreactions) July 6, 2015



15.

Wimbledon 4th Rd. - Aga Radwanska d. Jelena Jankovic
...7-5/6-4. Great defense, a little Radwanska magic, JJ nearly wiping out a ball kid, Aga almost cutting herself in half while running into the net cord, a backhand drop shot from behind the baseline and the Pole's eagle-eyed challenge that overturned a call and gave her a break for 5-4 in the 2nd. This match had it all... well, except for a 3rd set. Acting in the role of a cat toying with a mouse in the 2nd, Radwanska dispatched JJ in straights to deny us untold gifts that may have awaited with a another 30-60 minutes of play. But, still, we were left to thrill in the short-term pleasure of a match that didn't overstay its welcome and, instead, left us begging for a little more.

=======================================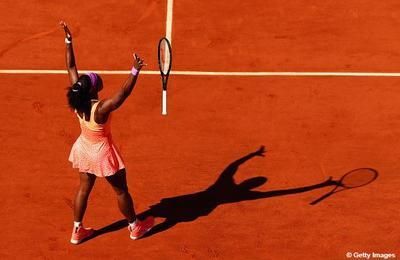 16.

Roland Garros Final - Serena Williams d. Lucie Safarova
...6-3/6-7(3)/6-2. Two days after her "flu match" win over Bacsinszky (Backspin's "Comeback of the Year" match), Williams looked as if she was going to make quick work of Safarova in the final. She served up 6-3/4-1, 40/15 only to "choke" (her words, later) with a series of double-faults and errors that allowed the Czech back into the match. Safarova then picked up where she'd left off before reaching the final without dropping a set, extending rallies and picking her spots to deliver winners. She took the 2nd set and grabbed a 2-0 lead in the 3rd before Williams righted her game and reeled off the final six games of the match to claim slam #20.


=======================================



After 3hrs @ElinaSvitolina battles past Putintseva 16 75 97! Makes 1st @RolandGarros 3R--> http://t.co/OMo0HN1rUV pic.twitter.com/mu0qh7KCyS

— WTA (@WTA) May 27, 2015



17.

Roland Garros 2nd Rd. - Elina Svitolina d. Yulia Putintseva
...1-6/7-5/9-7. Against the fiery, fist-pumping, racket bouncing and pounding, medical timeout-calling, angrily ball mark-circling, demonstrative Russian-turned-Kazakh against whom she had a junior rivalry, Svitolina notched her second '15 slam win over Putintseva, climbing out of a 6-1/3-0 hole and erasing a 4-1 3rd set deficit before letting let loose with a victory howl when it was all over. There was no warm embrace at the net between these two. Instead it was quick hand slap, no eye contact and... to be cont'd until their next clash?

I see Putintseva is acting against Svitolina pretty much the same way Putin acts against Ukraine And Kjendlie being as inept as EU.

— Oleg S. (@AnnaK_4ever) May 27, 2015
Svitolina takes it and erupts, and they slap hands instead of Shake. Amazing scenes pic.twitter.com/BeDw8R5zkd

— Andrew Jerell Jones (@sluggahjells) May 27, 2015



=======================================




18.

Fed Cup World Group Playoffs - Serena Williams/USA d. Sara Errani/ITA
...4-6/7-6(3)/6-3. Going into the match, Williams had lost just one set in fifteen career matches in FC competition. Errani made it two by taking the 1st, then served for the match at 5-4 in the 2nd. Williams ultimately claimed the win (and point), but the Italian won the war as Errani and Flavia Pennetta returned shortly afterward and handed a tired Serena (w/ Alison Riske) her first-ever FC loss (6-0/6-3) to claim the tie in front of Pennetta's hometown crowd in Brindisi.


=======================================




19.

Indian Wells QF - Sabine Lisicki d. Flavia Pennetta
...6-4/6-7(3)/7-6(4). If this had been a final, it'd be long remembered. As it was, it was still a dramatic quarterfinal tucked away in Pennetta's final season on tour. Lisicki held a match point in the 2nd set, only to see defending champ Flavia(!) battle back and hold three of her own in the 3rd. But the Italian's tentative play down the stretch doomed her chances, as the German sealed the win with an ace on her second MP. Pennetta had no repeat of a such a late stage performance once she New York City later in the year.


=======================================




20.

Brisbane 1st Rd. - Karolina Pliskova d. Victoria Azarenka
...4-6/7-6(7)/6-4. We didn't know what to assume that this match meant at the time. But, in retrospect, that Azarenka made her return to action after an injury-disturbed and shortened '14 and held two match points in the 2nd set tie-break against the soon-to-break-into-the-Top-20 (and, later, Top 10) Czech told everything we needed to know about her ability to string together a 4th Round run at the Australian Open and not-long-after run to the Doha final, but also that she wasn't yet quite match-tough or back in form enough to routinely expect the sort of results that she was capable of as recently as just a little over a season ago. By the end of '15, Vika was still searching for FULL health and consistency, while Pliskova seemed perched on the edge of what could be a career year in 2016.


=======================================




21.

Europe/Africa I Zone RR - Jocelyn Rae/Anna Smith (GBR) d. Olga Savchuk/Elina Svitolina (UKR)
...6-7(6)/7-5/6-4. With the final E/A round robin tie wrapped up with back-to-back singles wins, Rae & Smith needed to just win one set in order to distance the Brits from Turkey and advance to the promotional playoff. But after getting to within two points of doing so at 5-5 in the 1st set tie-break they dropped the set and soon found themselves down match point at 7-6/5-4, 40/30. They saved things on a crazy match point that included great defense from Smith and a stretching overhead backhand volley, then went on to edge out the Ukrainian pair. Whew!

=======================================




22.

Antwerp 2nd Rd. - Andrea Petkovic d. Alison Van Uytvanck
...6-7(7)/7-6(5)/6-2. On the heels of her FC triumph, Petko led 5-2 and held two set points in the 1st against the Waffle, only to lose it. The German won a 19-point game at 5-6 in the 2nd to force a tie-break, then saved eight match points there before winning the TB and forcing a 3rd. After going up 4-0, Petkovic finally put the match away on her own fourth MP and went on to take the title.


=======================================




23.

Australian Open 4th Rd. - Dominika Cibulkova d. Victoria Azarenka
...6-2/3-6/6-3. In a battle in which the more aggressive player ALWAYS won, '14 AO runner-up Cibulkova poured it on with a lethal forehand in the 1st and 3rd sets, overcoming early 2-0 deficits in both in another nice match in the compelling -- though under-the-radar -- head-to-head series between these two. Six of their last seven match-ups have gone three sets.


=======================================




24.

Fed Cup Europe/Africa I Zone RR - Aleksandra Krunic/SRB d. Timea Babos/HUN
...7-6(6)/0-6/7-6(5). The Serbian Good Luck Charm lives up to her nickname. Again. The smallest player on the court always has the biggest heart when Krunic is around. She came back from a break down in the 3rd to defeat Hungary's Babos in Budapest to lock away advancement to the promotional playoff, which the Serbs swept as Krunic again provided the clinching point. Shame on the Serbian Federation if Krunic doesn't have a major role in every FC tie for as long as she desires to take part for at least the next 2-3 years.


=======================================




25.

Roland Garros 4th Rd. - Serena Williams d. Sloane Stephens
...1-6/7-5/6-3. In what we later learned was her first match after contracting the flu following her 3rd Round win, Williams played an horrific opening set vs. Stephens, and then found herself serving at 2-3, 15/30 in the 2nd. After winning a rally, Serena let loose with one of her patented roars, then ran off five straight points, firing an ace to hold, then breaking Stephens on her fifth BP of the game for a 4-3 lead. Stephens didn't fold, though, and got within three points of the win in game #10. Williams grabbed control of the set and went on to take the match (her third straight after dropping the 1st set -- something she hadn't done in sixteen years), and the title, while Stephens competed well down the stretch and exited with her head held high and something close to a bounce in her step. Williams, of course, would never do such a thing after a loss, and maybe a Future Sloane won't, either. But for Stephens it was a step in the direction toward a better future. By the end of the summer, she'd finally won her maiden tour singles title in Washington.


=======================================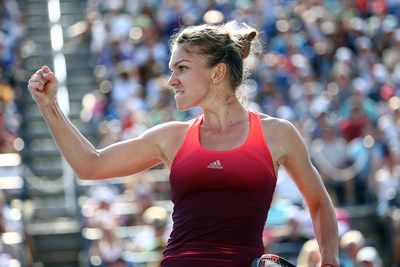 26.

U.S. Open 4th Rd. - Simona Halep d. Sabine Lisicki
...6-7(6)/7-5/6-2. In a U.S. Open display of Swarmette perseverance, the match notes for Halep's day ultimately looked a little like this: Play. Errors. Drop serve. Break. Fight. Wince. Struggle. Drop serve. Break. Wince. Struggle. Limp. Fall behind. Treat. Struggle. Throw racket. Run down balls. Fight. Wince. Fight. Punch the air. Run. Hit winners. Watch opponent fall away. Fight. Win. Raise arms in victory. It was that "simple." Halep didn't play well on this day, but with "Simonativity" on her side she persevered in a match that was hardly a work of art (the two combined for seventeen breaks of serve). Lisicki (72 UE, and only two aces) couldn't take advantage of the Romanian's vulnerable state, while Halep's heart pulled her through.

=======================================




27.

Stuttgart Final - Angelique Kerber d. Caroline Wozniacki
...3-6/6-1/7-5. Kerber spoiled the day for Caro's home fans in the Copenhagen final in 2012, but the Dane couldn't do the same in front of a German crowd in Stuttgart. She came close... but this ain't horseshoes. The Dane opened up the final in aggressive form, taking the 1st before having Kerber turn the tables on her in the 2nd. The 3rd played right into Carol's hands. Well, until it didn't. She served for the title at 5-3, coming within two points of the win before being broken. She was two points from the title a game later, as well. But as was the case on more than one occasion against top players in the Dane's disappointing "step back" '15 season, Wozniacki failed to win the big points down the stretch.


=======================================



.@laraarrua's celebrations after clinching the tie for Spain are the #FedCup Photo of the Weekend! pic.twitter.com/qJjPhumiUz

— Fed Cup (@FedCup) April 19, 2015



28.

Fed Cup World Group II Playoff - Lara Arruabarrena/ESP d. Paula Ormaechea/ARG
...6-1/4-6/9-7. The Spaniard nearly blew a 4-1 lead in the 3rd, and Ormaechea saved a MP in game #14 of the set. But Arruabarrena converted on her second attempt to keep Spain from dropping down into zone play for the first time in the nation's Fed Cup history.


=======================================




29.

Fed Cup World Group Playoff - Aga Radwanska/POL d. Martina Hingis/SUI
...6-4/6-0. Aga proved adept at handling the game of the player whose style her own is most often compared to. Better yet, we finally got to see what it looks like when the "cheeky smile" meets the stoic "face of Radwanska." Of course, Hingis hadn't played a full singles match that counted since 2007, and while the solo return of the Swiss Miss was nice, Martina's 0-2 singles mark for the weekend ultimately left her limping, exhausted an unable to take part in what was rightly considered the main benefit of having her on the team in the first place -- the ability to call upon her doubles skills in a deciding concluding match. As it turned out, the Swiss won the deciding doubles without her. So it was all right to be nostalgic about Martina the Singles Player without feeling guilty about it, I suppose.

=======================================




30.

Wimbledon QF - Serena Williams d. Victoria Azarenka
...3-6/6-2/6-3. Williams slowly assumed control of this one, but Vika was at her self-assured best in the early going, and then battled back after dropping seven straight games, staying close until, at the end, she held a BP in the final game that would have gotten the 3rd set back on serve. This was the third high quality match between the two in 2015. Williams went 3-0, but Vika had 3 MP in one, and was up a set and a break in the other.


=======================================




31.

Wimbledon QF - Maria Sharapova d. Coco Vandeweghe
...6-3/6-7(3)/6-2. Sharapova wins a spirited battle with the brash, blunt Bannerette, whose biggest weapons (her first serve and forehand) often let her down in this match. Still, Vandeweghe took what at the time was the first set lost by Sharapova at this year's Wimbledon, stoking the crowd with near-Connorsesque tactics all the way. Afterward, though, her complaints about Sharapova's "unsportsmanlike" moving before her second serve rang a bit hollow, and slightly whiny. Still, finally coming into her own at 23 and seemingly committed to getting in the sort of shape that will improve her biggest liability (her on-court speed and defense), Vandeweghe is a player to keep a very close eye (and now, ear) on... well, as long as she doesn't say "yes" again when ESPN comes calling asking about a mid-match interview.

WATCH The unseeded @CoCoVandey has the delighted Centre Court crowd on their feet #Wimbledon http://t.co/X9HW4DV9qE

— Wimbledon (@Wimbledon) July 7, 2015



=======================================




32.

U.S. Open 3rd Rd. - Serena Williams d. Bethanie Mattek-Sands
...3-6/7-5/6-0. This was Williams' last example during the '15 season of a match in which she fell behind and looked dead in the water, only to rise up and dominate her opponent down the stretch. Mattek-Sands' pesky play gave her a 3-0 lead in the 1st and her 3-for-3 opportunism on BP chances in the first two sets got her to 6-3/5-5 before Serena "flipped the switch" and began to play a bigger, bolder game. Williams converted just one of her first twelve BP chances, and just three-of-sixteen in the match, but she edged out BMS in the 2nd and ran off a winning stretch of fifteen out of nineteen points as she swept the final eight games of the match. But while this win kept alive the hope, Serena's Grand Slam season ultimately wasn't meant to be.

STAYIN' ALIVE! #Serena survives vs. a game Mattek-Sands 3-6, 7-5, 6-0. pic.twitter.com/sU7UWjRY2c

— US Open Tennis (@usopen) September 5, 2015



=======================================




33.

U.S. Open 2nd Rd. - Petra Cetkovska d. Caroline Wozniacki
...6-4/5-7/7-6(1). Under the lights on Ashe in a match that finished up after midnight, Wozniacki battled back from a 6-4/4-1 deficit to hold four match points in the 3rd. But Cetkovskva saved them all with great, aggressive shots and forced a tie-break. The Czech ran away with it 7-1, ending the 3:02 match at 12:12 a.m. and sending the '14 Open finalist off for an early summer vacation.


=======================================



Belinda Bencic showed her displeasure at some late line calls by throwing down her racket and yelling at the umpire. http://t.co/IMpMGINmmq

— Quinn (@quinnbjones) September 3, 2015



34.

U.S. Open 2nd Rd. - Belinda Bencic d. Misaki Doi
...5-7/7-6(3)/6-3. Bencic's play often belies her age, but sometimes her youth shines through. It certainly did here, as the 18-year old's anger flared in the heat of battle and she had a near-meltdown in the changeover area. Bencic squandered a 5-2 lead in the 2nd set and failed to convert eight set points over a two-game stretch, ultimately seeing Doi hold three MP at 6-5 before the Swiss pushed things to a 3rd on her tenth SP. With the moment of danger having passed, the teen grabbed a quick 3-0 lead in the deciding set, calmed down, and went about her business in closing out the match. You love the passion and fight, but Bencic need only look to a young Martina Hingis (in that '99 RG final vs. Graf) to see the necessity in learning to corral such emotions before they become detrimental to her game. Luckily for BB... she doesn't have to look far and wide to find the Original Swiss Miss (or her mom, Melanie Molitor, who coached Martina then and oversees Bencic's game now).

a frustrated and crying belinda bencic yesterday at the #USOpen was angry at the linesmen of her match. https://t.co/K5UthCK8io

— Tennis Served Fresh (@TSFtennis) September 3, 2015
COMEBACK COMPLETE: #Bencic saves three match points & rallies for a fiery 5-7, 7-6(3), 6-3 victory vs. Doi. #usopen pic.twitter.com/fkFAOrftCN

— US Open Tennis (@usopen) September 3, 2015



=======================================




35.

Roland Garros 1st Rd. - Petra Kvitova d. Marina Erakovic
...6-4/3-6/6-4. The eternal conflict between Good Petra and Bad Petra was on full display in the opening round in Paris, foreshadowing the losing battle that the Czech would endure later in the tournament. She won here, but it wasn't easy. Erakovic led 4-2 in the 1st, and had a point for 5-2, before Kvitova took the set. In the 3rd, Kvitova twice went up a break only to give back her advantage. Finally, she fired two winners to break for a third straight time, then held at love. She committed 47 errors on the day, but a few well-timed winners (38) saved her despite the Kiwi holding a 109-106 edge in total points for the match. But while she managed it here, Good Petra couldn't keep Bad Petra at bay for long at Roland Garros.


=======================================




36.

Fed Cup World Group Playoff - Arantxa Rus/NED d. Jarmila Gajdosova/AUS
...0-6/7-6/7-5. Gajdosova has a history in Fed Cup play of playing long, drawn-out matches and ultimately losing them. It happened again here. In a seesaw final set, Rus led 5-2 and held two MP at 5-3. She double-faulted on the first, then another DF broke herself. Gajdosova held for 5-5 in a three-ace game, but back-to-back DF from the Aussie two games later, the last on Rus' fourth MP, sealed the fate of herself and the Aussie team as the 2:23 match -- and the "live" nature of the tie -- came to an end. This was the third straight tie in which Rus provided the clinching point for the Dutch.


=======================================




37.

Fed Cup 1st Rd. - Andrea Petkovic/GER d. Jarmila Gajdosova/AUS
...6-3/6-3/8-6. Petko's win over Stosur got the headlines, but this win clinched Germany's return to the FC semifinals and Petkovic had to come back from a break down to win another extended 3rd set to do it as Gajdosova lost another heartbreaker.


=======================================




38.

Australian Open 1st Rd. - Christina McHale d. Stephanie Foretz
...6-4/1-6/12-10. McHale injured her shoulder, threw up twice and saved a match point at 7-6 in the 3rd before holding serve four straight games and breaking the Pastry to win in the twenty-second game of the set.


=======================================




39.

Fed Cup World Group Playoffs - Francoise Abanda/CAN d. Irina-Camelia Begu/ROU
...4-6/7-5/6-4. The 18-year old from Montreal opened the CAN/ROU tie in her hometown with a bang, winning a tight match (107-107 in points) in 2:39 to notch her first career FC win. Now, if only teammate -- and fellow Quebec native -- Genie Bouchard had shown similar verve.

#CANROU What a performance from @franckie12345! The young Canadian earns her 1st #FedCup win defeating Begu 46 75 64! pic.twitter.com/Pw4ppThBVz

— Fed Cup (@FedCup) April 18, 2015



=======================================




40.

Birmingham Final - Angelique Kerber d. Karolina Pliskova
...6-7(5)/6-3/7-6(4). In a match-up of two of the three women (w/ Serena) to reach finals on at least three different surfaces in 2015, Kerber dropped the 1st set after leading 5-3 and holding 4 SP. After putting herself in position to win again in the 3rd, she couldn't serve things out at 5-4, but took out the Czech in a deciding TB. The win completed a full career "Surface Slam" for the German, as she's now won titles on hard court, red clay, green clay and grass.


=======================================




41.

Fed Cup World Group Playoff - Timea Bacsinszky/Viktorija Golubic (SUI) d. Aga Radwanska/Alicja Rosolska (POL)
...2-6/6-4/9-7. In the deciding doubles, the Swiss battle back from a set down and don't fold against the Poles after failing to serve out the match at 5-4 in the 3rd. The win puts the Swiss in the World Group round next season for the first time since 2004.


=======================================




42.

Wimbledon Final - Serena Williams d. Garbine Muguruza
...6-4/6-4. Williams had three DF in the first game of the match and was broken by Muguruza, who jumped out to a 4-2 lead. Serena surged back and won the set even without her serve firing on all cylinders (49% 1st serve pct., 4 DF). Muguruza, in her first career slam final, put up a fight after falling down a double-break at 5-1 in the 2nd, getting back on serve at 5-4 before Williams collected a final break to end the match and win her fourth straight slam (career slam title #21, one behind Steffi Graf's Open era record).

=======================================




43.

WTA Finals RR - Garbine Muguruza d. Petra Kvitova
...6-4/4-6/7-5. The match-up of the future? In the first meeting of what will (hopefully) be many on big stages, the promise of this hard-hitting match-up was intermittently present. Fifteen breaks of serve were separated by moments in which Muguruza made the tour and all who follow it cross their fingers that the more consistent and focused Garbine we saw in the 4Q will now be the standard when she hits the court in '16. With Kvitova up 2-0 and 4-2 in the 3rd, two points from the win and securing a semifinal berth by her own hand (she ultimately advanced to the final four with help), Muguruza surged back and soon broke the Czech to take a 6-5 lead. Fighting off two Kvitova BP a game later, the Spaniard finally won on her fourth MP of the game, wrapping up a perfect round robin record against the horde of three Top 10 lefties (Kvitova, Kerber & Safarova) in her group.


=======================================




44.

Stanford Final - Angelique Kerber d. Karolina Pliskova
...6-3/5-7/6-4. While Kerber is a great defensive player, even the German would have been stunned to know beforehand that she'd break Pliskova's serve ten times in the final, including in the deciding game to win the title. Both players -- Kerber's thigh, Pliskova's ankle -- were hampered by physical ailments in the long final at the end of an even longer week, but it was the seemingly more worn down German who battled through the weeds the best to put herself in rather rarefied air. Her fourth 2015 title gave her season titles on four different surfaces, more than the number of titles (3) she'd won in her entire career before the 2015 season began.


=======================================




45.

U.S. Open QF - Simona Halep d. Victoria Azarenka
...6-3/4-6/6-4. Halep led in both winners and unforced errors, while Azarenka took advantage of nearly every opportunity she got (5/5 on BP chances). But, ultimately, a 1:25 rain delay with Azarenka up 2-1 in the 3rd may have proven to be the difference. Given time to refresh herself, one round after gutting out a three-set Round of 16 match against Sabine Lisicki in the heat with an injured thigh, Halep came out of the locker room in great form. She jumped on Azarenka early and never relented... but then she failed to show up with the same intensity for her semifinal match one round later. One suspects that the same wouldn't have happened with Vika.


=======================================




46.

Wuhan SF - Venus Williams d. Roberta Vinci
...5-7/6-2/7-6(4). Venus led 3-0 in the 1st, but dropped seven of the final nine games. Up 4-1 and serving at 5-3 in the 3rd, Venus again saw the Italian turn things around. Vinci served for the match at 6-5, holding a MP, but a string of backhand errors kept the list of players who have beaten both Williams Sisters in '15 from adding its first and only name as Venus got some measure of Sisterly revenge for Vinci's defeat of Serena at the U.S. Open (the fairly easy "Upset of the Year" match). Before this year, at least one player had managed to defeat both Sisters in every season since 1997.


=======================================




47.

Australian Open 2nd Rd. - Angelique Kerber d. Daria Gavrilova
...6-7(6)/7-6(2)/6-3. In a two and a half hour match that played past 3:00 in the morning, Kerber survived the threat from the Aussified Hordette after failing to convert a set point in the 1st. Two months later, though, Gavrilova would get her "signature win" over Maria Sharapova in Miami and officially ignite what would be a career year.


=======================================




48.

Wimbledon Q2 - Elyse Mertens d. Kateryna Bondarenko
...6-4/7-6(6). The 19-year old Waffle advances but -- whew! -- it wasn't easy. Mertens got the break for a 6-4/5-2 lead, getting to within a game of the lead by converting on her 7th BP chance in game #7. She then served for the match at 5-2 and 5-4, held four MP at 5-3 and four more at 5-4. After being broken by Bondarenko, Mertens lost a lightning fast return game at love and K-Bond held SP a game later. But the Belgian pushed things to a TB, where Bondarenko held a second SP before Mertens finally put away MP #9. No Bondarenko (neither Kateryna nor her retired sister Alona) has appeared in a Wimbledon MD since 2012.


=======================================




49.

Monterrey 1st Rd. - Daniela Hantuchova d. Monica Puig
...7-6(1)/3-6/7-5 Hantuchova came back from MP down to win a title in Pattaya in March, and she was up to her new tricks again the following week. Puig had four MP in the 3rd set, while the Slovak ultimately won on #5 of her own. She didn't go on to win a second title, though. In fact, from this point on she went 6-16 the rest of the season.


=======================================




50.

Toronto 2nd Rd. - Daria Gavrilova d. Lucie Safarova
...4-6/7-5/7-5. Safarova served for the match at 5-4 in the 2nd. After the Czech erased Gavrilova's 3-1 lead in the 3rd, the Russo-Aussie broke Safarova to close out the match. With the Eternal Sunshine of the Gavrilovian Mind, all things are possible.

.@Daria_Gav upsets Safarova with a comeback 4-6, 7-5, 7-5 win at @RogersCup--> http://t.co/fB8N39d3xF #WTA https://t.co/YAvCLWAHZC

— WTA (@WTA) August 12, 2015



=======================================



Oh, but that's not all...



[Forza!]


U.S. Open Final - Flavia Pennetta d. Roberta Vinci
...7-6(4)/6-2. In the first all-Italian slam final, the oldest-ever first-time slam finalists met to decide the oldest maiden slam champion. As it turned out, 33-year old Pennetta (in her 49th slam -- also a record) joined Francesca Schiavone as the only Italian slam winners, then announced her impending retirement during the post-match ceremony.

#Pennetta and #Vinci first played against each other in a match when they were nine-years-old. #usopen pic.twitter.com/bAwYMR28hE

— US Open Tennis (@usopen) September 12, 2015
16 years before tomorrow's #USOpen final, Flavia Pennetta and Roberta Vinci won French Open Girls' doubles together. pic.twitter.com/qv9gvmnTNJ

— Ben Rothenberg (@BenRothenberg) September 11, 2015
#Pennetta became the first Italian woman to win the #usopen title, defeating her countrywoman #Vinci. pic.twitter.com/dq7C2wPQ7H

— US Open Tennis (@usopen) September 12, 2015




[A Radwanskian Contrast in Styles x 2, Part I]


Wimbledon QF - Aga Radwanska d. Madison Keys 7-6(3)/3-6/6-3
Wimbledon SF - Garbine Muguruza d. Aga Radwanska 6-2/3-6/6-3
...at SW19, Radwanska engaged in a pair of compelling battles of differing styles that pitted her crafty, variety-filled game against a pair of ball-blasters with the tendency to run either hot or cold. Against AO semifinalist Keys, the American's errors allowed the Pole to grab the 1st set before her power seemed to put Keys in the driver's seat over the next set and a half. But when Radwanska got a sudden break of serve in game #8 of the 3rd, Aga seized the moment and struck quickly to hold and reach her third career Wimbledon semi. A round later, in a three-Act contest that saw Muguruza impose her power early, only to be unable to maintain such a perfect form for long, Radwanska would take advantage of the lull to employ her spins and creativity, coming in behind her shots to take control of many rallies and turn the momentum of the day in her favor. In the end, Muguruza's power flashed again late as the 21-year old became the first Spanish woman in the Wimbledon final in nineteen years.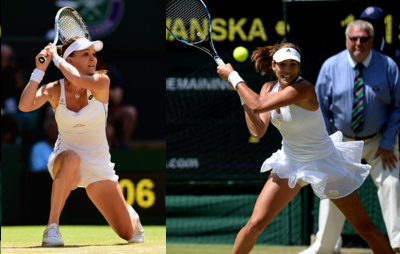 [Imperfect Perfection... would you expect anything less from Queen Chaos?]
Indian Wells Final - Simona Halep d. Jelena Jankovic
...2-6/7-5/6-4. For the fifth time in five meetings, Simona and JJ went three sets, with Halep winning for a fourth time. Things weren't as great as the scoreline might make them appear, though. Although the Romanian showed a better ability to hold on and wait out her opponent than she had in Melbourne, especially in turning around the 2nd set just as most hope seemed lost, this one was mostly about which player would string together enough untimely errors to lose. As it turned out, that player turned out to be JJ, who was up a break on five different occasions in the 2nd and 3rd sets but failed to hold onto any of her advantages, including when she served for the match at 5-4 in the 2nd after arguing with coach Chip Brooks about how his advice wasn't really helping her because he made it seem far easier than it actually was... oh, brother! No, not you, Marko. For once.

[The "Beauty" in Imperfection... minus the presence of JJ]
Hobart 1st Rd. - Camila Giorgi d. Summer Sanders
...5-7/6-1/7-6(6). Giorgi and Sanders broke serve in four of seven games in the 1st, then ten consecutive times in the 3rd. The server lost seven of the fourteen points in the deciding tie-break, and the Italian had twenty-three doubles-faults in the match. And she was the WINNER.



[A Radwanskian Contrast in Styles x 2, Part II]


WTA Finals SF - Aga Radwanska d. Garbine Muguruza 6-7(5)/6-3/7-5
WTA Finals Final - Aga Radwanska d. Petra Kvitova 6-2/4-6/6-3
...flashing all her many skills vs. Muguruza, then using her brains to outlast Kvitova, Radwanska put herself squarely back on the WTA map with a surprise title run in Singapore to close out her 2015 season.

In a trick-or-treat Halloween classic, this underrated rivaly of contrasting styles got a high profile showcase. In seasons past, the Pole's tactics often bedeviled the Spaniard, turning her smile into a frustrated frown. After Muguruza swept a trio of three-setters over Aga earlier in '15, Radwanska turned the tide to extend her remarkable week. A-Rad led 3-1 in the 1st, only to see Muguruza's power, speed and touch (after an on-court visit from Sam Sumyk) turn things around and force a TB in which Aga held a two mini-break lead at 3-0 and 4-1 before the Spaniard won six of seven points to grab the set. While a tiring Muguruza labored in the 2nd, Radwanska emptied her bag of tricks, producing a deftly angled backhand drop shot and an ace on back-to-back points, then breaking serve with two volleys and taking the 2nd. Aga was up a single break at 4-1 in the 3rd, only to see the Spaniard find a second wind and pull out a big serve to get to 4-4. But Radwanska, always serving to take the lead, held down the stretch, forcing Muguruza to do the same a game later. Up 40/15 at 6-5 on her opponent's serve, A-Rad won on her second MP to end the 2:30+ match. Needless to say, it was all a treat.

In a final that pitted two players who'd gone 1-2 in RR play (only one player, Venus in '09, had ever reached the WTAF final under similar circumstances), the Pole didn't display the aggressive tactics against Kvitova that she had against Muguruza (and Halep, in round robin play) in order to get there, but instead used the Czech's own propensity for errors (and questionable health coming in after a bout with mono, not to mention a thigh injury that impacted her more and more as the match moved along) against her. She took the 1st set in thirty-three minutes, never facing a BP and committing just one unforced error (Kvitova had nearly 20). As Petra tried to force the action and eliminate long points, the Czech erased a 3-1 deficit in the 2nd, winning nine straight points in a stretch and forcing a 3rd set. In the past, Radwanska might have gone away with a string of over-compensating errors of her own after seeing a power player seize control of the match, as Kvitova did when she went up 2-0 in the deciding set. But not here. After winning a long rally which affected Kvitova's play beyond the point at hand, A-Rad broke serve in the next game and slowly seized control. The two exchanged breaks in games #5 and #6. Kvitova's beautiful running forehand winner got her a game point in game #7, but an error-DF (her 8th)-error combo gave Radwanska the winning break advantage that she never relinquished. In the final numbers, Kvitova had more winners (41-15), but far, far more errors (53-5).

Agnieszka Radwanska meets her fanclub. #WTAFinals pic.twitter.com/g3i65MKo1Y

— WTA Insider (@WTA_insider) October 29, 2015




[Tie-Break: Slam History Edition]


Roland Garros 1st Rd. - Denisa Allertova d. Johanna Konta
...7-6(17)/4-6/6-2. After no breaks of serve in the 1st, Allertova and Konta engaged in a 36-point tie-break that included fifteen set points. After saving eight, Allertova finally won on her own seventh. It's the longest women's singles tie-break in slam history.



[Tie-Break: Chan Sisters Edition]


Cincinnati QF - Chang Hao-Ching/Chan Yung-Jan d. Sara Errani/Flavia Pennetta
...6-7(4)/7-6(1) [19-17]. En route to their biggest-ever title, the Chan sisters take out the Italian Fed Cup all-star team after saving six match points and surviving a 36-point match-deciding super tie-break.

Game,set and match. 19-17 in the decider. Happy sisters !! @YungJan_Chan pic.twitter.com/EMjFx5sGS1

— Christopher Levy (@tennis_shots) August 22, 2015


[Tie-Break: Kerber Edition (because she was everywhere in 2015...as well as this post)]
Wimbledon 3rd Rd. - Garbine Muguruza d. Angelique Kerber
...7-6(12)/1-6/6-2. Muguruza's road to the final was paved by a gem of a tie-break way back in the 3rd Round against Birmingham champ Kerber. The German led the 1st set 3-0, and held five set points at 6-5 before the Spaniard forced the breaker. In a 26-point tussle, after servers held the first two points, twelve of the next sixteen points featured mini-breaks. Kerber jumped to a 5-2 lead and eventually held four more SP, while Muguruza finally put away the set on her fourth SP, as servers held on seven of the final eight points.



[Records are Made to be Broken]


U.S. Open 1st Rd. - Madison Brengle d. Zheng Saisai
...6-2/5-7/7-5. A season ago, Brengle finally got her first career slam MD victory at the U.S. Open to end a decade-long quest. This time around, it nearly took as long for her to win her opening rounder in New York. In the longest women's match (a moonball-laden 3:20) in tournament history, in the New York summer heat, Brengle led 6-2/4-2, only to see Zheng battle back to serve for the match at 5-2 and 5-4 in the 3rd. On her sixth MP of the final game, via a DF by the Chinese woman, Brengle broke Zheng to secure the victory. Exhausted, Brengle threw herself into her chair in the changeover area and lived to play another day.


=======================================



HISTORY: #Konta d. No. 9 #Muguruza, 7-6, 6-7, 6-2 in longest women's match since #usopen introduced tiebreak (1970). pic.twitter.com/epaaK8VlNi

— US Open Tennis (@usopen) September 3, 2015

U.S. Open 2nd Rd. - Johanna Konta d. Garbine Muguruza
...7-6(4)/6-7(4)/6-2. Soon after Brengle/Zheng set the U.S. Open record for longest women's match, these two broke it with a 3:23 contest in which the #97-ranked British qualifier defeated the #9-seeded Wimbledon finalist to win her fifteenth straight summer hard court match and reach her first career slam 3rd Round (she'd get to the Round of 16, losing a tight contest to Petra Kvitova). Muguruza served thirteen DF and finished up a disappointing post-SW19 stretch with a 1-3 record, and had already fired her coach before she came to NYC. The Spaniard rebounded well in the 4Q, though, after bringing in Sam Sumyk as coach.



[A (Brief) Turning of the Tide]


Madrid Doubles QF - Bethanie Mattek-Sands/Lucie Safarova d. Martina Hingis/Sania Mirza
...6-7(5)/6-3 [11-9]. The notion of the Dream Team being the unquestioned best doubles team in the world was blown apart by the Dynamic Duo... at least on clay. First in Madrid, then again in Paris when BMS/Safarova became the first team to defeat Hingis/Mirza twice. Mattek-Sands and Safarova went on to take their second straight '15 slam in Paris, only to see Hingis/Mirza sweep the Wimbledon, U.S. Open and WTA Finals titles to end the season.



[The Battles for WC Dominance in the Post-Vergeerian World]


Australian Open WC Final - Jiske Griffioen d. Yui Kamiji
6-3/7-5. The 29-year old Dutch woman wins her first WC singles slam title, preventing then-world #1 Kamiji from simultaneously holding the singles and doubles titles in all seven slam disciplines.


Roland Garros WC SF - Aniek Van Koot d. Yui Kamiji 6-4/4-6/7-6(4)
Roland Garros WC Final - Jiske Griffioen d. Aniek Van Koot 6-0/6-2
U.S. Open WC Final - Jordanne Whiley d. Yui Kamiji 4-6/6-0/6-1
...another Dutch woman (Van Koot) ended Kamiji's consecutive slam final singles streak at four, then she faced off with her countrywoman (and doubles partner) in the final. Griffioen claimed the title to grab her second WC singles slam of the season. In New York, Kamiji's own doubles partner denied her the U.S. Open crown to win her own maiden slam title.

Come 2016, a finally-added singles wheelchair competition at Wimbledon will allow the possibility for a FULL WC grand slam schedule.



[Juniors]


Wimbledon Girls QF - Anna Blinkova d. Tornado Alicia Black
...1-6/6-3/12-10 . In a remarkable three-hour struggle, Blinkova finally defeated Black after serving for the match six different times, winning on her second MP. For the match, Blinkova led Black 63-12 in winners, but needed every last one since she also outdistanced her 77-21 in unforced errors. In all, there were 41 break point chances on the day, with Black converting 10-of-27 and Blinkova 10-of-17. Blinkova would go on to lose in the final to fellow Hordette Sofya Zhuk.



[Futures]


Australian Open 2nd Rd. - Karolina Pliskova d. Oceane Dodin
...7-5/5-7/6-4. In as hard-hitting (and sometimes unpredictably so) a match up as you'll likely find, the 22-year old Czech and 18-year old Pastry engaged in what turned out to be one of the more intriguing contests between young stars in recent years. No, it wasn't a sequel to that Seles vs. Capriati teenage slugfest at the '91 U.S. Open, but it surely was, well, something.


After missing seven months last season with dental surgery and issues with vertigo, Dodin played as if she was trying to make up for lost time on every point. No, every swing. Every often "wow"-inducing swing, actually... that is, when they didn't produce a thunderous error that would cause you to cringe and go, "Wow!," for an entirely different, though still awe-struck, reason. Meanwhile, Pliskova often hit the ball just as hard, but much more cleanly and with greater consistent accuracy. Dodin led 40-37 in winners, while Pliskova had a 14-10 edge in aces. Dodin's average shot speed was faster on both her 1st and 2nd serves. Pliskova threw in a four-ace love game in the 2nd set, while Dodin saved three match points down 5-3, 40/love in the 3rd. There were many big moments from young players at this year's AO, but while this one was one of the least-watched, it might have been the most intriguing on both sides of the net.

Pliskova-Dodin final stats pic.twitter.com/R2TTVyMTOC

— Mark Nixon (@markalannixon) January 21, 2015
"I like to be seen as a phenom; I like not being like everybody else."

-

Oceane Dodin
"I'm just trying to win points as quick as possible, that's my game and I love it. Sure, I make a lot of errors and it's tough to lose points on silly mistakes, but I take lots of pleasure playing like this. That's just who I am. So I don't especially like getting looking at the stats after my matches because it's not always pretty and it can upset me!"

-

Dodin



[The Battle of the Madisons]


Australian Open 4th Rd. - Madison Keys d. Madison Brengle
...6-2/6-4. The result was an expected one, as Keys burst out of the gate with twenty-seven winners in the first nine games of the match. But with both Madisons being first-timers in a slam Round of 16, no match highlighted the upturn of U.S. fortunes -- twelve 1st Round wins in Melbourne, seven women into the Final 32, four in the Round of 16, three in the QF and the first all-American slam semi since 2002 -- better than this one.



[The Battle of the Darias]


U.S. Open 1st Rd. - Daria Kasatkina d. Daria Gavrilova
...6-2/4-6/7-5. In a clash of Russian-born 2015 rankings risers, lucky loser Kasatkina (in the MD as a replacement for an injured and absent countrywoman Maria Sharapova) was up a break 6-2/3-2, only to see Gavrilova force a 3rd set. After being treated by a trainer early in the final set, Gavrilova led 3-1 but began to cramp down the stretch and eventually fell behind 5-6 (as a precaution, the soon-to-be-an-Aussie didn't even sit down during the changeover). Kasatkina served out the match for her first slam win, and eventually reached the 3rd Round, the best Open result by a LL since 1993.



[The More Things Change...]


Australian Open 1st Rd. - Victoria Azarenka d. Sloane Stephens
...6-3/6-2. For the third straight year, only five rounds earlier than in '13 and three earlier than in '14, Azarenka met Stephens in Melbourne, this time with both women being without seeds for unrelated reasons. For the third straight year, save for the controversial ten-minute stretch two years ago, Vika dominated.



[When an ITF Women's Match Takes Place and an Isner/Karlovic Match Breaks Out]


$75K Albuquerque Final - Michaella Krajicek d. Naomi Broady
...6-7(2)/7-6(3)/7-5 Krajicek survives two MP and thirty-one aces from the Brit (w/ eighteen aces of her own). There was just one break of serve in the three-set, 2:42 match... and it decided the champion in the 3rd set.



[Fancy Meeting You Here]


Baku Final - Margarita Gasparyan d. Patricia Maria Tig
...6-3/5-7/6-0. In January, with both ranked outside the Top 200, these two met in the 2nd Round of a $25K challenger in Andrezieux-Boutheon. Six months later, they faced off to decide which would become a first-time WTA singles champ in the maiden tour-level final for both women. Just as happened in France, when Gasparyan won 6-2/7-5, the Russian emerged with the victory this time, as well, but only after being forced to a 3rd set despite serving for the title at 6-3/5-4.

Margarita Gasparyan wins 1st career #WTA title! Tops Tig 63 57 60 at Baku Cup--> http://t.co/8kOyTS6Ehb pic.twitter.com/pBe1vwCXKg

— WTA (@WTA) August 2, 2015




[Two Bruins for the Price of One]


Billie Jean King Collegiate Invitational Final - Robin Anderson d. Chanelle Van Nguyen
...6-4/6-4. In the second annual exhibition held at Flushing Meadows, it was an all-UCLA affair, as #2-seeded Anderson took out a fellow Bruin to succeed North Carolina's Jamie Loeb (who'd go on to win the 2015 NCAA title) as the BJK champion.



[Press Conference Moment]



A spider briefly interrupted Alison Van Uytvanck's news conference pic.twitter.com/Pbw3IBDNck

— Mark Masters (@markhmasters) May 30, 2015




[Worst (temporary) Ending]


$50K Saint-Gaudens QF - Jana Cepelova d. Teliana Pereira
...7-6(5), default. A few weeks after Pereira experienced the high of winning a tour title she got the boot end of the results equation, as well. After losing the 1st set to Cepelova, she was defaulted from this QF match for throwing her racket into the stands in frustration. Things turned out all right for Pereira, though. She ended up winning a second tour title and climbed into the Top 50 by the end of the season.


[Sister-vs.-Sister XXVI]


Wimbledon 4th Rd. - Serena Williams d. Venus Williams
...6-4/6-4. In their 26th career meeting, the fifth all-Williams match at Wimbledon was the first at SW19 since the '09 final, and the earliest ever in the event (3 Finals, 1 SF). It wasn't a classic, as Serena dominated, winning the first eight points of the day and the last five. It COULD be their last meeting ever in London. But considering the way Venus was playing as the '15 season drew to a close, don't be SO sure.

WATCH Lovely reception for the Williams sisters as they embrace at the net #ManicMonday http://t.co/EoayLv4thG

— Wimbledon (@Wimbledon) July 6, 2015
[Sister-vs.-Sister XXVII]
Serena and Venus Williams will meet in the quarterfinals exactly 14 years after their first meeting at the @usopen. pic.twitter.com/aQLBJWmXIu

— ESPN (@espn) September 6, 2015

U.S. Open QF - Serena Williams d. Venus Williams
...6-2/1-6/6-3. On the 14th anniversary of their landmark primetime U.S. Open final match in 2001, the Sisters pay high-quality homage to their own impact on the sport on a night that was essentially a celebration of their legacy as much as a tennis contest. In their first meeting in New York since 2008, but their second at the last two slams, Serena extends her head-to-head edge over Venus to 16-11, winning her seventh of the last eight meetings with an ace on match point. In the end, their losing-big-sister-comforts-winning-little-sister embrace at the net may go down as the lasting image that defines an entire era.

When you're the greatest sister act of all time pic.twitter.com/uk0YC8sD0w

— WTA Reactions (@WTAreactions) September 9, 2015
When they hugged pic.twitter.com/3kAwqCSZub #SerenavsVenus

— Tayo (@teaponpi) September 9, 2015


Hmmm, so, is that all? Weeeeell, how about one more? Call it a Backspin "deep cut"...


Moscow Q1 - Anna Kalinskaya d. Yuliya Beygelzimer
...1-6/6-2/7-5. After dropping a match to Venus in Hong Kong after being up a break three times in the 3rd, Beygelzimer followed up by failing to close out this match after serving at 5-2 in the final set. She held five MP in game #9. Kalinskaya finally won after converting on her fourth MP attempt of game #12. 'Tis a pity that the young Hordette must remain so anonymous, though.

Before I go, let's take care of that...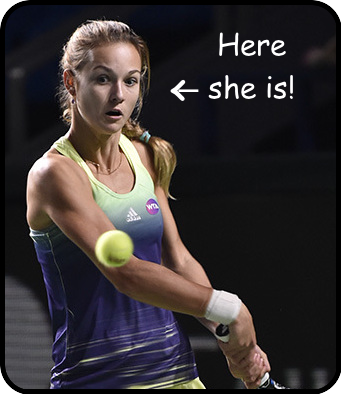 Okay, that's good enough for me.


All for now.













"I made this program for you because I wanted to give you the gift of being able to play tennis at a high level for the rest of your life." - Ramon Osa


CLICK HERE: THE SIMPLE SERVE