2015 BSA's: Of Comebacks and Chokes...

Not all matches end the way they begin. Sometimes the competitor who ultimately raises her arms in victory was seemingly --
sometimes mere minutes earlier
-- the same player who'd seemed destined to be shaking hands at the net in disappointment.
Ah, but what's the difference between a "comeback" and a "choke?" Hmmm, well,
you know it when you see it.
Saying anything more might get the Tennis Gods angry.

*COMEBACKS OF THE YEAR*
Serena. In pictures... pic.twitter.com/FeoM7a5Du2

— BBC Tennis (@bbctennis) June 4, 2015
And here is Serena Williams being sick and half-throwing up, tho it goes into the towel pic.twitter.com/pKgq9jiamW

— Andrew Jerell Jones (@sluggahjells) June 4, 2015



1.

Roland Garros SF - Serena Williams d. Timea Bacsinszky
...4-6/6-3/6-0. Forever to be known as Serena's "flu match," this one was the "bizarro" side of Williams' all-time career in a nutshell. She'll go down as one of the greatest players of all time, capable of laying waste to the field en route to edging close to two dozen major titles. But unless they've witnessed certain aspects of "the Williams oeuvre," future tennis generations will have a hard time truly understanding the part of Serena's career that makes matches like this possible on what seems like a regular basis. But even in a career full of "flipped switches" signaled by a well-placed roar or a thundering shot, Williams' win over the Swiss stands alone. Battling a severe flu, coughing and often lumbering around the court in deliberate fashion for a set and a half, Williams seemed ready to be sent packing. Trailing 6-4, and a break down at 3-2 in the 2nd, Williams hacked up something into a towel during the changeover... and then came off her chair and never lost another game. As Williams charged toward her fourth win of the tournament after dropping the 1st set, Bacsinszky couldn't help but be chewed up by the gears of "Serenativity" in full production mode. Near the end, Serena chased down a wide ball, sliding across the backcourt and firing a forehand passing shot winner from behind the baseline. While still stretched out on the terre battue, she clenched her fist and stared into the face of the invisible enemy that once again had failed to get the best of her. A classic image to cement a classic win into the memory bank of history. She went on to win RG, then followed up with a fourth straight slam title with another run in London.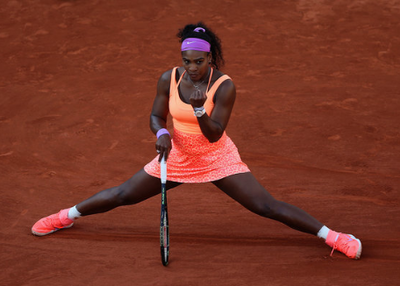 =======================================
2.

Fed Cup 1st Rd. - France d. Italy 3-2
Match #3 - Kristina Mladenovic/FRA d. Sara Errani/ITA 6-4/6-3
Match #4 - Caroline Garcia/FRA d. Camila Giorgi/ITA 4-6/6-0/6-2
Match #5 - Garcia/Mladenovic (FRA) d. Errani/Vinci (ITA) 6-1/6-2
...the Pastries' historic comeback in FC 1st Round play handed Team Italia the first ever World Group loss by a home team that held a 2-0 lead after Day 1. Captain Amelie Mauresmo replaced Alize Cornet (0-1 on Day 1) with Mladenovic, who made her FC singles debut a successful one, then Garcia staged a sterling comeback against Giorgi in a match interrupted by attempts to repair a shoddy clay court that was SUPPOSED to be an advantage for the Italians. Perhaps unnerved by the whole deal, Errani/Vinci were quickly run out of the deciding doubles in their first career FC doubles loss as the French team pulled off what had seemed an impossible task just a few hours earlier. Of course, as we should know by now, nothing is "impossible" if master motivator/roster manipulator/Tennis Jedi Master? Mauresmo is pulling the strings and whispering in Pastries' ears.


=======================================




3.

Monterrey 2nd Rd. - Timea Bacsinszky d. Lesia Tsurenko
...4-6/6-4/6-4. To battle was in Bacsinszky's blood in Mexico. Early in the week, Tsurenko led 6-4/4-2, but the Swiss turned things around with a break for 5-4 in the 2nd on her sixth BP of game #9.

Monterrey SF - Timea Bacsinszky d. Sara Errani
...6-0/4-6/7-6(3). The scrappin' Swiss takes out the fightin' Italian. Errani saved six break points at 5-4 in the 2nd to hold and force a 3rd set. There, she served for the match at 5-4 and 6-5, only to see Bacsinszky break her both times. In the deciding tie-break, up 5-3, the Swiss woman stopped play and challenged an Errani shot at the baseline. It was called out, giving Bacsinszky MP at 6-3. She won to advance to her second straight final a point later, winning the 2:40 battle. One round later, she'd swept to a title in her second of back-to-back tournaments in Mexico. And, thus, the "Queen of Mexico" was crowned.

Indian Wells 3rd Rd. - Timea Bacsinszky d. Ekaterina Makarova
...3-6/7-5/6-4. Bacsinszky came back from 0-3 and 2-4 deficits in the 3rd to lock away her fourteenth straight match win. She won her fifteenth straight a round later, again in three sets after dropping the 1st, before finally seeing her great run brought to a close by none other than Serena Williams.


=======================================



When someone kicks you while you're down pic.twitter.com/u1Zfzj7CIc

— WTA Reactions (@WTAreactions) September 6, 2015



4.

U.S. Open 3rd Rd. - Sabine Lisicki d. Barbora Strycova
...6-4/4-6/7-5. Unable to keep the ball in the court and down 4-1 in the 3rd, Lisicki called for a trainer. The move stopped her negative momentum (and her opponent's positive run), and soon the German couldn't miss. After dropping a game to fall behind 5-1, she won 24 of 31 points, and 11 of the last 12 to take the 2:45 match under the lights. Meanwhile, Strycova, never one hide her emotions, offered a quick, tepid handshake at the net along with a few one-can-only-imagine choice words. Lisicki -- having committed 72 UE and elicited some raised eyebrows -- barely noticed, though, and proceeded to take an emotional bath in the spotlight while the Czech fumed off the court.

Lisicki coming back from 5-1 down in 3rd set = another patented Strycova handshake. #USOpen @Tennis pic.twitter.com/COEjqao1OV

— Jonathan Scott (@jonscott9) September 6, 2015



=======================================




5.

Wimbledon Doubles Final - Martina Hingis/Sania Mirza def. Ekaterina Makarova/Elena Vesnina
...5-7/7-6(4)/7-5. A year and a half after losing in the AO final after leading 5-1 in the 3rd, former RG & U.S. champs Makarova/Vesnina missed out on a another major title after leading 5-2 in the 3rd in this one. Led by the efforts of the Original Swiss Miss, the Dream Team battled to get back on serve, finally converting on a seventh BP over back-to-back service games to close to 5-4. After the Centre Court roof was closed due to the lack of light at 5-5, Hingis & Mirza came back on fire while Vesnina lost a shaky service game. Hingis then served out the match at love, winning her first Wimbledon title since she was 17 years old in 1998, and finally getting Mirza her long overdue first slam WD crown at age 28.


=======================================




6.

Stuttgart 1st Rd. - Belinda Bencic d. Julia Goerges
...3-6/6-3/7-5. Sparking memories of her breakout Fed Cup debut in '14, the New Swiss Miss spoils the day for a player in front of a partisan crowd. Down 4-5, love/40 in the 3rd set, Bencic survives her triple match point moment and goes on to take out the German.

Incredible escape act! #Bencic back from 4-5 0-40 in 3rd to bt #Goerges 3-6 6-3 7-5. http://t.co/kRsZ9udpkC #WTA pic.twitter.com/FNELWvDo7V

— TennisTV (@TennisTV) April 22, 2015



=======================================




7.

's-Hertogenbosch Q3 - Ula Radwanska def. Arina Rodionova
...3-6/7-6(6)/6-0. In an all-sister, cross-family battle it was U-Rad who overcame a 6-3/5-0 deficit, saving a MP in the 2nd set and then going on to take the 3rd at love, sweeping the final two games without dropping a point.


=======================================



8.

Australian Open 2nd Rd. - Maria Sharapova d. Alexandra Panova
...6-1/4-6/7-5. Sharapova's escape didn't ultimately open the door for a playing-with-house-money slam title run, but her recovery from being two match points down to Panova -- Sharapova broke for 5-5 in a five-winner game -- will go down in the lore of the Russian's career, as she once again showed the heart of a (near) champion. Had she lost to her countrywoman, who'd never beaten a Top 30 player, Sharapova would have become the first #2 seed to lose in the 2nd Round of the AO since 1980.


=======================================




9.

Fed Cup Europe/Africa I RR - Victoria Azarenka/BLR d. Tsvetana Pironkova/BUL
...6-3/2-6/7-5. In her first FC action since 2011, and after being without her equipment all week when her luggage went missing just as the news went public about coach Sam Sumyk leaving her for a (short-lived, as it turned out) paid position in Genie's Army, Vika overcomes Pironkova's 3-0 3rd set advantage thanks to the Bulgarian's missed volleys up 4-3/deuce and 5-6/15-15. Days later, Azarenka clinched Belarus' win in the promotional playoff with her second win in the green-and-red since winning two medals at the '12 Olympics.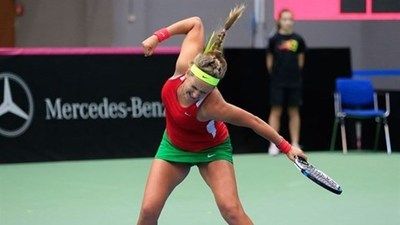 =======================================




10.

Fed Cup Semifinals - Anastasia Pavlyuchenkova/RUS d. Sabine Lisicki/GER
...4-6/7-6(4)/6-3. Things could have been so very different for Germany against the Russians had Lisicki been able to put away Pavlyuchenkova when she had the chance. Captain Barbara Rittner may not have been criticized for not playing Petkovic and Kerber (both of whom had asked out of play due to fatigue) on Day 1, and the Germans' furious comeback attempt on Day 2 (Petko and Kerber notched fiery wins to send things to the doubles) wouldn't have needed to be absolutely flawless. Instead, Lisicki failed to convert a MP at 6-5 in the 2nd set, then quickly fell behind 5-1 in the deciding 3rd as the Hordettes took a 2-0 lead that proved to be too large to overcome.


=======================================




11.

Pattaya SF - Daniela Hantuchova d. Marina Erakovic
...4-6/6-3/7-6(3). Erakovic held two match points at 5-4 in the 3rd set. Hantuchova survived the eight-break deciding set and won the title (her first with new coach Carlos Rodriguez, and her first of any kind since 2013) a day later.


=======================================




12.

Rome 2nd Rd. - Petra Kvitova d. Karin Knapp
...6-3/4-6/7-6(1). For once, Kvitova was the one turning things around to win rather being the one seeing HER fortunes get turned on their head. Knapp served up 5-2 in the 3rd set, and was two points from victory at deuce on Kvitova's serve a game later. The Czech strung together nine straight points with the match in the balance and pushed the Italian out of her path on the way to victory.


=======================================




13.

Rio QF - Sara Errani d. Beatriz Haddad Maia
...3-6/7-6(2)/3-0 ret. Errani rebounded from her FC crash-out vs. France by overcoming a 6-3/5-3 deficit and saving three 2nd set match points against the Sao Paulo-born teenager, ultimately outlasting her when she was forced to retire due to the cramping brought on by the length of the match in the South American heat. Errani went on to win the title.


=======================================




14.

Kuala Lumpur SF - Alexandra Dulgheru d. Jarmila Gajdosova
...5-7/7-5/7-6(4). The Aussie led 7-5/4-2, but the Swarmette won the star-crossed battle to break serve in the final set. In the 3rd, the two went 0-for-17 in BP attempts through the first twelve games, with Dulgheru alone saving fourteen chances on her own serve. The Romanian went on to carry over the trend into the tie-break, as well, holding all her services points. That was enough to allow her to produce her best tour result in five years.


=======================================




15.

Fed Cup World Group Playoffs - Urszula Radwanska/POL d. Martina Hingis/SUI
...4-6/6-7(5)/7-6(4). Hingis was looking to clinch the tie for Switzerland in her second singles match of the weekend (she's lost to Ula's sister Aga). She served for the match at 5-3 in the 2nd, but after failing to put away the tie she literally limped to the finish with a leg injury as U-Rad forced things to a deciding doubles contest. Ailing and exhausted, Hingis skipped the doubles, but she still cheered on/helped coach Timea Bacsinszky & Viktoriya Golubic to a win to send the Swiss into the World Group in 2016.


=======================================




16.

Fed Cup SF - Lucie Safarova/CZE d. Caroline Garcia/FRA
...4-6/7-6(1)/6-1. Had Garcia converted one of her five match points in the 2nd set against Safarova, picked by Czech Captain Petr Pala to play over Karolina Pliskova, would it have made a difference in the tie? Well, it might have meant that Pala would would have gone with Pliskova on Sunday, and if she hadn't been able to get a win, things would have gone to the doubles with Garcia/Mladenovic striving for a second straight epic Pastry FC upset (after overcoming a 0-2 deficit vs. Italy in February). But after Safarova won, the rest of the tie proved to be rather elementary, as the Maidens advanced to their fourth final in five years... then won the title with a 3-2 win over Russia.


=======================================




17.

Doha 2nd Rd. - Venus Williams d. Barbora (then Zahlavova-) Strycova
...7-5/3-6/7-6(5). Venus served for the match at 5-4 in the 3rd, but had to save a match point at 6-5. With the help of some questionable calls, Venus prevailed... then shut down a perturbed BZS when she halfheartedly (for her, at least) attempted to challenge Williams' "good fortune" at the net following the match.

=======================================




18.

Wuhan 2nd Rd. - Petra Kvitova d. Daria Gavrilova 6-3/4-6/7-5
Wuhan 3rd Rd. - Roberta Vinci d. Petra Kvitova 7-6(3)/6-2
...Wuhan giveth, and Wuhan taketh away. In the Chinese humidity, Kvitova staged a comeback from Gavrilova serving up 5-3 in the 3rd, but one round later failed to put away the 1st set against Vinci after taking a 4-0 lead and twice being two points from the set. Three weeks after her upset of Serena Williams at the U.S. Open, the Italian knocked off yet another multiple slam winner.


=======================================




19.

Charleston 1st Rd. - Jana Cepelova d. Elena Vesnina
...6-2/6-7(5)/7-6(4). For one match, Charleston was home for Cepelova all over again. Vesnina served for the match at 5-4 in the final set, but surprise '14 Charleston finalist Cepelova re-lived her glory of a year ago (she def. Serena, remember) and found a way to advance. A sequel wasn't meant to be, though, as the Slovak dropped her next match.


=======================================




20.

Prague 2nd Rd. - Lucie Hradecka d. Tereza Smitkova
...6-3/4-6/7-6(11). Hours after notching a career-best win over countrywoman Lucie Safarova, Smitkova was asked to face yet another fellow Czech. Up 5-1 in the 3rd, and with a MP at 5-4 and three more in the deciding tie-break, Smitkova looked like she was going to celebrate for a second time. But Hradecka battled back to win on her own fourth MP and went on to reach the final, where she lost to yet another Czech, Karolina Pliskova. Is it any wonder that the Maidens win so many team competitions?


=======================================




21.

's-Hertogenbosch QF - Camila Giorgi d. Yaroslava Shvedova 4-6/6-3/7-6(9)
Eastbourne 2nd Rd. - Daria Gavrilova def. Camila Giorgi 3-6/7-6(6)/6-3
...after failing to win two '14 finals in which she had MP, Giorgi won her first WTA title in the Netherlands after saving MP early in the tournament. She overcame a 3-1 3rd set deficit vs. Shvedova, finally winning on her second MP after saving three. Two weeks later, though, the Italian was back to her old tricks, holding a MP in the 2nd set TB before eventually going out at the hands of the "lucky loser" Russo-Aussie who'd only gotten into the tournament because of the late withdrawal of #1-seed Petra Kvitova.


=======================================




22.

Stuttgart 2nd Rd. - Simona Halep d. Garbine Muguruza
...3-6/6-1/6-3. 0-2 lifetime against the Spaniard, and with the memory of her February Fed Cup beat down still fresh in her mind, Halep found herself down a break in the 3rd set. She saved two break points to avoid a double-break disadvantage, and then the promising Muguruza let a victory slip through her fingers. The Spaniard had seemingly cleaned up the habit (which has often dogged her early career) by year's end, though, especially after a late-year hire of Sam Sumyk as coach. These two might see quite a lot of each other in 2016, as Wimbledon RU Muguruza finished the season at #3, breathing down the neck of world #2 Halep.


=======================================



.@SvetlanaK27 saves 2 mps to edge Safarova 57 76(5) 76(3) for @MutuaMadridOpen SF spot--> http://t.co/n4c9BPYX5y #WTA pic.twitter.com/0gJTP1sXqX

— WTA (@WTA) May 7, 2015



23.

Madrid QF - Svetlana Kuznetsova d. Lucie Safarova 5-7/7-6(5)/7-6(3)
Rome 1st Rd. - Lucie Safarova d. Anna Schmiedlova 76(6)/6-7(3)/6-4
...the Czech hadn't quite perfected things heading into her ultimate career-best run to the Roland Garros final, but her forward motion was evident. She won the 1st set against Kuznetsova, but failed to close the match after leading the 2nd set TB 5-2, nor when she held two MP at 5-4 in the 3rd. A week later in Rome, Safarova overcame a 4-1 3rd set deficit to take down Schmiedlova. In Paris, she didn't lose a set until the her three-set tussle with Serena Williams in the final.


=======================================




24.

Hobart QF - Madison Brengle d. Karin Knapp
...6-7(3)/6-4/6-4. Brengle led 5-3 in the 1st set, but lost it. Knapp had a 3-1 advantage in the 2nd, and led 2-0 in the 3rd, but lost both sets. BrengleFly went on to reach her first career tour final, then the Round of 16 in Melbourne. Knapp went on to lose her 1st Round match at the Australian Open.


=======================================




25.

Fed Cup World Group Playoff - Alexandra Dulgheru/ROU d. Francoise Abanda/CAN
...3-6/7-5/6-2. Abanda very nearly made up for teammate Genie Bouchard's FC weekend misfires against the Romanians. The teenager opened the tie with a victory, then was tasked with evening the score in match #4 after Bouchard went 0-2 in singles. She led Dulgheru, the emotional leader of the Swarmettes and the player who'd shown up a defeated Bouchard a day earlier, 6-3/4-2 before the Swarmette seized the moment once again by surging back and clinching the tie.


=======================================




26.

Wimbledon 1st Rd. - Kristyna Pliskova def. Tereza Smitkova
...3-6/7-5/7-5. Kristyna's SW19 bragging rights over sister Karolina almost didn't happen. She had to scrape to survive her first match against fellow Czech after falling down 6-3/4-2 with Smitkova serving for the match at 5-4.


=======================================




27.

Moscow 1st Rd. - Karolina Pliskova d. Alexandra Dulgheru
...6-4/5-7/7-6(7). THIS Pliskova saved MPs against the Romanian, keeping alive her hopes of reaching the WTA Finals. It was a brief save, as the Czech failed to qualify for Singapore. But maybe this match enough to light a late-season fire? Playing in Zhuhai in the "secondary" season-ending WTA event, Pliskova ultimately reached the Elite Trophy final... then carried that momentum over to a starring role in the Fed Cup final that could confidently propel her to even greater things in 2016.


=======================================




28.

Doha 2nd Rd. - Andrea Petkovic d. Zarina Diyas
...5-7/6-2/6-4. After losing to Diyas in a match that contained a Petko tantrum and "gummy legs" syndrome after her big weeks in Stuttgart (Fed Cup) and Antwerp, Petko comes back from a break down three times in the 3rd set to take out the Kazakh.


=======================================




29.

Istanbul QF - Ula Radwanska d. Tsvetana Pironkova
...6-2/3-6/7-6(5). Pironkova served at 5-4 and 6-5 in the 3rd, but Ula forced the tie-break. She took a 6-1 lead, then finally put away the match on her fifth consecutive MP. As a pair, the Radwanska sisters are a combined 12-2 vs. the Bulgarian.


=======================================




30.

Acapulco QF - Sesil Karatantcheva d. Monica Puig
...2-6/7-6(7)/6-4. Lucky loser Sesil lost a 4-0 2nd set lead and saw Puig hold a match point at 6-5. Up 6-3 in the tie-breaker, Karatantcheva was forced to save a third MP before finally forcing a deciding set and going on to reach her second career tour singles semi.


=======================================




HM-

Quebec City 2nd Rd. - Jelena Ostapenko d. Jessica Pegula
...3-6/6-2/7-6(3). The 18-year old Latvian got the victory after the Bannerette led 4-1 in the 3rd, and served for the match at 5-4 and 6-5. Ostapenko would go on to reach her first tour level singles final.


=======================================





[ITF]


$15K Leon Final - Danielle Lao d. Aleksandrina Naydenova
...3-6/6-3/7-5. "The Little Giant," a two-time NCAA All-American at USC, wins her first ITF singles title by knocking off three seeded players. In the QF vs. #1-seeded Mayo Hibi, Lao saved six match points, then in the final against Naydenova she overcame a 4-1 3rd set deficit and finally served out the match on her second attempt despite trailing her opponent (95-94) in total points won during the match.




[Juniors]


Roland Garros Girls 2nd Rd. - CiCi Bellis d. Sofya Zhuk
...4-6/6-1/8-6. The Bannerette saved a match point and rode the momentum all the way to the semifinals. Zhuk rebounded to win the Wimbledon girls crown.

"@MertovsTDesk: What you call a "relief celebration".. #Bellis after winning the match point. pic.twitter.com/n2K66LY0Jg" @cicibellis99

— ???? (@Vamos_feli) June 2, 2015




[The Comeback: Czech Edition]


In Monterrey, Czech Vaidisova qualified (def. Lucie Hradecka & Arina Rodionova) to reach her first WTA singles main draw since her return to the sport late last season. In her first WTA match since Memphis in 2010, she lost to Ana Ivanovic 6-1/7-6(4). A few weeks later, she got her first main draw WTA victory of her comeback in Miami in a 1st Rounder against Timea Babos by the same score -- 6-1/7-6(4) -- by which she'd lost to AnaIvo. A round later, Vaidisova took a set off world #3 Simona Halep. Once ranked as high as #7 (2007), at 17, the Czech came within two points of the Roland Garros final (2006) after having beaten Amelie Mauresmo and Venus Williams in back-to-back matches. She reached a pair of slam semis over a seven-month stretch in 2006-07, but left the sport (though she never officially "retired") in '10 and was briefly married to Radek Stepanek before returning to action in '14. She climbed back into the Top 300 as the 1Q came to a close and ended the year at #256, her best season-ending standing since 2009.



[The Comeback: ITF Edition]


Latvia's Anastasiya Sevastova, who retired in April '13 due to a number of injuries, returned to action in late January when she got a wild card entry into a $10K challenger in Sharm El-Sheikh, Egypt. In her first action in over a year and a half, she swept both the singles and doubles titles. A former Top 40 player, Sevastova's most recent previous match win had come in '13 in Bogota qualifying over Aleksandra Krunic. She eventually won four ITF titles and finished at #110, her best ranking since 2011.



[Comebacks: SW19 Edition]



"It was a victory to finish a match & be back on court. I'm very happy" @LauraRobson5--> http://t.co/vQ6qApnVnr #WTA pic.twitter.com/pVQeQyIhU4

— WTA (@WTA) June 20, 2015

Eastbourne Q1 - Daria Gavrilova def. Laura Robson 6-0/6-1
Wimbledon Q1 - Melanie Oudin def. Akgul Amanmuradova 6-3/6-1
...Robson's long-delayed return from wrist surgery finally ended after seventeen months. Her return to health earned her a wild card into the Wimbledon main draw, where she lost 6-4/6-4 in the 1st Round to Evgeniya Rodina in her first match at the AELTC since 2013. Also at SW19, Oudin played her first match since October '14 after having eye and heart procedures.

[Comeback: Four, Five, Seven, ummm, TWENTY Years in the Making]
$25K Darmstadt 1st Rd. - Sofiya Kovalets d. Patty Schnyder 7-5/6-4/7-5
$10K Prague Final - Patty Schnyder d. Zuzana Luknarova 6-1/6-2
...back from her 2011 retirement, over the of course of six weeks, 36-year old Sneaky Patty played her first match in four years in her first event and got her first win two challengers later. Finally, in event #4 in Prague, Schnyder qualified and reached her first singles final since 2010, winning her first title since 2008 (WTA Bali) and her first on the ITF circuit since she was just 16 years old in the summer of 1995.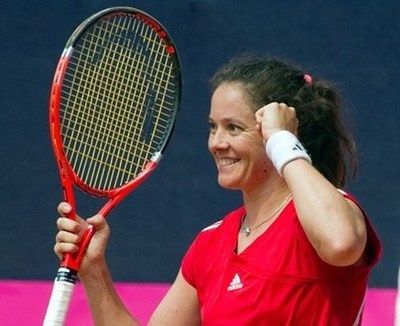 [Comeback: Hordette Edition Sequel]
$10K Antalya Final - Alisa Kleybanova d. Lina Gjorcheska
...6-3/6-4. Kleybanova's comeback from Hodgkin's lymphoma won her the tour's Comeback Player of the Year award in 2013. Last year, she earned her first year-end Top 100 ranking since 2011 and even had a win in Stuttgart over Petra Kvitova. But the Russian hadn't played in any tournaments since last year's Wimbledon... until, without a WTA ranking seventeen months after her most recent match, Kleybanova was awarded a wild card into the $10K challenger in Antalya, Turkey. She took full advantage of the opportunity, winning the title with victories over #2-seed Sun Xu Liu and #1 Lina Gjorcheska. It's just the second singles title Kleybanova has won since her previous return to action, having earlier won the Landisville $10K event in 2013. Two weeks later, she extended her winning streak to twelve matches and reached another final in Antalya.

I'd like to thank all my fans and people around the world for all this patience and belief in me. It's great to... https://t.co/gme2pnJ2iE

— Alisa Kleybanova (@akleybanova) November 17, 2015
[Comeback: Vicky Duval Edition]
$25K Landisville 1st Rd. - Vicky Duval d. Sophie Chang 6-4/6-2
$25K Landisville 2nd Rd. - Vicky Duval d. Ivana Jorovic 3-6/7-5/6-1
U.S. Open Q1 - Vicky Duval d. Luksika Kumkhum 5-7/6-3/6-1
U.S. Open Q2 - Alla Kudryavtseva d. Vicky Duval 6-7(5)/6-4/6-0
...out since being diagnosed with Hodgkin's lymphoma before last year's Wimbledon (she subsequently made it through qualifying and won a 1st Round match before losing a tight 2nd Rounder to Bencic), a now cancer-free 19-year old Duval returned to action this summer. She reached the QF in her first event (she w/d for precautionary reasons after playing far more than was to be expected her first time out, as she battled back from 6-3/4-1 down to defeat Jorovic), then played two more three-setters in U.S. Open qualifying after the "brilliant" USTA decided against giving her a MD wild card despite the obvious p.r. benefits, as well as the fact that Duval pulled off an upset of former champ Sam Stosur in her last appearance in the event in '13. No matter. Some steps are bigger than others, but Duval's have been positively gigantic.

Don't stress, just do your best, and forget the rest ????????

— Vicky Duval (@vicky_duval95) September 7, 2015
Us Open locker room shenanigans part 2 ??????#ThatBackBend #GoodTimes pic.twitter.com/XKRHnlTGNi

— Vicky Duval (@vicky_duval95) September 6, 2015
"I didn't really realize how brave I was until I came home and everyone in my family and my friends, they told me that if they got told the same thing the day before they had to play a match, they wouldn't have been able to finish, because that's like the biggest emotional blow you can hear. To me, I was just thinking that I needed to keep winning so I didn't go home. For me, to keep playing was easier."

-

Vicky Duval




*CHOKES OF THE YEAR*




"She almost hit an ace. She missed it by not even three centimeters. I thought, 'Wow.' This is definitely an escape. I've had some other escapes, but I don't think I've been down love/40 on someone's serve before."

-

Serena Williams, on being down triple MP vs. Azarenka in Madrid





1.

Madrid 3rd Rd. - Serena Williams d. Victoria Azarenka
...7-6(5)/3-6/7-6(1). A missed opportunity for Azarenka. Several of them, in fact. Vika led 5-1 in the 1st set TB, only to lose it. After extending things to a 3rd set with Williams' game going in and out, Azarenka saved a MP at 5-4 down, then broke for a 6-5 lead and soon found herself at triple MP serving at 40/love. On her third MP, she thought she'd won the match on an ace, but the shot had barely missed the line. After double-faulting on her second serve, she had two more DF on consecutive points as Williams was handed the break and things went to a tie-break. Rattled by her lost chance, Azarenka was blown out in a 7-1 TB as Serena won twelve of the last thirteen points of the match. Said Serena, "It was an intense match; I actually thought I had lost."


=======================================



#Keys survives. Back from set & 0-5 to bt Lucic-Baroni 46 76 76. Into @WTA_Strasbourg QF. http://t.co/kRsZ9udpkC pic.twitter.com/wHKZ9Coh3t

— TennisTV (@TennisTV) May 20, 2015



2.

Strasbourg 2nd Rd. - Madison Keys d. Mirjana Lucic-Baroni
...4-6/7-6(3)/7-6(0). Hmmm, is this match a candidate for "Comeback of the Year," "Choke of the Year" or maybe both? Lucic-Baroni led Keys 6-4/5-0 in windy conditions, but was sent packing as Keys' Fed Cup '14 lesson about NO match EVER really being over until, you know, it actually IS once again came to the forefront. Even more spectacular than the blown lead, Lucic never managed to even hold a MP after taking that lead. She served for the match twice in the 2nd set, but the closest she got was within two points of victory on Keys' serve in game #6. At one point, Keys won 16 straight points and took the 2nd set TB 7-3. In the 3rd, Lucic served for the match for a third time at 5-4 (again coming within two points of the win), but failed to put it away there, as well. Ultimately, she lost the deciding TB 7-0. The Croat rebounded well, upsetting Simona Halep a week later in Paris... and managing to close things out rather routinely after leading that one by a set and 5-0, too.


=======================================




3.

Roland Garros 1st Rd. - Donna Vekic d. Caroline Garcia
...3-6/6-3/6-2. Garcia was the first seed ousted in Paris. Vekic, on a slide for most of the previous year, fired thirteen aces. The Croat converted five of eight BP chances, while the French woman was successful on just three of twelve. The match ended with five Garcia errors and the last of those Vekic aces. Worse for the home favorite -- and why this wasn't on the "upset of the year" list -- was Garcia's talk afterward about not being equipped to handle the pressure of playing on Chatrier Court and how she'd begged the organizers to not schedule her there and instead put her in a quiet place where no one would be paying much attention. Sounds like THE great French women's slam hope to me, how 'bout you? One might think she'd ask FC coach Amelie Mauresmo (never great at it herself, but a Pastry Whisperer if there's ever been one) about handling the pressure of playing in Paris, right? I mean, Garcia often talks about her Captain's wisdom and how much she's learned from her. Umm, nope. Garcia said she's never thought to even ask her about it. Oy vey.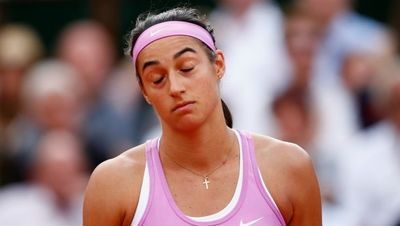 "I wanted to play on a smaller court. But that's the way it is."

-

Caroline Garcia, after her 1st Round loss at Roland Garros




"I can't make it here, it doesn't depend on the opponent, it depends on myself and I can't play here at the French Open and I hope it can change in the future."

-

Garcia




"For me, it's too much to play on this (Chatrier) court and next year I will ask to play on court number nine. A sort of hidden court where there's nobody there."

-

Garcia

=======================================




4.

Australian Open 3rd Rd. - Venus Williams d. Camila Giorgi
...4-6/7-6(3)/6-1. Giorgi had 16 double-faults in the match, though she led Williams 6-4/4-2, 40/love at one point before succumbing to the pressure of the moment. Of course, the spunky, hard-hitting Italian has a history of this... in 2014 she reached two finals, holding match point in both, but winning neither. Giorgi finally won her first title in 2015 (after saving MPs early in the early going in the Netherlands), so maybe Venus should watch her back in '16 if Camila is on the other side of the net.


=======================================




5.

Brisbane 1st Rd. - Varvara Lepchenko d. Samantha Stosur
...4-6/6-4/7-5. And the first "Choke of the Year" nominee came all the way back in Week 1... with Stosur's loss after leading 5-1 in the 3rd set, and holding a match point at 5-2. Of course, we're talking about Sam Down Under, though, so it'd sort of be a "disappointment" if she didn't, you know, disappoint at least once.


=======================================




6.

Shenzhen Doubles 1st Rd. - Liang Chen/Wang Yafan d. Peng Shuai/Xu Yifan 3-6/6-2 [14-12]
Australian Open 1st Rd. - Kimiko Date-Krumm/Casey Dellacqua d. Peng Shuai/Xu Yifan 4-6/7-5/7-6(5)
...without longtime partner Hsieh Su-Wei by her side, world doubles #3 Peng crashed -- hard -- in 2015, before a back injury finally ended her season early. Early on, she and Xu Yifan blew matches in which they held match point in their first two matches of the season. In Shenzhen, they held three MP vs. Liang/Wang, and in Melbourne against KDK/Dellacqua, the pair were up 6-4/5-1 and ultimately failed to convert on five MP attempts. After finishing as the doubles #3 and singles #22 (after reaching the '14 U.S. Open semis) a year ago, Peng ended 2015 at #872 and #136, respectively.


=======================================




7.

Brisbane Doubles SF - Caroline Garcia/Katarina Srebotnik d. Hsieh Su-Wei/Sania Mirza
...4-6/7-6(1) [10-8]. Hsieh didn't have it easy without Peng, either. In her first event with Mirza, they led the deciding match tie-break 6-0 before losing it and the match 10-8. Sania could apparently see the writing on the wall. After losing early in Melbourne, and despite reaching the Doha final, Mirza ended her partnership with the former #1-ranked Taiwanese vet and joined forces with new partner Martina Hingis. Umm, I think we know how that turned out.


=======================================




8.

Fed Cup Asia/Oceania I RR - Yaroslava Shvedova/KAZ d. Peangtarn Plipuech/THA 6-7(3)/7-5/6-2
Fed Cup Asia/Oceania I Promotional Playoff - Kurumi Nara/JPN d. Yaroslava Shvedova/KAZ 2-6/7-6(4)/6-2
...Shvedova, a Top 25 player a little over two years ago, is always a dangerous carnival ride come Fed Cup time, and things usually end in disaster. After upset losses to Luksika Kumkhum the last two years, the Kazakh avoided another defeat at the hands of an unheralded Thai player in round robin action, saving two MP vs. world #493 Plipuech. But in the promotional playoff, Shvedova's demons came home to roost once again, as she failed to convert her own MP against Nara and dropped a three-setter to add another disappointing chapter in Kazakhstan's FC history.


=======================================




9.

Stanford 1st Rd. - Kimiko Date-Krumm d. Sabine Lisicki
...1-6/7-6(4)/6-2. The #24-ranked German led 6-1/4-1 before her collapse allowed the 44-year old KDK to get her first Top 100 win since January, and her best victory since defeating a then-#12 Flavia Pennetta in Monterrey in March 2014.

44yr old Date-Krumm upsets Lisicki 16 76(4) 62 @BOTWClassic! 1st #WTA Main Draw win of 2015--> http://t.co/LA6fdXA4VT pic.twitter.com/Jrwo8ou1dh

— WTA (@WTA) August 5, 2015



=======================================




10.

Birmingham 2nd Rd. - Michelle Larcher de Brito def. Ana Ivanovic
...6-4/3-6/7-6(6). AnaIvo led 3-1 in the 3rd, served at 5-4 and twice had a break advantage. After saving MLdB's first two match points, the "First Seed Out" Serb double-faulted on the third.


=======================================




11.

Stanford QF - Elina Svitolina d. Alison Riske
...4-6/7-5/6-1. Riske served for the match at 6-4/5-4, but completely fell apart after failing to secure the win. Beginning with the break of serve, she dropped nine of the final ten games.


=======================================




12.

U.S. Open Q3 - Tereza Mrdeza d. Yaroslava Shvedova
...5-7/7-6(8)/7-6(4). The #2 Q-seed, Shvedova maintained her long tradition of losing from ahead. She held a MP in the 2nd set, then served at 5-3 in the 3rd and held two more MP before dropping this 3:12 affair. The Kazakh made (nearly) the most of her lighter work schedule, though, sticking around in Flushing Meadows for the entire two weeks and reaching the doubles final with Casey Dellacqua.


=======================================





[EXTENUATING CIRCUMSTANCES]


Bad Gastein Final - Samantha Stosur d. Karin Knapp
...3-6/7-6(3)/6-2. Rain forced Knapp to play a two and a half hour semifinal early on Sunday, then come back for the final later in the day. She nearly pulled it off, leading Stosur 6-3/4-2 and serving at 5-4 before finally running out of steam as the Aussie claimed the win in the Italian's second two and a half hour contest of the day.



*HELP HER OBI-WAN MAURESMO, YOU MAY BE HER ONLY HOPE*



Wimbledon 1st Rd. - Heather Watson def. Caroline Garcia
...1-6/6-3/8-6. The Pastry's penchant for collapse wasn't confined to the Chatrier. The Serena-vs.-Heather 3rd Round clash almost never happened. Garcia held three MP at 5-4 in the 3rd in a match that stretched over two days. With her later 1st Round exit in New York, the Frenchwoman has lost in the 1st Round at three straight slams, four of the last five, and six of the last eight.


=======================================


Tokyo TPP 1st Rd. - Camila Giorgi d. Caroline Garcia 4-6/7-6(3)/6-3
Wuhan 2nd Rd. - Coco Vandeweghe d. Caroline Garcia 6-3/6-7(4)/7-6(6)
Rising Stars Final - Naomi Osaka d. Caroline Garcia 3-5/5-4(6)/4-1
...the Pastry's penchant for collapse wasn't confined to the slams. In back-to-back weeks, Garcia blew a 6-4/3-1 lead to Giorgi, then led Vandeweghe 5-2 in the 3rd set, holding two MP in the deciding TB before dropping the match by losing the final four games. She closed out her season Singapore, squandering a 3-0 2nd set lead vs. Osaka (in the abbreviated set scoring format, she needed to only get to four games, winning by two) and failing to convert four match points.

[EXTENUATING CIRCUMSTANCES...meet unexpected consequences]

Anna Tatishvili after retiring in Istanbul tonight. pic.twitter.com/EjRwzQZ6Zt

— Jake Davies (@jakedavi5) July 21, 2015
#Tatishvili wobbles again, retires at 0-2 down in 3rd set. Remarkable comeback by Ipek #Soylu from 5-7 2-5 down.. 1:40 AM.. #IstanbulCup

— Mert Ertunga (@MertovsTDesk) July 21, 2015

Istanbul 1st Rd. - Ipek Soylu d. Anna Tatishvili
...5-7/7-5/2-0 ret. In a match that didn't finish until 1:40 a.m., Soylu recovered from a 7-5/5-2 deficit in front of a home crowd, then won when Tatishvili retired with dizziness early in the 3rd. The American then withdrew from the doubles w/ Kristyna Pliskova, allowing the duo of Gavrilova/Svitolina to get into the draw... and go on to win the title.

A reminder that Svitolina/Gavrilova only got into the Istanbul dubs draw when Tatishvili WD after that dramatic R1 singles retirement.

— Victoria Chiesa (@vrcsports) July 26, 2015




*WAY TO GO CiCi, BUT THE SWEDE SORT OF STOLE THE LEAD*


$25K Surprise 2nd Rd. - CiCi Bellis d. Susanne Celik
...1-6/7-6(6)/2-2 default. Bellis pulled herself out of 6-1/5-1 hole against the Swede, saving multiple match points and forcing a 3rd set. It was a good move, considering a frustrated Celik was ultimately defaulted mid-way through the final set when she slammed a ball that then bounced into the next court and hit the umpire in the face. Oops.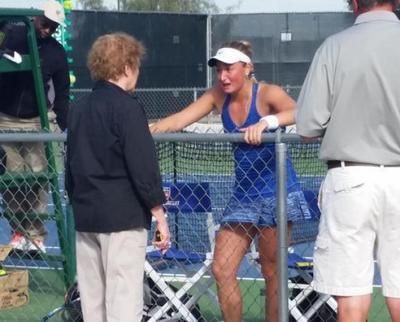 *KAROLINA, THE USTA... THE USTA, KAROLINA... let's call the whole thing off*


Toronto 1st Rd. - Mirjana Lucic-Baroni d. Karolina Pliskova 3-6/7-6(5)/6-2
Cincinnati 3rd Rd. - Jelena Jankovic d. Karolina Pliskova 6-2/3-6/7-5
New Haven QF - Lesia Tsurenko d. Karolina Pliskova 6-2/6-2
...after opening the U.S. Open Series by looking very good while reaching the Stanford final, which she lost to Angelique Kerber in three sets, Pliskova's results degenerated into what turned out to be farce, as she was awarded the Series title after having her points total doubled because she played so often, allowing her to edge out Serena Williams and Simona Halep despite her mediocre 6-4 record and lack of a title. In Toronto, the Czech led Lucic 6-3/4-0, then 5-2, and served for the match. In Cincinnati, she led JJ 5-2 in the 3rd, served for the match and held a MP. But she took the cake with her New Haven exit, getting blown out by lucky loser Tsurenko while still achieving the QF result that gave her just enough points (x 2) to be crowned by the what-elephant-in-the-room-I-don't-see-any-elephant-in-the-room?, oft-clueless USTA. As "champion," Pliskova wrapped things up her 3Q with a 1st Round exit at the actual Open with a loss to, you guessed it, a qualifier. She ended her '15 on a high note, though, playing THE integral part in the Czech Republic's Fed Cup final win over Russia.



*IF AT FIRST YOU DON'T "SUCCEED"... well, just give up*


Asia/Oceania I Zone #3/#4 Playoff - Korea d. China
...2-1. Maybe the Chinese should just send a few table tennis stars to play Fed Cup, because the tennis federation doesn't seem to care much about it. Rarely do top Chinese players play when FC weeks roll around, though the squad was as good as it's been in years for this season's February zone play. Wang Qiang held up her end, but top singles and doubles player Peng Shuai, on the roster, never played singles and only took to the court in one (meaningless, as the tie had already been decided) doubles match in round robin play. But nothing "topped" what happened in the placement playoff match with Korea. After Wang opened things with a victory, Zheng Saisai retired four games into the second match. Rather than play Peng or Zhang Shuai in the deciding doubles match with Wang, China offered up a walkover and lost the tie 2-1 despite winning fourteen of the twenty games played. After reaching the 2008 semifinals in the year of the Beijing Olympics, China is now barely in the Top 30 in the FC nation rankings (#27, just ahead of Colombia) and hasn't advanced at any level of FC play since 2012.

But not in this case...


"I have to forget it & move to the next tournament." -@Simona_Halep on losing after leading 5-1 in the 3rd set #WTA pic.twitter.com/JKbefFVq7E

— WTA (@WTA) September 30, 2015



*THE QUEST FOR A HALEP/CARLOS RODRIGUEZ PARTNERSHIP...T-MINUS 365 DAYS OR SO?*


Wuhan 3rd Rd. - Johanna Konta d. Simona Halep 6-4/3-6/7-5
WTA Finals rr - Aga Radwanska d. Simona Halep 7-6(5)/6-1
...Halep's front-loaded 2015 season of success was sagging considerably by the 4Q, and it was no more noticeable than in these two matches. She led Konta 5-1 in the 3rd set, only to be broken three consecutive times and never reach BP on the Brit's serve in the final stretch, as she dropped the final six games. Against Radwanska in Singapore, Halep needed to win just one set off the Pole in her final round robin match to advance to the semifinals. After leading (again) 5-1 in the 1st set tie-break, the Romanian saw Aga put on a rush that stole the set and, as it turned out, the tournament. A week later, Halep announced that she'd be going with Darren Cahill (who'd tried but failed to coax an inspiring performance out of the stubborn Swarmette as the Radwanska match slipped through her fingers) as her full-time coach in 2016. Although there is mounting evidence to the contrary, the combo MAY work out well next season... but Backspin is still holding out for a coming together of the world #2 with the longtime coach of her idol, Justine Henin -- Carlos Rodriguez. Although, it seems such a perfect, destined-for-greatness (for both of them) pairing that the odds are that it WON'T ever happen. Still, crossing fingers that by this time next year...


All for now.