Wk.12- My-oh-my, Ami
So far in South Florida... we've seen it all.


It's rained. A lot.


It's like a bad rash. Keeps coming back.#MiamiOpen pic.twitter.com/4q9wRydrmn

— Miami Open (@MiamiOpen) March 25, 2017


And Venus is still reigning after all these years. She won her first Miami singles title nineteen years ago.


?? Ace, @Venuseswilliams. pic.twitter.com/qxOFcOfmTJ

— Miami Open (@MiamiOpen) March 26, 2017


But it's also poured. As in the week's experiences of Indian Wells champ Elena Vesnina and semifinalist Kristina Mladenovic. Both were eliminated in their first match in Miami. So were their doubles partners, past and present, Ekaterina Makarova and Caroline Garcia. Daria Kasatkina, too. And Elina Svitolina. And CoCo Vandeweghe. And Monica Puig. And Genie Bouchard. Garbine Mugruzua probably SHOULD have been out just as quickly, but she has once again found a way to survive. It's a new skill she's flashed quite often in 2017, and it might serve her well in Paris in a few months.

Aga Radwanska won a match in Miami. But only one. Then Mirjana Lucic-Baroni crushed her so badly that she pretty much made her (maybe) regret that she did. The same fate awaited Team Bucie, as they were shipped out in straight sets in the 2nd Round, meaning neither the singles nor the doubles Miami Open titles from a year ago will be successfully defended next weekend. Meanwhile, Madison Keys fell in the 3rd Round to one Lara Arruabarrena.


¡¡¡ Muchas felicidades @laraarrua !!! pic.twitter.com/VHLVykLTEQ

— Lara Arruabarrena (@laraarrua_world) March 20, 2017


In all, only one of the seeds from #16-32 is still breathing in the singles draw.

And we're only half-way through this tournament.

Here's a quick mid-event Miami (and Week 12) check-up...






RISER:

Patricia Maria Tig/ROU


...the 22-year old Swarmette earned her way into the 3rd Round in Miami, qualifying with wins over Aleksandra Krunic and Evgeniya Rodina (after also making it through the Q-rounds in Indian Wells), then pulling MD upsets over Heather Watson and Kristina Mladenovic in the main draw, the latter her first Top 20 win. Her two wins this past week are her most MD victories in a tour-level event since last September in Seoul. Having come into the week at a career-high #95, Tig will climb into the Top 85 in the rankings after Miami concludes.


First Top 20 win!

Patricia Maria Tig upsets Mladenovic 7-6(4), 6-2! #MiamiOpen pic.twitter.com/PKAI9H1zNN

— WTA (@WTA) March 25, 2017



=============================




SURPRISE:

Veronica Cepede Royg/PAR


...the 25-year old from Paraguay is one of, if not the, most upwardly trending players from the South American continent in 2017. Back in January, she reached the Hobart QF as a lucky loser, ultimately losing for a second time in the event to Jana Fett. In Miami, she qualified with victories over a pair of Irinas -- Khromacheva and Falconi -- to reach her first tour-level main draw since Hobart. A 1st Round win over #51 Misaki Doi, followed up by a loss to Dominika Cibulkova, will be enough to get her within a few more victories of a new career singles high. She entered Miami ranked #131, one of only two South American woman (w/ #104 Mariana Duque Marino) ranked in the Top 150, and should come in around #116 once the tournament concludes, just a few spots behind her career high of #111.





=============================




VETERAN:

Pauline Parmentier/FRA


...the 31-year old Pastry is closing in on the Top 50. A week after putting up wins over Oceane Dodin and Yulia Putintseva (and nearly upsetting Angelique Kerber) in Indian Wells, Parmentier again knocked off Dodin (her third win, all in straight sets, over her rising countrywoman in four meetings over the last two seasons), and came back from a set down to defeat Timea Babos (allowing two games in the 2nd and 3rd) before falling to Johanna Konta. Along with a QF result in Acapulco, this is the Frenchwoman's third consecutive tour-level event with multiple MD victories, her first such stretch since a SF-QF-QF run leading into a 3rd Round result at Roland Garros last spring.


=============================




COMEBACKS:

Alja Tomljanovic/CRO-AUS and Jana Cepelova/SVK


...in just her third event back from a thirteen-month absence due to her February '16 shoulder surgery, Tomljanovic is already showing improvement in leaps and abounds. In Acapulco, she notched a win over Genie Bouchard before retiring from her second outing. In the Miami MD on a protected ranking wild card, the Croat-Aussie's fourth match was a win over Magda Linette, and she followed it up with a 2nd Round upset of Indian Wells champ Elena Vesnina in a rain delay-marred match that included stoppages when she was preparing to serve for the win, then again when she held her third MP of the day. She avoided being sidetracked by the weather drama to get her first Top 20 win since 2015. She fell a round later to Lucie Safarova, but she'll leap from barely inside the Top 600 to nearly inside the Top 350 in the next tour rankings.


Thanks @MiamiOpen you never disappoint ???? pic.twitter.com/HKYWleOkbY

— Ajla Tomljanovic (@Ajlatom) March 26, 2017


Meanwhile, finally experiencing a rare healthy stretch in Miami, Cepelova strung together four straight wins for the first time since reaching the 3rd Round of Wimbledon as a qualifier last summer. The Slovak arrived in Florida on a four-match losing streak (1-6 in her last seven going back to the '16 season) and without a MD tour win since September in Beijing (a week after a SF result in Tokyo). This past week, she ran off good qualifying round wins over Rebecca Sramkova and Anastasia Potapova, then got MD victories over Andrea Petkovic and CoCo Vandeweghe (6-1 in the 3rd) before falling in the 3rd Round to Barbora Strycova. Cepelova's week will lift her back into the Top 100.


=============================




FRESH FACE:

Katarina Zavatska/UKR


...17-year old Zavatska, another of the exponentially growing Ukrainian contingent, picked up her third career ITF singles title with a win the $25K challenger in Pula. Wins over Lina Gjorcheska, Andreea Mitu and Bianca Andreescu preceded a 6-1/6-3 victory over Pastry Chloe Paquet in the final.


#ITF #Combined #SantaMargherita 25K Congrats to Katarina #Zavatska winner of singles tournament #UKR @ForteVillageITA pic.twitter.com/9DPHWRD0Cx

— youtennis.net (@youtennisnet) March 26, 2017



=============================




ITF PLAYER:

Destanee Aiava/AUS


...the 16-year old Aussie reached her fourth challenger final in the last nine months, winning career title #2 with a 6-2/4-6/6-2 win in the final over Czech Barbora Krejcikova, who'd saved three MP vs. Lizette Cabrera a day earlier in the semis, in the Mornington $25K. Aiava posted earlier wins over Julia Glushko and Gabriella Taylor.





===============================================




JUNIOR STARS:

Anastasia Potapova/RUS, Carson Branstine/CAN and Olga Danilovic/SRB


...less than ten months ago, Potapova was winning the junior Wimbledon title in that match-point-converted-oh-no-it-wasn't match against Dayana Yastremska. This week in Miami, the 15-year old Hordette (#454) made her WTA qualifying debut with a three-set victory over #84 Maria Sakkari. Her first appearance of any kind in a tour-level event included Potapova overcoming 3-0 and 4-2 deficits to take the 1st set, then rebounding from dropping the 2nd at love to go up 4-0 and 5-2 in the 3rd, holding a MP. She nearly let the win slip away, as the 21-year old Greek woman forced things to a deciding TB. But Potapova recovered yet again, taking it 7-2 to claim the match. She lost her second qualifying match to Jana Cepelova, but considering the Slovak's subsequent MD antics (including a win over Potapova's countrywoman Elena Vesnina, who just won Indian Wells) it could hardly be considered a "shoulda-had-that-one" defeat.


As of today will be my first tournament under the ???? flag. Couldn't be more excited to represent a country and federation that I love!

— Carson Branstine (@carsonbranstine) March 20, 2017


At the Grade 1 International Spring Championships, Carson ruled Carson, California. Carson, as in Branstine, as the #2 seed claimed her first career G1 title with a 6-4/6-3 win over #1-seeded Bannerette Taylor Johnson, who'd lost to Branstine in the 1st Round of this same event last year. 16-year old Branstine, the #15-ranked junior, was in her very first event playing under the flag of Canada. A California native, with a Canadian mother, she accepted an offer from Tennis Canada to train at the national center in Montreal last fall. She played her last event representing the U.S. at the Australian Open, winning the junior doubles title with Canada's Bianca Andreescu.


ISC ITF Grade 1 Champs @carsonbranstine pic.twitter.com/QOTpep3K13

— Alexandre Rotsaert (@tenniskid99) March 26, 2017


Branstine, who reached the event's singles QF (losing to Amanda Anisimova) and doubles final while partnering Johnson a year ago, improved still more by claiming the doubles title this year with Ellie Douglas. Branstine's cousin is Atlanta Braves First Baseman Freddie Freeman, noted here because Freeman is a renowned "Nats killer" for his often overwhelming success (grrrr... but it's a very respectful grrrr -- the guy is really good) against the Washington Nationals. So, you know, maybe this mention will subliminally get him to take it easier on the guys this year. Worth a try.

In the $10K challenger in Antalya, 16-year old Danilovic won her second career ITF singles title with a 6-3/6-2 win over Austrian Julia Grabher. Danilovic, the #13-ranked junior, fell to India's Zeel Desai in the Round of 16 of the Australian Open girls competition in January.


Olga won her second pro title! Keep rising, keep shining... Congrats @danilovic_olga! ?????? pic.twitter.com/gsPJbRpTjB

— Zarja (@GZarja) March 26, 2017



=============================




DOWN:

CoCo Vandeweghe/USA, Belinda Bencic/SUI and Daria Kasatkina/RUS


...in many ways, Vandeweghe is still coasting on the wave of her AO semifinal run, but the fact is that her results have taken a sharp downturn since Melbourne. Her three-set opening match loss in Miami to Jana Cepelova was her third straight defeat, and she's lost four in a row in tour-level matches starting with her SF loss to Venus Williams in Australia. While it was a sometimes uneven weekend in Hawaii for CoCo, she DID manage to go 2-0 while taking the lead role for the U.S. team in the Fed Cup 1st Round vs. Germany two weeks after her maiden slam semifinal. But aside from that 7-1 AO/FC boomlet, Vandeweghe is 1-9 in her other ten matches over an 18-match stretch that goes back to the '16 season, which she finished on a 0-5 slide. She hasn't won a doubles match since the AO, either, losing both of her post-Hingis doubles outings, including this weekend to Barty/Dellacqua while partnering Mirjana Lucic-Baroni in Miami.

On the other hand, at least Vandeweghe made a certain Backspinner laugh with this post...




and made a lot of kids feel a little bit better during her trip to the children's hospital...


.@CoCoVandey visits the @BaptistHealthSF Children's Hospital! ?? #MiamiOpen pic.twitter.com/MXEnMB4jwt

— WTA (@WTA) March 23, 2017


Bencic is experiencing a prolonged, partially injury-related (though it seems to have taken on another tone in '17) slump that is accompanied by a steep rankings-slide that is only going to make the mountain she'll have to scale in her comeback that much steeper. In the Miami 1st Round against Sara Errani, Bencic nearly recovered from a 5-1 3rd set deficit (she served to close within 5-4, but failed to hold), falling to 2-7 on the season (1-6 in WTA matches). She's 2-12 starting with her loss at last summer's U.S. Open. Bencic did manage to post Hopman Cup exhibition wins over Andrea Petkovic and Heather Watson in Week 1, as well as get the tie-clinching match win in Switzerland's victory over France in the Fed Cup 1st Round. But she got no rankings point for those efforts, and will head into the clay season positioned outside the Top 130.

Meanwhile, Kasatkina is in some sort of a funk, too. A crazy one. While she's posted wins over Kerber (twice), Babos and Begu (also twice) this year, and battled the likes of Muguruza and Puig in dramatic three-set losses, her 6-4/5-7/6-0 2nd Round loss in Miami to Shelby Rogers is her second straight match in which she's dropped a set at love. In fact, she's been on the wrong end of four love sets already in 2017, after losing just three times in such a fashion previously in her career. 6-8 on the season, she's fallen outside the Top 40 after coming into the season seemingly only one big week away from climbing into the Top 20 for the first time.


===============================================





.@SvetlanaK27 meets the locals at Miami's Muscle Beach ???? pic.twitter.com/Ryd81tqfMc

— WTA (@WTA) March 26, 2017


[Miami 1st-3rd Rd.]
1. Miami 2nd Rd. - Ajla Tomljanovic def. Elena Vesnina
...3-6/6-4/7-5. Momentum didn't travel to Miami for the Indian Wells champ, though the Tennis Gods seemed to want to give her a few chances to claim it as her own. Rain stopped the action as Tomljanovic served for the match, and when play resumed Vesnina saved two MP and got the break of serve to extend the proceedings. But three DF from the Russian handed Tomljanovic a third MP, only to see rain delay the action yet again. As it turned out, the Croat/Aussie found her way to the first legitimately huge victory in her comeback... even if the occasion was somewhat "hidden" from the public, as this match seemed to take place on a court from which you could see the Miami hinterlands (just over the fence).


@AjlaTom knocks out Indian Wells champion Vesnina 6-3, 4-6, 7-5! #MiamiOpen pic.twitter.com/bdHssNVXCj

— WTA (@WTA) March 24, 2017




(And, no, I didn't get the score wrong on this one, the WTA Twitter feed did.)

=============================


2. Miami 1st Rd. - Yaroslava Shvedova def. Jelena Jankovic
...4-6/6-4/7-6(3). In this all-veteran match-up, JJ served up 5-3 in the 3rd, and held a MP at 5-4. But three DF in the deciding TB did her in as Shvedova notched her first match win of '17, ending a seven-match losing streak that extended back to last season. After falling in similar fashion to Venus in Indian Wells, Jankovic has now dropped back-to-back matches in which she held MP.


.@SlavaSays saves a match point to edge Jankovic 4-6, 6-4, 7-6(3)!

Advances to @MiamiOpen Second round! pic.twitter.com/Bx87UD9el7

— WTA (@WTA) March 22, 2017


Shvedova, as if often her pattern, fell in her next match. But at least she and Vania have patched up their differences.


.@SlavaSays on why she reunited with @queen_v21:

The pair won back-to-back Slams at the 2010 Wimbledon & US Open. pic.twitter.com/VkbNvnifoE

— WTA Insider (@WTA_insider) March 22, 2017



=============================


3. Miami 2nd Rd. - Bethanie Mattek-Sands def. Elina Svitolina
...7-5/6-4. After hard-charging through February, Svitolina has now lost two in a row. On her 32nd birthday, Mattek-Sands got her first Top 10 singles win since 2015, and seventh of her career. At #158, BMS is the second lowest-ranked player (#215 Valeriya Solovyeva in '12) to ever hand Svitolina a loss in a WTA MD match. It was almost an even better day for Mattek, as one of her serves was actually clocked at 131-mph, which would have tied Sabine Lisicki for the fastest in tour history. "Would have" because it'll have to go down in "Bethanie folklore," since the speed recording won't count due to "interference" in the measurement.


Ranked 158th Mattek-Sands upsets Svitolina 7-5, 6-4 to make 1st @MiamiOpen R3! Records 7th top 10 win, 1st one since 2015 (d. #7 Ivanovic) pic.twitter.com/rjhu1Dxfyk

— WTA Scores (@Scores_WTA) March 23, 2017
.@BMATTEK ties fastest WTA serve with 131 mph ace (unofficially) on what could be the best birthday ever—WATCH: https://t.co/7MxPbATqSu pic.twitter.com/L6zUQqYzJF

— TENNIS.com (@Tennis) March 25, 2017



=============================


4. Miami 2nd Rd. - Kirsten Flipkens def. Ana Konjuh
...7-6(4)/6-7(6)/6-2. Konjuh led 5-3 in the 1st, serving at 5-4, but DF'd on break point and eventually lost in the TB. Flipkens led 5-2 and held a MP in the 2nd set TB, but Konjuh forced a deciding set. The Waffle broke the "tie" in the 3rd.


=============================


5. Miami 1st Rd. - Sara Errani def. Belinda Bencic 6-3/4-6/6-3
Miami 2nd Rd. - Zhang Shuai def. Sara Errani 4-6/6-4/7-5
...Errani was just 2-5 on the season heading into Miami. She flirted with squandering a 5-1 3rd set advantage vs. Bencic, but broke the Swiss to end the match. A round later, she DID lose a 5-2 lead in the 3rd vs. Zhang, who saved a MP on the Italian's serve and then didn't lose another game.


=============================


6. Miami 1st Rd. - Christina McHale def. Annika Beck 6-7(2)/7-5/6-0
Miami 2nd Rd. - Garbine Muguruza def. Christina McHale 0-6/7-6(6)/6-4
...Beck surged back from 5-2 down and saved five SP in an 81-minute 1st set vs. McHale. The first two sets took 2:38, with some sort of time record seeming to loom... but then McHale got the 3rd set bagel. A round later, she won the first eight games of the match against Muguruza, and led 6-0/3-2 when rain interrupted play. But as she has so often in '17, the Spaniard showed the fight of a champion and found a way through. In the 3rd Round, Muguruza did it again, coming back from a set down to defeat Zhang Shuai.


?? #Belive #NeverGiveUp @MiamiOpen pic.twitter.com/Ovy1ZTIaQ5

— Garbiñe Muguruza (@GarbiMuguruza) March 25, 2017
=============================
Cirstea downs Puig 6-2, 6-4 but the home crowd still salutes their girl. ??#MiamiOpen pic.twitter.com/8CgnuofEwz

— Miami Open (@MiamiOpen) March 23, 2017


7. Miami 1st Rd. - Sorana Cirstea def. Monica Puig
...6-2/6-4. Puig's Miami homecoming didn't last long. But at least she got to enjoy a day with the kids, I guess.


Had a blast at the @MiamiOpen Kids day today! Loved seeing all the future champs out there today! ? pic.twitter.com/a0eldIUgw6

— Monica Puig (@MonicaAce93) March 21, 2017



=============================


8. Miami 1st Rd. - Taylor Townsend def. Amanda Anisimova
...2-6/6-2/6-3. In an all-Bannerette junior achiever clash, 20-year '12 AO girls champ (a qualifier) defeats the 15-year old '16 RG girls finalist (a wild card).


=============================


9. Miami 1st Rd. - Ash Barty def. Genie Bouchard
...6-4/5-7/6-3. In successive events, Bouchard has now lost to Aussie (or soon to be) Tomljanovic and native Aussie Barty. Though Bouchard and Barty are 23 and 20 years old, respectively, their Wimbledon junior titles came in back-to-back years, with the younger Barty winning first in '11, followed by Bouchard in '12.


=============================


10. Miami 2nd Rd. - Samantha Stosur def. Ash Barty
...6-4/6-4. One countrywoman ends the eight match winning streak of another in a match featuring the past, present and (maybe) future of Australian women's tennis.


=============================


11. $15K Hammamet Final - Andrea Gamiz def. Jade Suvrijn
...6-1/6-3. The Venezuelan, 24, joins Brazil's Beatriz Haddad (who lost, as a WC, to Venus under the lights in the Miami 2nd Round this week) as the only two South Americans to win circuit singles titles thus far in 2017.


=============================


12. $25K Pula Final - Olesya Pervushina/Dayana Yastremska def. Tara Moore/Conny Perrin
...6-4/6-4. The engaged Moore and Perrin continue to search for the wedding gift to themselves of a doubles title as a duo. This was their fifth overall final as a pair. So far, they're 0-5.


=============================


13. G1 Int'l Spring Chsp. Final - Carson Branstine/Ellie Douglas def. Emiliana Arango/Elizabeth Mandlik
...6-1/6-1. Branstine's second of two titles this weekend in Carson included this win over the Colombian-U.S. combo of Arango and Mandlik, the 15-year old daughter of Hall of Famer Hana Mandlikova. Hana received her HOF ring this week.


Congratulations Hana Mandlikova on your @TennisHalloFame ring. Amazing accomplishment! ??????#MiamiOpen pic.twitter.com/qj06eFYGKL

— Miami Open (@MiamiOpen) March 25, 2017



=============================


14. Miami 2nd Rd. - Andreja Klepac/Maria Jose Martinez Sanchez def. Bethanie Mattek-Sands/Lucie Safarova
...6-4/6-1. While Mattek has been in fine singles form in Miami, and Safarova is also still alive, their attempt to defend their '16 Miami WD title fell by the wayside quite a bit earlier than expected. BMS could now lose her #1 ranking to either Mladenovic or Makarova/Vesnina.


=============================


15. Miami 3rd Rd. - Caroline Wozniacki def. Sorana Cirstea
...6-4/6-2. With Svitolina's "Sunshine Double Splat," Wozniacki is hot on Pliskova's heels for the 2017 match win lead.


20th win of 2017 for @CaroWozniacki!

Reaches @MiamiOpen Round of 16--> https://t.co/Yq3hrV2LHP pic.twitter.com/G2G9ET5HKs

— WTA (@WTA) March 26, 2017
=============================
Nothing personal, Elina. Bring on the clay!
#Wynwood ??????? pic.twitter.com/D9IvmsN3mT

— Elina Svitolina (@ElinaSvitolina) March 26, 2017


[Miami 1st-3rd Rd.]
1. Miami 2nd Rd. - Mirjana Lucic-Baroni def. KATERYNA BONDARENKO
...6-2/2-6/7-6(2). From 5-1 down in the 3rd, Lucic (wait for it...) gets her first win in Miami since 1999. Geez, 2018 is going to be so boring for her, since it'll only be a measly year since she "last did" anything in tennis. As it is for Bondarenko, one round after the Ukrainian got her first Miami victory since 2012, she lost for the second time in 2017 after having held a 5-1 set lead. Ouch.


=============================



Mirjana Lucic-Baroni does it! Again!

Knocks out 2012 champ Radwanska 6-0, 6-3! #MiamiOpen pic.twitter.com/RPl0QQtZSo

— WTA (@WTA) March 25, 2017


2. Miami 3rd Rd. - Mirjana Lucic-Baroni def. AGA RADWANSKA
...6-0/6-3. The Croat was tough on tennis playing sisters this past week. After allowing Radwanska just five games in their encounter en route to what would eventually be her first slam semifinal in eighteen years, Lucic surrendered just three in this one. She blasted thirty-eight winners to just five unforced errors in a dominating show. After a 5-2 start to her '17 season, Aga has now gone just 4-5. This is her fifth straight event without being able to put up back-to-back match wins.


=============================



Happy Birthday to @KaPliskova and @KrisPliskova! ?? ?? pic.twitter.com/IukktPbJQS

— WTA (@WTA) March 21, 2017
Happy birthday to my ????? pic.twitter.com/3qe78p6RDM

— Kristyna Pliskova (@KrisPliskova) March 21, 2017
@KrisPliskova ?????

— Karolina Pliskova (@KaPliskova) March 21, 2017


3. Miami 1st Rd. - Mandy Minella def. KRISTYNA PLISKOVA
...7-6(4)/5-7/7-5. On her and Karolina's birthday, Kristyna loses in 2:40 as veteran Minella posts her first career MD win in Miami. And K. got a bit perturbed about people not being able to tell the different between the twin sisters, too.



[Translated (more or less): "Idiot who's not even capable to find out from two of the three images is not Karolina."]






=============================


4. Miami 1st Rd. - CHAN YUNG-JAN/Martina Hingis def. Lucie Hradecka/Katerina Siniakova
...5-7/7-5 [10-7]. An immediate replay of the Indian Wells doubles final produces the same result, but in a closer and longer match than the 6 & 2 win in the desert last weekend by Chan/Hingis.


=============================


5. $15K Heraklion Final - OLGA IANCHUK def. Miriam Kolodziejova 6-3/6-2
$15K Heraklion Final - Mira Antonitsch/Karmen Kaur Thandi def. OLGA IANCHUK/Despina Papamichail 6-0/6-3
...21-year old Ianchuk -- yet another Ukrainian -- picks up career title #9, but fails to sweep in Greece. In the doubles final, after recent weeks have seen Zeel Desai and Mahak Jain battle it out for the title of "best junior player" from India, the most recent junior star from the country, Thandi, picks up her third career ITF doubles title, her first since 2015. The 18-year old is the third-highest ranked singles player in India, behind Ankita Raina, 24 and Riya Bhatia, 19.


Doubles trophy $15k Greece pic.twitter.com/OBkpCVXMwZ

— Karman Kaur Thandi (@KarmanThandi) March 26, 2017
=============================
Can you see it getting closer? Vika is wrapping things up...
Getting things ready...
Welcome to #teamvika @ashconrezazadeh #teamcomplete #dontcallitacomeback

— victoria azarenka (@vika7) March 22, 2017
Let's do this @vika7 ???????????? https://t.co/wd6ADvQNt7

— Ashcon Rezazadeh (@ashconrezazadeh) March 22, 2017
And is already back on the court...
We chatted w/ @vika7 earlier to talk motherhood & her anticipated return this summer.

Watch the full interview here:https://t.co/v9osfIiLt5 pic.twitter.com/l9Rs3UXfWj

— Tennis Channel (@TennisChannel) March 24, 2017
.@vika7 on @tennischannel: "I don't want to come back and just play. I want to go back and be the best again."https://t.co/HbJdNiqgGh

— WTA Insider (@WTA_insider) March 26, 2017

Reflection. #miami #palmtrees #sunglasses pic.twitter.com/uCwqsto7xb

— Caroline Wozniacki (@CaroWozniacki) March 21, 2017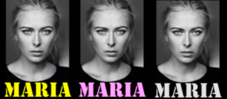 Inside the pages of Vanity Fair Spain April Issue ?? pic.twitter.com/7mpZf7MPtd

— Maria Sharapova (@MariaSharapova) March 19, 2017
VÍDEO: Un día de sol, una mansión en Los Ángeles y la tenista más mediática del mundo. Así fue nuestra sesión de portada con @MariaSharapova pic.twitter.com/JXCktQ4lts

— Vanity Fair España (@VanityFairSpain) March 21, 2017



Meanwhile...


.@Petra_Kvitova working hard on recovery and looking forward to #WTA return--> https://t.co/kRbiJvOcKy pic.twitter.com/3tQCRPq47m

— WTA (@WTA) March 22, 2017




**2017 G1/GA/SLAM JUNIOR EVENT WINNERS**


COFFEE BOWL: Emily Appleton/GBR
COPA BARRANQUILLA: Maria Camila Osorio Serrano/COL
PRAGUE: Kamilla Rakhimova/RUS
TRARALGON: Iga Swiatek/POL
AUSTRALIAN OPEN: Marta Kostyuk/UKR
MUNDIAL: Amanda Meyer/USA
ASUNCION BOWL: Whitney Osuigwe/USA
BANANA BOWL: Whitney Osuigwe/USA
PORTO ALEGRE: Amanda Anisimova/USA
YELTSIN CUP: Anastasia Kharitonova/RUS
NONTHABURI: Wang Xin Yu/CHN
SARAWAK CHIEF MINISTER'S CUP: Zeel Desai/IND
INT'T SPRING CHSP: Carson Branstine/CAN



**ALL-TIME WTA FASTEST SERVES - over 125 mph**


1.Sabine Lisicki - 131 mph (2014 Stanford)
2.Venus Williams - 129 mph (2007 US Open)
3.Serena Williams - 128.6 mph (2013 Australian Open)
4.Julia Goerges - 126.1 mph (2012 French Open)
5.Brenda Schultz-McCarthy - 126 mph (2007 Indian Wells)
6.Nadiia Kichenok - 125.5 mph (2014 Australian Open)



**RECENT MIAMI SINGLES FINALS**


2005 Kim Clijsters/BEL d. Maria Sharapova/RUS
2006 Svetlana Kuznetsova/RUS d. Maria Sharapova/RUS
2007 Serena Williams/USA d. Justine Henin/BEL
2008 Serena Williams/USA d. Jelena Jankovic/SRB
2009 Victoria Azarenka/BLR d. Serena Williams/USA
2010 Kim Clijsters/BEL d. Venus Williams/USA
2011 Victoria Azarenka/BLR d. Maria Sharapova/RUS
2012 Aga Radwanska/POL d. Maria Sharapova/RUS
2013 Serena Williams/USA d. Maria Sharapova/RUS
2014 Serena Williams/USA d. Li Na/CHN
2015 Serena Williams/USA d. Carla Suarez-Navarro/ESP
2016 Victoria Azarenka/BLR d. Svetlana Kuznetsova/RUS
2017 ?


[doubles champions since 2005]


2005 Svetlana Kuznetsova & Alicia Molik
2006 Lisa Raymond & Samantha Stosur
2007 Lisa Raymond & Samantha Stosur
2008 Katarina Srebotnik & Ai Sugiyama
2009 Svetlana Kuznetsova & Amelie Mauresmo
2010 Gisela Dulko & Flavia Pennetta
2011 Daniela Hantuchova & Aga Radwanska
2012 Maria Kirilenko & Nadia Petrova
2013 Nadia Petrova & Katarina Srebotnik
2014 Martina Hingis & Sabine Lisicki
2015 Martina Hingis & Sania Mirza
2016 Bethanie Mattek-Sands & Lucie Safarova
2017 ?




Meanwhile, we're still waiting for Iggy to show up for a women's match...


Spotted on court! A good friend is getting his ticket for the next round of the @MiamiOpen 2017, presented by Itaú. ?? (c) Miami Open pic.twitter.com/LAeJMnqwKo

— LACOSTE (@LACOSTE) March 23, 2017
Iggy, Iggy, Iggy, can't you see?
Keep off the tennis court, please. pic.twitter.com/7WaG5kaUDV

— Miami Open (@MiamiOpen) March 22, 2017
Sorry, Iggy, but @tommyhaas13 iguana go finish the match. pic.twitter.com/teApNiQps2

— Miami Open (@MiamiOpen) March 22, 2017


But maybe now he's too busy with his social media to drop by...


Woke up this morning wondering why my tail hurts and then I remembered I'm famous so it's all good ?????

— Iggy the Iguana (@MiamiOpenIggy) March 23, 2017


Such is the life of a tennis-loving iguana. Although, he HAS taken on a few acting gigs. Here he is playing the role of Sharapova in her first match against Kiki Mladenovic after Maria returns to action next month.
.@KikiMladenovic vs the @MiamiOpen Iguana?????? pic.twitter.com/8gkU5mG3SZ

— Mike (@mrenzaero) March 26, 2017
All for now.