Wk.19- Fifty Shades of Simona
See Simona lead. See Simona laugh. See Simona not destroy herself for not being perfect all the time,
even when the urge to do so is bubbling up inside of her.
See Simona dominate. See Simona battle. See Simona win.
Congratulations @Simona_Halep!!! Long live our queen!! ???? #MMOPEN pic.twitter.com/QjaUcqXVHJ

— Mutua Madrid Open (@MutuaMadridOpen) May 13, 2017
Hmmm, maybe the best WTA story of this story-filled 2017 season is only just beginning.
Halep says she feels her improved attitude on court, not focusing on nonsense, has allowed her to conserve energy. pic.twitter.com/pgb0geGPJe

— WTA Insider (@WTA_insider) May 11, 2017


Simona Halep has already gone through quite a few stages in her young career. Early promise, elective surgery, a well-earned breakthrough, mounting pressures, lingering injuries, damaging perfectionist tendencies run amok and, as noted so often in this space, a tendency to be lured toward dramatic and dangerous "Cliff side" views in matches that should have probably been more akin to an eventful walk in the park have all combined to make the Romanian a player to keep an eye on when it's come to the most important events on tour the last few seasons, but also one still seeking the elusive "key" to unlocking the *true* big-time champion that exists within.

But maybe, just maybe, she's found it. Per usual with Simona, though, it didn't come without a dramatic and dangerous moment of truth.

The early months of 2017 weren't particularly kind to Halep. Fighting a knee injury, she reached just one QF in the first nine weeks of the season (she retired from it) and ended the opening quarter of the year with a mediocre 6-4 mark. She put up three wins in her closing 1Q event in Miami, as many as she'd had up to that point all season, but the emotional negativity that has hounded the Romanian since her initial tour breakthroughs finally came to a head in her QF match with Johanna Konta. Halep served for the match vs. the Brit, but was broken, then lost a deciding TB and seemed to just go away in a 6-2 3rd. So upset with her attitude and his belief that she "gave up," coach Darren Cahill briefly walked away from the relationship that has seemed to be a very beneficial one for Halep, as far as lightening her sometimes overwhelming psychic load and allowing her to loosen up and smile while also further developing and maintaining her killer instinct.

In an interview with WTA Insider, Halep revealed that, "After Miami, (Cahill) stopped working with me because he was upset about that match. It wasn't because I lost, but because of my attitude and him feeling like I gave up. That's why I started to work hard on my mentality, and my psychology."

Cahill returned, but his tough love game of chicken seemed to make its intended point. Since Miami, where she felt embarrassed by her behavior, Halep has often noted that she was working on herself, recognizing that her negativity was having an adverse effect on her tennis, holding her back, and that she knew she had to fix it.

So far, so good.

"Simona 2.0" slowly recovered from the knee injury (though she says she still feels it), and took on a leadership/calming presence role in Fed Cup when no less than the team's captain put on a truly embarrassing display of his own. A semifinal, her first of the season, on the clay in Stuttgart optimistically kicked off her clay court spring, while her return to Madrid provided her with another hurdle to clear. The defending champion at the event, organized by fellow Romanian Ion Tiriac, Halep views it as something of a "home" tournament for her. A wild card into the main draw in '13 started her down her road to WTA success, and the relationship was sealed from there forward. She lost in the 1st Round that time, but won six tour titles over what remained of that season, reached the Top 10 the following January, and played in the Roland Garros final the ensuing spring. Since then, she's reached at least the final three times, including the completion of the very first successful title defense of her career this weekend.


¡FELICIDADES @Simona_Halep! ¡Campeona! #MMOPEN pic.twitter.com/LWtGE4bJWL

— Mutua Madrid Open (@MutuaMadridOpen) May 13, 2017


With expectations high, Halep kept her perfectionism and negativity in check in Madrid. An escape in the 2nd Round against Roberta Vinci (the Italian led 5-2 and served for the match) set the stage for a sometimes-dominant, always gutsy week of action. In the final vs. Kristina Mladenovic, after squandering a set and a break lead, then losing a TB (just as happened against Konta in Miami), she responded by taking an early break lead in the 3rd and then outlasted the Pastry, her fitness leading the way despite her somewhat behind schedule training regimen due to the knee injury, but also because of the return of her former trainer after a year-long break-up of the partnership.


Thanks to my TEAM for being by my side always. We did a great job together this week ?? thanks D ???? @darren_cahill pic.twitter.com/kvOaI0ot3x

— Simona Halep (@Simona_Halep) May 14, 2017


Might the Mladenovic match prove to the key to the remainder of Halep's '17 season? There, she battled and pushed back, then saw her opponent reciprocate with just as much will and force (not to mention a killer forehand). But rather than get down and berate herself for any lost opportunities, then throw up her hands in frustration and try to get off the court as quickly as possible (you know the look... think of a few of her matches vs. Ekaterina Makarova), Halep dug in and found a way, with the final key being converting on her third BP in game #7 of the 3rd to take a 5-2 lead in what turned out to be a 7-5/6-7(5)/6-2 final.

She's always had the heart and ability to do it. It's only been that "other" Simona who's often gotten in the way.

"Today, I showed it's a new Simo," she said, "that I don't give up anymore, even if I lose a close 2nd set. It makes me proud that I was able to change this in such a short time." And, of course, in her victory speech, Simona made a point to thank Cahill for coming back. Tough love = a tougher Simona. Not a bad trade-off. For the face of Swarmette tennis (and the "heart of Backspin," too), maybe the best really *is* yet to come for Halep.

Come on, can you hear it?

"Si-mo-na! Si-mo-na! Si-mo-na!"

Ah, sounds good.


If you hate Simona Halep, just remember her name spelled backwards is "Pelah anomiS" which makes no sense, just like your opinion. ?????????? pic.twitter.com/Nd1W0xlikf

— SimoReactions (@Simoreactions) May 10, 2017

*WEEK 19 CHAMPIONS*
MADRID, SPAIN (Premier Mandatory/RCO)
S:

Simona Halep/ROU def. Kristina Mladenovic/FRA 7-5/6-7(5)/6-2


D:

Chan Yung-Jan/Martina Hingis (TPE/SUI) d. Timea Babos/Andrea Hlavackova (HUN/CZE) 6-4/6-3

Congrats @Simona_Halep!

Lift that @MutuaMadridOpen trophy! ?? pic.twitter.com/BGEgqY5MF6

— WTA (@WTA) May 13, 2017




PLAYER OF THE WEEK:

Simona Halep/ROU


...10-1 on clay this spring, with a head of steam and new attitude heading into the (seemingly) hours left before the start of play in Paris, Halep looks to be in as good a shape as ever to finally seek to follow up on the breakout slam performance she put up at Roland Garros three years ago when she reached her (so far) only slam final. Defending her Madrid title from all sorts of angles should at least prepare her for whatever type of match may be on her horizon. The run included comfortable wins over the likes of Kristyna Pliskova, Sam Stosur and CoCo Vandeweghe (who won just two games), a "survival" against Roberta Vinci (down 5-2 in the 3rd in the 2nd Round), a nipped-it-in-the-bud, closed-it-down victory over Anastasija Sevastova in the semis after the Latvian looked as if she might prove to be a frustrating pest in the 2nd set, and an all-out, all-hands-on-deck win in her closing Madrid battle with Kristina Mladenovic, a momentum-swinging, classic clash of wills that will surely go down as one of the best finals we'll see this season. Halep even got in some additional practice on the doubles court, teaming with Irina-Camelia Begu to reach the semis after upsetting Mirza/Shvedova. With her second straight Madrid title in hand after reaching her third final in four years at what has become something of her "second home" tournament, the Swarmette will return to #4 in the rankings (important for Paris) after having dropped to #8 last week when her '16 championship points briefly fell off her totals last week.


"It's very special that I could win this trophy two times in a row" -@Simona_Halep #MMOpen pic.twitter.com/ZApyWGaAXR

— WTA (@WTA) May 13, 2017



===============================================




RISERS:

Kristina Mladenovic/FRA, Kiki Bertens/NED and Misaki Doi/JPN


...for all intents and purposes, Mladenovic looks to be riding a rocket ship to tennis' version of the moon. Only thing is, she still needs to work a bit on her "landings."

In Madrid, the Pastry reached her second straight clay court final (after Stuttgart) while casually (or as close to that as Kiki gets on the court) tossing out mindboggling shots with frightening regularly all week long. Lobs, drop shots, crushing forehand winners, lightning-quick defense turned into indefensible offense. She really had and did it all. But, again, she failed to go home with the winner's trophy. Wins over Ana Konjuh (ret.), Lauren Davis, Oceane Dodin (2 & 1 in their first meeting since France's recent Fed Cup controversies), Sorana Cirstea and Svetlana Kuznetsova allowed her to reach her tour-leading fourth final of the season. She's also tied for the lead in match wins (27, w/ Wozniacki) and all alone in first when it comes to semifinals (5). But she's now just 1-3 in those finals after her hard-fought (w/ a lower back ailment, no less) three-set loss on Saturday to Simona Halep. Thankfully, Mladenovic picked up her maiden title in Saint Petersburg in February (a three-set win over Yulia Putintseva), for otherwise her rapid ascent up the rankings (she'll be at a career-best #14 on Monday) would truly be dogged by a prominent asterisk. Overall, she's now just 1-6 in tour singles finals. Not great, but better than 0-7. That one title run in Russia now keeps Mladenovic from being knotted with Lucie Hradecka (actually 0-7) atop the list of active players with the worst career marks in WTA finals.


Disbelief: @KikiMladenovic has made her second straight WTA final in Madrid tonight pic.twitter.com/SaAdh7B5dw

— Jimmie48 Photography (@JJlovesTennis) May 12, 2017


As has happened throughout her singles career, though, Mladenovic is likely just a "slow starter." Once she gets the hang of things, she'll probably run off a string of three or four successive wins in finals. It's not as if she's crumbling under the pressure of the moment in these losses. She lost a 3rd set TB to Laura Siegemund in Stuttgart, and battled Halep all day long in Madrid. Either match could have easily gone her way. For quite some time, Mladenovic's game, though inconsistent, has been one of the most exciting on tour. Now it's gradually becoming one of the BEST on tour. Eventually, and probably in short order, it's going to lead to her going home with something BIG. How big? We shall see.

Bertens, seemingly waiting patiently (or not) for the clay season to begin and allow her to truly kick her season into gear, finally put up the sort of result in Madrid worthy of a player who has become a Fed Cup star, grand slam semifinalist and Top 20 player over the past year. Impressive victories over Ekaterina Makarova, Timea Bacsinszky (2 & 2!) and Irina-Camelia Begu got her into her third QF of the season (second on clay). After having not lost a set all week, she fell in straights to Anastasija Sevastova, but raised her season clay court mark to 8-4 after suffering through a 4-9 open to '17 on hard courts. In doubles, Bertens teamed with Johanna Larsson to also reach the QF there, getting big wins over Kuznetsova/Mladenovic and Mattek-Sands/Safarova.

Doi's big move in Madrid came before the "regular" week had even started, as her opening weekend upset of Madison Keys gave her the first Top 10 win of her career (one day before Keys actually FELL from the Top 10, incidentally). She followed up with a victory over qualifier Donna Vekic before losing to wild card Sorana Cirstea in the 3rd Round.


¿Cómo celebra @MisakiDoiTennis su primera victoria ante una Top 10? Así ??#MMOPEN pic.twitter.com/bzRL7IV5Vn

— Mutua Madrid Open (@MutuaMadridOpen) May 6, 2017



===============================================




SURPRISES:

CoCo Vandeweghe/USA and Wang Qiang/CHN


...and if you predicted that Vandeweghe would reach her first Premier Mandatory QF at a *clay* court event, well, you can go ahead and retire the Prognostication Trophy. It's all yours.



But, really, that *is* what happened on the red dirt in Madrid. After putting on a rather nice show on green clay in Fed Cup last month, going 2-0, Vandeweghe notched her first back-to-back wins in a tour-level clay event. Like, ever. Knocking off Anett Kontaveit in the 1st Round was one thing, but taking out Laura Siegemund -- one of the top clay courters on tour over the last two years, and the reigning Stuttgart champ -- in three sets is another. As is putting the kibosh on Carla Suarez-Navarro's run in front of the Spanish fans (although, that was a little bit like Fed Cup, so CoCo was in her element there). Of course, her own run came to an unceremonious end against Halep in the final eight, but the result was enough to lift Vandeweghe back into the Top 20 and to a new career high of #19. And no matter what happens in Paris, Vandeweghe looks to be poised to quite possibly wreak some real havoc on the grass courts, where she had already has quite a bit of success -- two Rosmalen titles and 4th Round/QF results at SW19, all from 2014-16 -- before her series of breakout performances in '17.

While Zheng Saisai has been stirring of late, mostly on the ITF circuit, it's been Wang Qiang who's been the breakthrough Chinese player in tour level events this season. After making her way through Madrid qualifying with wins over Hordettes Varvara Flink and Evgeniya Rodina, the 25-year old knocked off Caroline Garcia and (well, well) Zheng in the main draw before falling to a dominating version of Svetlana Kuznetsova in the 3rd Round. It's Wang's fourth multiple-win MD event on tour this season (w/ three QF, and a win over Kristina Mladenovic), during which she also won her first WTA 125 Series title (with wins over Peng Shuai and Duan Yingying, two of Wang's four countrywoman ranked with her in the Top 100, along with Zheng and Zhang Shuai). After coming in at a career-best season-ending rank of #70 in 2016, she's set to climb seven spots to #57 on Monday, just one off the career high she set in April. Fresh off her results in Madrid, Wang made it through Rome qualifying this weekend, as well, with victories over Sorana Cirstea and Risa Ozaki.


===============================================







VETERANS:

Svetlana Kuznetsova/RUS and Anastasija Sevastova/LAT


...despite not winning a title, or even reaching the final, Kuznetsova came to Madrid and gave us all we ever really ask of her. She produced at least one drama-heavy three setter (vs. Alison Riske in the 2nd Rd., when she saved a MP in the 2nd set), dispensed some matter-of-fact Sveta truth (when asked about Genie Bouchard's assertion that she was supported by "a lot of players" when it came to her insultingly ignorant comments about the Sharapova case)...


Svetlana Kuznetsova weighs in. To clarify, seeded players and unseeded players have different locker rooms in Madrid. pic.twitter.com/8qVyzZnfYK

— WTA Insider (@WTA_insider) May 10, 2017


and, Sveta being Sveta, proved yet again why it's mandatory for her to be beloved, as she made it clear she was just stating the facts as she perceived them and wasn't trying to ruffle any feathers, and then pleaded for peace, too, for good measure...


Guys don't over think my quote.I just said what I said, different locker rooms and not much talk.That's it,don't create any hate around.pls https://t.co/6eIIxnktZs

— Svetlana Kuznetsova (@SvetlanaK27) May 10, 2017


Still, she did us all a favor by putting a definitive end to Bouchard's "so-called" comeback with a 6-4/6-0 beatdown in the QF, sparing us a run to the final four or better by The Insufferable One, err, I mean self-professed lockerroom "woman of the people," even though the Canadian made it pretty clear a few seasons ago that she couldn't really stand to be around those same people... well, at least until the self-serving moment arrived when she could declare how much everyone was supposedly behind her in order to provide cover for her own grandstanding, headline-seeking commentary. (I tell you, if it wasn't for her Canadian heritage, Bouchard might have a future in U.S. presidential politics.)

Anyway, back to Sveta. Additional wins over Yaroslava Shvedova (1st Rd.) and Wang Qiang (QF) helped her post her first SF result since reaching the Indian Wells final in March, and her first such success on clay since Prague last April. Her last final four berth in a clay event as big as Madrid was in 2015, when she was the runner-up at this same tournament. Ultimately, heavy conditions proved to help along her demise against Kristina Mladenovic. She'll surely be a hot pick in many corners come Paris, though placing such high expectations on the Russian is almost always a sure way of compromising any possibility she might have to actually accomplish such a feat. The Kuznetsova Curse is no longer confined to Backspin, after all.

Kuznetsova, 19-8 on the season, will step up one spot to #8 in the new rankings, just a few points behind #7 Muguruza.


Anastasija Sevastova reaches FIRST #WTA Premier Mandatory Semifinal at @MutuaMadridOpen--> https://t.co/VLPbocsNaI pic.twitter.com/ZcjbQmSv7h

— WTA (@WTA) May 11, 2017


Last year, in her first full season since 2012 after an 18-month retirement in 2013-14, Sevastova shined on all surfaces. She reached finals on clay and grass, and put up a (2.0) career-making QF run on the the hard courts of the U.S. Open en route to the first Top 40 finish of her career. In Madrid, she achieved her first Premier Mandatory semifinal result, and second final four appearance (w/ Dubai) of the season. After getting wins over Zhang Shuai, Karolina Pliskova, Lara Arruabarrena and Kiki Bertens, Sevastova faced Simona Halep. The Romanian double-bageled her in last year's Bucharest final, and allowed just three games to her in the Stuttgart QF last month. This time around, Sevastova at least managed to frustrate Halep in the 2nd set, taking a 3-0 lead, but ultimately fell in straights, 6-2/6-3. Sixteen months into her comeback, Sevastova will climb into the Top 20 for the first time ever on Monday after her third consecutive QF-or-better result this clay season, reaching a new career high of #18.


===============================================



How bow dah pic.twitter.com/SOAcpEWflu

— Genie Bouchard (@geniebouchard) May 8, 2017




COMEBACKS:

Genie Bouchard/CAN and Sorana Cirstea/ROU


...make no mistake about it, like a mythical monster that thrives on bitter resentment, Bouchard played a great match against Maria Sharapova in their much-anticipated (for, let's be honest, pretty much all the wrong reasons, as no matter which side you stand regarding the "controversial" issue of the Russian's suspension, whichever player you were rooting for likely had more to do with "off-court sentiment" than actual tennis) 2nd Round match-up.


WHAT A SHOT! ??

How did @GenieBouchard? get this in?! pic.twitter.com/GSZNossdZ3

— WTA (@WTA) May 8, 2017


Unquestionably, after arriving in Madrid without a tour win since Melbourne, and having not been very successful on the challenger level, either, the Canadian turned back the clock to 2014 with her performance against Alize Cornet to get to the Sharapova match, then her gutsy, sometimes-brilliant (as far as shotmaking) win over the Russian, whose match rustiness showed as she blew leads in both the 1st and 3rd sets. Bouchard got a break in the 3rd Round when Angelique Kerber battled a thigh injury and retired a set and 5-0 down (and, please, spare me the boo-hoo comments and attacks on Kerber this week for retiring a game away from the finish line and therefore "robbing" Genie of her victory moment... if there was ever any player who didn't "deserve" to be the beneficiary of such rushes to her defense, it's her), but the ran into a different Russian buzz-saw when she faced Svetlana Kuznetsova. Sveta, who has pointed out in the past how many players tend to judge Sharapova far too harshly without really knowing anything about her, dominated Bouchard to such a degree that one wonders if the Canadian can now ONLY raise her game to its previous level if she convinces herself that her opponent is "evil" (or something close), and whether her great early-round play in Madrid will now be an even more elusive condition than it's already been the last couple of seasons.

Really, it's hard to tell what's the worst part about the Bouchard (not Sharapova) case over the past week or so. The original "cheater who should be banned for life" nonsense, her shameless attempt to cast herself as a "conduit for the opinion of the masses" of Sharapova detractors on tour (a group of players she'd sooner spit on than seek to be the representative of, or shake hands with, for that matter, a season or two ago), her continued attempts to tweak with back-handed compliments & commentary regarding the Russian's "so-called comeback"... or, quite simply, the general acceptance/normalization of Bouchard's grandstanding, common-sense/fact-deficient behavior by certain members of the media, who'd rather pat the Canadian on the back for "speaking her mind" than point out the inherent gaping holes in her logic/opinion, not to mention outlandish hypocrisy. In a week in the U.S. where the so-called powers that be attempted to essentially show us a picture of a rock and tell us it was actually an oak tree, maybe *all* areas of the media, sports or otherwise, should seek to point out truths rather than be giddy about comments that make nice headlines. I'm just sayin'.


Q: What Maria said to you at the net?
Bouchard: She said: "Well played".

— Ilya Ryvlin (@ryvlin) May 8, 2017
Bouchard."She said "Well played ".I think she's been playing really well in her so-called comeback -- if you want to call it that."

— René Denfeld (@Renestance) May 8, 2017
So sweet of Genie to perfectly sum up an example of Maria's classiness and her lack of in one tweet. https://t.co/4wcv5GLKmd

— The Drive Volley (@thedrivevolley) May 9, 2017


So, on court, at least for a while, Bouchard earned an "A" for her efforts, though you have to ask, if she still *can* play with such desire, does her inability to do so for so long mean she just hasn't been motivated enough to care? It's a legitimate question. As far as off court, playing the villain is fine. It's not really a bad thing (see Connors and McEnroe back in the day), and it *does* make things interesting. But doing so while being a self-described version of an "avenging heroine" for an unnamed group of players that you proudly noted that you didn't give squat about before now? That's just insufferable.


Get your copy of Genie's book at Barnes & Noble today! #bookcoversmaybe pic.twitter.com/rKYz70gwp2

— The Drive Volley (@thedrivevolley) May 9, 2017
IS THIS REAL LIFE????? pic.twitter.com/KZLXKFXqv0

— The Drive Volley (@thedrivevolley) May 10, 2017
Don't know whether to be honoured/insulted that Daily Mail covered the tweet, especially with sentences like this? https://t.co/Bxa3UNLErm pic.twitter.com/fbK8PFYWAk

— The Drive Volley (@thedrivevolley) May 10, 2017


I don't know whether or not Sharapova actually *did* intend to "like" that faux Bouchard book cover tweet this week, or whether it was an unintended consequence of randomly searching for and liking posts that seemed to promote her own new autobiography. But I do know that I can find reason to hope for *either* scenario, depending on the angle of the sun at any particular moment.

While Halep was the Romanian who shined the brightest in Madrid, Cirstea had a significant week, as well. The 27-year old, who climbed as high as #21 in '13, returned to the Top 100 last season following shoulder surgery, coming in at #81, 163 spots higher than she'd finished in 2015. Earlier this season, Cirstea reached the Round of 16 at the Australian Open, her best slam result in eight years ('09 RG QF), and her QF result in Madrid, on the heels of another QF in Istanbul, gives her back-to-back singles QF in WTA events for the frist time since her (so far) career-best North American summer run on hard courts four years ago, when she put up a SF in Stanford, followed by a QF in Washington and Toronto runner-up result (she def. Wozniacki, Jankovic, Kvitova and Li en route before losing to Serena). Last week, she notched victories over Anastasia Pavlyuchenkova (24 hours after the Russian won in Rabat), CiCi Bellis and Misaki Doi. She lost to Kristina Mladenovic in the QF, but she'll climb to #67 on Monday.





===============================================




FRESH FACE:

Claire Liu/USA


...the 16-year old (#8 Jr./#459 WTA) grabbed the biggest title of her career in the $25K challenger in Naples, Florida. The Californian's second career title included a string of wins over young up-and-coming fellow Bannerettes. Qualifying wins over Alona Bondarenko, Ellie Douglas and Sofia Sewing got Liu into the main draw a week after she reached the semis at a $60K in Charleston with an upset of Francoise Abanda. What followed here were victories over #3-seeded Sonya Kenin, #8 Usue Arconada, #2 Kayla Day and #7-seeded, two-time NCAA champ Danielle Collins in a 6-3/6-1 final. Collins, 23, had reached the final at that Charleston event a week ago, and was also the doubles runner-up this weekend while partnering Taylor Townsend.


Claire Liu, $25,000 Academia Sanchez-Casal Women's Open Singles Champion! The 16 year old player upset seed No 7 player Danielle R. Collins pic.twitter.com/22WK1JO2wo

— SanchezCasalFlorida (@ASCFlorida) May 14, 2017



===============================================




DOWN:

Caroline Wozniacki/DEN, Garbine Muguruza/ESP and Angelique Kerber/GER


...it's not as if the Dane is crashing. She's not. But one has to wonder if the ol' itchy-feeling-on-the-neck might soon return when it comes to all things Caro -- or at least the ones involving Sascha Bajin's involvement in the effort, no matter how much of a good thing it would seem to be -- if things don't reverse the course of results in recent weeks. With the Wozniacki family, it's never smart to say "never." One tournament after failing to convert MP and losing to Jelena Ostapenko (3-0 vs. the Dane in '17), Wozniacki had to go 3:27 to take out Monica Niculescu in the 1st Round in Madrid, then lost to Carla Suarez-Navarro a round later. 4-3 on clay since the 17-4 hard court run that included spots in the Doha, Dubai and Miami finals, it shouldn't be a time to worry... but sometimes that's precisely when it *has* been where Caro's team makeup is concerned.

Still, Wozniacki returns to the Top 10 this week for the first time since September 2015.

Muguruza, who spoke optimistically about the clay season just a few weeks ago, is still seeking her first '17 win on the dirt this spring following her 1st Round exit in Madrid, a crushing 1 & 3 defeat at the hands of Timea Bacsinszky. With her third straight loss, the Spaniard is now 7-7 in her last fourteen matches after starting 7-2 Down Under "way" back in January.

And, once again, Kerber has found her way onto this list. Sigh. Thing is, though, she didn't play poorly in Madrid. She posted wins over Timea Babos and Katerina Siniakova, the latter after digging out of a 5-3 3rd set hole vs. the Czech. But then she was forced to retire with a thigh injury in the 3rd Round vs. Genie Bouchard, down 6-3/5-0 after having failed to hold her serve even once. She said she no longer has expectations for the clay season, but she's still in the draw for next week's event in Rome despite the fact that a Kerber without "four working wheels" is probably better off just putting herself up on blocks for a few weeks.

That said, the German will return to #1 on Monday. Ah, 2017... you magnificent trickster.


===============================================




ITF PLAYERS:

Beatriz Haddad Maia/BRA and Magdalena Rybarikova/SVK


...the rising South American star that is Haddad continues to rise. Following up her qualifier-to-quarterfinalist run in Prague, which included the first Top 20 win by a Brazilian in nearly three decades, the 20-year old extended the best stretch of her career by claiming her biggest title with a win in the $100K challenger in Cagnes-sur-Mer, France. An unseeded participant in the draw, Haddad knocked off Viktoriya Tomova, Anna Blinkova, Elizaveta Kulichkova, Danka Kovinic and Jil Teichmann in a 6-3/6-3 final to complete a combined 10-1 run over the past two weeks (she's 20-7 on the season). Ranked outside the Top 325 a year ago, the Brazilian entered this week at a career-best #115, and now this result will lift her into the Top 100 for the very first time in the new rankings.




A week ago, Rybarikova won her first title ($80K Gifu) since a '16 season that saw her undergo wrist and knee surgeries. Her season ended after Wimbledon. The 28-year old Slovak's comeback roll continued in Japan with another title at this week's $60K challenger in Fukuoka. She posted wins over both the #2 (Zarina Diyas in the SF) and #1 (Jang Su-Jeong in the Final) seeds en route to the crown, taking out the Korean 6-2/6-3 to close things out with her ninth straight win. She's 12-1 in her last three events, and 16-4 so far in 2017. Ranked #384 heading into what turned out to be her first of back-to-back title runs, Rybarikova's surge will see her come in at #188 on Monday (a jump of 54 spots this week).


===============================================




JUNIOR STAR:

Marta Kostyuk/UKR


...the pool of young Ukrainians is deep and talented, but Kostyuk is the only one not named Svitolina with a junior singles slam crown to her name, having won the Australian Open this past January. This week the 14-year old (jr. #6) reached AND won her first pro singles final, taking the title in the $25K Dunakeszi, Hungary challenger in just her fifth career pro tournament appearance. She did it without dropping a set, and put up upset wins over the likes of Anna Karolina Schmiedlova (7-5/7-6), Ipek Soylu, Alexandra Cadantu and Bernarda Pera (6-4/6-3) in the final.


Feelings...?? pic.twitter.com/7gz5ckJSVU

— Marta Kostyuk (@marta_kostyuk) May 13, 2017



===============================================




DOUBLES:

Chan Yung-Jan/Martina Hingis (TPE/SUI)


...it took some trial and error, but Hingis may have found her post-Sania doubles soulmate, as things between the Hall of Famer and Chan Yung-Jan seem to be going rather swimmingly.


Let's dance! Congratulations @mhingis and @YungJan_Chan! Our 2017 women's doubles champs!!! #MMOPEN ???? pic.twitter.com/sXkzMvo90q

— Mutua Madrid Open (@MutuaMadridOpen) May 13, 2017


In Madrid, in just their fifth pairing, Hingis & Chan picked up title #2, their second Premier Mandatory crown (w/ Indian Wells). It wasn't a cakewalk, mind you. The veteran duo twice dropped the opening set in early-round matches but survived by claiming 3rd set TB wins over Jurak/An.Rodionova and Prague champs Groenefeld/Peschke to reach the semifinals, then settled in with straight sets wins over Parra-Santonja/Soler-Espinosa and Rabat winners Babos/Hlavackova in the final. The duo are now 15-3 (Hingis is 6-4 w/ others WD partners in '17), and their second title ranks them with Mattek-Sands/Safarova as the only teams to win multiple titles this season. Chan, now living the other side of the Hingis life after she and sister Hao-Ching went 1-6 vs. Hingis/Mirza in 2015-16, picks up career title #20 with the win, the equal of her biggest career crown (she's 0-3 in slam WD finals) and her third this season (tied w/ Bethanie Mattek-Sands for the tour lead). It's Hingis 57th tour doubles win, and when added to her singles totals gives her exactly 100 WTA titles in her career (along with five MX slam crowns).


Strike a pose! Cool ??????? move by @mhingis & @YungJan_Chan. #MMOPEN pic.twitter.com/LeTUphaT30

— Mutua Madrid Open (@MutuaMadridOpen) May 13, 2017
===============================================
The tiny rackets make all the difference. Much (overdue) respect to the Madrid tournament trophy.
These are actually tennis rackets? Never knew ?? pic.twitter.com/o6nl0q9E5O

— garbae muguseless (@IdemoAna) May 13, 2017

1. Madrid 2nd Rd. - Genie Bouchard def. Maria Sharapova
...7-5/2-6/6-4. Was it the match of the year (so far)? Maybe. But not for all the pre-match reasons, though.


.@GenieBouchard stuns Sharapova 7-5, 2-6, 6-4!

Sets @MutuaMadridOpen Round of 16 vs @AngeliqueKerber! pic.twitter.com/v4SXDAk2nP

— WTA (@WTA) May 8, 2017


Bouchard turned back the clock here to 2014 -- you know, when she was a Sharapova wannabe and one-time fangirl trying to walk in the Russian's well-placed footsteps in terms of on-court mindset and off-court endorsement contracts -- with winning big point construction, hustle and great shotmaking, proving that her mostly lacking play for most of the last two years is even more puzzling than the whole USTA lawsuit thing (although, considering her recent behavior, maybe the seemingly-guilty USTA -- difficult as it is to say -- *isn't* totally in the wrong there, and that there *is* more to the story than we know). But the other truth here was that Sharapova's lack of match play is starting to show, as the Russian failed to take advantage of her own opportunities against an opponent who, while far from being perfect in the practice herself, managed to squander fewer in big moments than Sharapova did during the match.

Sharapova led 4-2 in the 1st set, but saw Bouchard surge back and serve for the set at 5-4, only to be broken. But the Russian couldn't back up the break and the Canadian served out the 7-5 set in 1:10. It proved to be a, if not *the*, key moment in the match. In the 2nd, two consecutive DF from Bouchard gave Sharapova another 4-2 lead, which she finally held onto by claiming the final four games of the set. In the deciding 3rd, the momentum shifted wildly. Sharapova held from love/40 for 2-1, then Bouchard did the same a game later, and Sharapova did it again the game after that (saving 5 BP). Bouchard then proceeded to take a break lead at 4-3, only to give it back a game later. In game #9, Sharapova served up 40/15, but was broken to fall behind 4-5. With Bouchard serving for the match, Sharapova then missed an open down the line backhand on BP that would have gotten things back on serve. She staved off a MP with the help of a wild net cord bounce, but Bouchard put away MP #2 with a big forehand winner to end the 2:51 match and get her first win in five meetings with Sharapova.

On the final scoresheet, Sharapova won more total points (112-107), and held a 44-20 edge in winners. But 49 UE's to Bouchard's 27, and a one-more-would-have-made-all-the-difference 5-of-15 performance on BP just wasn't enough to nip Bouchard's equally scratchy 5-of-21 numbers at the finish.


Final stats. #MMOpen

As it happened --> https://t.co/1IJazlzGGE pic.twitter.com/m9668Kykyg

— WTA Insider (@WTA_insider) May 8, 2017



===============================================


2. Madrid Final - Simona Halep def. Kristina Mladenovic
...7-5/6-7(5)/6-2. In a truly entertaining, momentum-swinging final, Halep outlasted Mladenovic in the 3rd after failing to close things out in the 2nd. Battling a lower back injury, the Pastry lost a 5-2 1st set lead as the Romanian reeled off four straight games to grab the early lead in the match. She ran her string to six games in the 2nd, up a break at 2-0. After Mladenovic got things back on serve, Halep held for 5-4 and 6-5, but the French woman's effortless defense-to-offense tactics -- including a head-swirling running forehand drop shot behind the baseline during the TB -- pushed things to a 3rd. Again, Halep held an early break lead at 2-1, but this time she didn't lose it. Finally breaking Mladenovic for 5-2 on her third BP of game #7, the Swarmette quickly went up 40/love in her own service game and served out her first successful title defense. Afterward, the tournament run by a Romanian, and won by a Romanian, also somehow found a way to include recently-disgraced Romanian FC Captain Ilie Nastase in the trophy presentation (though the TV coverage of it seemed to try to crop him out of nearly every camera angle) despite his recent suspension for unbecoming conduct (to say the least) during the ROU/GBR tie. For once, WTA chief Steve Simon jumped on the issue fairly quickly...


#WTA CEO Steve Simon has released a statement following Nastase's appearance at Mutua Madrid Open on Saturday--> https://t.co/dCqBVI2KiU pic.twitter.com/qm3ChudJlK

— WTA (@WTA) May 13, 2017



===============================================


3. Madrid 3rd Rd. - Genie Bouchard def. Angelique Kerber
...6-3/5-0 ret. Bouchard's third career Top 3 win. The others? Then-#3 Halep at Wimbledon in '14, and a #2-ranked Kerber in Rome last year. Her own progressive rank at the time of the three matches: #13, #46 and #60.


===============================================



Oh @SvetlanaK27, never change ?? pic.twitter.com/kqMH6DiNPN

— WTA (@WTA) May 11, 2017


4. Madrid QF - Svetlana Kuznetsova def. Genie Bouchard
...6-4/6-0. The end of *Bouchard's* "so-called comeback, if you want to call it that?" We'll see, I suppose.


.@SvetlanaK27 beats Bouchard 6-4, 6-0!

Sets @MutuaMadridOpen Semifinal vs @KiKiMladenovic! #MMOpen pic.twitter.com/Qhs6FsMnVQ

— WTA (@WTA) May 11, 2017



===============================================


5. Madrid 2nd Rd. - Simona Halep def. Roberta Vinci
...6-3/2-6/7-6(2). Vinci led 5-2 in the 3rd, and served at 5-3. Then Simona 2.0 took over.


===============================================


6. Madrid 2nd Rd. - Svetlana Kuznetsova def. Alison Riske
...2-6/7-6(9)/6-2. Kuznetsova saved a MP in the 2nd set, and won an 11-9 TB. The rest was history. Ah, Sveta.


===============================================


7. Madrid 3rd Rd. - Kristina Mladenovic def. Oceane Dodin
...6-2/6-1. Say what you will about Kiki's record in singles finals, she's 2-0 in 2017 "grudge" matches.


.@KikiMladenovic races past Dodin 6-2, 6-1!

Advances to @MutuaMadridOpen Quarterfinals! pic.twitter.com/okoxS2nAYY

— WTA (@WTA) May 10, 2017



===============================================


8. Madrid QF - Irina-Camelia Begu/Simona Halep def. Sania Mirza/Yaroslava Shvedova
...6-3/3-6 [10-6]. After going 1-1 in their debut event, Slava shouldn't be making up any "SM/YS" monogrammed towels. Hingis winning the title only makes that second "1" look bigger.


===============================================





9. $25K Changwon Q1 - Kimiko Date def. Shamika Dhar 6-0/6-0
$25K Changwon Q2 - Kimiko Date def. Jeong Yeong-won 6-0/6-2
$25K Changwon Q3 - Kimiko Date def. Sim Sol Hee 6-4/7-5
$25K Changwon 1st Rd. - Park Sohyun def. Kimiko Date 6-4/2-0 ret.
...Kimiko went from changing her own scoreboard in qualifying to retiring with a shoulder injury. Hopefully, it's just sore. She *did* play a lot of matches in a short time after a long absence, after all.


===============================================


10. $25K Changwon Final - Gabriella Taylor def. Danielle Lao
...6-2/6-2. The 19-year old Brit wins her second career title, and biggest ever, with a victory over "The Little Giant."


===============================================





11. $25K Hua Hin Final - Ankita Raina/Emily Webley-Smith def. Nudnida Luangnam/Zhang Yukun
...6-2/6-0. The self-anoited "Indian Tiger" and "British Lion" pick up their third career title as a duo. Haha... #shakindatass.


Small lion preparing for Finale like...#aboutlastnight #anattempttotapdance #hilarious @ews24 pic.twitter.com/wc8TeH2old

— Ankita Raina (@ankita_champ) May 12, 2017
===============================================
Oops ??@Daria_Gav forgot to enter @InteBNLdItalia so now has to play qualifying--> https://t.co/XSNjleeqni pic.twitter.com/8kN7MCrpJf

— WTA (@WTA) May 11, 2017


12. Rome Q2 - Dasha Gavrilova def. Bethanie Mattek-Sands
...6-2/6-4. Though she reached the semis as a qualifier in 2015, and knocked off Halep there last year, Gavrilova managed to forget to enter Rome this year. (See, sometimes people *do* just screw up the details.) Oh, well... now maybe she can find her Italian groove as a qualifier again.


With the win today , Dasha's W/L record at @InteBNLdItalia ( 10-2 ) impressive @Daria_gav ???? #ibi17 pic.twitter.com/pY4IodakGc

— Team Daria Gavrilova (@TeamGavrilova1) May 14, 2017



===============================================


13. Madrid 1st Rd. - Oceane Dodin def. Andrea Petkovic
...6-3/6-4. Dodin won this battle of qualifiers last week, with things not being exactly "peaceful" between the two players' respective camps.


===============================================


14. Rome Q2 - Andrea Petkovic def. Oceane Dodin
...3-6/7-6(6)/6-2. Naturally, they soon met again, as Petko won her second straight three-set qualifying match to reach the main draw.


===============================================


15. Rome Q2 - Jelena Ostapenko def. Ash Barty
...5-7/6-4/6-4. Who wants to see this match-up again, on an ever bigger stage, at some point? Logic tells us we probably will.


===============================================






Disney Serena...




1. Madrid Final - CHAN YUNG-JAN/Martina Hingis def. Timea Babos/Andrea Hlavackova
6-4/6-3. Babos/Hlavackova were playing in their second straight final, but Martina had some unfinished business. Earlier this season, Hingis lost to Babos (w/ Pavlyuchenkova) in the Sydney QF along with Vandeweghe, and Hlavackova (w/ Peng) in the Dubai QF with Chan.


Don't you think we are both so adorable ???????? @mhingis @LaRayua pic.twitter.com/nWvr12nnkp

— ???~YungJan Chan (@YungJan_Chan) May 9, 2017



===============================================


2. Madrid 2nd Rd. - Anastasija Sevastova def. KAROLINA PLISKOVA
...6-3/6-3. The 2016 U.S. Open quarterfinalist takes out the 2016 U.S. Open runner-up. Wake Karolina when the grass season starts.


Pliskova frustrated w/ loss but said she played better than in 1R. Surface just not rewarding her game. Goes to Rome with no expectations. pic.twitter.com/kaWtfnNeem

— WTA Insider (@WTA_insider) May 8, 2017



===============================================


3. $15K Antalya Final - Maryna Chernyshova/Kateryna Sliusar def. TAYISIYA MORDERGER/YANA MORDERGER
...6-2/7-6(0). The 20-year old, Kiev-born German twins failed to pick up their third doubles title together, losing to the all-Ukrainian pair. They picked up title #2 as a duo in Antalya back in January, while right-handed Yana won her first pro singles title in the city in February, defeating lefty Tayisiya in the final. Tayisiya won two singles titles of her own in Antalya last fall.


===============================================






Mama-steppin'...



There is no ME without SHE ??#happymothersday pic.twitter.com/cH6yH7y3Hb

— Sloane Stephens (@SloaneStephens) May 14, 2017


Nice moves ???? @Daria_gav ( from @DKasatkina's Instagram story) pic.twitter.com/FRGckIYe9T

— Team Daria Gavrilova (@TeamGavrilova1) May 10, 2017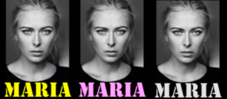 Many fans welcomed @MariaSharapova at Centrale Stadium for her 1st practice! ??High spirits despite the warm temperature!?? #ibi17 #WTA pic.twitter.com/FkoyeR0r9F

— Internazionali Bnl (@InteBNLdItalia) May 12, 2017




**2017 PREMIER MANDATORY/PREMIER 5 CHAMPIONS**


Dubai: Elina Svitolina, UKR
Indian Wells: Elena Vesnina, RUS
Miami: Johanna Konta, GBR
Madrid: Simona Halep, ROU


[doubles]


Dubai: Makarova/Vesnina, RUS/RUS
Indian Wells: Y.Chan/Hingis, TPE/SUI
Miami: Dabrowski/Xu Yifan, CAN/CHN
Madrid: Y.Chan/Hingis, TPE/SUI



**2017 WTA REPEAT CHAMPIONS**


Brisbane 2016-17 - Sania Mirza, IND (d)
Taipei City 2016-17 - H.Chan/Y.Chan, TPE/TPE (d)
MADRID 2016-17 - SIMONA HALEP, ROU



**2017 WTA FINALS**


4...KRISTINA MLADENOVIC, FRA (1-3)
3...Elina Svitolina, UKR (3-0)
3...Caroline Wozniacki, DEN (0-3)
2...Anastasia Pavlyuchenkova, RUS (2-0)
2...Karolina Pliskova, CZE (2-0)
2...Johanna Konta, GBR (2-0)
2...Elise Mertens, BEL (1-1)
2...Francesca Schiavone, ITA (1-1)


[clay finals]


2...Francesca Schiavone, ITA (1-1)
2...KRISTINA MLADENOVIC, FRA (0-2)



**2017 CONSECUTIVE SINGLES FINALS**


2 (FEB) - Caroline Wozniacki (Doha-L,Dubai-L)
2 (APR-MAY) - Francesca Schiavone (Bogota-W,Rabat-L)
2 (APR-MAY) - Anastasia Pavlyuchenkova (Monterrey-W,Rabat-W)
2 (APR-MAY) - KRISTINA MLADENOVIC (Stuttgart-L,Madrid-L)



**MOST 2015-17 WTA...**




[singles titles]


8 - Serena Williams, USA (5/2/1)
7 - SIMONA HALEP, ROU (3/3/1)
7 - Angelique Kerber, GER (4/3/0)
6 - Aga Radwanska, POL (3/3/0)
5 - Elina Svitolina, UKR (1/1/3)
5 - Karolikna Pliskova, CZE (1/2/2)
5 - Petra Kvitova, CZE (3/2/0)


[singles finals]


14 - Angelique Kerber, GER (7-7)
12 - Karolina Pliskova, CZE (5-7)
11 - Serena Williams, USA (8-3)
9 - SIMONA HALEP, ROU (7-2)
8 - Aga Radwanska, POL (6-2)
8 - Caroline Wozniacki, DEN (3-5)
7 - Petra Kvitova, CZE (5-2)
7 - Elina Svitolina, UKR (5-2)
7 - Dominika Cibulkova, SVK (4-3)
7 - KRISTINA MLADENOVIC, FRA (1-6)


[singles semifinals]


21 - Angelique Kerber, GER (14-7)
18 - Karolina Pliskova, CZE (12-6)
18 - Aga Radwanska, POL (8-10)
17 - SIMONA HALEP, ROU (9-8)
17 - Elina Svitolina, UKR (7-10)
16 - Serena Williams, USA (11-5)
14 - Caroline Wozniacki, DEN (8-6)
12 - Dominika Cibulkova, SVK (7-5)
11 - Petra Kvitova, CZE (7-4)
11 - KRISTINA MLADENOVIC, FRA (7-4)
10 - SVETLANA KUZNETSOVA, RUS (6-4)
10 - Venus Williams, USA (6-4)



**2017 WTA DOUBLES FINALS**


5...ANDREA HLAVACKOVA, CZE (2-3)
4...Lucie Hradecka, CZE (0-4)
4...Katerina Siniakova, CZE (0-4)
3...CHAN YUNG-JAN, TPE (3-0)
3...Bethanie Mattek-Sands, USA (3-0)
3...TIMEA BABOS, HUN (2-1)
3...MARTINA HINGIS, SUI (2-1)
3...Sania Mirza, IND (1-2)
3...Peng Shuai, CHN (1-2)
3...Olga Savchuk, UKR (1-2)



**HINGIS - MOST WD/MX TITLES w/ PARTNERS**


14 - Sania Mirza (2015-16)
11 - Anna Kournikova (1999-02)
8 - Jana Novotna (1997-99)
4 - Leander Paes (2015-16 MX)
4 - Arantxa Sanchez Vicario (1997)
4 - Helena Sukova (1996,98)
2 - CHAN YUNG-JAN (2017)
2 - Sabine Lisicki (2014-15)
2 - Mirjana Lucic (1998)
2 - Flavia Pennetta (2014)
2 - Mary Pierce (2000)
2 - Natasha Zvereva (1997-98)



**MOST PREMIER (all levels) TITLES**


20 - Serena Williams, USA
13 - Victoria Azarenka, BLR
13 - Maria Sharapova, RUS
13 - Caroline Wozniacki, DEN
12 - Petra Kvitova, CZE
12 - Aga Radwanska, POL
7 - SIMONA HALEP, ROU
6 - Angelique Kerber, GER
6 - Svetlana Kuznetsova, RUS


[Premier Mandatory/Premier 5 only - active]


13 - Serena Williams, USA
9 - Victoria Azarenka, BLR
8 - Maria Sharapova, RUS
6 - SIMONA HALEP, ROU
6 - Petra Kvitova, CZE
5 - Aga Radwanska, POL
5 - Caroline Wozniacki, DEN
3 - Venus Williams, USA
2 - Jelena Jankovic, SRB



**CAREER WTA SINGLES TITLES - active**


72...Serena Williams (most recent title: 2017)
49...Venus Williams (2016)
43...Martina Hingis (2007)
35...Maria Sharapova (2015)
25...Caroline Wozniacki (2016)
20...Victoria Azarenka (2016)
20...Aga Radwanska (2016)
19...Petra Kvitova (2016)
17...Svetlana Kuznetsova (2016)
15...SIMONA HALEP (2017)
15...Jelena Jankovic (2015)



**ALL-TIME WTA TITLE LIST - #30-40**


30t.Kerry Melville Reid (17)
30t.Mary Pierce (17)
30t.Svetlana Kuznetsova (17)*
33t.Ann Haydon Jones (16)
33t.Elena Dementieva (16)
35t.Jelena Jankovic (15)*
35t.Ana Ivanovic (15)
35t.Dianne Fromholtz Balestrat (15)
35t.SIMONA HALEP (15)*
39t.Jennifer Capriati (14)
39t.Zina Garrison (14)




Another week, another comeback...



After 8 months i am coming back to the WTA tour. ;) https://t.co/Lg03Xu1h8n pic.twitter.com/R2y8TUoVLE

— Polona Hercog (@PolonaHercog) May 10, 2017





ROME, ITALY [Premier/Red Clay]


16 Singles Final: S.Williams d. Keys
16 Doubles Final: Hingis/Mirza d. Makarova/Vesnina
17 Top Seeds: Kerber/Ka.Pliskova
=============================


=QF=


#6 Halep d. (WC) Sharapova
#7 Kuznetsova d. #4 Cibulkova
#13 Mladenovic d. #9 V.Williams
Suarez-Navarro d. #8 Svitolina


=SF=


#7 Kuznetsova d. #6 Halep
#13 Mladenovic d. Suarez-Navarro


=FINAL=


#7 Kuznetsova d. #13 Mladenovic

...I might as well get my version of the Kuznetsova Curse out of the way before Paris, right? Sharapova's road here could be interesting, as she might face "slingshot" Lucic-Baroni once again in the 2nd Round, then maybe Kerber. If Mladenovic's back is an issue, it could be qualifier Ostapenko who shoots through that section of the draw. And if Pliskova isn't expecting anything this clay season, then why should anyone else (hence, CSN coming through in that section, which also includes Kasatkina and Bacsinszky).




=DOUBLES=




=SF=


#4 Babos/Hlavackova d. #1 Makarova/Vesnina
#8 H.Chan/Ostapenko d. #2 Y.Chan/Hingis


=FINAL=


#8 H.Chan/Ostapenko d. #4 Babos/Hlavackova




Meanwhile, the wait is on...



All for now.